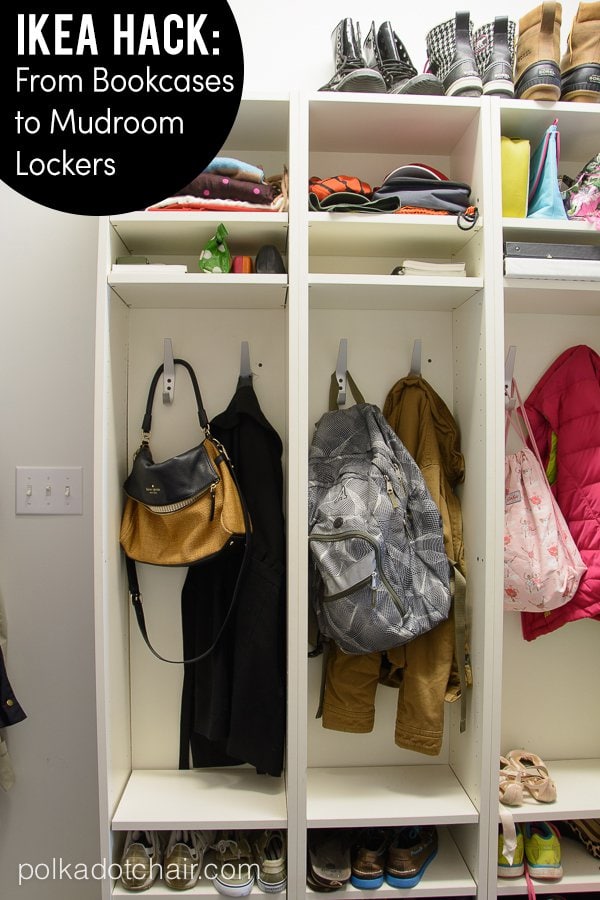 I really really love IKEA… I think I've said that here before, but it's worth repeating.  The thing that I realized I like about IKEA is that most of their stuff is simple, making it very easy to adapt to different purposes.
Since my motto for the month on the blog is resourceful I thought I'd share with you how we made lockers in our mud room easily and inexpensively using bookcases I found at IKEA.
The photos are not great, it's a very narrow room with terrible light and even with a separate flash is very hard to take photos of.
This is our mud room right after we moved in, it was not working for us. It's a combo mud room/laundry room and is way to small for our family.
This is it before…. It's just a hallway that leads from the garage into the house.  It drives me crazy and is the one thing I would change about my house if I could…
Now I will say, the laundry side of this room is still NOT working for me. It's one of my big projects for  2011 to figure out what to do with it, but I have NO idea… open for suggestions on that one.
BUT
the mud room side thankfully is now working for us. I'll show you what we did about a year ago, and it's still working great.
such a narrow room it's really hard to get a good photo of it
Since the room is narrow and most "pre made" lockers are wide at the base, none of the ones that I found  online and in stores would work for us.  They would all just stick out too much from the wall and you could not walk through the room.
Then one evening while I was perusing my IKEA catalog I saw this… It's the Billy bookcase, and it's only $34 for the size I needed.  It would have been ideal to have someone come and build us custom lockers but it wasn't in the budget at that time.
So what we did was buy 5 Billy Bookcases (it's what would fit and there are 5 of us) and install them next to each other. I also installed a hook at the end for long coats that would not fit in the lockers.
Then instead of putting the shelves spaced evenly throughout the bookcase we left a space in the middle to attach a hook for backpacks and coats. It worked great because the bookcases have holes all up the side so we could put the shelves exactly where we needed them. If you had really small kids you could install the hooks even lower.
We then left 2 shelves on the top for things like lunchboxes & books.
how embarrassing, now you can see what shoes we all wear :)
and 2 shelves on the bottom for shoes.
If you want to tackle this project I'll give you a few tips.
-After you have the bookshelves where you want them, screw them together. So you have one large piece, it will help with stability.
-The bookcases come with a precut notch in the back to make them lie flat against the wall, if your baseboard is taller than the notch you will need to cut the notch larger. It's very important that they fit flat against the wall.
-The back of the bookcases are just particle board, not strong enough to hold a coat hook. You will need to buy a 1×4 piece of wood and cut it to the width of the shelf and place it behind the bookshelf. Then you will screw your coat hooks through the back of the shelves and into that wood.
-Use the anti tip kit that comes with the bookcases so no one will try to climb up and pull the whole thing onto them. (make sure you install them into a stud in the wall, we installed as many as we could just to be extra sure).
I had plans to use the bookcases only temporarily then get custom lockers made later, but it's been over a year and they work so well that I don't think I'm going to do that. I'd rather use the money for another project in the house.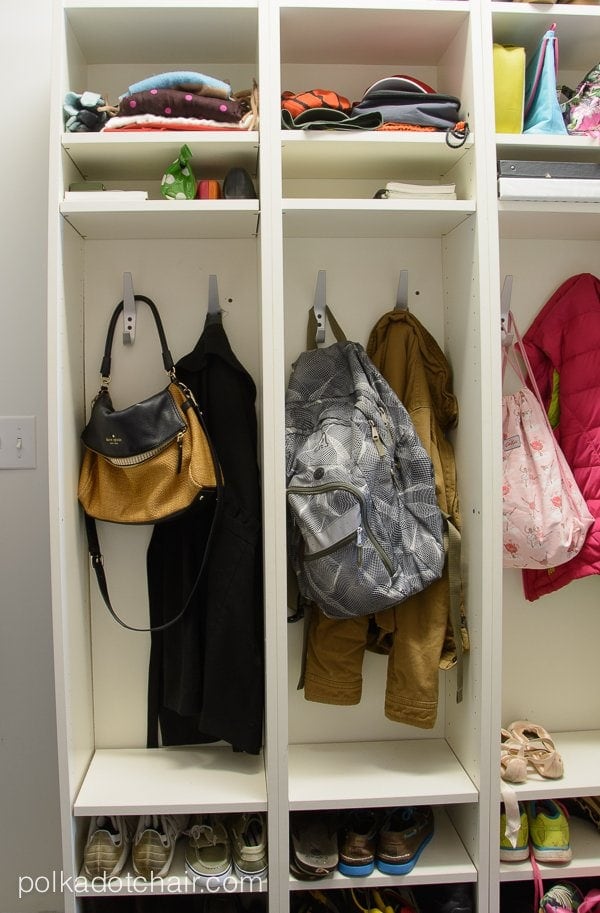 ——————————————————————–
——————————————————————-