Just a few quick things to share here… I thought I'd answer some FAQ that I've received the last few weeks here…
But first..

me in disguise, note the hat and dark glasses :)
My friend and I were talking today and were joking that we had "secret identities" because of our blogs…. I thought it was so funny..
It got me thinking… anyone else feel that way? I'm a much more "open" person on my blog than in real life (I'm pretty shy til you get to know me)… and I love to blog because it gives me a great way to communicate and connect with people…. Now once you get to know me, I'll talk you ear -off but I'll admit that sometimes it takes me a while to warm up to people.
It always throws me off when someone I know in "real life" mentions my blog, I get all embarrassed and self conscious all of the sudden… like I'm Clark Kent and someone just discovered that I'm Superman or something… Which, since were talking Superman,  those glasses Clark wears are not that great of a disguise,  Lois Lane is obviously super observant *wink*.. (oh, I am not comparing myself to superman in that analogy…)
but I digress..
A few random things as of late:
-You will notice that some posts now will have a READ MORE link at the bottom. I did NOT do this to increase page views. I did it because I greatly dislike having a short feed of my blog in google reader. It really does bug me. I've had it that way NOT to get more "hits" or views but because my super techy PROFESSIONAL web princess sister would have my head if I had a full feed.  And my equally techy, know's everything brother agrees with her.  They may be over reacting a bit, but there is a strong possibility that your blog can get "cloned" by a random bot that crawls the web… Then if you blog gets cloned, they use it for all kinds of stuff. I just had a friend who's blog was cloned and then DELETED by blogger!! She was in a major panic and got it fixed, but it was a "close call"… I know it's a slim possibility but I'd like to avoid potential close calls.
So the "compromise" is to allow a feed until a Page Break… So that way you can see the photos, and see what the post is all about in your reader. Which I think in the case of a tutorial would be a great thing, because if you're not interested in making it right away you don't have to scroll through the whole long post…
So here comes a page break.. click the link to keep reading about the size adjustments for the zig zag skirt, a potential smocking tutorial and the fabric I used on the July Bag..
I neglected to list the size of the zig zag skirt I just made.  It's about a size 8. This skirt would be VERY easily resized though. To make it longer, just add extra jelly roll strips on the bottom (I wish I had added one more), or to make it shorter, eliminate the jelly roll strip. If you wanted to make this dress a size 6 I would do 2 rows of 7 HST (half square triangles) then eliminate the band at the bottom and just hem the dress. You get the idea… Just upsize and downsize.. I don't think it would really work smaller than a size 5 though, because you need 2 rows of squares to get the zig zag effect.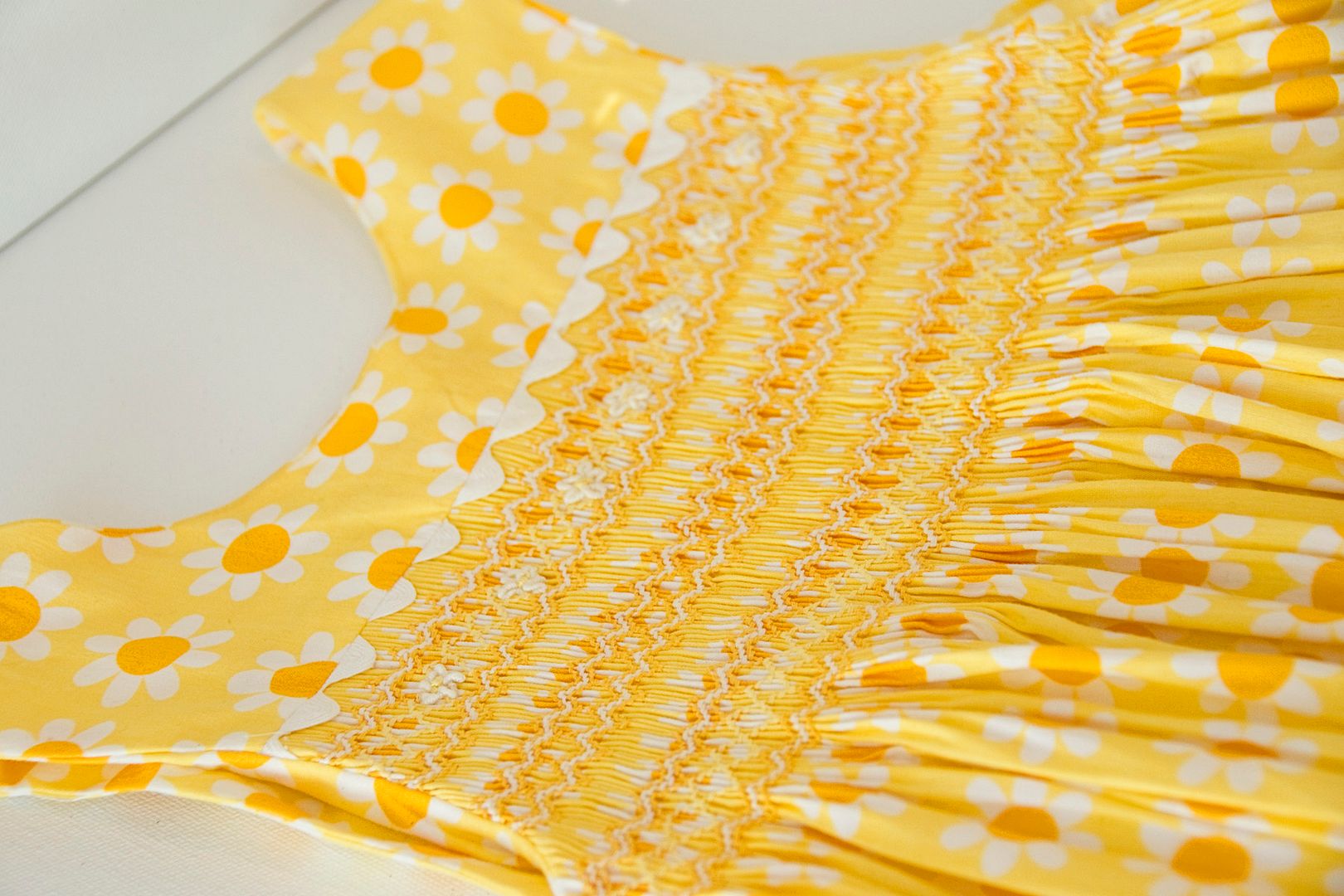 Thanks for all the love on the Smocking post! I'm so glad to see that others have great memories of smocked dresses. Many of you asked for a tutorial on smocking… I'm seriulsy considering doing a few.. mabye a "smock along".. but I have to think it out first. It requires some special equipment so I just need to figure out how to work it out so you guys could try it at home… so stay tuned..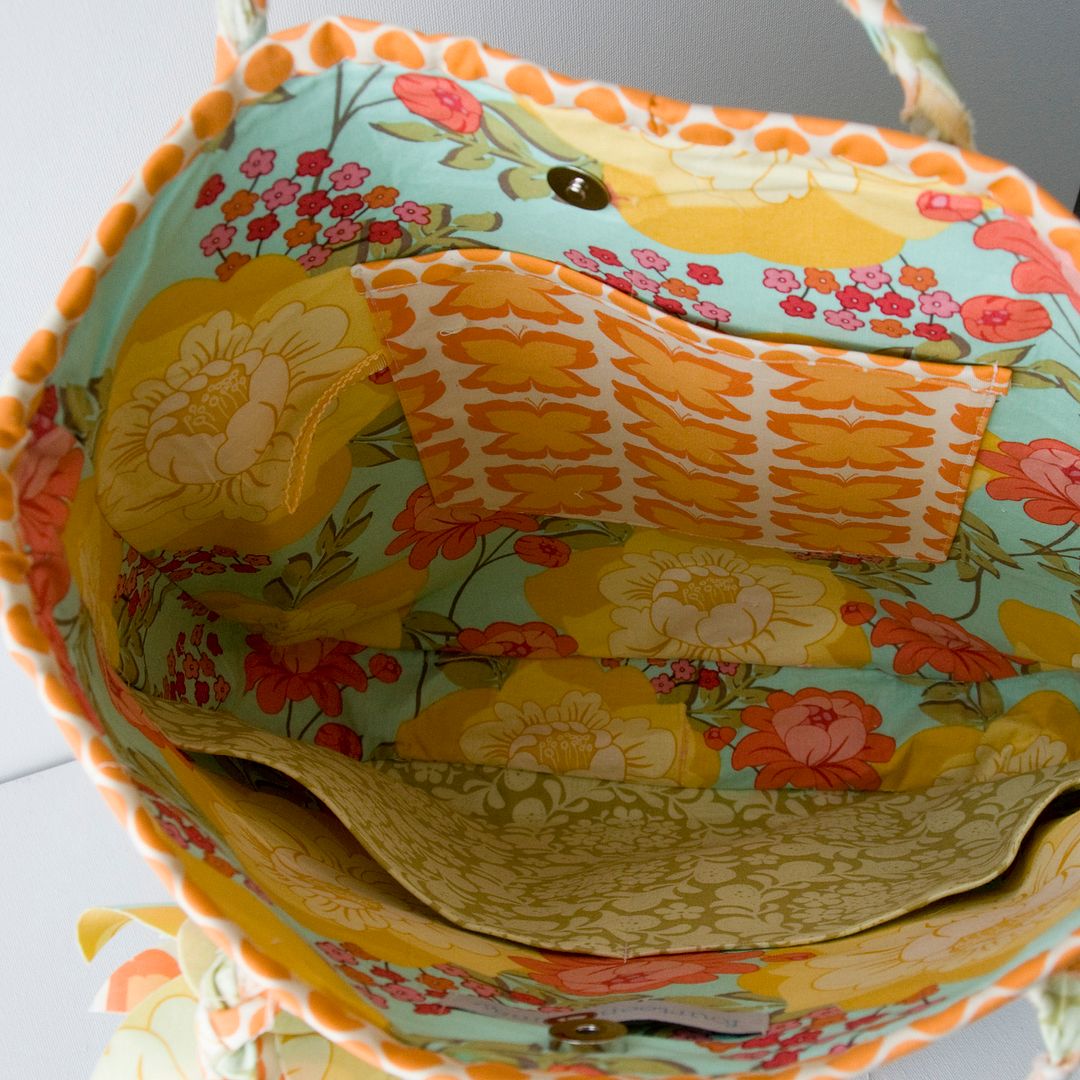 The fabric on the July Bag is from Sandi Henderson's Meadowsweet 2 line. I have seen it still in stock in several places. The orange polkadot is an Amy Butler print… I don't know if it's still available.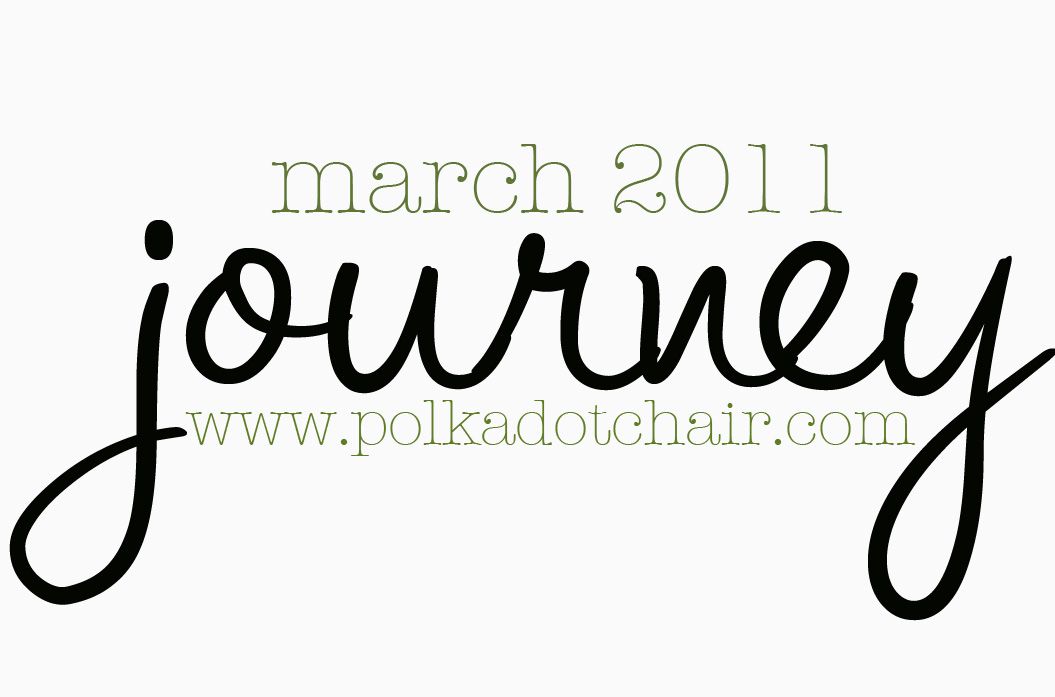 Thanks for being patient while I get my next blog theme ready for this month.  Figures once the kids get better,  I get sick.   Watch for the first Journey tutorial this week, then a great guest tutorial next week and an awesome giveaway for you guys!!