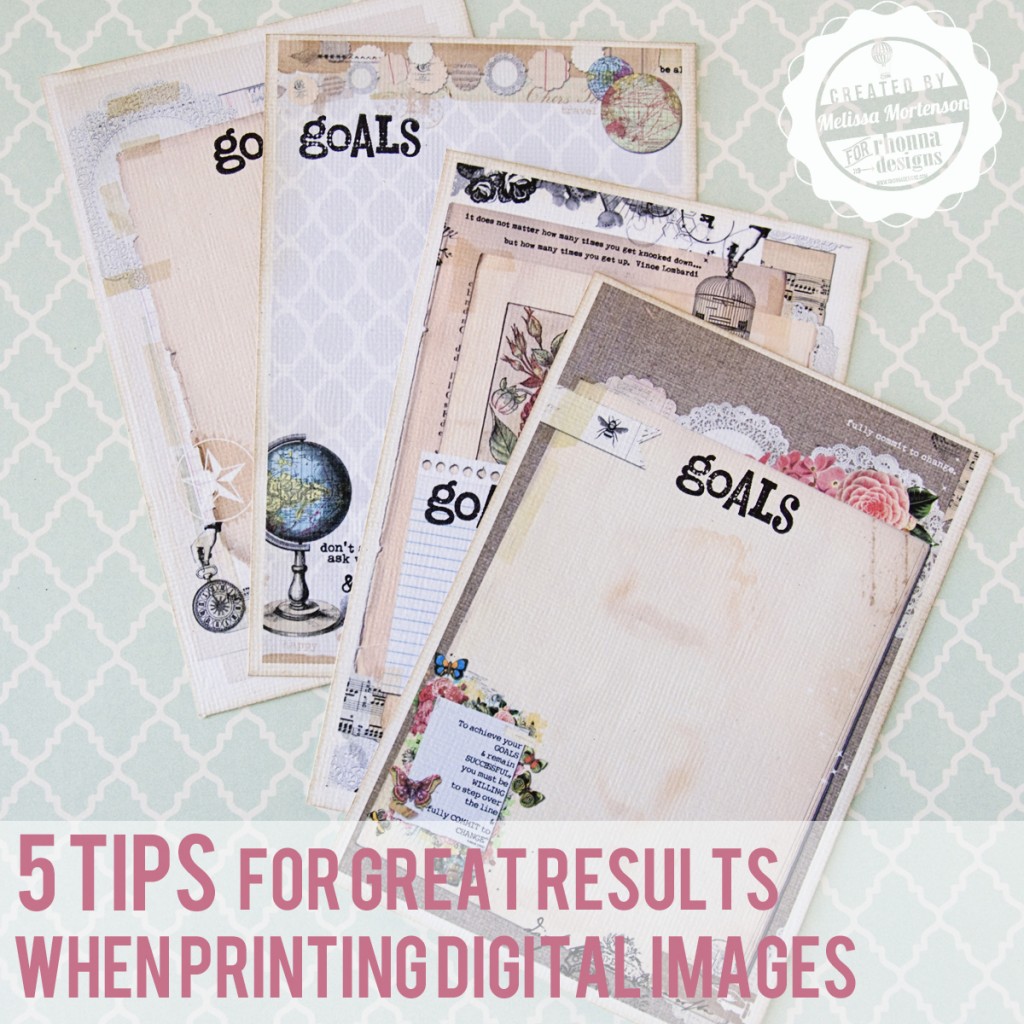 I am frequently asked how to get good results when printing digital images to use in scrapbooking.  I'll admit that when I first started doing this I was disappointed with the results.  I even have a nice printer (Epson R1800) and was not getting great results.  This made me realize that it's not really the printer that you are using that matters, but the paper you use and what you do to the image after it's printed.
Don't get me wrong, having a good printer is important for "hybrid" scrapbooking, but I think that most printers on the market today (even the budget ones) will deliver very nice results, if you know what to do.
So here a few tips, learn from my mistakes, and if you have any of your own be sure to leave them in the comments to share with everyone else.
month at a time scrapbook project
Tip One: Use textured card stock.
My VERY favorite paper to use when I'm hybrid crafting is Bazzil white textured card stock.  I had previously been using white non textured (but still good quality) card stock and was not happy with the results. I just didn't get the "depth" I was wanting-  when you're printing from home you want it to look like you bought it at the store! The bazzil is a great weight and texture- right now I just use the standard textured, but I think it would be fun to play around with some other textures, like the linen etc…
Tip Two:  Ink, ink, ink
Another thing that I have learned is that after you print your image and cut it out it needs some dimension and shading.  To do this I use the Tim Holtz blending tool and Distress Inks.  I also like to use the Ranger non stick mat when I'm inking, the ink doesn't stick to it so more of it gets on your project, and you'll use less ink.  I got to take a class from Tim Holtz at Creative Escape 3 years ago, and he taught us to get good results to start inking off of your project and pull the ink onto it.   i.e. start with the blending tool on the mat and then drag the ink onto your paper. That way  you don't get wonky edge marks from the blending tool.
Tip three: Try printing from different programs
I use Adobe Photoshop CS4- and there are a WHOLE lot of options in the printing panel in Photoshop.  I don't know what most of them mean! I still struggle a bit with the whole "color matching" thing, from screen to print out. I want my reds to be RED not PINK! What I've discovered, and may not be the best solution but it works great for me, is to try printing from multiple programs when I'm having color issues.  Sometimes I'll print from Photoshop and it will be beautiful. Other times I notice I get a better print if I import the finished .jpg into iPhoto and print from there.  If I had Photoshop elements I'd give that a shot too :)  …
Tip four.. use a program to organize your digital files
Okay I was totally unaware what Adobe Bridge did… then my sister came to visit last summer and showed me and I wondered how I ever lived without it.  It's a program that shows you thumbnails of all of your digi images. You can see on one screen everything that is in a folder!  If anyone knows of another similar program please share! It's so much easier that looking at tiny tiny thumbnails in Finder on my Mac.
image from Ruffles & Stuff- follow the link for a tutorial!
Tip five: Try printing on other mediums
I love printing on fabric and book pages!  You can buy printable fabric for projects that might get washed or take some wear and tear, but did you know you can also just print on regular fabric! Just iron a piece of freezer paper to the back of your fabric and run through your printer normally. Easy peasy… (just don't get it wet, the ink is not permanently set and it will run)
here's an example of PDF files printed onto muslin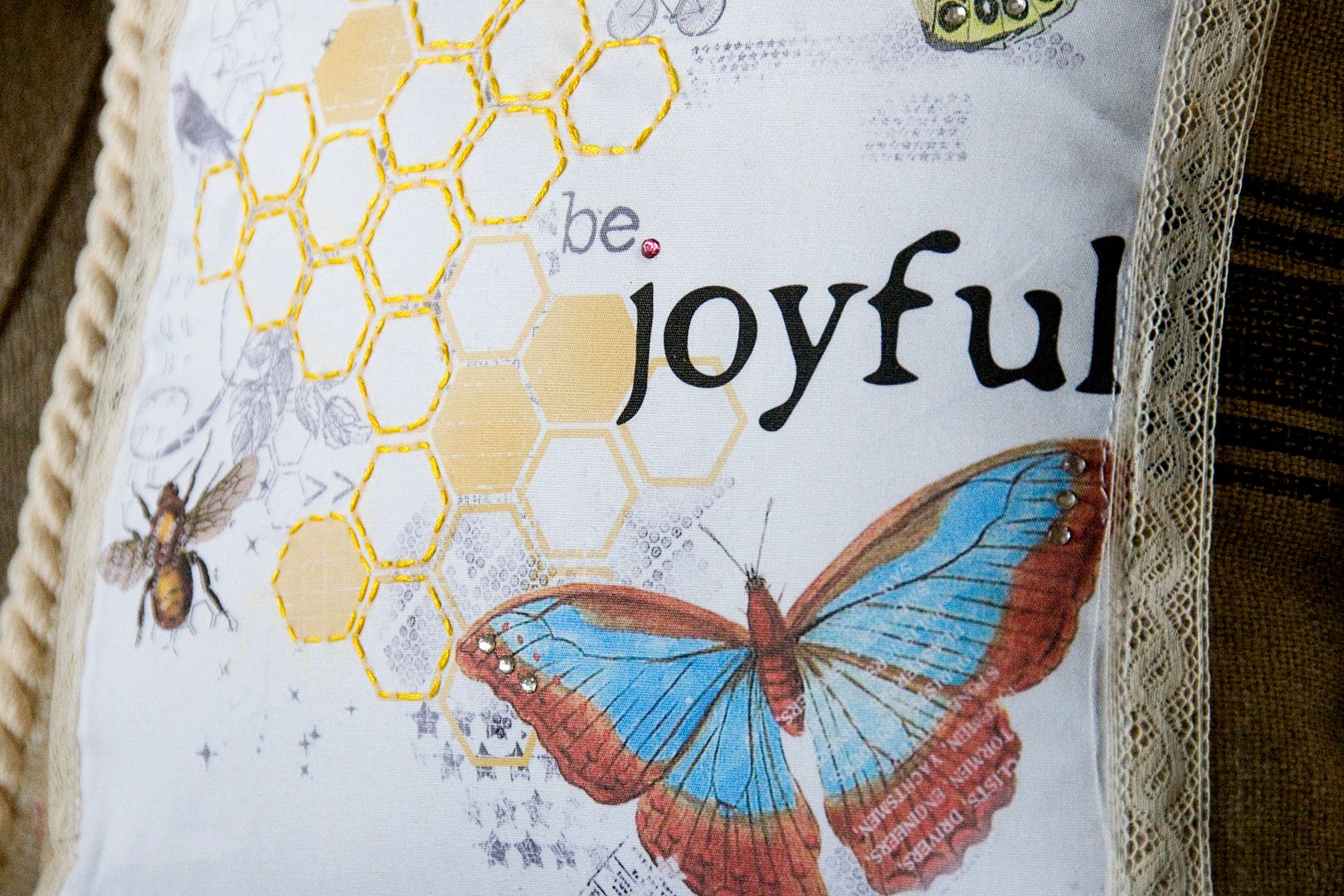 This image was printed onto printer  fabric, then embroidered over by hand.
There are a few tips for you. If you're looking for HOW to's for photoshop click on over to Rhonna's blog, she's got LOADS of great tutorials over there!  Once you figure out how to get great images at home, you'll be hooked!! The convenience of click, buy, print will get you.. promise!
 Update: Thanks for all the great advice on this post!  I've since downloaded the ICC printer profiles for my printer into photoshop. Then before I print I click Edit-Convert to Profile, and pick the one for my printer based on my paper. Voila! Great colors every time!