I'm excited to share with you today the project I've been working on for the last 4 months.  It's the reason behind all the guest posts this month and total lack of Christmas projects on this blog!
This is the 2nd year that I was involved in our church's Festival of Nativities, this year I was the chairman.  Most of the time I kept thinking "am I even old enough to be in charge of something like this?  They must have the wrong person".  It was a giant undertaking with lots of moving parts to keep track of.  This year I had a wonderful committee.  I felt like the entire event was a true collaboration of everyone's ideas.  I did not do this with out help, and these are NOT all my ideas, I just happen to be the one that is blogging about it.
The event consisted of people from our area that we got to church with, bringing nativity sets from their homes and lending them to us for the week to display.   Everyone was then invited to come view the nativity sets, eat some yummy refreshments, listen to wonderful Christmas music and do some fun activities with their kids.
To be honest, this was a lot of work for everyone involved. I got discouraged several times during the weeks leading up to the event and during the set up.  When I got feeling overwhelmed I just reminded myself that doing this was my way of making a tiny contribution into preserving what I believe is the true meaning of Christmas.
On a personal note, my family and I celebrate Christmas. I realize that this blog reaches a worldwide audience, and not everyone celebrates like I do.  If your family doesn't celebrate Christmas hopefully you can find some other creative inspiration somewhere in this post.
Photo frames Rhonna Designs
To set up the gym at church we arranged 8 round tables in the center clustered around a variety of Christmas trees.  The star in the center was made with PVC pipe "shimmed" into the hole in the floor for the volleyball standard.  We then strung lights down and in between the tables. A lit star topped off the whole arrangement.
On the center tables we placed the larger nativity sets.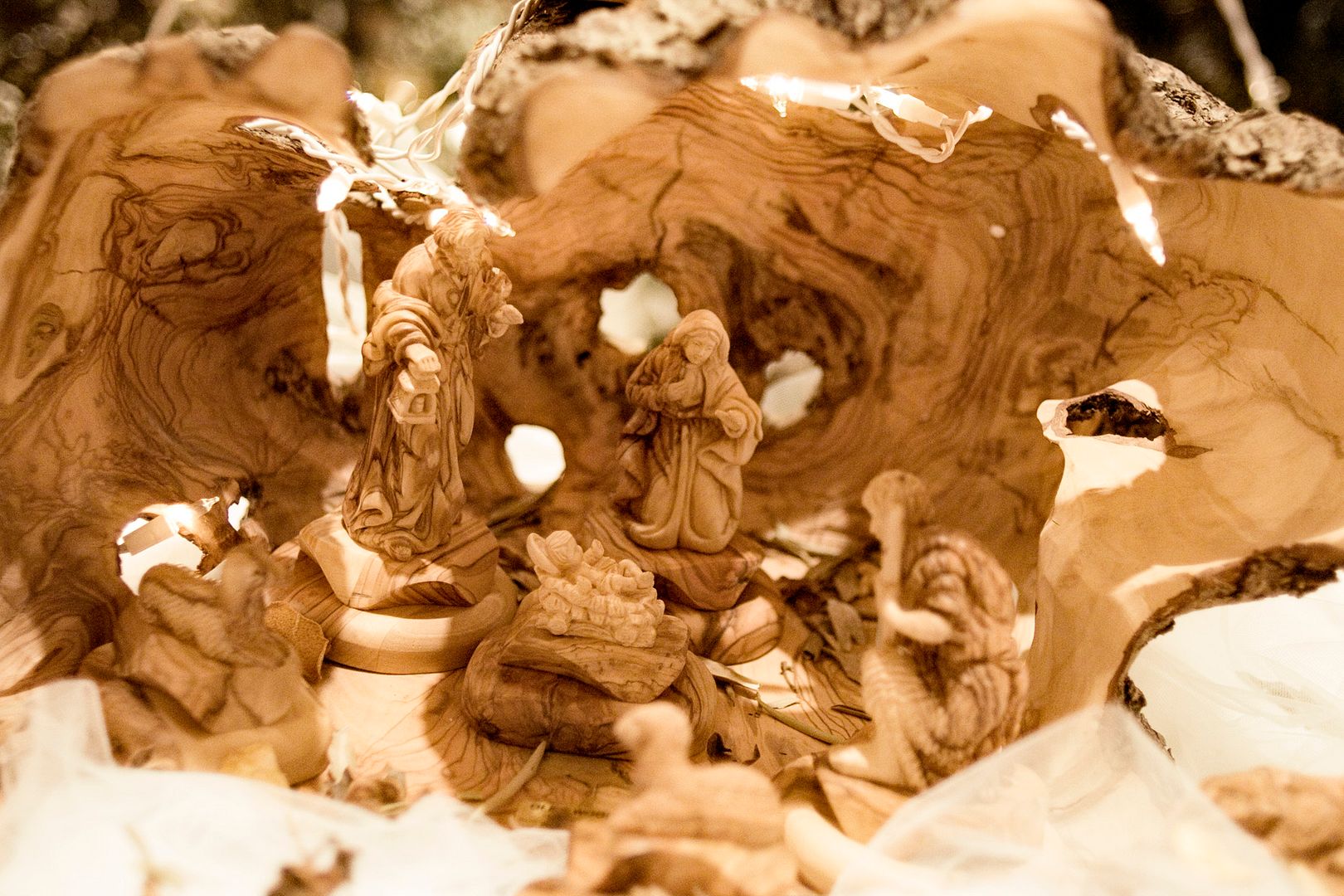 Nativity set from Bethlehem carved from an olive tree
We placed 4 sets of tables around the edges of the gym and organized the Nativity sets by color & style on the tables (we had a table of all wood nativity sets).
To help guide the visitor through the room we printed the Christmas Story from Matthew on foam boards around the room. (they are just pinned to the cork boards at the church)
This year we added these stars dropped from wire strung over the alcoves of the church.  They were inexpensive and added a bit of charm to the gym.
One our committee members husbands built the most beautiful back drop for us to use on the stage.  Each piece is a 4×8 piece of MDF cut out  with the silhouette of Old Jerusalem.  The panels are all moveable so depending on how many people were on the stage we could rearrange them as necessary.
I bought the star (from Grandin Road) at the last minute (after Thanksgiving sale YES!!) – I think it added a nice touch to the stage.
On the stage we hosted a live nativity and Christmas music.  It rotated between musical acts and the live nativity all day.
Heather a committee member, had the ingenious idea of making door stops. She used empty boxes with bricks in them then wrapped them to look like presents.
Aside from the gym we had 5 smaller rooms decorated with themed nativity sets. We had international sets (the photo collage above).
A room for white nativity sets (don't you just love the white lights place UNDER the table cloth?)
We also had rooms for Glass & Crystal nativity sets, Hand crafted nativity sets, Village sets and  Children's nativity sets.
I loved all of the smaller rooms because we asked people to decorate them and told them to do whatever they wanted.  Each one of them knocked it out of the park. Seeing the individuality of each room was one of the highlights of the event.
There was also a room for children.  All of that holding still and "not touching" wore them out a bit so we provided a room where they could "play".
There was a dress-up corner, where they could dress up and pose for a photo. (I don't know where the sheep came from, my Mother in law has had it for years, I think it's from England).
One of the members of our church had all of the nativity costumes.
This year I took my little people nativity set over and set up a play table for the kids.  We thought it would be okay if there was ONE nativity set they could touch!
The kids also got to make a little craft.  Brandi came up with this one last year and it was a big hit. It's made from a toilet paper roll, a wooden doll, a paper towel and some raffia.
We also had Christmas cookies served as refreshments.
I'm so happy with how the event turned out and so grateful to every single person that helped us set this up and clean it up.  It took a village.
Thanks for your patience with my little old blog :).  Reading your comments are bright spots in my day.  I am crafting and sewing and will have lots to share with you soon. But for now, I really need to spend some time with my kids (as you can imagine I've been distracted lately)  Watch for a project next week then we'll all take a little break until the New Year.
oh if you are doing the Quilt Along I DID not forget about you!! I'll be posting an update on Monday! Then we'll have a linky party right after Christmas (so we don't spoil any surprises)… So TAKE PICTURES of your quilts before you give them away!