This T-shirt Maxi Dress Pattern – is so easy to make. It's sewn using a t-shirt and some fabric. A great DIY upcycle fashion project!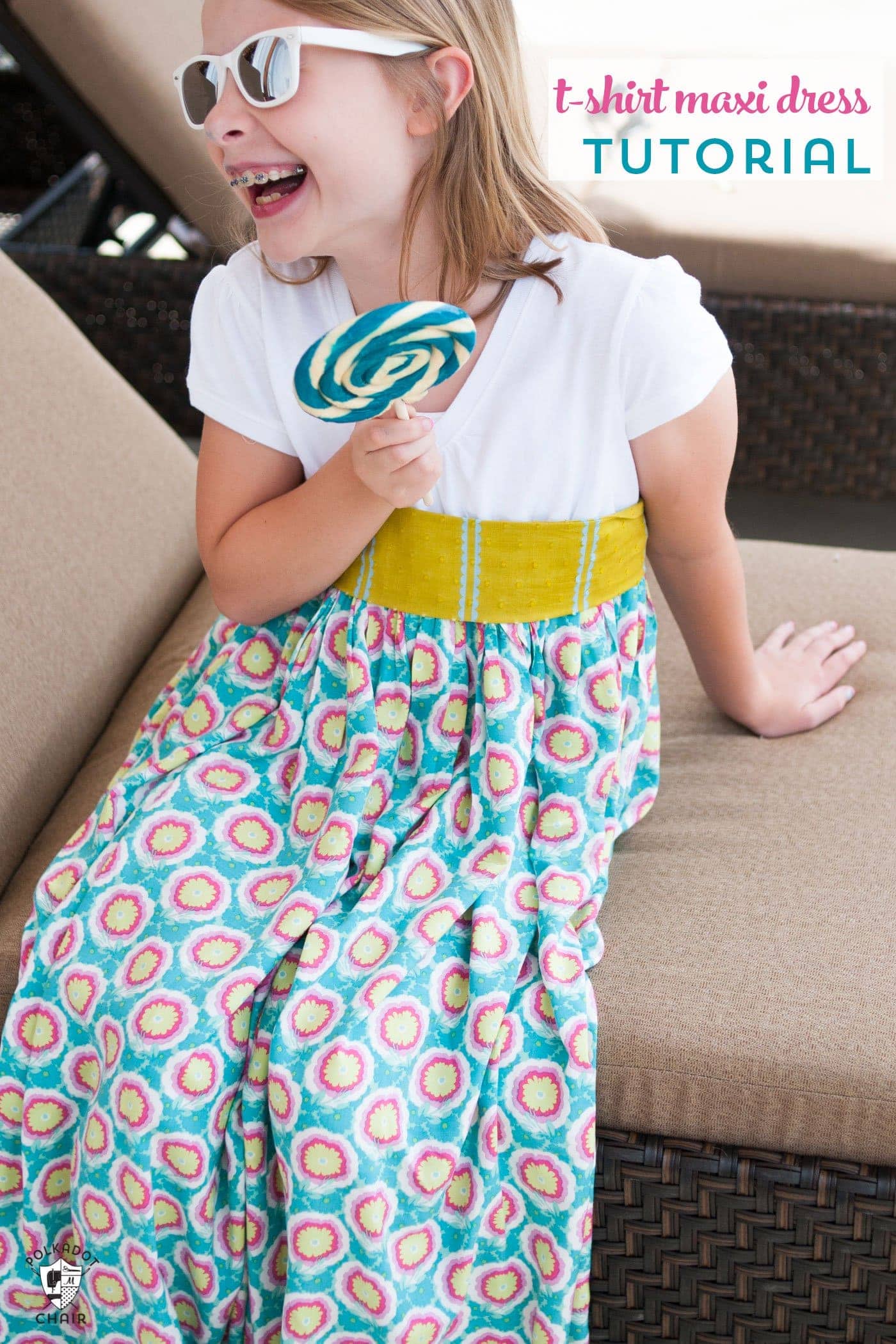 I got an idea to make a girls maxi dress from a t-shirt. Last Summer after I made my daughter this dress... she "requested" another one but this time with JUST fabric on the bottom… So to keep my little fashionista happy, I drew it up in my sketch book and promised to make her one this summer.
I decided to make it from Voile this time.  I love the light airy fabric and thought it would be perfect for summer.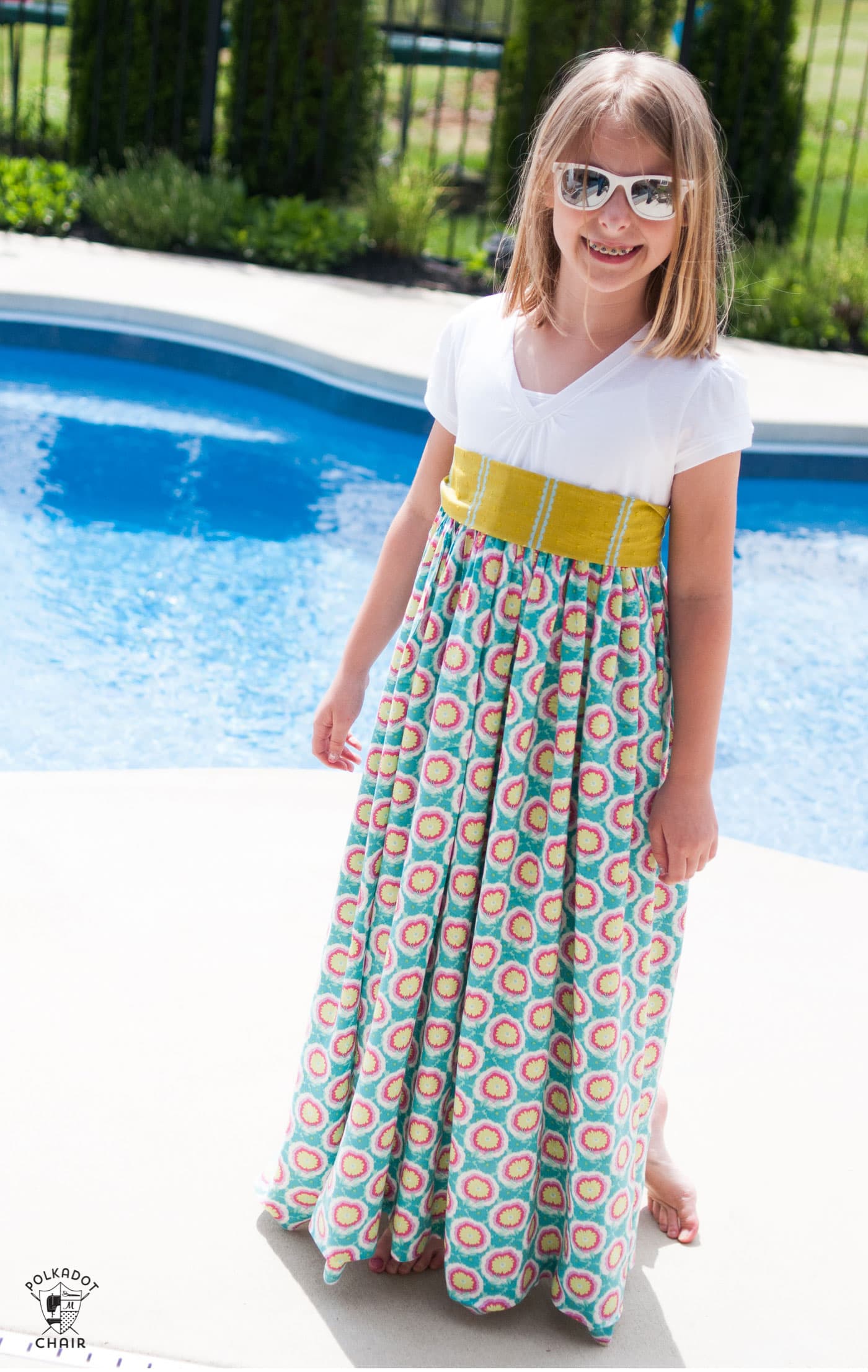 I saw that Lindsey at the Pleated Poppy has a tutorial on her site for an Adult size made from a tank top-   If you're looking for an adult size of this dress, check it out, she uses a different method to attach her skirt to the top.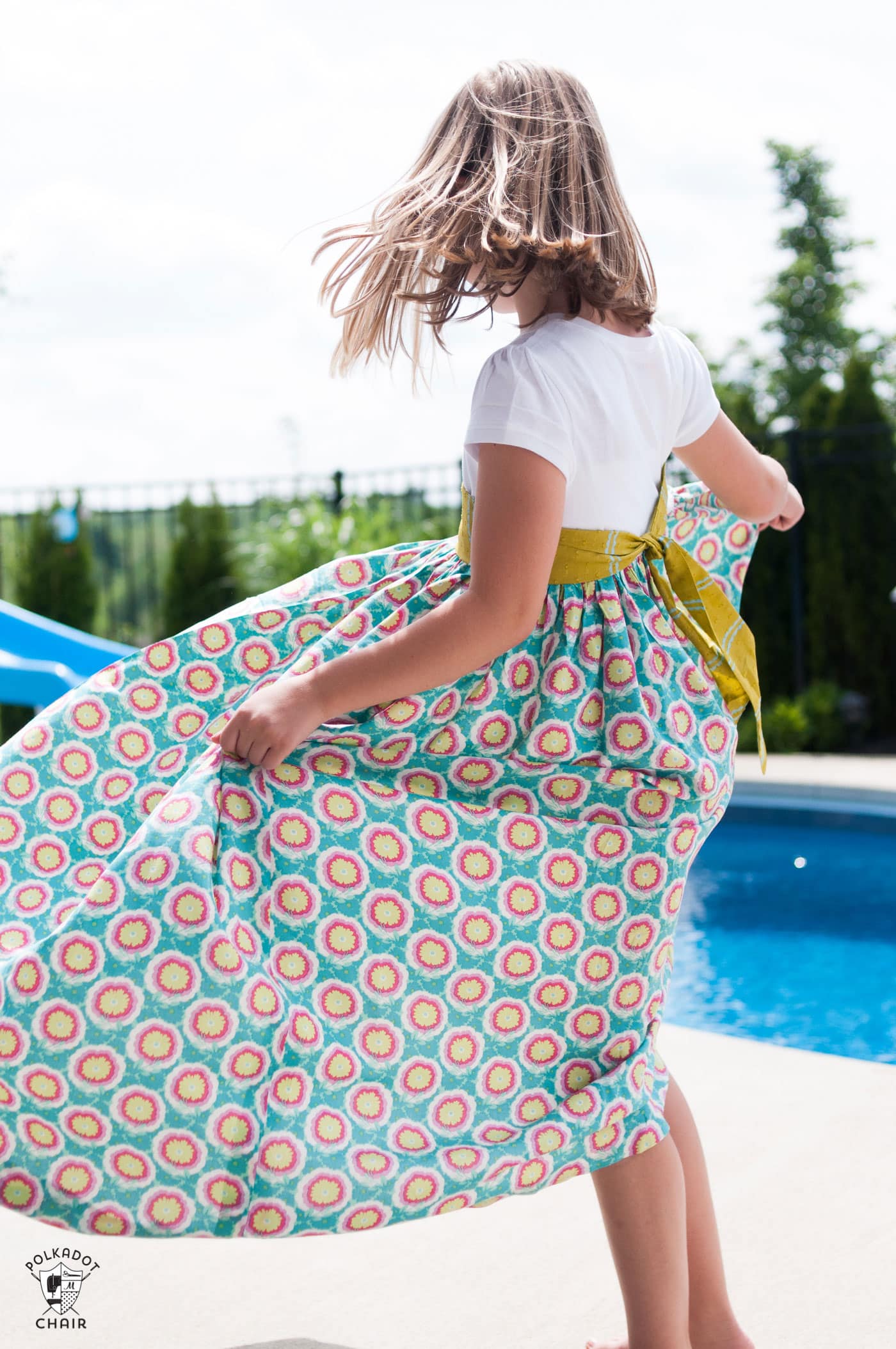 Ready to get started?
To make this dress you'll need the following:
– t-shirt.  It needs to fit snugly, but not tight- if you're not sure of the size, go down a size. Mine is from Old Navy.
– 2 yards of Voile Fabric- You could also use Velveteen- but try to stick to something light and airy, otherwise the dress will get heavy- if you want to make it for a taller than a size 10 you'll need more yardage.
– 1/2 yard of Voile Fabric for waistband
The measurements for this dress will make approx a size 10- but you can adjust them easily to make other sizes.
Seam allowances are 1/2″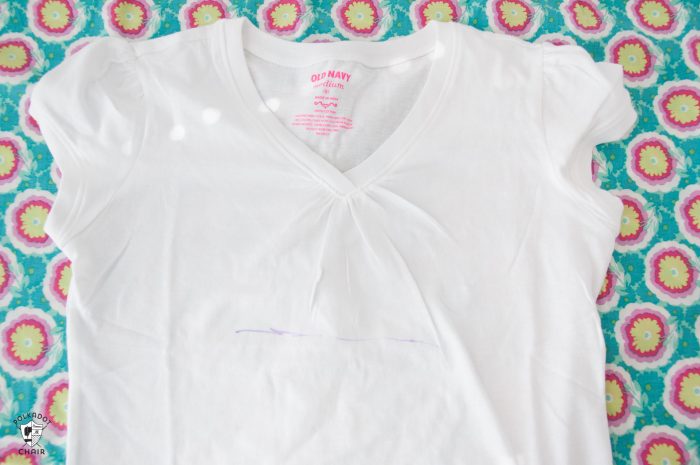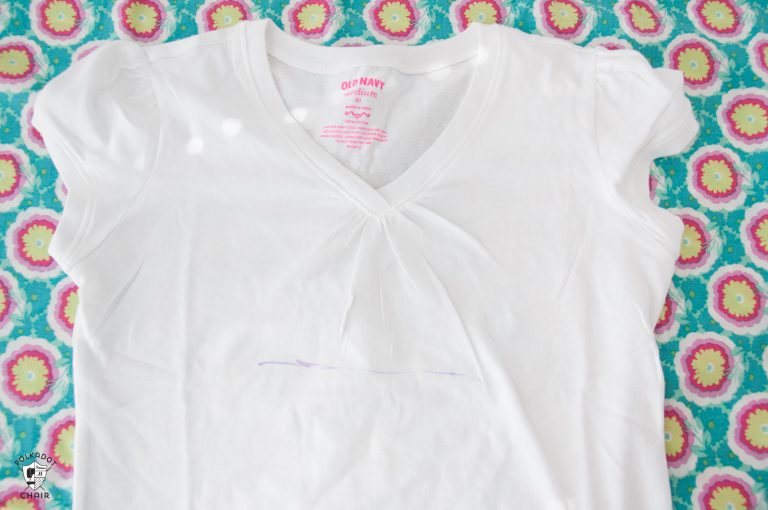 On your t-shirt make a mark  approx 2″-3″ down from the bottom of the arm holes.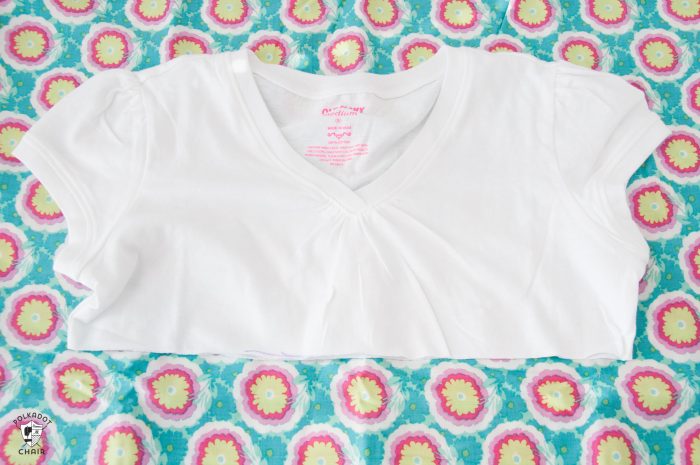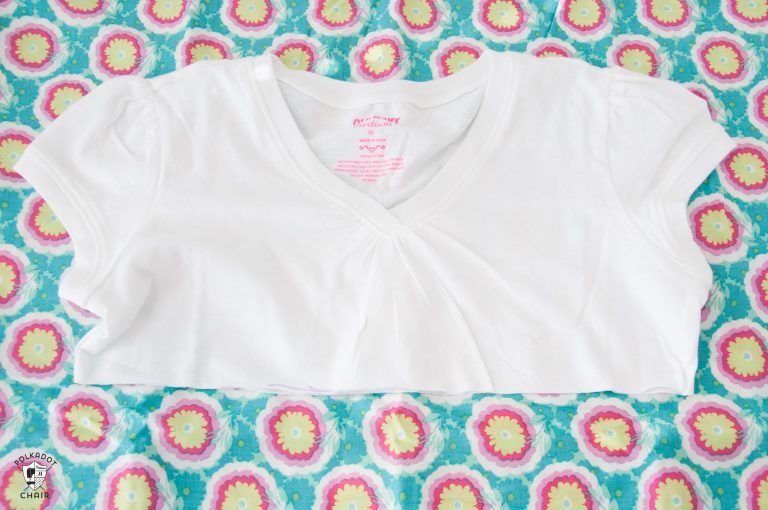 Cut off the bottom of the t-shirt.  You don't need it so you can save it for another project if you like.
Take the waist measurement of your model.  Then double it- My daughter has a 25″ waist… in her case each piece would be 50″ wide- and the Voile is 54″ wide… I decided to just "go with" the extra fabric- and not cut off the extra 4″.
To figure the length, measure down from just under their armpits to the floor-  Add about 1″ for hem and seam allowance.  It turns out that 36″ was the perfect length to use on my daughter- if yours is taller or shorter adjust here.
You'll want 2 pieces of fabric that are double the waist measurement by your height measurement.
In my case they were 2 pieces 54″ wide by 36″ long.
Stitch the 2 pieces together along the 36″ sides. Press seams open.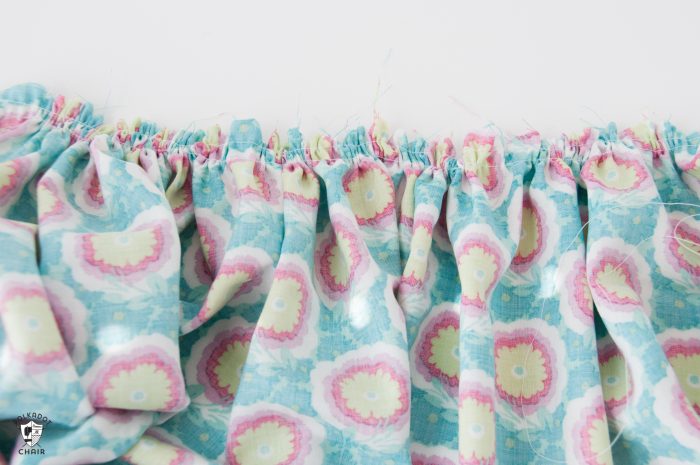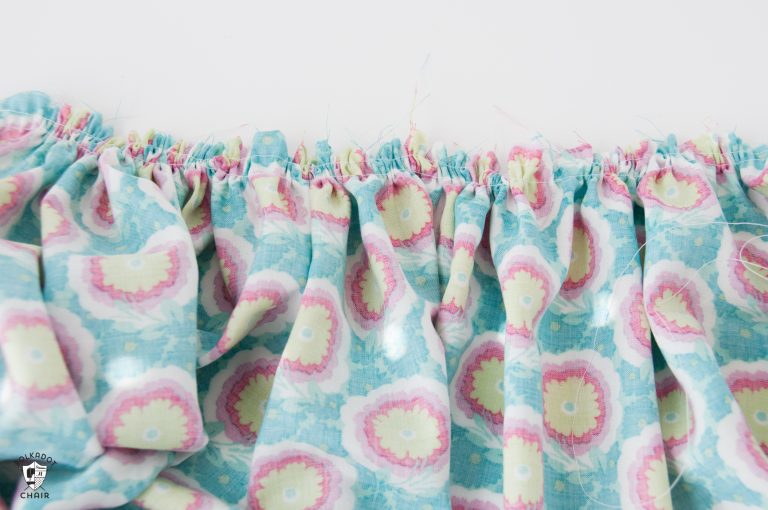 Run 2 rows of gathering stitches along the top edge.
Gather
Fit the skirt into the t-shirt, right sides together- adjust gathers so that the skirt portion fits into the t-shirt portion.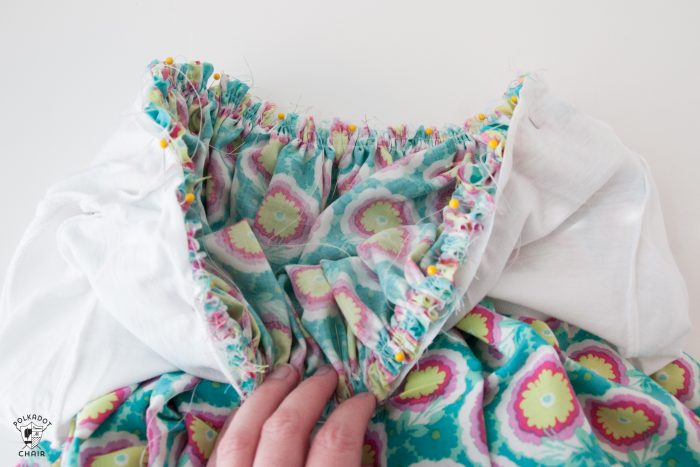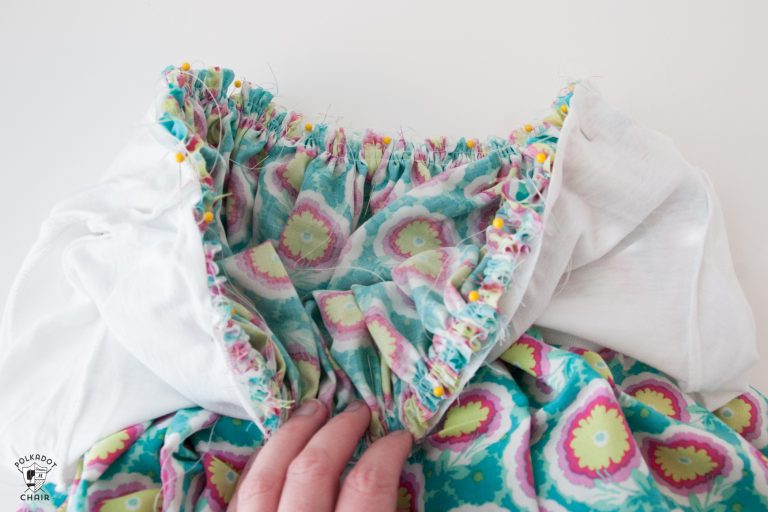 Pin well.
Stitch skirt portion to t-shirt portion, being careful not to pull on the t-shirt as you sew (you don't want it to stretch out too much)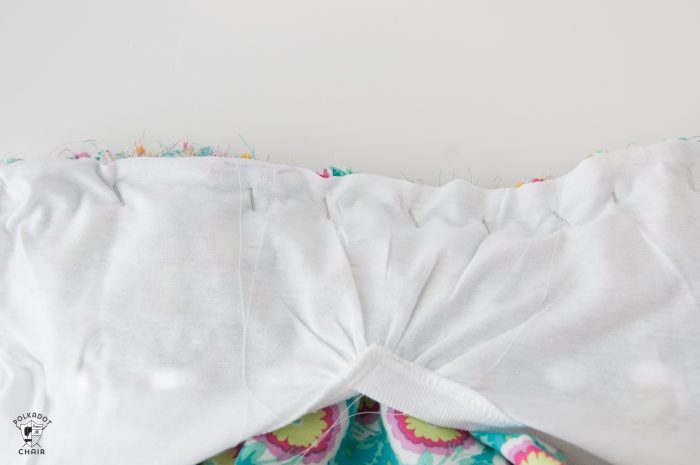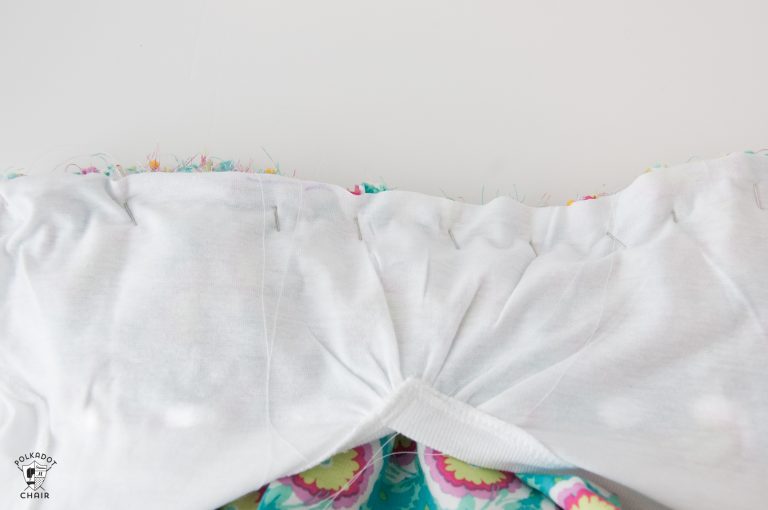 Turn right side out, and press well.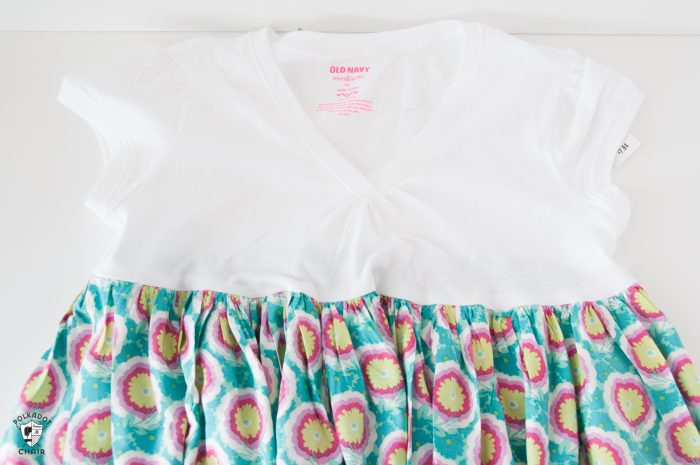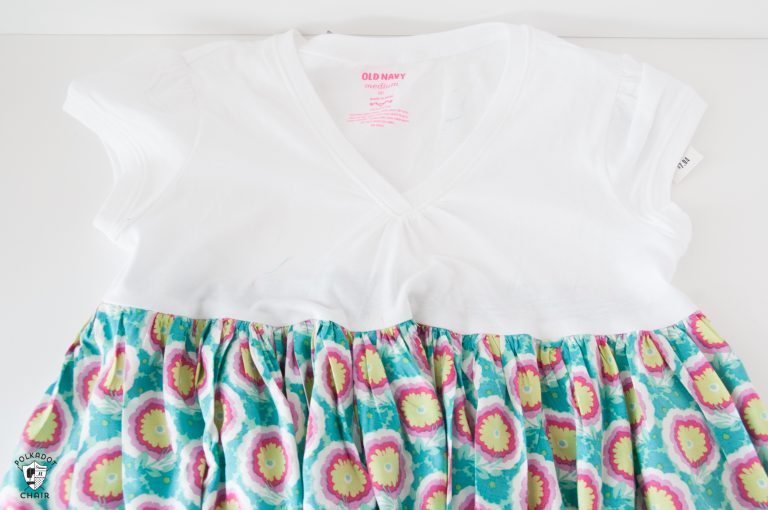 To make the sash.
Cut a piece of fabric 6″ wide by 54″. (it was 54″ wide since it was a Voile fabric).
Fold in half, miter corners. Stitch together leaving a 2″ opening in the center.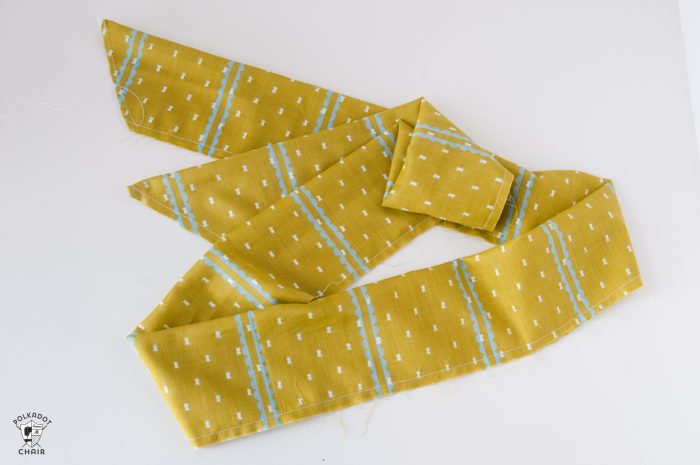 Turn right side out- slip stitch opening closed.  Press.
Be sure to send me links to your t-shirt projects!! I'm going to do a round up at the end of the month! (thanks to those of you that have already sent them).



7