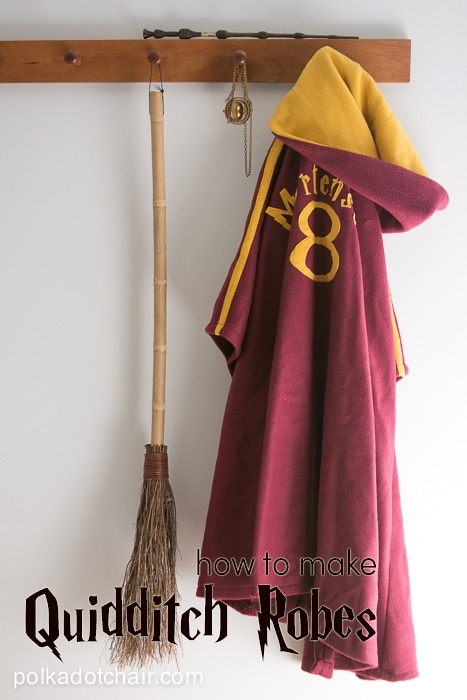 Okay,  we admit to being a little Crazy for Harry at our house!  In fact when I go to London, touring the Harry Potter studios is one of my top 3 MUST Do's… A few years ago we even all dressed up as Harry Potter characters for Halloween (my husband and me included).  So when I found out about the Happy Harry Potter Series over at Rae Gun Ramblings, I was more than happy to participate!
In celebration of Harry's Birthday Marisa of Rae Gun is featuring great Harry Potter DIY projects, giveaways and ideas on her blog. Just click over there to check out all of the other ideas shared.
Today I'm sharing with you an way to make some simple Quidditch Robes. I made this costume for my son several years ago and it's been lent out and worn many many times (hello midnight premiers!)  The robes make a great Halloween costume or just a fun dress up for the crazy Harry Potter fan in your house.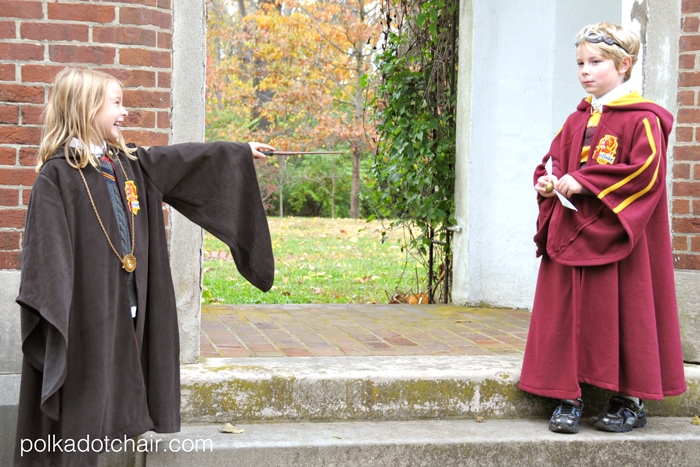 The costumes are made by making simple modifications to a basic robe pattern. I'm sure you can find a free tutorial online for a robe pattern if you don't want to buy one, but since you can usually get sewing patterns on sale for as little as .99 I think it's worthwhile to buy one. Simplicity 9877 is great for adults and  Simplicity 3998 will work for kids.
To make the robe you'll need:
Pattern
Polar Fleece in 2 colors.  I chose gold and maroon for Gryffindor… pick colors as you want for which house you're in :)
School Patch- can be found easily online
Gold Clasp
Heat N Bond Lite
Steam a Seam (less than 1″ wide)
Matching Thread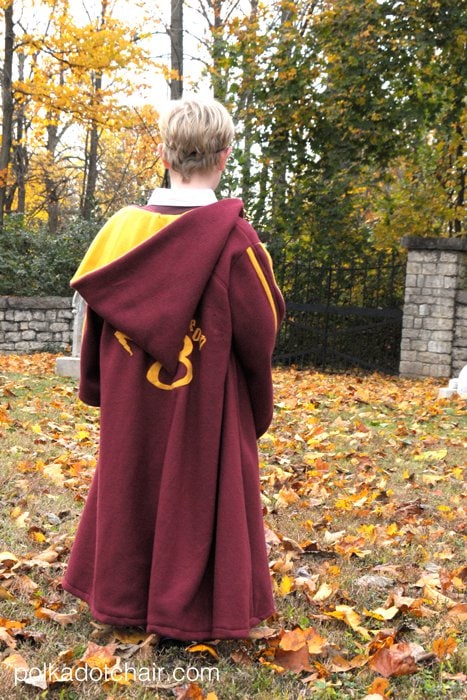 Cut out and sew the pattern as you normally would.
Make the following changes:
Cut 4 strips of contrasting fleece 1″ wide and the length from your shoulder seam to the sleeve end. Using steam a seam iron 2 stripes on top of each sleeve side seam. Top stitch both stripes. You'll want to complete this step BEFORE you sew your sleeve into your robe.
Line the hood of the robe but not the rest. Since you're using polar fleece it won't fray so there is no need to line the inside.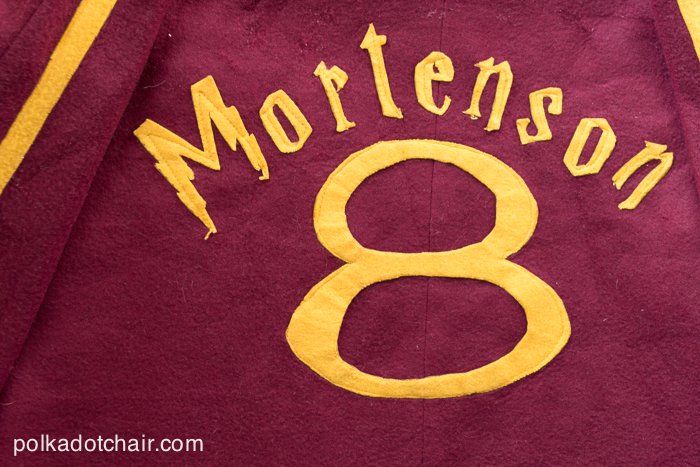 Next, print out your name onto plain white paper using a Harry Potter font- my font is called Harry P. Reverse the font by placing your paper upside down on a light box or window. Trace the font onto the paper side of a piece of heat n bond lite.  Cut out the letters roughly and press onto a piece of contrasting color fleece. Cut out the letters precisely. Press onto the back of your quidditch robe. Use a pressing cloth with the polar fleece to keep it from melting.
Stitch around each letter (or in the center of the more difficult shapes) to attach to the robe.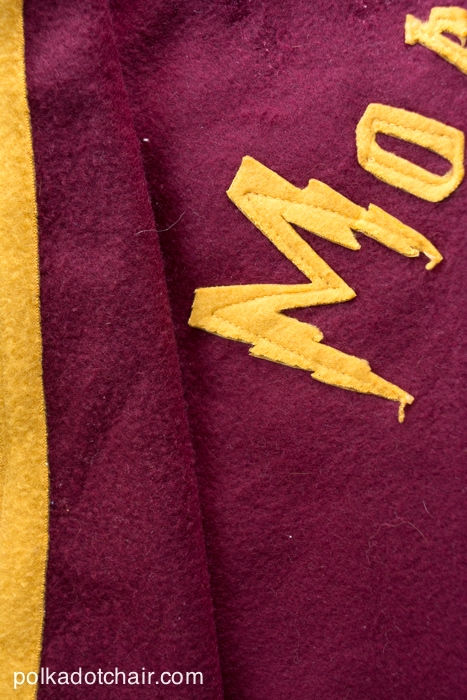 That's it. You're done .. now just accessorieze away with a broomstick, some cute googgles and of course, your Golden Snitch!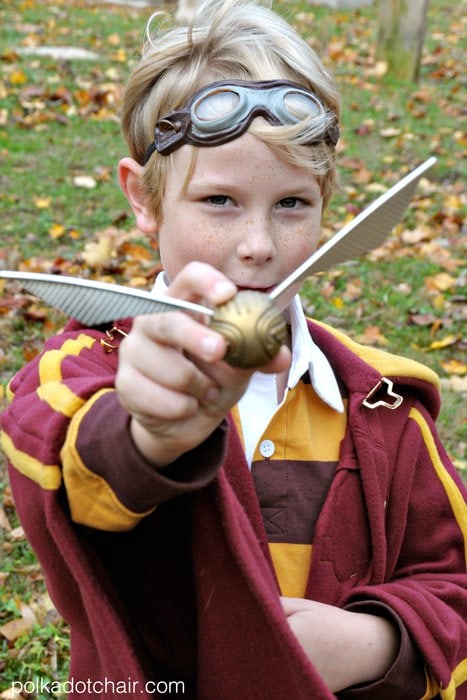 You can use the same pattern to make school robes too. Here's his twin sister all dressed up like Hermione!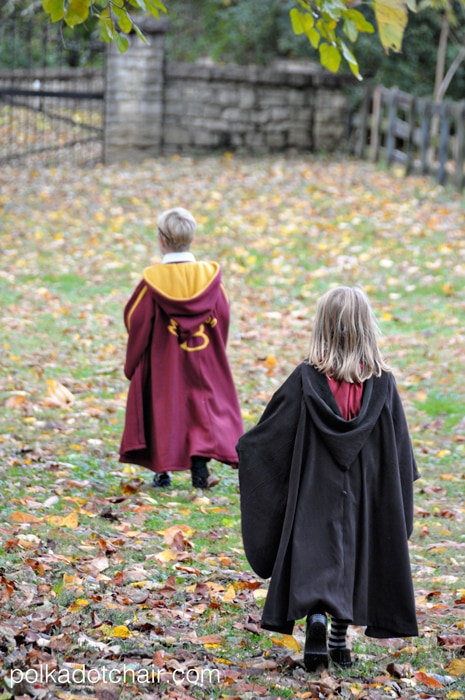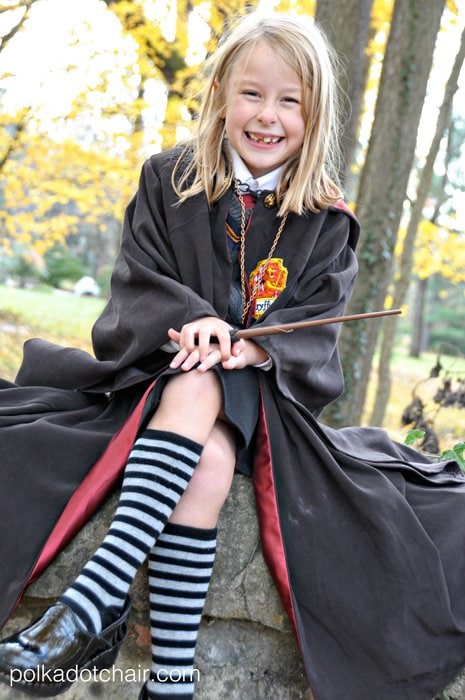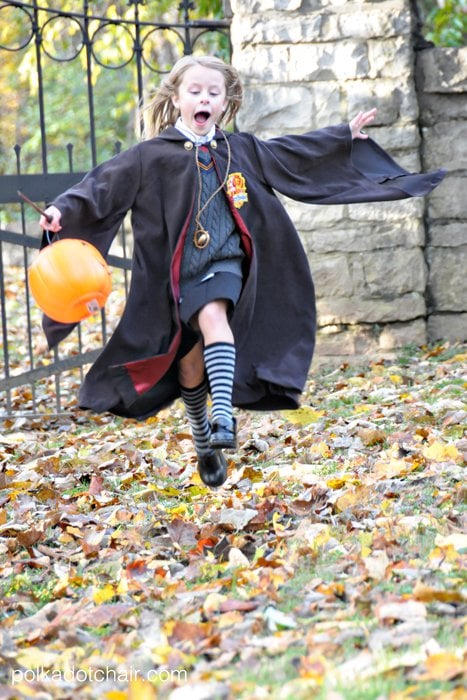 and a shot of the whole family dressed up- and in case you were wondering, yes we went as the  "Epilogue" *wink*. 
Marissa is also hosting a Instagram photo challenge- follow along with her and others as they share their love for Harry!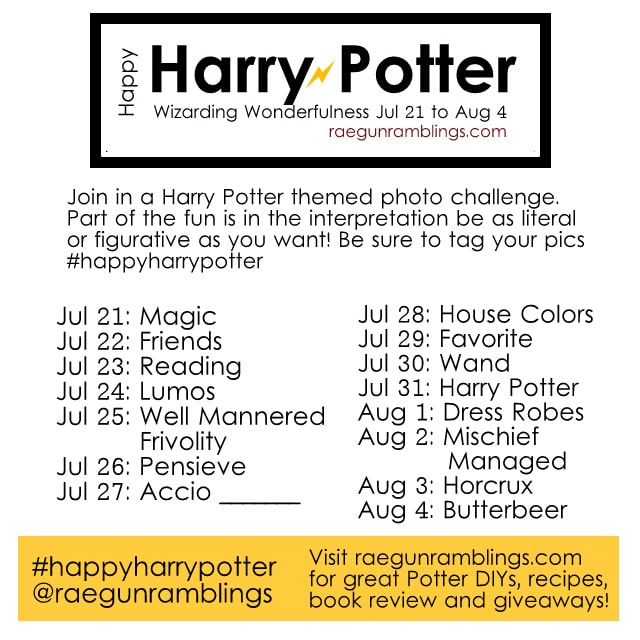 If you love Harry Potter as much as well all do, check out this amazing giveaway that Marissa at Rae Gun has organized!!  Just enter using the Rafflecopter widget below.