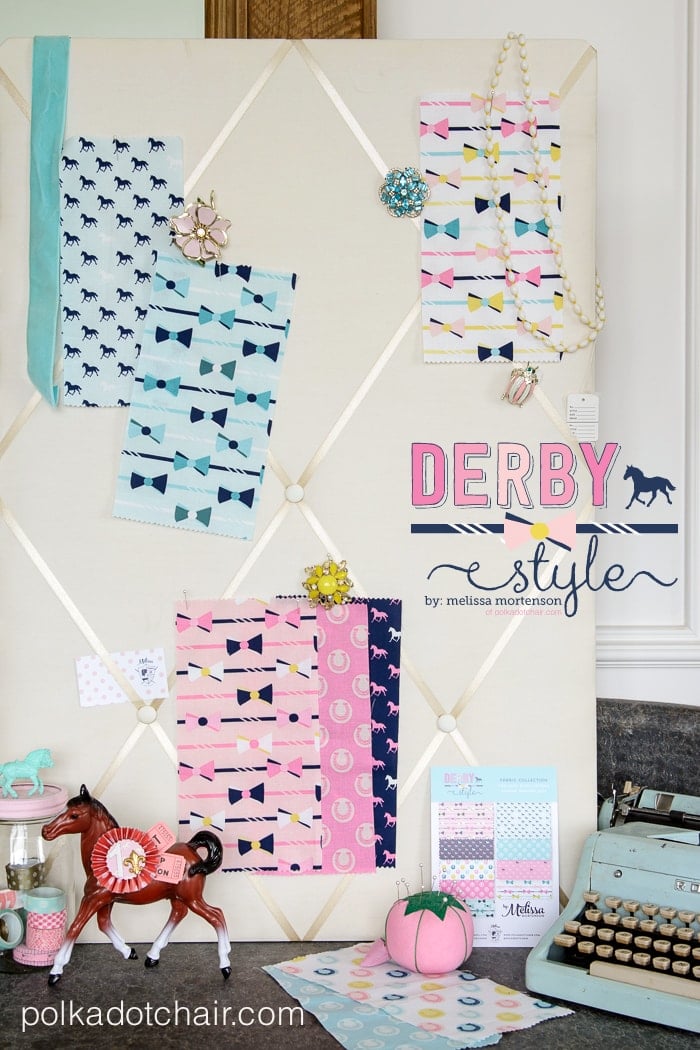 Hello, Happy Monday Morning to y'all!  Today it's my turn for the Riley Blake Fabric Designer Blog Hop! If you came here from the previous stop,  Lori Whitlock's blog welcome!  I thought that I'd start by introducing myself. My name is Melissa Mortenson, I live in the Louisville Kentucky area with my husband and 2 of my 3 kids. My oldest is off attending Brigham Young University right now.  I'm a Utah girl who married a Kentucky boy and that's how I ended up out here. I've lived in Kentucky for almost 20 years now and can honestly say that I absolutely love it!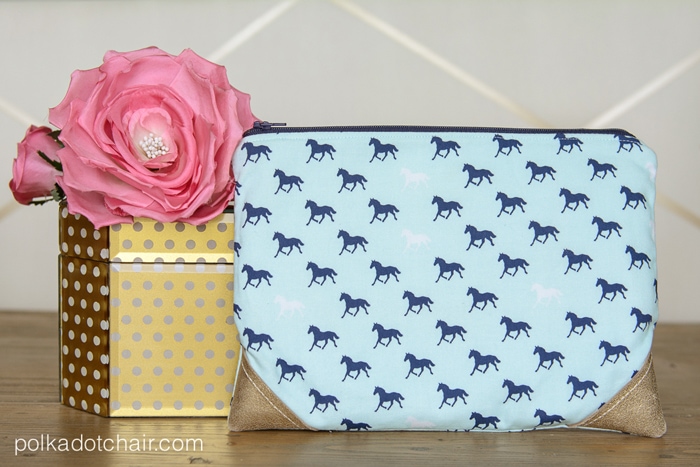 I've been sewing since I was a teenager and I was lucky enough to have one of the most amazing sewing teachers in high school. She really blessed me with not only knowledge about sewing, but also a love for the craft.  I put aside sewing for a few years while I was in college as I was a Molecular Biology major and it didn't leave much free time for hobbies. After I had my children I happily picked up sewing again.  Even though sewing and quilting are my first loves, I also adore scrapbooking, paper crafts, cooking and oil painting.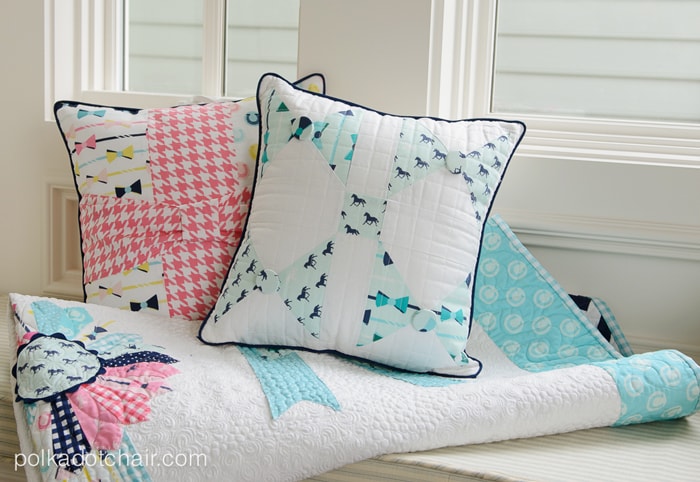 (Quilt was quilted by Natalia Bonner of Piece N Quilt)
I started my blog in 2008 and found that I absolutely loved sharing craft and sewing ideas with other people.  As time went by I found myself putting more and more time into my blog and am really proud now of what it's grown into.  I checked my "stats" this week and realized that so far this year over 1.5 million individual people have stopped by, which to me is completely impossible to try to wrap my brain around.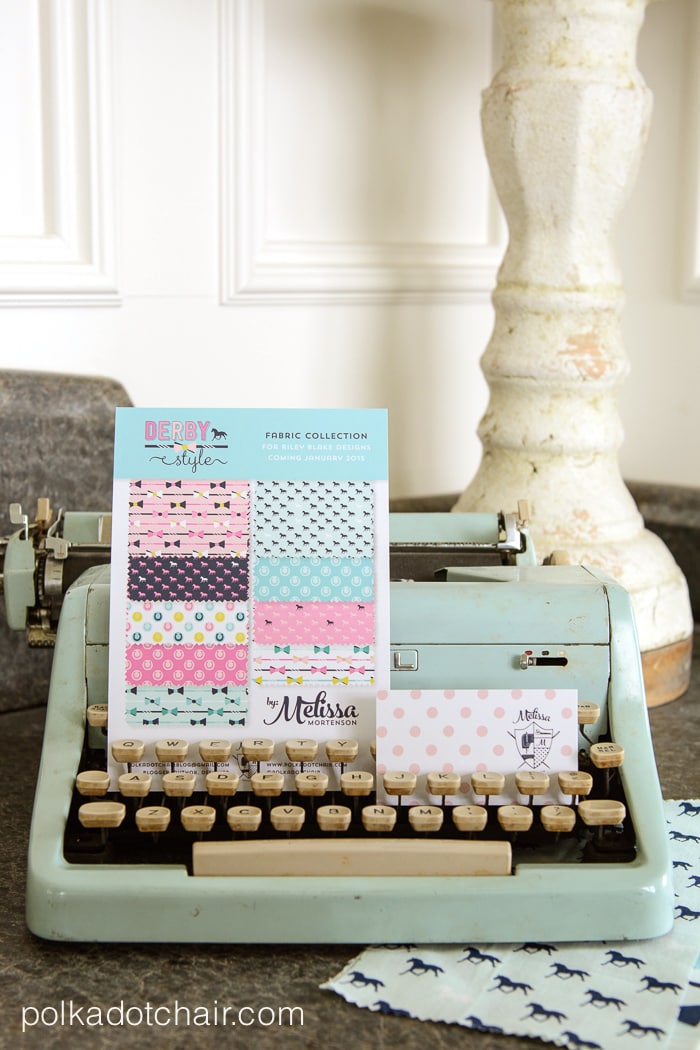 Derby Style is my very first fabric line and I could not be more excited! I got the "spark" of an idea for fabric a couple of years ago but didn't have the courage to talk to anyone about it until early this year.  I'm so grateful that Riley Blake took the time to review my ideas and to partner with me on this new line! It comes out in January 2015 and I can not wait to see others start sewing with it.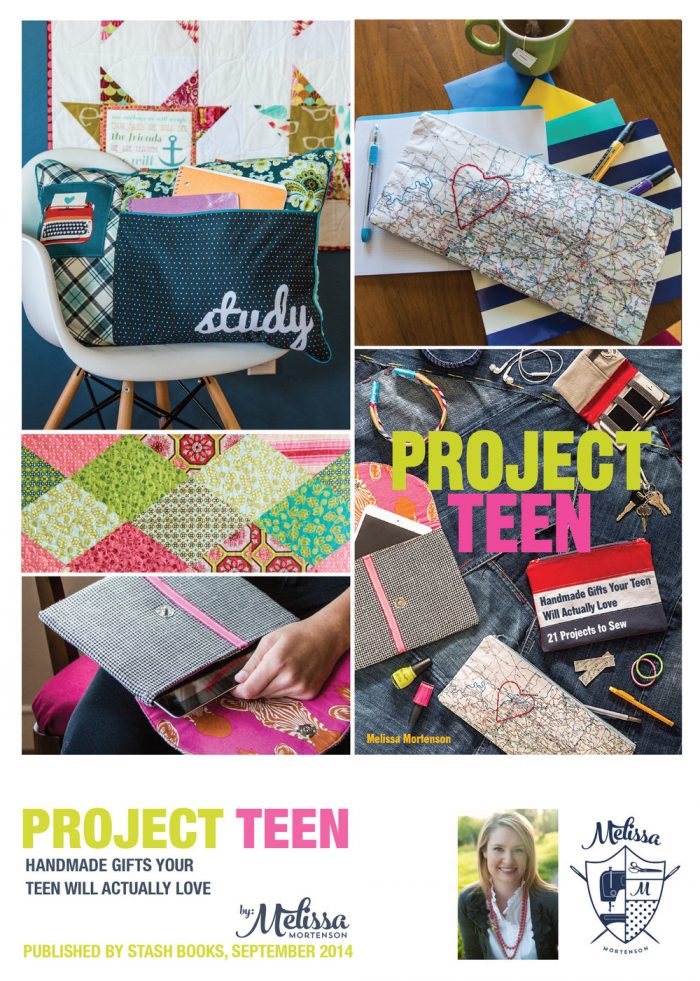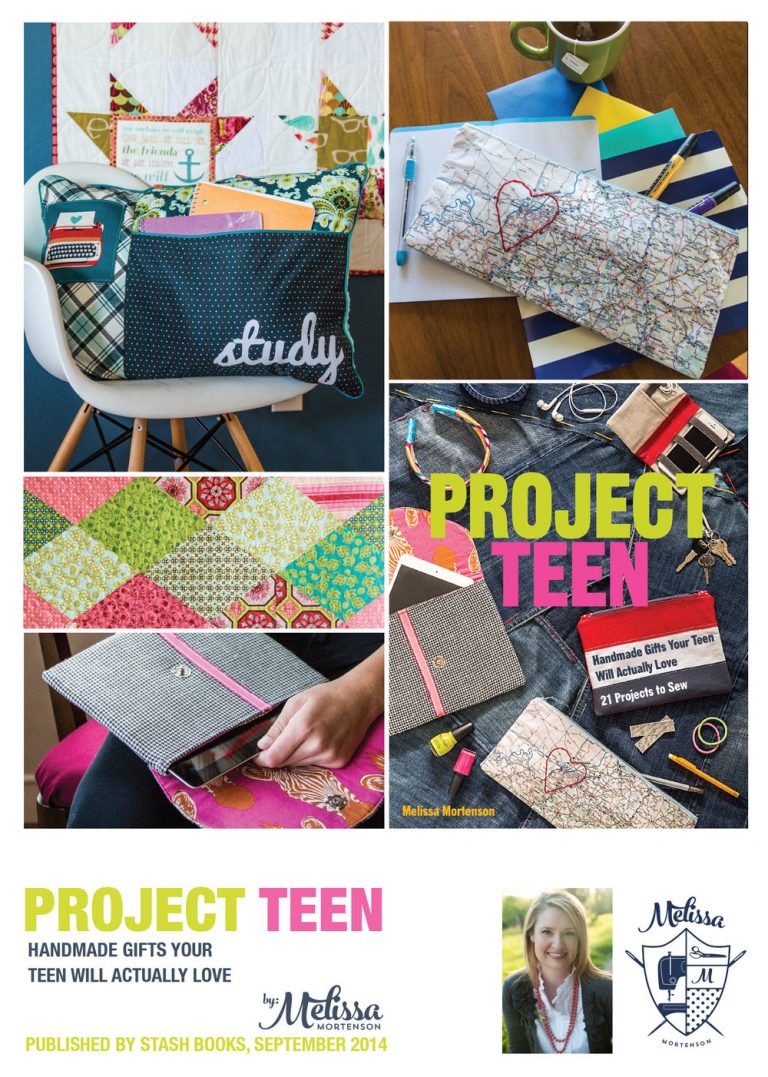 This year I had my first book, Project Teen published by Stash Books! My kids were getting older and I didn't want to stop sewing for them and I thought that others might feel the same way so I brainstormed 21 sewing projects that I thought that tweens and teens would love. It was released in September of this year and I've loved hearing feedback on the book, especially from teens who are using the book to learn to sew for themselves! It takes me back to my days sewing in high school and makes my heart happy!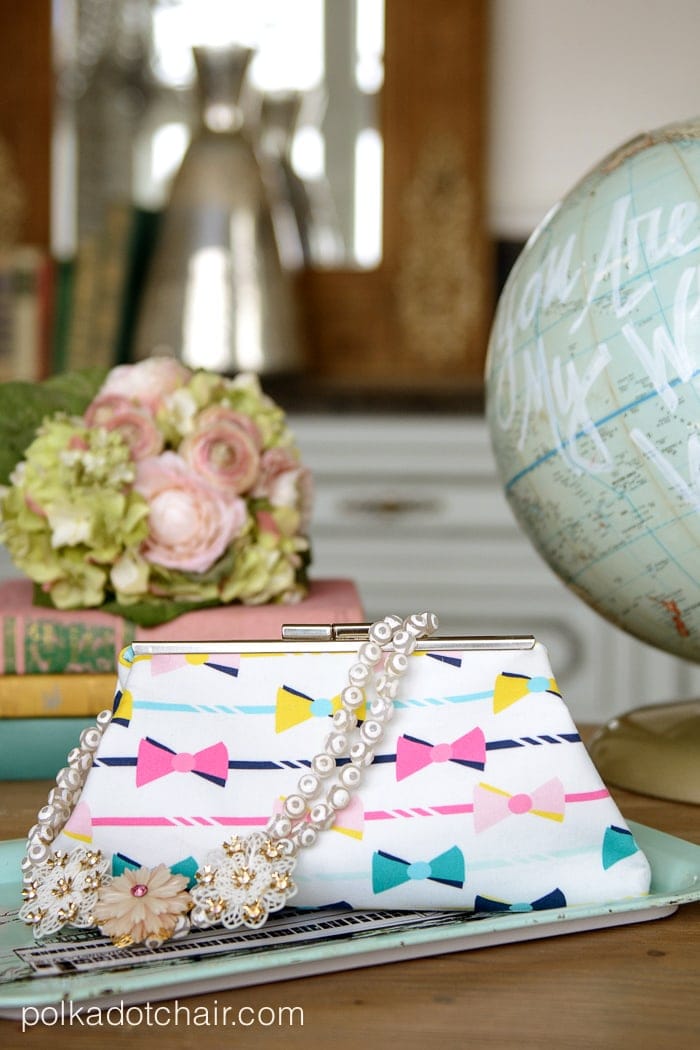 OK enough about me, let's talk FABRIC! First up a big thanks to Gretchen from Nesting in the Bluegrass for helping me to style my projects for a photo shoot. I was coming up blank and she's a styling genius who brought all of my projects to life.
Derby Style is inspired by some of the fabulous fashions that I see around town during Kentucky Derby season (yep, it's an entire season).  Everywhere you look you see sharp dressed men in bow ties, seersucker and colorful shoes. The women are also equally decked out in fabulous hats and lots of bright gorgeous dresses.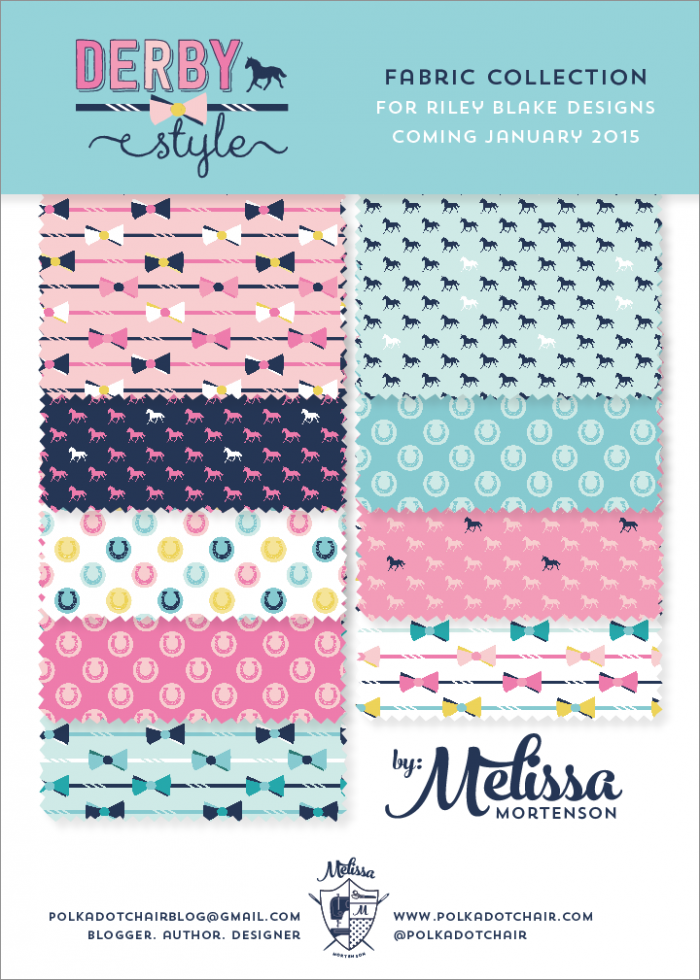 The fabric is not due until January but I was able to get my hands on some pre run fabric a week or two before quilt market and I started sewing up a storm. One of my favorite projects was this travel bag with a Dresden plate poking out of the corner.  The pattern is my Retro Travel bag and it's made from quilting cotton instead of laminate fabric (as shown on the pattern cover).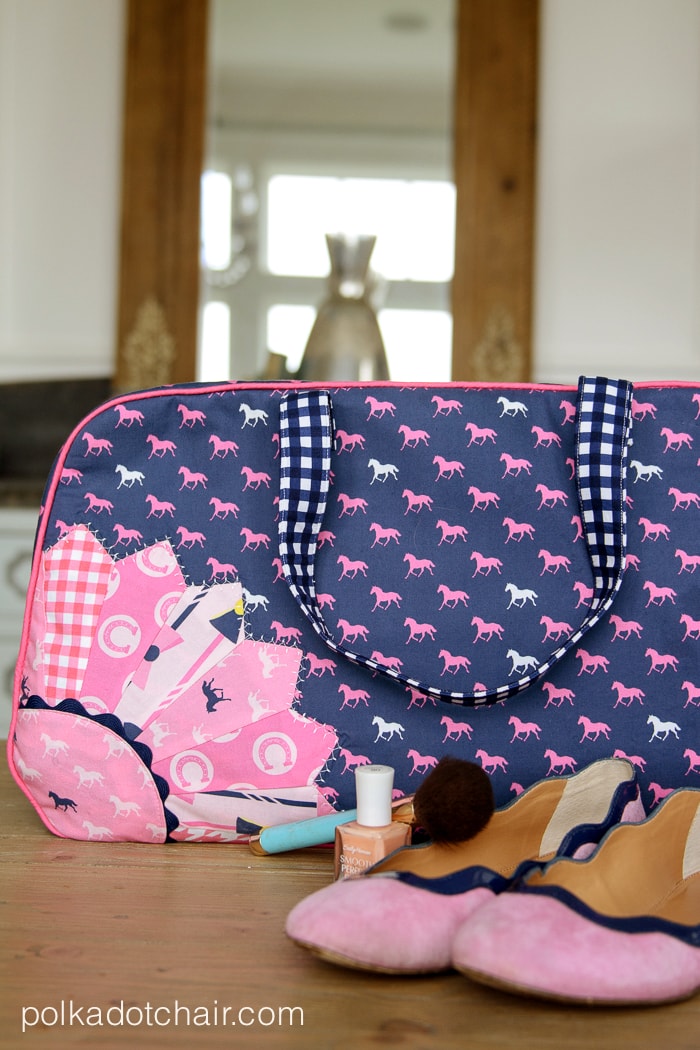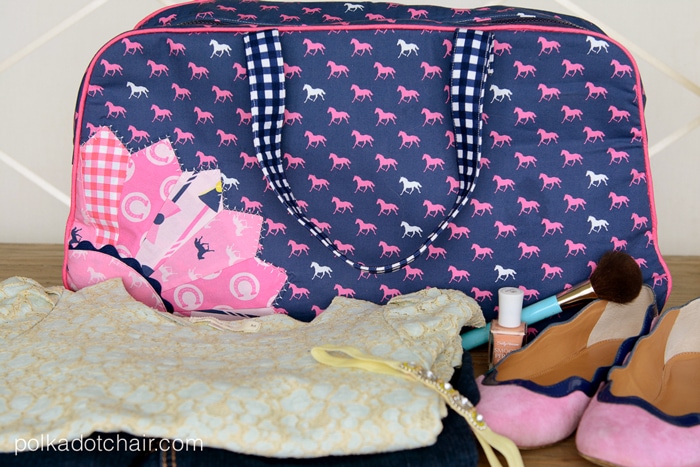 I love the navy with the pops of bright pink.
My favorite new project from this line of fabric is this quilt that I'm calling Prize Ribbons.   It was inspired by my Dresden Burst quilt  and these paper lollies I made as Derby decorations a few years ago.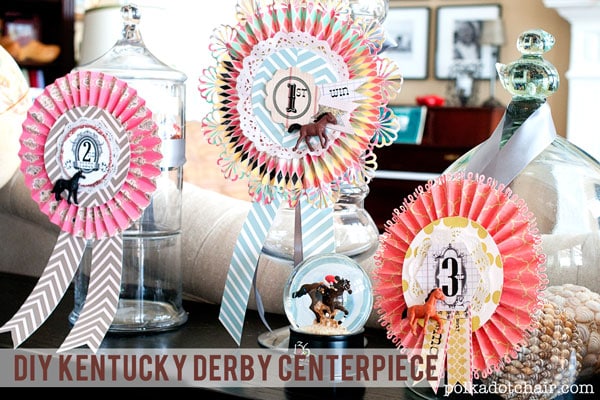 The quilt features 3 Dresden plates in varying sizes on a bright white background with fabric ribbons attached.  It's all done in glue and machine applique and YES I have a pattern coming for it very very soon! It will be in PDF and paper format.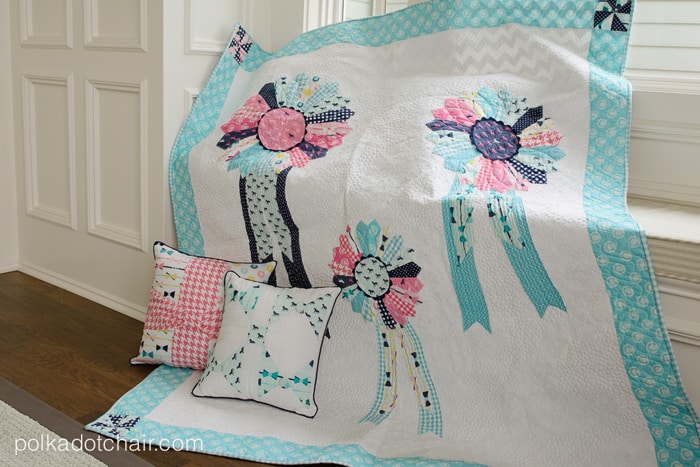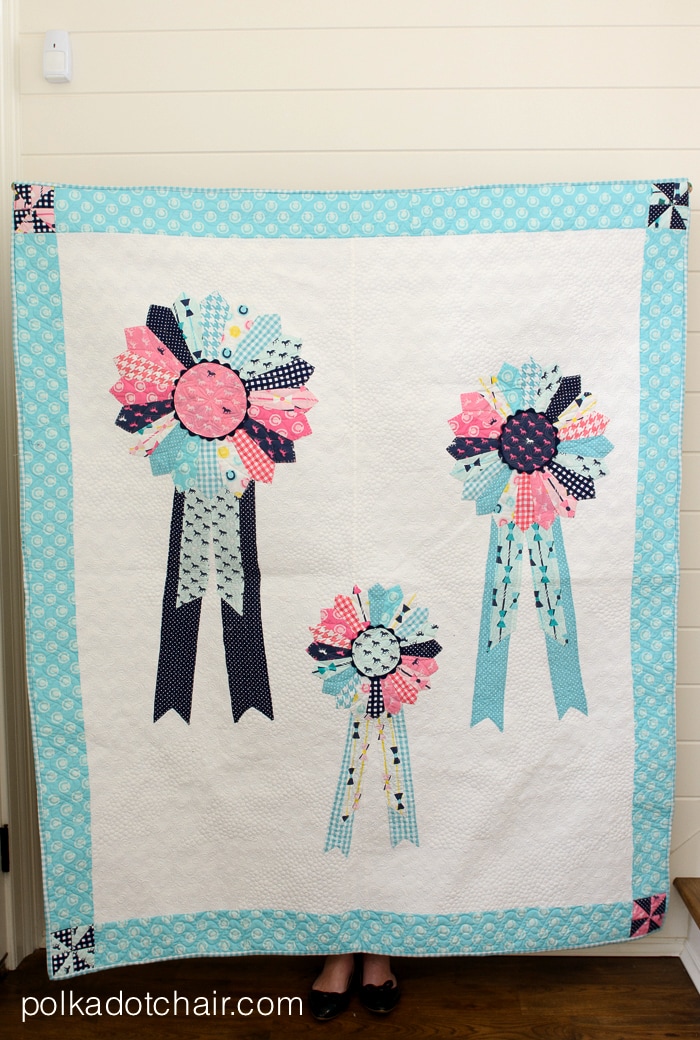 I made a few pillows to match the quilt and couldn't resist making a bow tie block! The tutorial for these two pillows will be shared in December on the Riley Blake Designs Blog as a part of their Design Team Wednesday.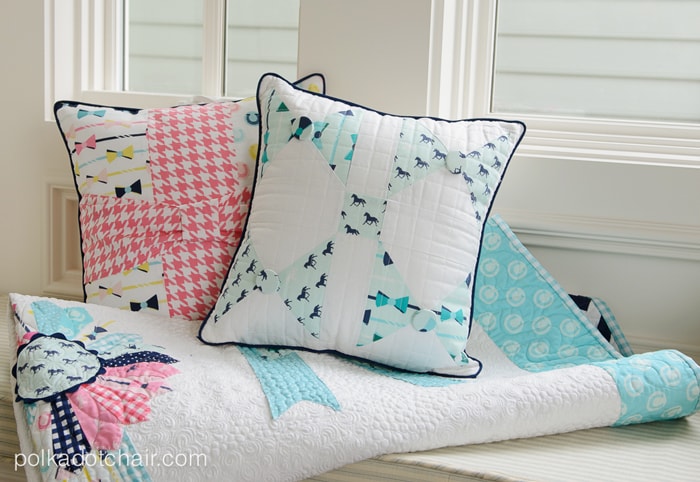 To me the pink print with the bow ties was just screaming to be made into a dress for a little girl. A friend stitched up this Oliver +S Roller Skate dress for me and did a fabulous job! I can't wait for warmer weather so that I can see her adorable little girl running around it this Spring.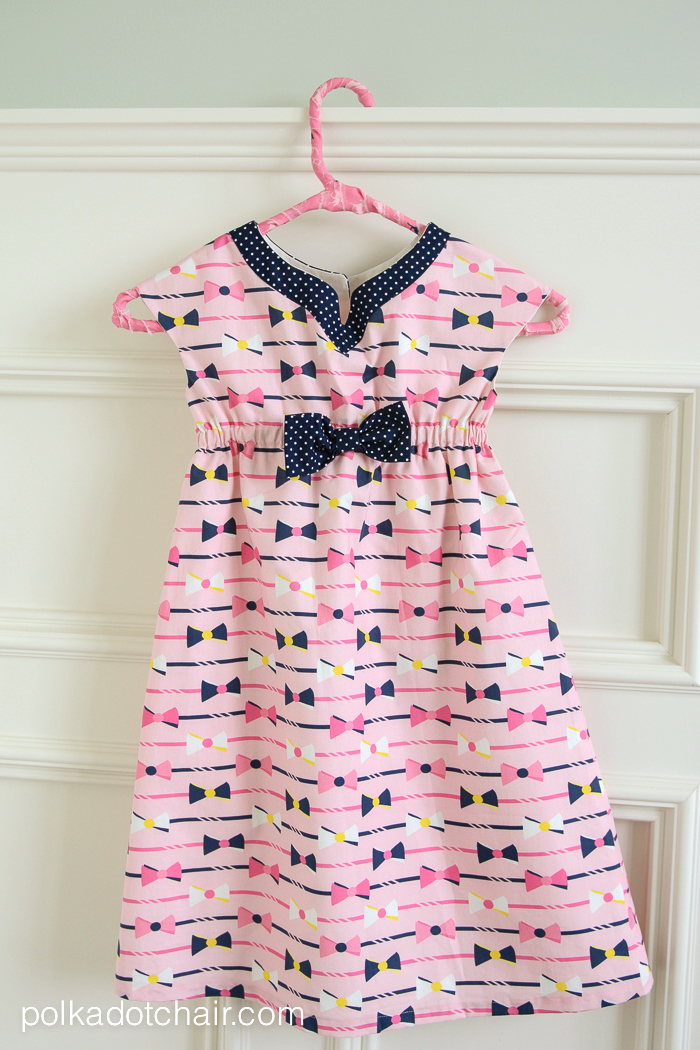 Thanks for stopping by today! It's so nice to "meet" you if your new and if you're not new I hope you enjoyed seeing some of what I've been feverishly working on for the last few months!
You can find Derby Style fabric in stores in January! Just ask for it at your local quilt shop!
Make sure that tomorrow you stop by Melly & Me !
Here's a listing of everyone on the blog hop in case you missed a stop!
11/6 – The Quilted Fish
11/7 – Bella Blvd.
11/8 – Deena Rutter
11/10 – Lila Tueller
11/11 – Carina Gardner
11/13 –Bee In My Bonnet
11/14 – Fancy Pants Designs
11/15 – My Mind's Eye
11/17 – Zoe Pearn
11/18 – Sue Daley
11/20 – Kelly Panacci
11/21 – Marin Sutton
11/22 – Lori Whitlock
11/24 – Melissa Mortenson (that's me)
11/25 – Melly & Me
11/28 – Scott Jarrard
11/29 – Elea Lutz
0