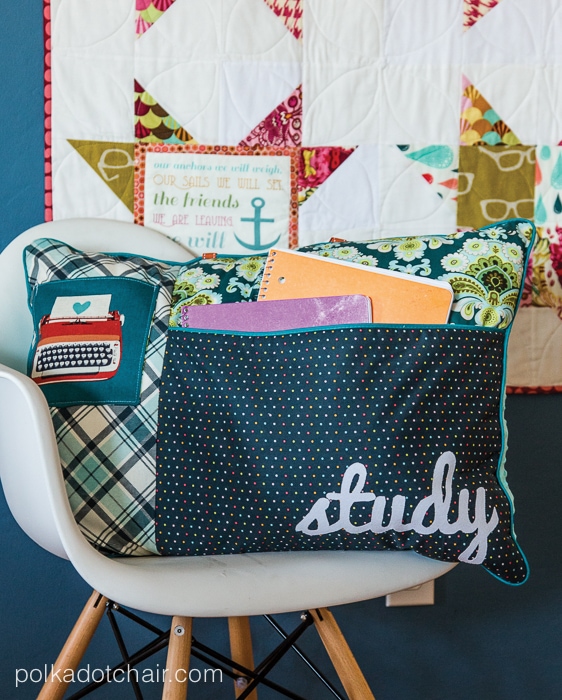 I thought I'd pop in here and share with you a bit more about my book, Project Teen: Handmade Gifts Your Teen Will Love 21 Projects to Sew
. I promise I won't be inundating you with book related posts over the next few months, but I know that personally I like to have a good idea of what projects are in a book before I buy it. So this fall, every few weeks I'll share with you the details of a couple of the projects in the book.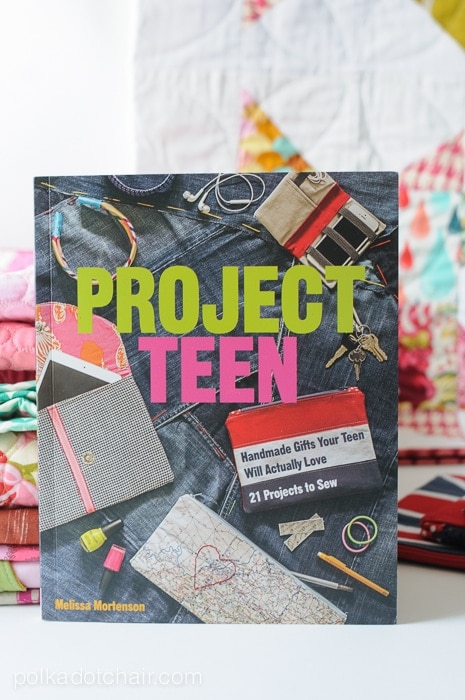 I spent 3 years coming up with the projects in the book. I got the idea that I wanted to submit a book proposal a few years ago but then sat and "thought" about it for a couple of years. I'd come up with an idea, then scrap it, then come up with another idea and so on an so on. I wanted to really make sure that all of the projects in the book were ones that were useful, and worthwhile.
The premise of the book is that even if you have older kids/grandkids you can still sew for them! If you've read my blog for a little while you might know that I'm pretty passionate about the subject. My kids are older and I still LOVE to sew for them.  I know that there is a bit of fear though when sewing for teens and tweens (and even college kids)… so I thought I'd share in the book some of the things that have worked for me in the past to come up with projects that they love.  I talk about fabric selection, gift ideas, etc..
Okay now for the fun part, let's talk about some of the projects!!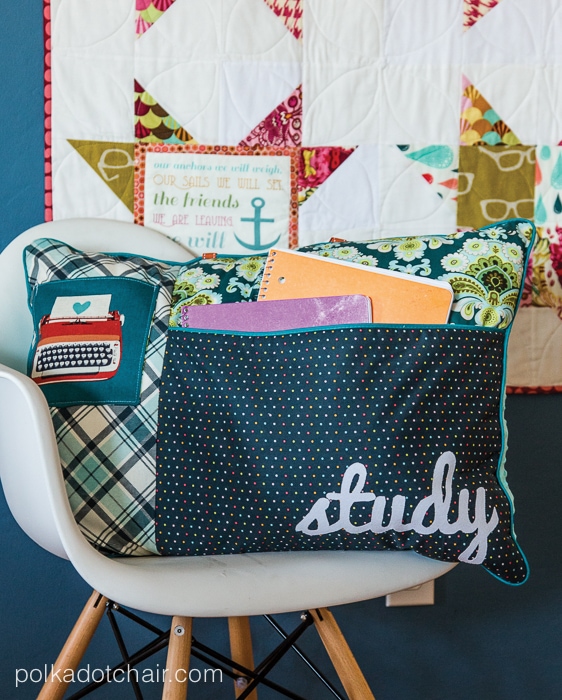 First up is the Study Pillow. My kids love to do their homework all over the house and outside. One day my daughter had a pillow, a book, an iPod, and a bunch of notebooks with her and kept dropping them all. I thought— HA! A pillow with pockets, and the Study Pillow was born. It features Minke on the back to make it super soft and a handle for easy carrying.  I walk you through how to make the custom applique in the book too.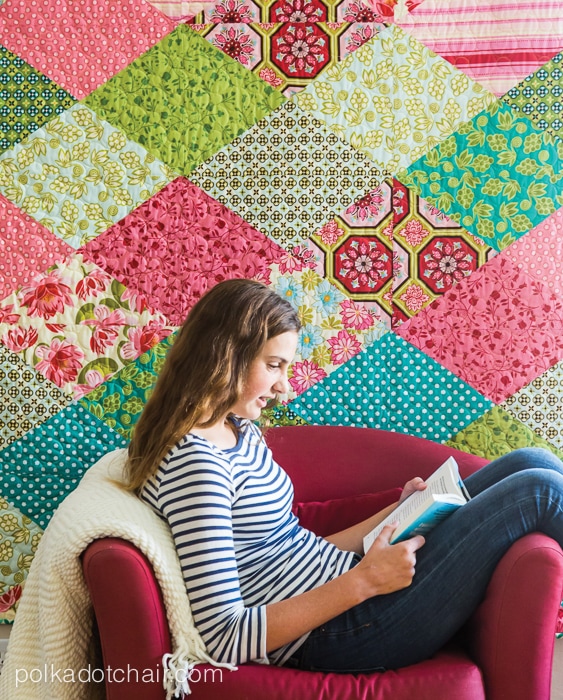 Also in the book are  Quilt patterns (plus a few fleece blankets too). This quilt is called "Diamonds are a Girls Best Friend" and is constructed purely from Fat Quarters! (with the exception of the back and binding).  I don't know about you, but I love to buy Fat Quarter packs of fabric and I always want to use them ALL in an project. This quilt is perfect for that. It's also a great pattern if you want to use some novelty fabrics (which teens love!). You can also easily switch out the fabric selections to make one for a guy.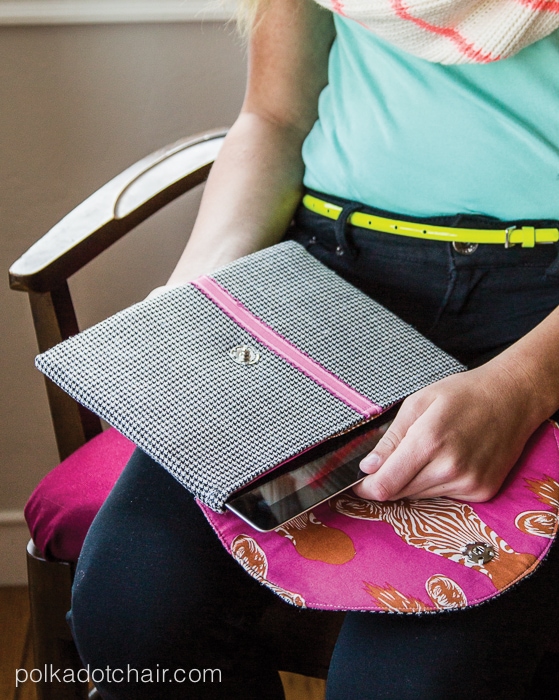 For better or for worse gadgets have taken over both our and our kids lives.  In the book there are 3 patterns specifically for gadets. This one is make from an Upcycled Men's Suit coat!  The idea came from trying to make an iPad case that was CUTE and functional. One that could easily pass as a clutch if you didn't know what was inside. I also love the pop of zebra fabric in the lining.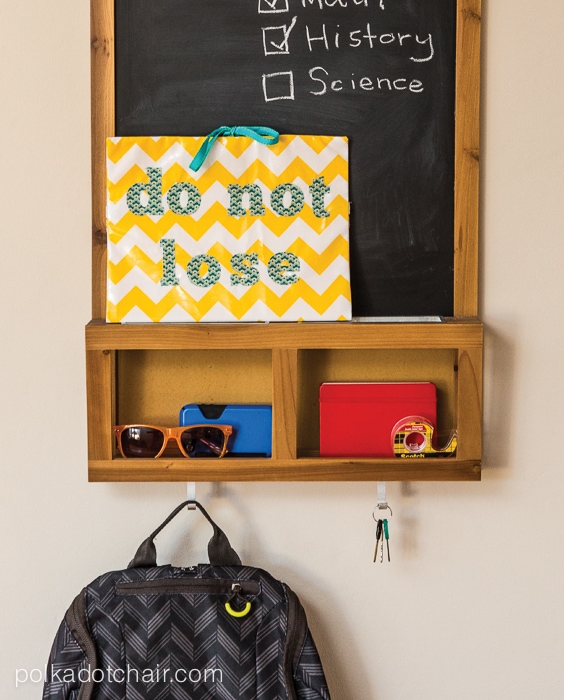 The last project I want to chat about today is this Homework Folder. Do your kids do their homework then LOSE it before they get to school?? Or forget ot turn it in?? Mine do all the time and it drives me CRAZY! Why go to all the trouble of doing your homework then not turn it in? This folder is made from laminate fabric, has elastics inside to hold homework and is BRIGHT so it doesn't get lost in their backpacks.
Even though the book is full of gift ideas for teens I tried to make the projects as universal as possible.. even though I'm a "grown up" I'd love many of the projects for myself! Hopefully you can find something inside that you will love.
The book just showed up in stock  on Amazon last week!! You can order a copy there. Or you can get one from me. I've been signing all of the copies that go out, but if you don't want yours signed, just let me know in the notes section of paypal.
Buy from Amazon

Buy from Me (ships for free via Media Mail, payment via paypal)

Shop Owners- info on ordering at C&T Publishing