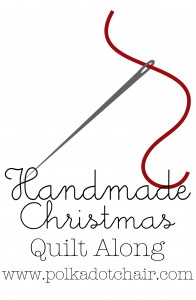 For those of you following along with our Handmade Christmas Quilt along I wanted to get the machine quilting portion of the Quilt Along going today since it's December 1st!
I will admit only 1 of the 3 quilt tops I'm working on is done, but I've got a good plan to get the others done by Christmas, hopefully you are further along that me!
Let me just say once again, I'm not an expert at machine quilting.  This is just what I've "figured" out over the last 3 years from the quilts that I have made-   all but one I've quilted myself on my home machine (it's not a quilting sewing machine).
Today I'm going to share with you what I think is the simplest way to machine quilt your quilt.  It's easy, especially if you are a beginner or are in a rush as you only need to sew straight lines!!!
This is the method I am using for my son's quilt.
I will still be posting photos of the progress on my quilts until the end of the month.  With the final photos posted after Christmas (in the off chance my kids read my blog, so I don't ruin the surprise). This won't be our last Quilt Along post, but I wanted to get this up today in case anyone was ready to start quilting.
Okay let's start!
First of all you are going to need a few things:
1- A walking foot for your machine. Don't try to do this without one, you will only cause yourself unnecessary grief.  These are brand specific so make sure you get one that is made to work with your machine.
2- A jeans needle or a quilting needle.  These will help you sew through the layers of fabric with ease.  Use a new needle if you can, you'll get better results.
3- Spray basting- I've never had any success with pins, so I use spray basting, just watch out it's very sticky if you overspray.
4- Masking tape
5- Good thread, I use Mettler 100% cotton thread. Just a tip, match the thread to your quilt back if you are worried about wonky looking stitches.
Just a note here:
I tried to take photos of the quilt I'm working on but it was just too large to fit in the camera frame. So I'm using photos that I took previously of a table runner I made. The technique is THE SAME, it's just the table runner is easier to show since it is smaller and easier to photograph.
If you are using minke or snuggles or chenille, the directions are also the same.
To start:
Cut or piece your backing fabric so that it is 2-3″ larger than your quilt top on all sides.  Using masking tape, tape your backing piece to the floor wrong side up (or a table if you have one large enough). Tape well.
Use even more tape than this! Especially if this is the first time you've tried this.
Next, cut your batting to the same size as your backing piece or slightly smaller.
Spray the adhesive, according to the directions for your spray basting, enough cover your backing piece genrously. Make sure you get all of the corners. (I use a trash sack to catch the overspray)
Lay down your batting on top of your backing piece. Adjust until the batting is perfectly smooth on top of the backing. You don't want any wrinkles.
Spray batting with basting spray.
I would recommend having your batting and backing even larger than your top than shown in this photo. Here is shown about 1″ I recommend 2-3″ for a quilt.
Next, lay down your quilt top onto your "sandwich" of batting and backing, right side up.  Smooth out with your hands so that there are no wrinkles. Adjust until quilt top lined up properly and smooth.
 **Note: make sure you quilt top is squared up with the back, you don't want the top at an angle as compared to the backing.
Remove the tape from the floor.
Decide the direction you want your quilting stitches to go.
For this quilt I did mostly horizontal stitches, with a few vertical stitching lines.
For the quilt I am doing this year I'll do just vertical stitches.
After you decide this, roll up your quilt starting on one side and moving to the center in the direction you will be quilting.  So if you are doing horizontal stitches across your quilt, roll from the top to the center and the bottom to the center.  If you are doing vertical stitches roll the sides in.   It will be flat in the center with 2 rolled sections on each side.
Next, decide how far apart you want your stitching lines.  Try to keep it consistent with the design of your quilt.
Beginning in the center of your quilt (always start in the center) stitch from one side of your quilt to the other.
Use your walking foot. You might want to use a test scrap of fabric before you do this to see if you need to adjust your machine tension or stitch length. Remember to use your jeans or quilting needle.
Next install the seam guide onto your walking foot. It looks like a curvy  "L" and hooks in the back of your walking foot.  Measure over from your needle to your seam guide the amount that you want your stitches apart (in this case it was ¾″).
Sew your next quilting line. Place your seam guide right over the top of the seam you just sewed. This will keep all of your quilting lines ¾″ apart.
A few notes:
-You always want to stitch in the same direction.  Don't FLIP your quilt around and stitch the other way. Especially if you are working with snuggles or minke. This might cause it to stretch or bubble.
-If you are quilting a grid (both horizontal and vertical lines). Stitch your center vertical line first, then re roll your quilt and stitch your horizontal center line next. This will "secure" the quilt.
-Work from the center out.
-Before the quilt gets hard to wrangle though your machine… take it off the machine and re-roll it.  Keep re-rolling it as many times as necessary as you move across the quilt.
-Sew on an open flat surface. Like your kitchen or dining room table. You want the quilt to move through the machine smoothly and not get stuck on anything.  You need to support the weight of the quilt with a table or your lap.  If you have it dangling on the floor the weight of it may throw off your stitching lines.
Keep stitching until your entire quilt top is covered.
Now all you have to do is trim and bind your quilt. We'll talk about that next time.