It's November.. that means it's time to start sewing your quilt tops together!  Hopefully you have all of your pieces cut out by now. If not, just take an evening and catch up. (if your new here,
click here
to catch up on what we are doing)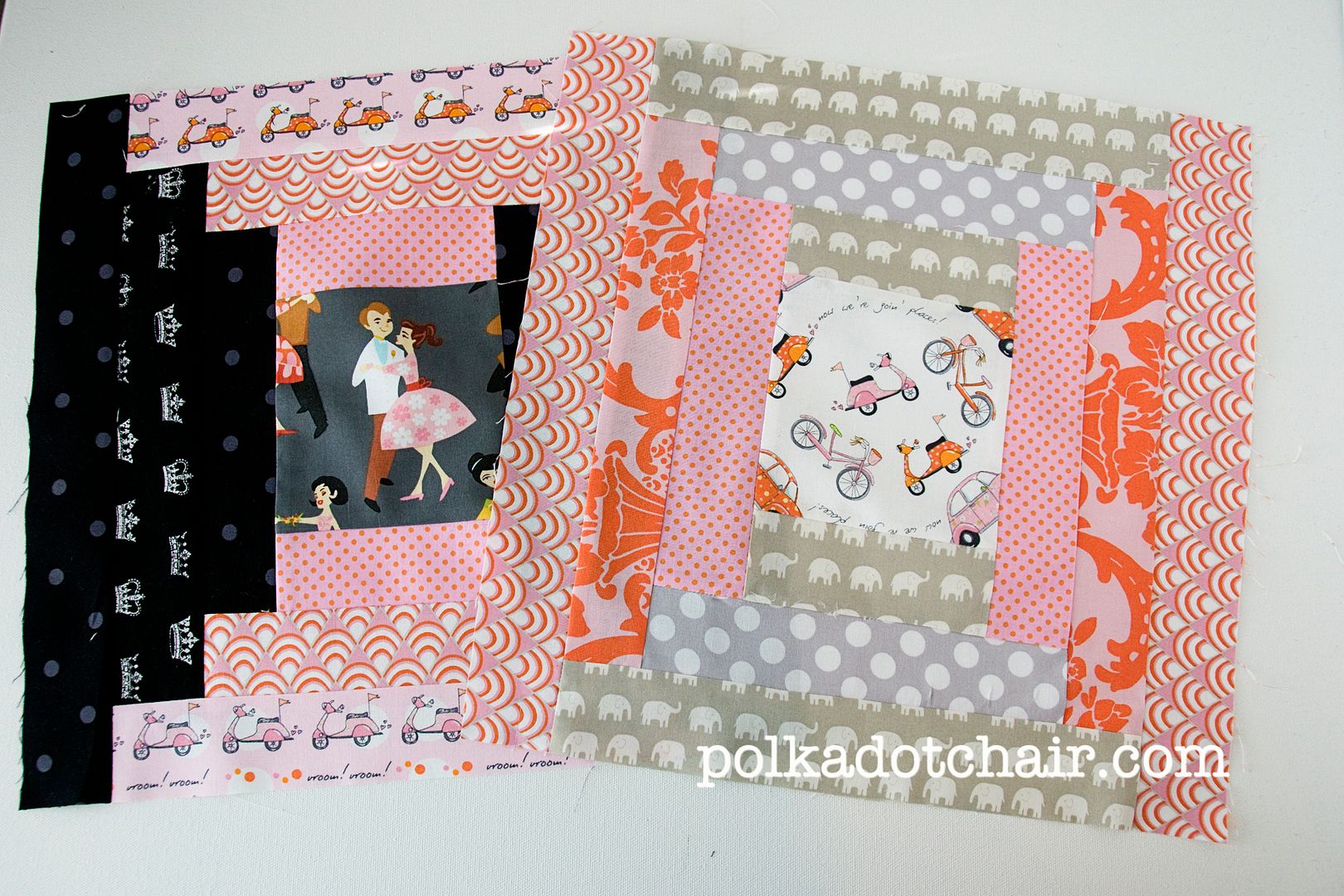 I thought today I'd share with you the "plan" for my 3rd quilt.  I finally got it figured out today.
I started with this stack of fabric: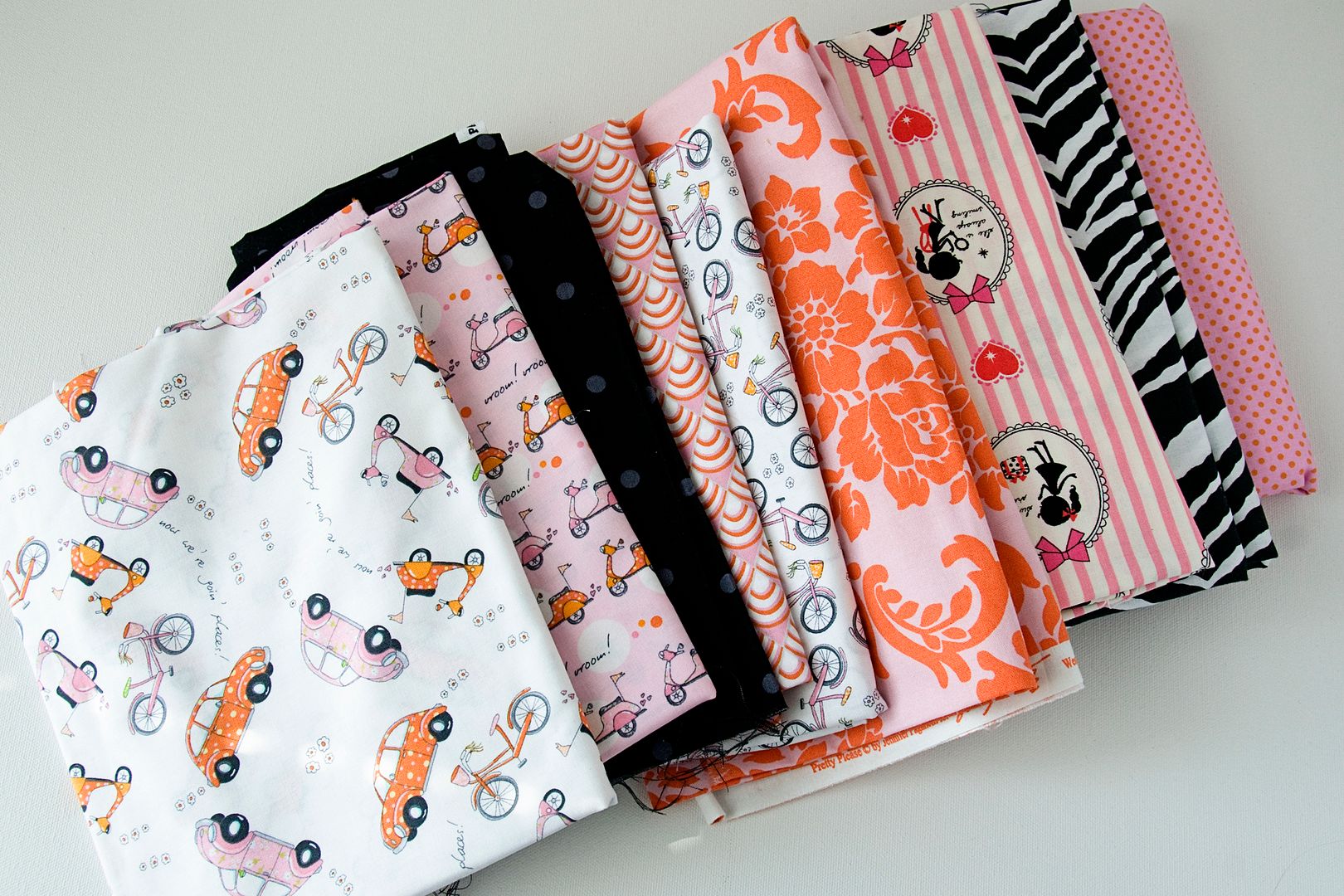 and this block as my inspiration: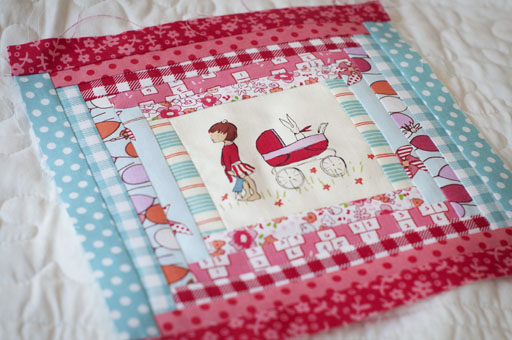 Today I started sewing- oh boy, let me tell you- this may be a crazy quilt when it's done.  It is for a teenager so I decided to take some risks with color and print. I'm just going forward, we'll see what it looks like when I'm done,  Only then will I know if it will be cute or a hot mess :).  I just keep telling myself that part of the point of this Quilt Along for me is to stretch myself and try a few things that I haven't before.
Here's what I've come up with so far:
I decided on 12 blocks- 3 rows of 4 with 2 1/2″ white sashing in between the blocks.
Each block is approx 14″ square. Which makes for 42″ of blocks then 8″ of sashing (per row).   I'll probably add a border when I'm done,  2″ to each side… giving me a finished size of close to 54″x 70″.   We'll see what happens as I go.
Here's how I made the blocks.
I started with 12, 5″ fussy cut squares:
and several strips of 2″ wide fabric in various prints and colors.
To start, sew 2, 2″ strips to 2 sides of the center square. (all seams are 1/4″)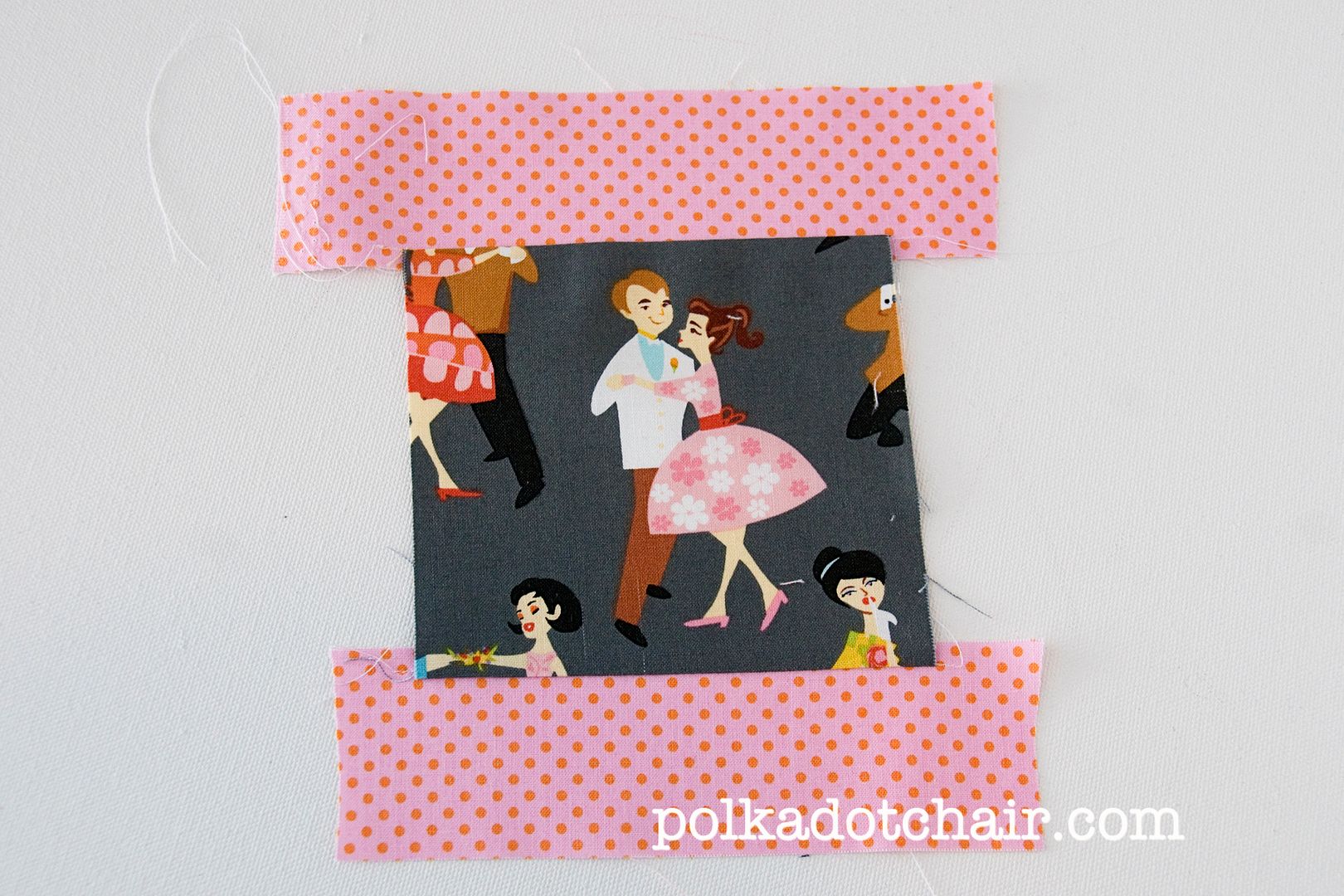 Press seams.  Cut off extra fabric. (so that strips are flush with center square).
Sew 2 strips (of a 2nd color of fabric) to the other 2 sides of center square.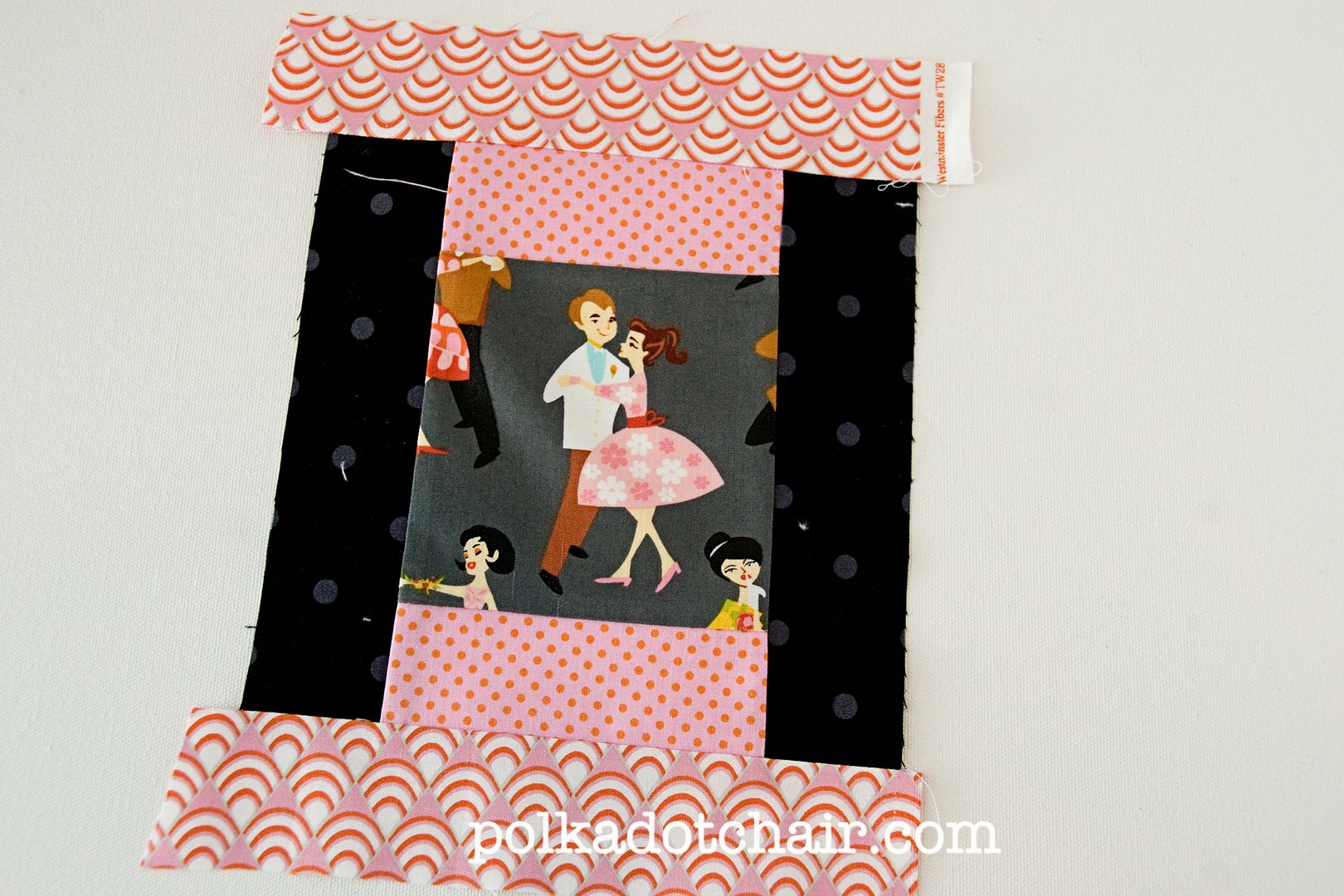 Press seams. Cut off extra.
(yep, mine's a bit wonky… I'm still learning, but you get the gist)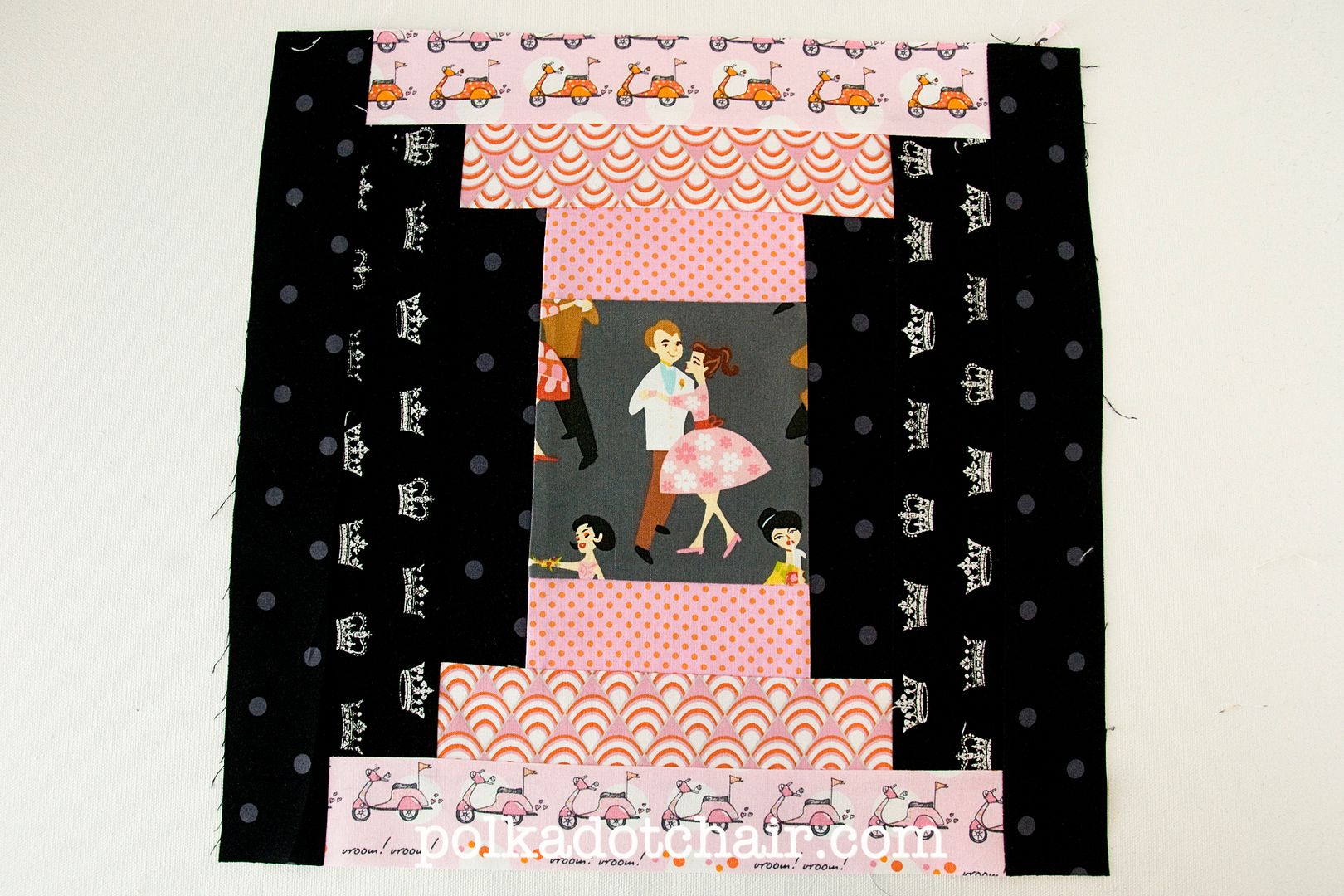 Repeat- until you have sewn 3 strips to each side of your center square. Just keep all of color 1 of your strips to the tops and bottoms and all of color 2 of your strips to the sides.
I love how the blocks turned out but realized today I'm going to have to do think about  how the lights and darks on this quilt work together.
Okay.. so here's your assignment. START SEWING!  Your goal is to have all your quilt tops sewn by December 1st.  Then we can all quilt them together, get them wrapped and under the tree!
I'll be popping in this month with additional posts, next week will be on backing and batting. I'll also be sharing with you the progress I make on my quilts.