Okay,
So by now you've got a pretty good idea of what fabric/colors you'd like to use in your quilt and maybe you even went and bought some.   The next thing you need to do is decide on a design for your quilt top.
There are a million ideas out there for quilt tops-  the hard part is deciding on one.   If you are a new quilter- I'd recommend a simple design- like blocks or strips.  It's PERFECTLY ok to buy a Moda charm pack or Layer cake and stitch it together in a grid pattern- that's WHY they make them, to make it easy for you! Don't feel like you need to reinvent the wheel.
If your an expiernced quilter, you probably already know what you want to make, and little old me won't offer too much help… (besides standing in awe at your creations).
If your looking for ideas I started a Simple Quilt Designs board over at Pinterest- I decided it was easier than linking each photo & you can browse it whether or not your a member of pinterest. If you know of a quilt tutorial that would be great on that board, leave it in the comments, I'll add it.
Here are a few of my favorites from that board: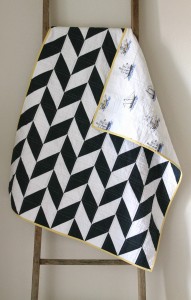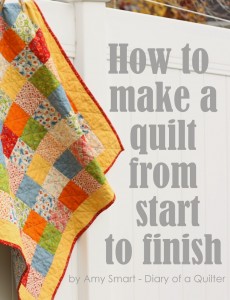 Most of the quilts on the board have links to tutorials to help you out.  You can pick one then just follow the tutorial.
There are also many many patterns for sale for quilts by very talented people- If you don't want to do the math yourself or use a tutorial online, check your Quilt shops for great patterns.
So now onto "My Plan", I thought I'd share with you a bit of my design process.
For my 3 quilts- I started with a few sketches: (done with Adobe Ideas app on iPad)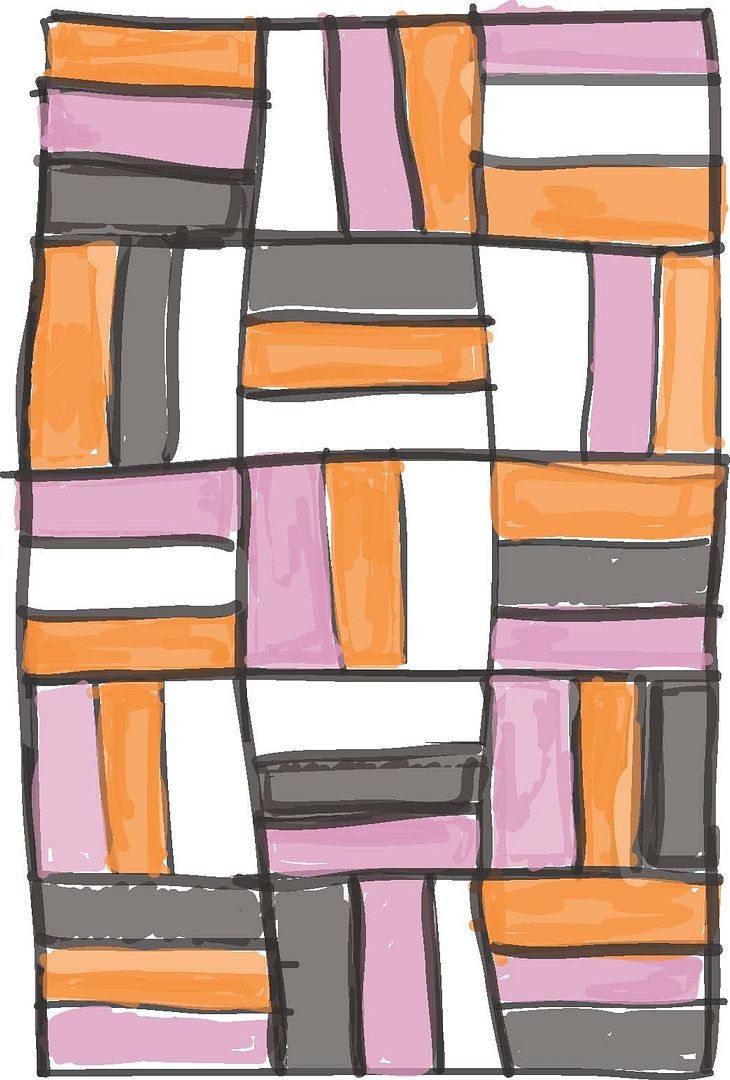 This was the original plan for my daughters quilt…. but then I saw this quilt block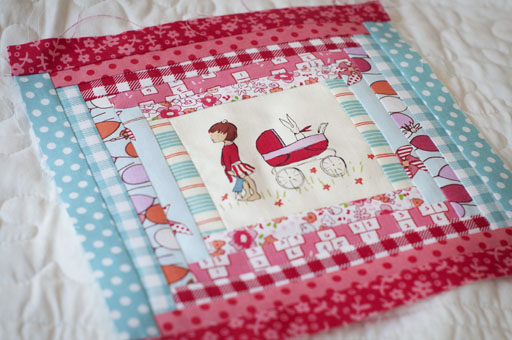 and decided that with this quilt I'm going to challenge myself a bit more. So her quilt will be scrappy hedgerow blocks done with this fabric: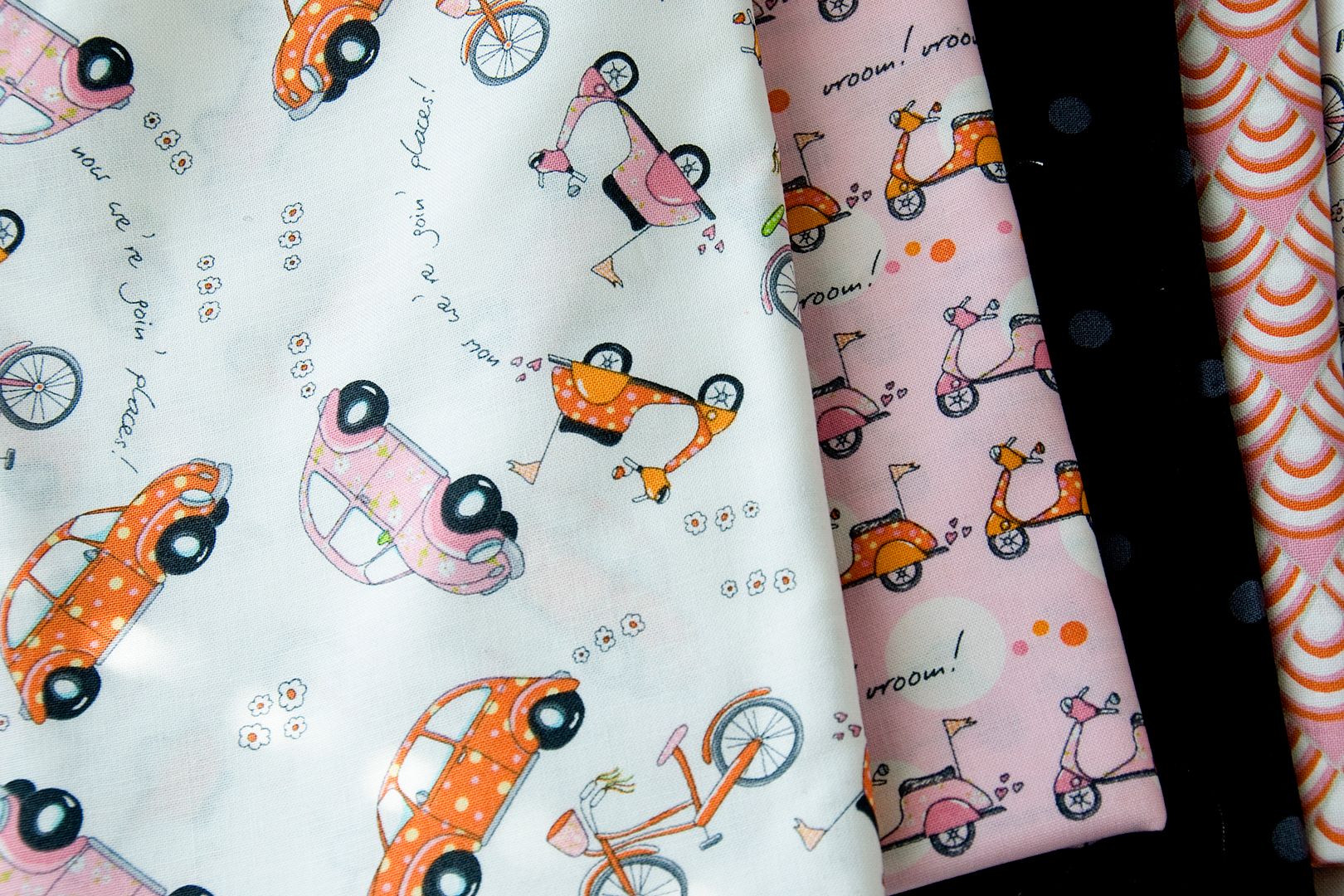 I'm going to fussy cut the VW bugs and bikes for the centers of the blocks. I'm shooting for  10″ blocks, but I've never done this before so we'll see what happens.  The quilt will be 4 blocks across by 6 blocks down, with white sashing.
For my son's quilt this was my first design idea: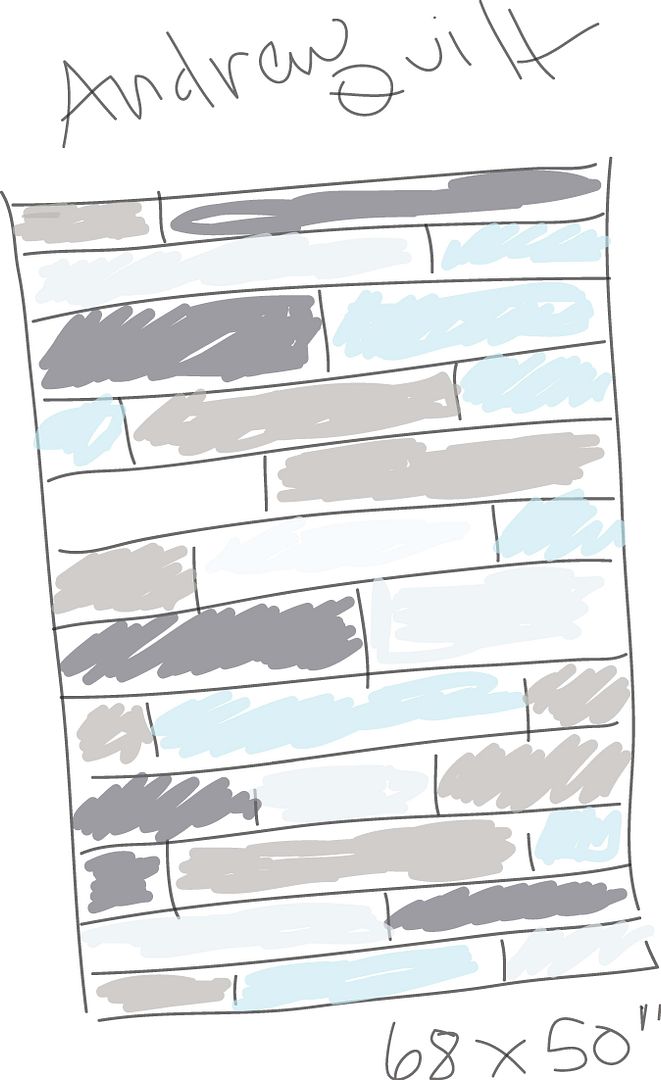 Then I decided it's too much like the quilt I made for him last time, so I switched it.
This quilt is my inspiration:
I'll be cutting, 1″, 2″ & 3″ strips of fabric then sewing them together in 4 columns. Each column will be 14″ wide.  This will allow me to get 3 strips per cut of fabric.  For example, one cut will be 2″ wide by 42″ long, then cut into 3 pieces.
For my younger daughter- I'm going to stick with 6″ blocks.
Something simple to balance out the piecing required of the other 2 quilts.  It will be 120 6×6 blocks. 10 blocks across by 12 down.
NOW… let's talk size.
The last quilts I made for my kids I backed with Moda Snuggles-  and as it turns out I was SO glad I did. They quilts were soft and warm- and I figured, why should babies only get the snuggly quilts?
This year I am going to be doing that again…
Moda Snuggles (as well as most chenille, Minke etc) is 60″ wide.  A 2 yd cut of that fabric will yield you a piece that is 60″ wide by 72″ tall. You want your backing to be a few inches larger than your quilt top, so to keep things simple, I am going to make each of my quilts as close to 55×66 as possible. They may be a few inches larger or smaller- but the idea is to use that 2 yd cut of Snuggles on the backs of each.
So this is your assignment:
Finalize Design plans &
Purchase/Find all necessary Fabric…
come back Friday to enter a giveaway- you might get to win some supplies for your quilt!!!
If you need a place to buy fabric, I've got 2 great sponsors on my sidebar– I've ordered from both of them and had a great experience.
Let's take 1 week to finish up that- We'll check back in on the 5th… to start cutting!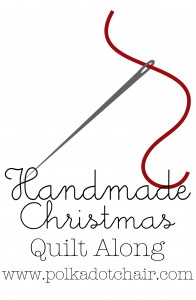 Other Quilt Along Posts: