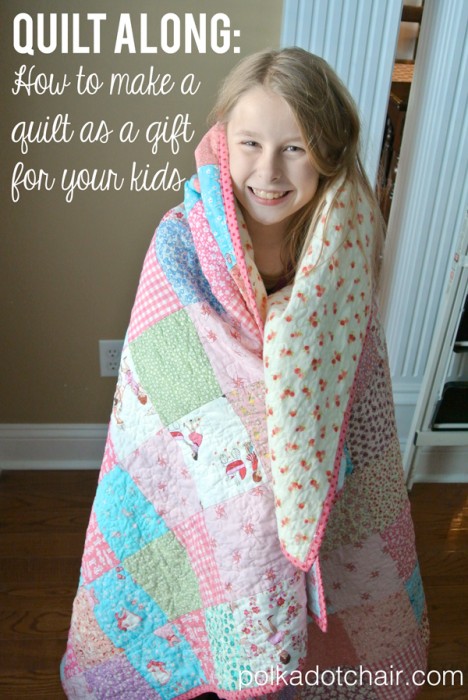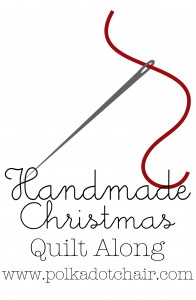 I'm going to be totally selfish today- I totally admit that I have an ulterior motive with the quilt along I'm going to talk about today. You can be selfish too and follow along…
Two years ago for Christmas I decided my kids were getting to many toys that ended with an ii or started with an i… and that I needed to balance out all of the electronics with some soft home made things.
So I made each of them a lap quilt.   I did it kinda on a whim, and will admit to making all 3 in about a 48 hr period (crazy I know!)…
Since then, they have drug those little quilts all over with them.  My son calls it his "special blanky" and insists on taking it everywhere with him.  I will admit I was a little surprised at how much they liked them!
Since the quilts are all starting to show signs of wear, I decided that this year I am going to make them another quilt.  I've got 3 kids so thats 3 quilts before Christmas.  I'm bound and determined to start earlier this year.  What better way to get something done than to commit to blog about it?
I've talked to a few friends who want to make similar quilts for their kids this year, and thought it might be fun to do a bit of a "Quilt Along"
Here's how it will work:
-I'll share with you the stages of making one of these lap quilts (a little at a time before Christmas).. I'll tell you when I'm buying fabric, when I'm designing the blocks, when I'm machine quilting it etc.
-We are not all going to make the same design quilt. Instead I'll share with you tips and inspiration for making a QUICKLY and EASILY pieced quilt top… you pick which method you like, stripes, blocks, rectangles etc… I know that one of my quilts will be a super simple design while another one may be a bit more intricate.
-If enough people are following along, I'll host a linky party a couple of times so you can all share your progress! (and have a little bit of accountability to get it done!)
-I'll explain each step in detail. If you've never quilted before you can do this.  Don't stress… it's just for fun.
I'm very excited about this not just because it will help me get the quilts for my kids done, but also because I get to share my creative process with you!
I get asked a lot where I get my ideas from.  I think that by letting you "follow along" while I make something it will give you a little peek into my process and how I get ideas and then the steps I take to bring them to reality.
So do you want to follow along? Challenge yourself to a Handmade Christmas?
It all starts Wednesday with Step ONE: Fabric Selection and Design ideas. Stay tuned.
Here are the links to all the posts in this Quilt Along: