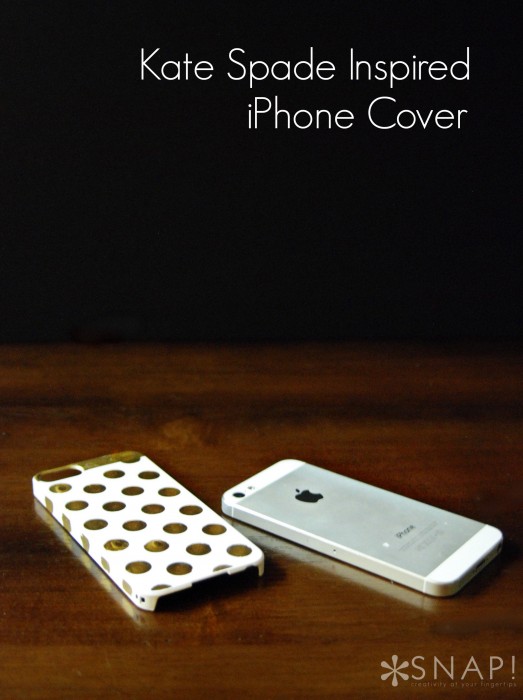 Ohmygoodness! I am so excited to be visiting here at the Polka Dot Chair. I sort of feel like Melissa and I go "WAAAAY BACK." We don't…Unless you're counting on blog years, and then? We've practically known each other since birth! My name is Tauni. I host an annual event for craft and DIY bloggers called Snap and an online competition called So You Think You're Crafty.
Melissa is one of our stalwart Snap attendees and is helping us launch our sewing track this year, with a fun class. I can't wait to learn from her! When Melissa first told me about the Polka Dot Project, I knew exactly what I wanted to make. See, I have been eyeing this lovely gold polka dot Kate Spade iPhone cover…
BUT…At about $40 I knew I could create something just as cute for ¼ the cost! And so I did…
To create your own DIY Kate Spade inspired iPhone cover, you'll need the following supplies:
White iPhone cover (I bought mine on Amazon for under $5)
Polka dot template or mask
Gold paint pen (I bought this at a big box craft store for $4)
I started by cutting out a quick polka dot template in vinyl on my Cricut.
If you don't have an electronic cutting machine, don't worry. You could use a small circle punch on vinyl, or you could even use the backing from a sheet of round dots or labels. Place your template on top of your phone, grab your paint pen and fill in the dots.
Once you've filled in the polka dots, peel off your vinyl and ta da! You're done!
I had the hardest time trying to photograph the end result because the gold leafing from the paint pen is so shiny, but it looks A LOT like the Kate Spade version I almost bought in the store.
The best part? The whole project cost me under $10. Thanks for letting me share my fun polka dot projects. I hope you will come over to visit. Here are a few of my favorite posts..
DIY Paper Feathers
A Gift a Year Birthday Celebration Idea
DIY All Occasion Chalkboard Banner
Thanks for having me Melissa! I can't wait to see all of the other polka dot projects that will be featured this month.

 _________________________________________________
To echo Tauni's previous sentiment, ohmygoodness!! I absolutely LOVE this idea! I had no idea that you could get a white iPhone case so inexpensively! This is so genius!! Thank you so much Tauni!
Connect with me: