I've been sewing since I was a teen and am always amazed when I find a new sewing tool and wonder how I ever got along without it. Here are some of my favorite finds, tools & notions from the last few years. If you are learning how to sew and consider yourself a beginner, I hope you find this list helpful.
If you've been sewing for a long time, then I hope you discover something new on this list to make your "sewing life" a little bit easier!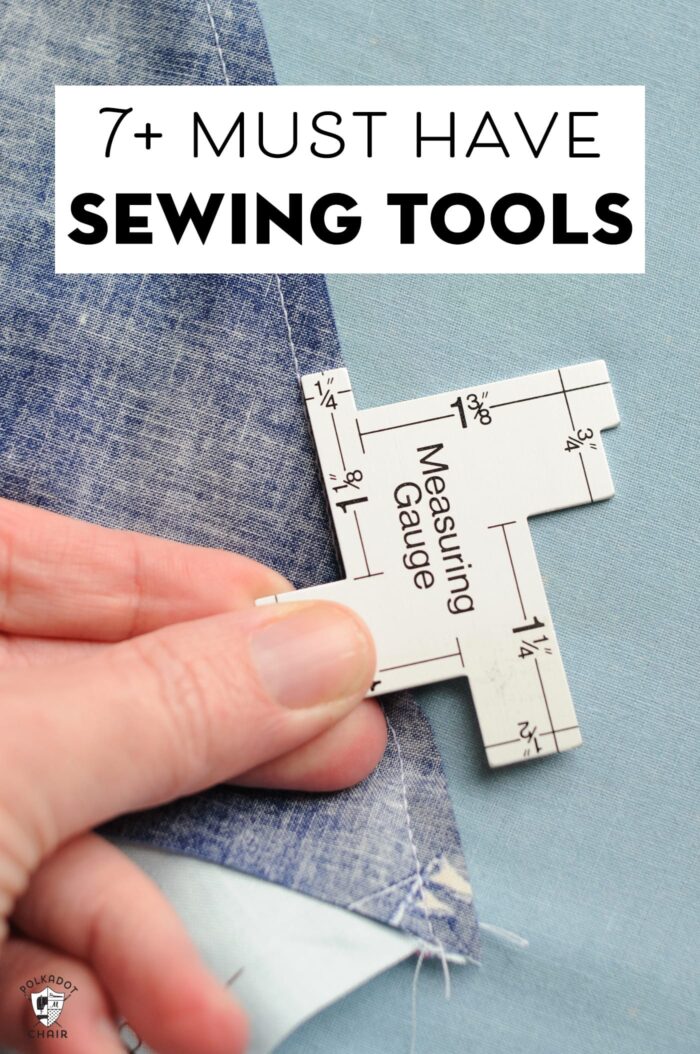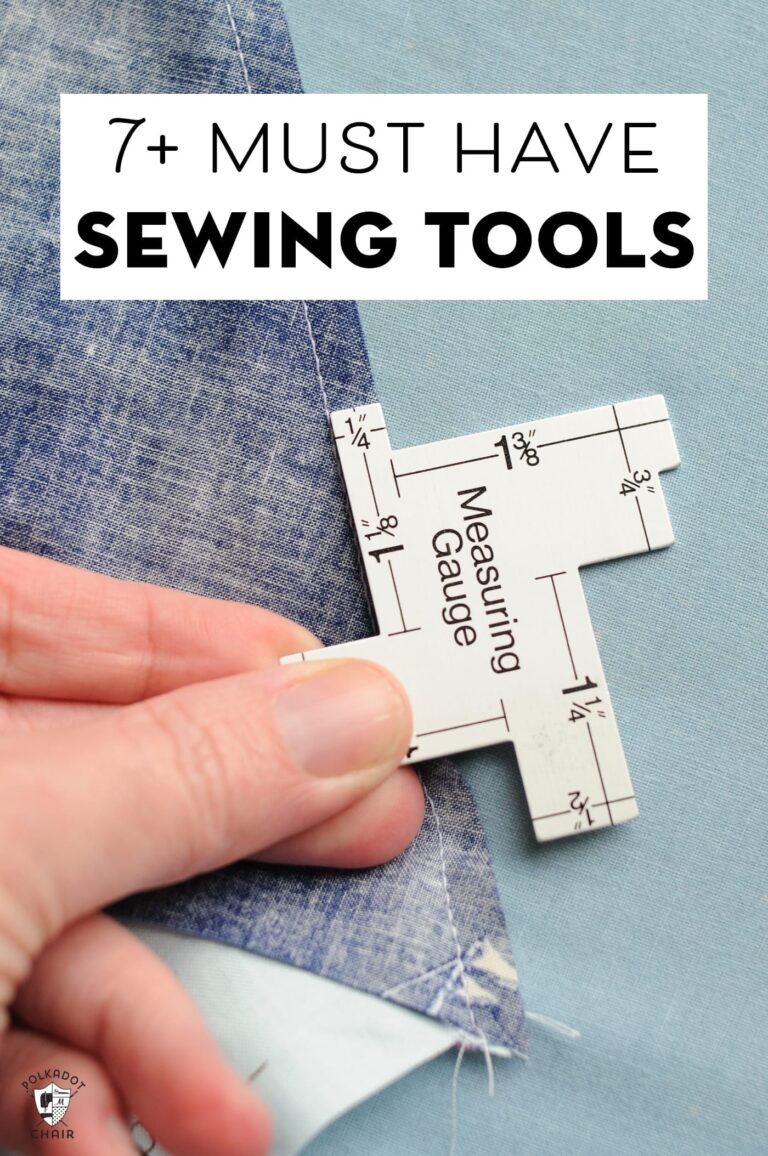 Table of Contents
If you are a beginner, you will find all the information you need to get started. If you have been sewing for a while, I hope you will find some helpful suggestions. These are some of my favorite sewing notions; many of them are things I didn't even know I needed.
These are my favorite sewing supplies I recommend for beginners
Just before I jump into the list, if you're learning how to sew, I'm going to assume you have the "basics." If not, here are the tools I recommend for a beginning seamstress or sewist.
Basic Sewing Tools
A Sewing Machine
Sharp Fabric Scissors
Measuring Tape
Pins & Pin Cushion
Seam Ripper
Iron (I recommend a Steam Iron) & Ironing Board
Thread
Hand Sewing Needles
Marking Pencil or Pens
You can find most of these supplies in a beginner's sewing kit. This one is a great one to start. If you have the budget, I also recommend getting a pair of Gingher Sewing Scissors / Shears. They are very high quality and make it simpler to cut through multiple layers of fabric.
If you bought a sewing machine recently, many of the supplies you need are probably in the machine already—THings like bobbins, sewing machine needles, different types of presser feet, etc.
If you're going to be doing a lot of hand sewing or hemming, you'll also want to make sure you get a pack of thimbles.
If you're interested in quilting, you'll also need a rotary cutter, self-healing cutting mat, and ruler. Check out our FULL list of recommended supplies for beginning quilters here.
Where to Start Sewing for Beginners
If you're BRAND new to sewing, I'd recommend first trying to take a beginner sewing class. Check to see if there is a Sewing Machine dealer in your city; most offer beginning sewing classes.
If taking an in-person class is not an option, I recommend reading as much as possible and JUST DIVING IN! I think the best way to learn how to sew is to start. Start with a few simple beginner sewing projects. Then progress to more complex tasks as your skills increase.
7+ Sewing Tools You Didn't Know You Needed
That's all you need to get going. After you have those things and want to "expand" on your sewing tool stash, then you'll want to start thinking about adding more fun notions.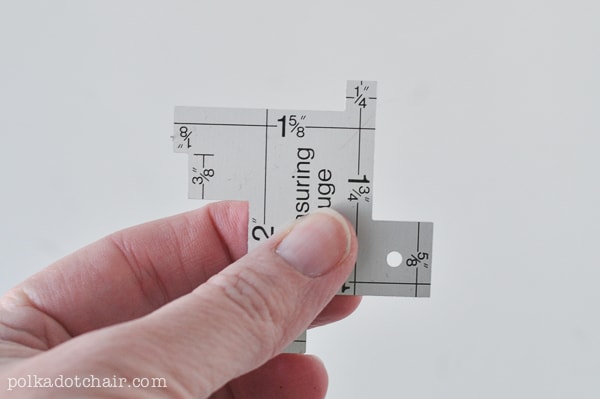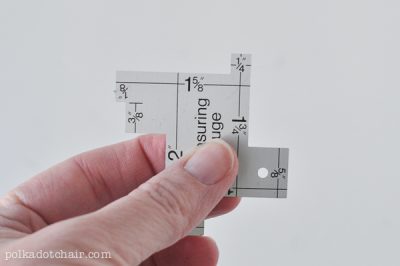 1. Seam Measuring Gauge
14 in One Seam Gauge: Any good seamstress knows that having precise seam allowances is vital to the quality of the finished project.
Not sure where a ¼″ or ⅝″ is on your machine? Double-check it with this handy seam gauge.
2. Sewers Aid
Sewers Aid: Sewing with Laminate fabrics or extra sticky interfacing? A drop or two of Sewer's Aid on your machine needle will ensure smooth sailing. Pick some up now and keep it in your sewing kit. You never know when you're going to need it.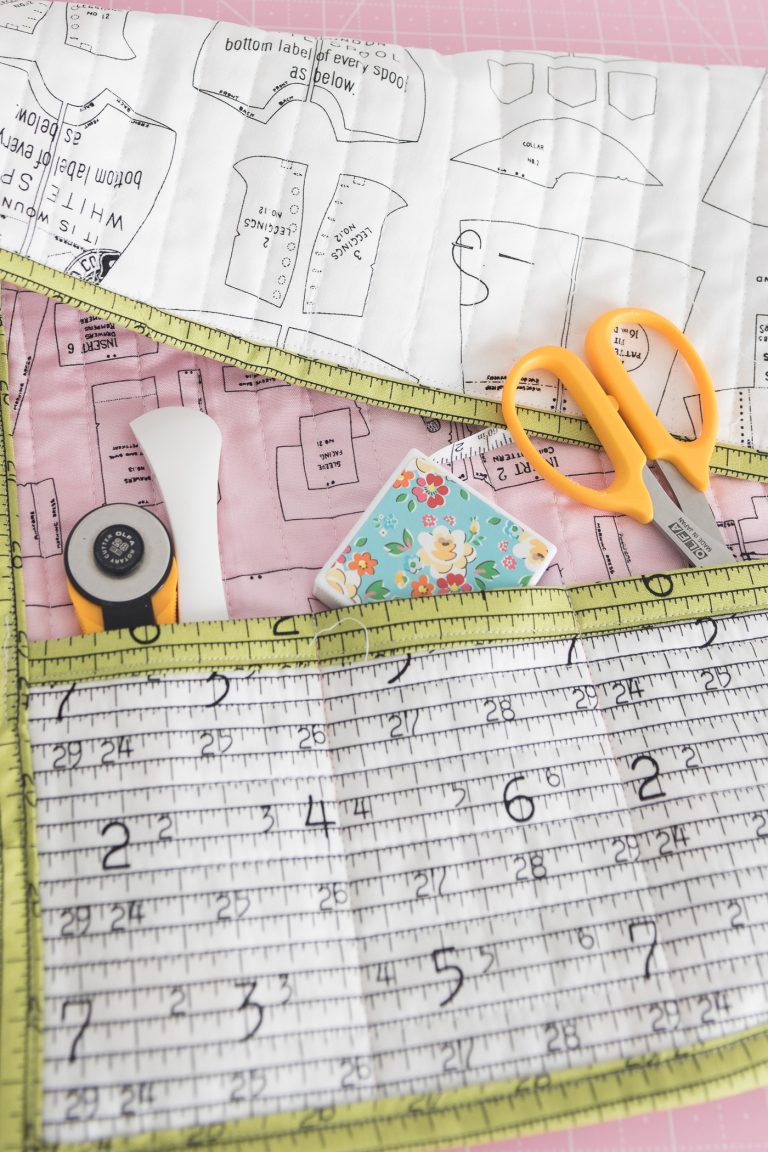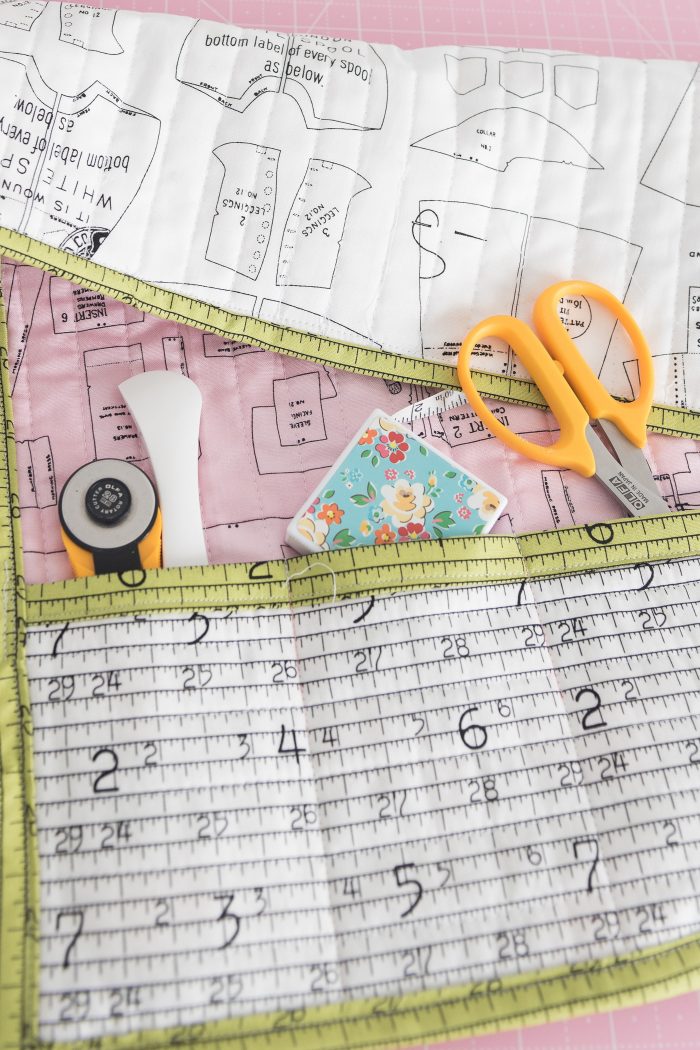 3. Hera Tool/Marker
Hera Tool: Also called a point-to-point turner. It's great to "push" corners out when you're constructing bags; it's also fantastic to use for marking on quilt blocks. Use the curved end with a bit of pressure to leave a "line" to guide your quilting.
4. Sharp Small Scissors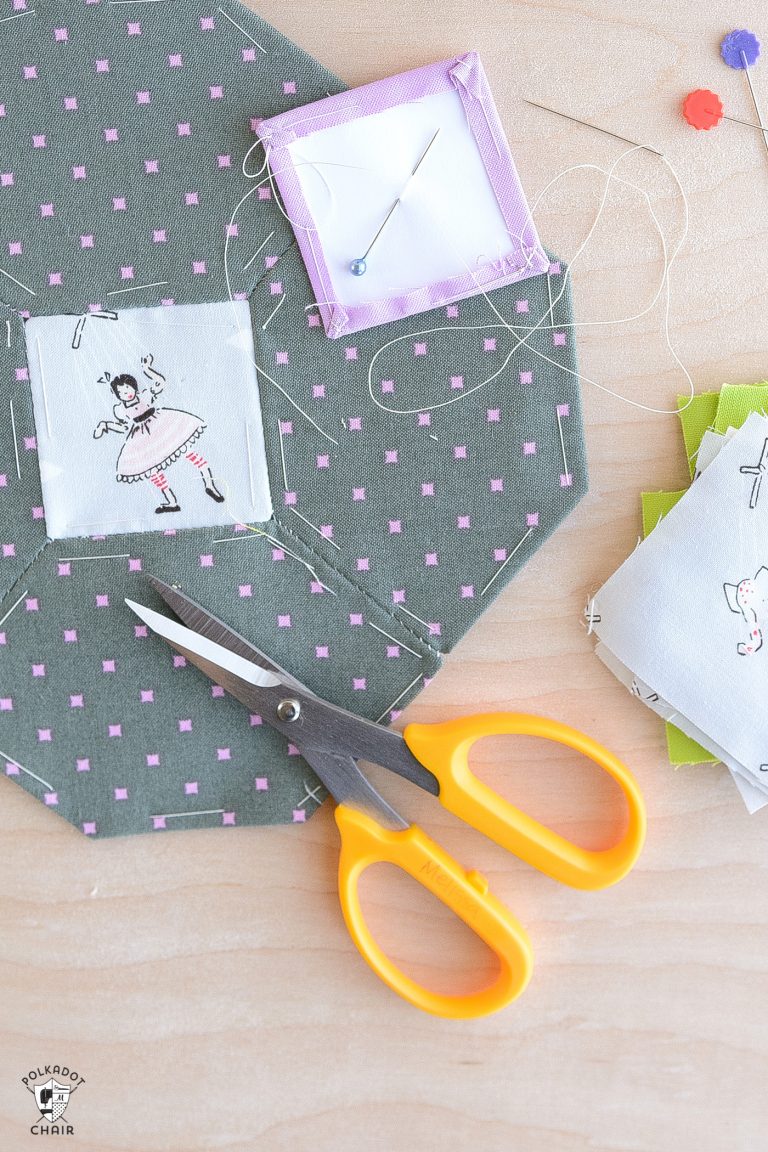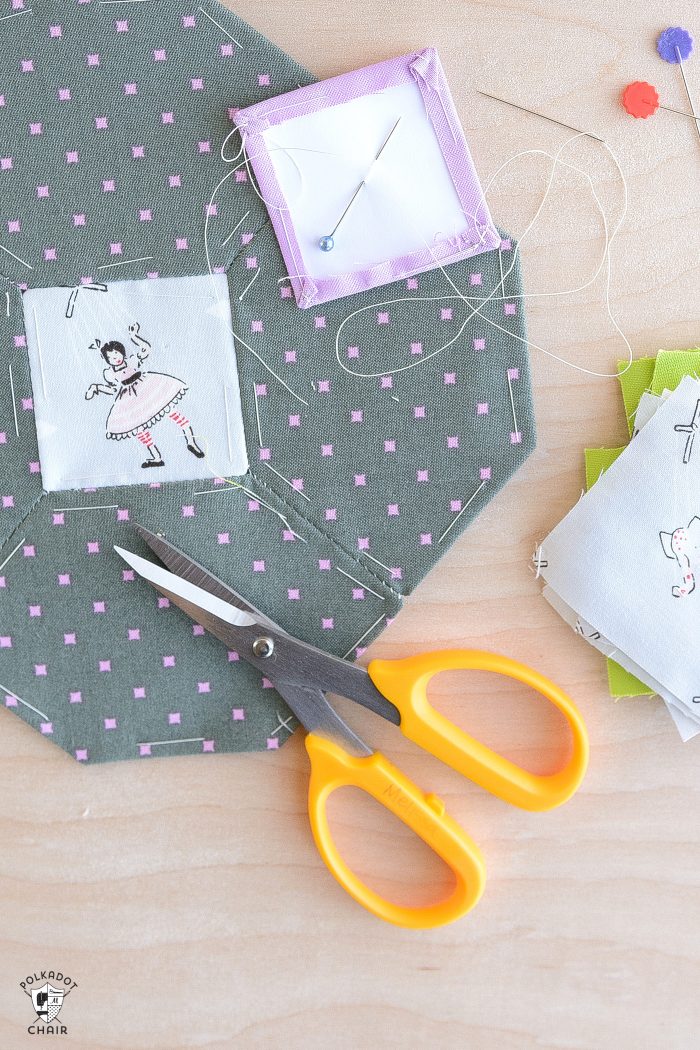 These Olfa Scissors are always next to my machine. This pair of scissors is great for snipping tiny threads and cutting out applique shapes. I bought a second pair so that I'd never be without them! I keep them with my hand stitching kit.
5. Cut Glove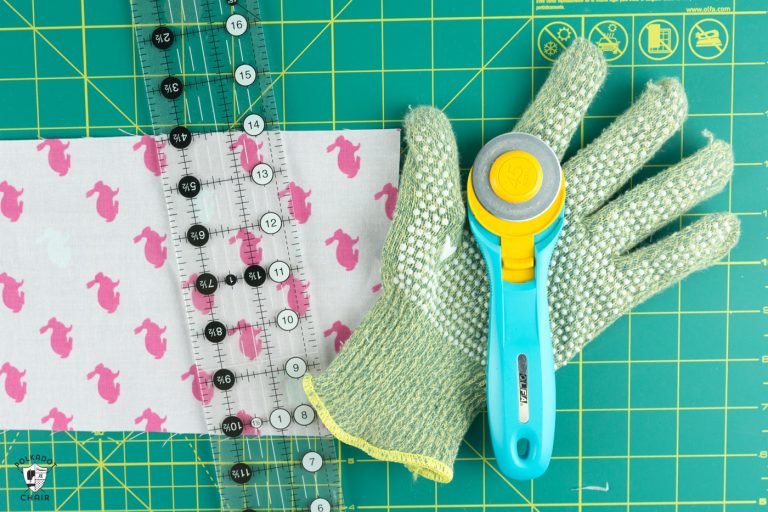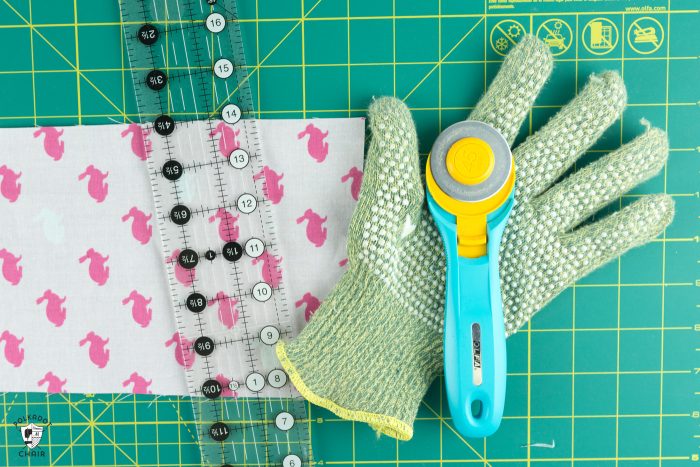 Cut Glove: Take it from someone who has cut the end of their index finger off with a rotary cutter; you need to be careful! Sewing tools are sharp! I now use a cut glove on my left hand when I'm using my rotary cutter.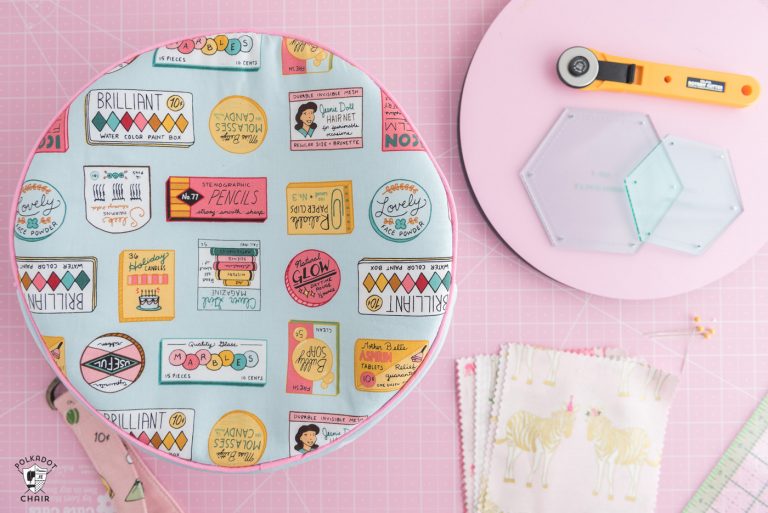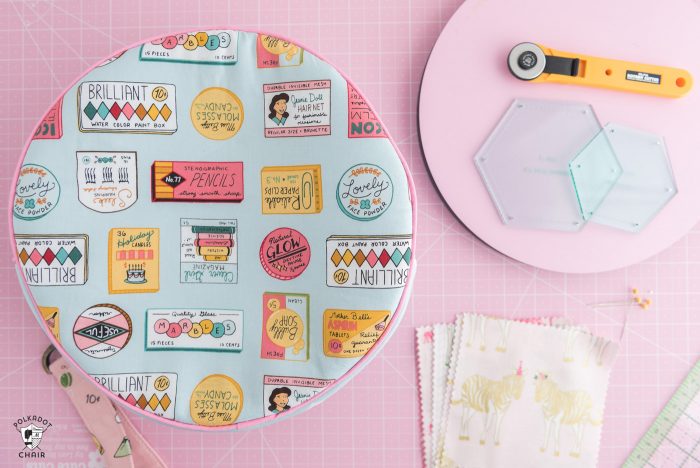 6- Rotating Cutting Mat
Sue Daley Rotary Mat: This round cutting mat comes in ever so handy when you're trimming quilt blocks or squaring up fabrics.
Don't move your fabric; move your cutting mat. I use mine all the time. There are a few on the market; right now, I love my Sue Daley pink mat (shown in the photo above with my Alice Bag – which is just the right size to hold the cutting mat- grab the sewing pattern for the Alice bag HERE).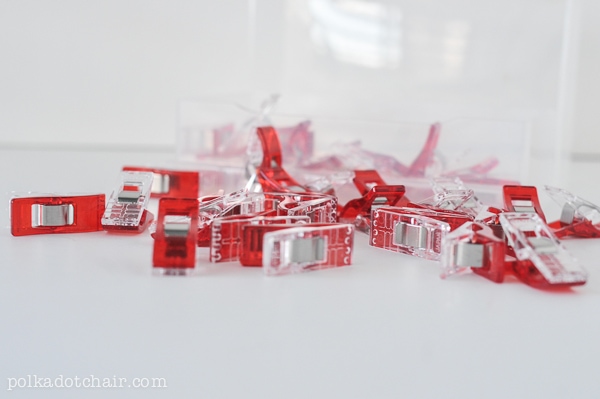 7. Binding Clips
Quilt Binding Clips: You'll use these binding clips for so much more than you think. They are great for holding heavy fabrics together, securing knits, and, yes, of course, binding a quilt.
8. Mini Ironing/Sleeve Board
Sleeve Board for Ironing: Use it to get into tight corners when pressing tote bags, sleeves, and children's items. It's what I used to add fabric to my sneakers (you can see the tutorial for this project HERE)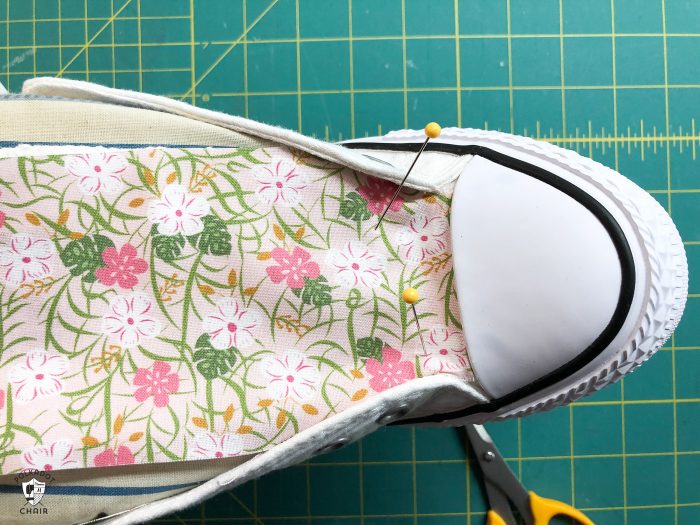 9. Hot Hemmer
Hot Hemmer: No need to mark your hem and pin it before you press. Do all of the above in one simple step using this handy measuring tool. Fold your fabric over it at the desired hem measurement and press.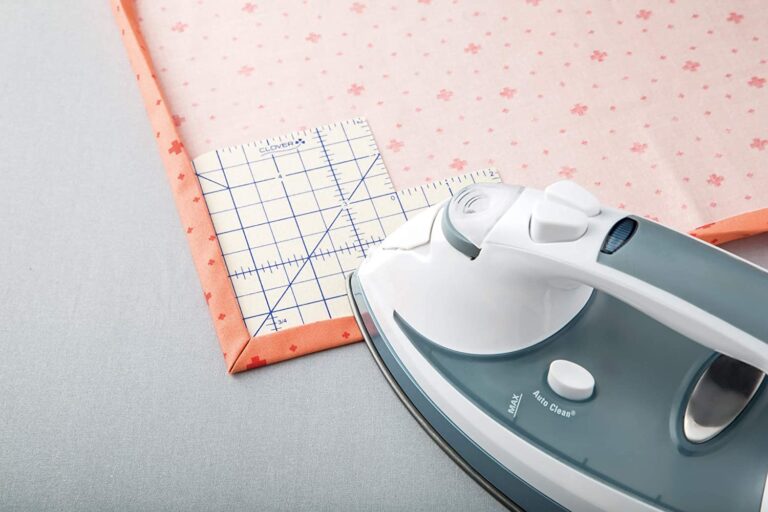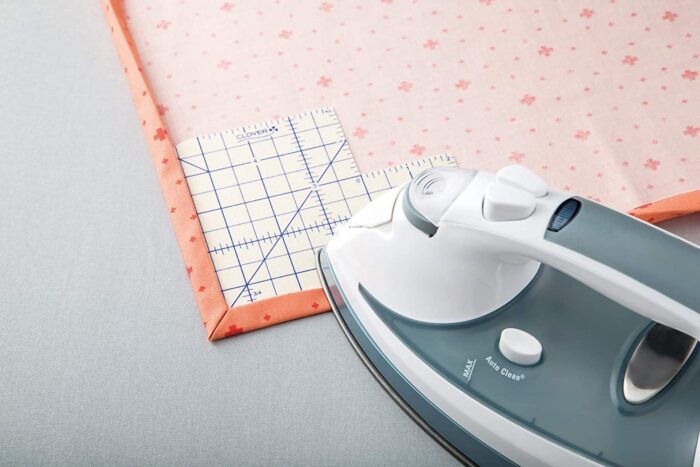 Okay, so what did I forget? I'm sure you guys all have excellent favorite tools! Let me know in the comments section!