I'm a bit of a thinker.  Something happens and I have to take time to "process" it.  Last month I attended the SNAP conference at Thanksgiving Point Utah.  It was a completely wonderful experience.  I came home and wasn't quite sure how to put the experience in words.
Queen Bee Market- a true delight!
The ladies that put on the event did a wonderful job.  The classes were all fantastic, I wish I could have attended all of them, I felt like a sponge soaking up all of the information each presenter had to share.
Gorgeous gardens at Thanksgiving Point
As I've spent the last month thinking about my experience,  I thought today I'd share with you just a  few of the great things I learned at SNAP  (which I WILL be attending next year FOR SURE!)
1- It's important (and fun) to meet and chat with other bloggers. Holy COW this was by far the best part!! I didn't think anyone would know who I was, but some did.  Everyone was so friendly, if they didn't know you already they introduced themselves.  I got to meet sooo many amazing women that I had admired from afar for so long.  This was truly the highlight for me.
2- Pick a social medium platform that works for you and use it.  You don't have to be on ALL the social networks, Pinterest, Facebook, Stumble Upon, Instagram, Twitter, Google+ etc… If one of those platforms works best for you then use that one.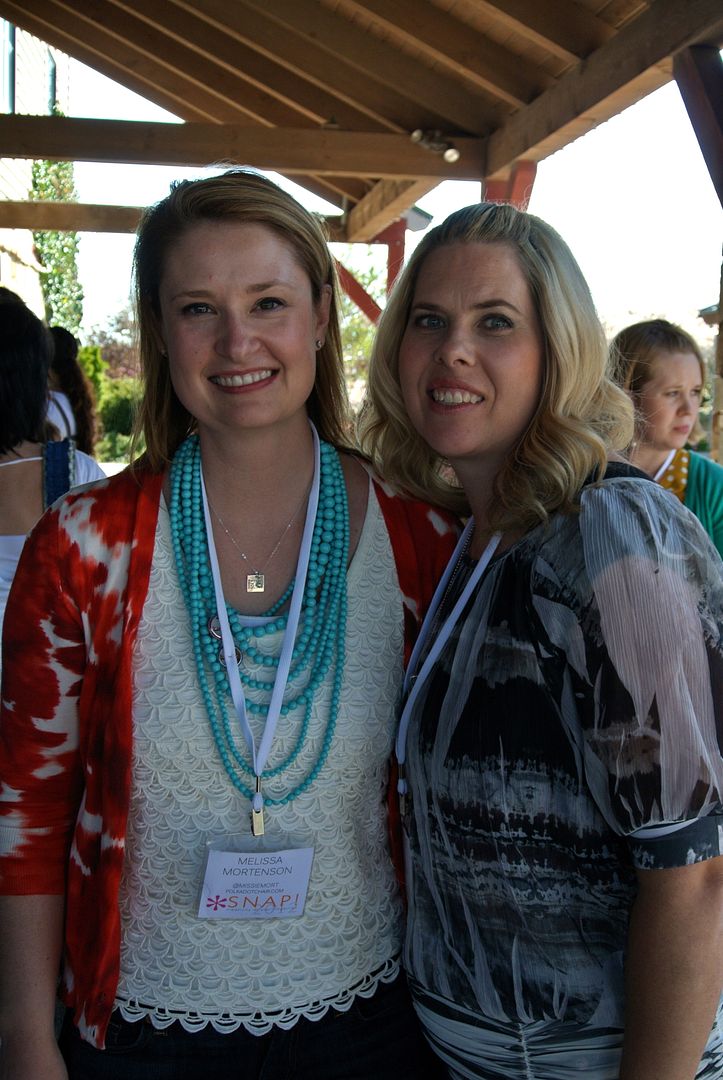 The funniest moment all weekend, when Laura (of Skip to my Lou) asked me at the dinner table if I knew any Mortenson's in Kentucky… um, yeah, me!  Turns out she was roomies with some of my cousins in college.
3- When blogging, don't say "I saw it on Pinterest" – Say "I saw it on Pinterest, here's a link back to the original post" (link to the blog, not the pin).  Odds are you readers saw it on pinterest too and you will lose credibility with your readers if you don't site your source. PLUS as I learned in a SEO class, linking to other blogs HELPS your blog to show up with search engines…. See it's a win win for everyone.
4- Just be YOURSELF.  I know this seems SO obvious, but it can not be said enough, and we all need a little reminder every once and a while.
5- Focus on your content not your stats.  Stats are important, but your primary focus should be creating great content.  Great content will naturally drive your stats up.
6-Be careful of comparison.  Most of the time when you compare yourselves to other you are comparing YOUR worst to their best.  Not a fair comparison as we each have different strengths and weaknesses.
7- Be genuinely happy for others successes.  You'll feel better about yourself and help to support others at the same time.
Adorable sisters, Kari and Becky of UCreate
8- Try to not get lost in the numbers. I'll admit that this is something I struggle with way too much.  Followers, pins, comments, likes, referrals- so many numbers to get caught up in.  In the end I realized that feeling like my numbers aren't up to par only makes me feel bad and doesn't do anything to help my blog.  I do best when I just concentrate on making things 🙂
Myself, Amy of Diary of a Quilter, Erin of 2 more seconds and Traci, I was lucky to be able to hang out with these wonderful ladies during most of the event.
My dearest friend Traci of Amazing Mae was my roomie and travel companion for this event.  I can not tell you how grateful I am that she came along- we had such a great time making sugar runs and hunting down cheeseburgers!
As two Mom's on our own we reserved a small compact car to rent-  when we showed up all they had left were minivans!!  Even on vacation we couldn't drive a small car!! We joked that we should volunteer to run carpool for someone while we had the van.
oh- one last thing, next year Becca if you lure me into your minivan you'd better have candy 🙂