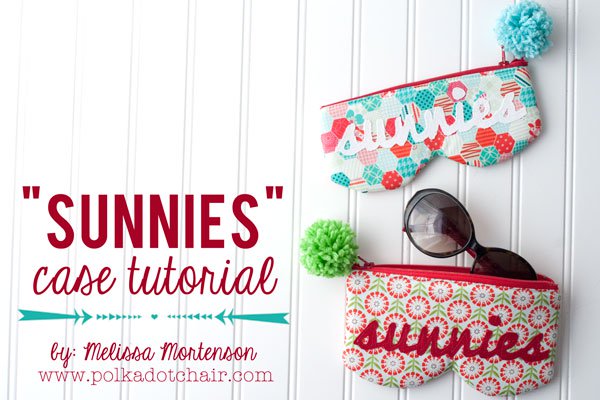 Are you ready for summer! Oh man am I!!! Here's a fun sunglasses case for you to sew!
Note: If you would prefer you can now purchase a PRINTABLE copy of this tutorial including the pattern piece in the SHOP!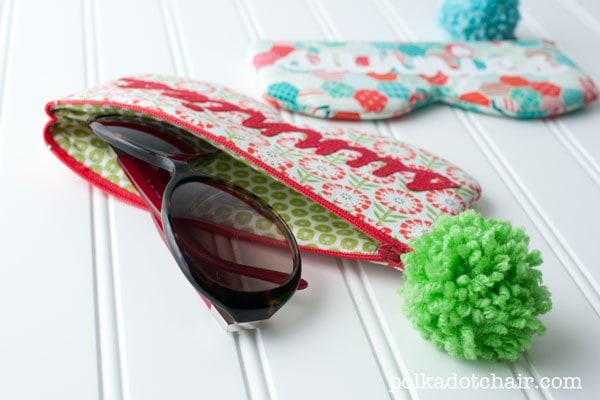 There are two things you should know about me 1) I ALWAYS have a pair of sunglasses with me, I can't drive without them, the sun hurts my eyes.   2) My purse is a MESS.   All  of the sunglass cases I had before were to heavy so I didn't carry them around with me.  I made this simple case to be lightweight enough to not weigh me down, and the pom pom attachment will make them quick to spot in my purse.
If you'd like to make the pom pom zipper pulls too click here for a free tutorial to make them.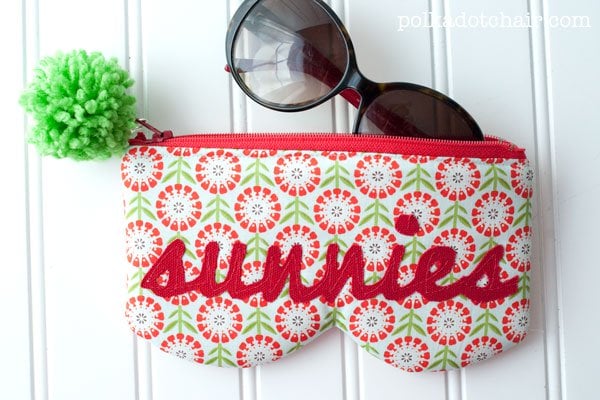 This sunglasses case comes in two sizes. The first one I made (the smaller one) was perfect for my daughter's glasses, but my big over sized ones needed a slightly bigger case.  You can pick which size you'd like to make.
You'll need:
2 Fat Quarters – the fabrics here are from the So Happy Together Line from Riley Blake
1/2 yard 1/4″ foam
7″ zipper
Scrap of colored canvas
Wonder Under
Pattern Piece download it here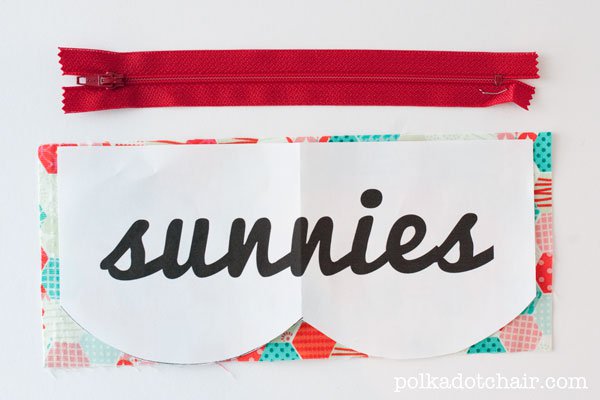 Print and cut out your pattern piece. Make sure your page scaling is set to NONE in Acrobat.
From pattern piece cut 2 pieces for case front and back and 2 pieces for lining front and back.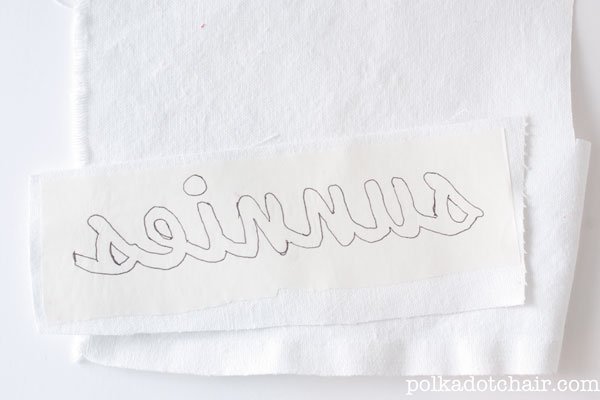 Using a light box (or a bright window) trace the word "sunnies" onto your piece of wonder under. Make sure the words are REVERSED.
Press onto a piece of canvas.
Cut out.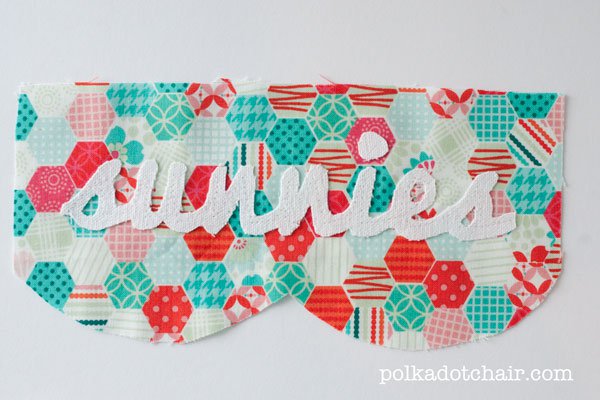 Remove backing and press to case front.  Stitch through center of letters to secure.
Cut out 2 pieces of foam using your pattern piece.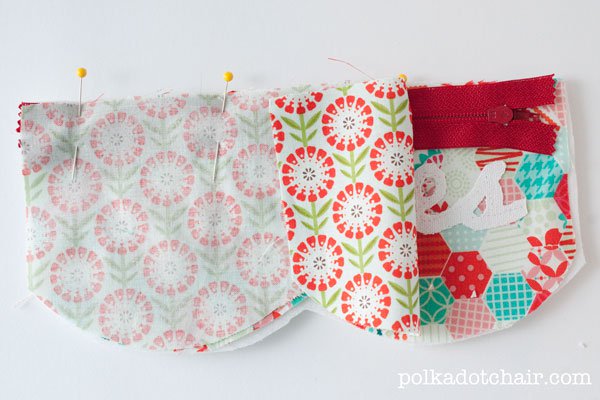 Layer wrong side of case front onto foam piece.
Place zipper right side down on top of case front piece.
Place lining piece right side down on top of the zipper (the wrong side of the zipper).
Using your zipper foot, stitch all layers together.
Repeat for the case back piece.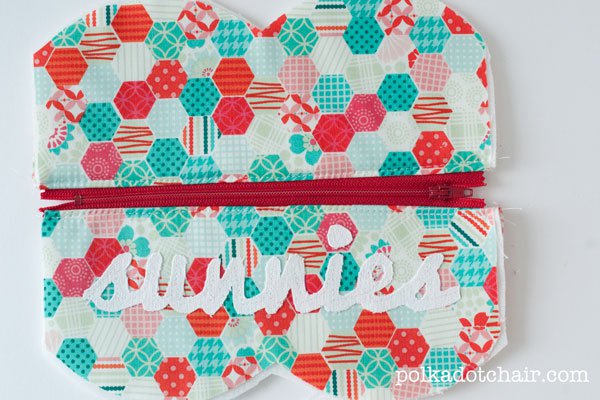 It will look like this.
Press top seam well and top stitch along the zipper. This will keep the lining from catching in the zipper.
Unzip the Zipper.  (DON'T forget this step)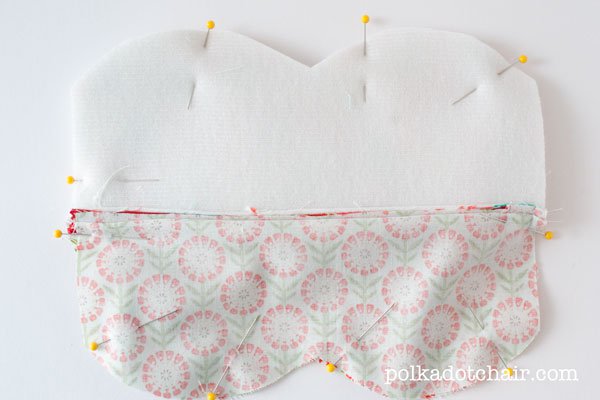 Pin case front and case back pieces together and lining front and lining back pieces together.  Using a 1/4″ seam stitch.   Leave a 3″ opening in lining piece to turn right side out.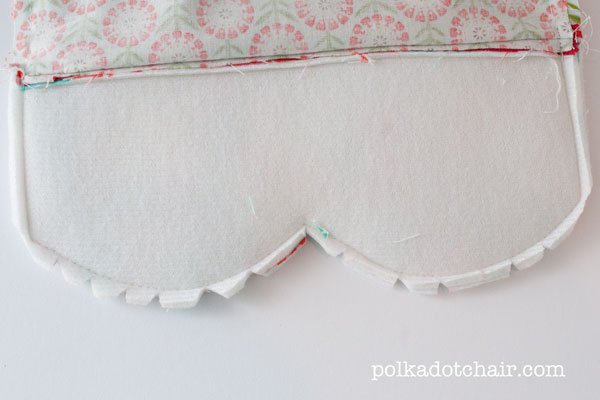 Clip your curves and corners well. Trim down all seam allowances.
Turn right side out and press. Handstitch opening closed.
I hope you enjoyed this tutorial!  Make sure you check out the tutorial for the pom pom zipper pulls that I attached to the case.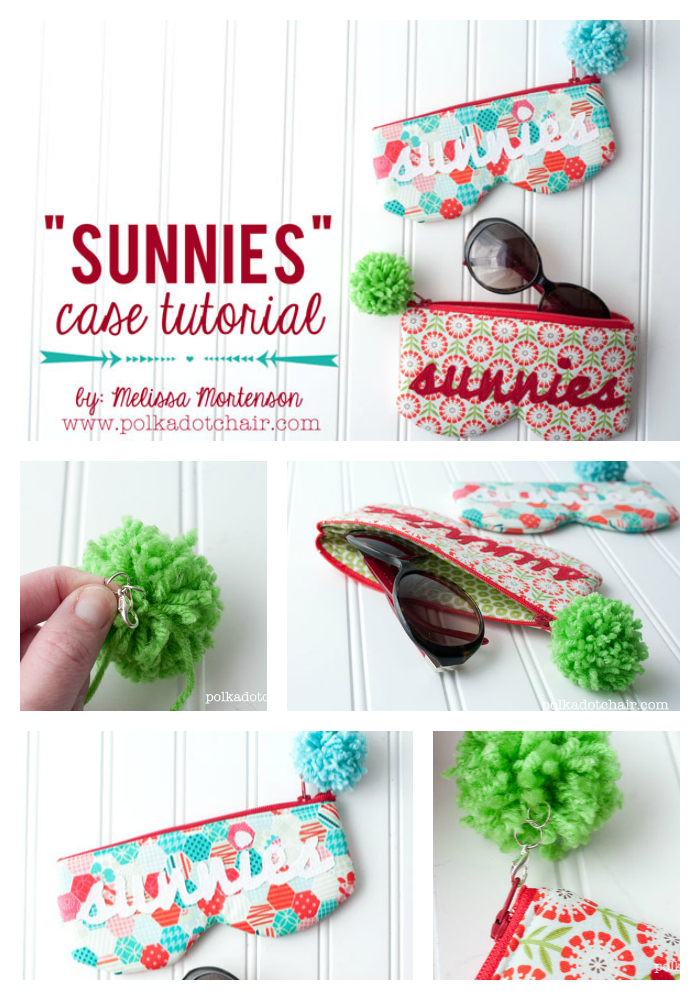 This post first appeared on the Riley Blake Fabrics Blog.
——————————————————————-

Print Friendly
45