Welcome to the Blog Tour for the new Sweet Celebrations book!!  I am so honored to have contributed a project to this great book!
The book hits the shelves this MONTH!! I am so excited to see it, I will be stalking my postman every day until I get my copy.
One of the reasons that I am so excited about this book is that it includes a variety of sewing projects based on Celebrating ALL YEAR LONG!  I know that I personally love to sew quilts, aprons, bags, pillows etc… and this book includes patterns for all of those plus more.
Here's a sneak peek at some of the projects in the book:


For the Blog Tour the girls at Moda thought up a fun little way for you to get a little "treat" as you visit all of the blogs on the tour.
Each of us was asked to provide a recipe that coordinated with our project in the book, and Moda created a very special recipe card that you can download yourself!  Visit each blog on the tour to collect all of your recipe cards.
Since my project was for Valentine's Day,  I decided to share with you a fun sweet treat that I love to make every February.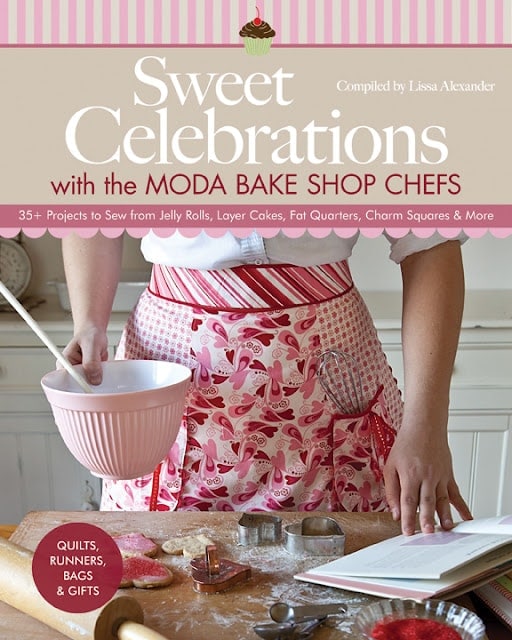 For my contribution to the book, I made this fun and fancy retro inspired Sweetheart Hostess Apron… and guess what? It's reversible!!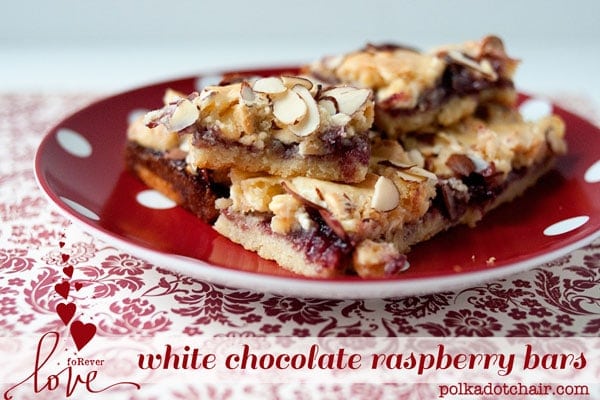 I love these raspberry bars!  So much that I don't let myself make them very often, because I'll eat the whole pan.
Here's the recipe — click here to download a copy for yourself.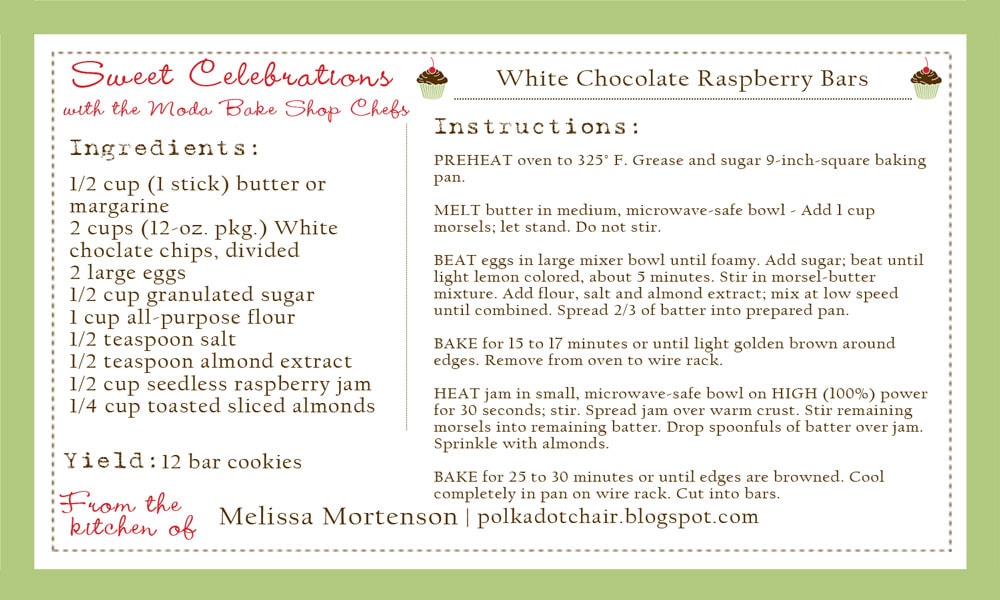 You can visit each of these blogs on the tour to collect a recipe card and enter for a chance to win YOUR own copy of the Sweet Celebrations Book along with a Moda Pre Cut!
October 1 – StashBooks and Moda Cutting Table
October 2 – Melissa Mortenson and Melissa Corry
October 3 – Mary Lane Brown and Natalia Bonner
October 4 – Lissa Alexander and Corey Yoder
October 5 – Jane Davidson and Angela Yosten
October 6 – Jo & Kelli Kramer and Stefanie Roman
October 7 – Sherri McConnell and Megan Jimenz & Heather Andrus
October 8 – Angela Mitchell and Ellie Roberts
October 9 – Katie Blakesley and Aneela Hoey
October 10 – Amy Smart and Angela Pingel
October 11 – Vanessa Christenson and April Rosenthal
October 12 – Moda Bake Shop
Okay now for the giveaway part!
Leave a comment here to be entered to win
-A Copy of the Sweet Celebrations book
and
-A Fat Quarter Pack (since it's my favorite Moda Pre Cut!)
Deadline to enter is 10/08/12.  The winner will be drawn at random from the comments section and will be notified by email. Our winner's name will also be listed here as an update to this post. *Note: Only entrants with U.S addresses are eligible to win the actual book. Winners with addresses outside the U.S. will win the e-book version.