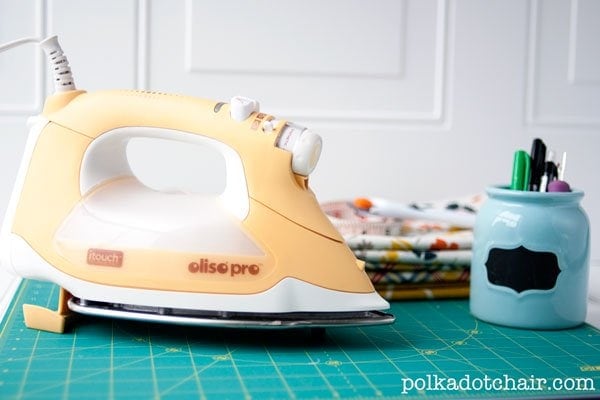 Last December I was sent an Oliso iron as a very nice surprise.  It was a gray dreary December day and I was feeling very overwhelmed at the time.  I had been out running errands all day, then I got home and found this little gem sitting on my doorstep.
It turns out the nice folks at Oliso sent it to me to review (organized by the sweet Cindy of Riley Blake).  Wanting to give the iron a proper review I decided to use it for a couple of months then write up my thoughts to share with you all.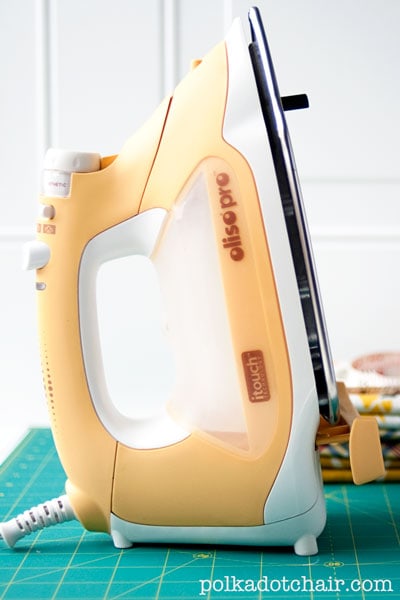 The thing that makes this iron unique is that it has feet on it that go up and down automatically (you can see them in the photo above).  There is a sensor in the handle.  This iron is MEANT to be stored flat.  The idea is to save your wrist from the strain of frequent up and down motion when you're ironing a big project.
I will admit, when I got it I had to read the directions… an iron that did push ups (for lack of a better term, but it really DOES look like it does push ups) seemed confusing to me.  How does it know when to raise up? How does it know not to burn down my house?
I soon discovered that it's really simple. You put your hand on the iron and it lowers the feet so you can iron. You take your hand off and the little feet pop up and it raises up to protect your ironing surface.
After using it for almost 3 months now I can say that I really like that feature- I've completely gotten used to it. — But I must say that my FAVORITE feature about this iron is that it does not leak!  I've had 3 other leaky irons in the past 5 years and I've got the stains on my ironing board to prove it. It was driving me CRAZY.  I just kept a wash cloth close by to catch the leaks- I've not had this iron leak at all.
In case you are wondering, yes it does have an auto off feature- if you leave it without use for too long. Which is good since I forget to turn it off since it stores flat.
The only thing that I can say that I don't like about the iron is that it keeps steaming even when I'm not using it.  – There is a switch on the top to turn the steam on and off, it's just a pain if you're working on a big project and are ironing every few minutes.