I created a simple patchwork queen-sized quilt for my daughter to use on her bed.  Let me tell you a bit about the quilt. 
My daughter needed something "jazzier" on the bed in her room. I picked up a few fabrics at the quilt shop in SLC, then ordered some online when I got home.
They are just 9″ blocks. I decided to do a row of each color theme, starting with pink in the middle and mirroring out each way, a row of a black, row of blue. I just wish I could have found more fabric prints in that blue color.
The quilt is made up of 12 rows of 9″ blocks. There are 10 blocks in each row. The quilt also has a 4″ border all around the edge.
For the backing I used a queen sized polka dot sheet.
I adore how this quilt turned out. It gives the room so much more pizzaz! I really wanted to bring out the black in her bed and her dresser.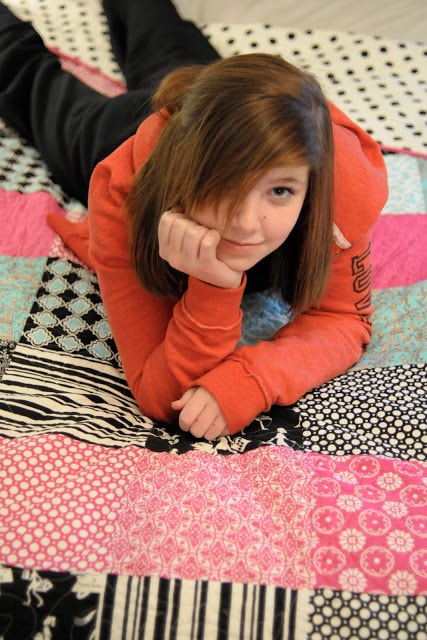 Close up of the quilting
Photo of the whole quilt: