Years ago, when I first got back into quilting, I did it because I wanted to learn how to make a baby quilt. Making a baby quilt to give as a gift is one of the main reasons many want to learn how to quilt. They are great quilting projects for beginners since they are small and relatively quick to sew.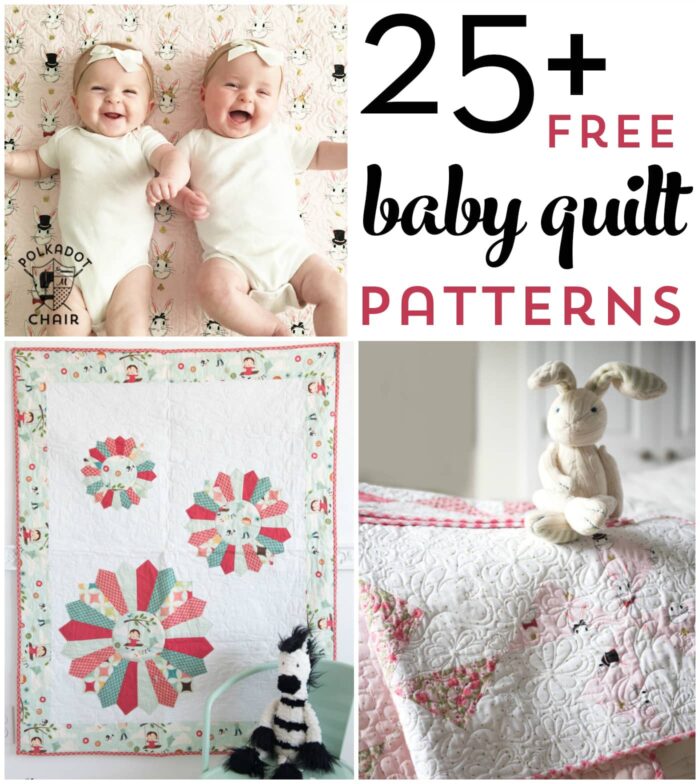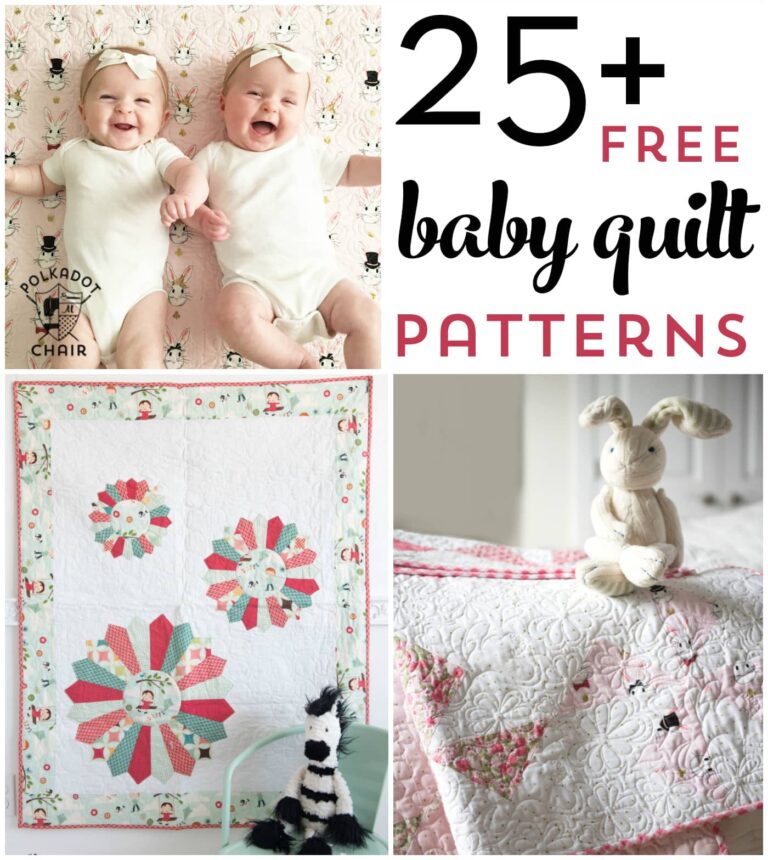 I know many of you here are avid quilters, but I also frequently hear from those wanting to learn how to quilt. I'm frequently asked, "how do I make a quilt from start to finish?" I actually love those kinds of questions because it means that people are interested in quilting!
Table of Contents
When they ask me how to learn how to quilt, I always tell them one thing. The only way to learn is by doing! Just pick a project and start. If it turns out badly, don't show it to anyone.
I've compiled more than 25 baby quilt patterns that I think are simple, fun, and unique. Each one of them would be beautiful in a baby's nursery.
Most of these are free patterns. A few are not, but I do not mind supporting fellow Makers and purchasing a well-written pattern. I'm sure that all of you feel the same way.
If you want to make a gift for a baby, but aren't sure if you want to make a quilt, here are a few project suggestions.
What is the Easiest Quilt Pattern for a Beginner?
If you're brand new to quilting, I recommend either a Simple Patchwork quilt or a simple strips quilt to start. The simple strips quilt is great for a beginner since it does not require you to match any points in your corners.
What Size is a Baby Quilt?
Since a baby quilt is not made to specifically fit a bed, you can make it any size that you'd like. If you'd like some guidance, here are my suggestions.
The most common baby quilt sizes are:
36″ x 36″ – In my opinion, square quilts are easy to make and design. This size is great for newborns since it's not too large.
36″ x 48″ – If you prefer a rectangle quilt, 36″ x 48″ is a great size, especially if you're making the quilt out of 12″ blocks. It's three blocks wide by four blocks tall.
A crib-size quilt is considered 36″ x 52″.
If you're designing the quilt yourself, if you keep it less than 38″ wide, you'll be able to back it with standard quilt fabric yardage (which is 42″ wide), which will save construction costs.
How Do I Make a Baby Quilt?
To make a baby quilt, you complete a set of simple steps.
Choose a design for your quilt (we have a lot of suggestions in this article if you're stumped!
Select fabrics for your quilt. If you are new to quilting baby quilts made from pre-cut fabrics, helps save you a lot of time.
Cut up your fabric and sew it back together again! Seems funny when you put it that way right? But it's pretty accurate. Following the directions on the pattern, you chose to assemble the pieces of fabric until you have a completed quilt top.
How to finish your quilt: Create a quilt "sandwich" with a quilt top, backing, and batting. You can also send your quilt top to a professional long-arm quilter to do these steps.
Using a home machine, quilt the layers of fabric together. You'll need to use a walking foot for this step.
After you are finished quilting the top, cut the layers even and bind the quilt. I prefer to bind my quilts by machine.
What Supplies Do I Need to Sew a Baby Quilt?
Quilt supplies are very fun to buy and collect. It's easy to go a bit crazy. You don't really need many supplies. If you're new, I recommend starting with the following items. Then you can add more supplies as you go. This also allows you to see which types of supplies and which brands you enjoy working with most.
Sewing Machine – I sew on a BERNINA
Iron (this is my FAVORITE iron, it's designed for quilting. If it's not in your budget, use any good steam iron).
What is a Fat Quarter?
You'll notice that many of the baby quilts on this list mention "Fat Quarter" or say they are "Pre-Cut" Friendly.
A fat quarter of fabric is a quarter yard of fabric that is cut to yield an 18″ x 22″ piece of fabric rather than a 9″ x 44″ piece of fabric from a traditional cut. It is common to see pre-cut fat quarter packs of fabric for sale. Many designers write quilt patterns designed specifically for Fat Quarters.
Other common pre-cut fabric sizes are:
Layer Cake – made up of 10″ x 10″ fabric squares
Charm Pack – consists of 5″ x 5″ fabric squares
Rolie Polie or Jelly Roll- contains 2 ½″ x WOF (width of fabric) strips.
Free Baby Quilt Patterns from the Polka Dot Chair
Whether you're an experienced quilter or new to the quilting world, I hope that you'll find a project to inspire you! All of the baby quilt patterns I chose for this list are easy to follow and great for quilters of all skill levels.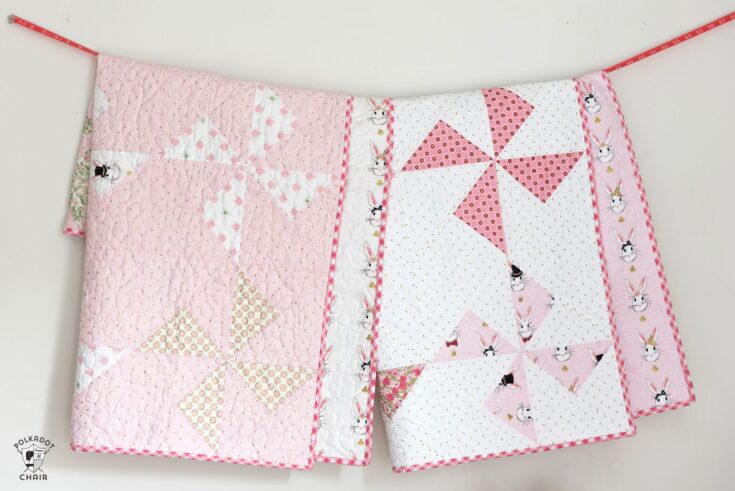 This quilt is super simple since it's made up of just one quilt block repeated nine times. It is also offered in our MEGA baby quilt bundle in our shop! READ MORE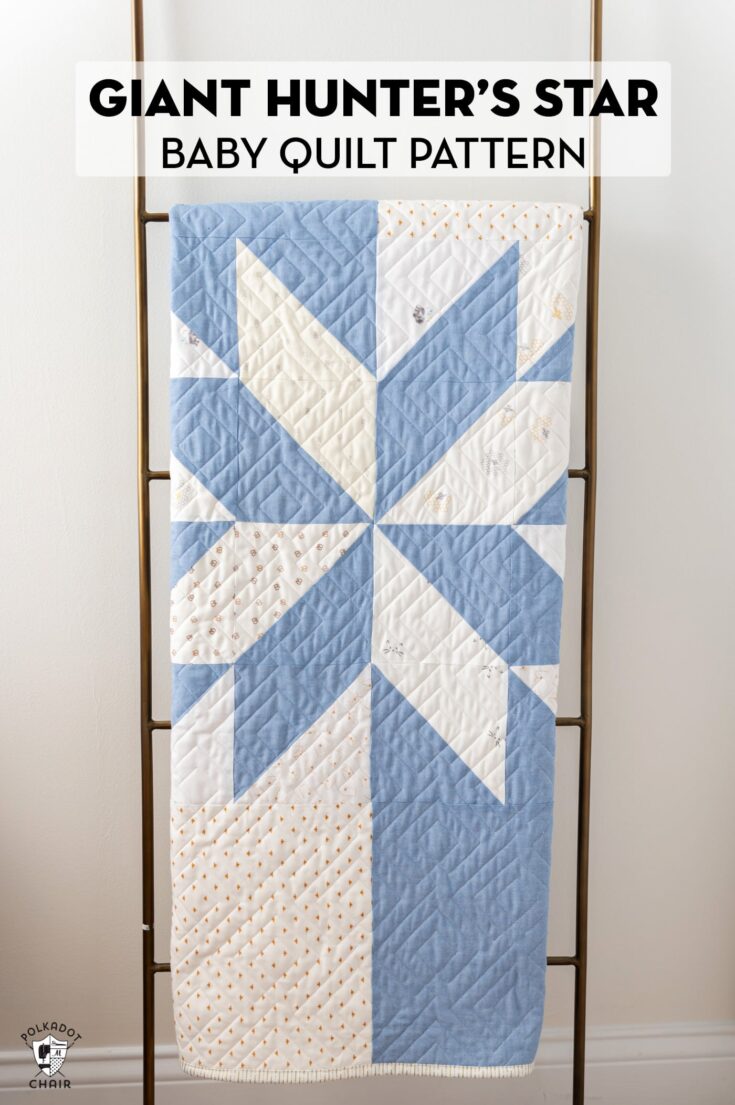 Inspired by the Hunter's Star blocks which are normally sewn on a smaller scale, this baby quilt is made from large squares and triangles. Making it a great one for a beginner!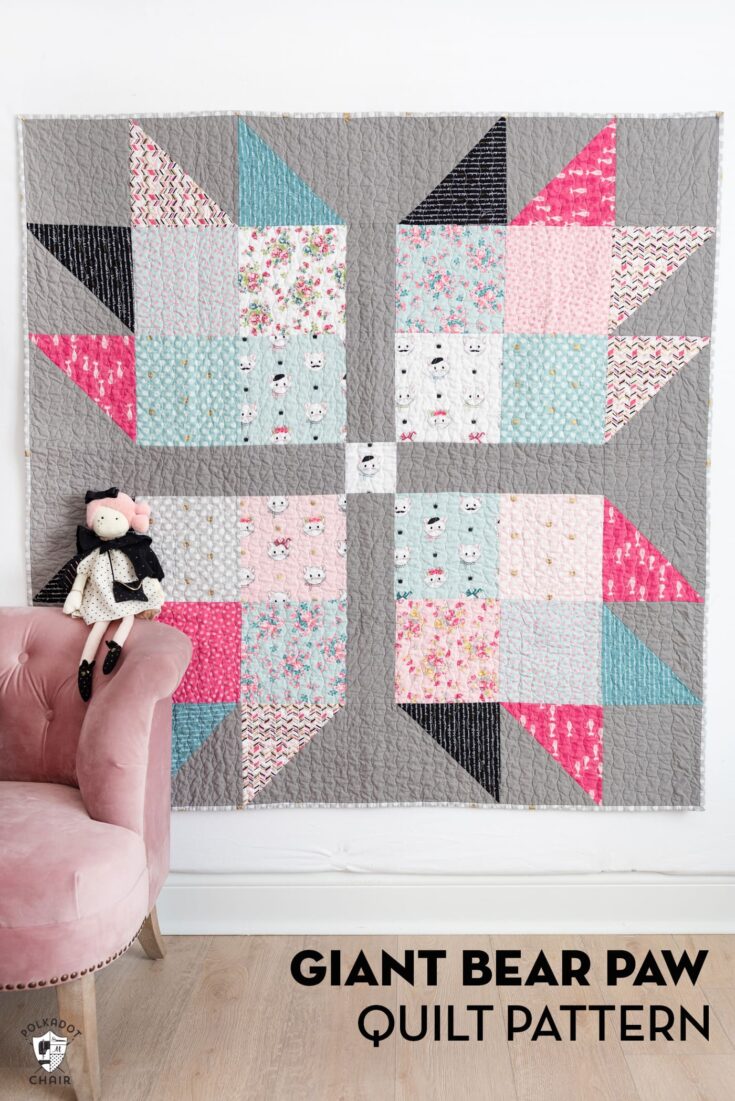 This quilt is slightly larger than a standard baby quilt at 58″ x 58," but I don't think the recipient will mind the extra warmth. This quilt is precut-friendly and is constructed using 10″ pre-cut squares!
It is a fun quilt to stitch up and pretty quick to make as it uses just 3 Dresden quilt blocks appliqued on a larger piece of fabric.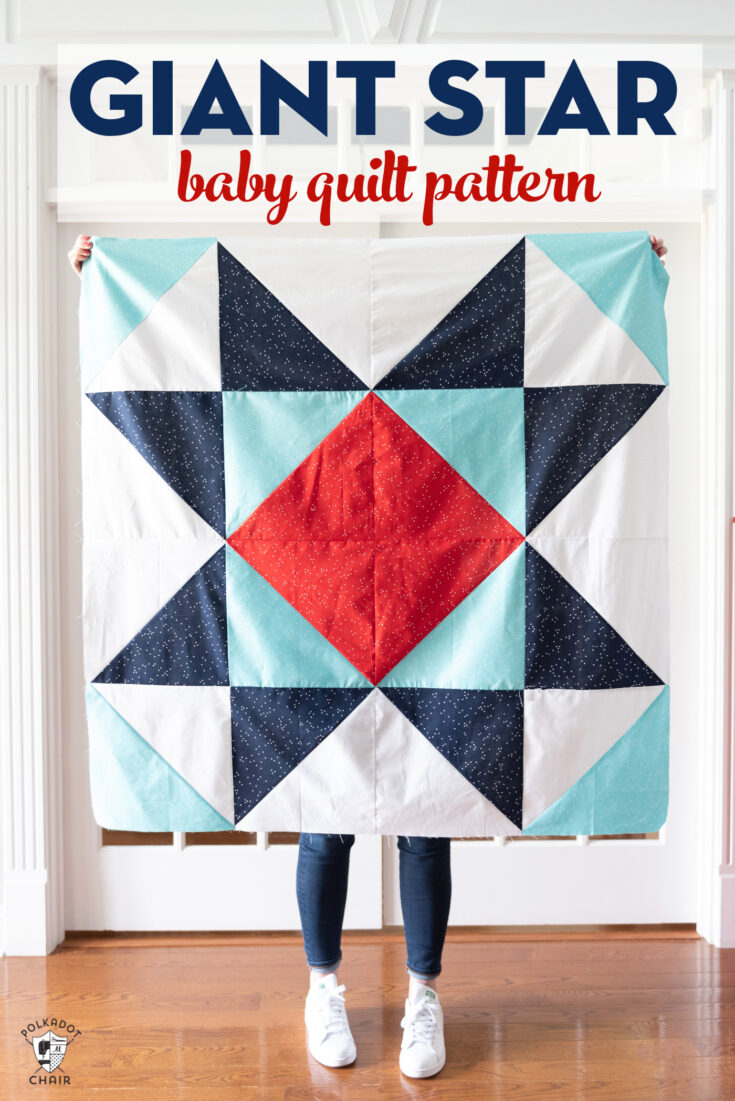 Since this quilt uses such big squares (and half-square triangles of fabric, it's great for beginners. It's also easy to customize to any decor style, from modern to traditional.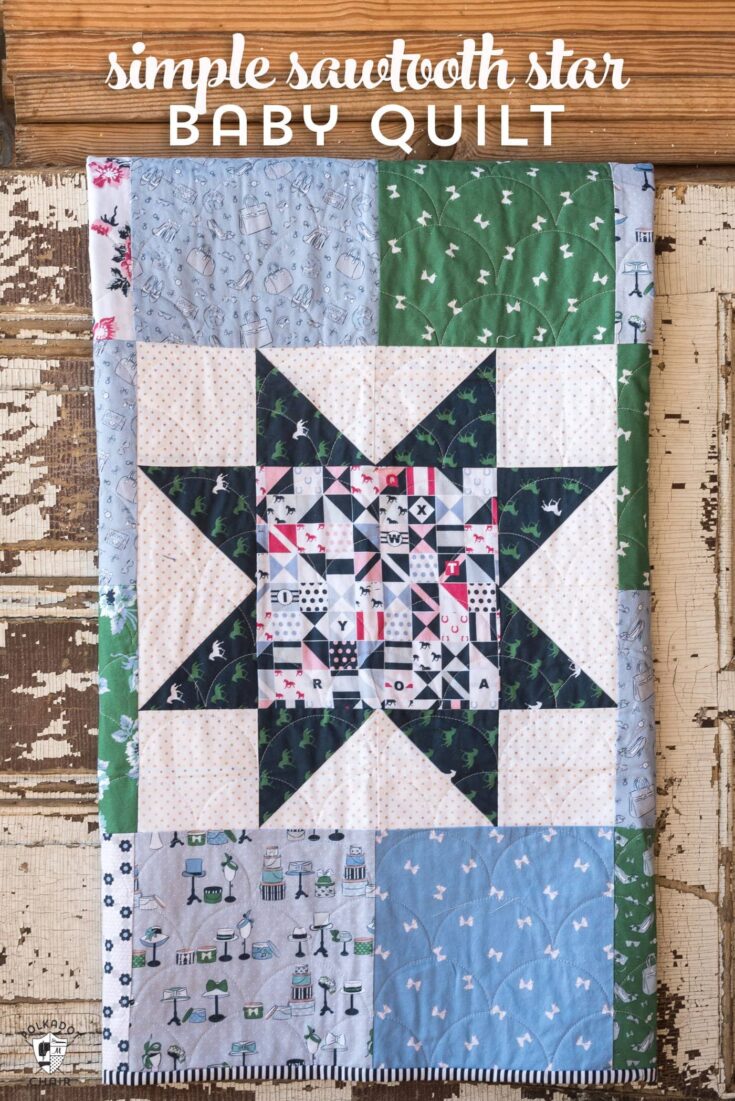 This quilt features mostly just squares which makes it great for beginners. A few Sawtooth stars are interspersed with the square blocks to give the quilt some interest.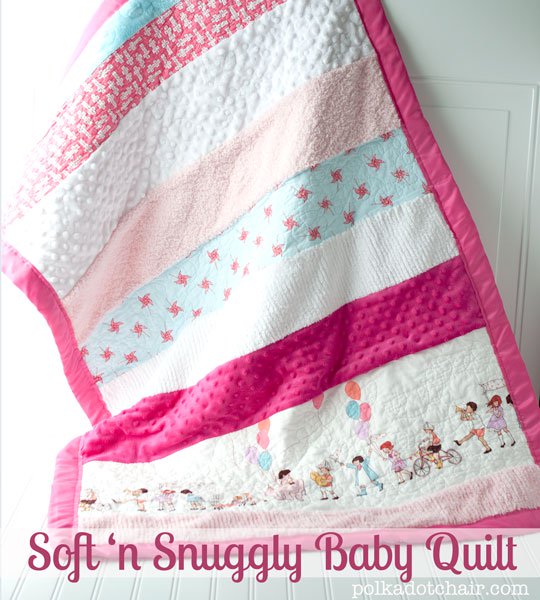 This is one of my all-time favorite baby quilts. It's a simple baby quilt sewn using a combination of minke, corduroy, chenille, and flannel fabrics. All of the different textures of fabrics are perfect for a new baby.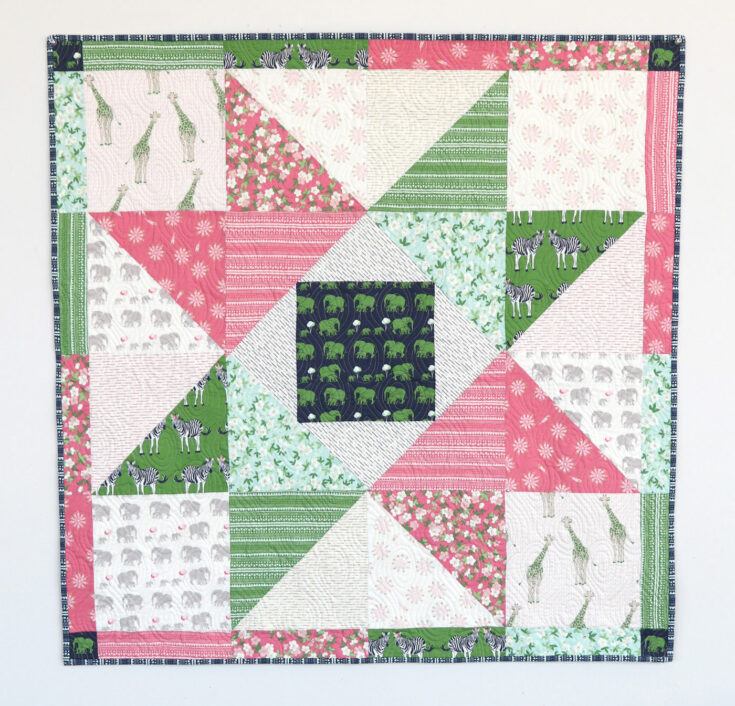 Photo Credit: diaryofaquilter.com
This quilt was created by Amy Smart from Diary of a Quilter and is a fun take on a one-block quilt.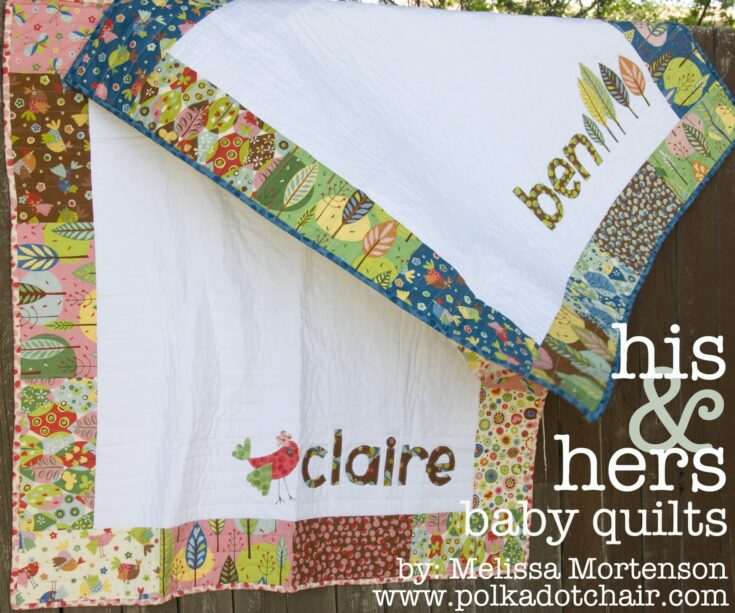 Create a baby quilt with a bit of personalization using this tutorial on our site. The border is made from 10″ pre-cut stacks of fabric.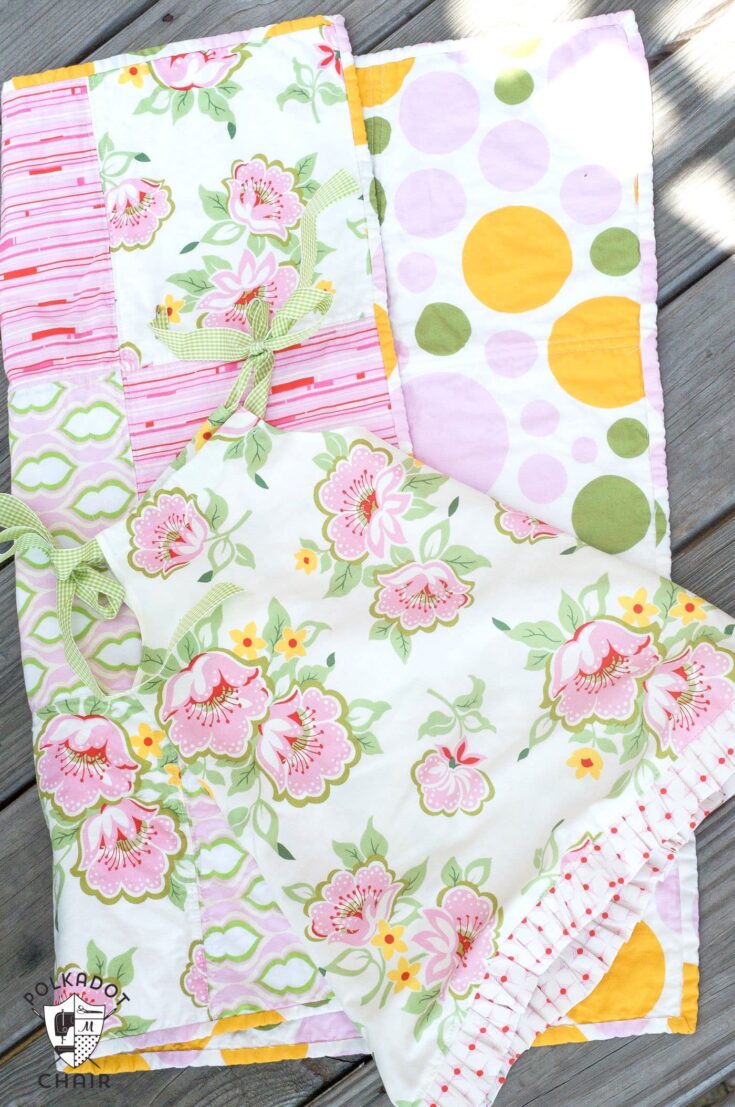 This baby quilt is a fun way to use up a Fat Quarter pack of fabric. Just chop them in half and stitch them together!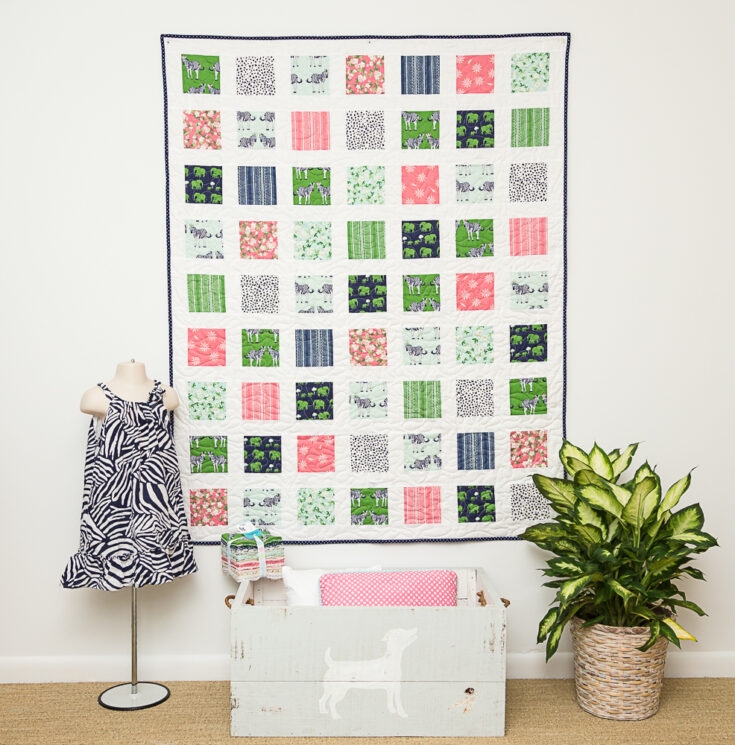 Photo Credit: www.coralandco.com
Pre-cuts are great to use for baby quilts since so much of the work is done for you ahead of time. Stitch up a 5″ stack of fabric (sometimes called charm squares) into a fun quilt using this tutorial from Coral & Co.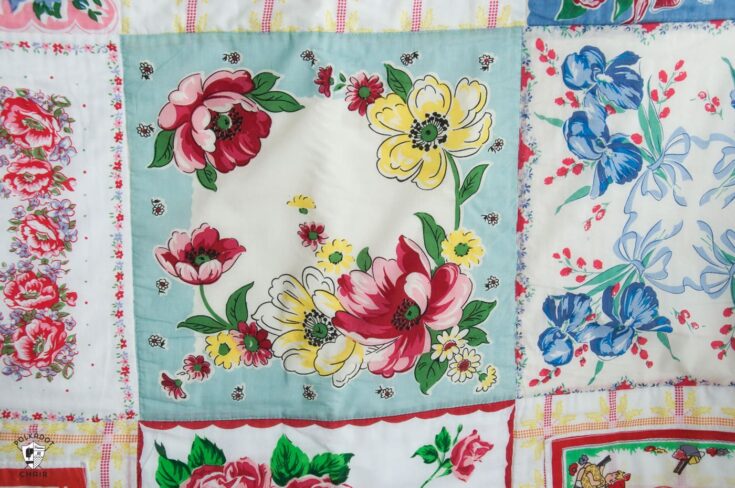 Photo Credit: www.polkadotchair.com
Use up some of those hankies just sitting around gathering dust!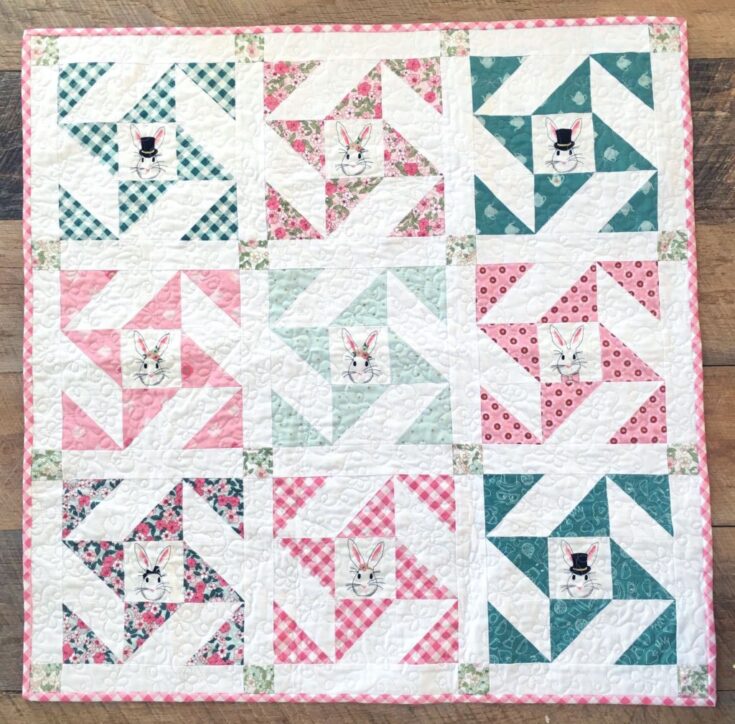 Photo Credit: www.jedicraftgirl.com
This baby quilt pattern by Amanda from Jedi Craft Girl is perfect for showing off some of your favorite novelty fabrics. It's a bit more detailed than a simple patchwork quilt, but is totally doable for a confident beginner-level quilter.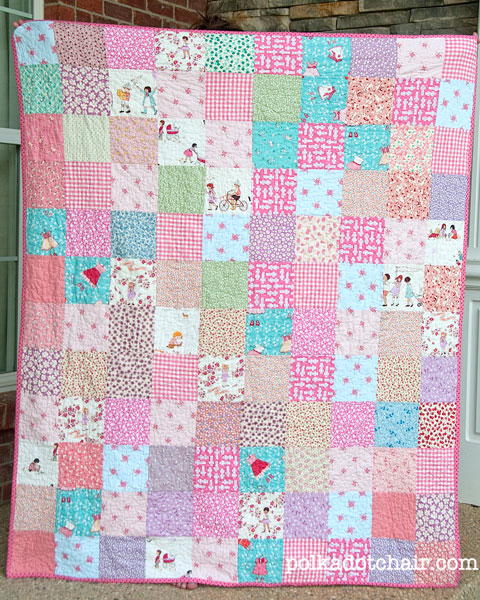 You can't beat simple patchwork! This quilt is made up entirely of squares. You can resize it, however you'd like based on how much fabric you have. This one is very easy to customize to match a baby's room since you can create this quilt with any combination of simple squares that you would like.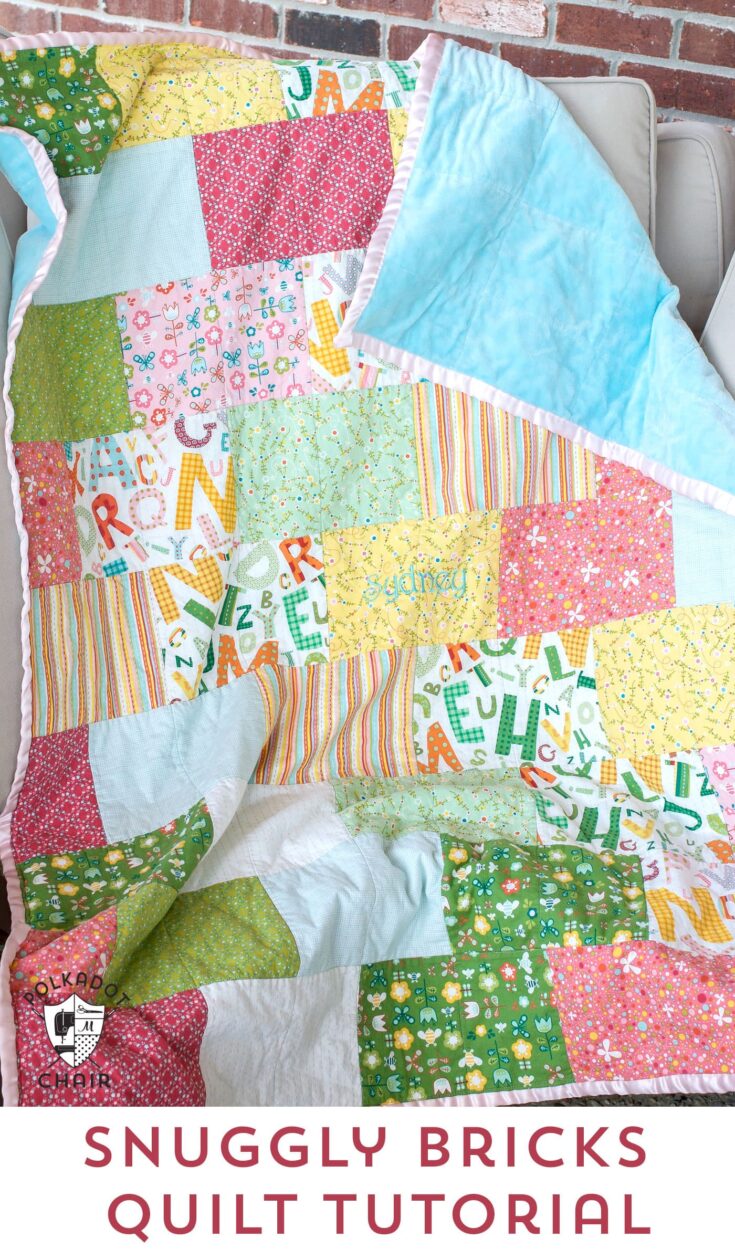 Create a quick quilt using a fat quarter pack of fabric with this free quilt tutorial!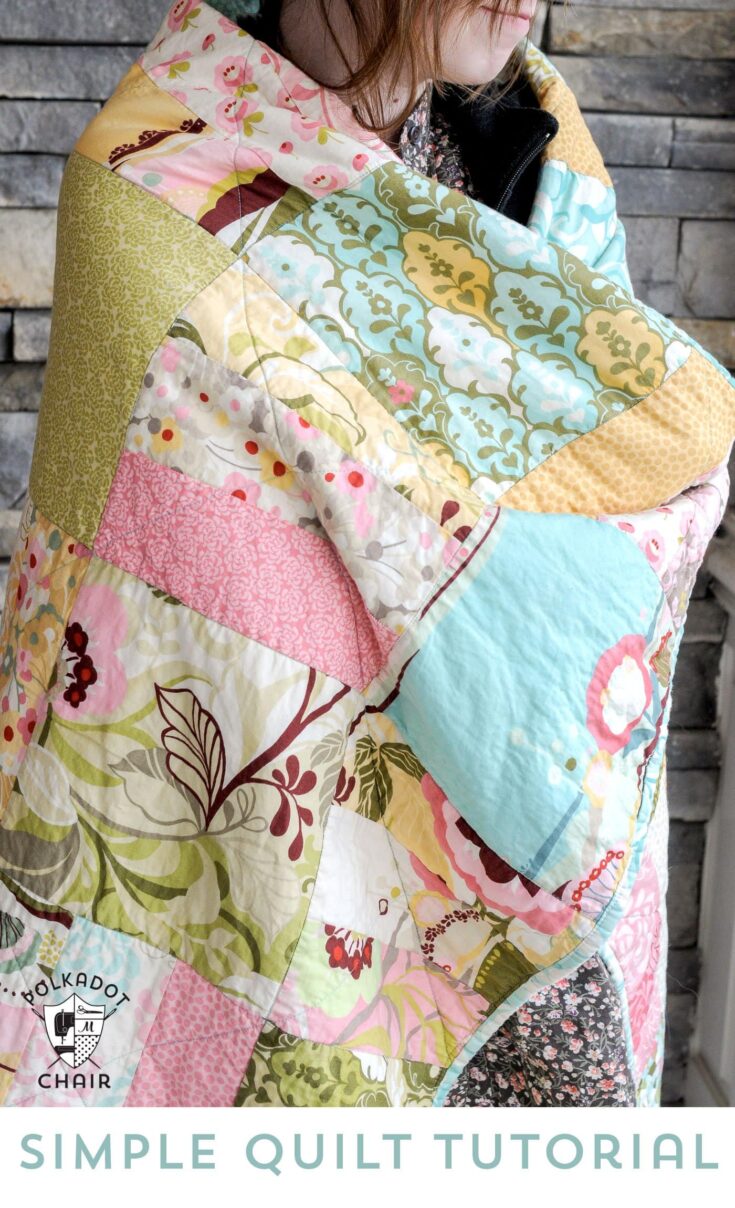 An oldie but a goodie! This quilt is one of the first ones I created for the blog. It's created using a Layer Cake (10″ fabric stacker).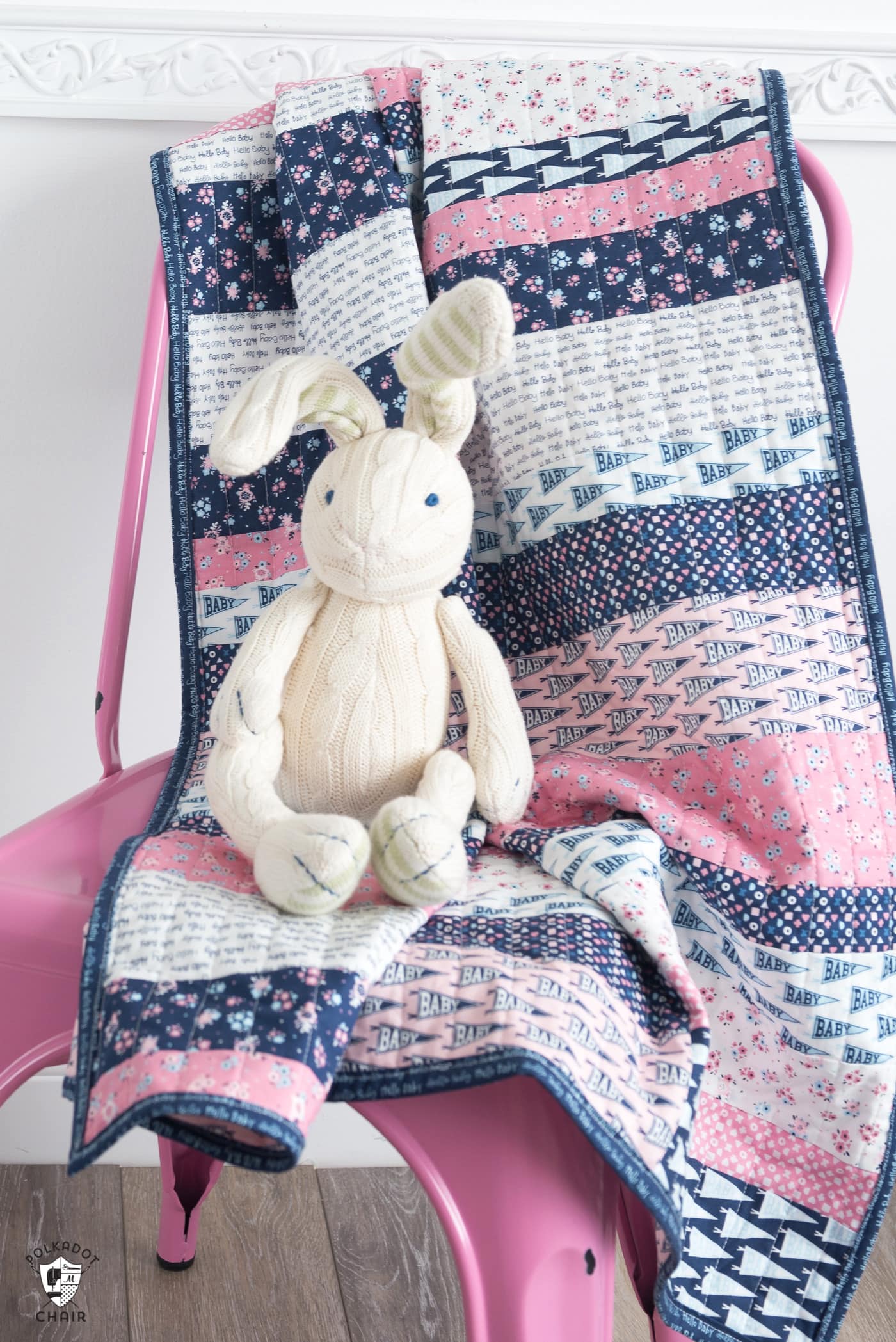 This baby quilt is made from strips of fabric, and I share a fun trick to cut and piece the strips quickly with you in the pattern. You can find all of the detailed instructions to create this quilt on our blog. The best part of this pattern? Since it's made up of staggered strips, there are no corners to match!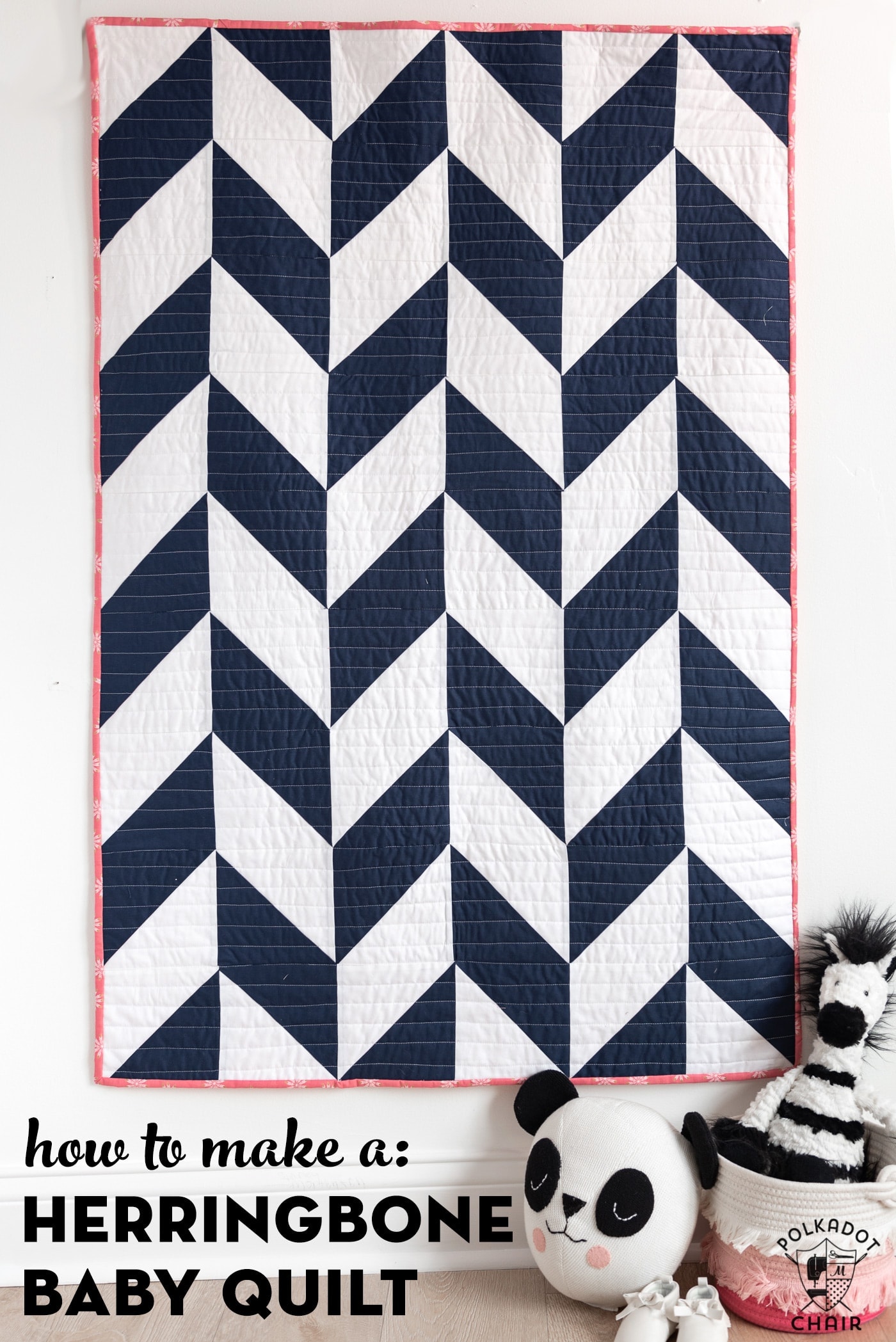 This quilt pattern has a modern vibe when created using all solid fabrics. It's the perfect quilt for younger parents looking for more modern baby quilt patterns. You can also make it from print fabrics if you prefer a scrappier feel to your quilts.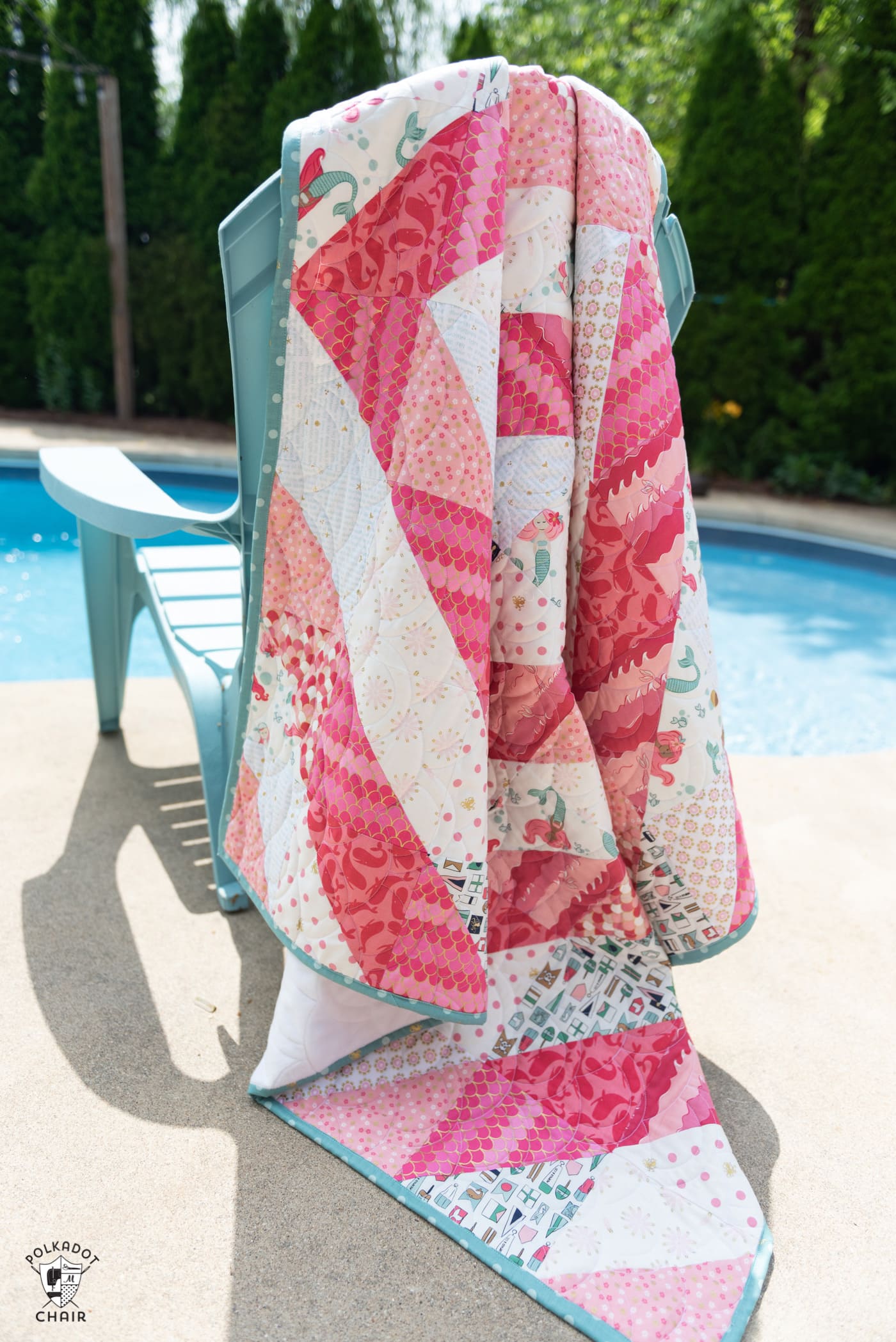 Create a sweet little baby quilt with our Half Square Triangle Baby Quilt Pattern – FREE. Did you know that you can rearrange half square triangle quilt blocks in dozens of ways to create brand-new patterns? The construction is the same for each quilt pattern, but simply rotating the blocks yields completely different results. We walk you through all the steps in our tutorial.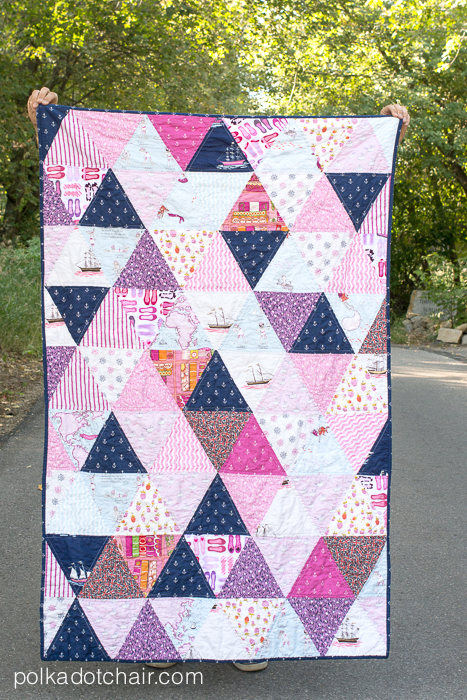 This quilt was actually designed as a lap quilt for my daughter, who was headed off to college at the time. However, the size is also great to use for a new baby. You can easily make it smaller by not adding as many rows of triangles.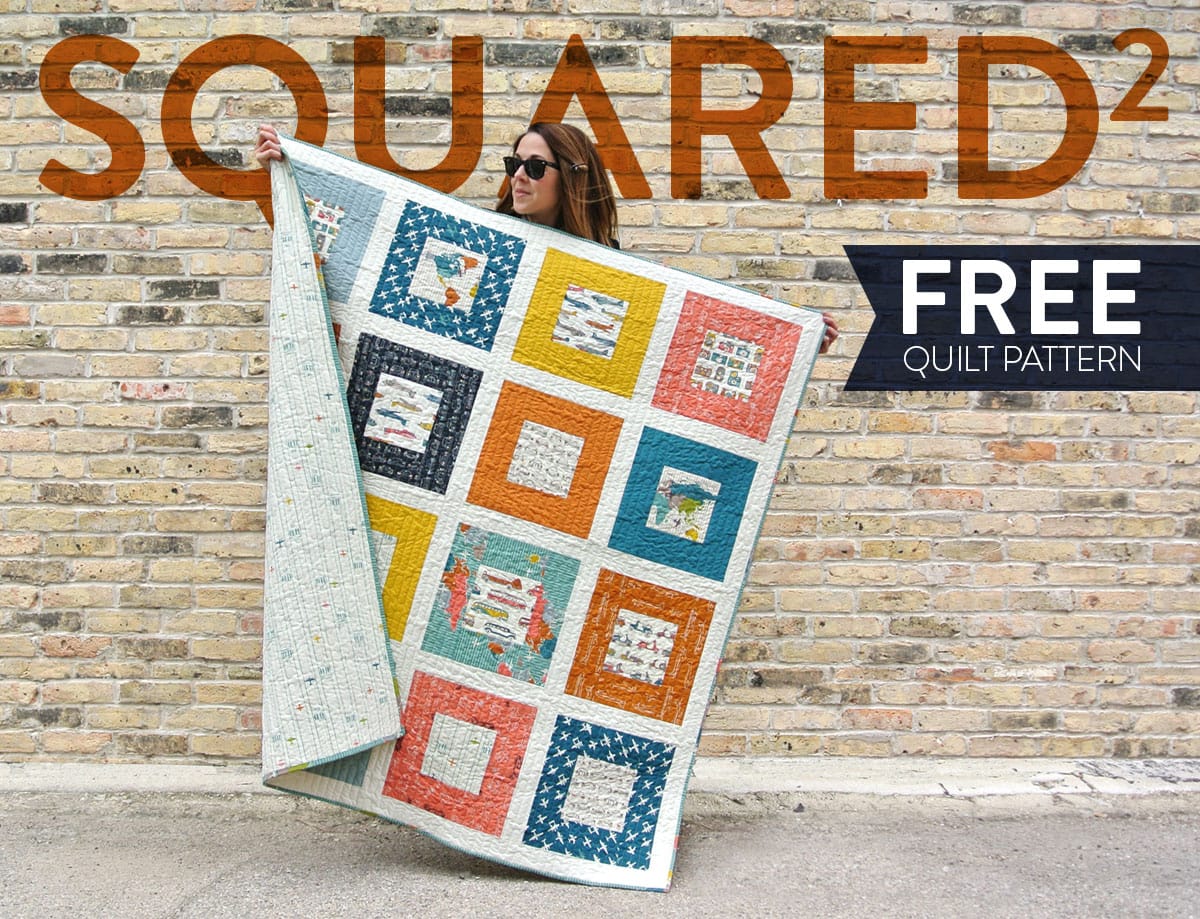 Photo Credit: suzyquilts.com
This quilt pattern would be great to use if you're sewing with a fabric panel or other fabric with a specific image or novelty print.
Modern Handcraft is one of my favorite quilt blogs to follow for modern quilt patterns with bold shapes.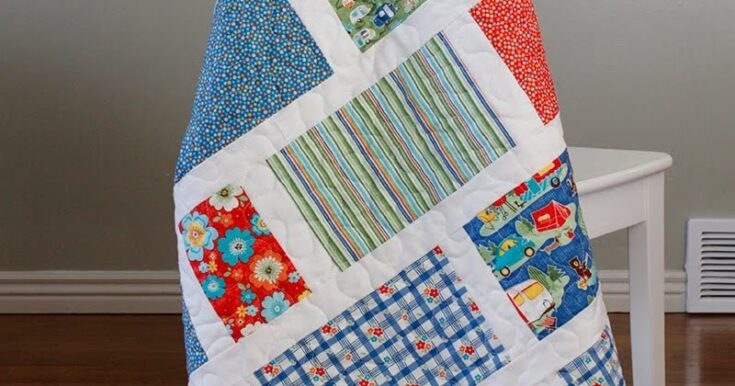 Photo Credit: www.abrightcorner.com
Andi, who writes the Bright Corner blog, has a LOT of free patterns on her site. She's an accomplished quilter who has been published in many books.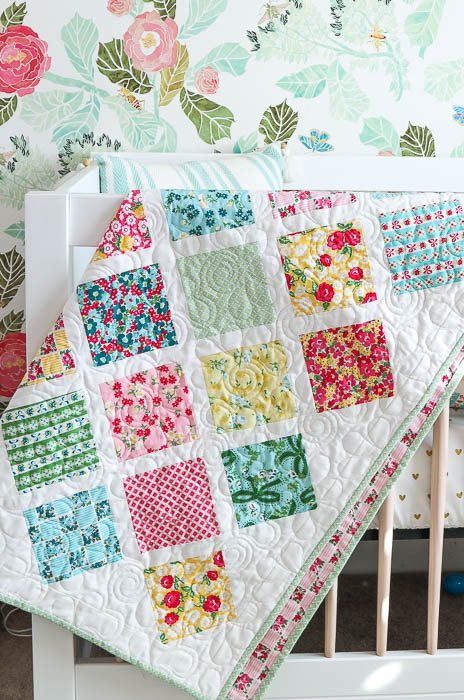 Photo Credit: www.diaryofaquilter.com
This beautiful quilt pattern can be found on Diary of a Quilter. Amy has SO MANY cute quilts on her blog. This lattice baby quilt is one of my favorites since it can be made with precut fabrics.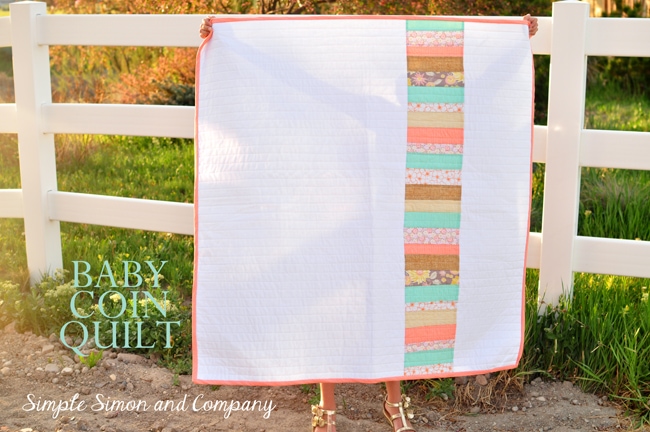 Photo Credit: www.simplesimonandco.com
A "coin" quilt refers to a row of fabrics sewn together to look like a stack of coins. This pattern features several small rectangles sewn into a long row. It is very simple, and since there are no cross seams there are no seams to match.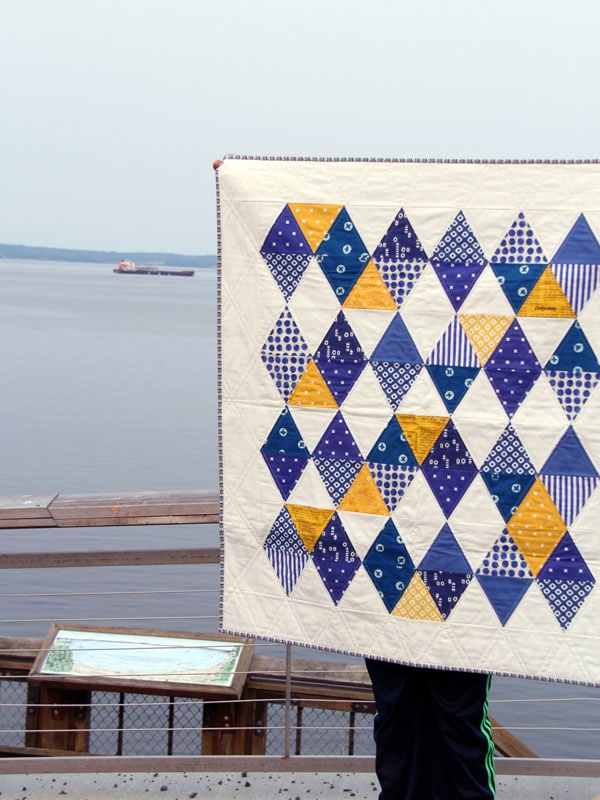 Photo Credit: cluckclucksew.com
One of my favorite quilt finishes by Allison. This quilt can easily be customized for a baby girl or a baby boy, depending on the fabrics you choose to create your quilt.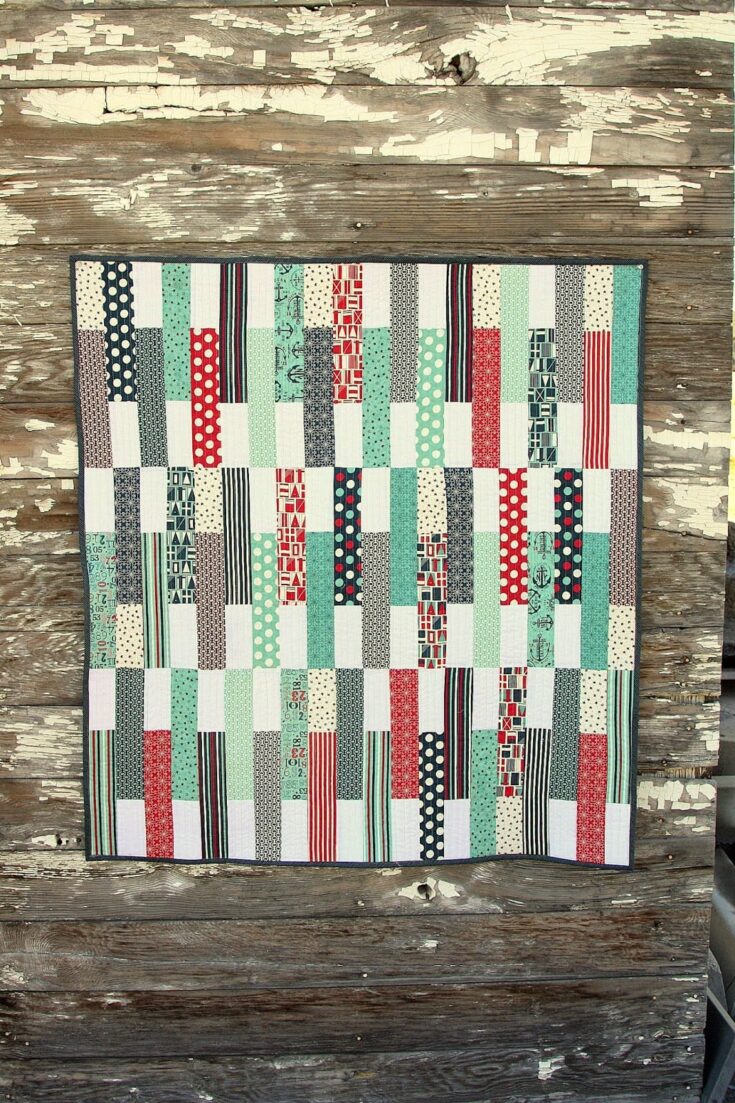 Photo Credit: www.diaryofaquilter.com
Amy creates a lot of new baby quilts (her friends and family must love her, she gives great gifts!). This one is a clever take on a simple strips quilt. The reds and greens really pop against the white background.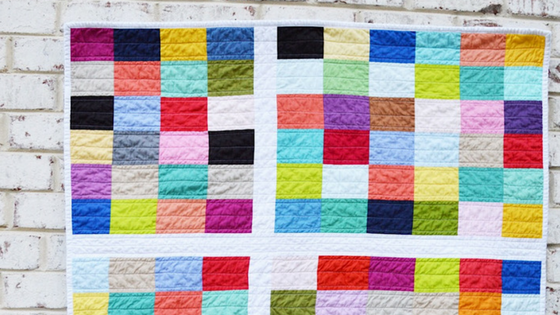 Photo Credit: blog.rileyblakedesigns.com
This baby quilt is striking thanks to the use of rectangles in several different solid fabrics. This pattern would be great for someone who prefers more modern baby quilts.
Photo Credit: www.quiltylove.com
A Layer Cake is a pre-cut stack of fabric in which all of the squares are "pre cut" to 10″ x 10″. It's a great time saver and a great way to make a baby quilt.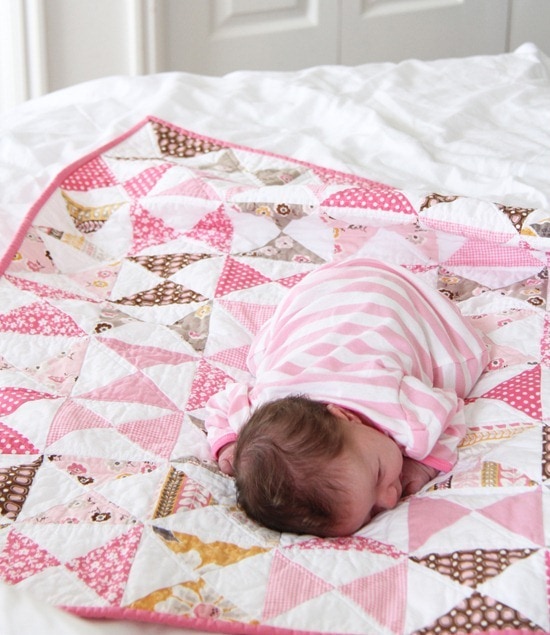 Photo Credit: cluckclucksew.com
Allison of Cluck Cluck Sew writes beautiful quilt patterns that are easy to follow. This quilt is made up of Quarter Square Triangles.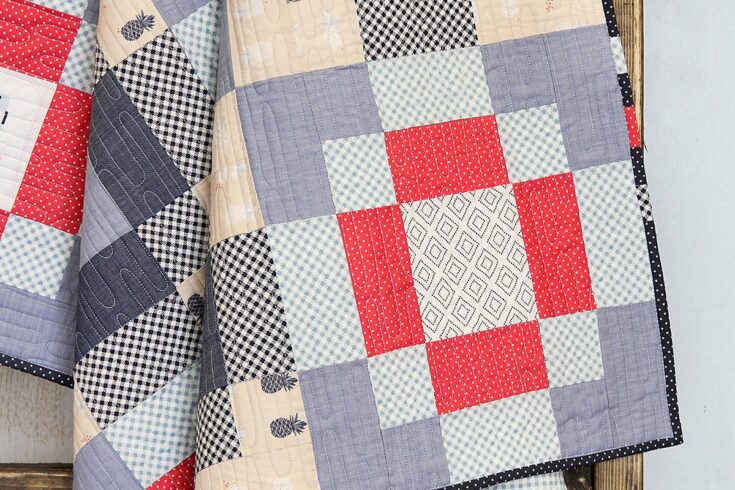 Photo Credit: weallsew.com
This Baby Quilt tutorial on BERNINA's blog is a bit more involved than some of the quilt patterns on the list, but the result is a striking modern baby quilt.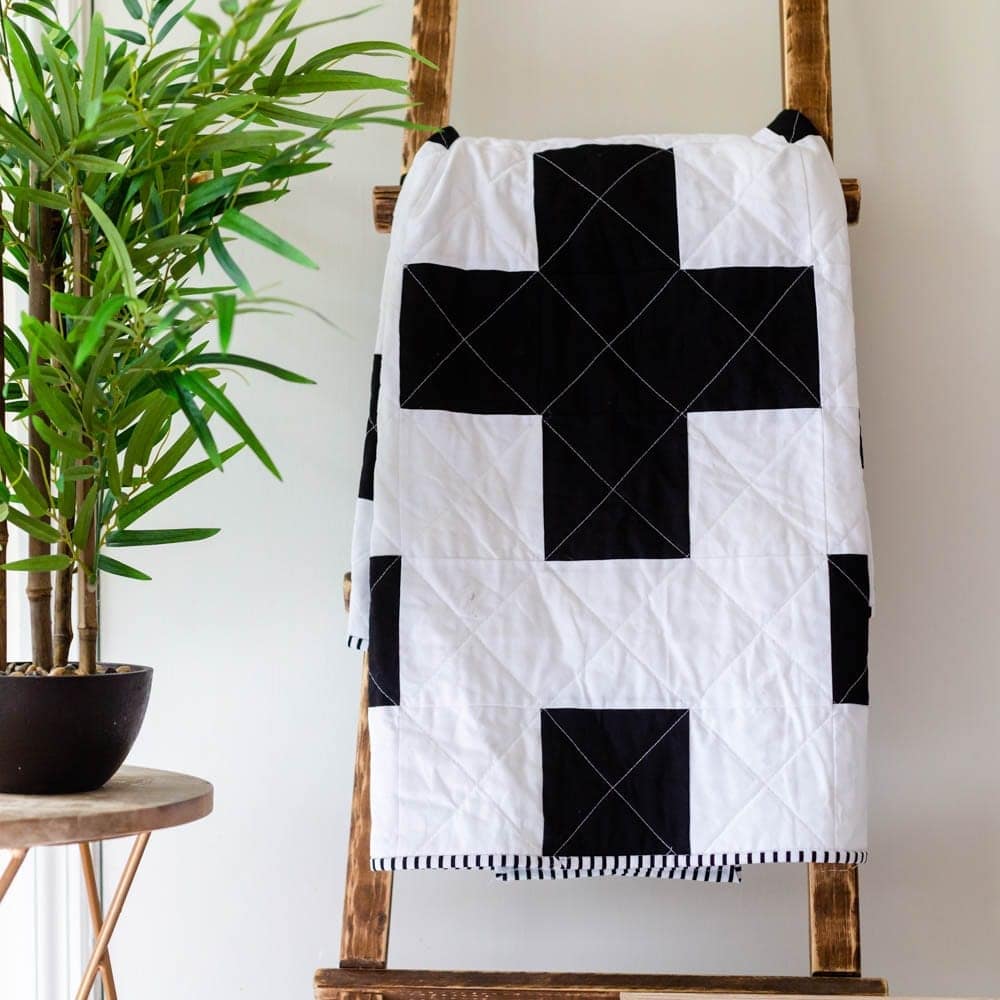 Photo Credit: www.coralandco.com
The bold plus signs on this quilt remind me of vintage Pendleton blankets. This quilt is just made up of squares of two colors of fabric sewn together in a way to create this great plus motif.
New to Quilting? Make sure you Check out these Articles
Getting Started Quilting: The Basics
How to Make a Quilt from Start to Finish
Easy Baby Quilt Patterns you can Buy
Free tutorials and patterns are great, but sometimes you need a bit more information than you can find on a blog or online. In that case, you might want to try buying a pattern.
You'll get loads of information and detailed instructions in an easy-to-print-at-home format.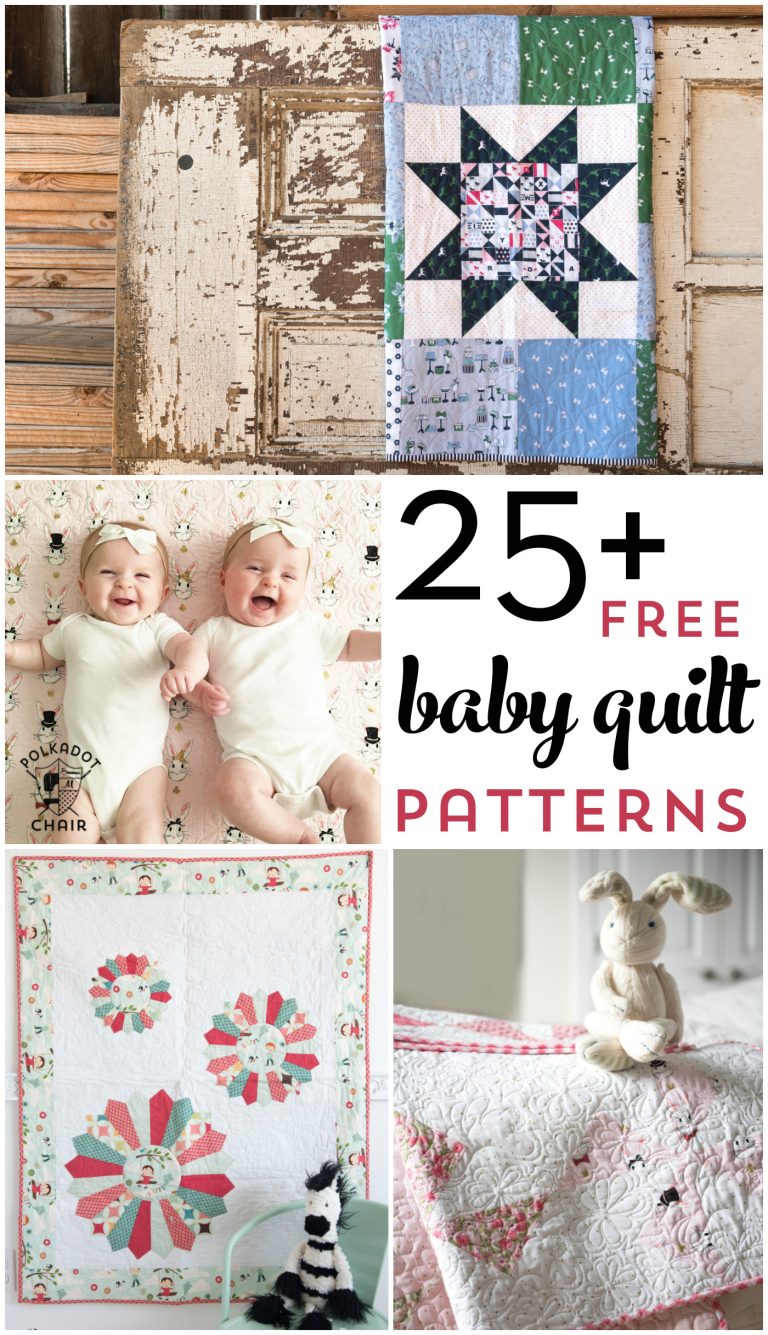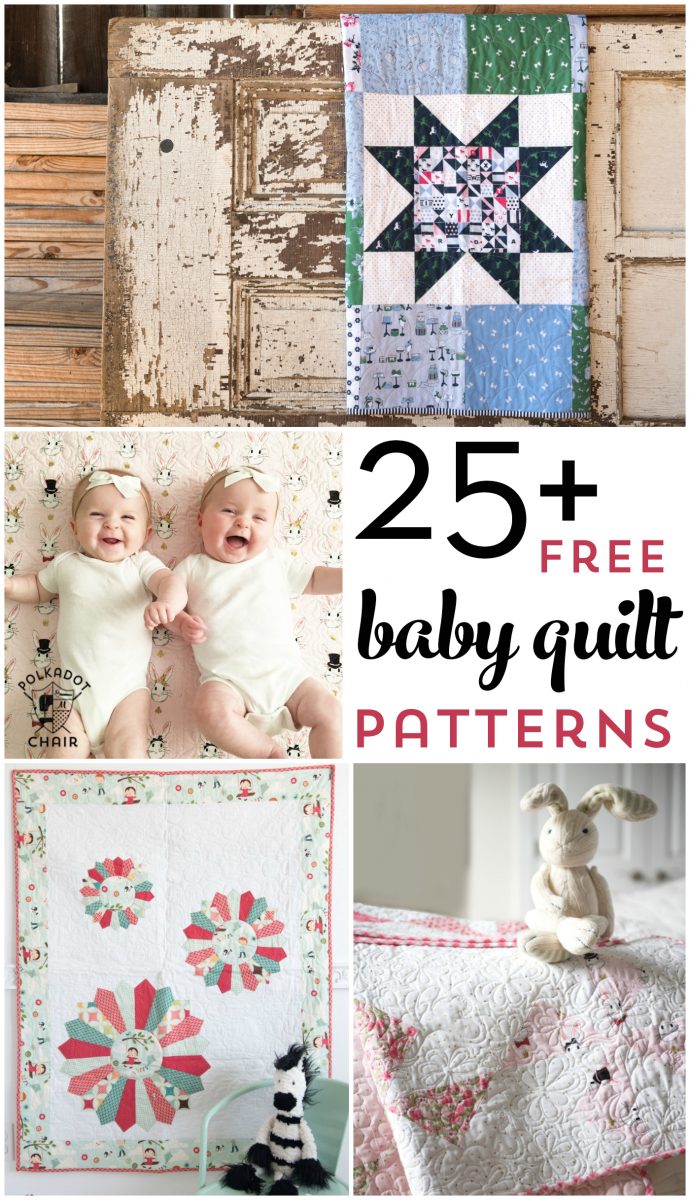 This post has been updated from a previous version.