Today I'm going to share with you this Grilled Shrimp Tostadas Recipe, it's one of our families favorite weeknight meals!  There is no cooking involved (only heating things up), and everyone gets to make their tostada just the way they want it. If you like this recipe, you may also like this recipe for Margherita Pizza with Lemon & Arugula Salad.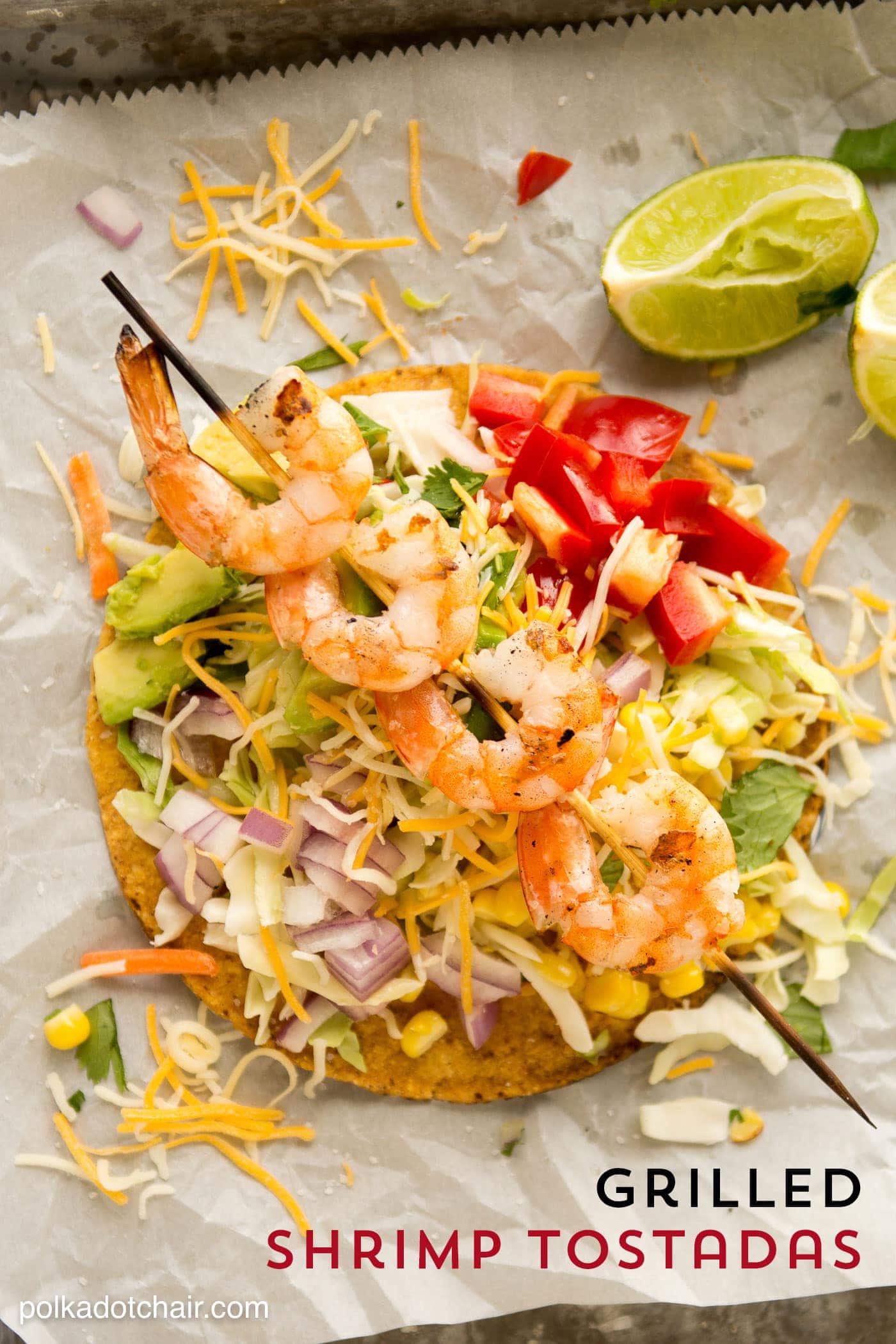 One of my favorite things about Spring and Summer is the food! I absolutely love the variety of fresh produce available in at the supermarket, it seems like every time I go into my local Kroger another scrumptious variety of veggies has shown up!
I also love to use my grill. I think we use it almost every night in the summer. My 3 kids love it too, one of my teenage sons favorite jobs is "manning" the grill on a summer evening. Some nights we make elaborate meals or smoke meats for hours at a time, and some nights we use it for a quick and easy weeknight meal.
The recipe I'm sharing with you today is actually hardly a recipe at all. It's more like an "assembly" suggestion for one of my favorite Mexican meals, Tostadas.  It's so easy and it's so popular with my family! I think because everyone gets to make their tostada just the way they want to.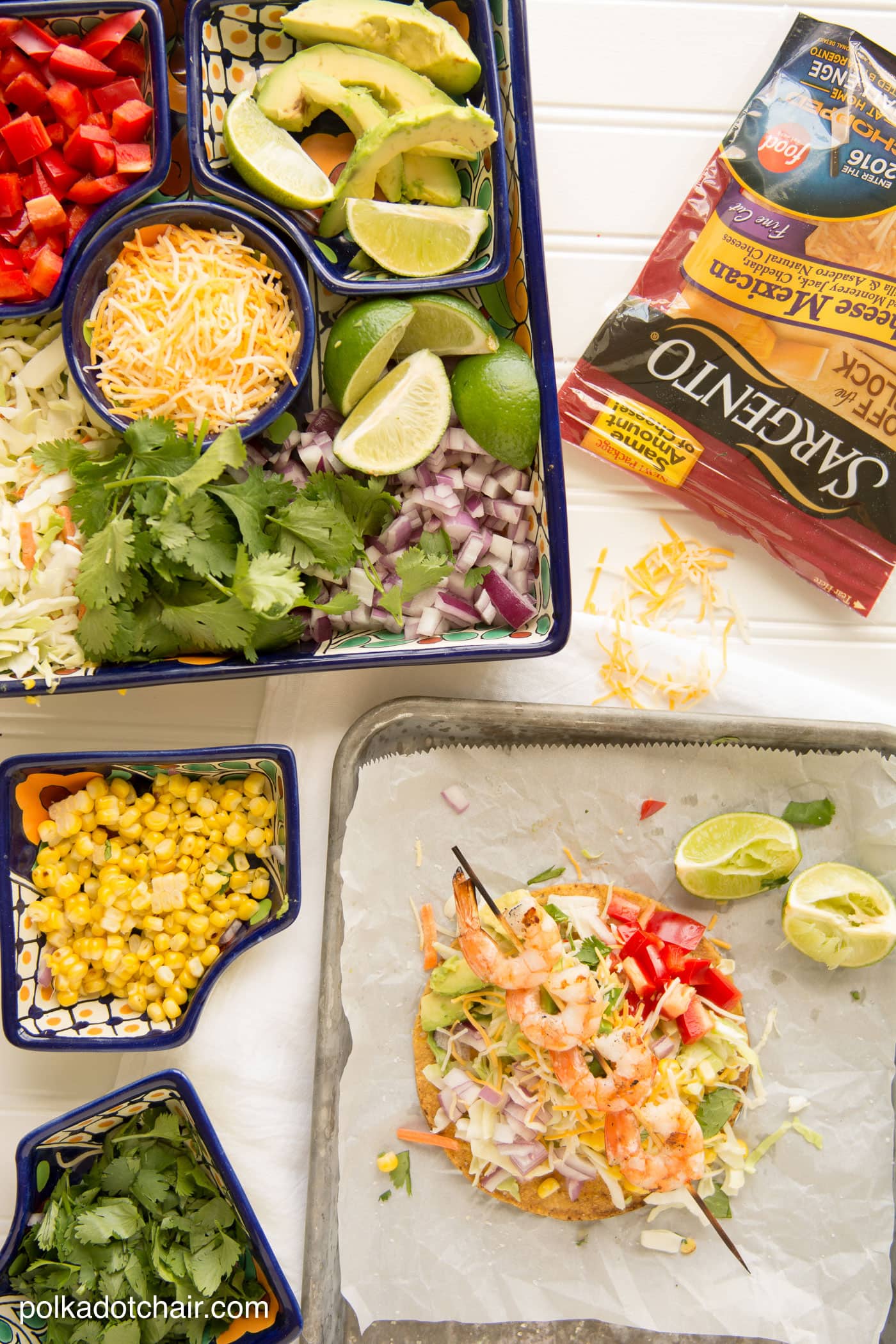 Customize this recipe as you like, you can substitute chicken for shrimp or even make it completely vegetarian. I like using shrimp because I can find it pre-cooked at Kroger and it only takes a few minutes to heat it up. It also makes for a light and fresh recipe, which I love, especially on hot summer nights.
Want to make your own??? Here's what you'll need:
-Package of Tostadas
–Sargento® Fine Cut Shredded 4 Cheese Mexican Blend
-Pre-Cooked Shrimp
-Fresh Veggies such as;
– Diced Red Peppers
– Purple Onion
–  Tomatoes
–  Avocados
-Black Beans
– Limes
– Pre Shredded Cabbage
– Corn on Cob
– Fresh Cilantro
-Bamboo Skewers
-Cooking Spray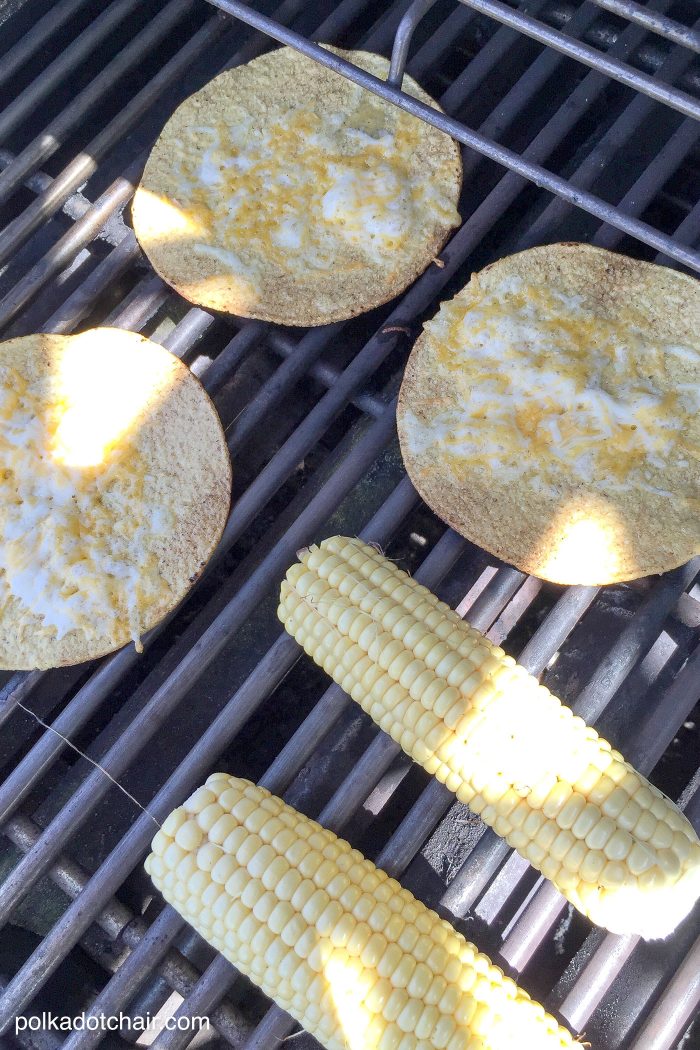 First, fire up your grill and heat it up to about 350 degrees.
Place the corn on the cob on the grill.  Let it cook for about 5 minutes. Turn frequently.
Sprinkle some of the Sargento® Fine Cut Shredded Mexican Blend cheese on top of each tostada.  Place each tostada on the grill and cook until the tostada is golden brown and the cheese is melted.
Place 4-6 shrimp on each bamboo skewer. Spray with cooking spray and grill until just heated through.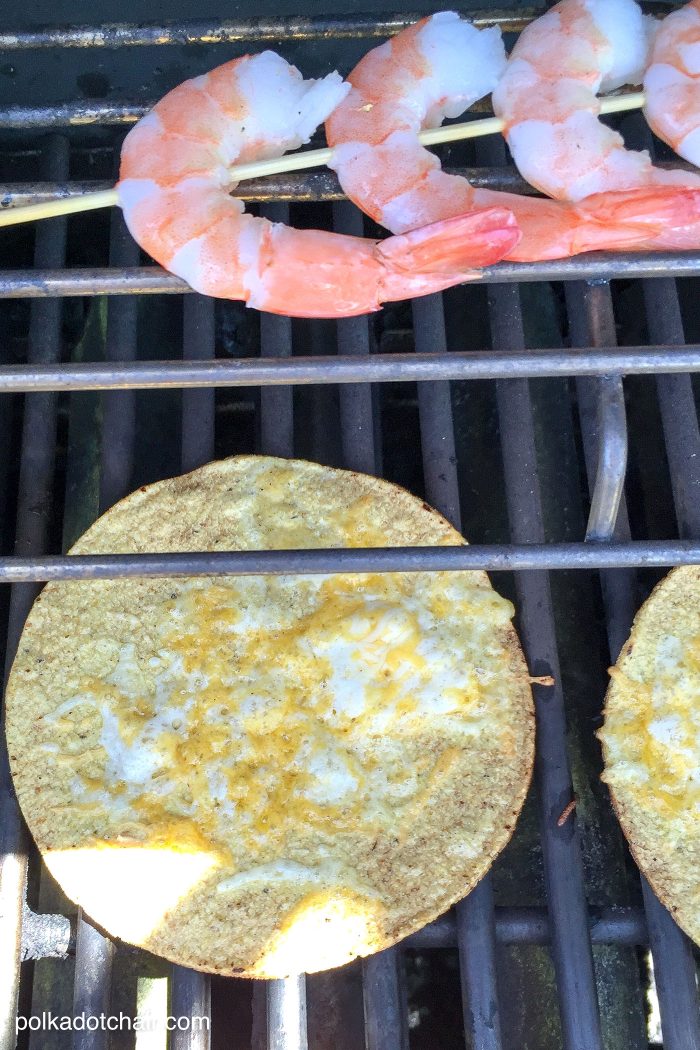 Check the corn, if it is done (and slightly charred) pull it off the grill.  If it's not done leave it on another 3-5 minutes.
Take the corn off the grill. You can either remove it from the cob and use on top of the tostada or you can leave it on the cob and serve it as a side dish sprinkled with a bit of the Mexican Cheese Blend.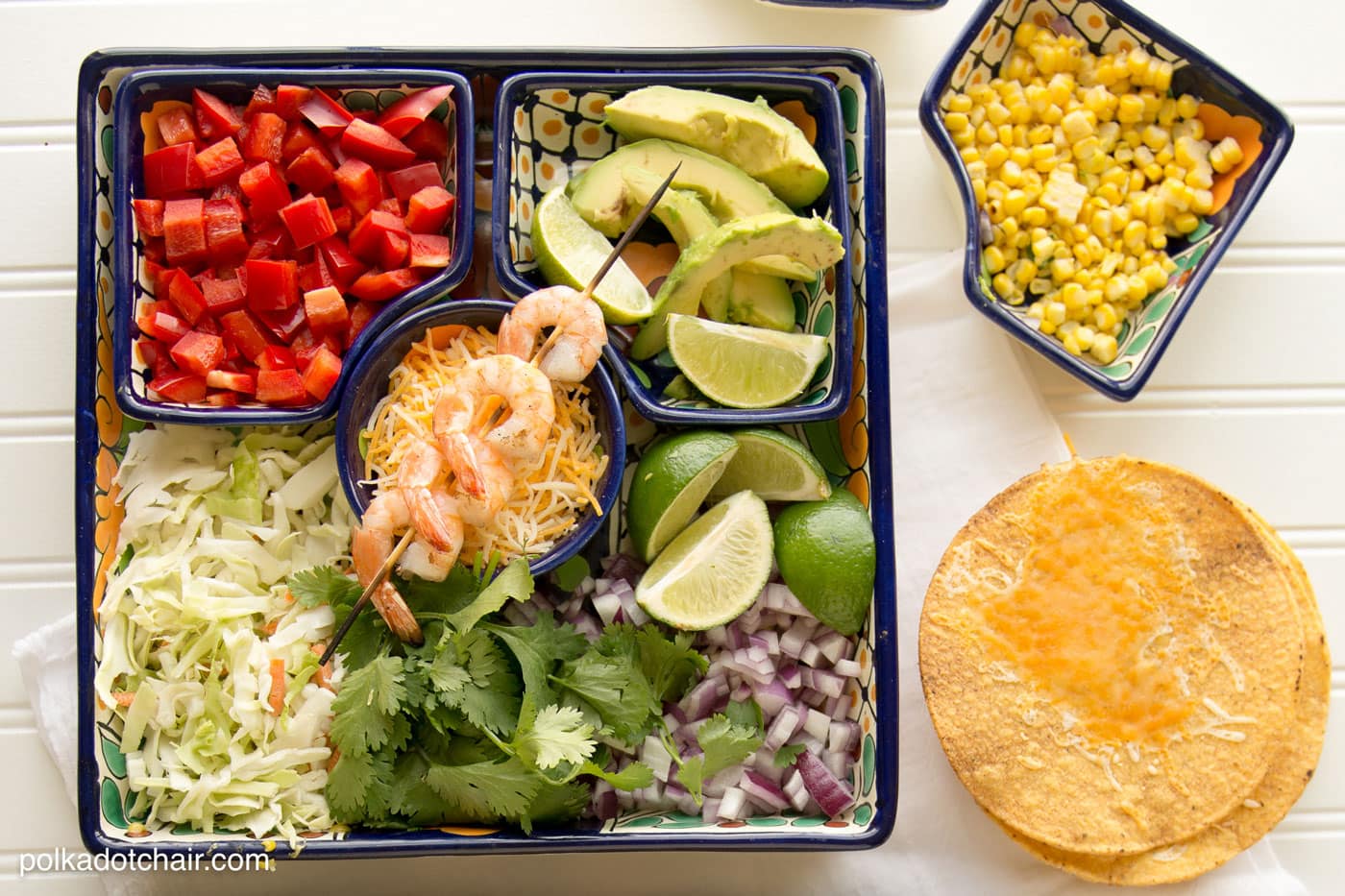 Now just assemble your tostadas. Here's where it gets fun, let your kids experiment with different flavor combinations, mine love completely overloading their tostada, my son puts so much cheese on his you'd wonder why he bothers with the tostada at all!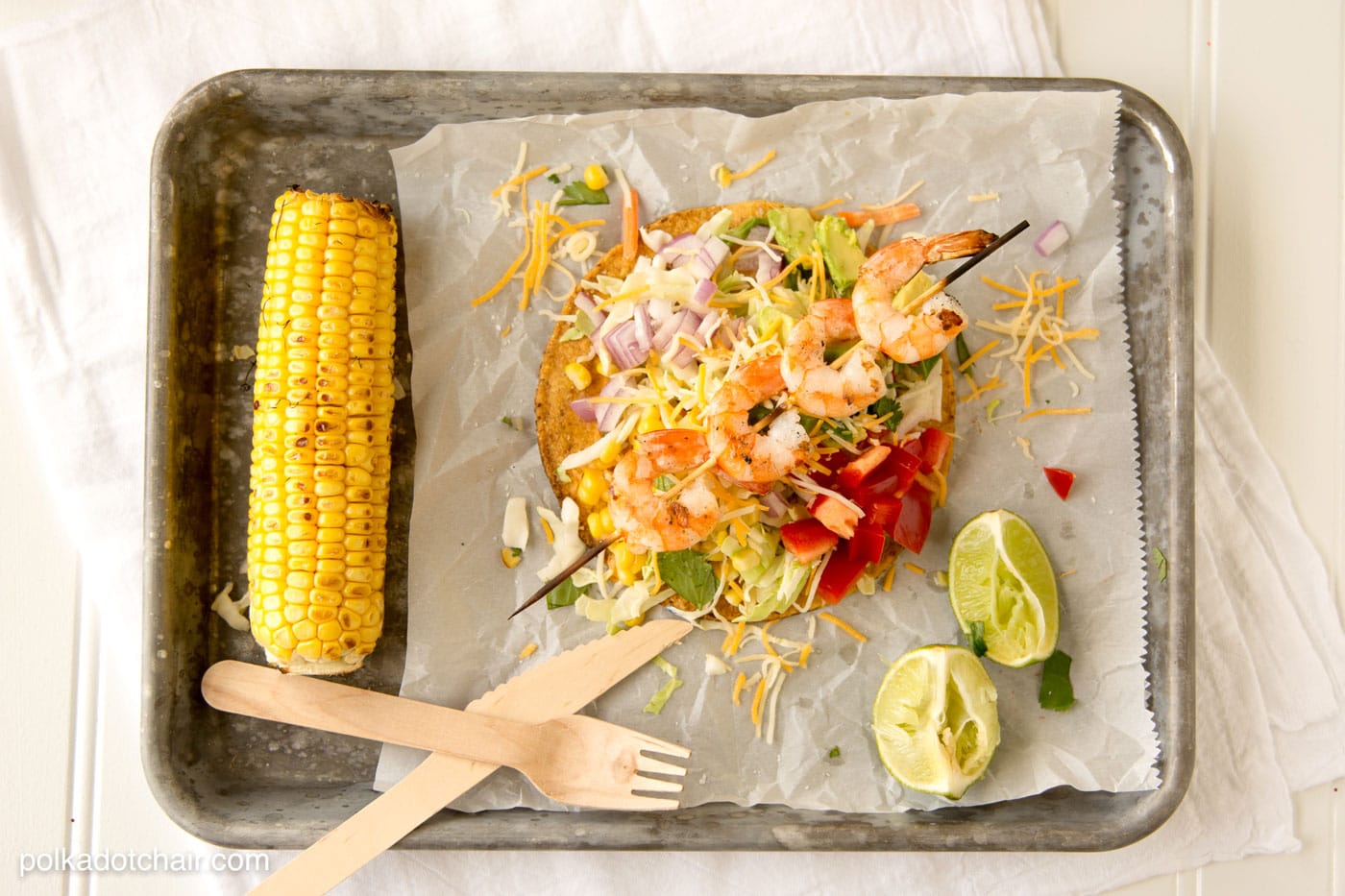 Personally, my favorite way to make it is with a pile of cabbage on the bottom, then topped with red peppers, grilled corn, purple onions, diced avocado and cilantro.  I then love to sprinkle a generous amount of the cheese over the top! The Sargento® cheese has that great "fresh off the block" flavor which goes so well with all of the fresh veggies. To finish it off I squeeze 1/2 of a lime over the top and add just a little bit of Kosher salt.
What about you? How would you dress up your tostada??  My husband loves to load his up with black beans and cheese!!
Look for Specially Marked Packages of Sargento® Shredded Cheese for $1 Savings at your local Kroger.
This is a sponsored conversation written by me on behalf of Sargento®. The opinions and texts are all mine.

Print Friendly
0