Plan a fun and stylish Derby party with our unique Kentucky Derby party ideas and free printables!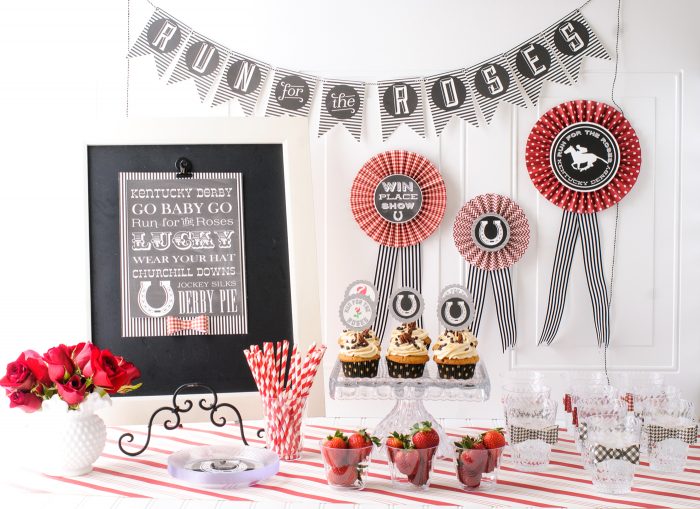 It's spring in Kentucky which means only one thing, it's Derby Time!! I know that you've heard me say it before, but Derby time in Kentucky is one of my favorite times of the year. There are loads of great activities for families and the whole city puts on a great show to welcome everyone to town. This post is sponsored by Chinet & BlogHer.
Table of Contents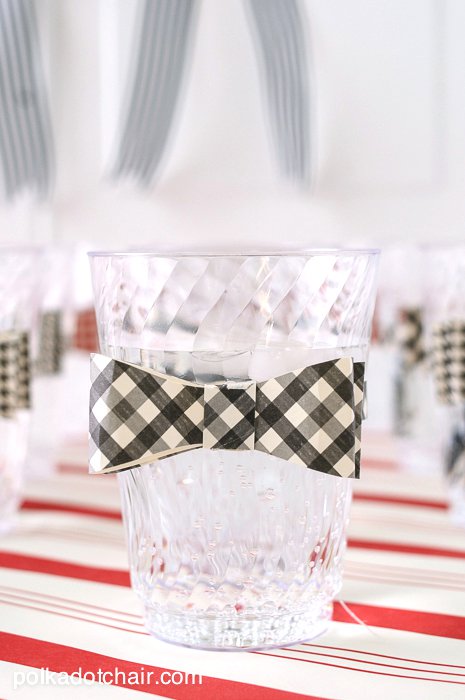 We have had a Kentucky Derby Party several times – it's usually very kid-friendly and casual. This year, I was inspired to plan something a bit fancier and pinning Kentucky Derby Party ideas like crazy.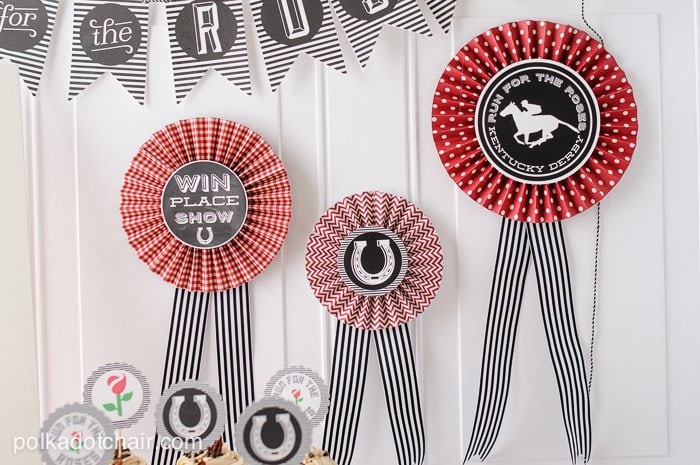 The Kentucky Derby is also known as the "Run for the Roses" because of the large and gorgeous blanket of roses that is draped over the winning horse at the end of the race.
I was so inspired by the red of the roses that I thought I'd plan a black, white, and red Derby Party this year.
Even though the stores are stocked with Derby partyware every year, I can never seem to find just what I'm looking for. So I designed a set of printables to perfectly coordinate with my Derby Party, and the good news is that I'm sharing these printables with you.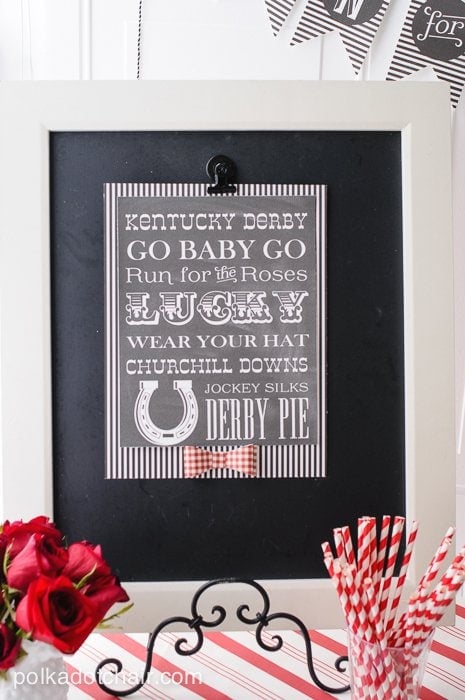 Kentucky Derby Party Printables
I've created a set of free Printables perfect for a Derby Party. Included in the printables are:
Subway Art
Prize Ribbon Centers
Cupcake Pics
Run for the Roses Banner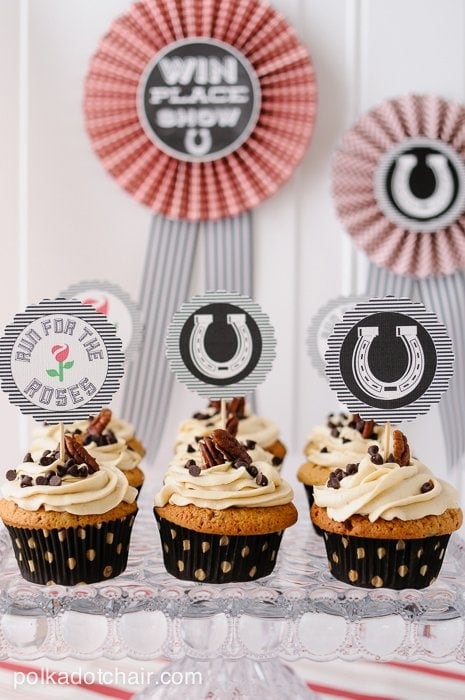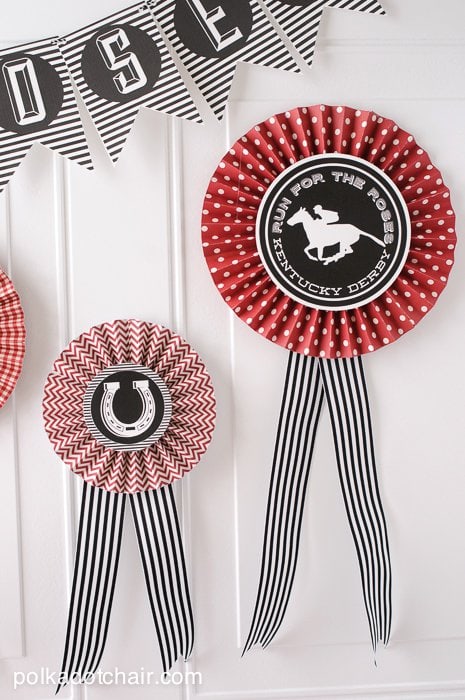 These DIY Prize ribbons are a very fun and unique Derby idea. You just make a rosette out of scrapbook paper and hot glue the ribbons to the back and the printable centers to the front.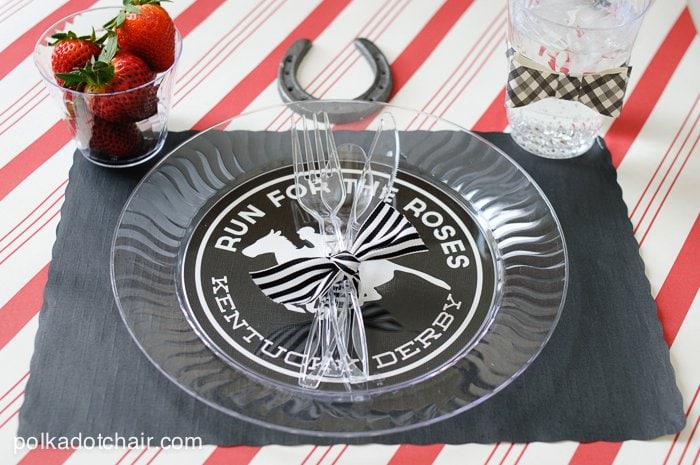 How to Make Custom Party Plates
Since I worked so hard to design a set of perfectly coordinated party decorations, I also wanted to find a set of perfectly coordinated disposable tableware. I wanted it to be disposable but still nice. I ended up going with the Chinet® Cut Crystal® products.
They coordinate perfectly with each other (they all have the same swirl pattern) and they are clear so they go with everything I already had. No worrying about finding the perfect shade of red for the plates.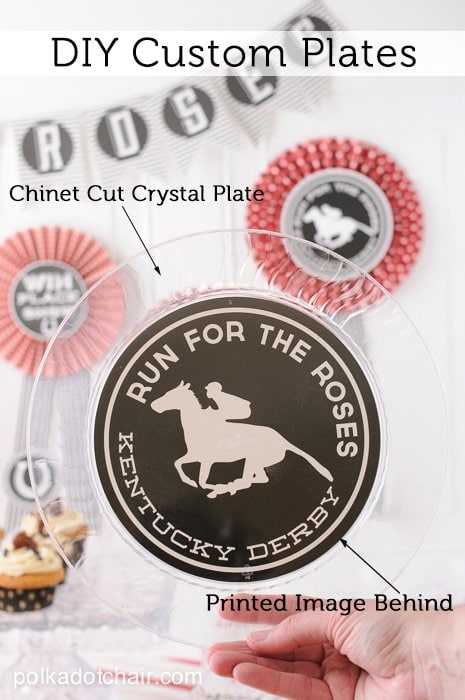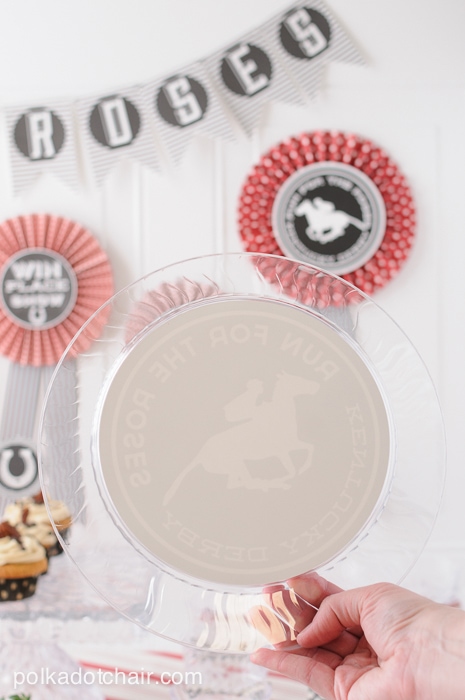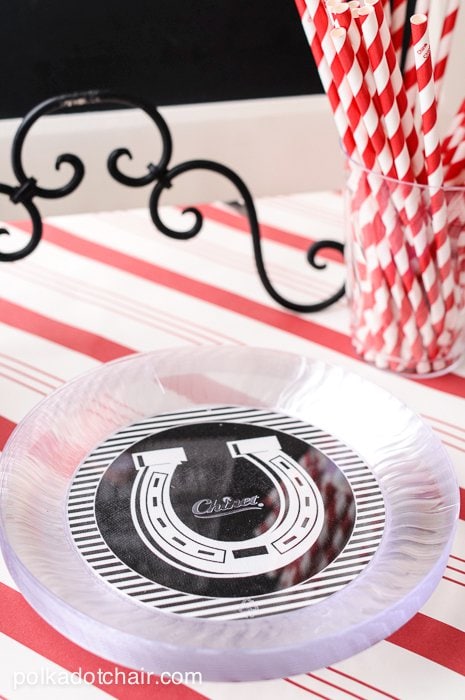 My favorite thing about the Chinet® Cut Crystal® plates is that it has a center that is flat, so I could add my own image to the plate.
You can make totally custom disposable dinner plates! I simply printed the image out on my printer, then cut it out the size of the plate center (which is just under 7″).
To create the plates, use a tiny bit of spray mount and glue the image to the back of the plate. Since the image is on the back of the plate, you can still use the dinnerware… it's disposable anyway, so why not add a pop of something to the plate?
I've also included printables (just the right size) of the two dinner plate images for you.
You can find ALL OF THE PRINTABLES information at the BOTTOM of this post.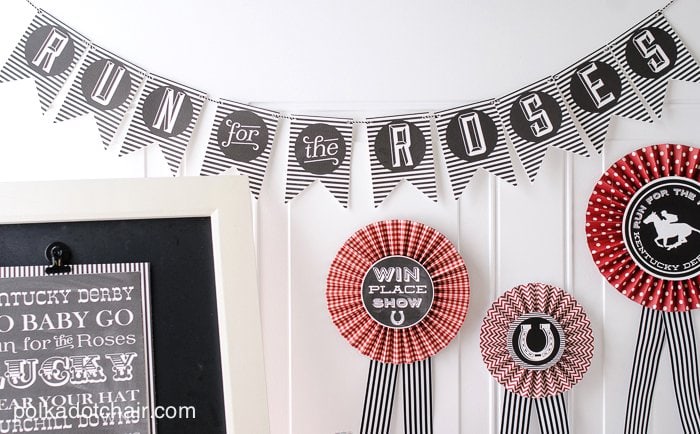 No party is complete without a fun banner!! You can also download this fun "Run for the Roses" banner.
Derby Pie Cupcakes Recipe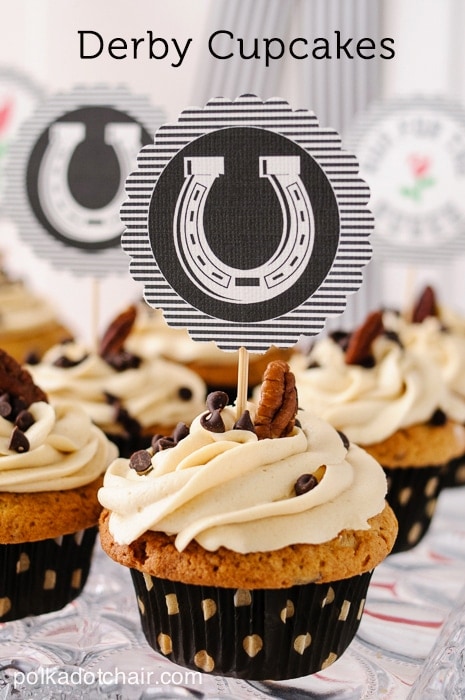 Several years ago I got the idea to turn the flavors of a Derby Style Pie into a Cupcake. I'm happy to share the recipe with you.
Add a bit of fun to your party by creating our Derby Cupcakes and styling them with a cupcake pic.
To make the cupcake pics, simply print the image, cut it out with a circle or scallop punch, and tape it to a toothpick.
A Few other Derby Party Decor Ideas
Some other fun party ideas!
Prepackage and tie the silverware together with a ribbon that matches your party decor.
Serve fruit or other treats in individual clear cups.
Add paper bow ties (or real bow ties if you have a lot of extra ones) to your serving glasses.
Hang Derby-themed award rosettes around the room for a bit of extra decor
Use a paper table runner on a roll. It's a great way to add some color to your party table, but it's disposable. You can also use matte wrapping paper (like I did for our Graduation Cookie Party)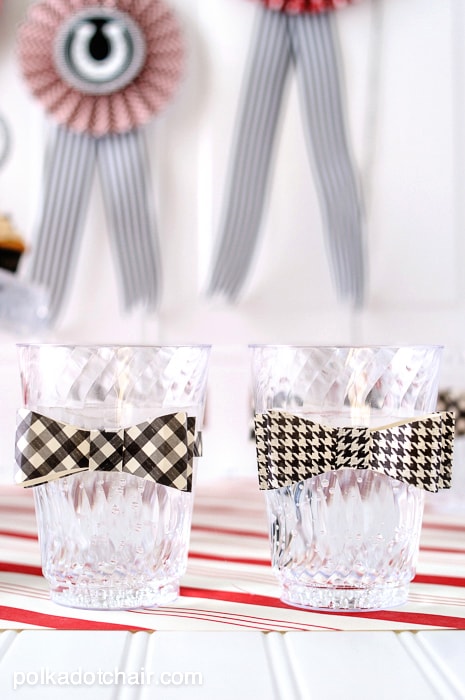 Don't you just love the paper bow ties on the glasses? You can find loads of free bow tie templates online or cut them out with an e-cutting machine if you have one.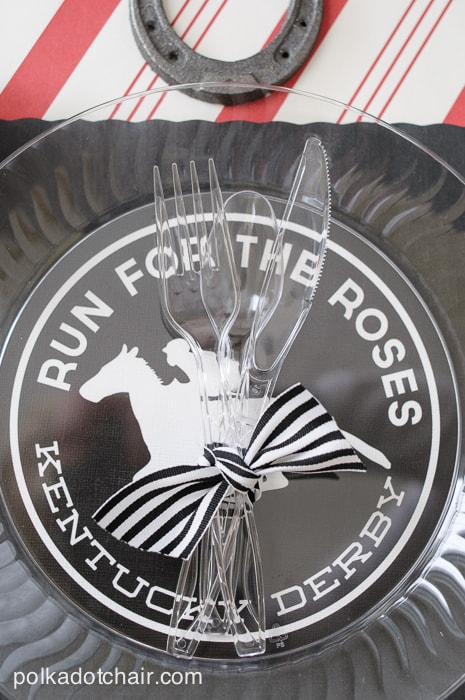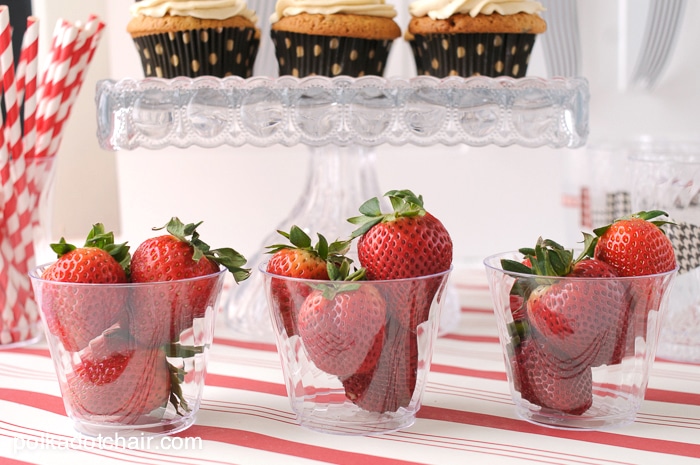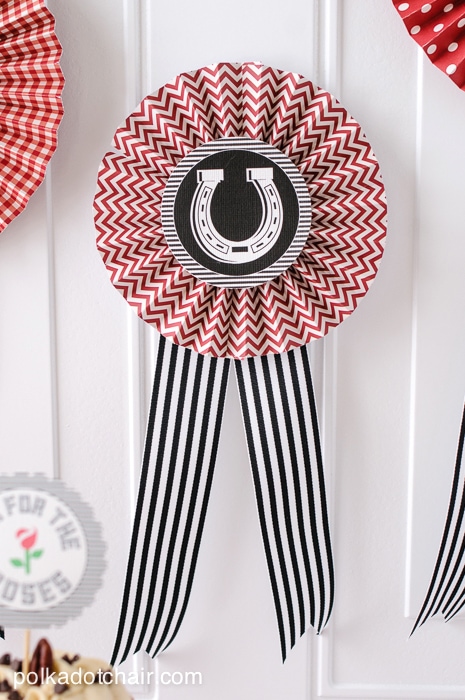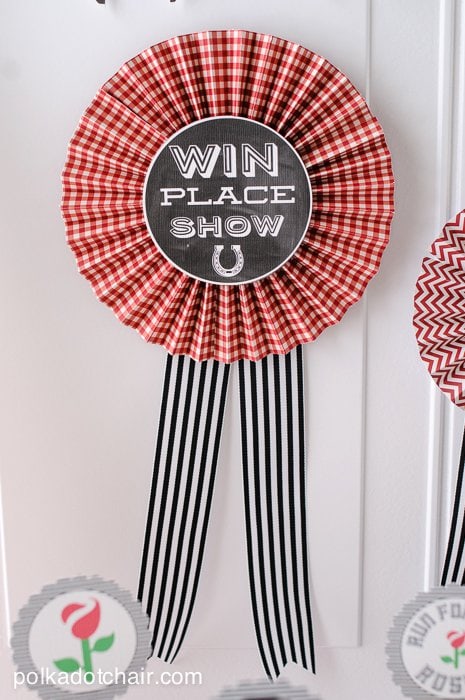 If you'd like to see even more Kentucky Derby Party ideas, check out my Pinterest board, sponsored by the Chinet® brand – from practical ideas to "my absolute dream" party ideas, you'll find loads of great ideas to make your Derby Party perfect…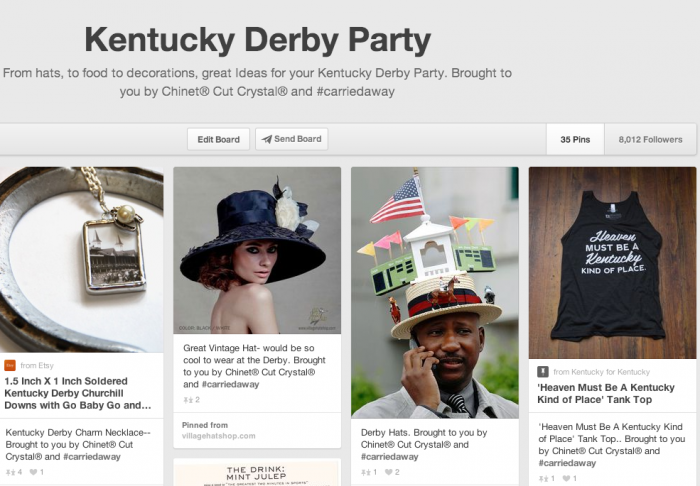 Also, check out the Chinet® Pinterest Page – I found lots of great ideas there when I was planning out my party. Now tell me: How do you make your occasions perfectly coordinated?
How to Get the Printables
Fill out this form and we will email you the printables.
Include are:
Run for the Roses Banner
Rosette Centers
Black and White Subway Art
Cupcake Pics
You can also purchase the printables as a set in our store if you do not want to sign up for our Newsletter.
The Printable Bundle offered in our shop includes printables that are not available anywhere else, including a Derby Trivia sheet, perfect for a party!
Other Derby Ideas you may like: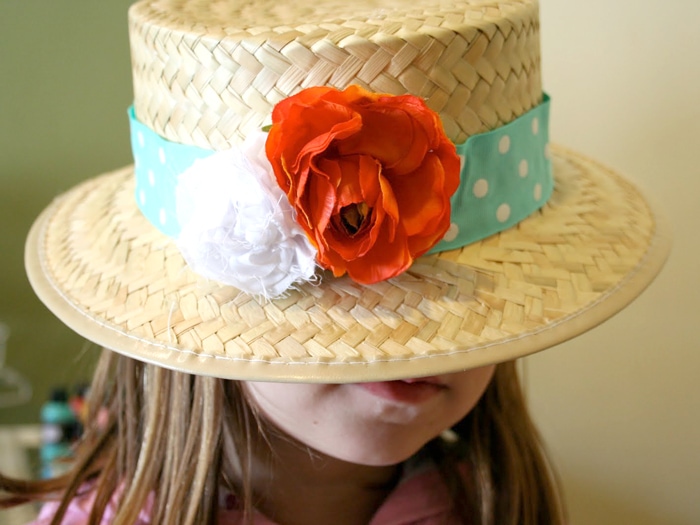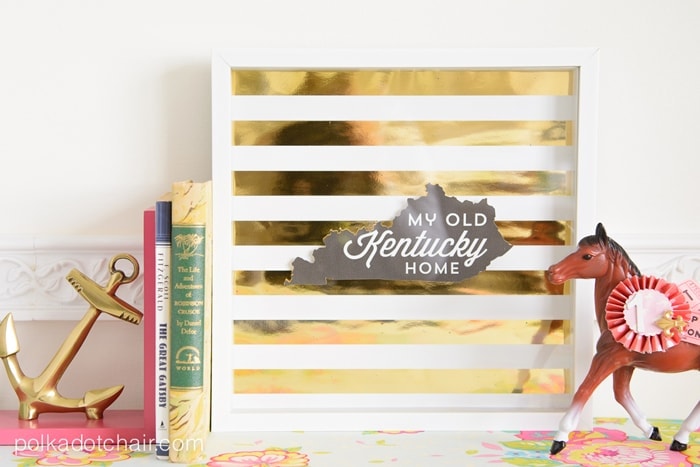 My Old Kentucky Home Gold Foil Artwork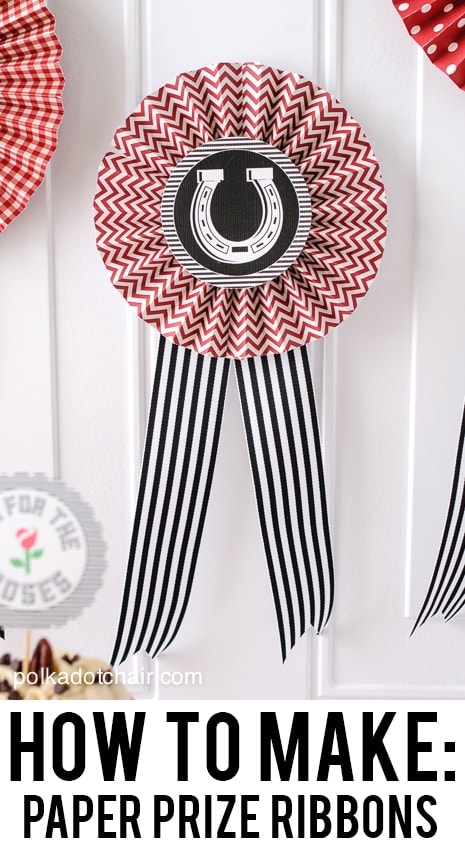 How to Make Paper Prize Ribbons