I hope you enjoy this t-shirt pattern refashion made with Liberty of London fabric. If you like this project you may also like these DIY Fabric Headbands also made from Liberty of London Fabric.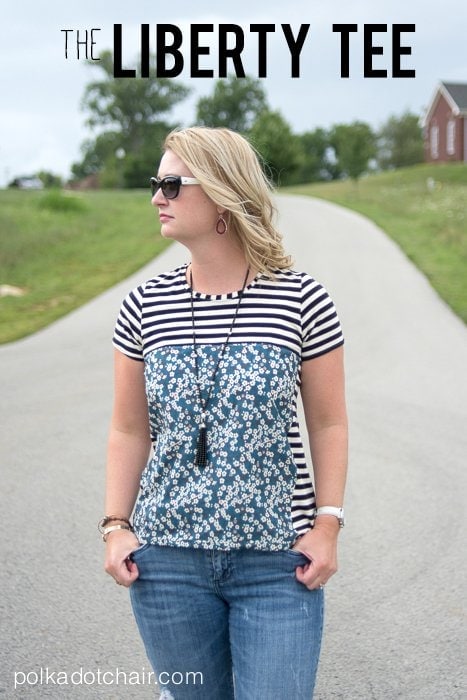 Today I'm going to share with you the results of my "selfish sewing" initiative for the month of July. With summer here I find myself wanting simple but stylish t-shirts to wear… Something that I can throw on quickly in all of this summer heat (although I've heard the polar vortex is coming back this week… good grief!).
I actually ended up making myself two t-shirts one I'll share today and the other I'll share with later this week… guess it's "t-shirt week" here *wink*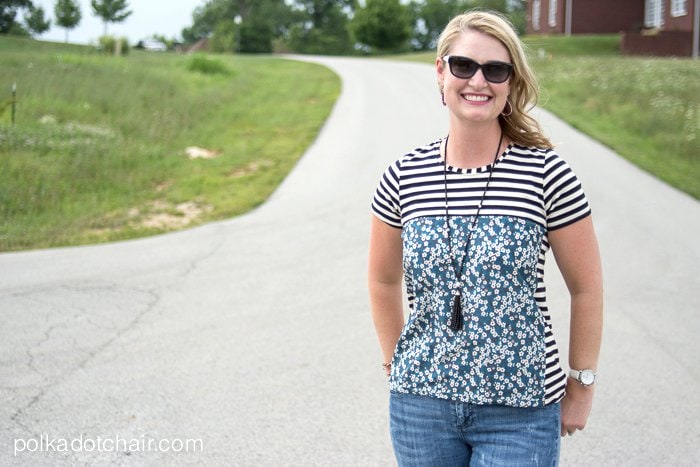 This t-shirt is made from the Metro T-shirt Pattern from Liesl & Co. . I started with the basic pattern then made several changes. The biggest change was to add an inset panel of Liberty Lawn fabric to the front. I have a million Liberty fat quarters that I can't hardly stand to cut up. Since one fat quarter is not enough for an entire shirt, I thought this was a great compromise… mixing the knit fabric with the Liberty fabric.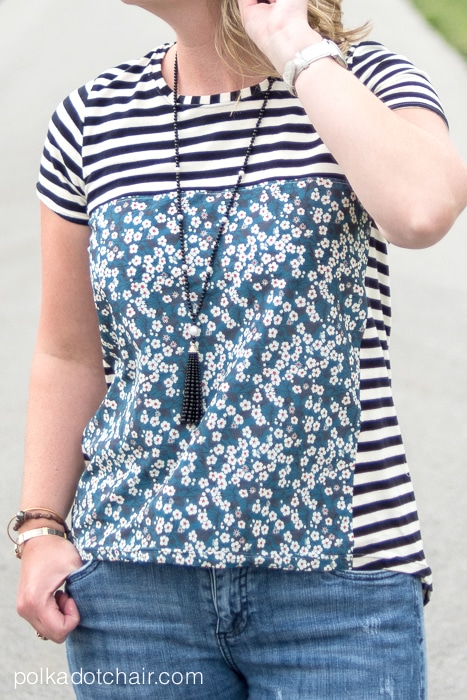 To add the panel I measured down 1″ below the armhole on the t-shirt front pattern piece. I then drew a straight line across the pattern. Just a note: I always work with traced patterns. I use Medical Pattern Paper
to trace the pattern… then I can make lots of adjustments without worrying about messing up the original pattern.
I cut the t-shirt front pattern piece apart along the drawn line, I then added seam allowance and voila– two pattern pieces for the t-shirt front.
The second major change I made was to flare the outsides of the t-shirt and add a dipped hem in the back. To do this just follow this tutorial over at the Oliver + S blog.
It required quite a bit of taping and measuring but in the end I'm so happy with the shirt. Once I got the t-shirt cut out it took about 1 hr to sew… so quick!!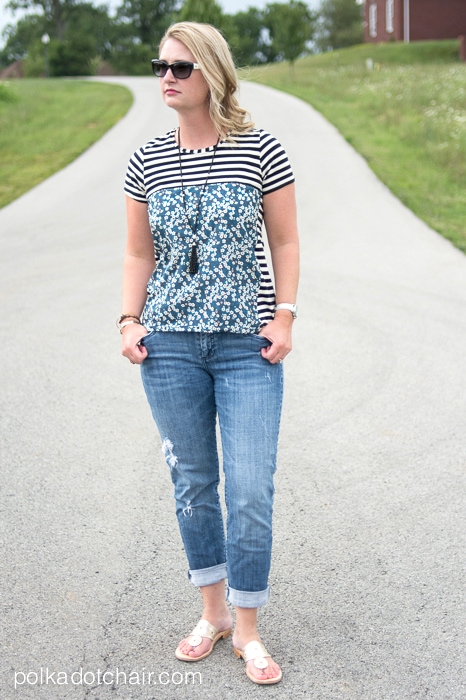 Supplies:
Liberty Lawn Fabric
Liesl + Co Metro Shirt Pattern
Black & White Knit Fabric here
Medical Pattern Paper
for tracing the pattern
Other Links: