This next project is super simple and super easy (how I like things, lol!) It's a Polka Dot Easter Pail that was made in half hour and cost under $5.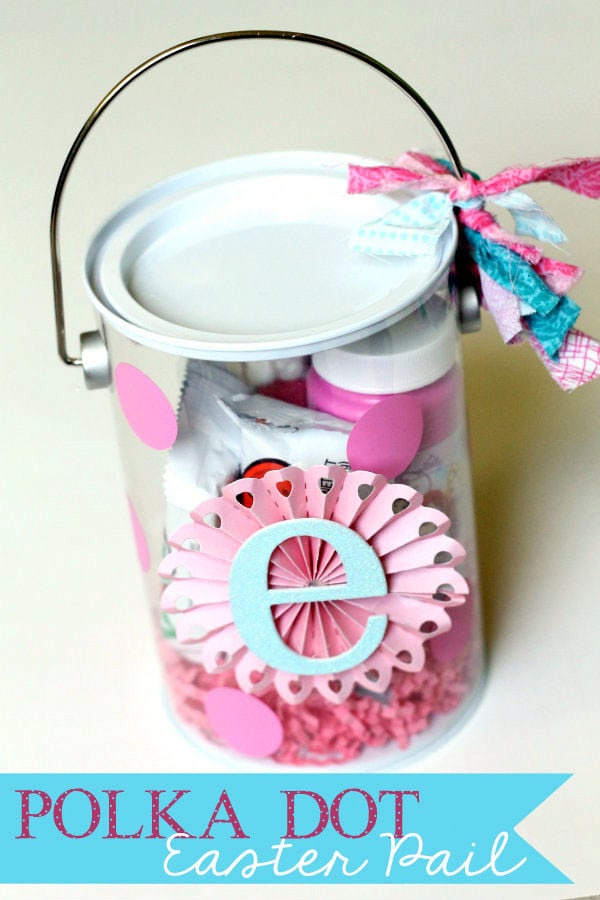 Hi there Polka Dot Chair readers!! I'm so happy to be here today! My name is Kristyn, and I blog over at Lil' Luna. It's a place where you can find recipes, tutorials, crafts, printables and more. Be sure to come on over and say hi as well as find all things good for all occasions. 🙂
It's crazy to think that I'm here on Melissa's blog today because she was pretty much my first blog crush… I loved EVERYTHING she made and adore her style – especially the polka dots (huge fan of those circular beauties!!) I was so thrilled to meet her while attending SNAP last year. Since then we've been able to keep in touch, and I'm glad she asked me to post a Polka Dot creation with you guys today.
Here is how it turned out:
Told you it was simple and easy!
Here is how you can make it too:
SUPPLIES:
– Clear Pail (got mine at Joann's – with my coupon – making it about $2.50)
– Shredded Paper Grass
– Paper embellishments
– Fabric Scarps
– Goodies to go inside
– Vinyl or Sticker Polka Dots
DIRECTIONS:

1. Gather all your supplies. 🙂

2. Begin by adding your shredded grass and goodies.

3. Then add your polka dots. I cut vinyl circles to add the perfect embellishment to the pail. You could use round stickers as well.

4. Add any other embellishments to the front. I made a paper accordion and added an "e" for my Evie.


5. I wanted to add one more touch and pulled out some fat quarters and cut scraps up to add to the pail handle. You can add these to the entire handle or just to one portion like I did.

I LOVE how it turned out, and loved that I only had to spend a few dollars for everything. My Evie is almost two and doesn't need a big and bulky Easter basket this year so I think this pail will be perfect!
Be sure to come on over to Lil' Luna for more fun ideas. I'd love to have you!!
————————————————-
Thank you so much Kristyn!! I was just telling a friend that I didn't know what to do for my kids for Easter this year since we are traveling… This would be perfect!  
I'm so grateful that I met Kristyn at SNAP last year. She sat down with me one afternoon and told me all about WordPress and why I should move to that platform.    She was so nice and patient and answered so many questions for me.  Since then I've been an even more loyal follower of her blog, make sure you stop by and tell her hello for me!