I am frequently asked what the best sewing projects for someone who is learning how to sew are.  I've spent a lot of time going through my archives and visiting the websites of some of my favorite sewing friends and have rounded up more than 50 Free Beginner Sewing Projects and patterns for you. This list includes everything from pillows to clothing to bags to sew.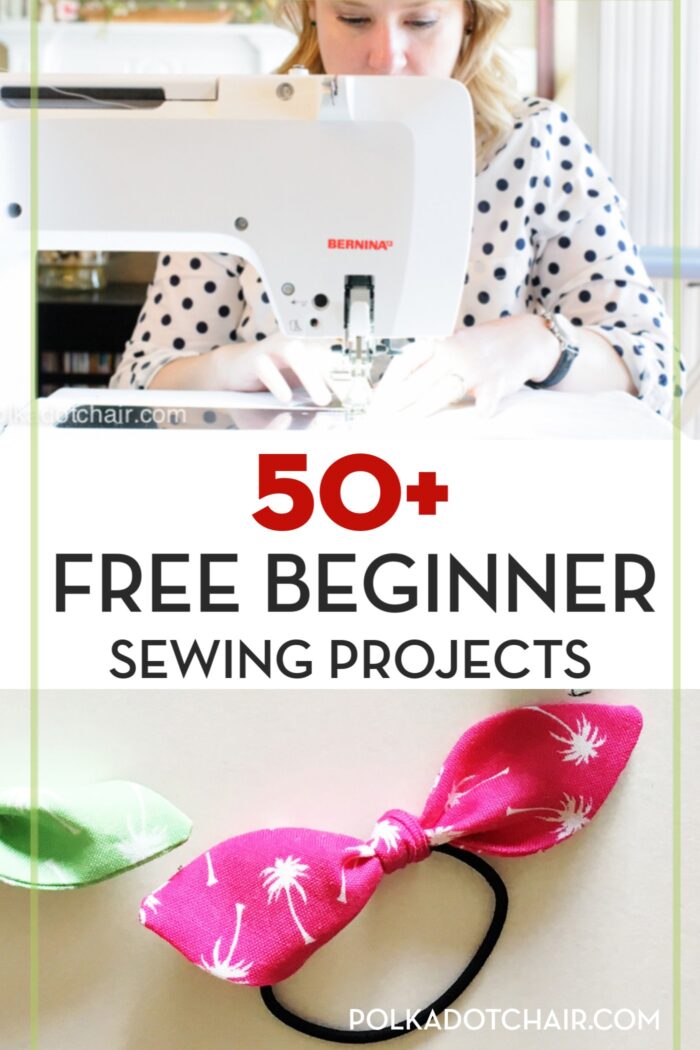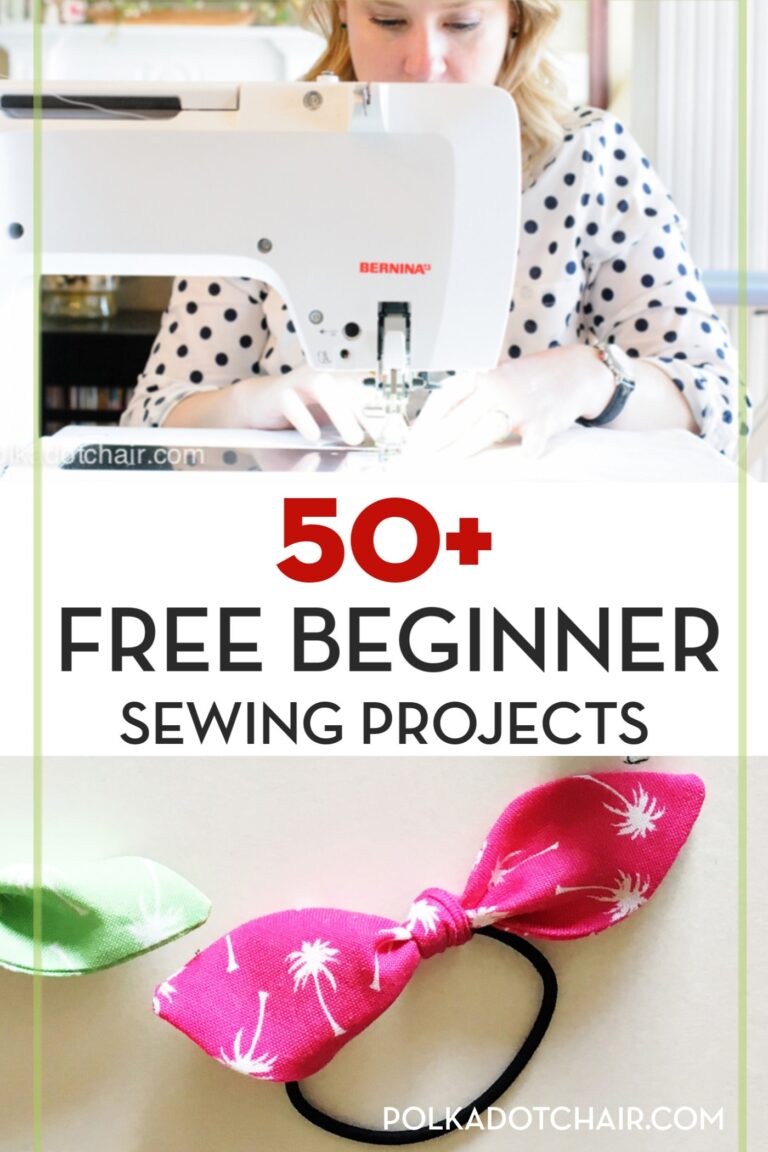 The New Year has me thinking a lot about beginnings. I have been planning out the things I'd like to learn and do this year. If learning to sew (or improving your existing sewing skills) is on your "to-do" list I thought I'd see if I can help you out a little bit.
Table of Contents
If you like this list, then you may also like this list of 45 Recommended Beginner Quilting Projects.
Must-Know Sewing Tips for Beginners!
Sewing Tip #1:
Take a few minutes and read the directions from start to finish before you begin. Make sure you understand each step.
Sewing Tip #2:
Take your time when cutting out and prepping your fabric. Precisely cut pattern pieces and well-pressed fabric will make a world of difference in the outcome of your finished project.
Sewing Tip #4:
If you mess up, don't worry! You're a beginner; remember, EVERYONE was a beginner at some point. You can only improve with more practice. Messing up is a sign that you are trying.
Sewing Tip #5:
Have Fun. My first sewing projects were a disaster! I used to go through my Grandmas's scrap bin and make clothes for my Barbie dolls. You should have seen those clothes (eeekk)!
Even though they were far from perfect, I had a great time making them, and it helped to instill a love of sewing in me at a young age.  So relax; this is supposed to be fun!
What is the Best Sewing Project for a Beginner?
If you are new to sewing, I recommend starting with a pillow project. You can make a simple pillow cover or a pillowcase.
Pillows are great places to start because you don't have to fit them on someone's body (as you would have to with clothing) and because they are comprised of all straight lines!
What Can I Sew as a Gift?
If you're looking for something easy to sew to give as a gift, I recommend starting with either our Chapstick Holder or a Simple Drawstring Bag.
What Can I Sew in an Hour?
First, I don't really recommend setting time limits on your projects, especially when you are first starting. It could easily lead to unnecessary frustrations if you're looking for things to sew something fast. I'd start with our Library Tote Tutorial.
What Fabric is the Most Forgiving?
By far, 100% cotton and cotton blends. They are a good medium-weight fabric and can be ironed traditionally. Many synthetic fabrics will melt with an iron and can be difficult to manipulate for beginners. Avoid fabrics that are very lightweight or very heavyweight.
Video Tutorials
We have a YouTube channel where we regularly post beginner-friendly sewing and quilting tutorials; you should totally subscribe! If you're new, watching videos is a great way to learn!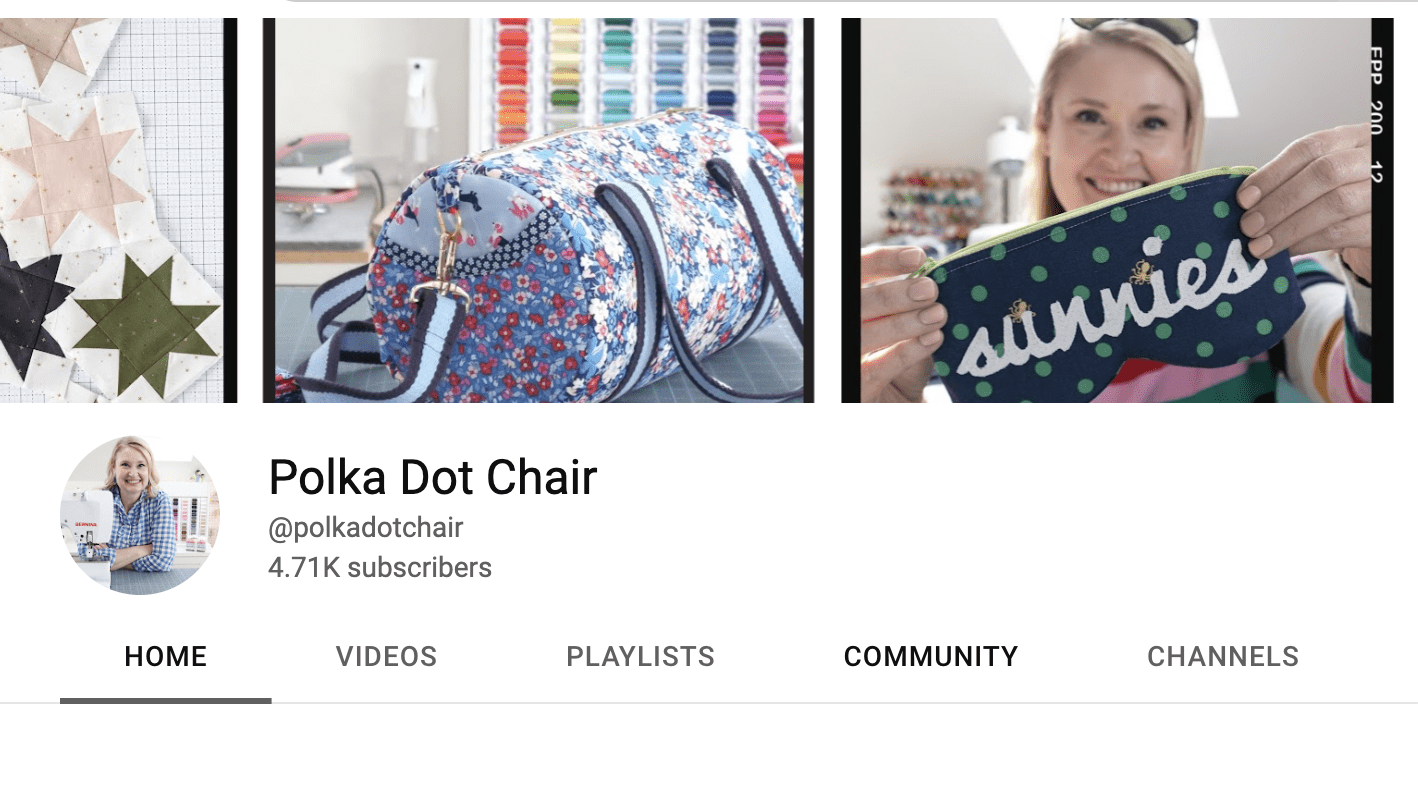 50+ Free Sewing Patterns; Fun and Simple Beginner Sewing Projects
This is just a small sampling of all of the projects we have created to be beginner friendly. Check out our Beginner Sewing Archives for even more projects!