I am frequently asked what are the best sewing projects for someone who is learning how to sew.  I've spent the last few weeks going through my archives and visiting the websites of some of my favorite sewing friends and have rounded up more than 50 Free Beginner Sewing Projects and patterns for you.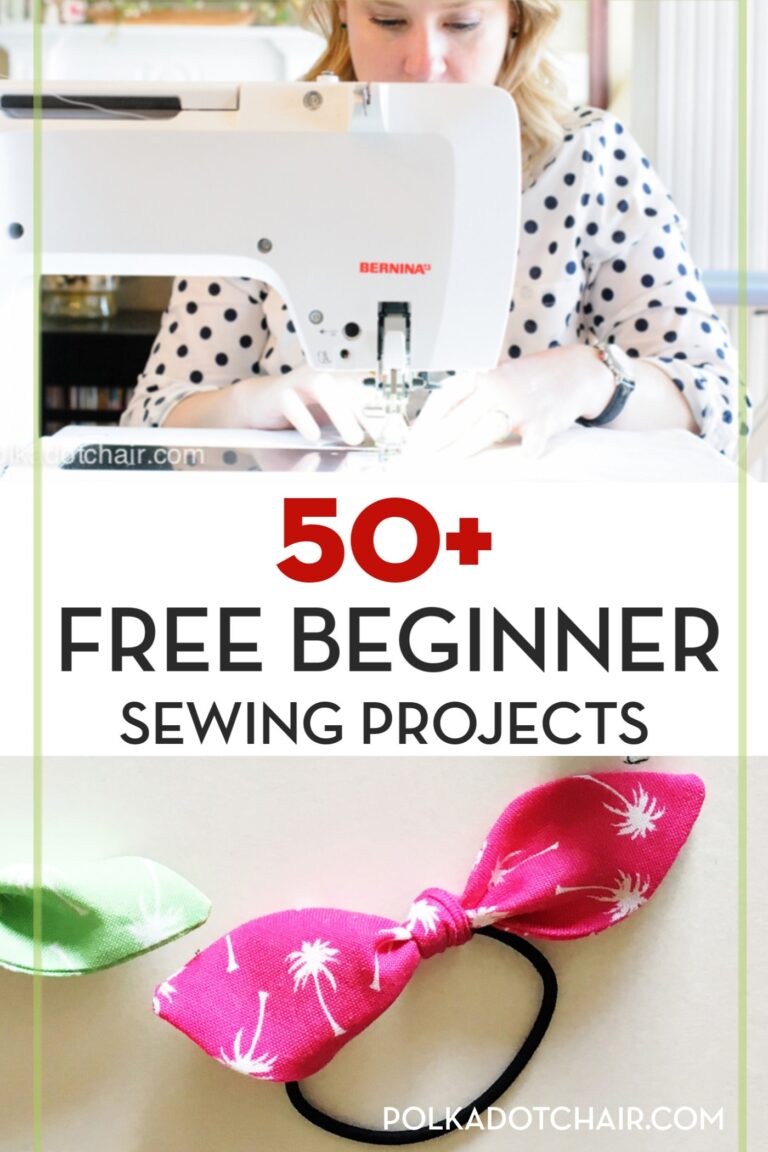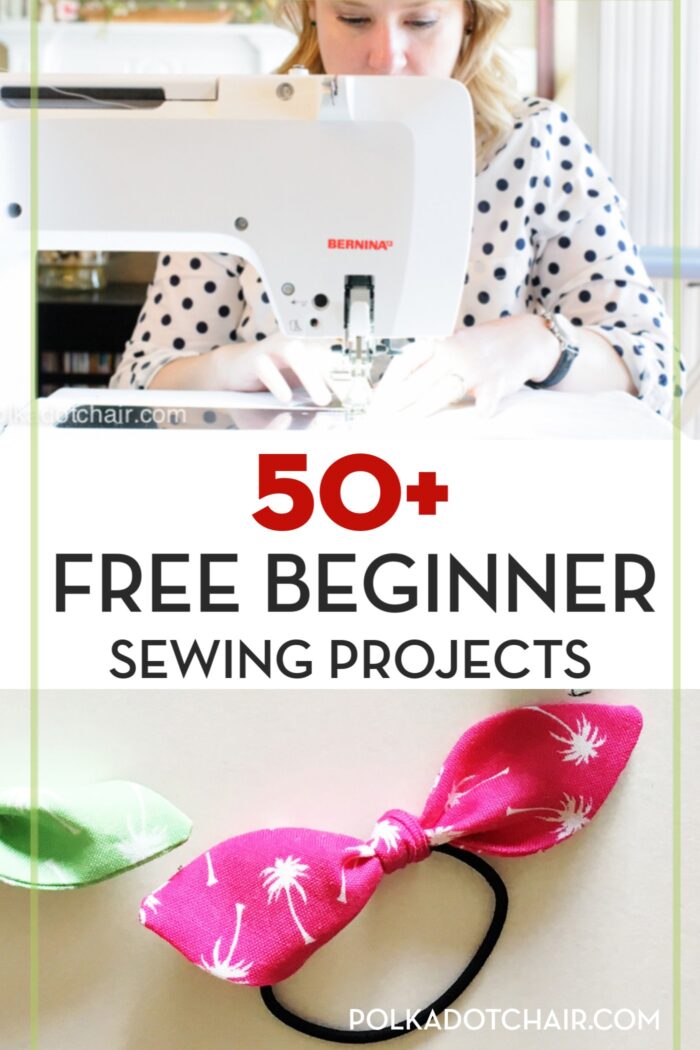 The New Year has me thinking a lot about beginnings. I have been planning out the things I'd like to learn and do this year. If learning to sew (or improving your existing sewing skills) is on your "to-do" list I thought I'd see if I can help you out a little bit.
Table of Contents
If you like this list then you may also like this list of 45 Recommended Beginner Quilting Projects.
Must-Know Sewing Tips for Beginners!
Sewing Tip #1:
Take a few minutes and read the directions from start to finish before you begin. Make sure you understand each step.
Sewing Tip #2:
Take your time when cutting out and prepping your fabric. Precisely cut pattern pieces and well-pressed fabric will make a world of difference in the outcome of your finished project.
Sewing Tip #4:
If you mess up, don't worry! You're a beginner and just remember, EVERYONE was a beginner at some point. You can only improve with more practice. Messing up is a sign that you are trying.
Sewing Tip #5:
Have Fun. My firsts sewing projects were a disaster! I used to go through my Grandmas's scrap bin and make clothes for my Barbie dolls. You should have seen those clothes (eeekk)! Even though they were far from perfect, I had a great time making them, and it helped to instill a love of sewing in me at a young age. So relax; this is supposed to be fun!
Now onto our list!
I've broken the list down into sections. First are projects that you can find here, on the Polka Dot Chair. The list is broken down by type of sewing project.
I've also included a list of beginner sewing projects from some of my sewing blogger colleagues. Enjoy!
50+ Free Sewing Patterns – Fun and Simple Beginner Sewing Projects
1. Pillow & Home Sewing Projects for Beginners
Sewing a pillow is a great place to start for someone who wants to learn how to sew. Most feature only straight seams, and the construction is relatively simple. These are great projects for kids who are looking to learn how to sew.
1- How to Sew a Pillowcase – This pillowcase pattern is so simple. Just 3 straight lines. This is a good project for kids to tackle.
2- How to Sew a Reading Pillow, the easy way (you can leave the piping off if you'd like to simplify the project)
3- How to Sew a Throw Pillow – Amanda walks you though the steps for creating a simple throw pillow.
4- Kids Pillowcase Project. This project starts with a pre-made pillowcase. It walks you though the steps to add the star (or other shape) appliques.
5- How to Recover Outdoor Pillows
6- Giant Pocket Pillow Sewing Tutorial – You know those HUGE pillows that you can buy at Target? You can sew a custom cover for them. This one even includes a pocket to hold a phone or tablet.
Hanging Dishtowel Tutorial. This project features Christmas fabrics but you use the pattern with any fabrics.
2. Beginner Tote Bag & Zip Bag Sewing Patterns
After you've tackled one or two sewing projects, you're reading to try to make a tote bag! I've also listed several zip pouch sewing tutorials as well.
Just because the project has a zipper does not mean that it's not great for beginners. Zippers don't need to be intimidating.
7-Pool or Beach Bag Sewing Tutorial. Don't be intimidated by the grommets and rope handles on this bag. They are very easy to install and give the project a professional finish.
8- Simple Zippered Pouch. Learn how to take one simple zip pouch sewing pattern and make a few changes to create 3 different variations! So cute!!
9- Fat Quarter Zip Pouch – How to sew a cosmetic zippered pouch using only two fat quarters of fabric. Makes a great gift!
10- Derby Tote Bag Sewing Pattern – The Derby Tote Bag Sewing Pattern; great simple and versatile tote bag pattern that features 3 different front pocket styles. Great project for a beginning sewist.
11- Oilcloth Pencil Pouch – Oil cloth pencil pouch sewing pattern -clever idea for back to school or a teacher appreciation gift
12- Simple Summer Backpacks – Simple to sew lined, drawstring backpacks. This is a great project to tackle with kids or teens.
13- Padded iPad Case Tutorial – This iPad case does feature a zipper, making it a bit more of an advanced beginner project. However, it's TOTALLY do-able for a newbie.
14. How to Make a Kids Library Bag – This simple library bag pattern features one large pocket and is lined. The straps are sewn from ribbon, so you don't need to figure out how to make a bag strap just yet!
15. Fat Quarter Drawstring Bag – This drawstring bag is lined and reversible.
3. Other Fun Things to Sew
From picnic blankets to fabric baskets there are a lot of fun projects to try on this list.
16-Easy Waterproof Picnic Blanket – DIY Patchwork Waterproof Picnic Blanket Pattern, an easy to sew tutorial for a picnic blanket that rolls up!
17- How to Sew a Drink Cozy -How to make a scrappy summer drink wrap (or cozy). A super cute summer sewing project.
18- Fabric Basket Tutorial – "Never Full" Fabric Basket Sewing Tutorial is a great sturdy basket sewing pattern.
19 – Summer Headbands – Polka Dot Chair. These simple headbands feature only 2-3 straight seams. They are simple to construct.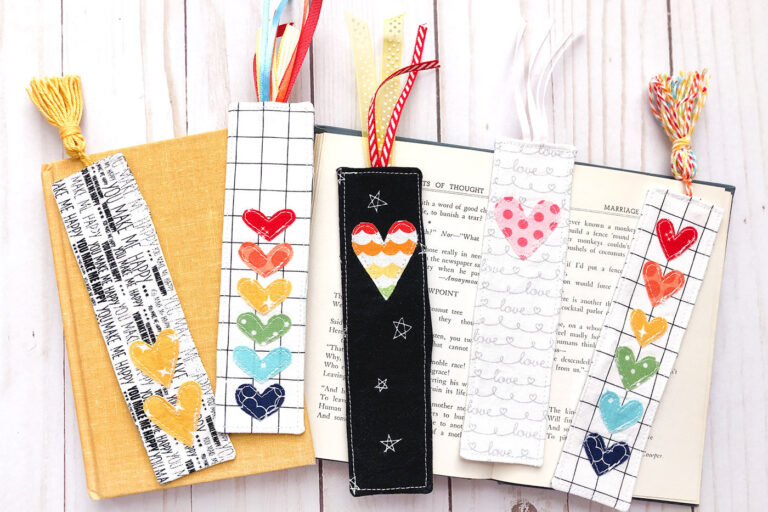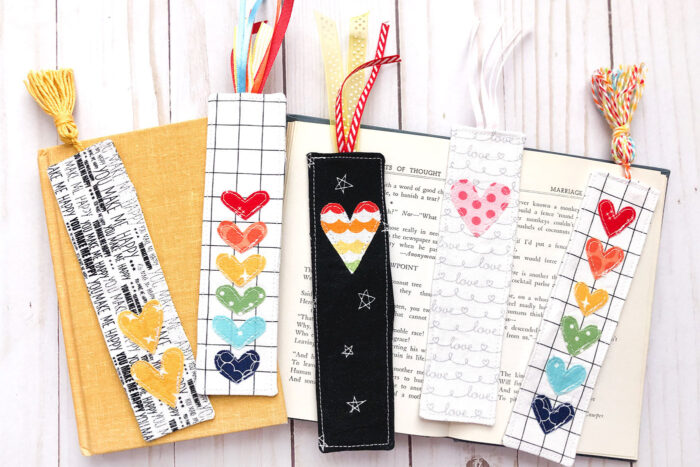 20- Scrappy Fabric Bookmark Tutorial – These cute bookmarks are a great way to use up some of your fabric scraps!
Simple Knotted Hair Ties Pattern – How to make hair ties with fabric, this tutorial is a great way to empty out your scrap fabric bin. It's also a fun project to sew with teens.
4. Beginner Clothing Patterns
This list includes both children's sewing projects and a few for grown-ups as well. If you're looking to sew an article of clothing and are a beginner, I think that a simple skirt is the way to go.
21- Pillowcase Dress Tutorial – Learn how to sew a pillow case dress with this Pillowcase Dress Tutorial. Includes full instructions and a chart to help you resize the dress for various ages. The quickest dress you'll ever sew!
24- Scallop Neck T-Shirt Refashion
25- Patchwork Twirl Skirt Tutorial
27- Kids Apron Sewing Tutorial – This sweet apron makes a great gift for a little "baker".
28- Summer T-Shirt Dress – How to sew a summer sundress using two t-shirts- a cute t-shirt DIY refashion project.
5. Beginner Blanket & Quilt Patterns
Here are a few simple blanket and quilt patterns to try. From t-shirt blankets to fleece throws, hopefully, you will find something you love!
29- Upcycled T-Shirt Baby Blanket -Upcycle your old or sentimental t-shirts into a receiving blanket for a new baby!
30- Soft N Snuggly Sensory Baby Quilt Tutorial – Learn how to make a sensory baby quilt using a bunch of fabric scraps. So cute and easy made from minke, and flannel fabrics.
31- Easy Peasy Fleece Blankets
32- Skinny Simple Fat Quarter Table Runner – Learn how to make a simple quilted table runner out of fat quarters,
7. Beginner Sewing Projects from other Sewing Blogs
There are so many fun sewing blogs around right now. Here are a few projects that I've spotted online that look like they would be fun for beginners.
34- Mini Messenger Bag – Crazy Little Projects
35- Pencil Case Tutorial – Crazy Little Projects
36- Keychain Chapstick Holder – Crazy Little Projects
37- Vintage Style iPad Case – Oh So Lovely
38- Mod Messenger Bag – Diary of a Quilter
39- 10 Minute Lap Top Sleeve Tutorial – Crazy Little Projects
40- How to sew a Circle Skirt – Dana Made it
41- Wool wrap skirt- Purl Soho
42- Easy Tote Bag Tutorial – Crazy Little Projects
43- Easy, and Easier Totes- Purl Soho
44- Double Gauze Baby Blankets – Purl Soho
45- DIY Girls Skirt (from sweat pants) – It's Always Autumn
46– How to Make an Envelope Pillow Cover – Hey There Home
47- Business Card Wallet- Spoonful of Sugar
48- Half Circle Skirt Sewing Tutorial- It's Always Autumn
49- Belle Dress Up Apron (she also has aprons for other Disney Princesses) – It's Always Autumn
50- Retro Drawstring Bags – A Spoonful of Sugar
51- Patchwork Fabric Tray- A Spoonful of Sugar
52- 3 Seam Caftan Dress – Simple Simon & Co.
53- Simple Maxi Skirt – Simple Simon & Co.