I don't know about you, but I'm always looking for ways to make our Christmas celebrations a little bit easier. Today I'm sharing with you a few Christmas Morning breakfast ideas that I've picked up over the years along with one of our family's favorite recipes for Vanilla Orange Slush. This is sponsored content.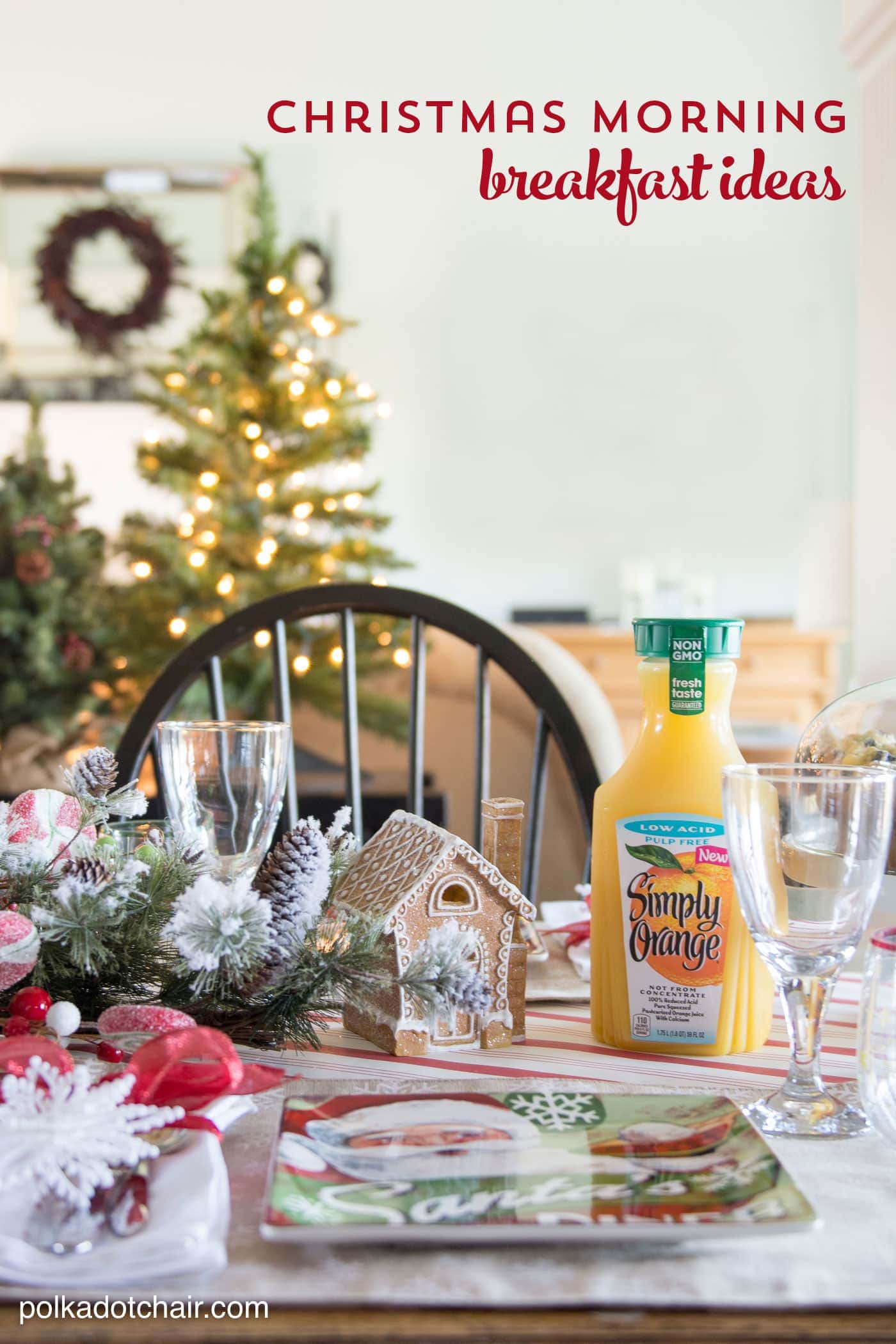 Table of Contents
Don't you just love it when you get a great tip or idea from a friend and it becomes so useful that you wonder how you ever got by without it?  Well, today I'm sharing two tips friends have given me in hopes that they will help you out too! 
I don't know about you, but as a Mom, Christmas stresses me out a bit. There is such a big expectation all for one day, and it seems the majority of the work involved with living up to that expectation rests on the Mom's shoulders.  In our family, we've tried to make sure that we have Christmas traditions that we repeat year after year. I think those traditions are so important. They give our kids a sense of consistency.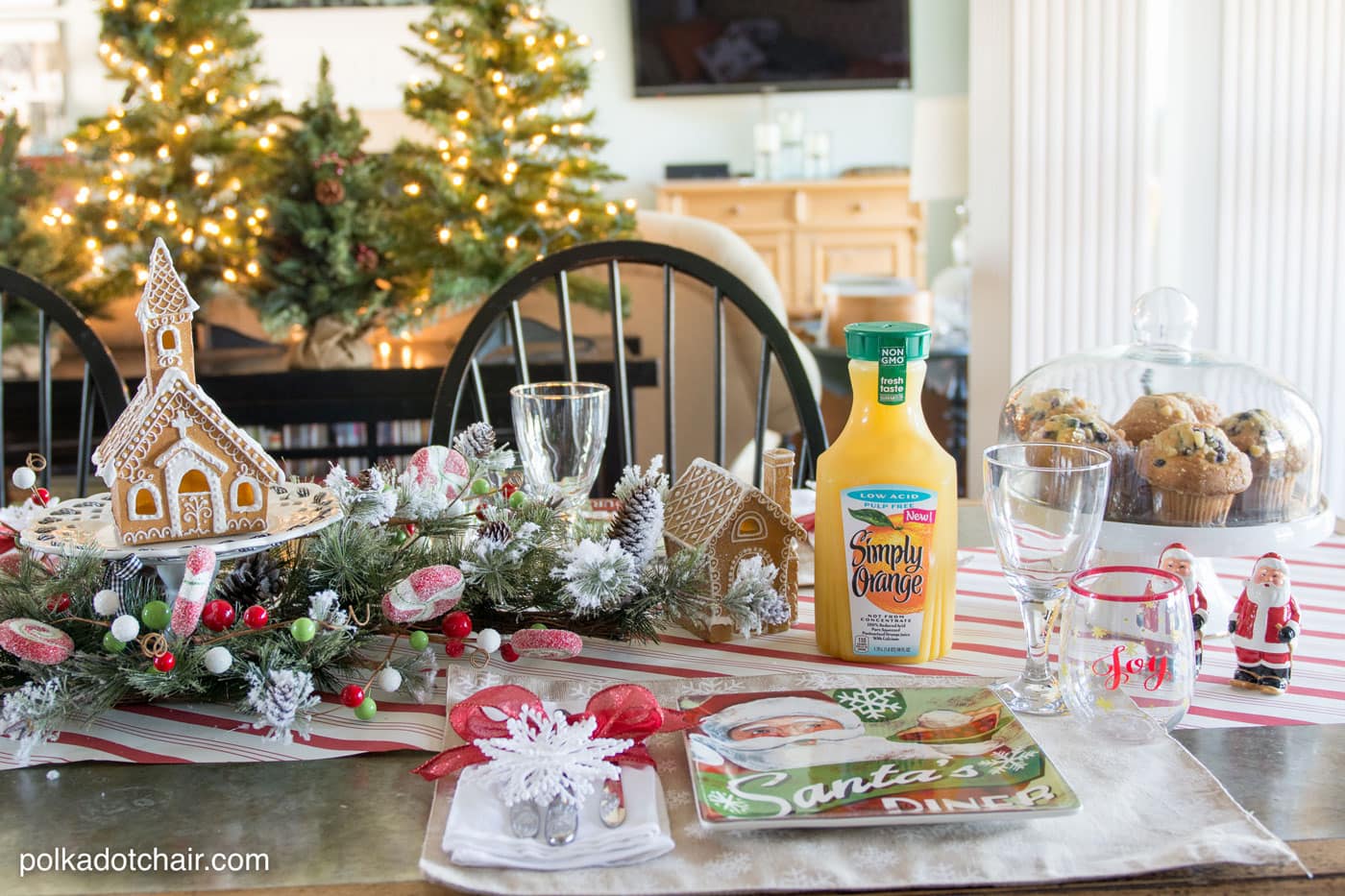 Several years ago I was chatting with a group of friends about their plans for Christmas Morning breakfast. Our conversation was a combination of brainstorming and complaining about the upcoming event.  
I think I mentioned that I am usually too tired at 7 in the morning to set a table and make breakfast. Because of this Christmas morning is a killer for me (I am NOT a morning person, not even on Christmas day). One of my friends then told me that she always set her Christmas morning table the night before, and always served a bake-ahead meal.  A light bulb went off in my head and I immediately thought, "Why didn't I think of that?"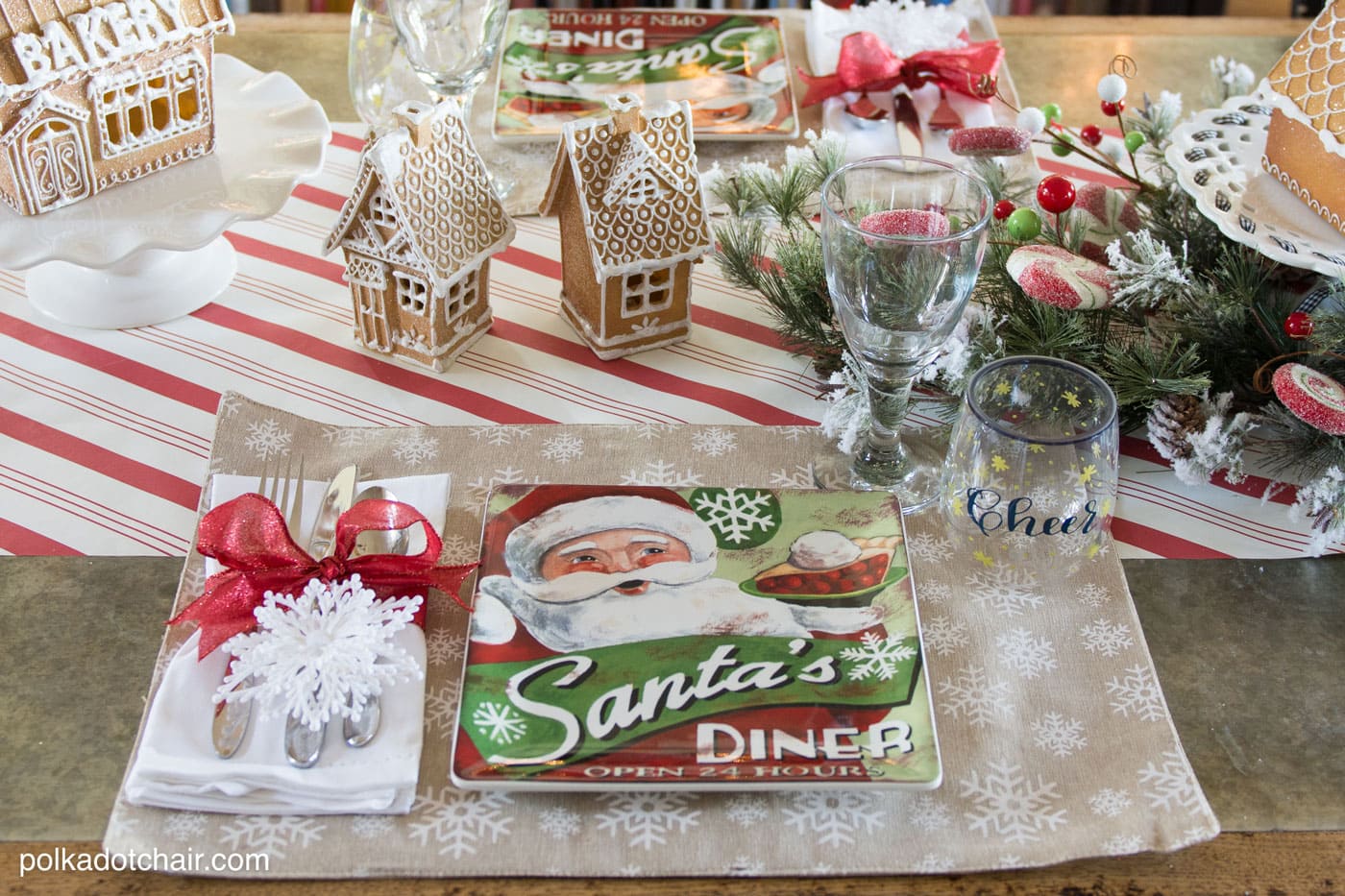 Ever since that year I've been setting my Christmas morning table the night before, and it has made a HUGE difference. Sometimes I'll even do it in the afternoon on Christmas Eve if we have dinner plans and don't need the table during the evening.   During the week our family sticks to cereal or oatmeal for breakfast.
We are pretty much a "We are lucky to get out of the house on time" kinda family; however, on Christmas morning we love to eat a big breakfast.  We make hot chocolate, serve fresh fruit, and I always buy a lot of muffins and donuts to go along with our feast.
 I vary what I cook that morning, but it's almost always something that can be prepared the night before. In years past I've made crepes, dutch babies, overnight cinnamon roll casseroles, and a bagel egg casserole that we absolutely loved.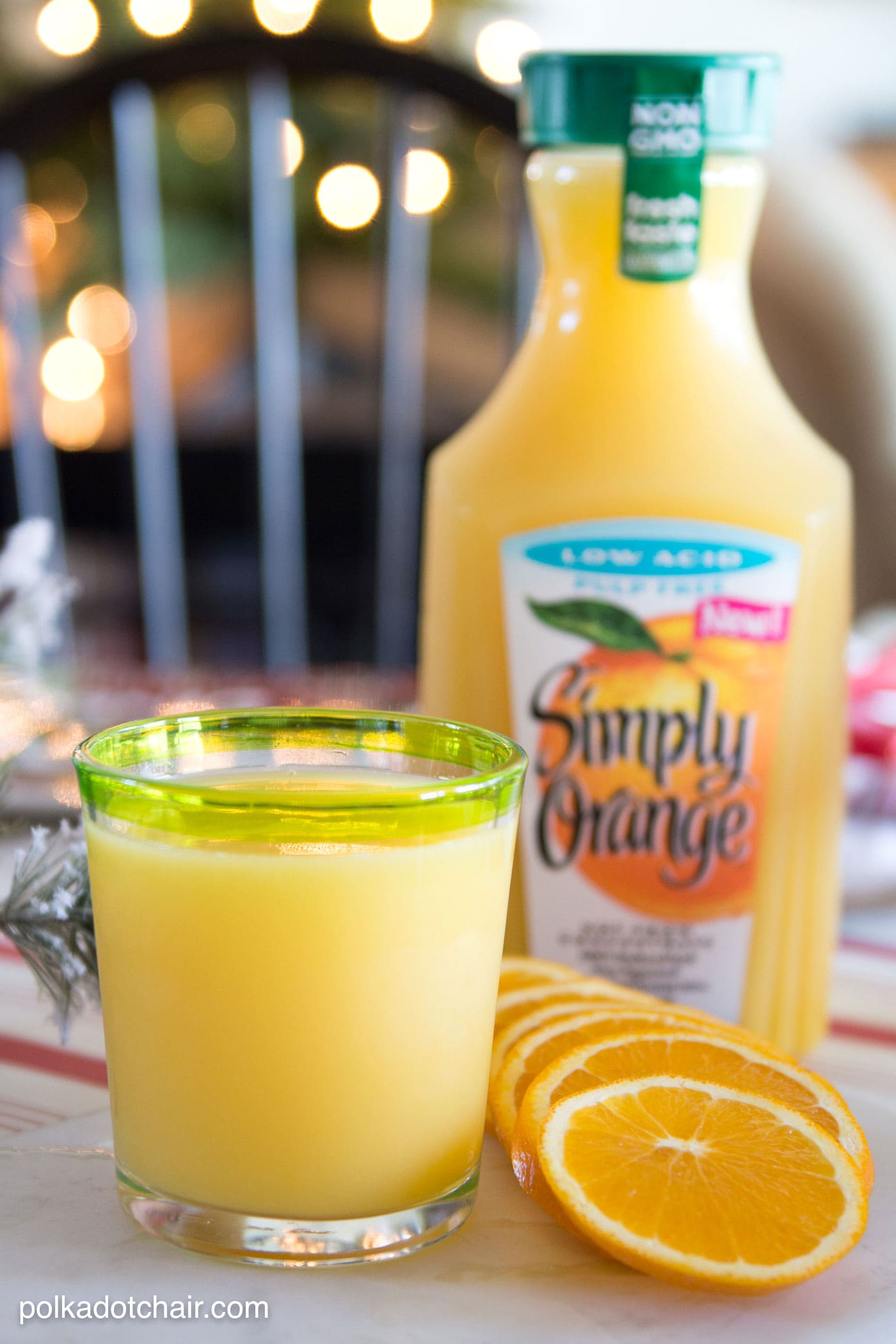 We also like to serve a special drink or punch on Christmas morning (we are teetotalers so don't get any crazy ideas about what you think our 'special' drink is *wink*).
I have a friend that gave me a recipe for a 3-ingredient vanilla orange drink that her family loves (another great tip from a good friend), we now make it, and it's one of my kids' favorite treats. It is great on a summer day, but even better served along with a meal or in this case Christmas morning breakfast.
I don't know what the official name of the drink is since I kinda think my friend made it up, but our family calls it a Vanilla Orange Slush.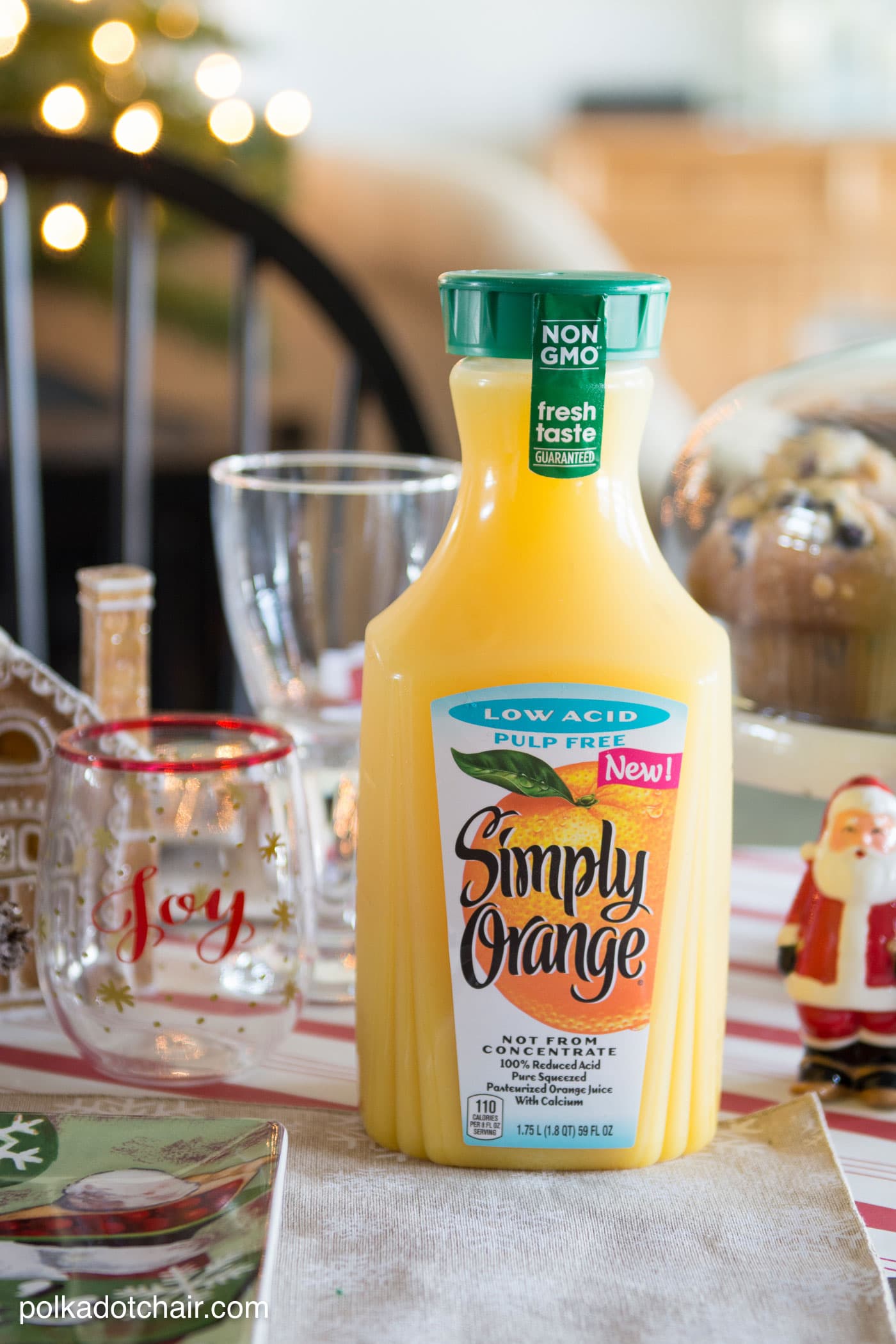 Until recently I didn't always drink the slush when we made it. I have a sensitive stomach and since the drink contains orange juice, I could only take a few sips before the acid started to bother me.  I grew up drinking orange juice and was very sad when I had to give it up about 10 years ago.
Recently I've discovered Simply Orange® Low Acid and am very excited to start drinking orange juice again. This year I'm making the slush using the low acid orange juice, and am looking forward to drinking an entire glass.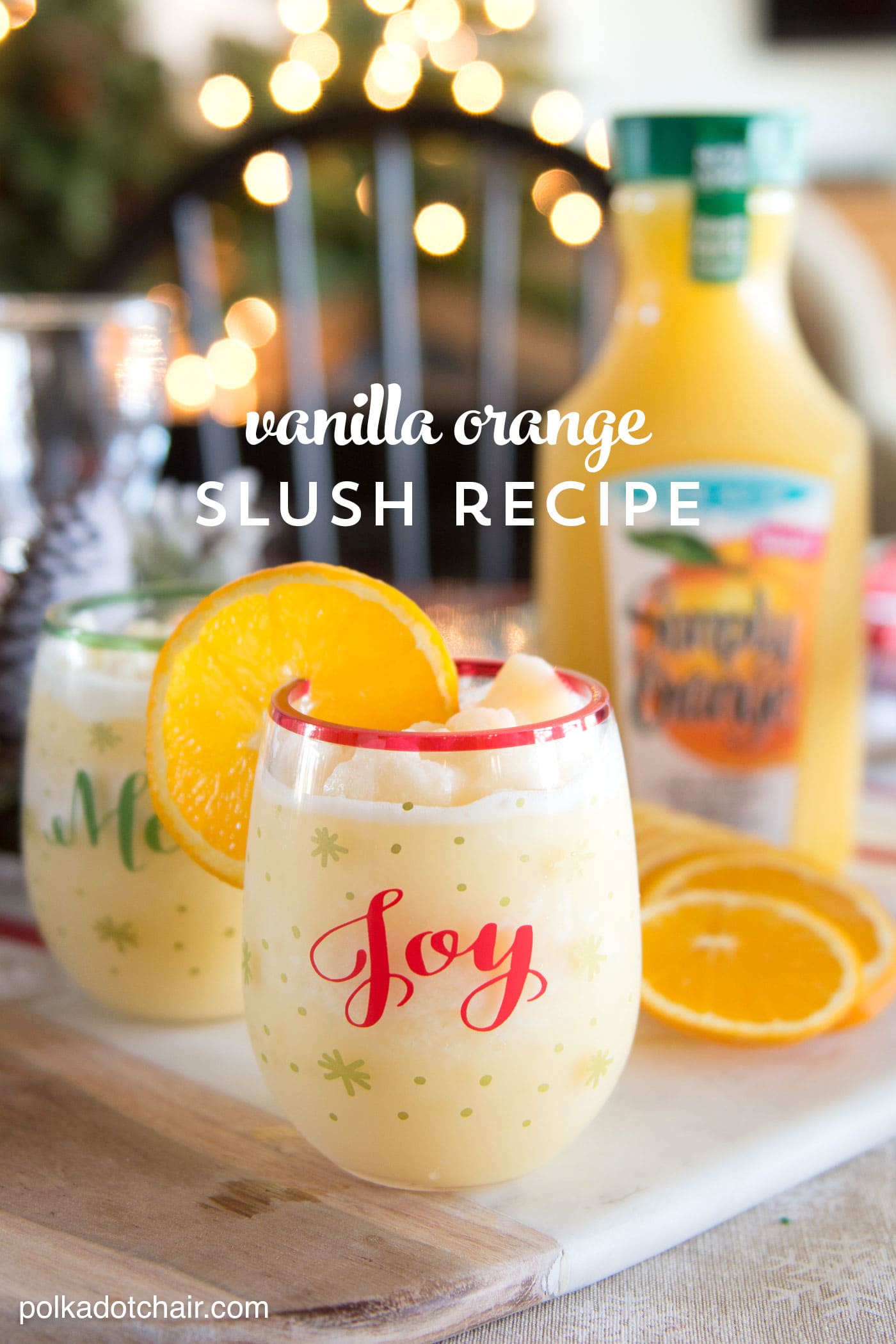 Vanilla Orange Slush Recipe
2 parts Simply Orange® Low Acid juice
1 part Vanilla Almond Milk (do not buy the unsweetened variety)
1 part ice
Place all ingredients in a blender and blend until smooth. You can experiment with the ratio of almond milk to juice if you like. More juice will give you more "pop" of orange flavor. Be careful not to add too much ice. You want just enough to give it some texture, but not so much that it dilutes the taste.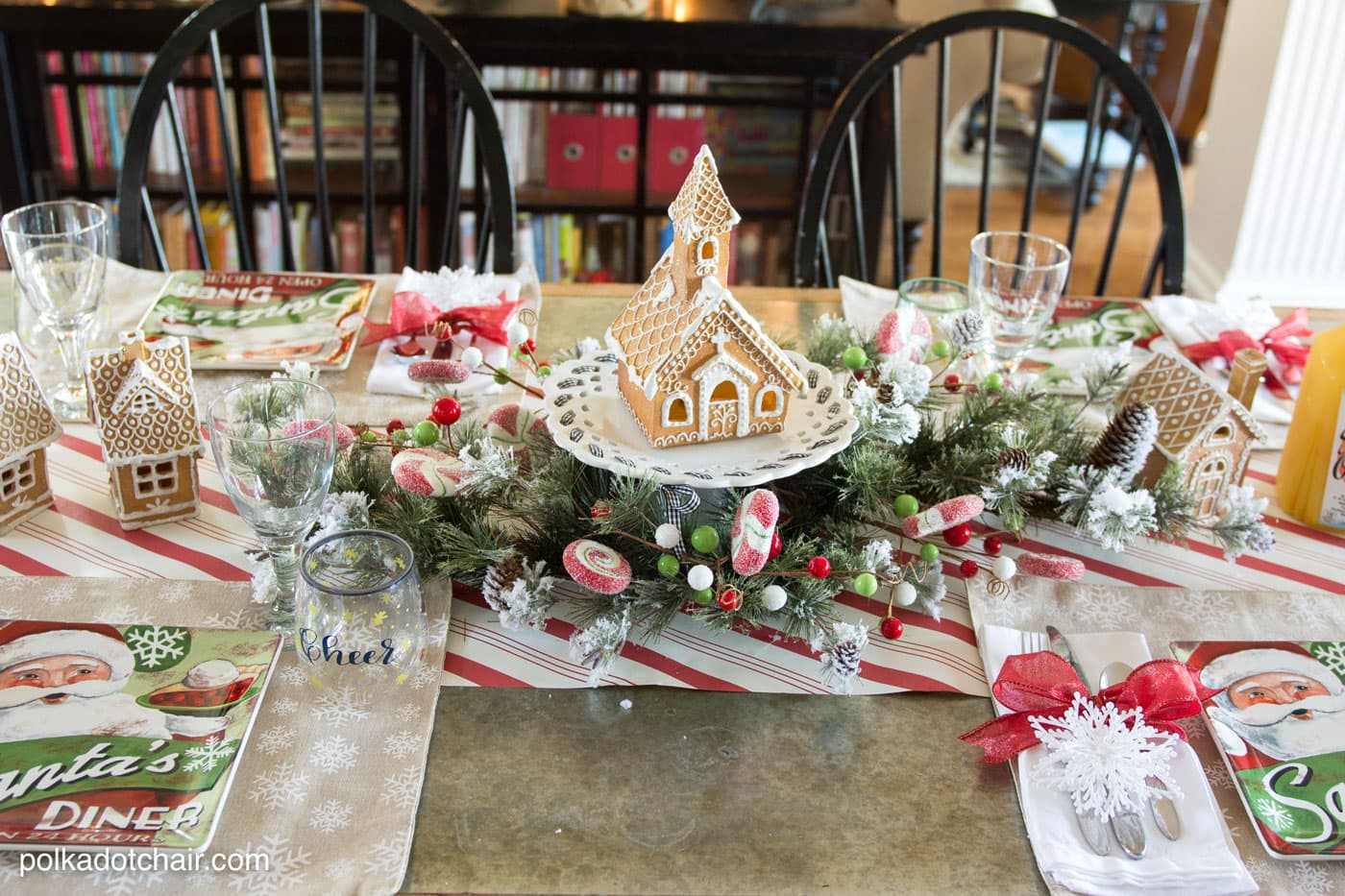 I also thought I'd share a few tips that I've picked up over the years when it comes to setting a table for a party, or in this case Christmas Morning (you could also use these ideas for a Christmas brunch):
Christmas Morning Breakfast Ideas & Tips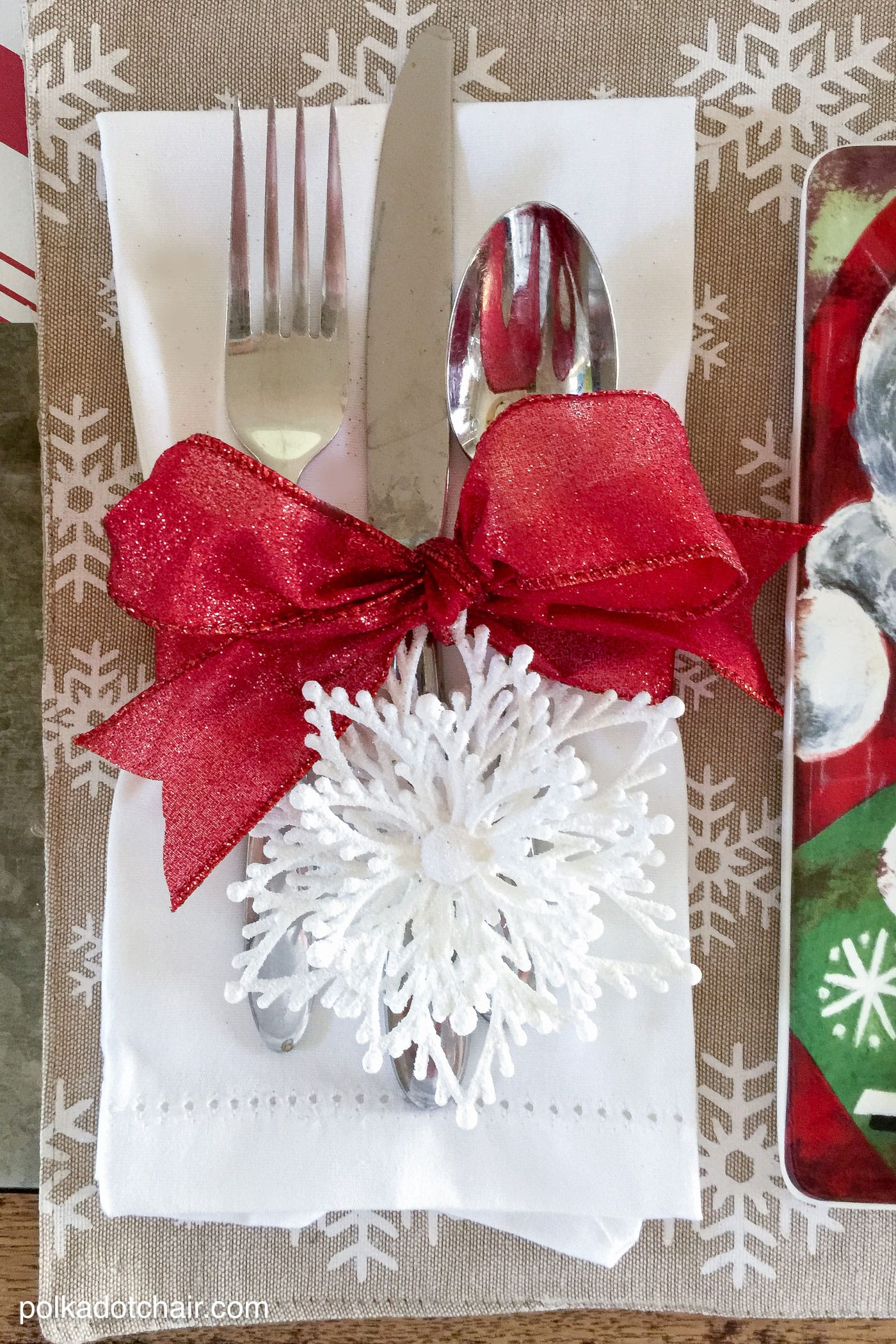 1- Pick a color scheme and stick to it.
Most of the time I try to stick with one color for my table settings. In this case it was red. Red ribbons on the napkins, red accents in the table.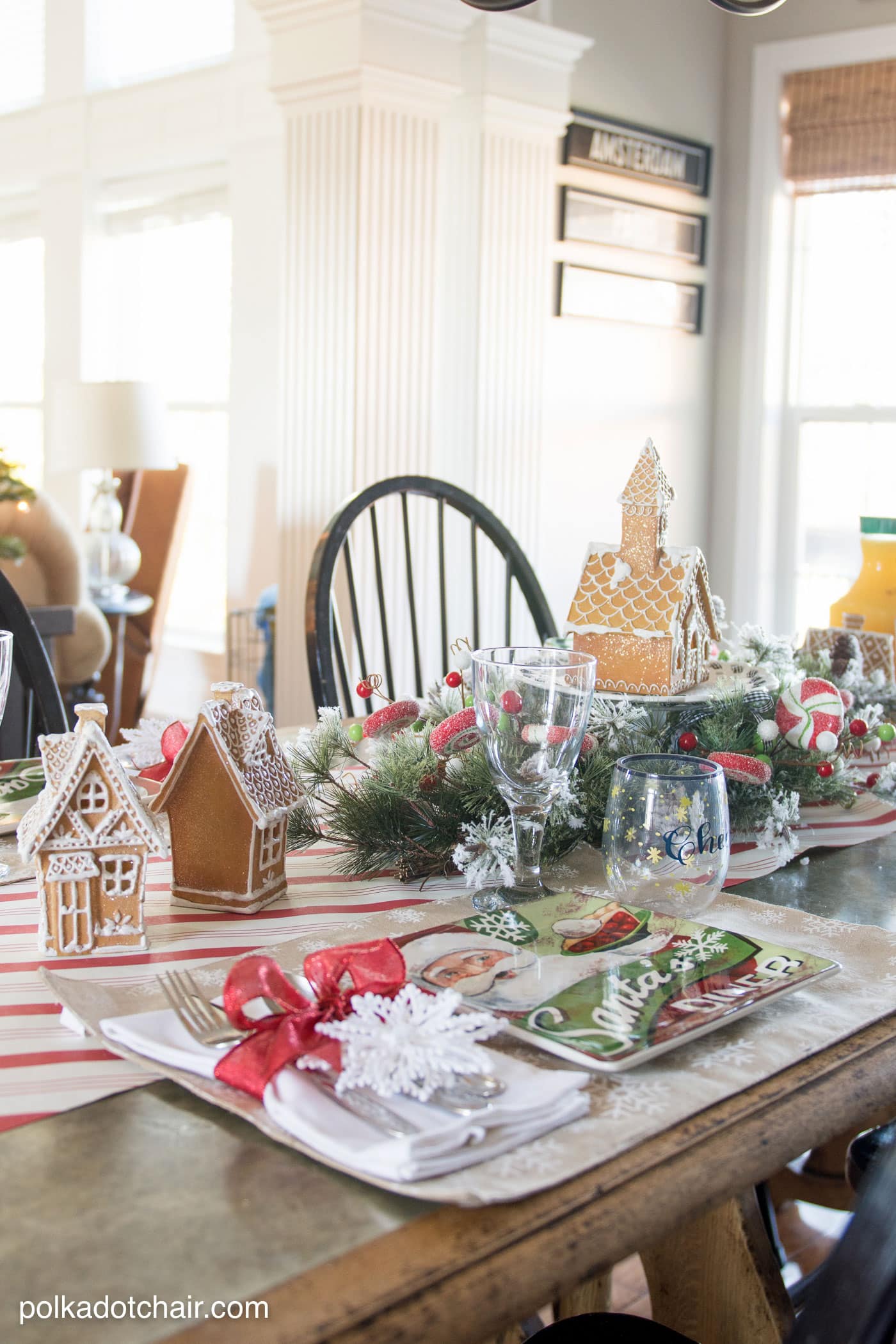 2- Pick a theme.
Are you going for fun and cute, or are you going for elegant and refined? Decide early on and stick to picking items that fit within the mood of your table. In this case I wanted to go with fun and cute since it was Christmas morning. I had the gingerbread houses and thought it would be fun to play off of that theme.
3- Use something that is disposable.
If you don't want to use paper plates or utensils, why not use something else that is disposable? It will save you clean up time, and the balance of items will look nice on your table. In this case, I went with a paper table runner. I absolutely HATE ironing tablecloths and don't use them unless I absolutely have to. I prefer to use table runners instead. You could also use paper napkins but tie them up with bows to make them a bit more special.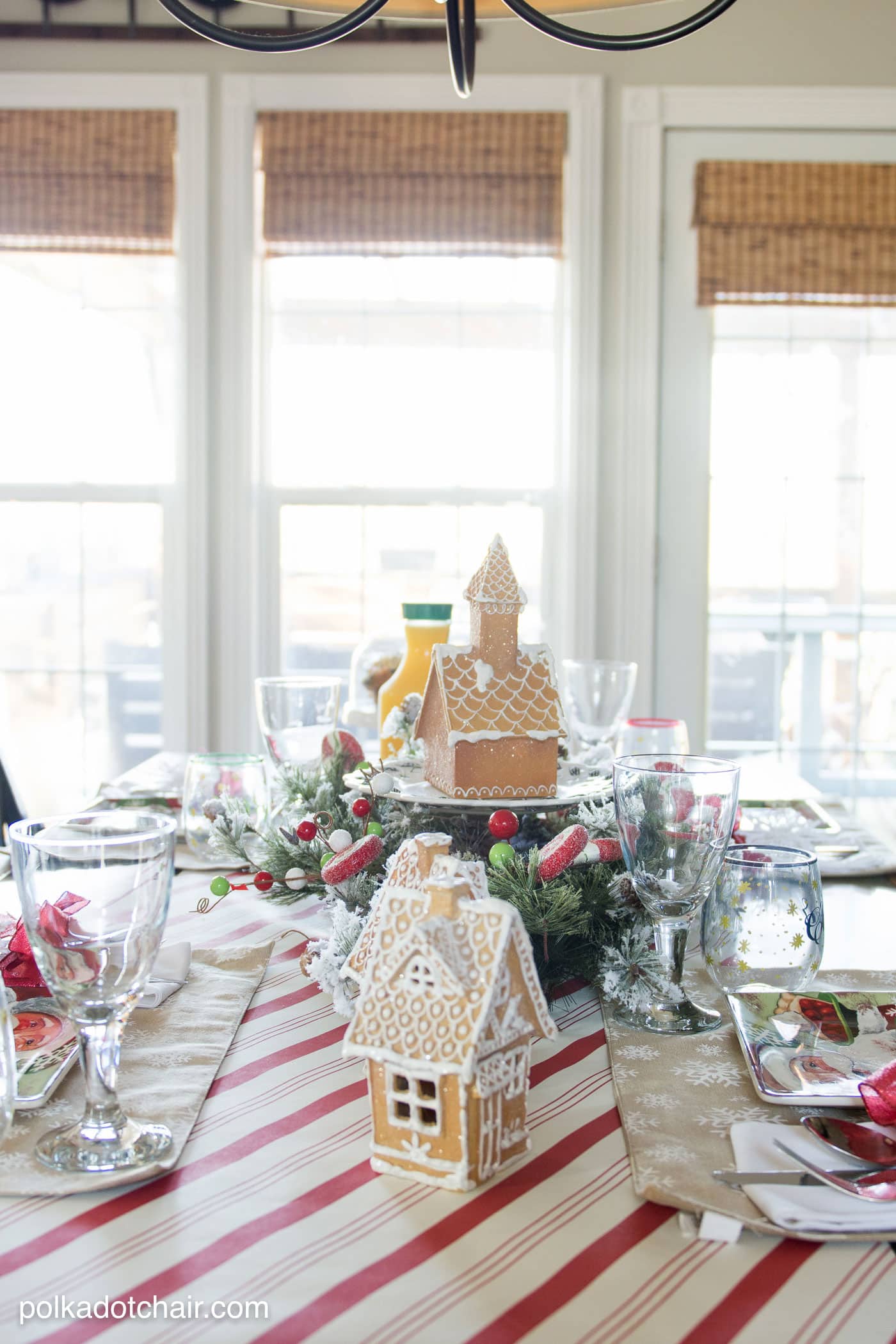 4- Use stuff you already have.
As much fun as it is to go shopping for props and accessories to decorate your holiday table, you might not need to buy as much as you think you do. Many of the items that you already have in your holiday decor would work beautifully on a table. Christmas ornaments make great napkin rings, and nutcrackers or nativity sets would be beautiful centerpieces.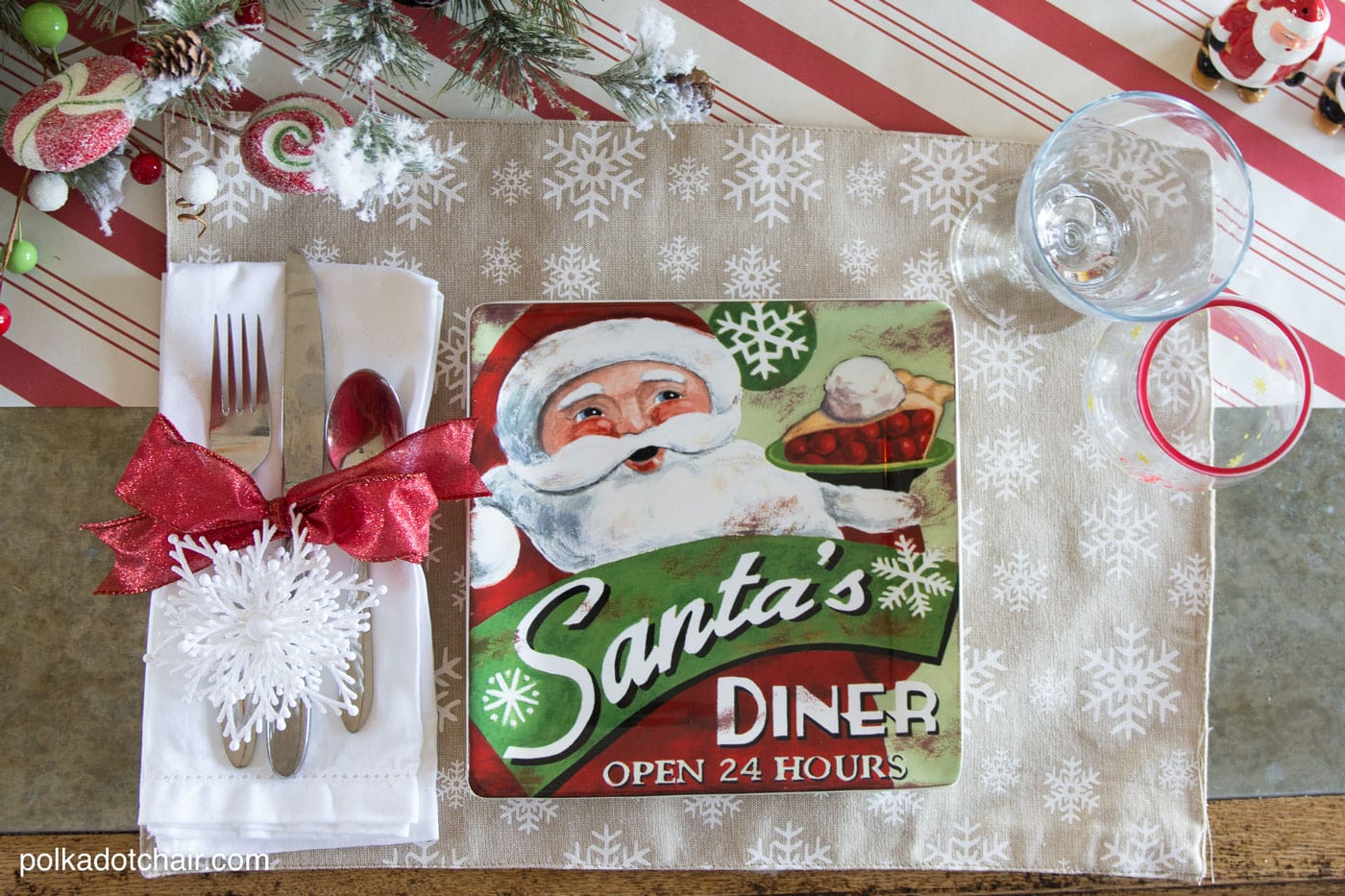 5- Let go of the pressure!
If you enjoy taking the time to put together a special tablescape for Christmas then, by all means, do it! However, if it stresses you out or makes you miserable, then don't do it. No one is going to report you to the Christmas police! Seriously, if it's not your thing then spend your time doing something else.
Each of us has different things that we enjoy doing, and we all have unique talents. What works for me, may not work for you. Like I mentioned earlier, I picked up a few of my favorite Christmas celebration tips from my friends. They worked for my family, and have become a part of our annual celebrations – but there are a lot of tips that I've received over the years that didn't work, and that's okay.
I think the thing to remember when planning Christmas gatherings is that it's all about your family. Keep the focus on those around you, and the rest will all work out.
-Note: this post originally included a giveway that is now closed. The giveaway information has been removed from the post.
Now tell me: what is the BEST Christmas celebration tip that you've received from a friend or family member?