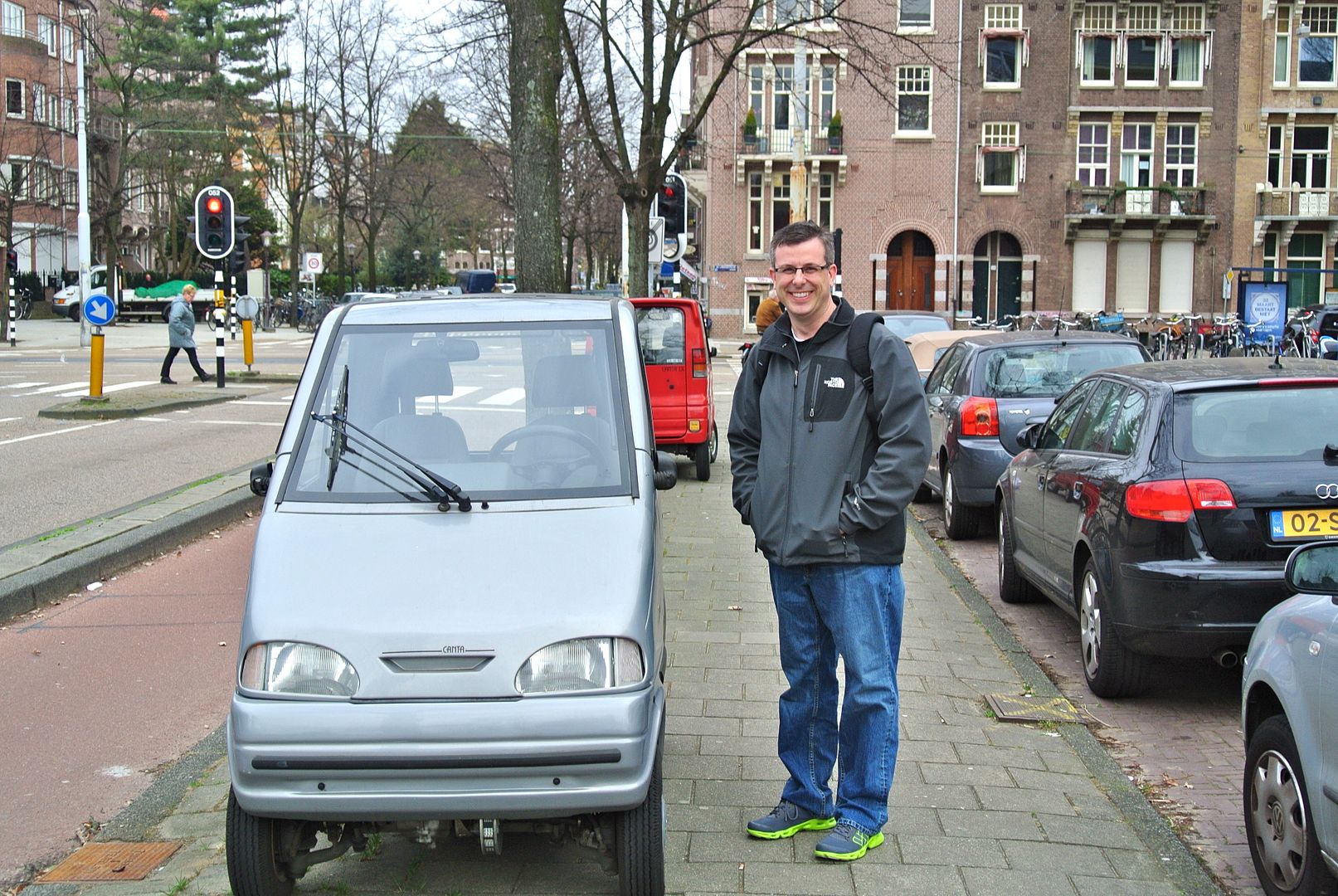 tiny car in Amsterdam
Note to self:
Always, always, always set an alarm when your on vacation.
Day 2 started later than we would have liked.  We remembered to open the drapes before we went to bed so the light would wake us up in the morning, however we forgot to also set the alarm.  We ended up sleeping in until 9.  Which for me is not a surprise but for my husband is.  He's the type to be out of bed at 6 every morning even if he doesn't have to go anywhere (he also doesn't get jet lag… not fair).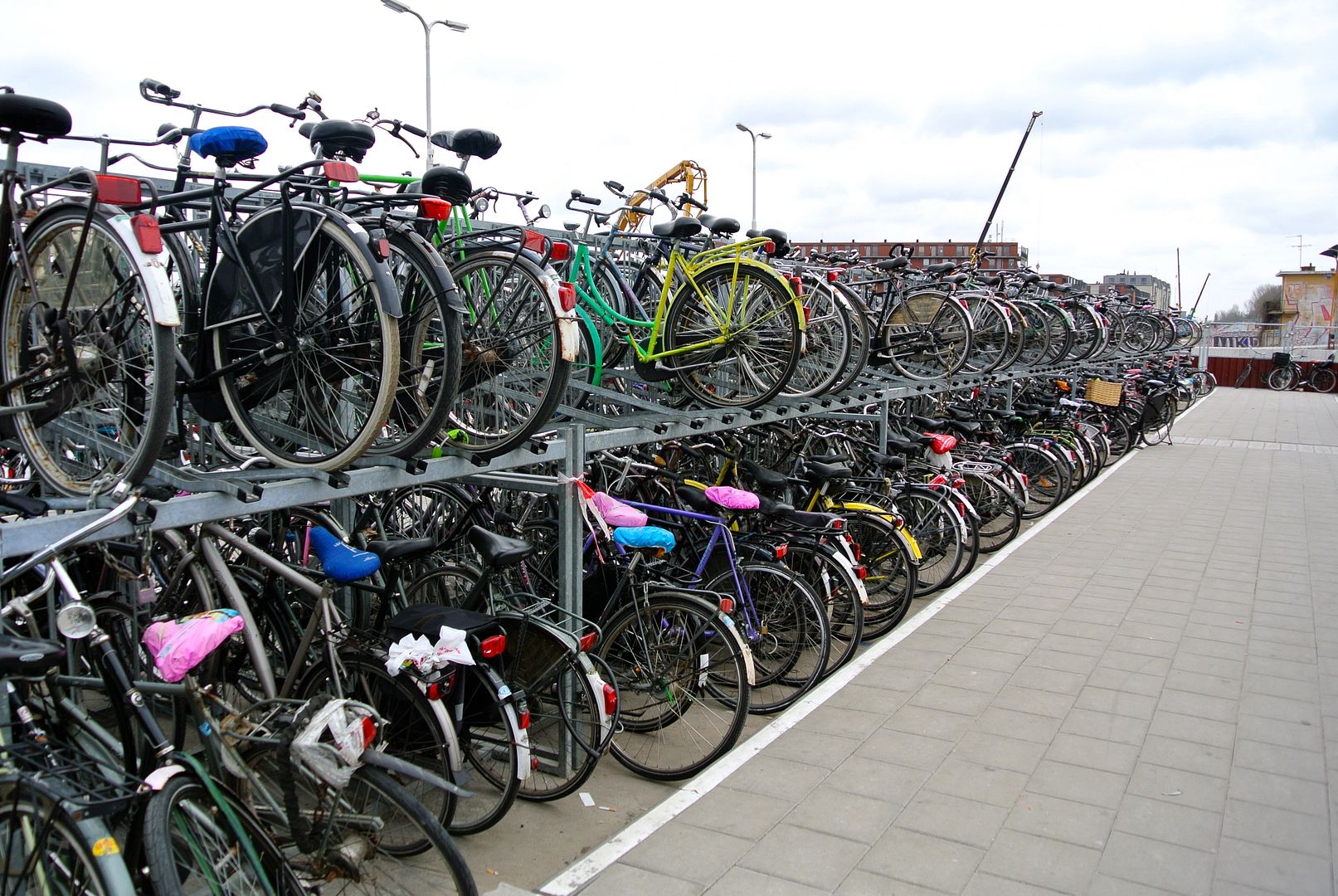 bikes at the train station in Delft
On the agenda for today was Delft and the Hague.  I thought this sounded like a lot for one day, but my husband said it was do able… and hey, he used to live there so who am I to argue? (don't answer that)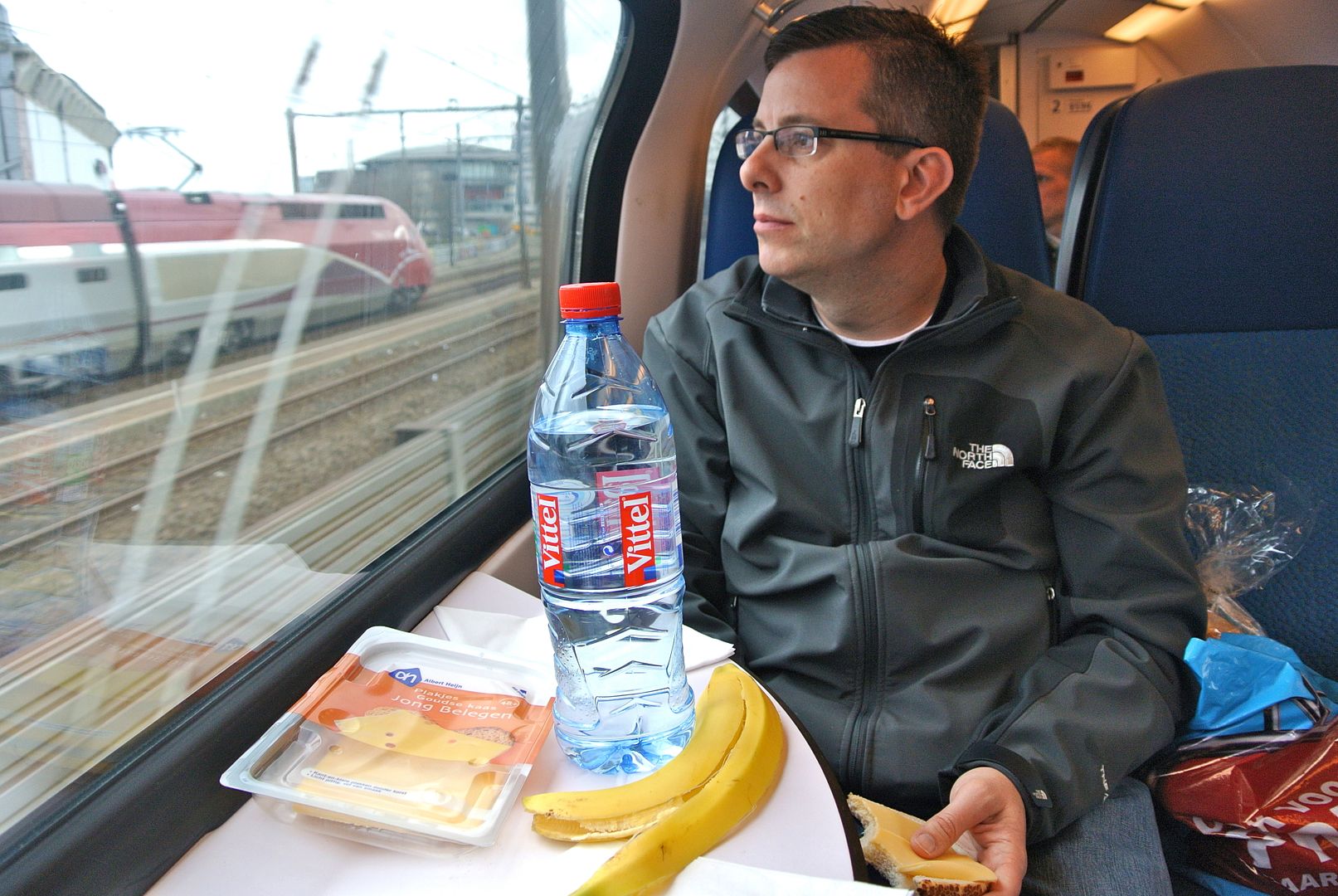 breakfast on the train
My husband lived in The Hague for a long time during his stay in the Netherlands.  However, he saw the country as a missionary… not as a tourist.  I guess his plan for The Hauge and Delft in the same day didn't include a wife that wanted to stop into almost every shop along the way.  Needless to say, we never made it to The Hague.  Which I think is a perfectly good excuse to make sure we go back soon.
Grocery Store
We stopped in a local grocery store to pick up breakfast. We figured we'd just make a little picnic and eat on the train on the way to Delft.   Jeff knew just what he wanted.
Bread, Cheese & Vla.
I've been hearing about Vla for 20 years- anyone know why we don't have it in the US?  If your wondering it's pretty much like a half melted custardy milkshake, that comes in a carton.  You eat it with cookies.  It reminded me a bit of a creme brule- but just the middle part.
Thursday was market day in Delft, that's why we picked it.  The antique markets are on Saturday and don't start until later in April, so we missed that one… but we did hit a great one.
Delft was ADORABLE.   I know I should think of a more sophisticated word to describe it, but that sums it up pretty well.  Charming cobblestone streets, bikes, bridges, beautiful canals and lots of little shops.
herring, which I did not eat.  Neither did Jeff.  He said he would if I would… I wouldn't… thus no herring eaten.
I loved the market.    There was a booth with fabric, ribbon and trim-  HELLO! Jackpot.  I picked up some bias trims and fun ribbons.   I also was able to buy some linen at another booth.
There were cheese shops, and fresh bread and fish mongers.  Colorful characters, kids with candy and flowers.   Like I said, I loved it.
a warm stroopwafel… finally.
Further outside of Amsterdam, Jeff's Dutch became more useful.  The funniest moment of the day came when I had him ask a vendor how much some ribbon was.  He asked in Dutch, the vendor answered in Dutch.  Then my husband proceeded to tell me how much it was,   also in Dutch.   He said it took him a while to figure out why I was looking at him funny…. he couldn't figure out why I didn't understand.  The longer we were there the more he mixed up his Dutch and English. He'd forget which he was speaking- it was really funny to watch.
We were able to spend the day chatting with some locals (again one of the highlights of the trip for me, to see how Jeff interacted so naturally with the people that lived there).   After a bit we decided to walk down to the Royal Delft Factory.
The walk took us through a residential neighborhood. Most people didn't have drapes in the front window, and I loved glancing into their homes to see how they were decorated.  My husband thought I was crazy.  I loved how you could see right through the house to the garden courtyard in the back.
Beautiful pottery at the Royal Delft factory
After taking the factory tour and ogling at the shop, we headed back into historic  Delft for dinner and to track down some Belgian chocolates.
an antique shop I didn't dare go into, too many treasures for my pocketbook
This I think would have been my favorite day in the Netherlands, except for what happened the next day… a little bit of Serendipity that I still can't quite believe- but I'll tell you about that tomorrow.