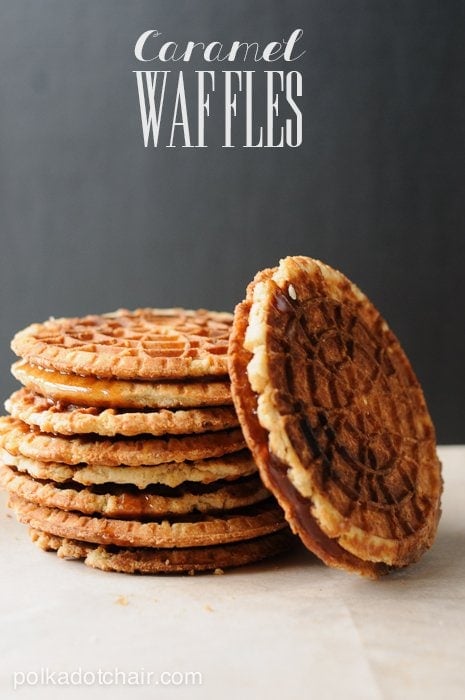 This delicious post is sponsored by Domino Sugar as a part of the Mom it Forward Network // One of my husbands favorite treats during the time he lived in the Netherlands were Stroopwafels.  These waffles found mostly at outdoor markets, were crispy cookie like waffles with a caramel syrup filling.  You can buy them packaged in the US but its not the same thing as a fresh stroopwafel. When I visited the Netherlands a few years ago, I was able to try them for myself and agree that they are a "must" have if you visit the Netherlands.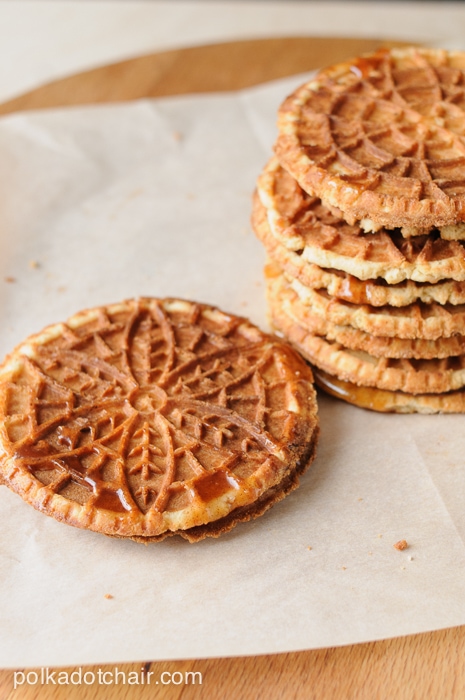 He brought home a handful of recipes from his time in the Netherlands, including this one,  but all of them are in metric measurements.  A few years ago we decided to figure out how to make a version of the waffles at home. We managed to convert the recipe but were never able to get the recipe "exactly" the same.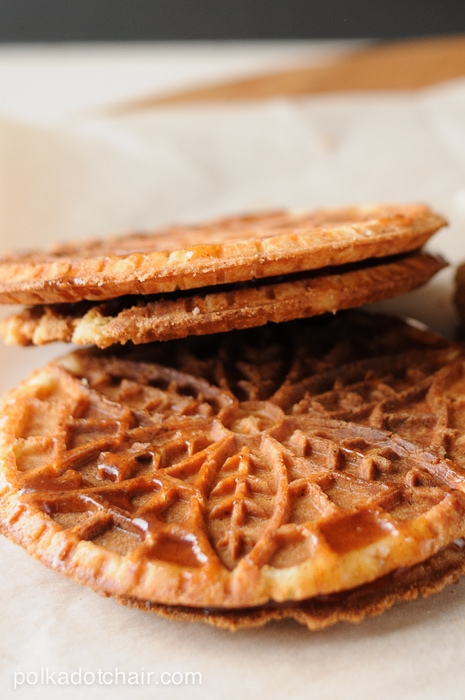 Traditional Dutch stroopwafels are sliced in half after they are pulled off of the hot iron with a very thin serrated knife.  We have never been able to slice one in half with out destroying it, so we just used 2 whole waffles instead. We also do not have a traditional stroopwafel iron so we use a pizzelle iron.
Caramel Waffles or Stroopwafels
Servings
:
8
Large Stacked Waffels
Ingredients
2 1/4

C

all purpose flour

1/2

C

Domino Superfine Sugar

pinch

of salt

1

packet rapid rise yeast

or 2 1/4 t

1 1/2

T

lukewarm milk

1

medium egg

beaten

1/2

c

butter melted

Caramel Syrup Filling

2/3

C

light corn syrup

10

T

butter

2

t

cinnamon
Instructions
Sift the flour and salt together. Mix the yeast with lukewarm milk in a bowl, and allow to proof for 10 minutes. Form a well in the flour and pour the yeast mixture into it. Add butter and beaten egg to the well and knead (by hand) the ingredients together until mixed well. The dough should be elastic, but not over worked. Cover with a damp cloth and allow to rise for 1 hour.

Divide the dough into 16 portions and roll into balls. Cover again and let rest 15 minutes.

Turn on the pizzelle iron onto its highest heat setting and let the iron heat up. Spray with cooking spray. Flatten a dough ball slightly and place on the pizzelle iron. Cook for exactly 1 minute. Remove from iron and allow to cool. Repeat until all dough balls are cooked.

To make the syrup. Set heat to medium low and add corn syrup to a heavy bottomed pot. Cut up butter into large chunks and add to the corn syrup. Stir in the cinnamon. Cook over low simmer for exactly 10 minutes. Stir the mixture constantly. Remove from heat and keep warm. You can not reheat the syrup.

Spoon the syrup onto a waffle. Allow it to soak into all of the grooves. Spoon syrup onto a second waffle. Stack waffles together. Repeat for all 16 waffles.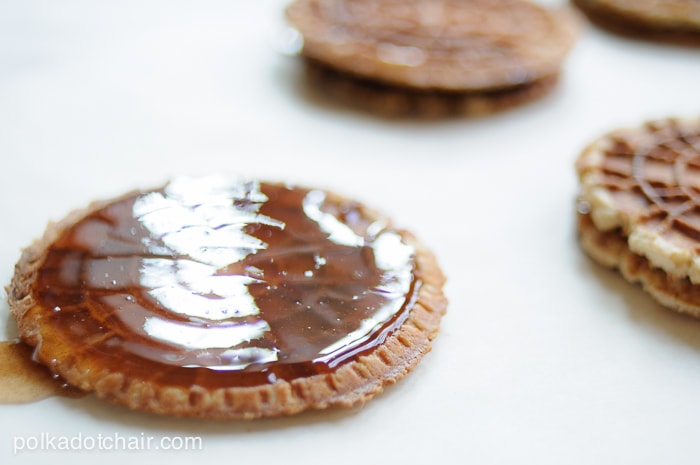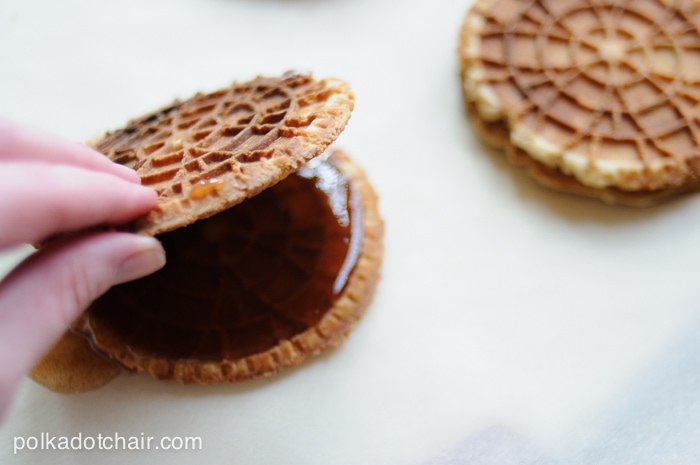 One of the great things about these waffles is that they can keep in an airtight container for up to two weeks.  Although my husband claims that you're not supposed to eat them for breakfast, I like to give them to my kids to eat for breakfast on special occasions. I'm not the best at mornings so having something already made is a big benefit to me.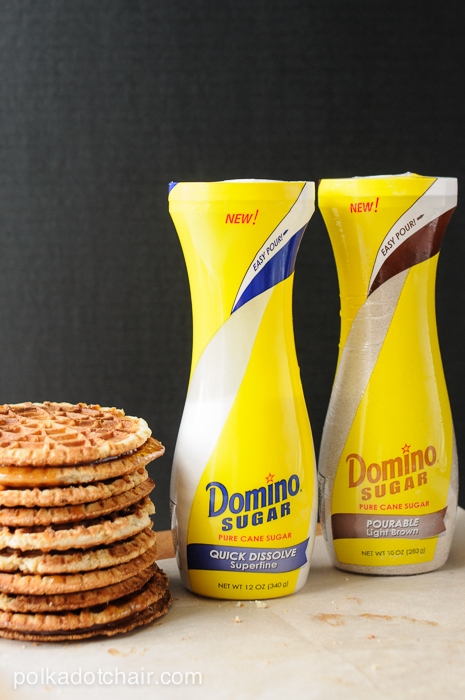 This recipe calls for Superfine sugar. I don't use superfine sugar much and love that it comes in a flip top canister from Domino. I just flip the top to pour out what I need then it seals back up for next time.
Domino also has Brown Sugar in a flip top canister. Which I adore for adding a bit of brown sugar to my steel cut oats in the morning.  The best part is that the sugar won't clump or dry out.
If mornings aren't your favorite either, here are some suggestions from Domino for frenzy free mornings, they've even included a recipe for a delicious topping for your oatmeal or yogurt in the mornings.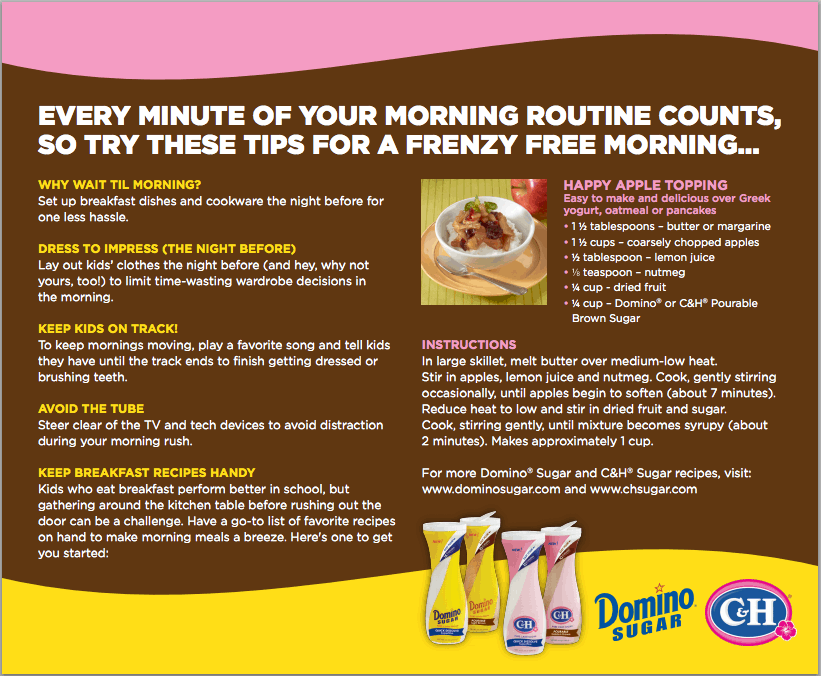 Would you like to try out one of the new Flip Top canisters yourself?  If so just enter below for a chance to win a coupon to try the new canister yourself. 3 winners will be chosen.
Enter with the widget below
a Rafflecopter giveaway

Domino Sugar's Website
This post is sponsored by Domino Sugar as a part of the Mom it Forward Network, all ideas, opinions are 100% totally mine! Full disclosure can be found on the about page.
Connect with me:


Print Friendly
4