Okay, now on to day 3 of our adventure in Amsterdam, if you're new here you can see my other posts by clicking the label Amsterdam... you can also subscribe to this blog over here —–>  to get the rest of the story…. after that I'll go back to posting about crafty stuff 🙂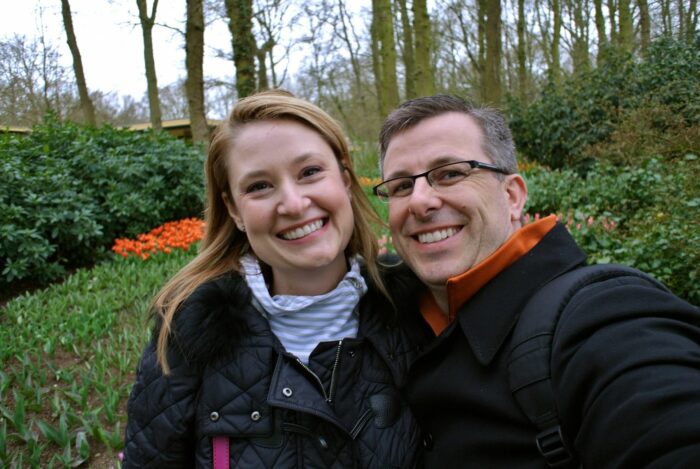 We had 3 big things on our agenda for this day:
1- Keukenhof
2- Van Gogh Museum
3- Eat at Rijsttafel
We managed to accomplish all 3, plus have a little surprise along the way.
Keukenhof:
After having learned our lesson from the previous day, we set our alarm and were on the train by 9 am. We arrived in Leiden and then hopped the bus to Keukenhof.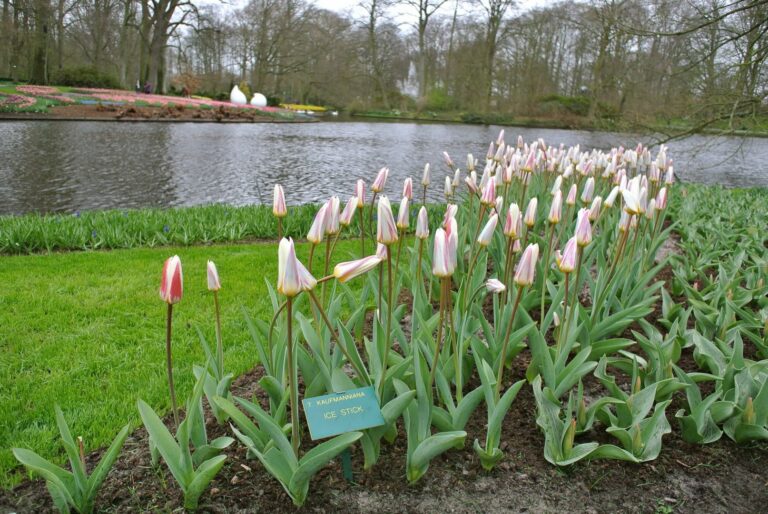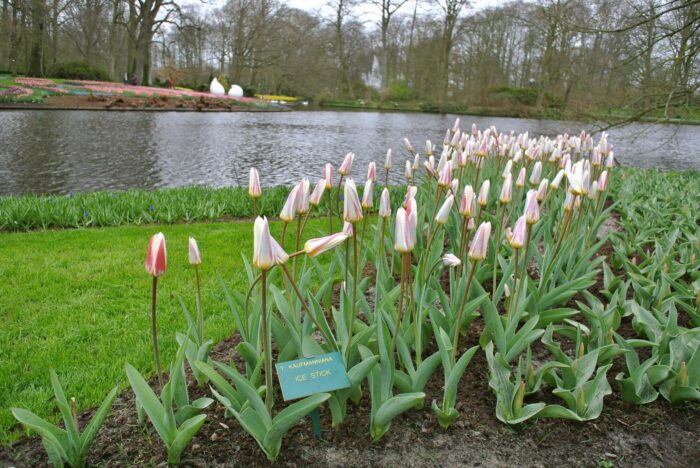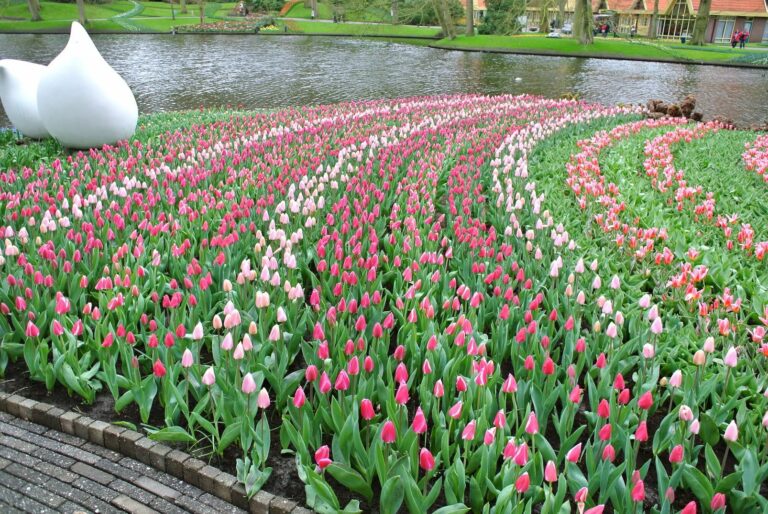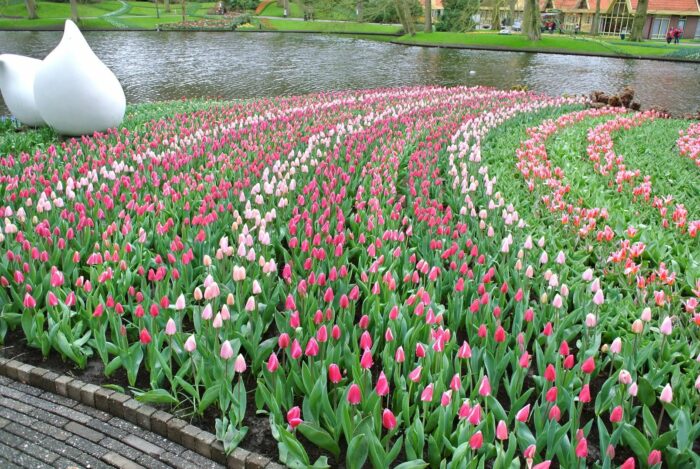 Keukenhof is a botanical garden open only in the Spring that showcases the flowers, farmers and bulb growers of the Netherlands. It's why we decided to visit in the Spring as it's only open for a few weeks per year.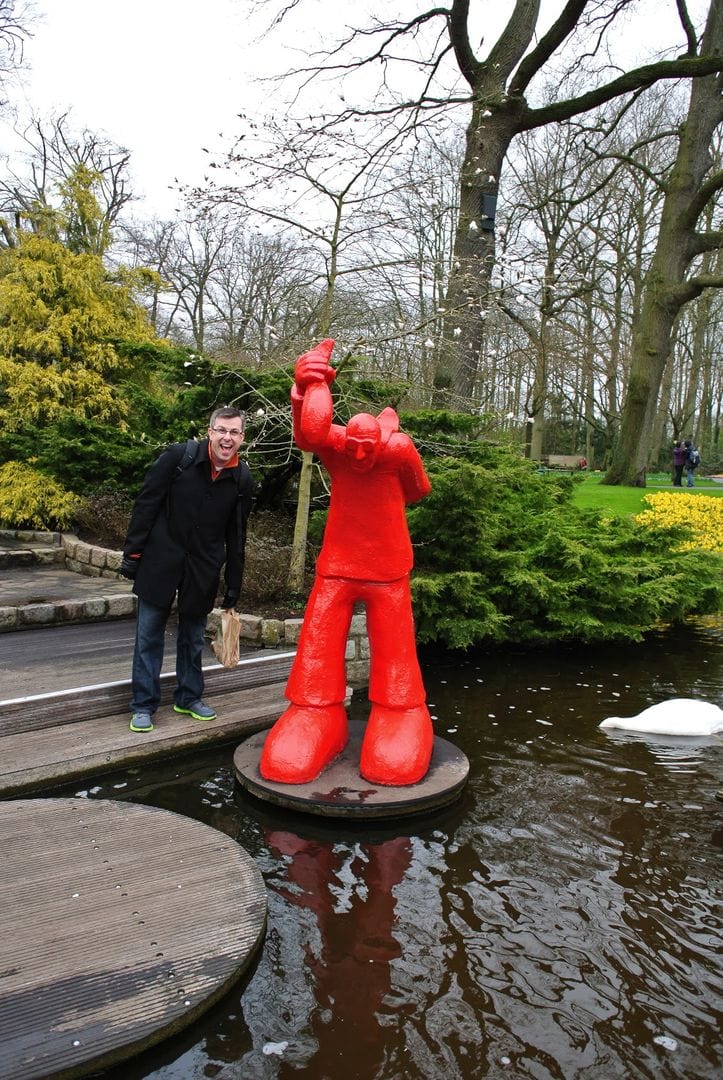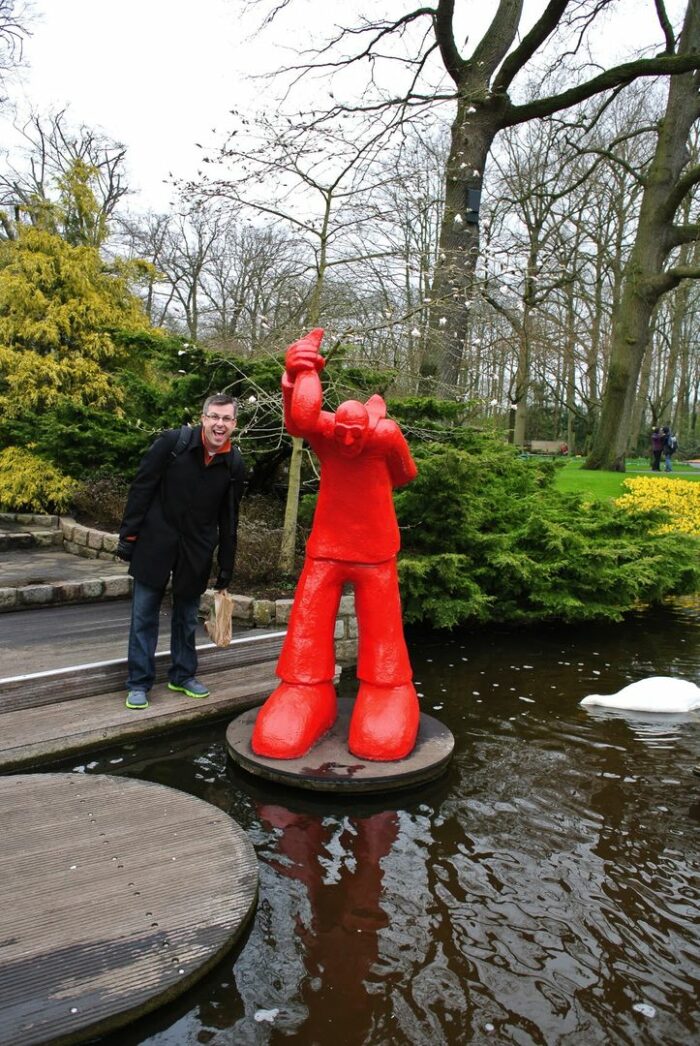 I was worried that coming so early in the growing season that we would not see any tulips, but I was wrong. Although it was far from "peak" at Keukenhof there were plenty of tulips to see, along with other beautiful varieties of flowers.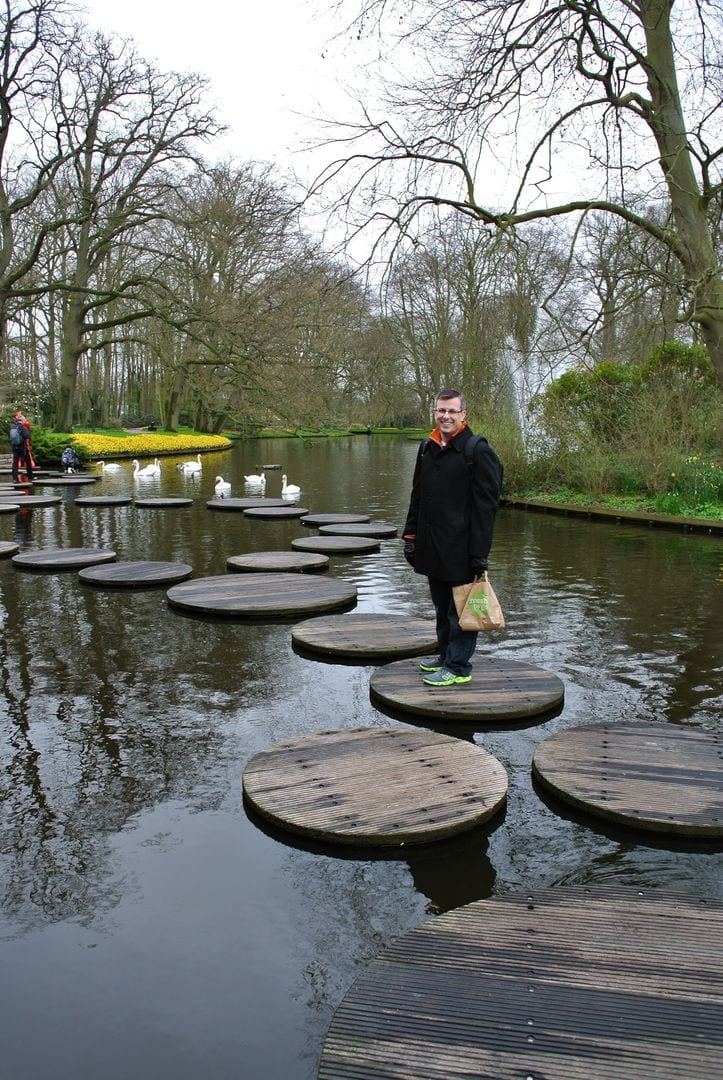 It was amazingly landscaped and much more creative than I was expecting. There were statues, small gardens, a lake, a maze and huge variety of plants.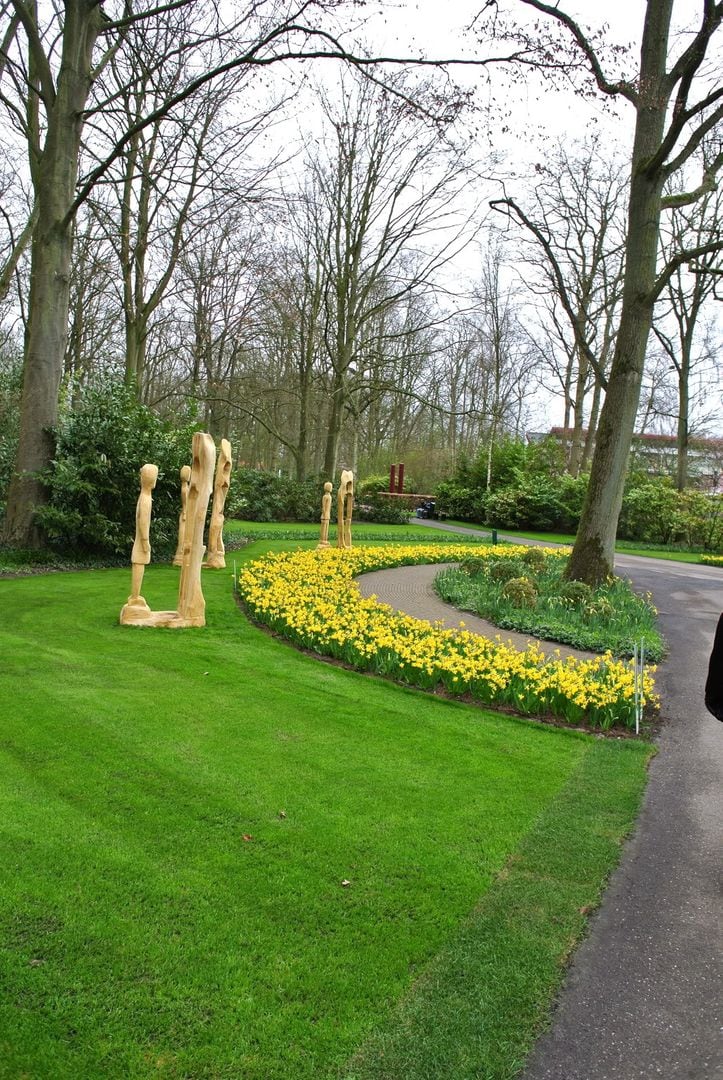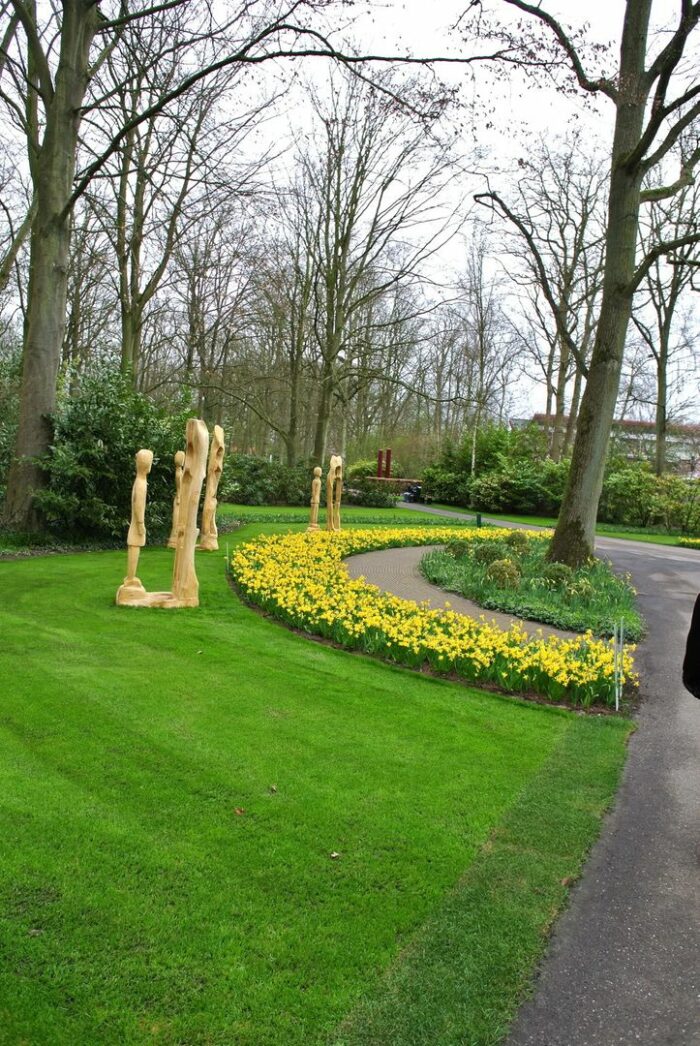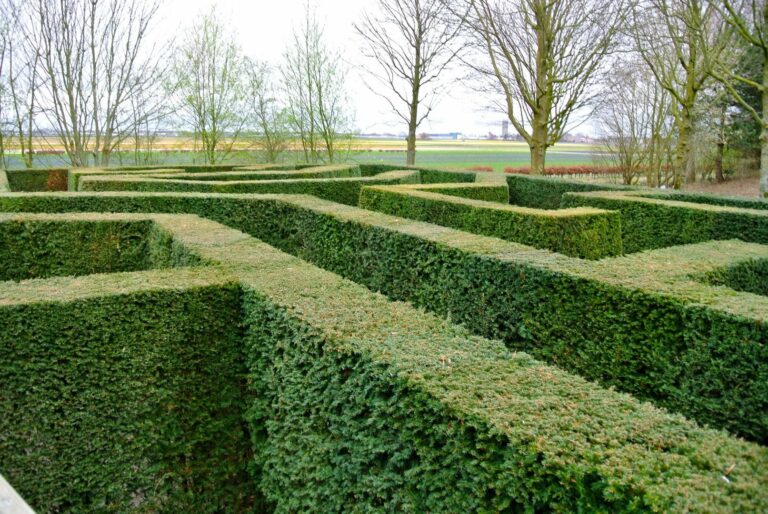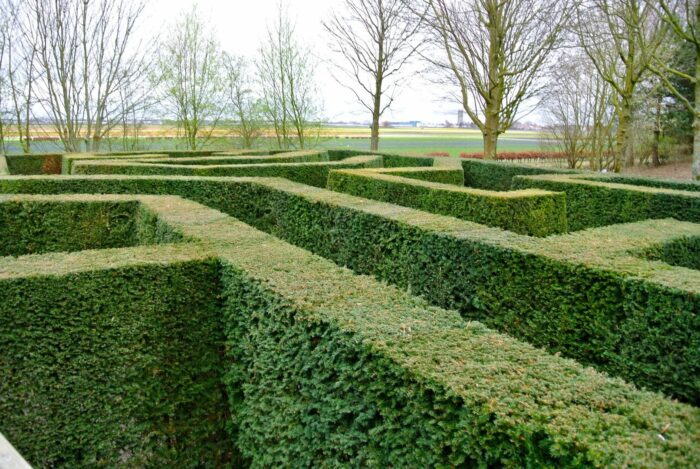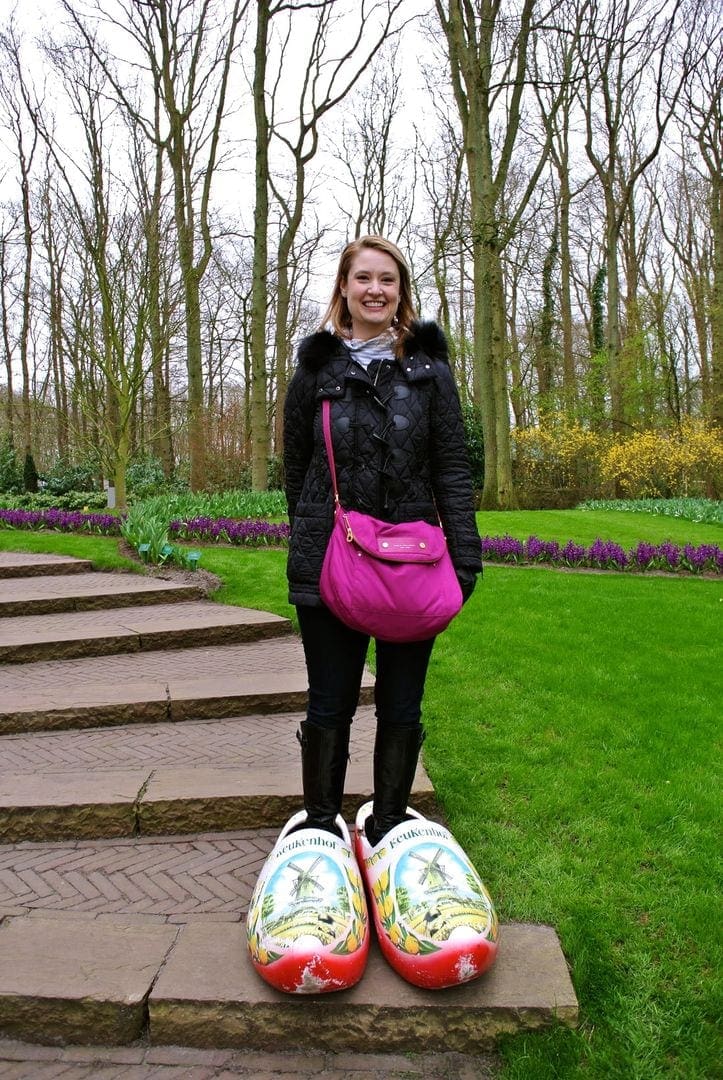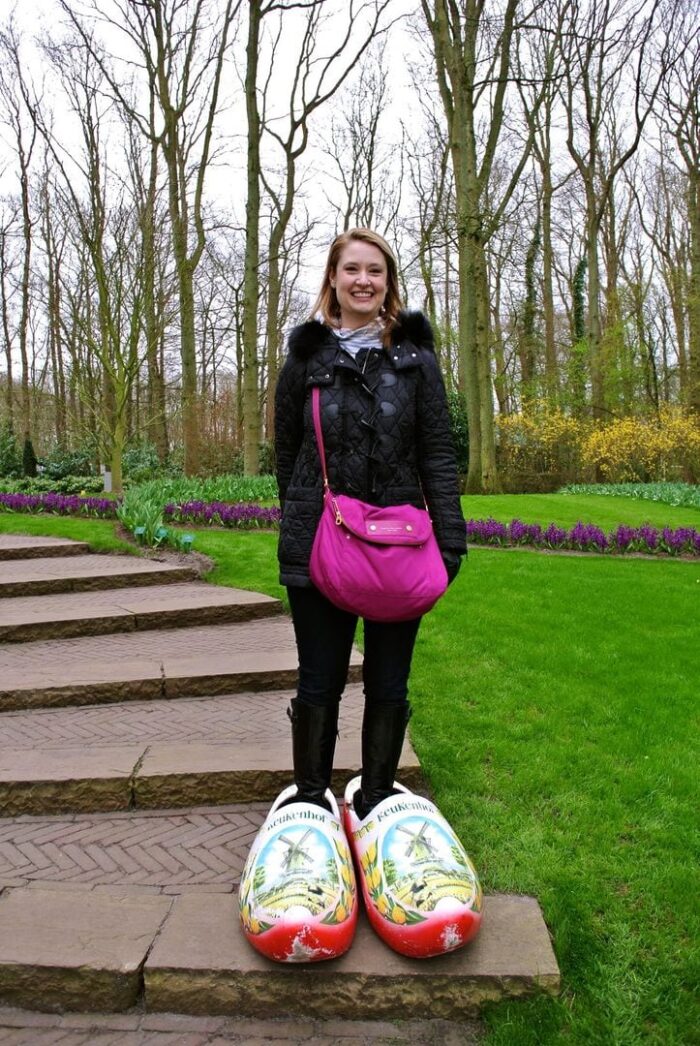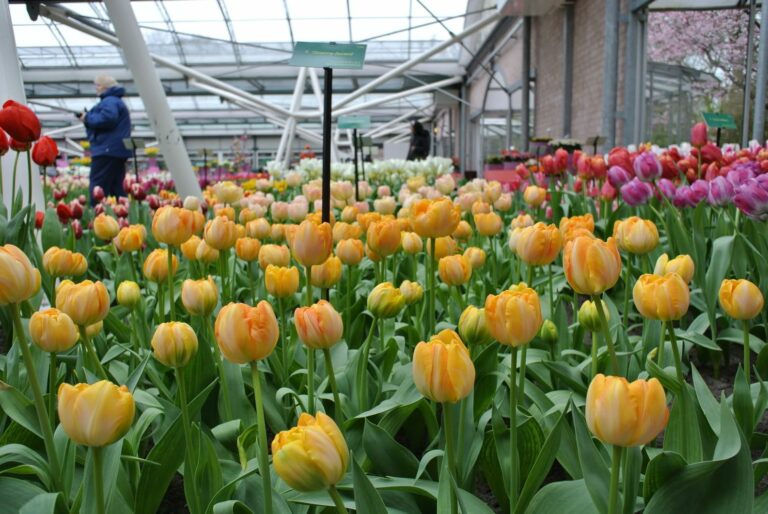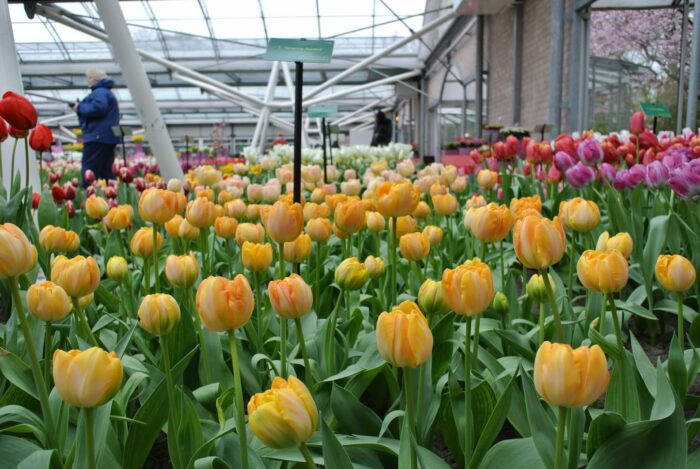 Having arrived so early in the day we had the place mostly to ourselves. It was spritzing a little but not enough rain to warrant an umbrella.. just enough to make my hair go crazy 🙂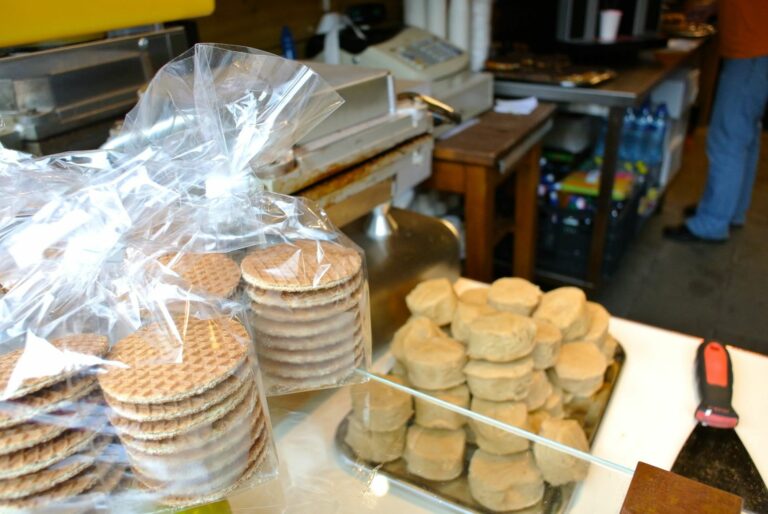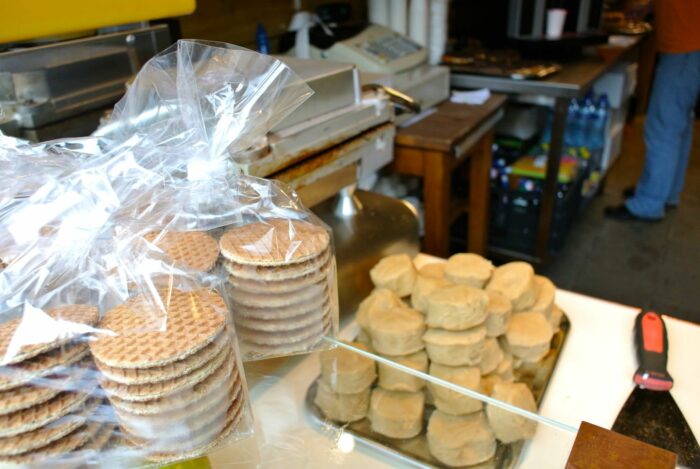 We found a stand serving stroopwafels and treated ourselves once again.. this time with some hot chocolate to take a bit of the chill off. Having visited Paris in March 2 years ago, and freezing the whole time, I was very worried I'd also be freezing in the Netherlands.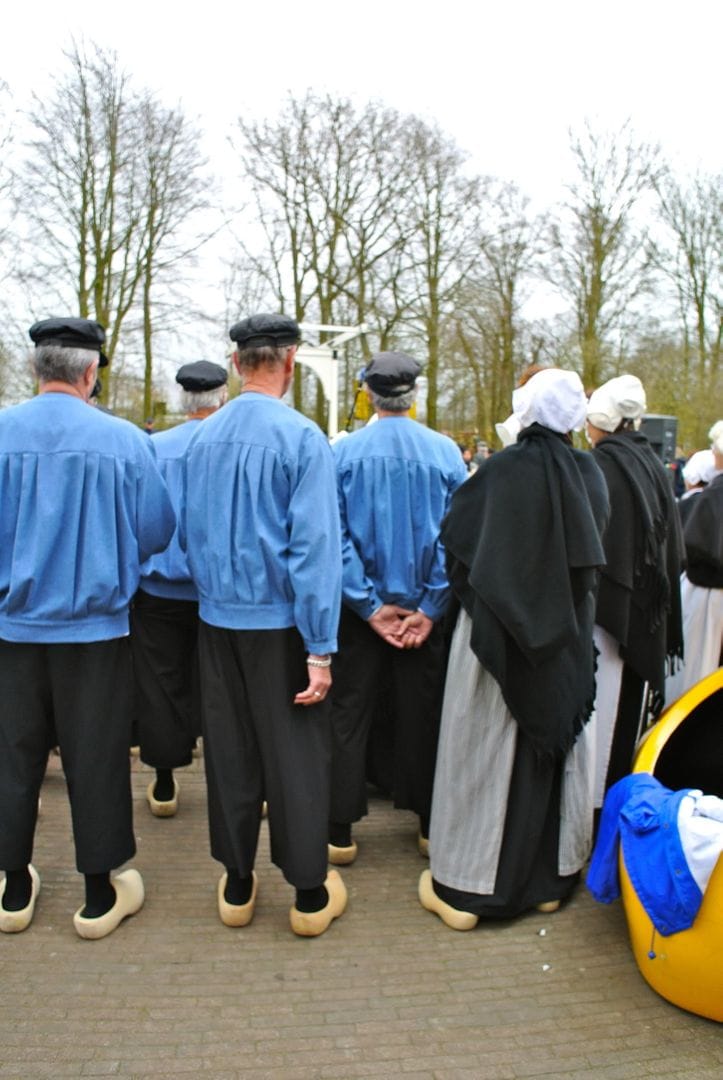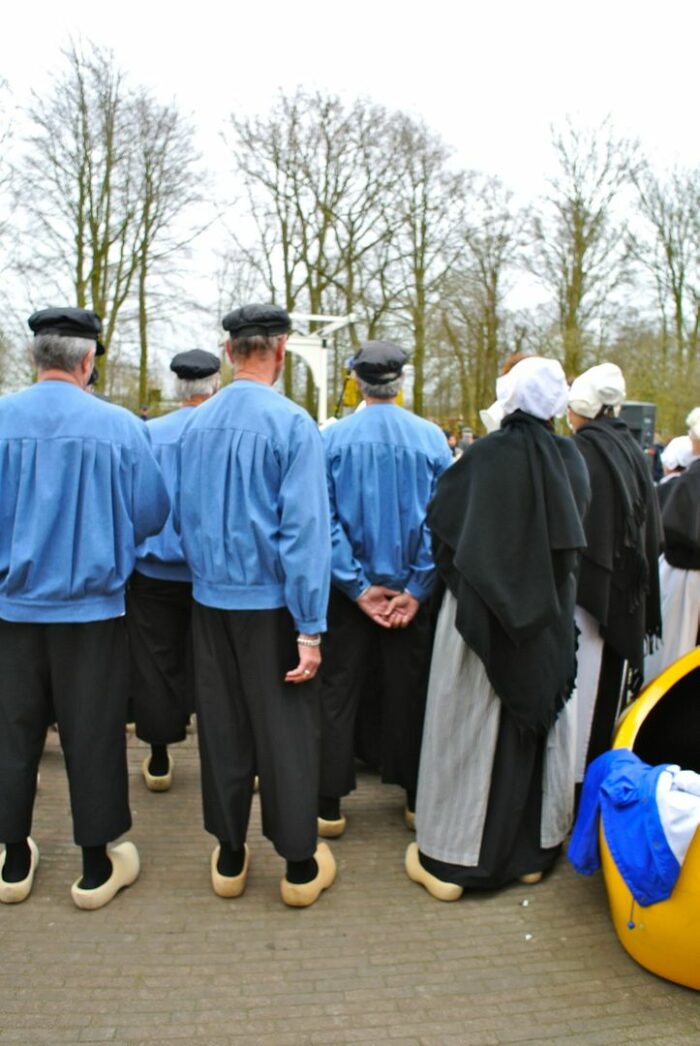 Temp's dropped from a warm 65 the day we arrived to the high 40's and low 50's. It was enough to put a chill in the air, but not so much that you felt cold. My husband said that had it been warm and sunny the whole time we were there I would not have experienced a true "dutch day". He has many memories of gray, drizzly days when he lived there.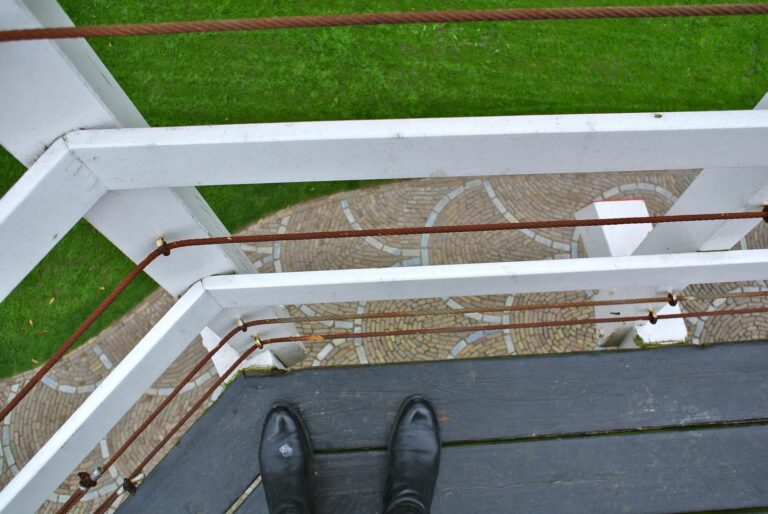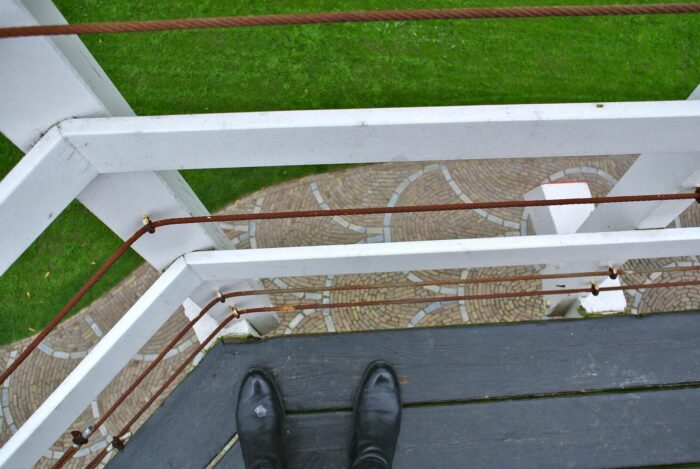 We climbed up the windmill at Keukenhof and found out it was a gift from the town of Groningen, one of the places my husband lived while in the Netherlands. From the top of the windmill, there was a great view of the tulip fields of Lisse. I loved looking at the amazing bold stripes of color as the fields came into bloom. I can only imagine how spectacular it will be in a few weeks.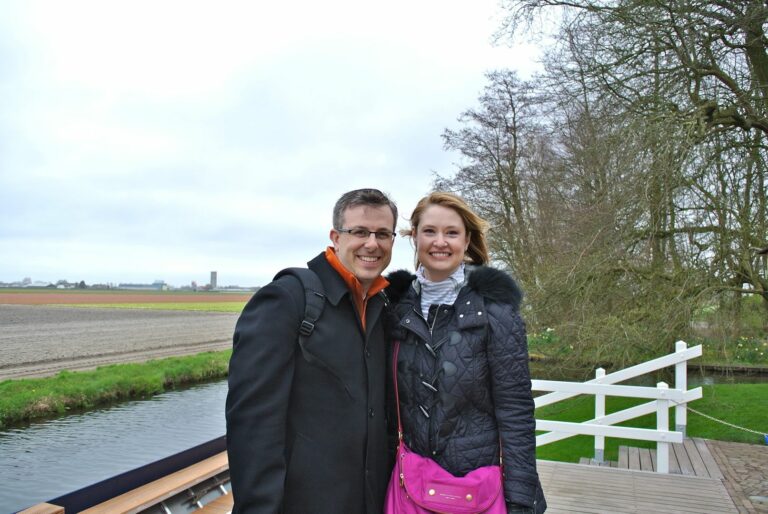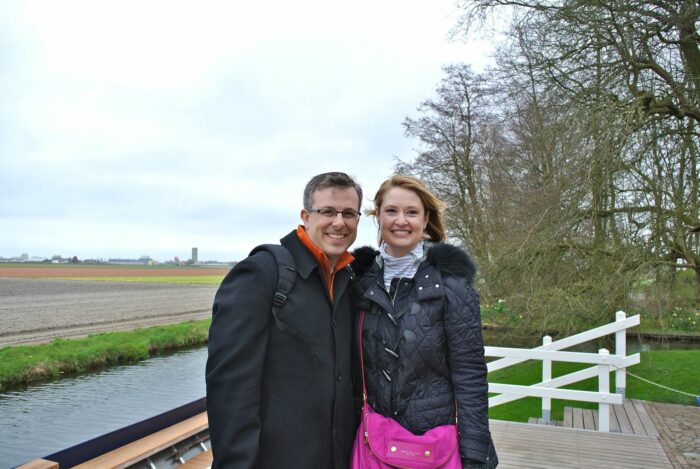 After wandering around Keukenhof for a few hours we took the bus back to Leiden and decided to explore a bit before heading back to Amsterdam. Leiden is a college town and it really had that feel. Lots of students everywhere.
Leiden: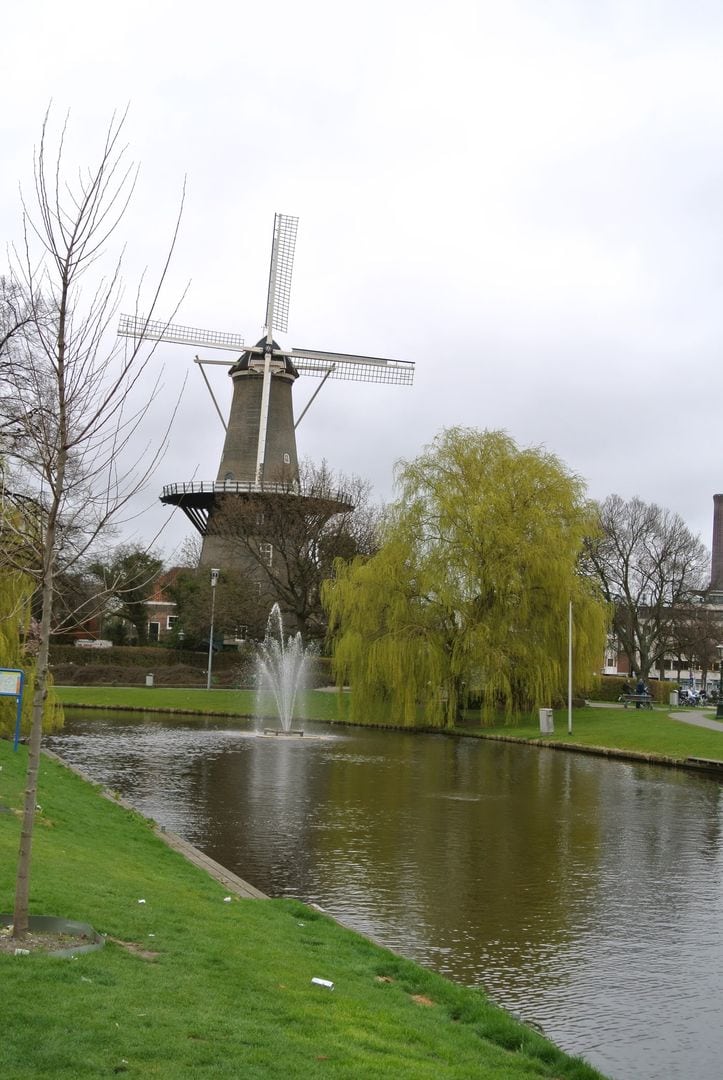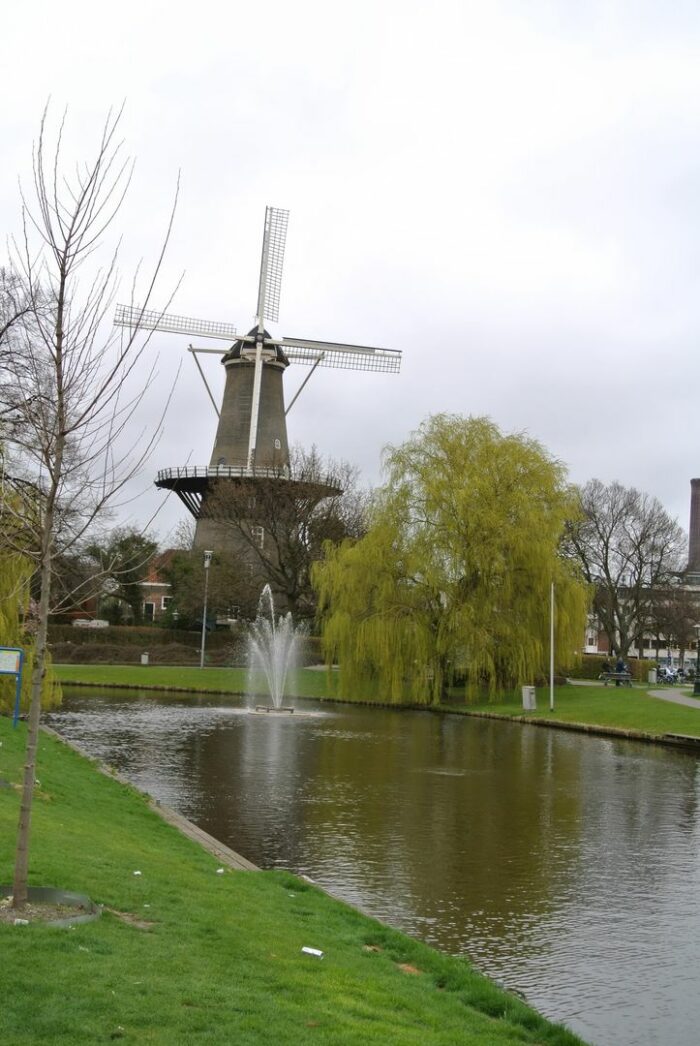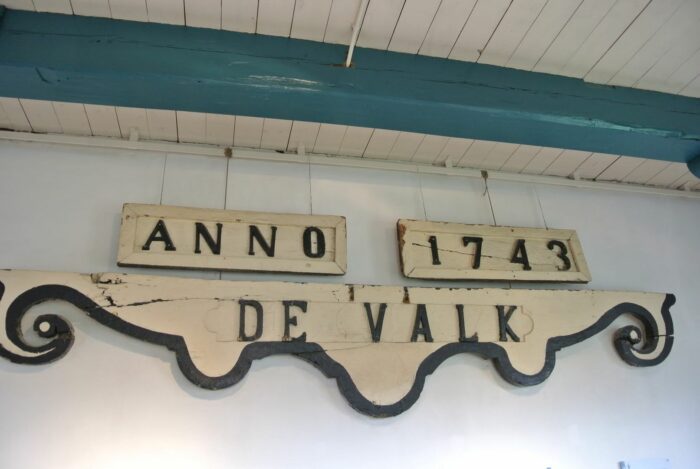 We decided to climb to the top of the windmill. Getting up was easy, however, they did not warn you about coming back down!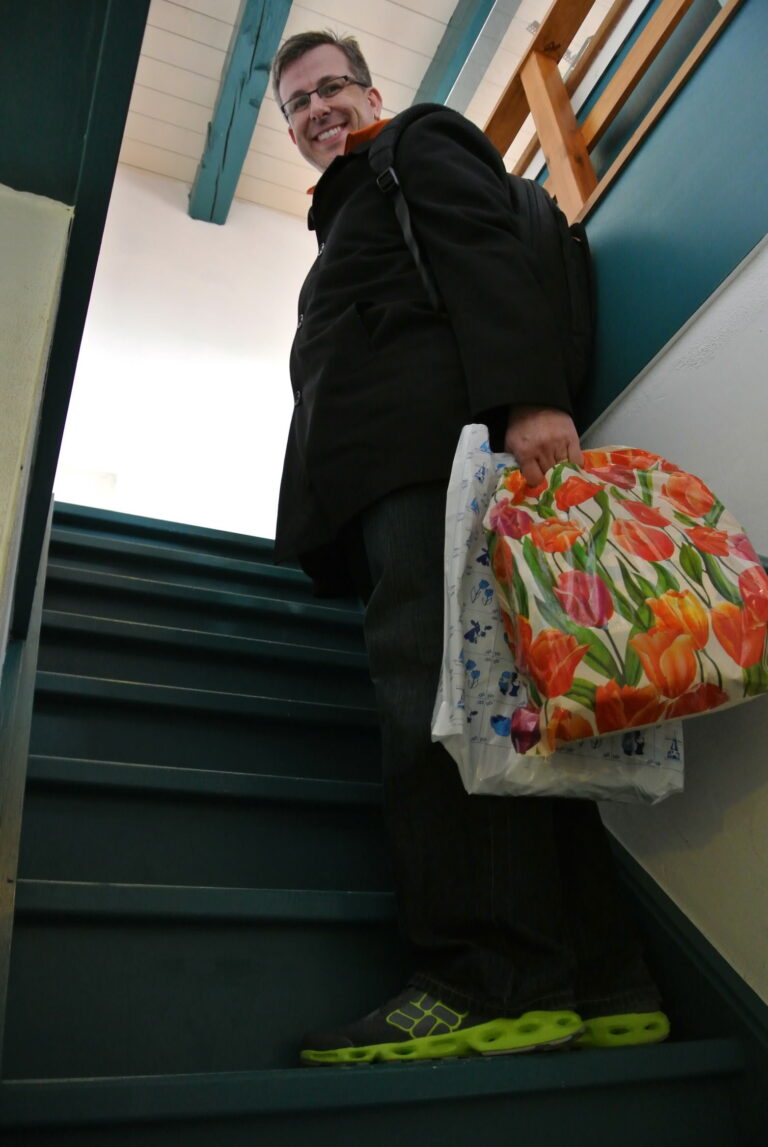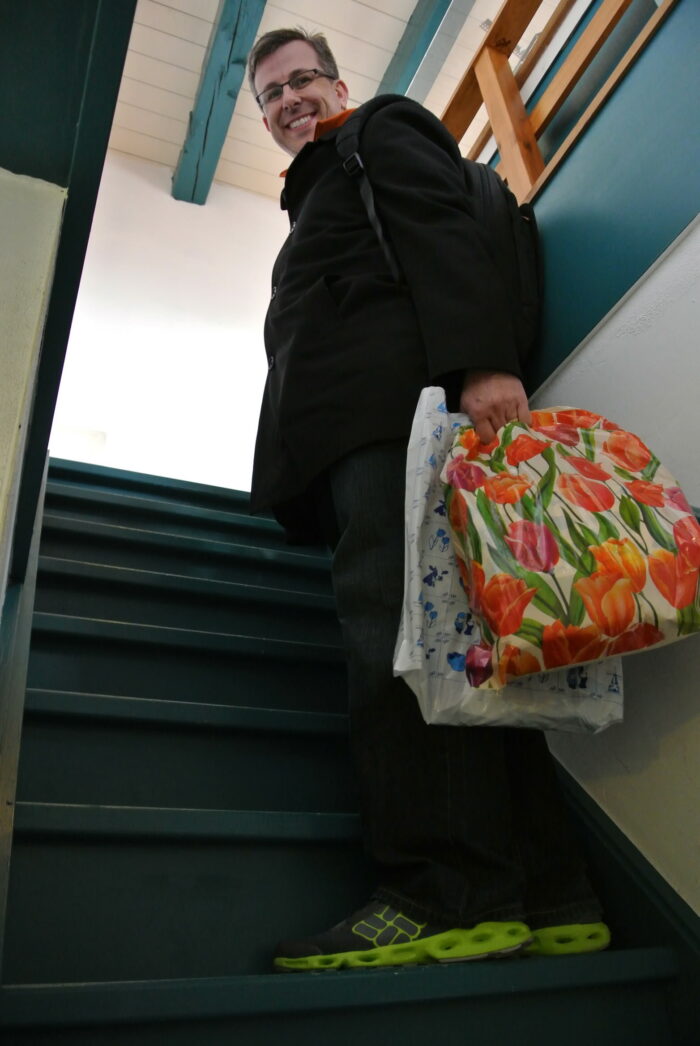 We climbed all the way to the top— and I mean THE TOP. Then proceeded to climb down. To call them stairs would be generous, they were more like fancy ladders. It was a bit tricky maneuvering down backward but we managed with more than a few giggles along the way.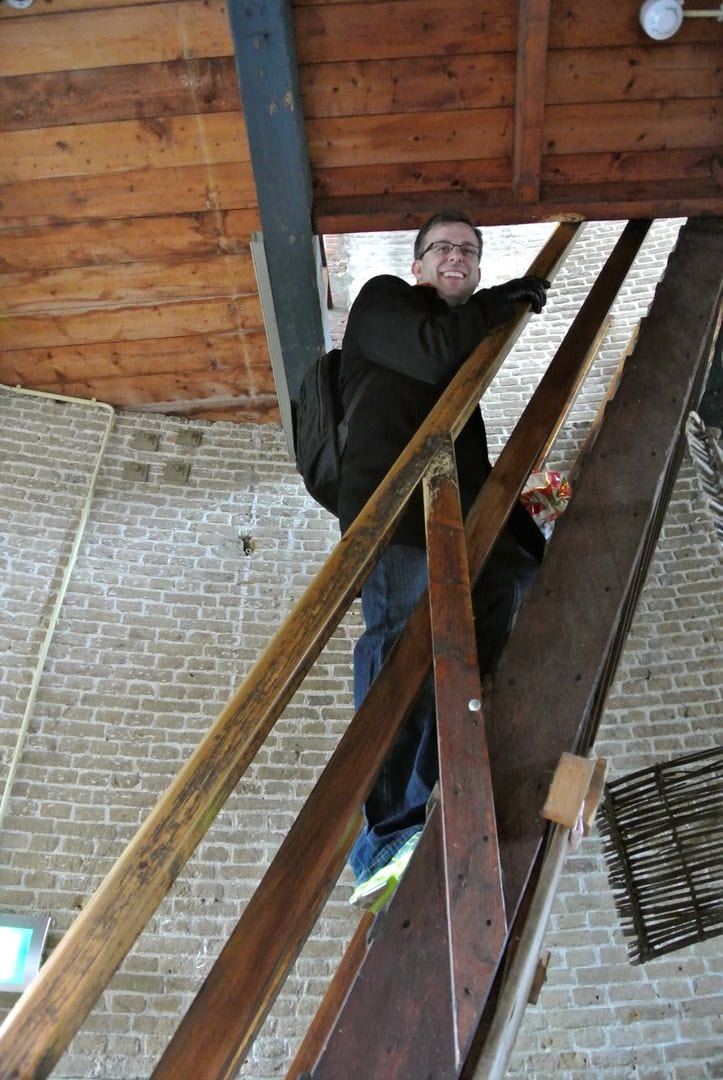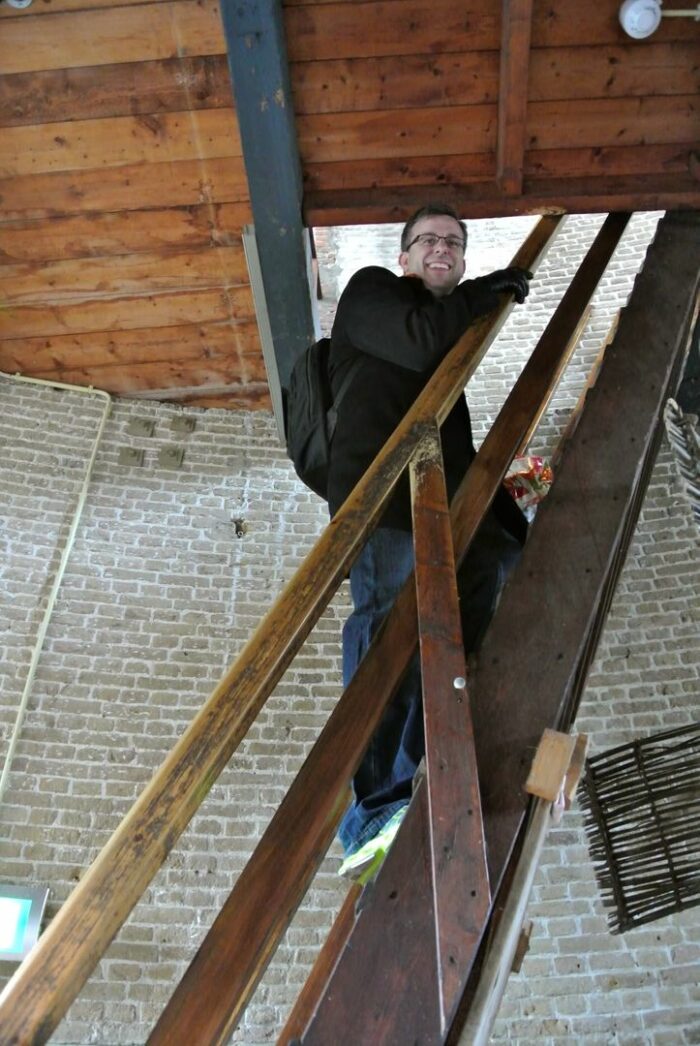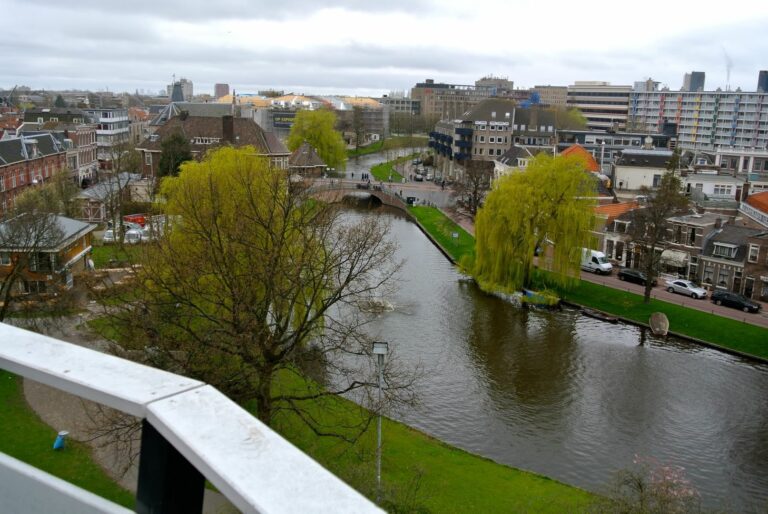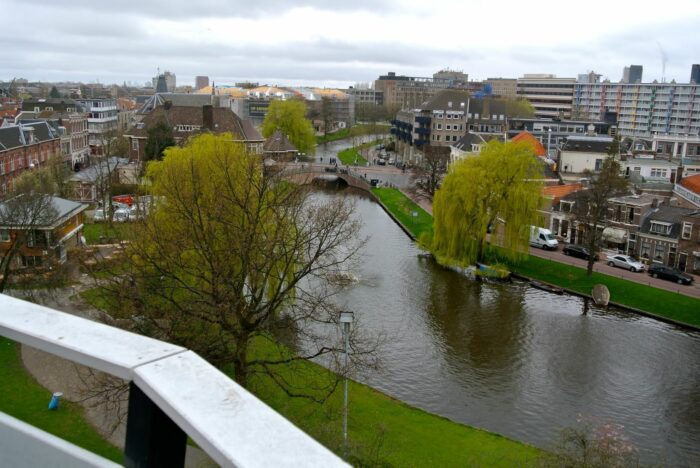 Next stop: Amsterdam and the Van Gogh museum
Back in Amsterdam, we arrived at the Van Gogh museum and quickly found out that it was Van Gogh's birthday – a full celebration was planned. I think the place is pretty crowded all the time, but it did seem unusually crowded to me… this could have been why. Along with viewing the artwork in the museum you could also decorate a cupcake for Van Gogh in honor of his birthday … clever and fun.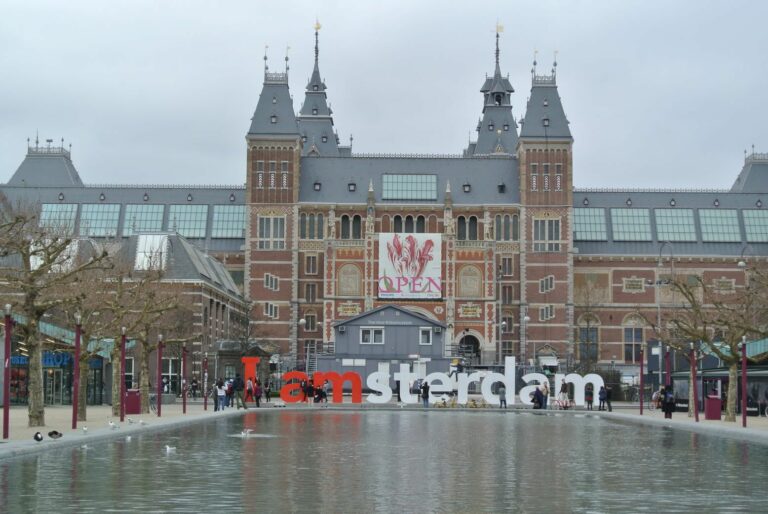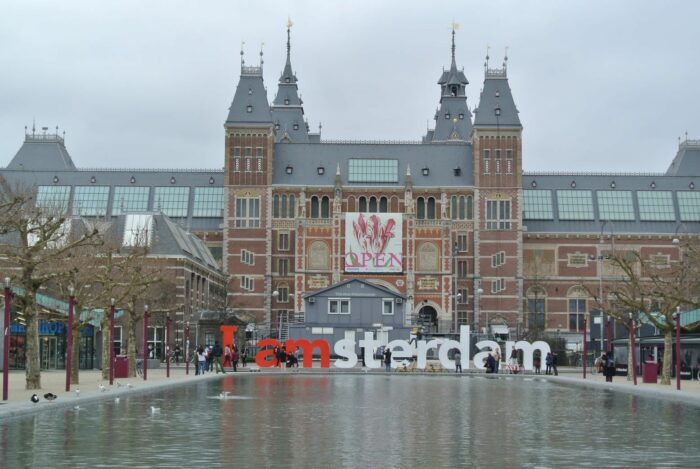 Okay…. so here's where a little bit of serendipity finds it's way into our day.
We are almost done touring the museum- I'm tired and my feet hurt. I sit down on one of those giant benches in the center of the gallery. A few minutes later a group of teenagers comes and sits next to me.
I notice they are all wearing BYU sweatshirts. My alma mater. I assume that they are from Utah or are members of the Church of Jesus Christ of Latter-Day Saints like myself, and strike up a conversation with them.
Here are the "cliff's notes" of our conversation
Me: "where are you from?"
Them: "Utah"
Me: "Why are you here?"
Them: "We're on Spring Break"
Me: "oh, does Utah get Spring break now, I grew up there and we used to not get it"
about this time the kids turn to their Dad who I'm sure is wondering who this person is talking to his kids… and ask him about Spring break…
At the same time, my husband wonders where on earth I disappeared to … and finds me.. on the bench talking the kids.
Next thing I know, Jeff is talking to this kid's Dad… after a "huh" moment… I realize… they know each other.
During the time my husband lived in the Netherlands on his mission, he lived in several cites. He would live somewhere for a few months then move to another city. Changing roommates as he went.
Of all of these roommates, he doesn't remember very many and I've not met hardly any of them.. But one of the ones that he does remember and I remember meeting was John. They were roommates more than once during their time in the Netherlands.
Guess who those kids Dad was…. John…there he stood in the Van Gogh museum with his kids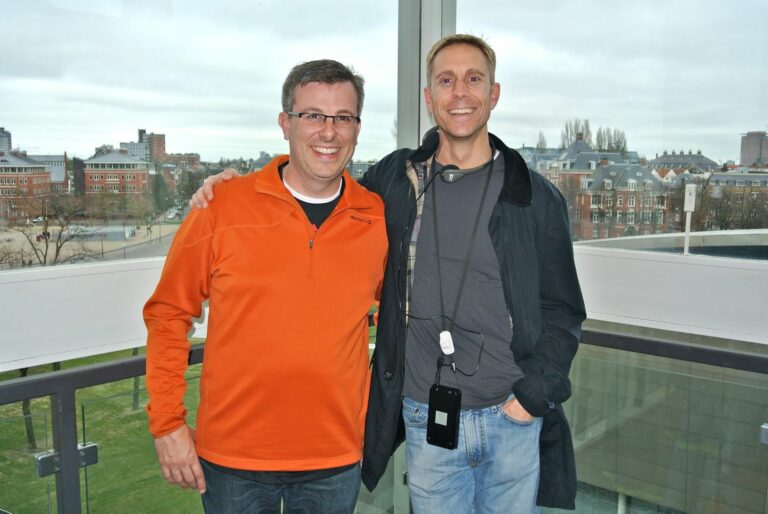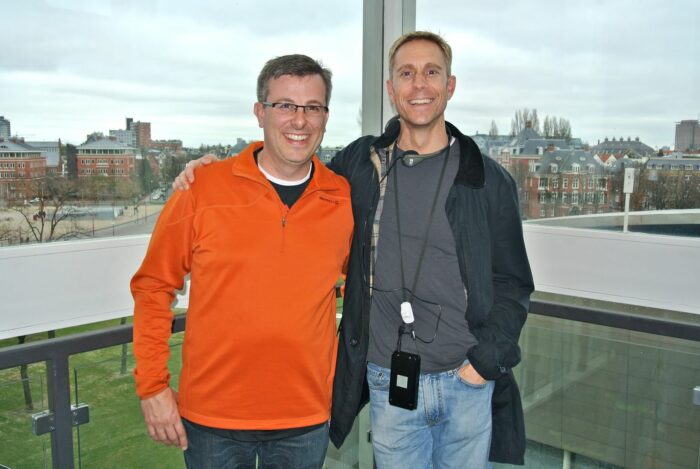 Jeff's old roommate from his time IN the Netherlands… here talking to us.
We all just stared at each other for a few minutes hardly believing our luck. (although I don't consider it luck or serendipity, something more spiritual).
John was there with his family and some friends touring the city for Spring Break, it was also his first time back in 20 years. We all managed to not only visit Amsterdam the same day but end up in the Van Gogh museum at the same time!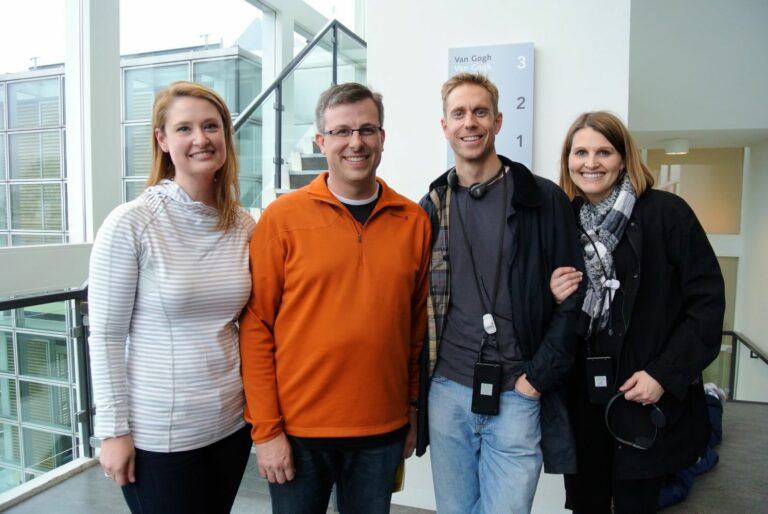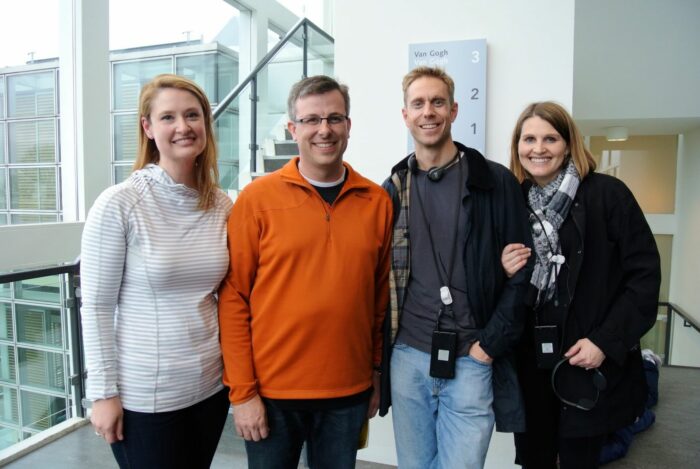 We spent a few minutes catching up and snapped some pictures- then all went on our separate ways…. still a little dumbfounded.
Rijsttafel:
The last thing on our agenda for the day was to eat at Rijsttafel. I could dedicate an ENTIRE post just to this meal.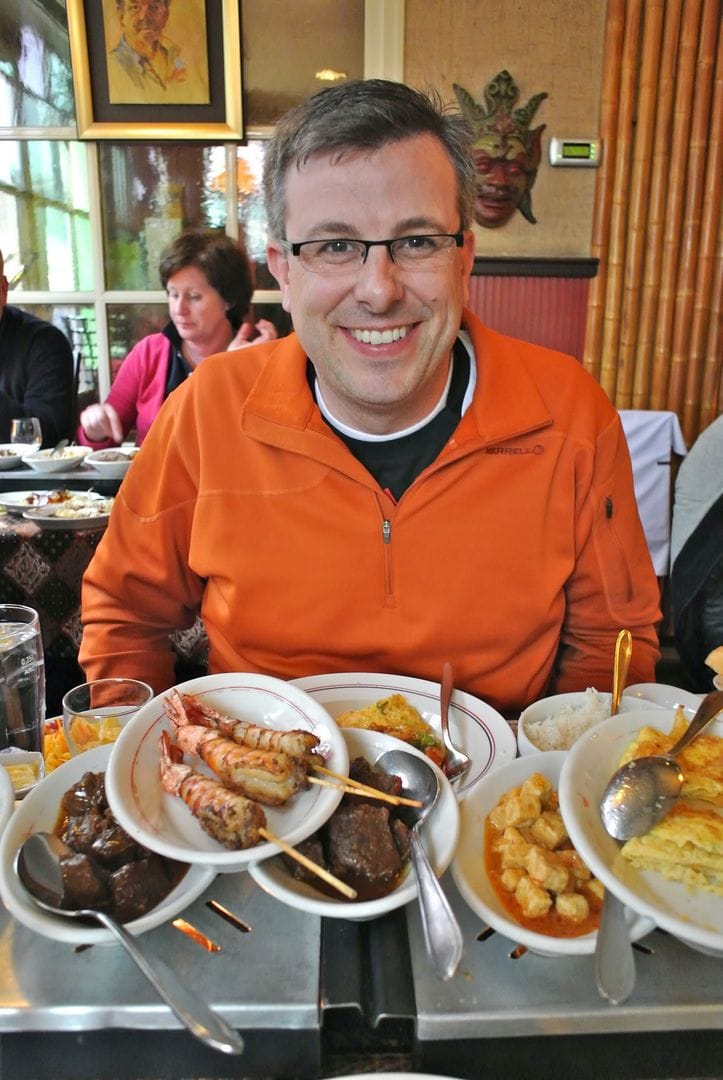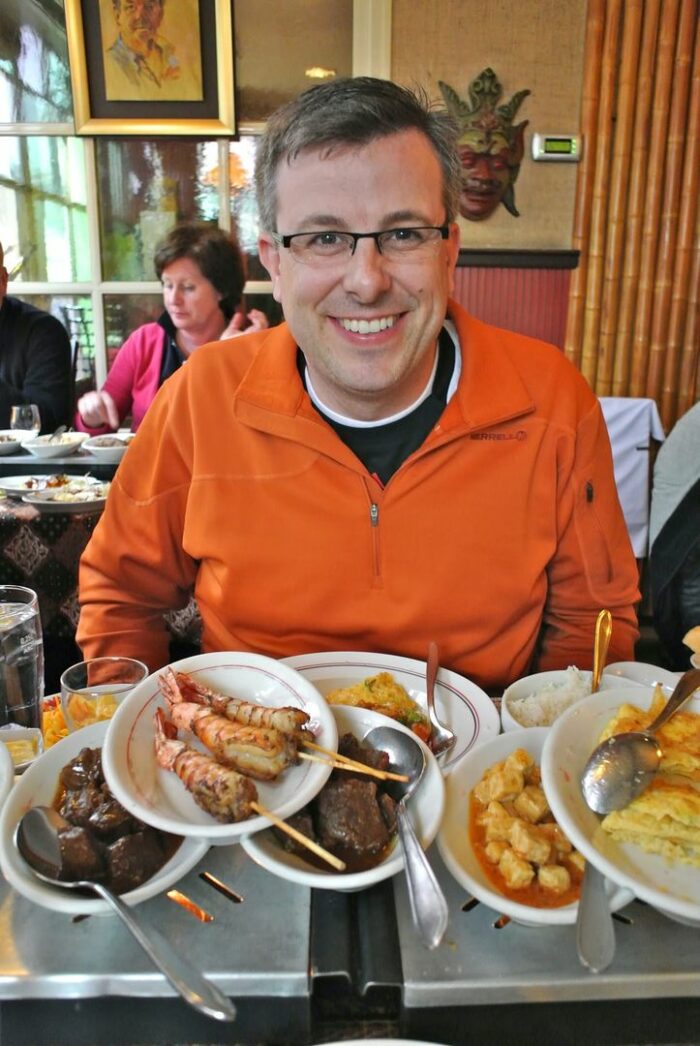 Basically it's Indonesian food that is served only in the Netherlands… you can read more about it here.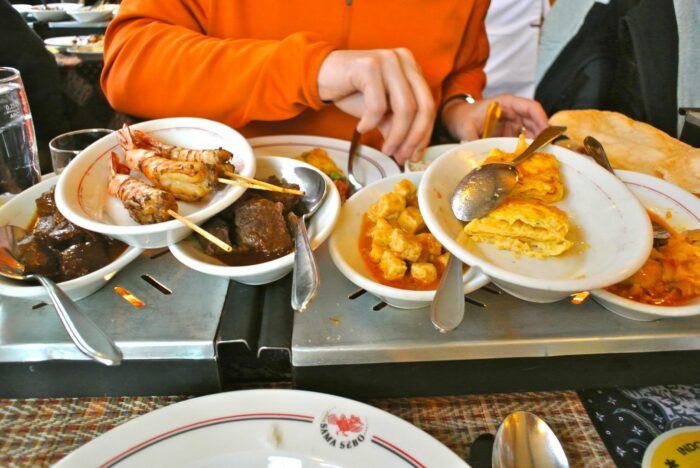 You get small bites of many different dishes (similar to tapas, but you don't pick your food, they just bring it all to you.
>Flavors of curry, coconut, sambal, cucumber, & peanut…. incredible.
One of the best meals I've ever eaten. period.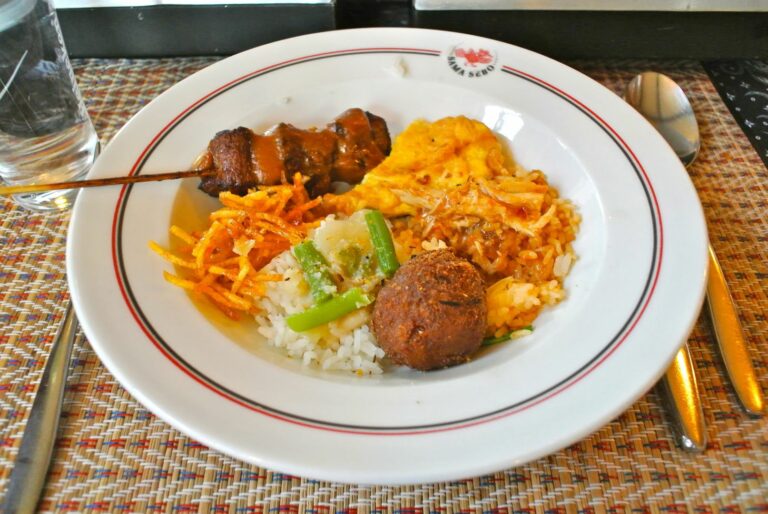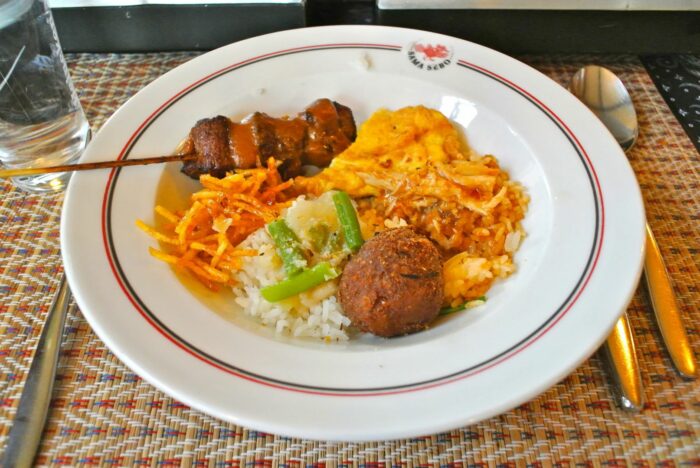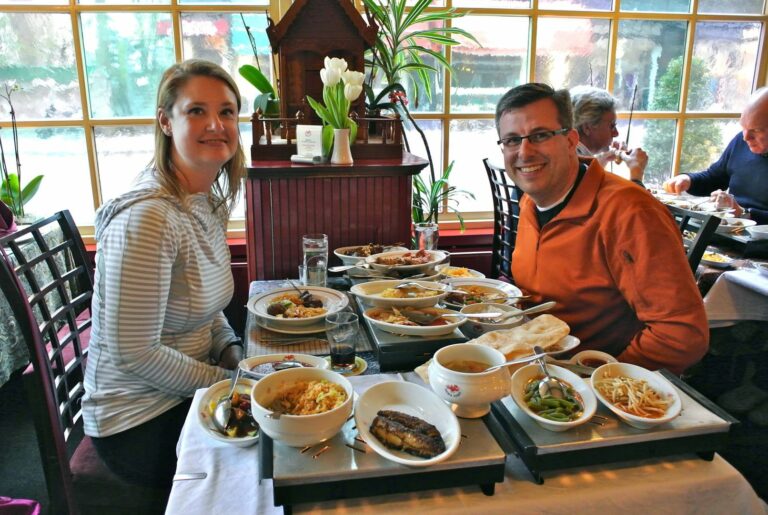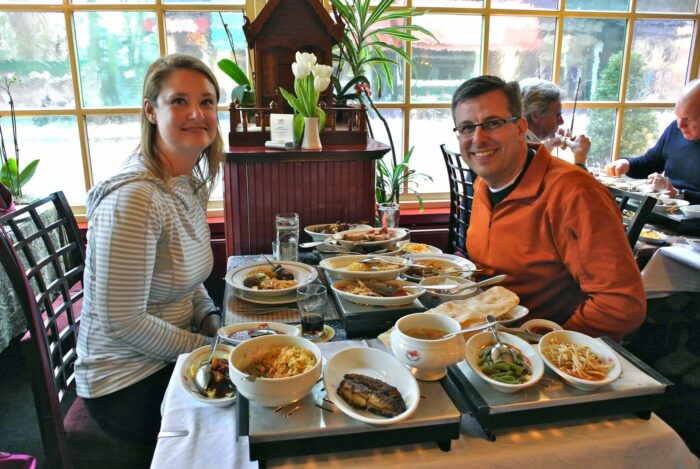 We ate it all and headed back to our hotel, with happy hearts and full stomachs.