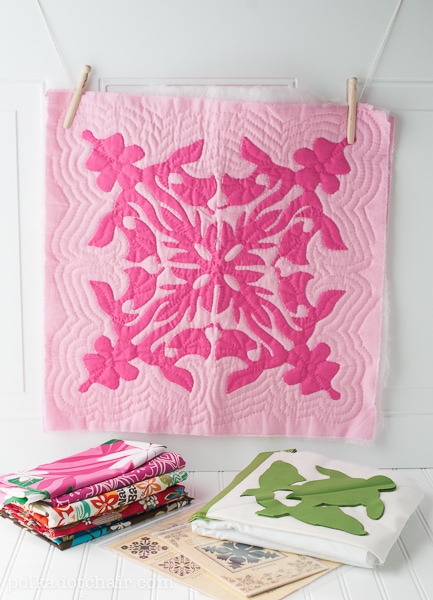 One of the things I was especially excited to learn about on my recent trip to Hawaii was the art of Hawaiian quilting. I've always loved the bold colors and simple designs of Hawaiian quilts. Since I know that many of you love quilting and fabric as much as I do, that you would not mind if I shared  some of the things I learned and picked up on my trip.
I really wanted to buy a quilt when I was in Hawaii, but I was pretty sure that once I got there it wouldn't be possible.  Since the quilts are all appliquéd and quilted by hand I figured that the price would reflect that. It did.  We only stumbled on one shop that sold the quilts and they were the price I thought they would be, which was too much at the time.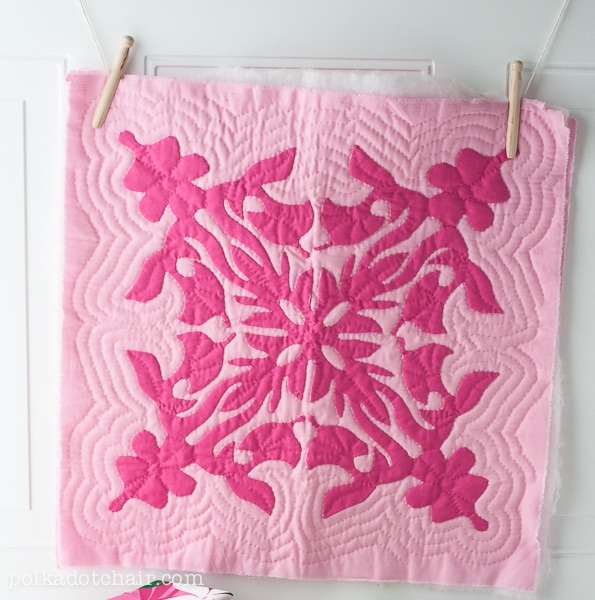 The bargain of the trip turned out to be found at the Polynesian Cultural Center. In the park there was a booth dedicated to Hawaiian Quilting. There were some women there to answer questions and teach a little bit of  the technique. It turns out they were selling one of their completed pieces for $40.  Considering the amount of time and handwork that went into it, I thought it was a bargain.   It's that gorgeous pink quilt square you see in the photo above. I can't wait until I can finish it and put it in this room, as it matches PERFECTLY!  SCORE!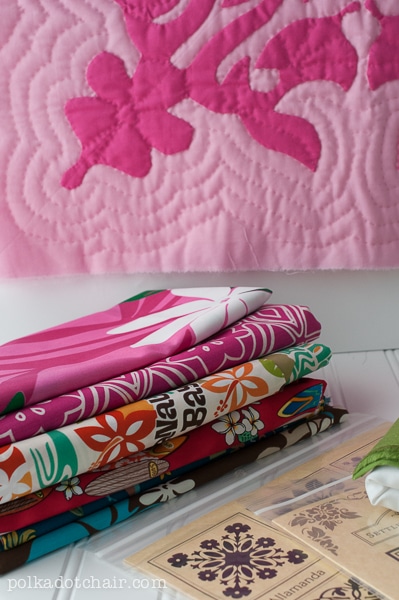 Besides the quilts, I also loved all of the print fabric that was for sale at many of the booths and shops we stopped at around the island. I know that they are "themed" fabrics, but I thought they were especially fun.  I've got a few ideas for projects rolling around in my head.
Here are some of the quilts that I found as we toured the island. The one is an actual all hand sewn Hawaiian quilt hanging in the Polynesian Cultural Center.  The detail on this quilt was amazing. I can only imagine the talent and patience it would take to complete a project like that.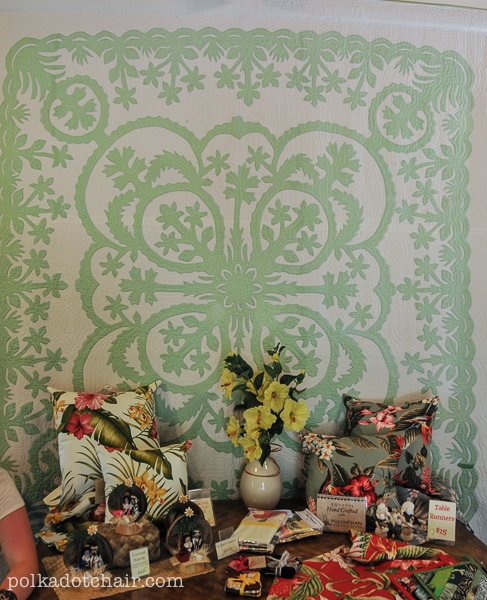 These quilts were mass produced and for sale.  Even though they were not all hand done the colors and patterns were still so striking.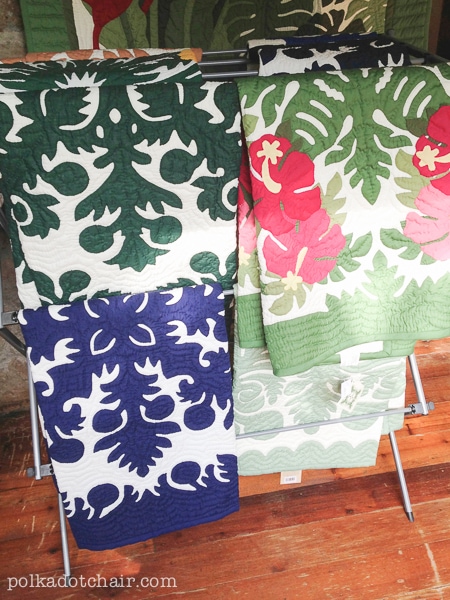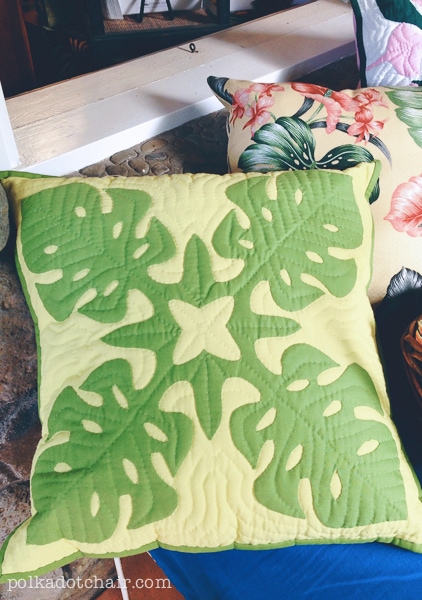 Since I got home I have decided that I am determined to tackle a project.  I'm going to start with a pillow that I picked up in a kit. I also grabbed a few appliqué patterns.  I'm going to hand quilt and appliqué the pillow, but part of me is wondering if the "quilt police" are going to come and shoot me if I attempt to machine appliqué a project?  Maybe a fun bag or simple blanket? I don't know we'll see… if I do I'll be sure to share it with you.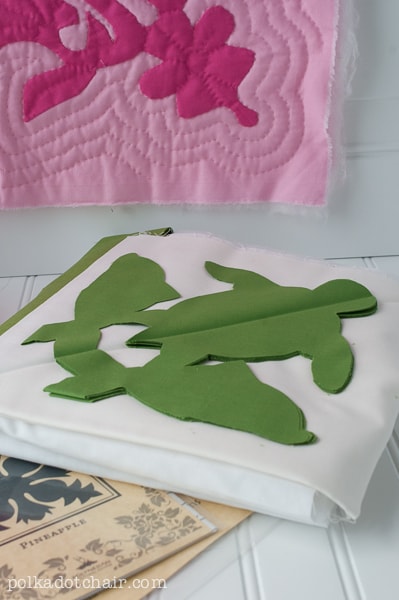 Since I've been home I've been googling tutorials and projects using the Hawaiian Quilt techniques. I thought I'd share with you some of the ones I've found. If you have one leave a link in the comments.
Quilts Hawaii Instructions
Quilted Hawaiian pillow cover at Martha Stewart
2 for 1 Hawaiian Applique on Youtube
Supply List for Hawaiian Quilt at Quilt University
Free Hawaiian Quilt Patterns
Hawaiian Quilt Making process at Minick & Simpson