Today I'm sharing with you some Laundry Room Shelving & Storage ideas that have worked well for me in my home. If you like this idea, you may also like this project on how to build your own mudroom lockers.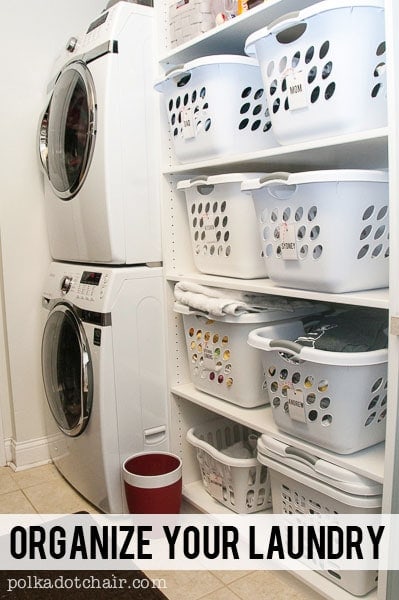 Today I'm going to take break from sewing and crafting, to share with you some Laundry Room Ideas!  A few years ago I posted about how we made our own Mudroom Lockers from IKEA bookcases for our combo laundry room and mudroom. 
Table of Contents
At the time I posted the other half of the room, the laundry side was still a disaster!  Since then I've received quite a few emails asking what we ever did to organize the laundry side of the room.  Today I can finally show you what we did!
How We Organized our Laundry Room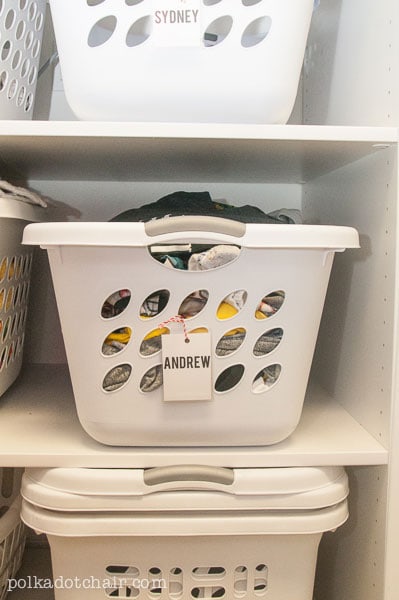 room has zero natural light— these are the best photos I can get, you'll forgive me right?
I'm not a naturally organized person, as I'm sure you can tell from the photo below. With this in mind, I can tell you that we've found a Laundry Organization system that works for us, and if it works for us well then it will probably work for anyone.
Before I explain what we did, here's a quick review of the disaster that was our Mudroom & Laundry room.
The Before
Yep not pretty. Inadequate shelving, a bad color and that's the door to the garage. The other side of the room (if you can call it that) leads to the kitchen. Bad design. We fixed the first side with Mudroom Lockers that we built ourselves.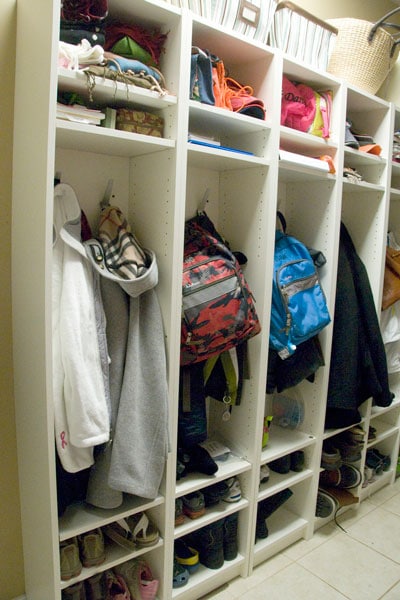 Many years later they still work great and I have no plans to change them.
The Laundry side of the room just got finished this summer. The hold up was the washer and dryer. To implement my "grand plan" I needed a stackable washer and dryer. It took 3 years to convince the hubby of my evil plan. Finally this January we took the plunge.
Step One: Paint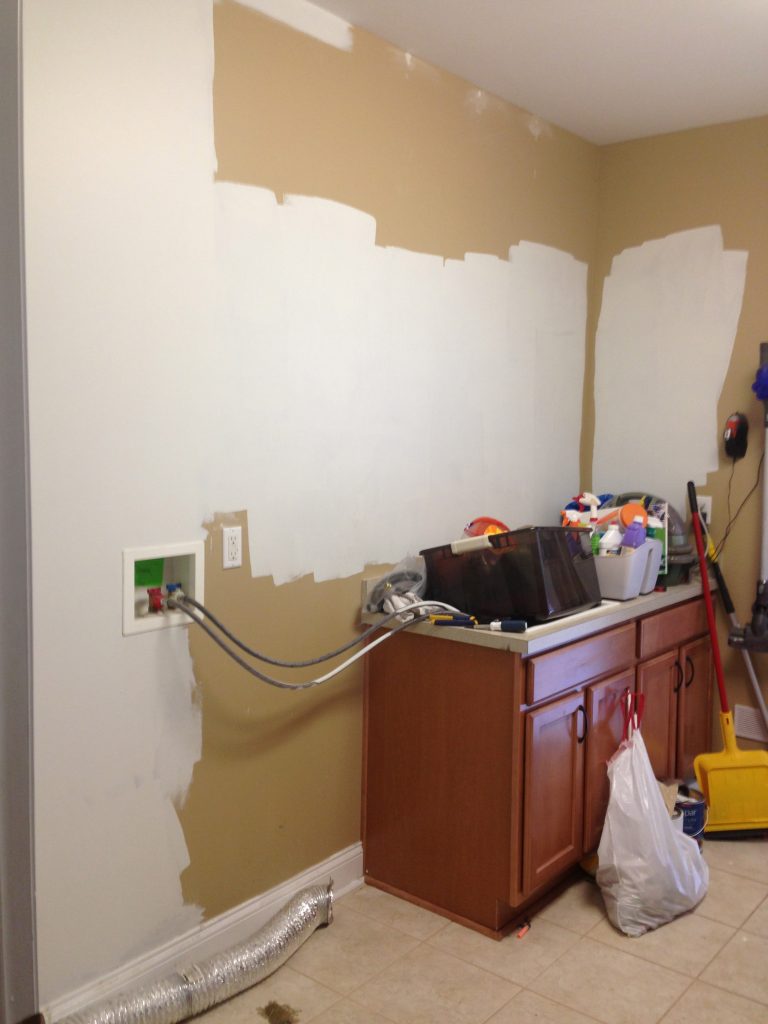 After the washer and dryer the next step was painting the cabinets and the room. I chose blue for the cabinets and white for the walls to give it a clean look.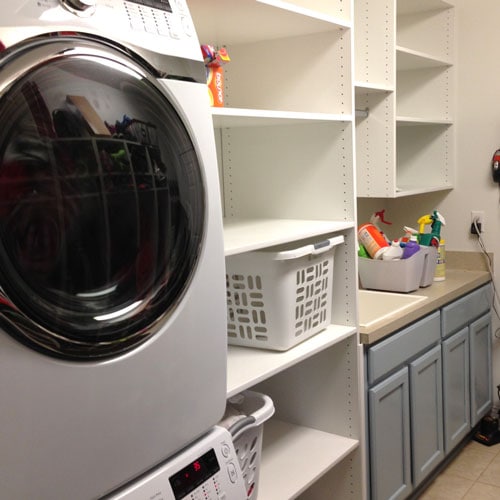 Step Two: Built In Cabinets
Next up was cabinetry. As much as I wanted to use IKEA shelving for this project I could not find any that would fit our strangely shaped room.  
Instead we had a local closet company come out and build in shelves. It was great because I got exactly what I wanted in the exact size I wanted! I just picked the "budget" grade shelving and it did not turn out to be as expensive as I thought it would be.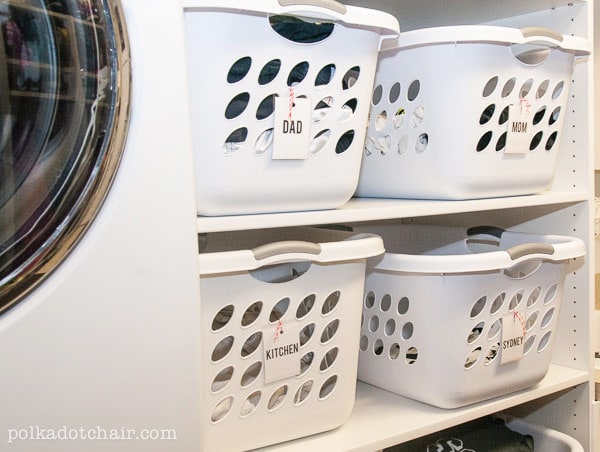 Everything's done now and here's how the system works.
How our Laundry System Works
Everyone has a basket. They are now labeled (after a few, "that's not my basket!! " incidents). I just attached laminated cards to each basket with some twine. I wash and dry the clothes then fold them right out of the dryer! That's the trick for us, no throwing clean laundry in a basket and hoping it will get folded eventually.
The kids then take their baskets, empty them and bring them back downstairs. Sometimes they skip a step and leave the basket in their room, but they are still learning.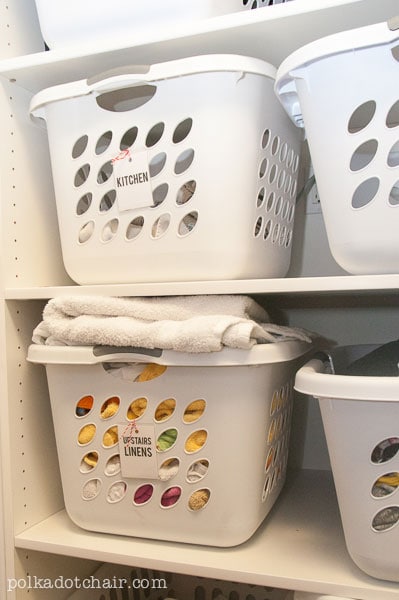 There's also a basket for Linens, Bathroom items and Kitchen items. As you can see the kids need to take their linen basket upstairs to empty it.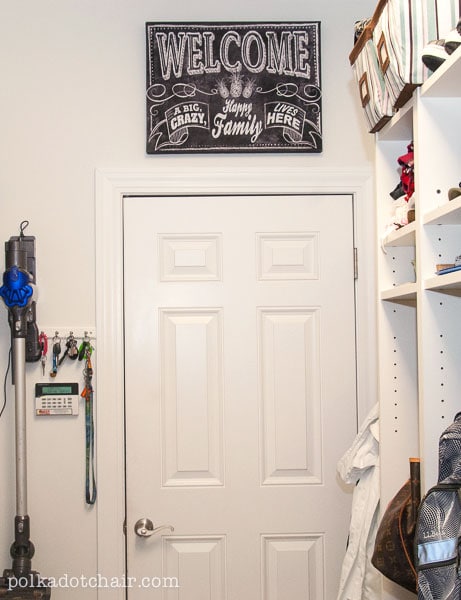 Here's a shot looking into the room, the laundry is on the left and you can see our IKEA mudroom lockers on the right.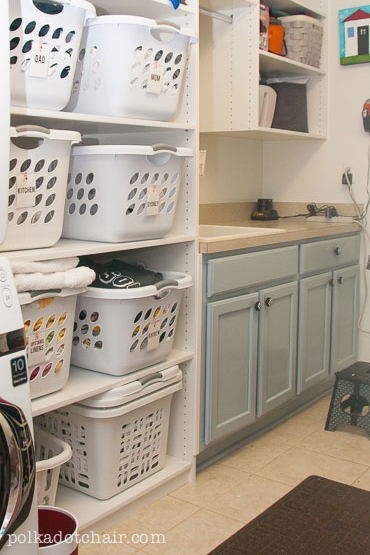 I love the blue cabinets! This room gets zero natural light and the lighter cabinets and white paint really help to brighten up the room.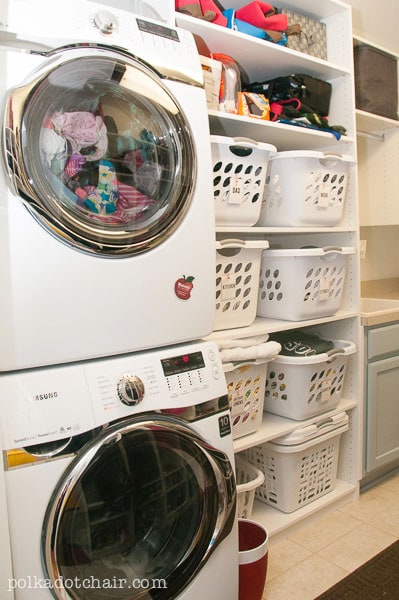 The top shelves are for laundry detergents, reusable shopping bags and lunch boxes. We've got plenty of shelving and haven't even filled it all up yet.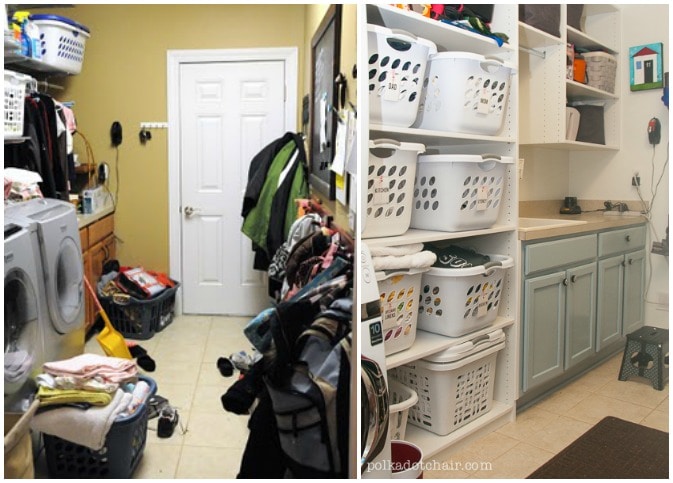 When you see the before and after you can see how much better the room functions now. I am SOO glad it's done. That room is the main path into our house and it would stress me out every day to see it such a wreck!  It's not perfect, sometimes I still get behind on laundry, but so far it's working much better than before. Which means, less time doing laundry and more time for other things.
If you're looking for other DIY Laundry room Ideas, my friend Mique has several on her blog.