Learn how to make your own Mudroom Lockers using IKEA Bookcases! It's a great and inexpensive IKEA Hack. If you like this post you may also like this article on Laundry Room Storage Ideas.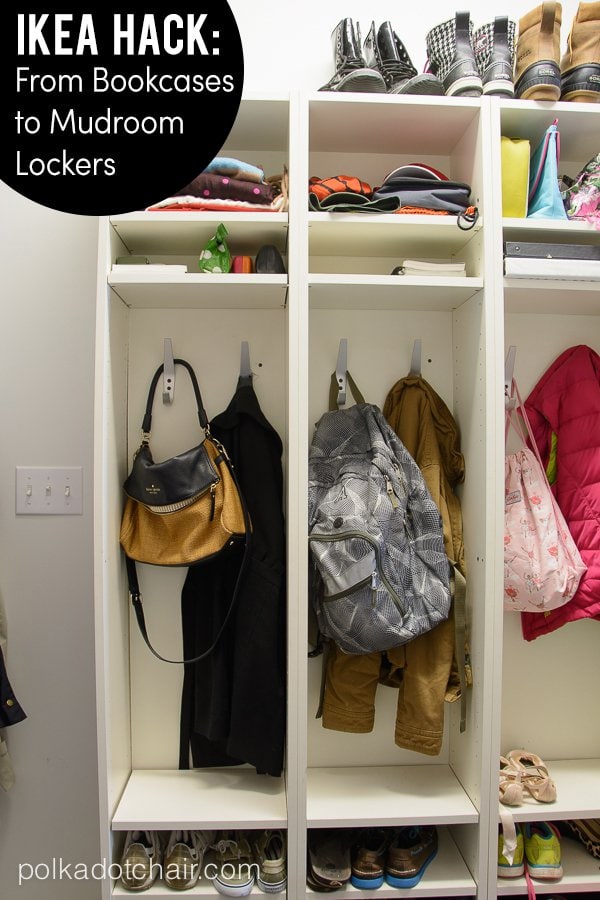 I really really love IKEA… I think I've said that here before, but it's worth repeating.  The thing that I realized I like about IKEA is that most of their stuff is simple, making it very easy to adapt to different purposes.
Since my motto for the month on the blog is resourceful I thought I'd share with you how we made lockers in our mud room easily and inexpensively using bookcases I found at IKEA.
The photos are not great, it's a very narrow room with terrible light and even with a separate flash is very hard to take photos of.
This is our mud room right after we moved in, it was not working for us. It's a combo mud room/laundry room and is way to small for our family.
This is it before…. It's just a hallway that leads from the garage into the house.  It drives me crazy and is the one thing I would change about my house if I could…
Now I will say, the laundry side of this room is still NOT working for me. It's one of my big projects for  2011 to figure out what to do with it, but I have NO idea… open for suggestions on that one.
BUT
the mud room side thankfully is now working for us. I'll show you what we did about a year ago, and it's still working great.
such a narrow room it's really hard to get a good photo of it
Since the room is narrow and most "pre made" lockers are wide at the base, none of the ones that I found  online and in stores would work for us.  They would all just stick out too much from the wall and you could not walk through the room.
Then one evening while I was perusing my IKEA catalog I saw this… It's the Billy bookcase, and it's only $34 for the size I needed.  It would have been ideal to have someone come and build us custom lockers but it wasn't in the budget at that time.