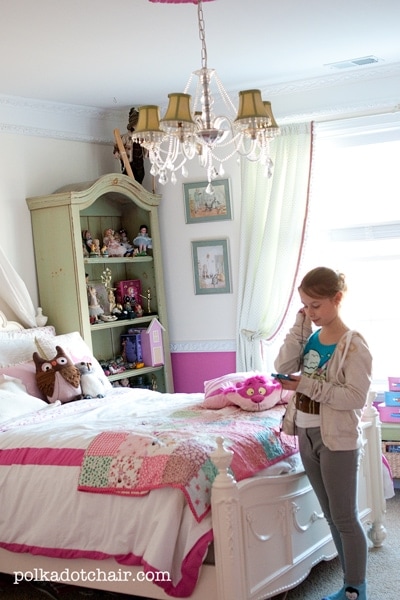 We have been in our home long enough that it seems like it's time to go through and do some "tweaking" to a lot of the rooms. This pink girls bedroom was one of those rooms.
It's  my daughters bedroom.  When we moved in we installed what I call "wedding cake" chair rail and crown molding. Then  painted her room light and dark pink.  She loved it.  Now that she's a bit older it seemed time to transition her room for a slightly older girl.  (You can see photos of her room before here).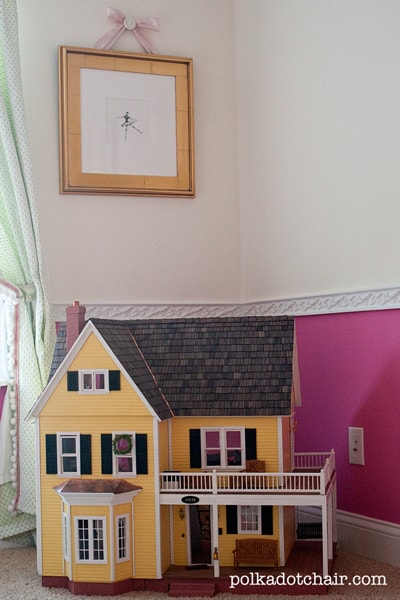 We changed only the top color of her room from pink to a warm white (color is Mascarpone from Benjamin Moore).
Then just a subtle refresh of some accessories, but not too much new.
I walked into her room Saturday and it was clean! I about passed out! I knew it wouldn't last long, so I grabbed my camera to snap a few photos.  It does not always look like this! But since it was clean, I thought I'd share a few of the details about the room with you all today.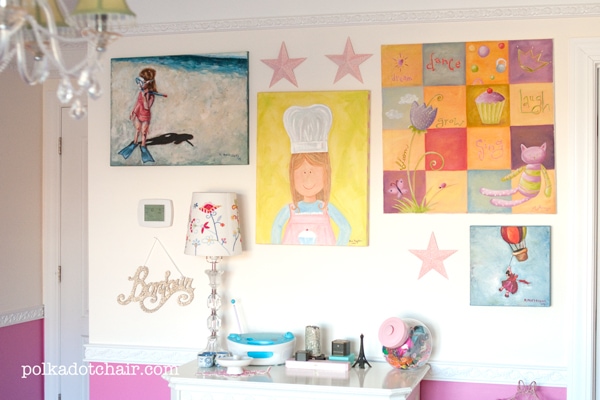 I started a gallery on one wall.  The cute portrait in the center was a gift from painted by my sister in law, and the others were painted by me. I still need to collect a few little items to finish out the wall.. maybe a few round mirrors? Or a couple of tiny paintings?
This bed canopy was built from a planter, ribbon and IKEA drapes.  I just hung the planter upside down on the wall. I then sewed ribbon to the top of the IKEA drapes to attach the drapes to the planter.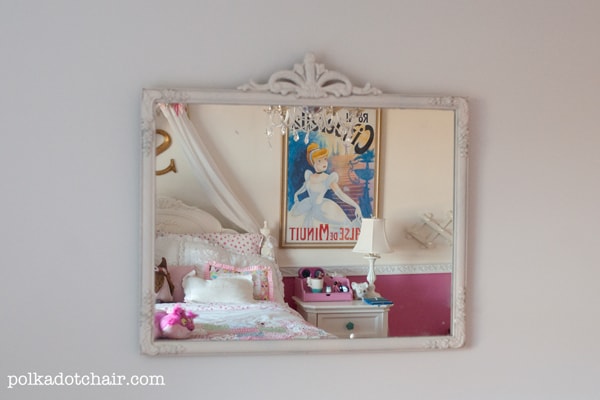 This mirror was originally gold (which in hindsight, might have worked in the room but it was really beat up). I spray painted it cream.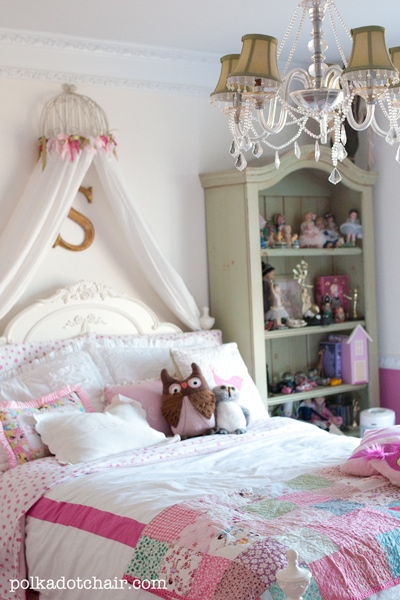 The bedding is clearance Pottery Barn Kids and Target.  The quilt at the bottom is one I made for her last Christmas.  The Cheshire Cat pillow pet we picked up in Disneyworld this year ended up matching perfectly, so he got to stay.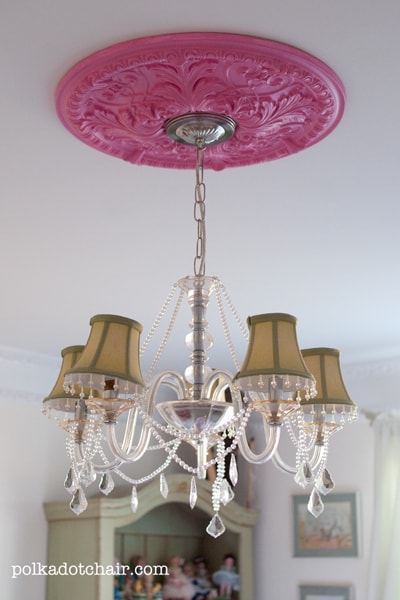 Just a standard ceiling medallion painted pink instead of white.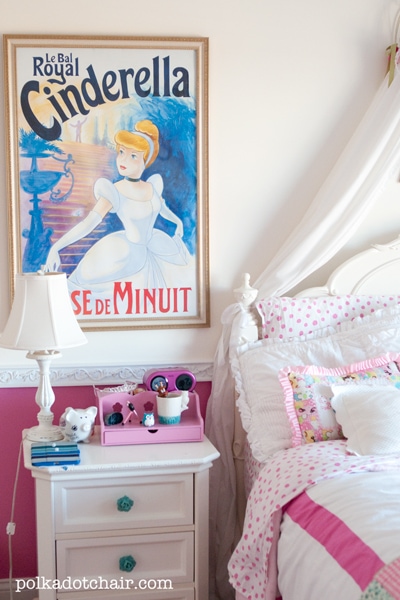 The end table is from Target. I changed out the knobs to make it a bit more dressy.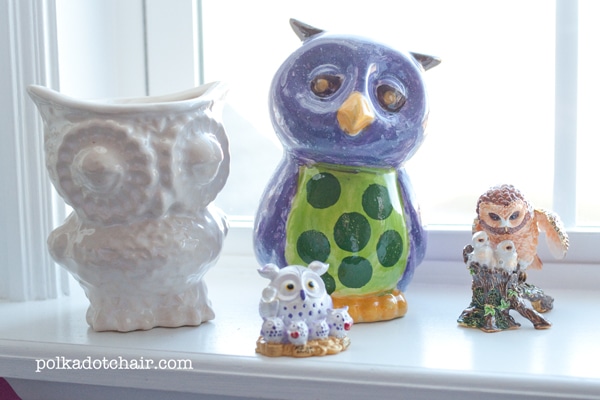 My daughter is obsessed with owls lately … so we started a little mini collection of them on her windowsill.
A few other details: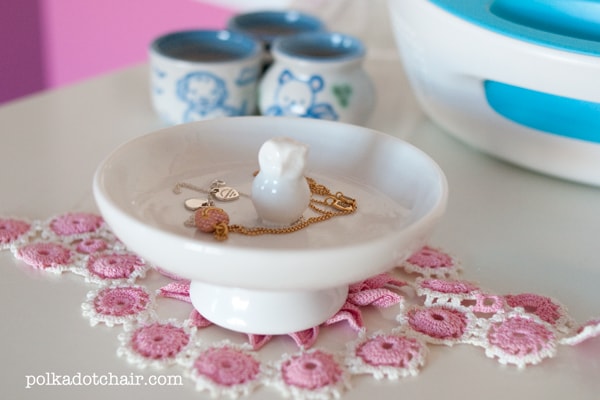 cute little owl jewelry holder and doily that was my Grandmothers.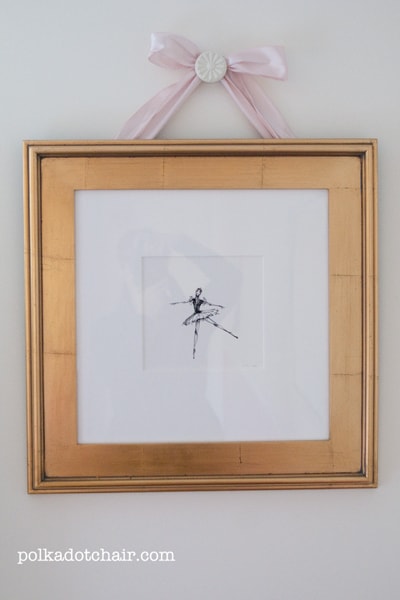 Pen and ink drawing that I picked up at St. James Art Festival last fall.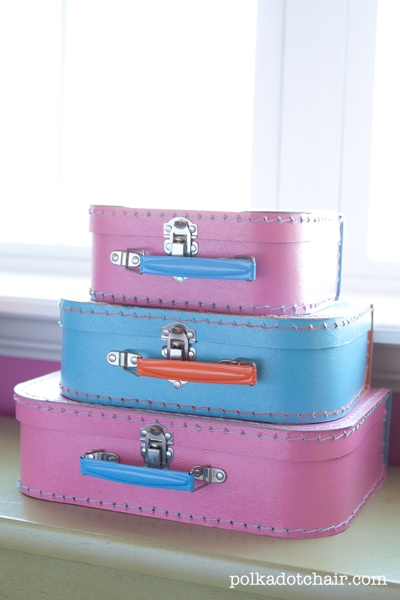 Colorful suitcases from Land of Nod to hide clutter.
I'm SOO happy with how the room has turned out so far.  I can not believe what a difference it made to get rid of that PINK! I love how easy and cheap it is to change the look of a room with nothing much more than a gallon of paint.
Next Project: Laundry Room!