This recipe for Margherita Pizza with Lemon and Arugula Salad is inspired by a dish I had in Italy a few years ago, I was excited to recreate it with the help of Bertolli who sponsored this post.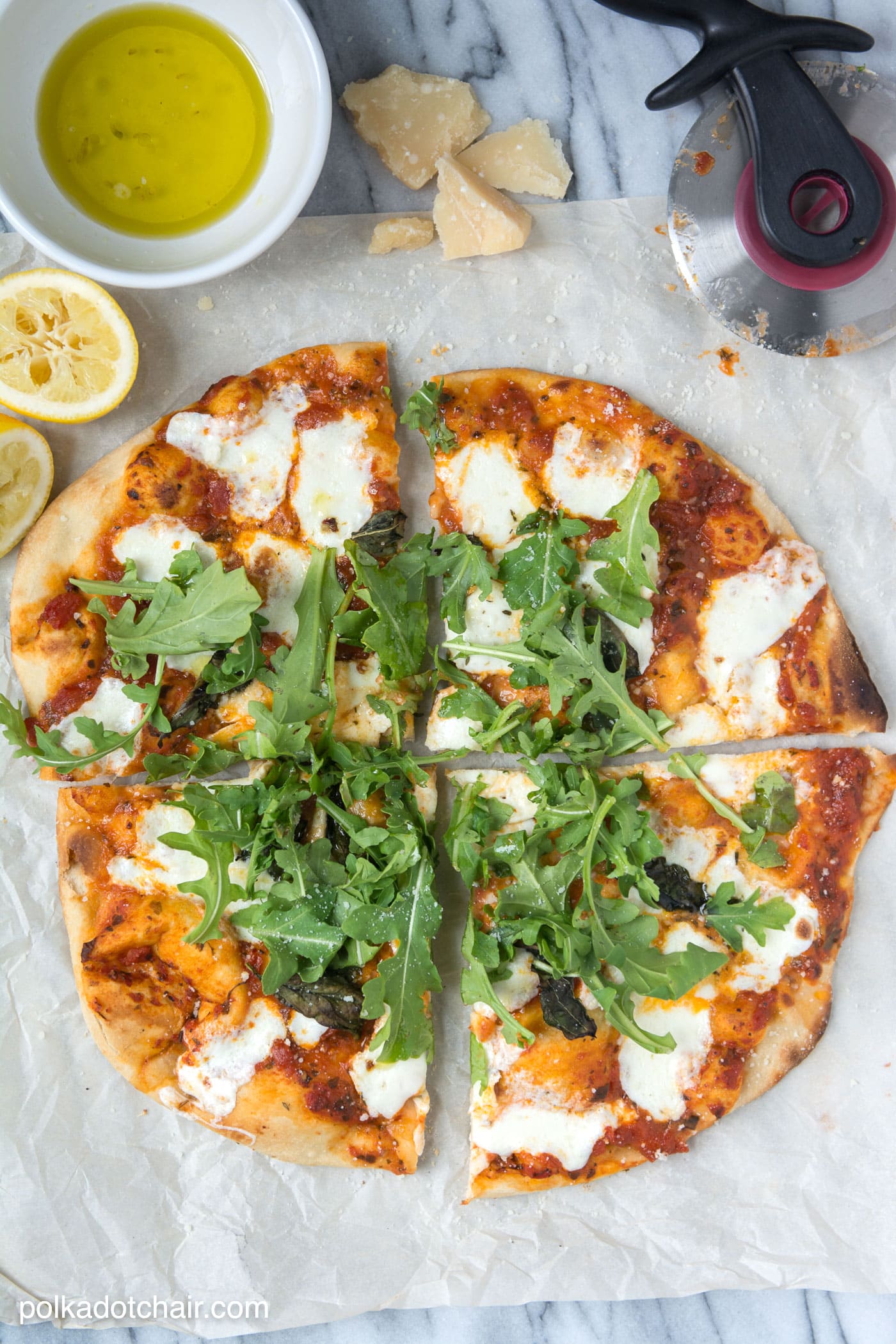 Have you ever bought one of those fancy pizza stones for your oven hoping to get thin, crispy delicious pizza out of it and all you ended up with was a big mess of cheese and sauce? It's happened to me more than one. I had all but given up on the idea of home-made pizza until a friend of mine gave me the best tip.  To me the tricky part about cooking with a pizza stone is getting the pizza (full of toppings and cheese) onto the pizza stone, then back off again without tearing the crust or making a huge mess in the process.  Want to know the trick?  Just keep reading, it's in the recipe below!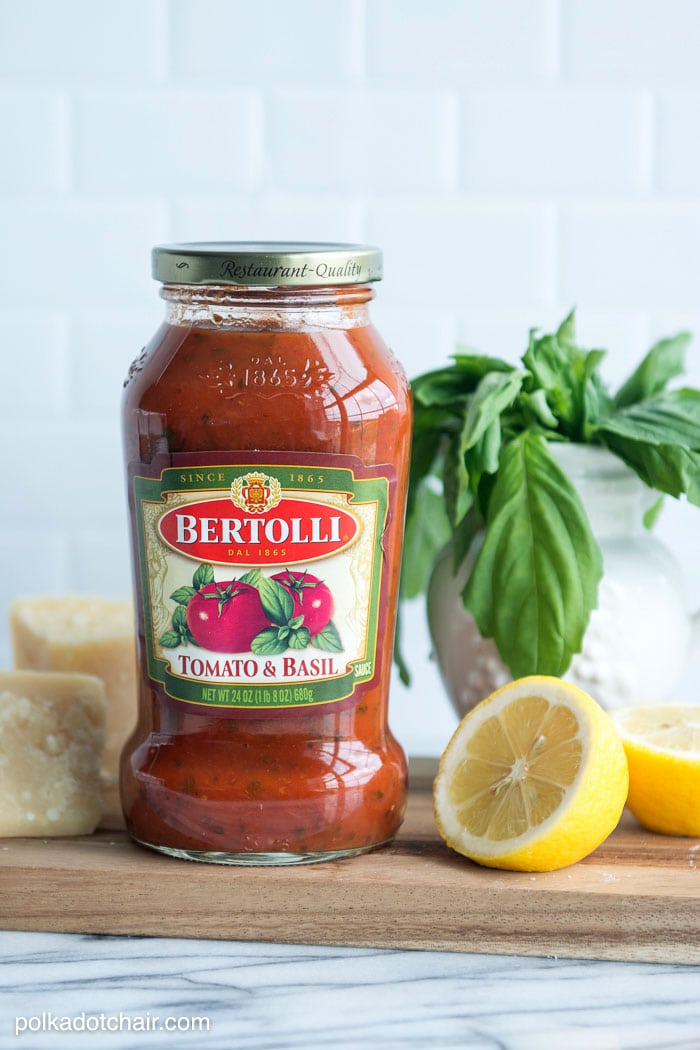 A few years ago I visited Italy with a group of family members. Before I left someone one told me "eat it all, there is not much bad that comes out of Italy", and boy were they right.  As we toured around the country we ate more than our fair share of gelato and sampled bits and pieces of the local cuisines every where we went.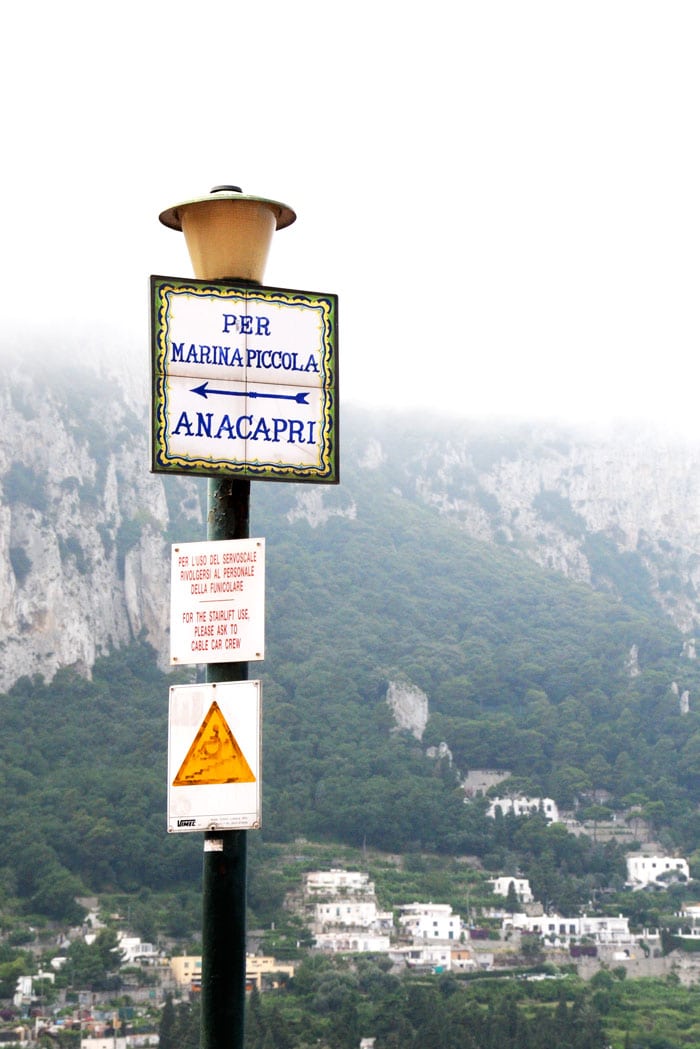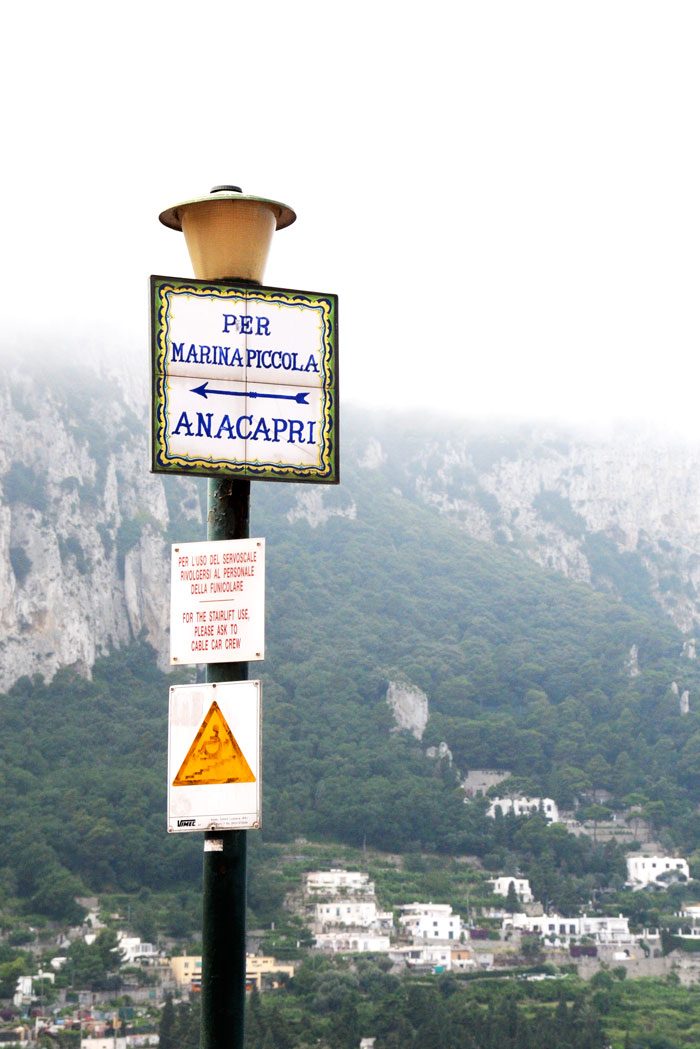 We spent one day on the Isle of Capri, which I found out while there is known for its Lemons.  There is lemon in everything there. You can sip on a lemon ice as you walk the streets munching on your lemon cookies and chocolates.  That day for lunch we had a Margherita style pizza that was served with a salad on top. The salad consisted of fresh peppery arugula dressed simply with lemon juice and olive oil. A bit of parmesan cheese was sprinkled on top to add a touch of saltiness.
For the next few weeks Bertolli is sponsoring a Taste of Italy program in Kroger stores. It will give you ideas for simple and delicious ways to incorporate Bertolli products into weeknight meals.  Ways to get a "taste" of Italy without having to fly half way across the globe.  When I heard about the program I immediately thought of that meal in Capri.
Today I'm going to share with you a simple pizza recipe inspired by that meal.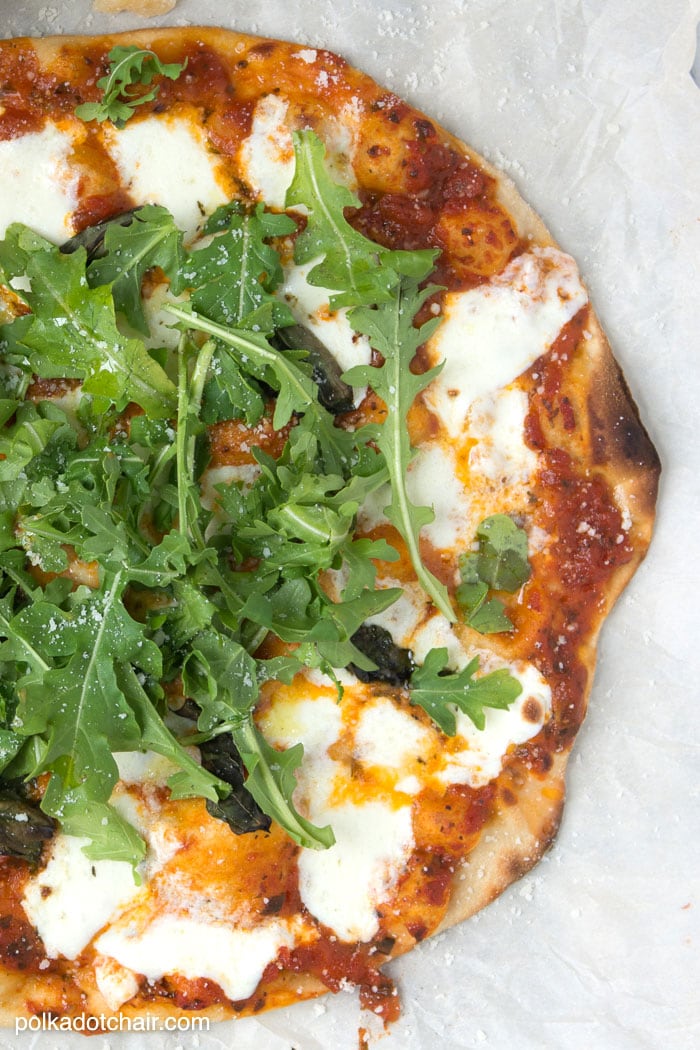 You're going to need:
Pizza Dough (I make my own using this recipe, I double it and it's enough for 4 individual pizzas)
Fresh Mozzarella Cheese
Fresh Basil
Parmesan Cheese
Olive Oil
Lemon
Salt & Pepper
Parchment Paper (this is the trick)
Pizza Stone for Oven or Grill
Pizza Peel (it's the tool used to get pizza's in and out of the oven)
Step One:
Roll out your pizza dough until very thin. Then transfer it onto a piece of parchment paper.  With the dough on the parchment paper dress the pizza.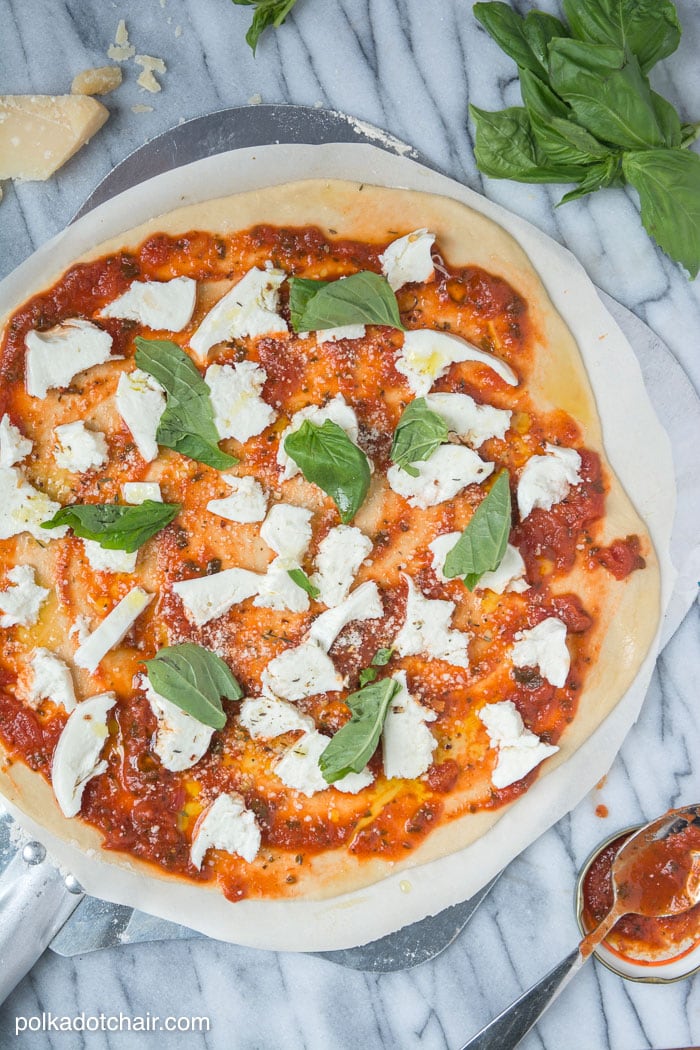 Begin by spreading the Bertolli Sauce over the crust. Then slice and crumble the mozzarella and distribute over the pizza.  Tear the basil into small pieces and sprinkle over the top. Finish with salt, pepper, parmesan cheese and a drizzle of olive oil.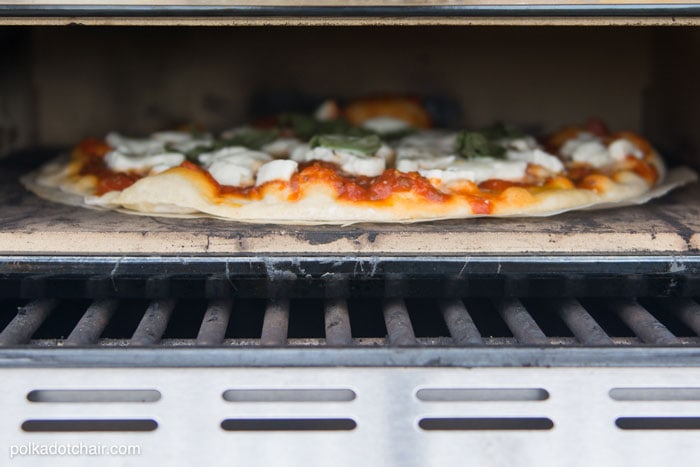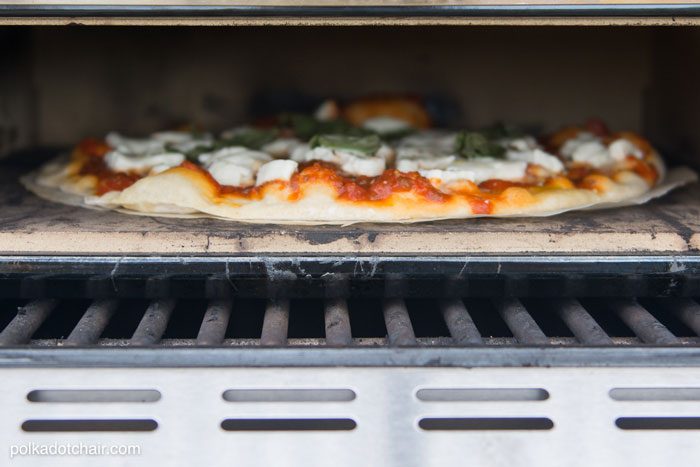 Next place the pizza AND the parchment paper onto the pizza stone. I use a pizza stone made for a grill but you can also use one made for your oven, the concept is the same. Make sure that the parchment paper is trimmed so that it is close in size to the pizza. Excess parchment paper can burn too quickly.
Wait for the pizza dough to begin to cook. When it's about half way done, remove the parchment paper. You'll know when it's ready because the parchment will gently slide out from under the pizza.
Use a pair of tongs and pull out the parchment paper, use another set of tongs to keep the pizza in place.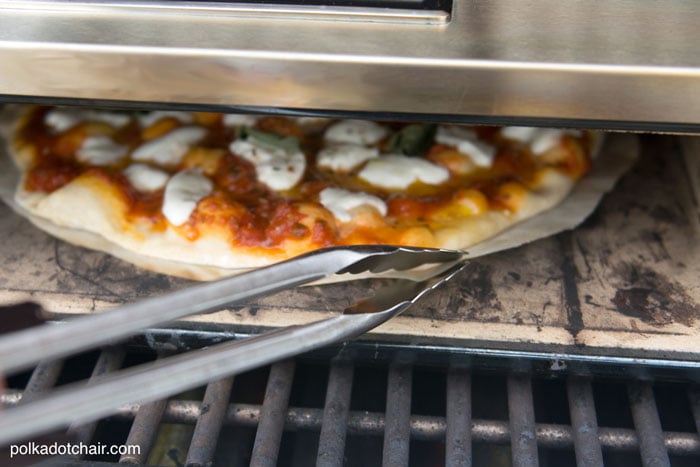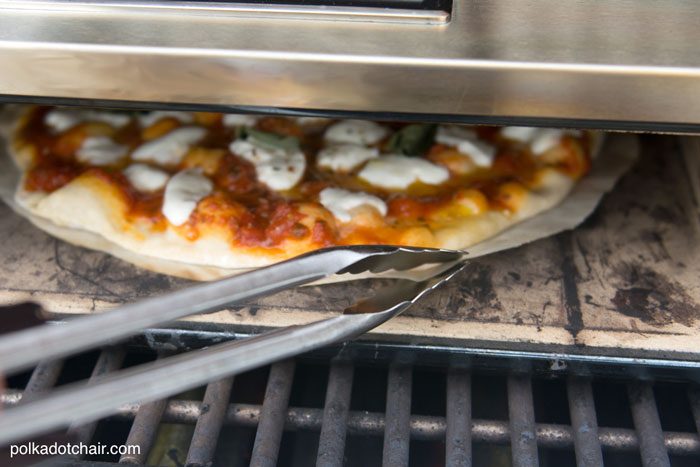 Now just leave the pizza to finish cooking.
When it's done, pull it out with the peel and transfer to a cutting board or dish.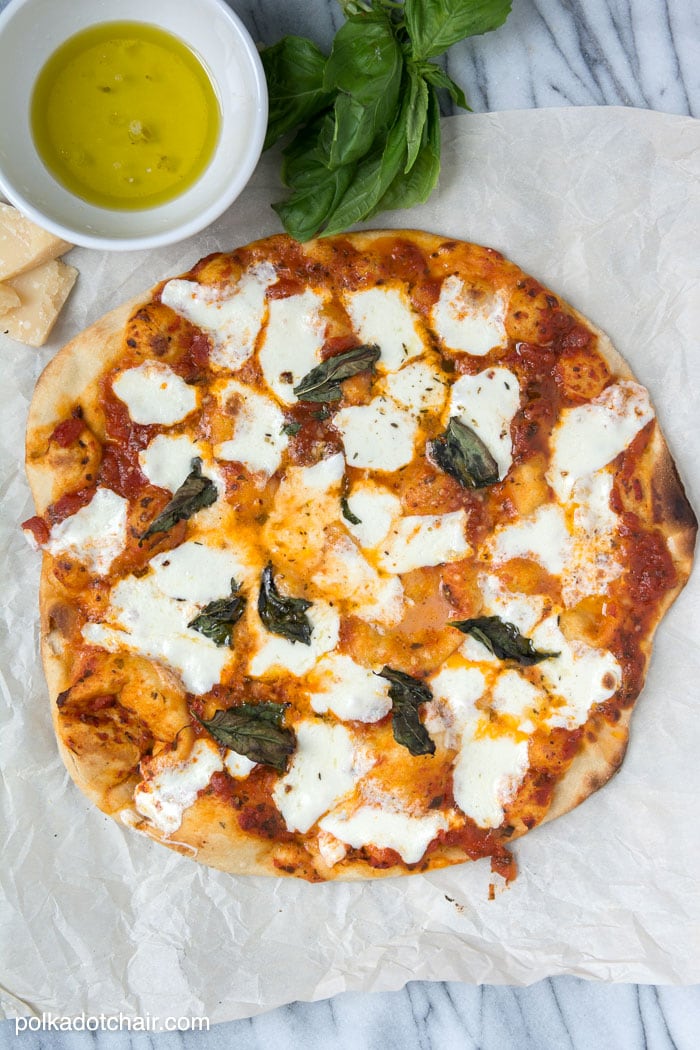 Squeeze one lemon into a bowl and mix with equal portions of olive oil.
After the pizza has cooled a bit, sprinkle the top with arugula.  Drizzle on the lemon/olive oil dressing and finish with parmesan cheese.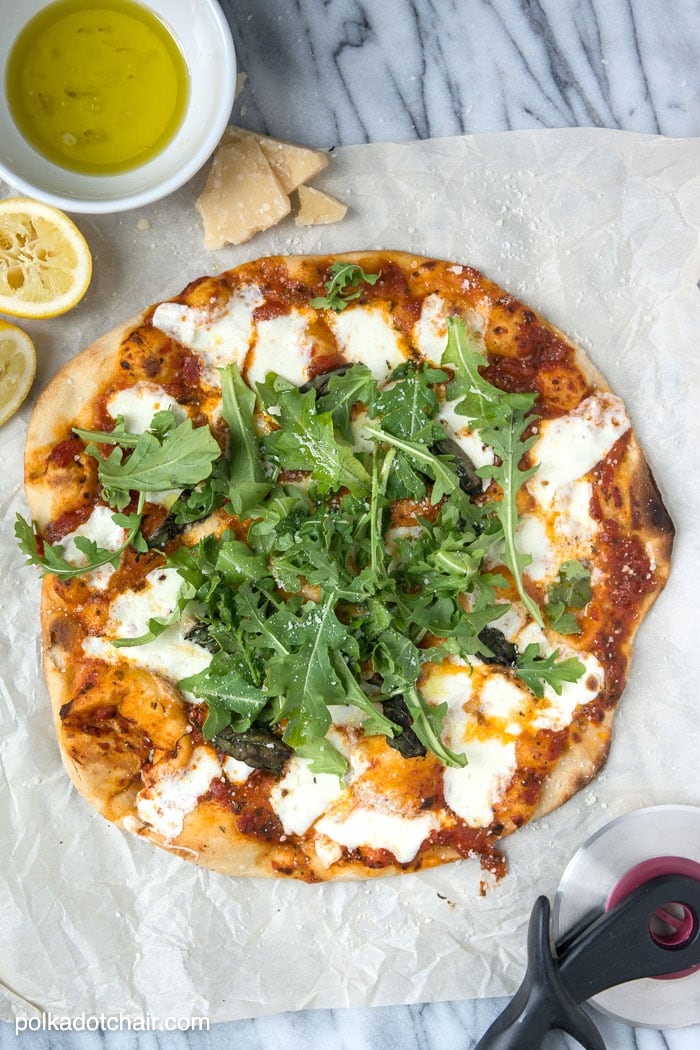 Now eat it… you can share it if you want, but I always make one just for myself 🙂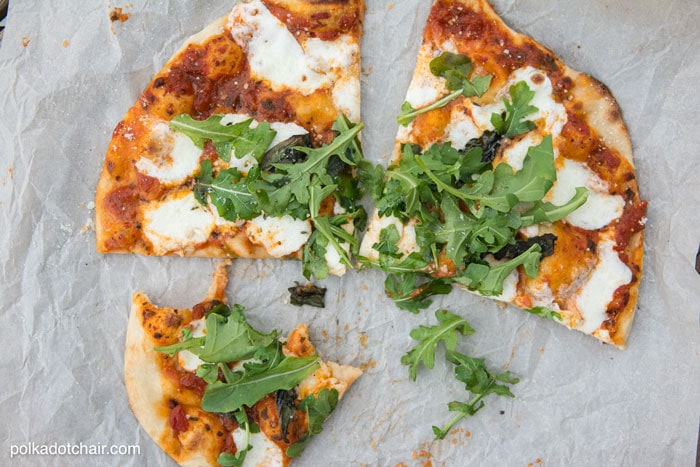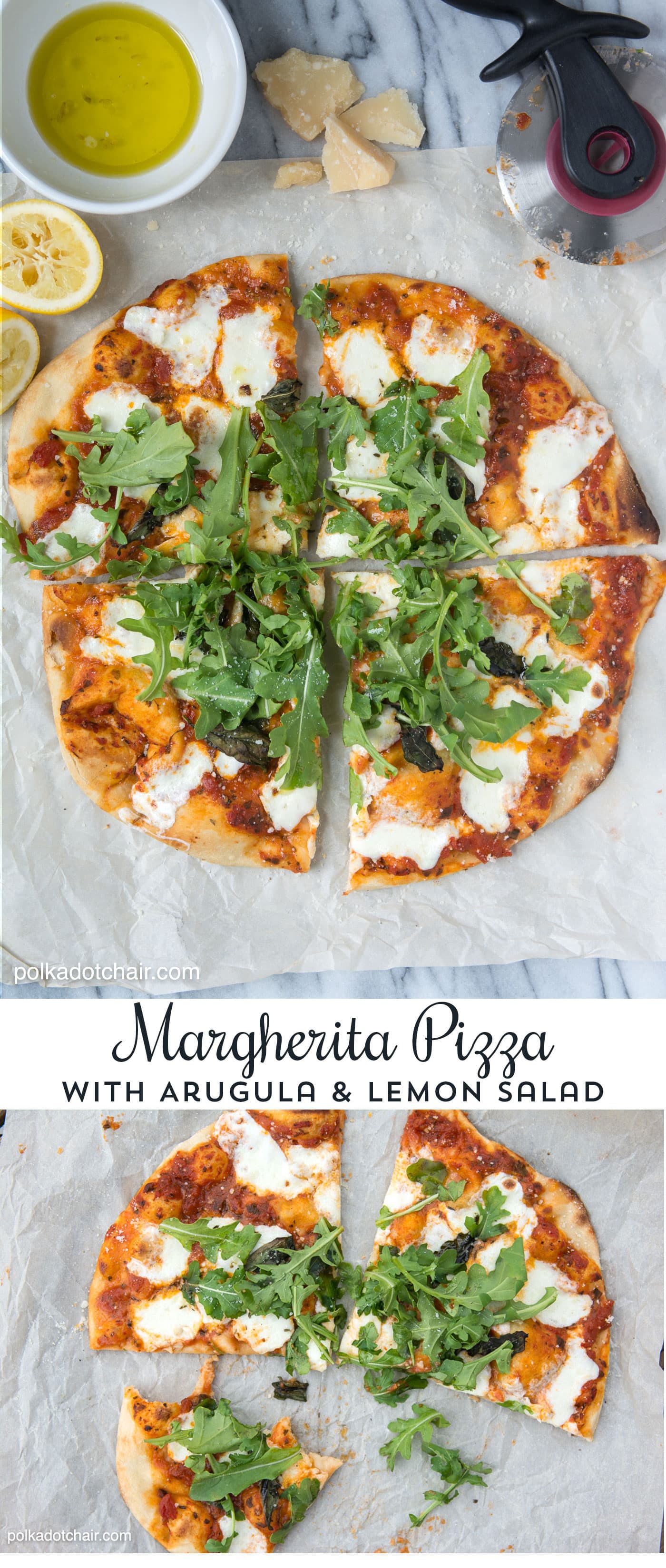 This is a sponsored conversation written by me on behalf of Bertolli®. The opinions and text are all mine.