A few years ago, my daughter got the idea to turn the flavors of Derby Pie into a Cupcake. We tried a few different versions and came up with a Derby Cupcake Recipe that we love! These brown sugar, pecan & chocolate chip cupcakes would be the perfect thing to serve at your Derby Party!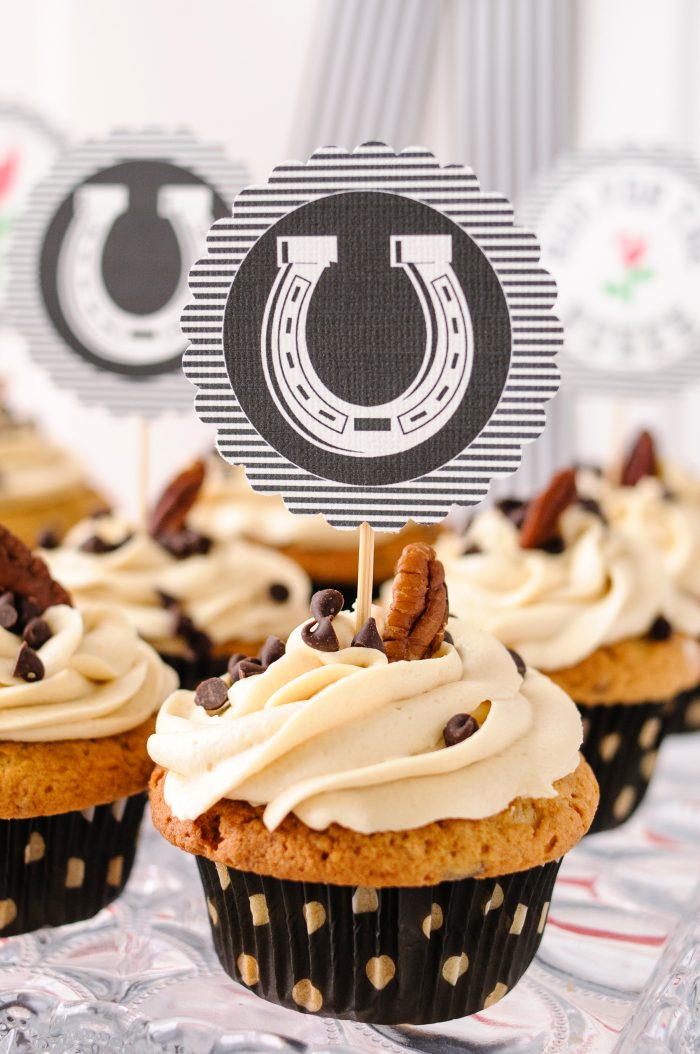 We had a fantastic weekend! I love that the Kentucky Derby turns the first weekend in May into one big week-long holiday here!
Table of Contents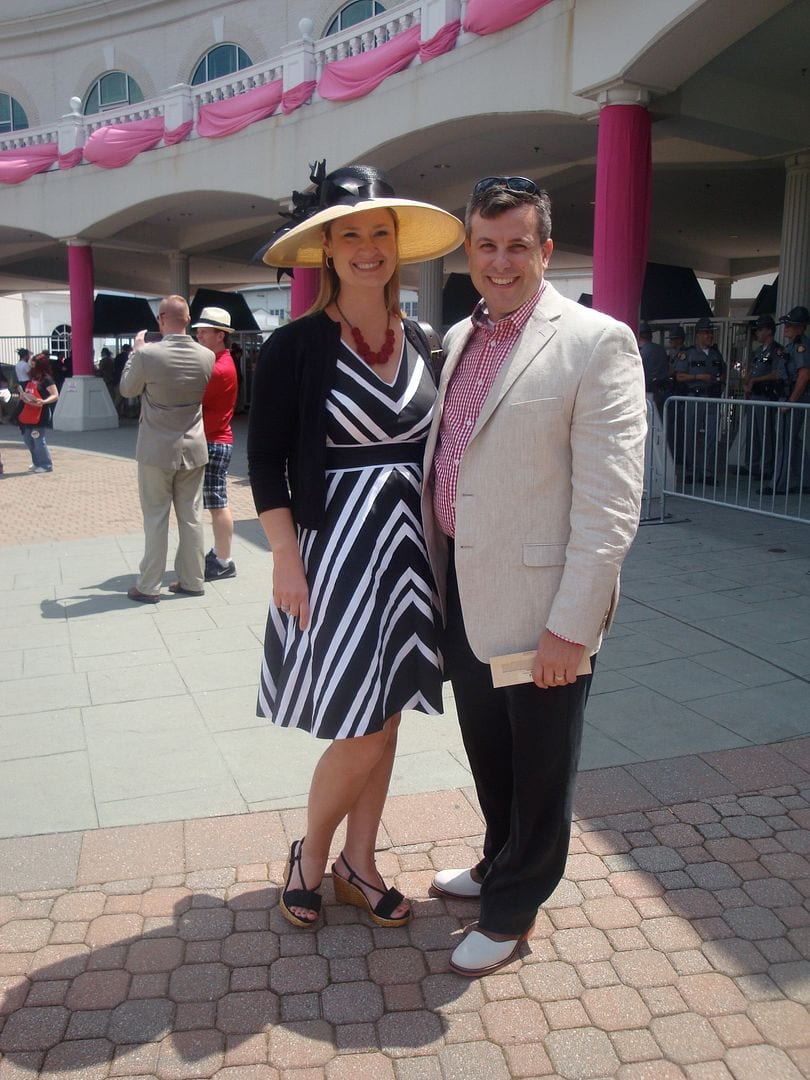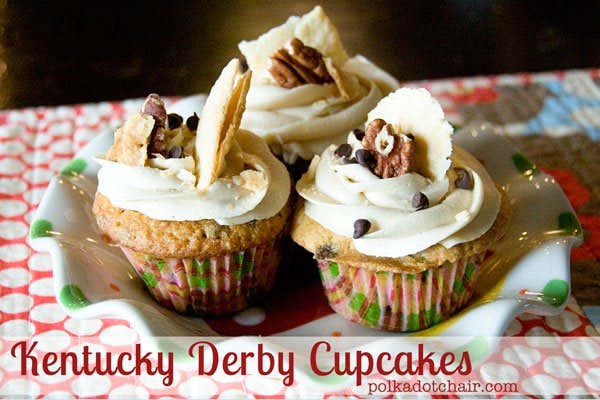 Friday, we went to Churchill Downs to watch the running of the Kentucky Oaks (the races the day before the Derby that attract just as big of a crowd). I love any excuse to wear a hat!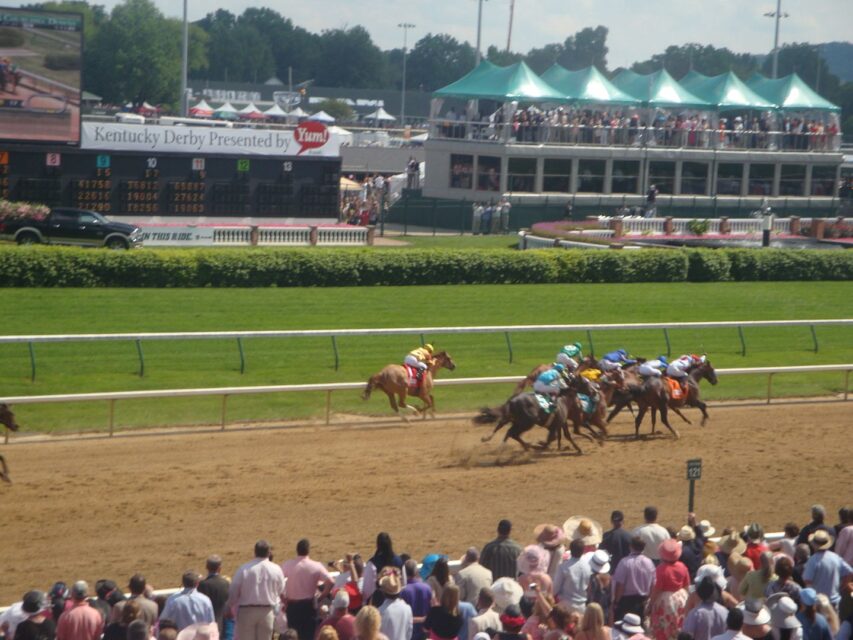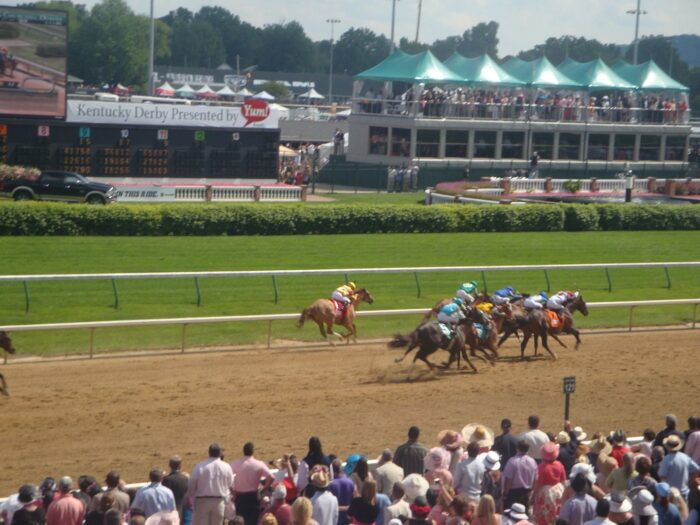 The horses are beautiful to watch run, but what's even more fun is the people watching…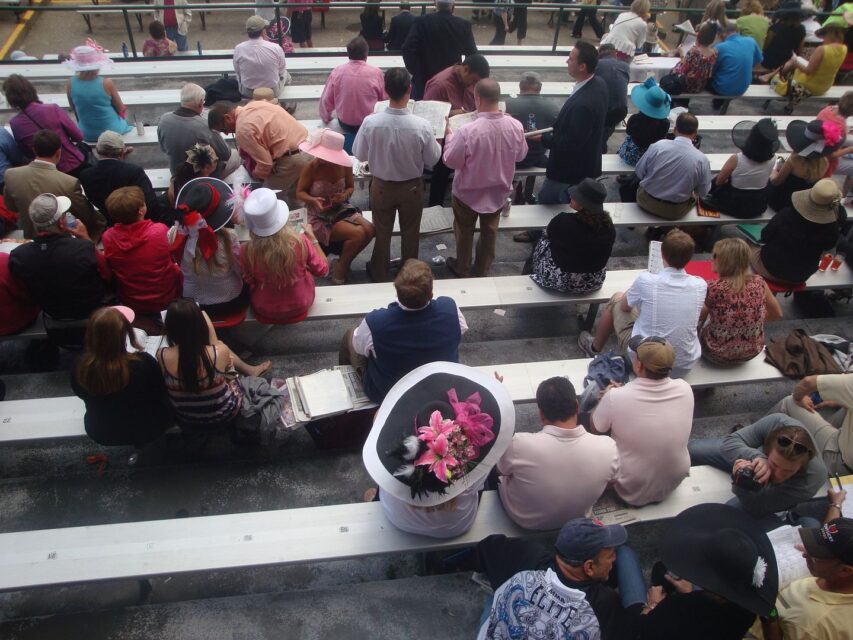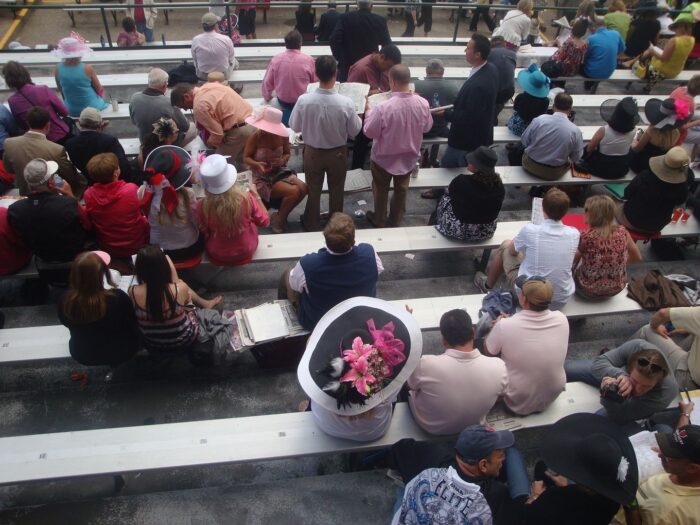 Beautiful hats and interesting characters everywhere! On Derby Day we had great fun celebrating with friends!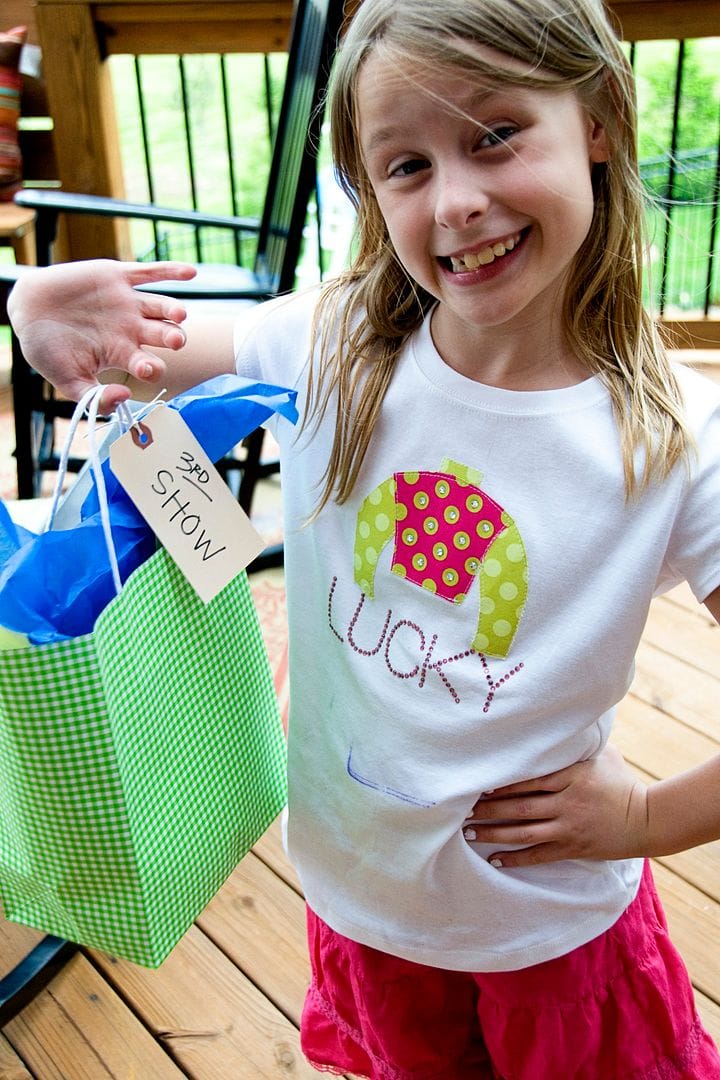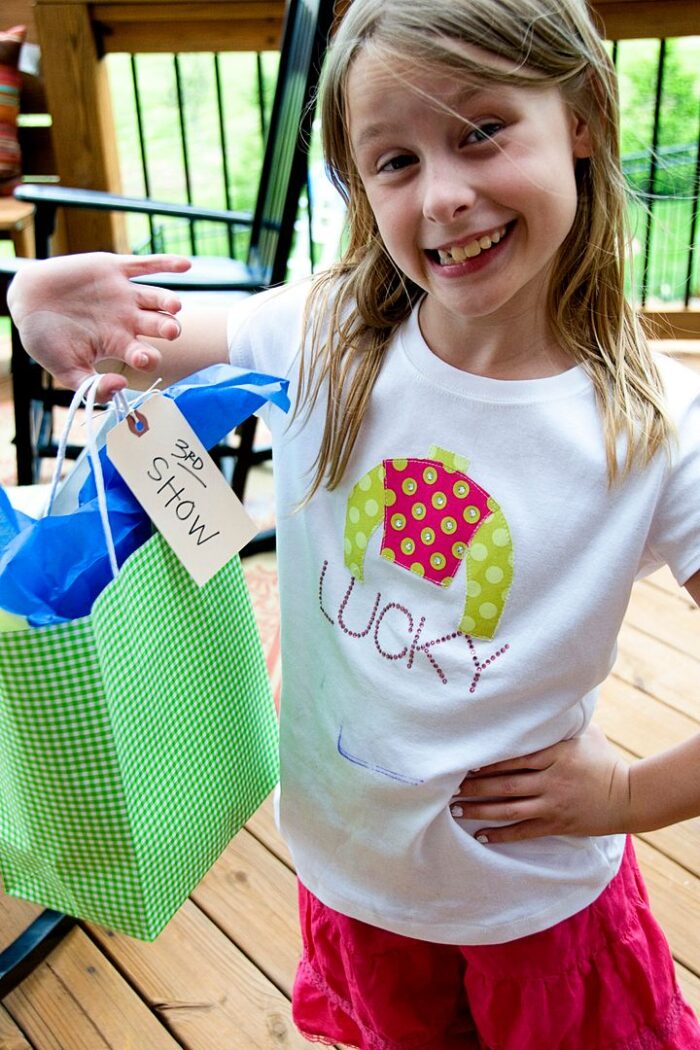 The horse we "drew" came in 3rd so we won a prize!
About our Derby Cupcakes
There is a tradition here in Louisville to eat Derby Pie on Derby day (or any day, as it is delicious!)
My 15 yr old daughter thought it might be fun to turn Derby Pie into a cupcake! We have been scheming how to do this since January. Now the original recipe for Derby pie is a copyrighted secret! (as is the name "derby pie").
For those of you that have not heard of Derby pie, it's pretty much a pecan pie with chocolate chips. Plus some other secret stuff. So there's no way to make something exactly like it, but I tried to capture the flavors of Derby Pie and put them in a cupcake!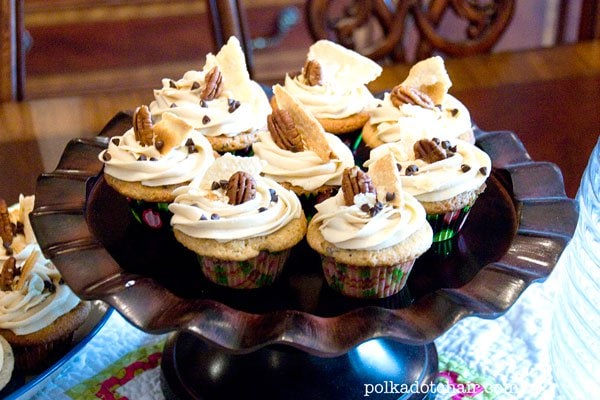 I am not a great baker, so I am thrilled (and surprised) that I could figure this one out. It wasn't easy to find a recipe to give you the same flavor as the pie.
The trick I figured out was incorporating brown sugar into both the batter and the icing. I started with a base recipe from the Martha Stewart cupcake book, then kept changing it until I got the flavor I wanted.
We served these at our Derby party, and they were a BIG HIT! I ate 2 of them and am craving them again today!
Here's the recipe for the cupcakes; I incorporated chopped pecans and mini chocolate chips into a brown sugar cupcake batter. Then topped them with a fluffy cream cheese frosting with a dash of brown sugar added. I topped them with a crumble of pie crust to make them more like a pie. I love the salty contrast it gives to the sweetness of the cupcake!
Derby Pie Cupcake Recipe
Instructions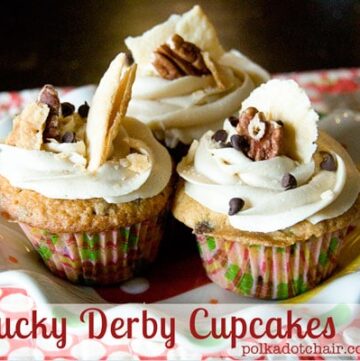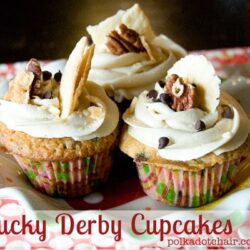 Derby Pie Cupcakes
A brown sugar pecan cupcake with brown sugar cream cheese frosting, sprinkled with chocolate chips and a bit of pie crust. I love the salty contrast it gives to the sweetness of the cupcake!
Ingredients
Cupcake
3

cups

all purpose flour

2

t

baking powder

½

t

salt

1

cup

unsalted butter at room temperature

2 ¼

C

packed light brown sugar

4

large eggs

¾

c

buttermilk

½

c

finely chopped pecans

½

c

mini chocolate chips

1

t

vanilla
Garnish
1

refrigerated pie crust

mini chocolate chips

whole pecans
Icing
8

oz

cream cheese at room temperature

½

c

unsalted butter at room temperature

1

c

brown sugar

1

pound

powdered sugar

1

t

vanilla
Instructions
Preheat the oven to 325. Line muffin tins with cupcake liners

Cream butter and brown sugar until smooth. Add eggs one at a time. Sift together flour, salt & baking powder in a separate bowl. Add half of the buttermilk to the egg/sugar mixture. Add half of the dry ingredients. Add the other half of buttermilk then the other half of the dry ingredients. Mix well. Add vanilla.

Mix in chocolate chips and finely chopped pecans until just combined.

Scoop out into cupcake liners and bake for 20-25 minutes.

Cool.

Roll out refrigerated pie crust on a cookie sheet and poke with a fork several times. Cook according to package directions until just golden brown. Break into large pieces.

Cream together cream cheese, butter, and brown sugar. Beat until well combined. Add 1 lb of powdered sugar slowly until all is combined. Add vanilla.

After the cupcakes are cooled, frost (I used a star icing tip and a piping bag to frost them).

Garnish with a whole pecan, mini chocolate chips, 1 large piece of pie crust. Sprinkle more crumbled pie crust on top.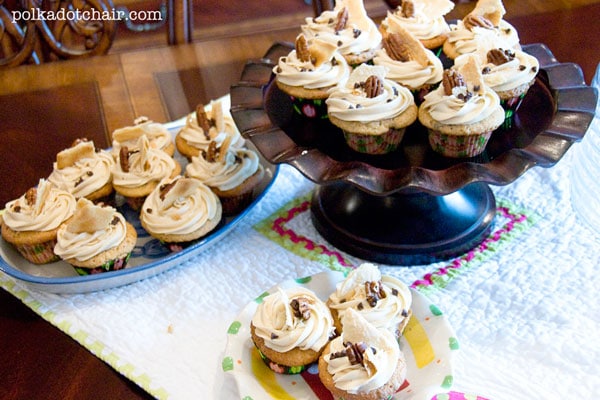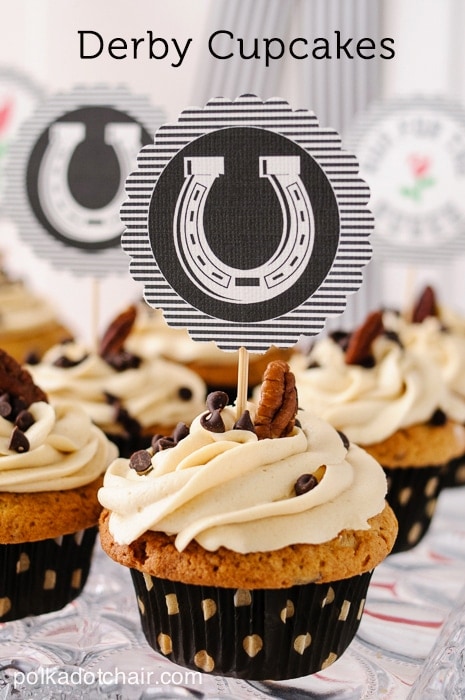 More fun Kentucky Derby Ideas: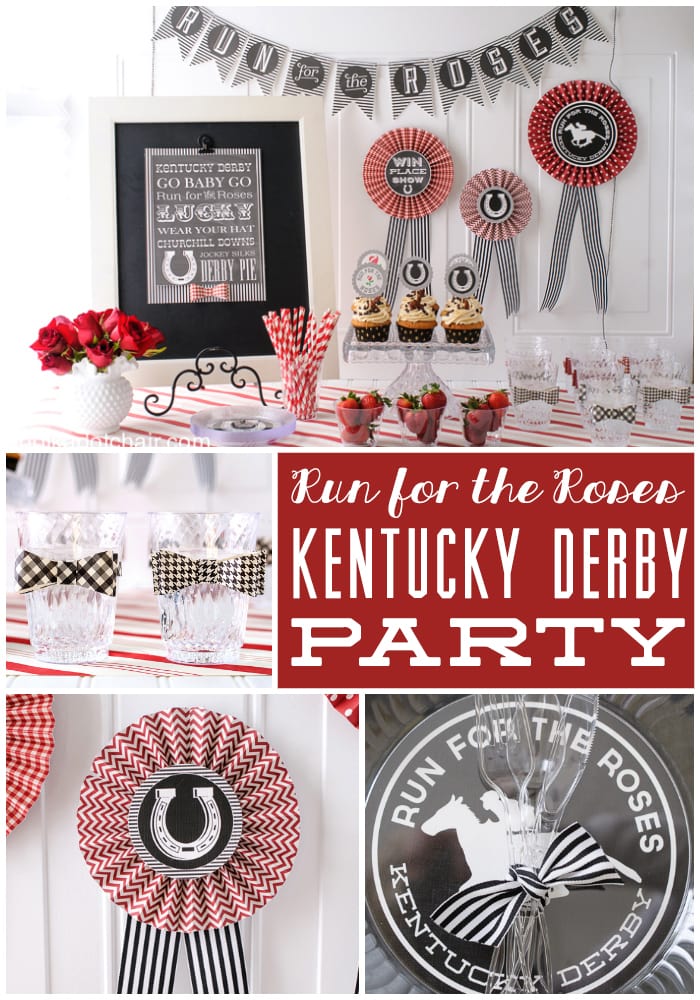 For LOADS of more Derby Party ideas and some FREE PRINTABLES, click here!!