Hi there! If you're new here, Saturday Snapshots are blog posts that I share periodically during the year that are more personal than crafty. Just a way to help us all get to know each other a little better. Regular scheduled craftiness will return on Monday.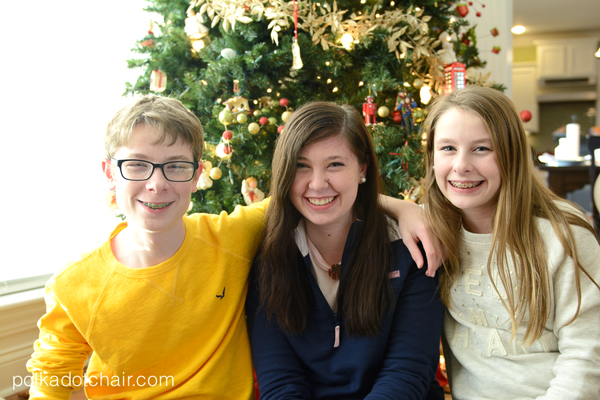 (Christmas Day)
I think it's high time for another Saturday Snapshots post.  There has been a lot going on here "behind the scenes" and I just haven't made the time to sit down and write about it.
Our Time in London this Summer:
After I sent my fabric "off" to the printer in early July things got really quiet around our house. My oldest daughter was off in London on a Study Abroad program and it was just me and the 'little' kids at home most days. No one was playing a sport and the kids were too young for many of the church "camps" so a general sense of laziness abounded for most of the month.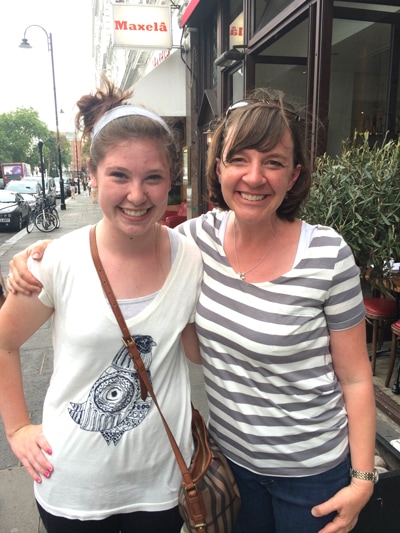 Many of you probably also follow Amy's blog and know that she spent the summer in England with her family.  I told her when she left to "watch out for roving college students". Thinking of course that the odds of her running into my daughter were pretty slim (they had met several times previously and knew each other pretty well).
Well.. one day I get a text from Amy with this photo. Lo and behold look who she ran into on the streets of London one day! My daughter. What a small world, and what tender mercy from above. It helped me remember someone is watching over my kids even when I'm not with them.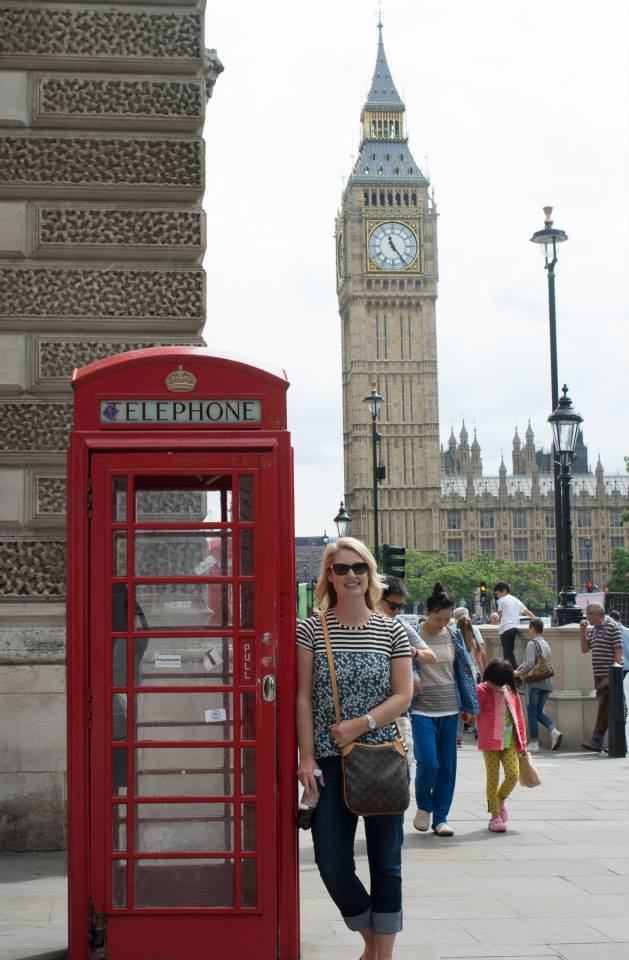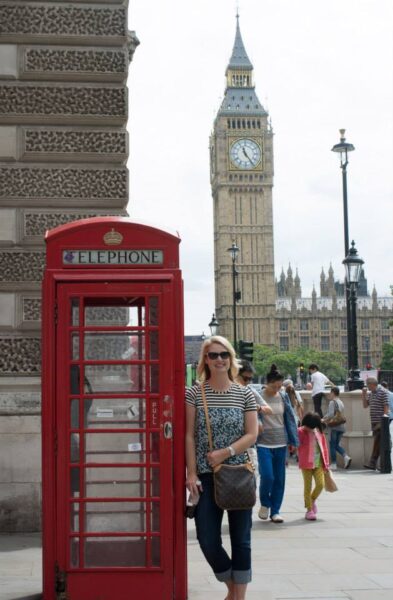 In August my husband and I flew over to London to pick up my daughter and take a quick trip to the Netherlands on the way home. (My husband lived in the Netherlands for 2 years and is always anxious to go back any chance he gets!)
These trips deserve posts all of their own, but that will have to wait for another day. While in London, we managed to see where Churchill slept during the war  (the War Rooms), where Harry Potter ate dinner (the WB studio tour) and see where many English greats are buried (Westminister Abbey).  Among many many other things.
A Visit to the Netherlands: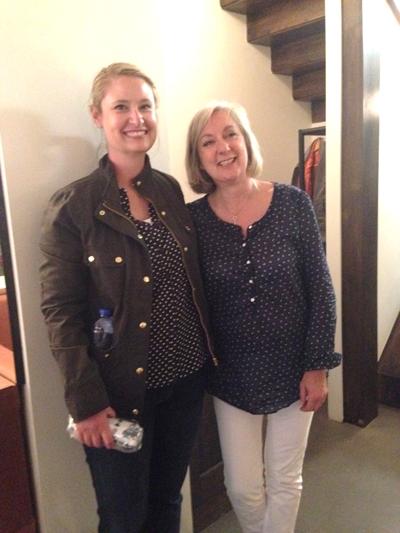 After a few days in London, we hopped over to the Netherlands. While there I was very excited to meet up a fellow quilter and blog reader in the Hague! Phyllis (she blogs at Oh Oh Quilts) and I had been "instagram" friends for a while and it was so nice to get a chance to meet her in person.  I absolutely love how this "blog thing" connects you to people all over the world! She has the nicest family and our husbands enjoyed chatting with each other too…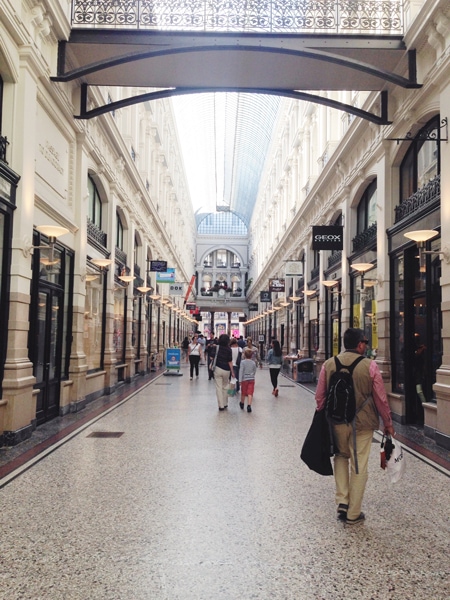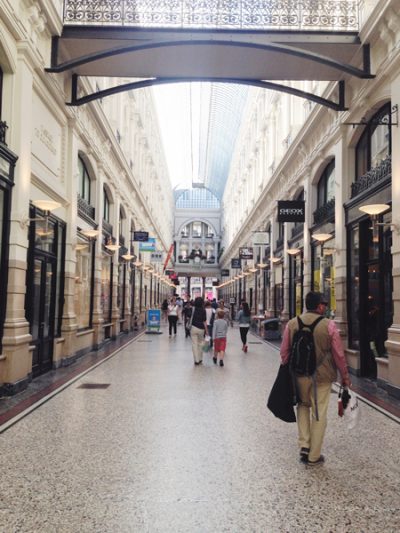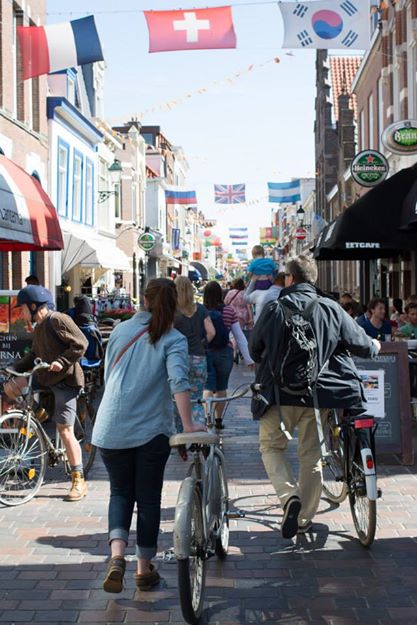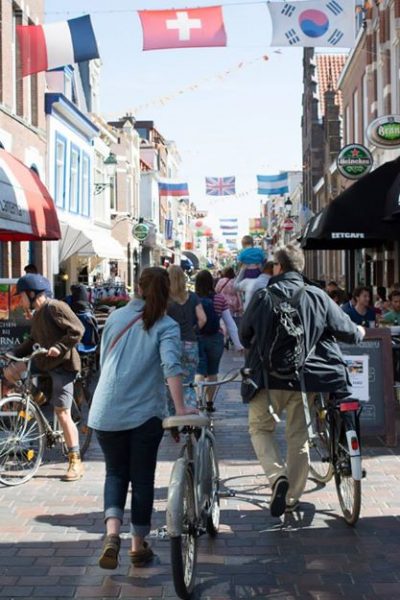 While in the Netherlands, we also got the chance to spend the day on bikes, tour the canals of Amsterdam and eat our weight in good food.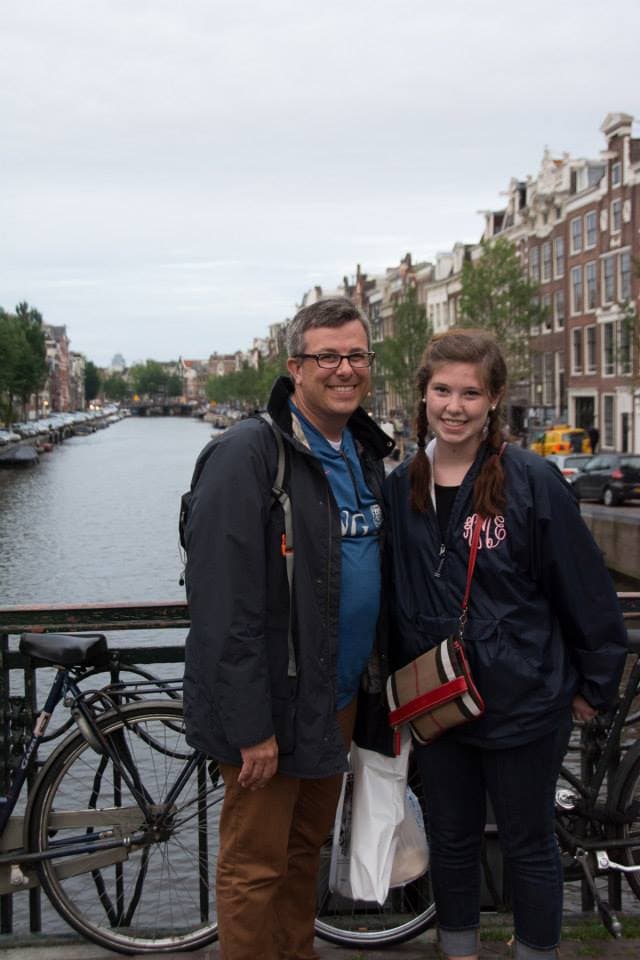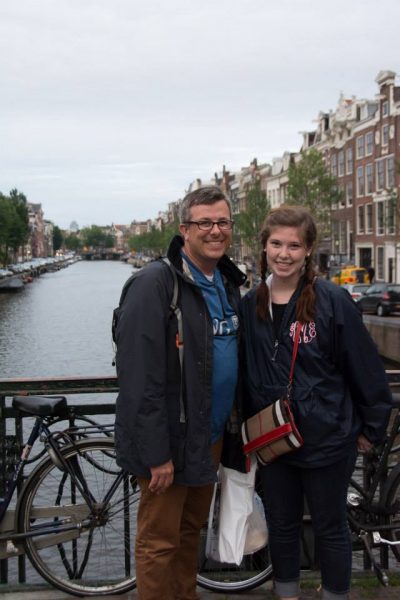 Which brings me to now. After we got home from Europe things started running at a million miles an hour again.  There was the road trip across the country to drop off my college girl, the crazy quick prep for Quilt Market in October and then there was the move…
New Studio Progress:
If you follow me on Instagram I'm sure you saw me talking (errr griping) about moving all of my craft and sewing supplies up to a new room.  When we first moved into our house, crafting and sewing was just for fun and I fit just fine in the small bedroom in the basement.  As my business grew I outgrew the room and was soon taking over most of the basement. Making it difficult for everyone as my stuff was strewn all over.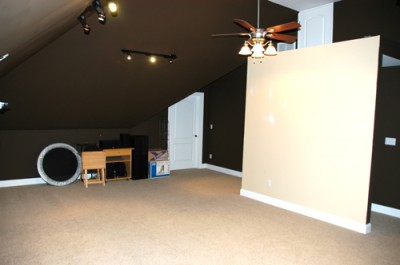 We have a large room upstairs that has no windows and is dark brown (the builders intended it as a movie room).  I had always been hesitant to move up there because of the lack of natural light.. but soon realized it was the best decision.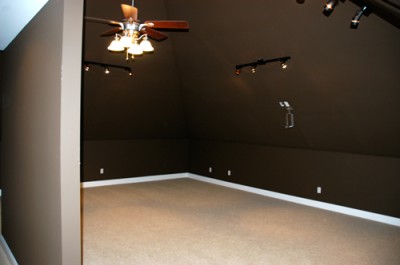 I needed a bigger space for me and for my family too. My husband and kids are kinda crafty too, so we decided it was time for a room for all of us to be able to use.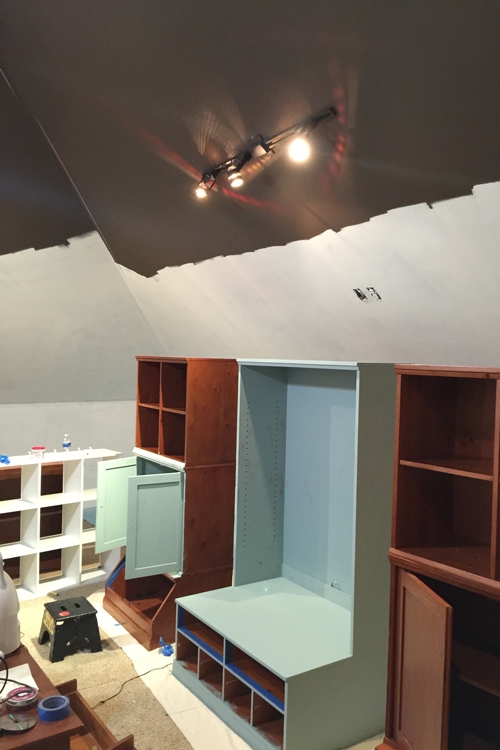 It took 7 gallons of paint to cover up all of that brown! I should not complain about that part as I just "observed" the painting. At times I thought it would never be done. I went with white paint due to the lack of a window- hoping it would brighten up the room a bit more.
I also painted an old entertainment unit with chalk paint… again trying to make it bright and charming.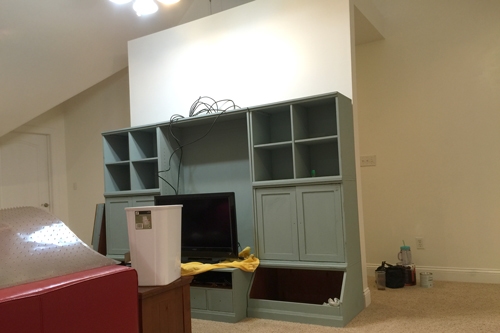 Next came the move and a million trips up 2 flights of stairs!  Luckily, there was only one near disaster as I almost dropped a kitchen countertop on my foot.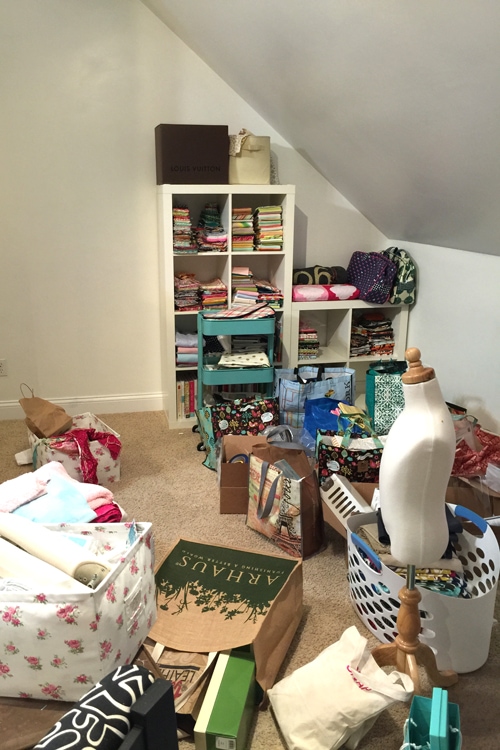 In general, we just tried to look at all of the trips up the stairs as good exercise. But let me tell you, it wore me out.
Along with moving the room, we moved my daughter into a different bedroom and my oldest into my old sewing room.  As you can imagine, along with all of the moving came a mess that seemed to spread to the entire house. At one point I did not have ONE clean room in my entire house and spend most of the day tripping over boxes and bags of stuff for goodwill.
Many of you have asked how the room turned out… So I went in today and snapped some photos. These are by far NOT Pinterest worthy and I didn't tidy up, so you've got a "totally honest craft room" here. I'm not sure if I'll attempt to take good photos of the room due to the lack of light. (Any photographers out there want to tell me how to photograph a room with no natural light???)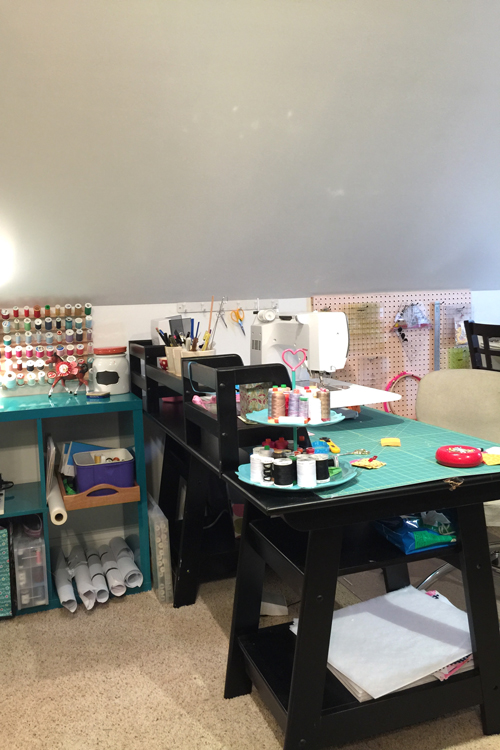 The room is huge but the walls are all slanted so it makes furniture placement a bit difficult. I've got a very nice corner to sew (right behind this table is my cutting table).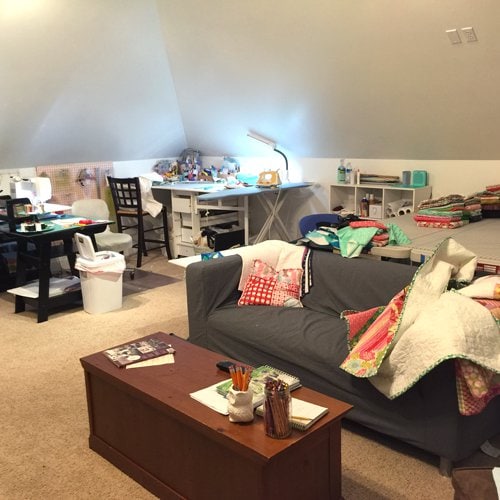 and we kept the sofa in the room (it was a playroom before this).  This gives you a good visual of the layout. Now instead of feeling like I'm ignoring everyone when I'm working on a deadline, my kids can just come and chill on the sofa and watch tv when I work.  It has been really nice for that. I also put an extra table in the back. One thing I didn't like before was that no one could come to sew with me. This time I left an empty spot on purpose so that I can have friends over.  It also makes a great spot for folding fabric.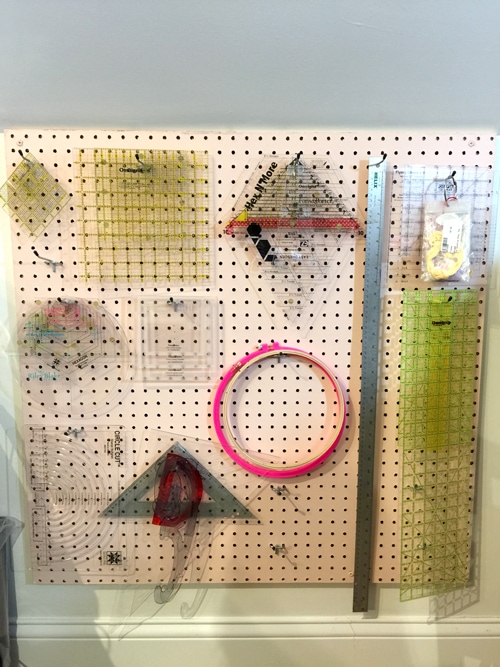 I added a pegboard for quilt rulers on one of the "low" walls. .. it's still throwing me off that I can't hang anything on the walls due to their slope– any suggestions for me?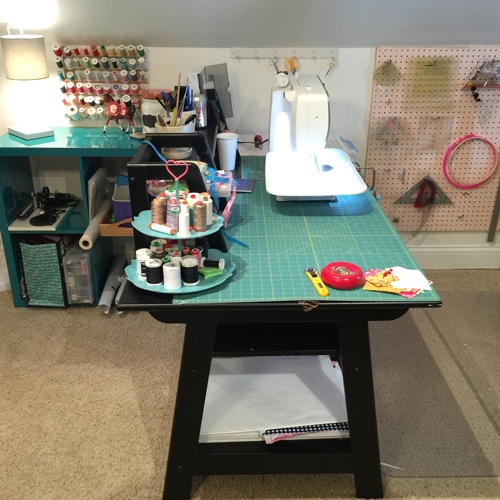 The other side of the room is used for my paper crafting and scrapbooking… I used one of the only flat walls in the room for fabric storage.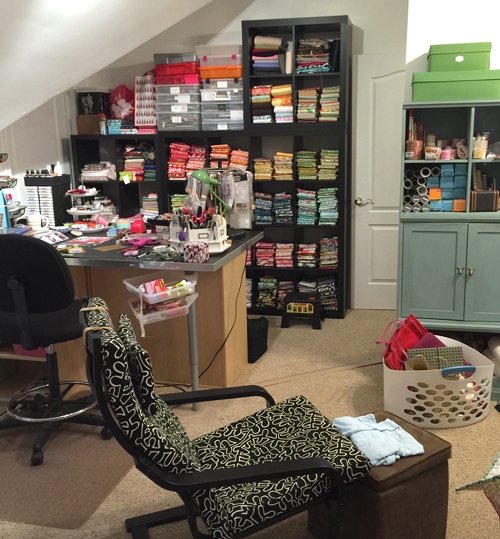 The blue cabinet sits on the wall and holds the tv… (pretty much everything in the room is from IKEA)
So there you have it… I've been a bit quiet this month and that's why. I think your brain can only make so many decisions a day and all of the "where do I store my buttons?" decisions I've made this month have left me in a little bit of an "idea desert".  The good news is most of it is DONE and I can start moving on to other things. (Assuming the ideas come back at some point *wink*).