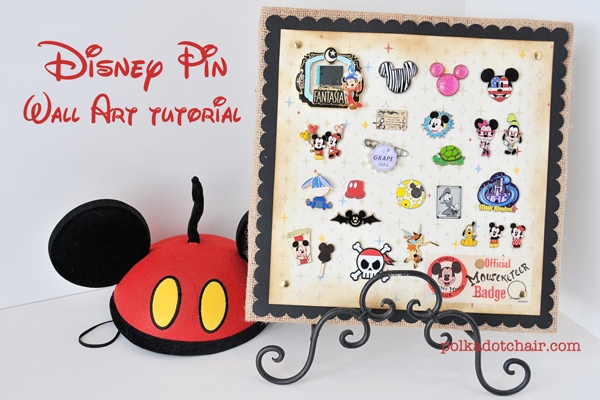 When we first went to Disneyworld several years ago, I kept wondering what all those pin trading stands were.  You see them all over the park.  Feeling overwhelmed at the time I didn't pay too much attention.  Then we went back again, and our Disney package came with a  free pin trading starter kit for each of the kids (those genius marketing minds at Disney).  Soon we learned that as you went around the park, any employee with a pin HAD to trade with you for any pin you wanted.  So my super shy kids decided to give it a try.  They ended up loving it. Not only did it help my kids to get used to talking to people, but it gave us something to do when we were waiting in line.  After a while, the kids all started to collect their "favorites".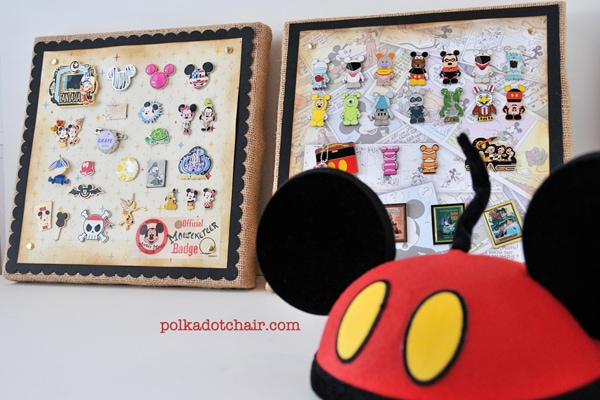 Each time we came home I'd think "what are we supposed to do with these pins???" I know that there are some die hard pin collectors out there, but we are not them. I have no idea why one pin would be more valuable than another pin.  We were just doing it as a fun side activity for my kids. We didn't spend a lot of money on pins, and the kids were able to collect most of the ones they wanted.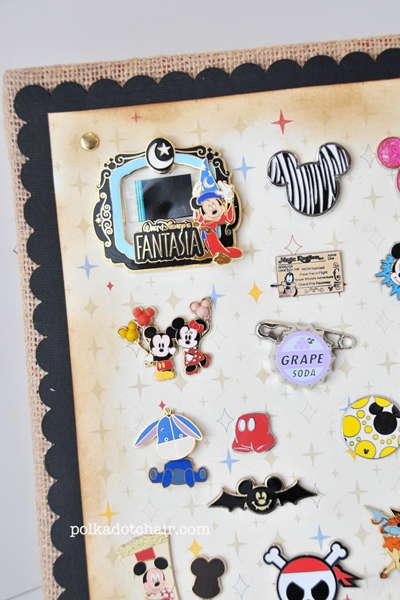 We've been to Disneyworld a few times now and are going back in the Fall.  So I decided it's time to go through the pins, decide which ones we want to keep, and put the rest in a pile for our next visit.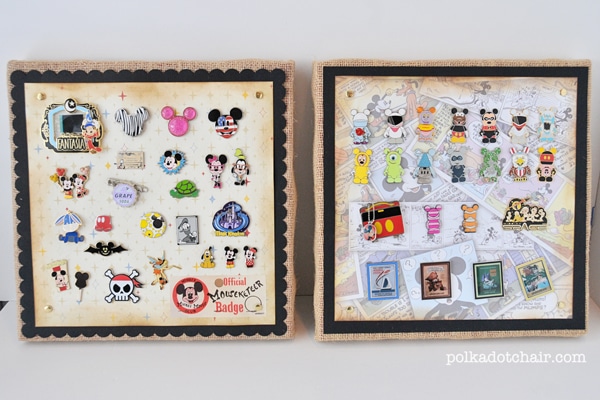 I decided that a canvas would be a great way to display the images. I didn't want a shadow box, and I thought the canvas would look great hanging in our Movie Room. (since that's the room I contain all the Disney stuff to).
I ended up making 2 canvases.  If you want to make your own here's how to do it:
You'll need
Thick edge (2″) canvas. Mine are 12×12.
Spray Paint
Burlap
2 pieces 12×12 scrapbook paper for each canvas (if you canvas is larger than 12×12, you'll need something else to cover it with)
Staple Gun
Poker (piercing tool)
Large Brads
Paint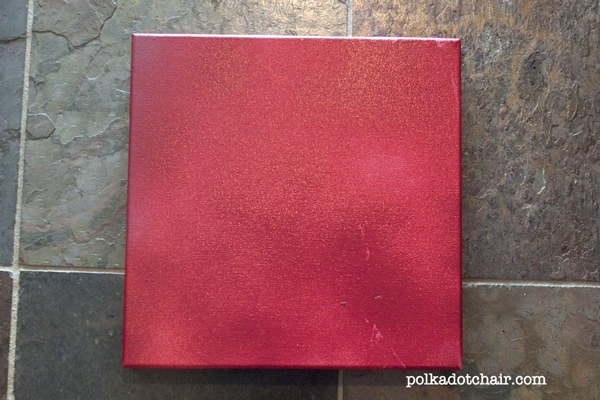 First you need to paint your canvas.  I'm lazy so I spray painted mine. Most of the canvas won't show, but some of it will (since the burlap is a bit see through).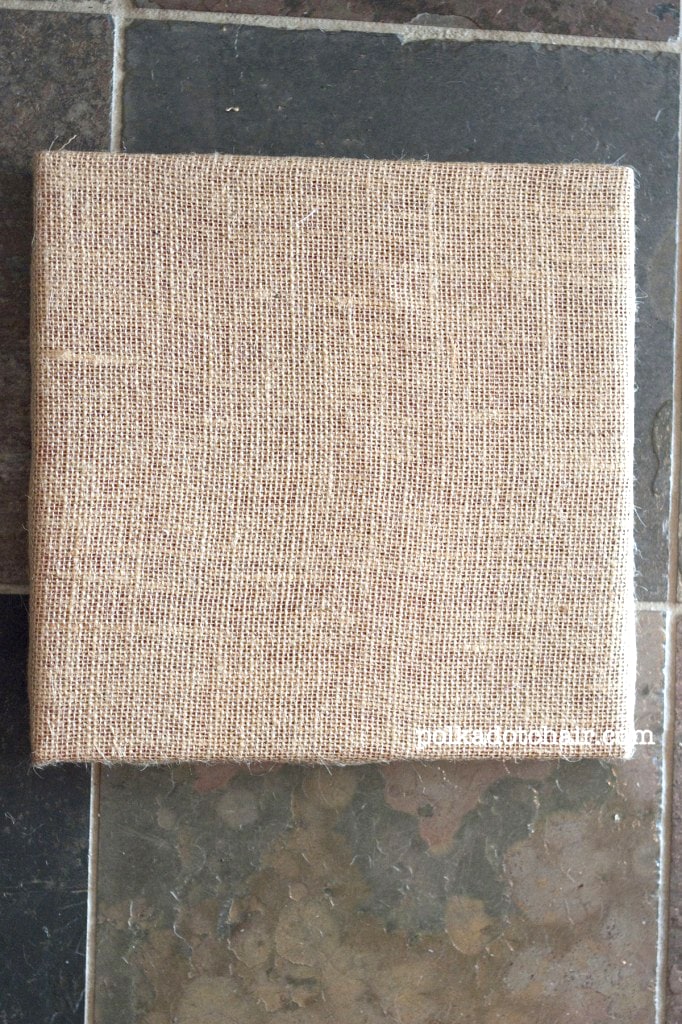 Next using a staple gun, staple the burlap to the canvas, mitering the corners.
You will now have a covered canvas.
If using a 12×12 canvas, cut one piece of card stock to 11.5×11.5 and one piece of pattern paper to 10.5×10.5.
Layer them on top of each other and glue (just use scrapooking tape adhesive) to the top of the canvas (before I glued my down, I inked the edges of the top scrapbook paper).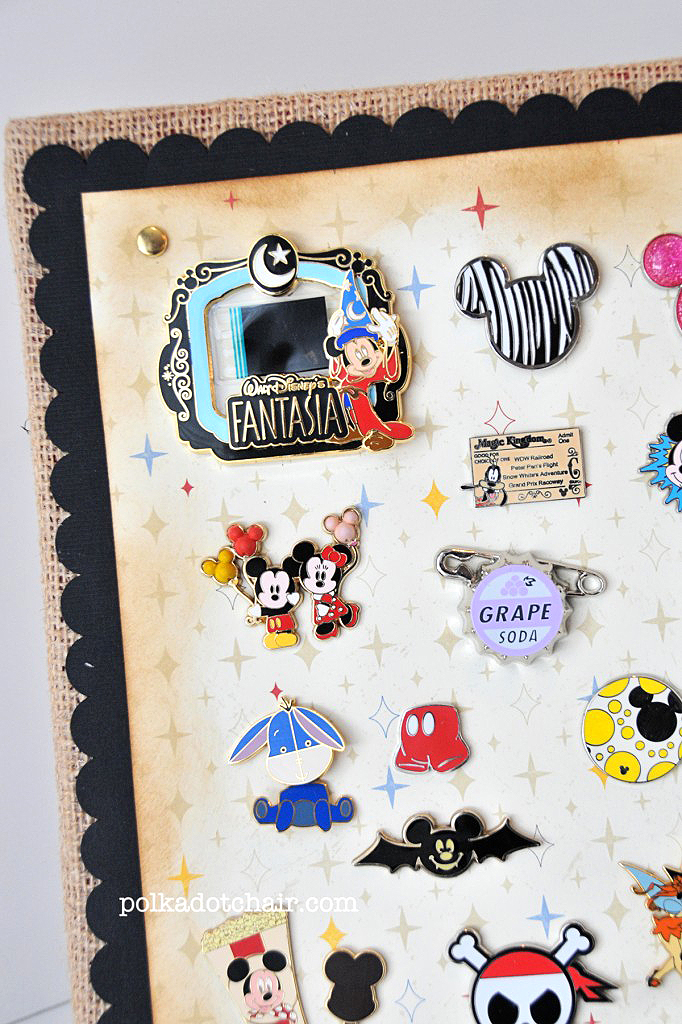 Next, on the back of the canvas, in the corners — where the wood meets, poke 4 holes.  Set 4 brads through your scrapbook paper into the canvas and set the brads.   This will help you with positioning the pins so that you don't try to place a pin into wood, and it will help keep the scrapbooking paper on the canvas.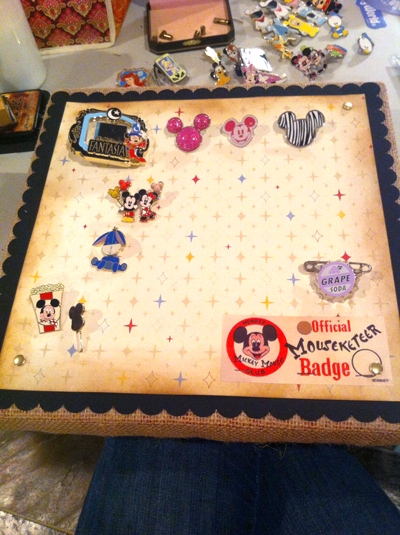 poor iPhone photo- late night crafting  = bad lighting
Next lay out your pins how you'd like on your canvas. This is the hard part!! Once you get them where you want them, I HIGHLY recommend taking a photo of them with your phone (so you can remember where they go).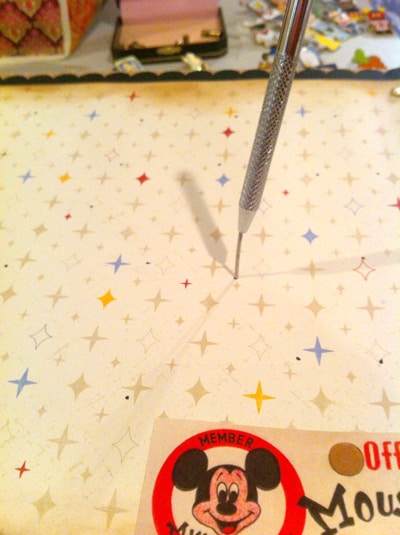 With a pen, mark where each pin prong is.  Then take your poker and pierce a hole through the canvas for each pin.
Put the pins back on the canvas and adhere using the rubber stoppers that came with them.
You May Also Enjoy These Posts: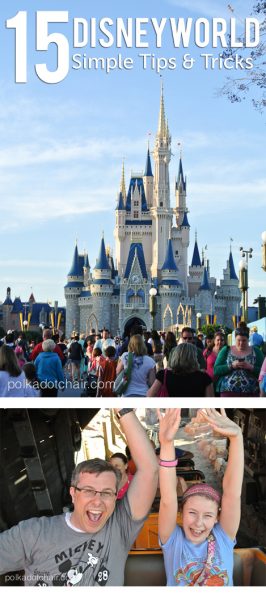 15 Simple Tips & Tricks to help make your Vacation a Little Bit Better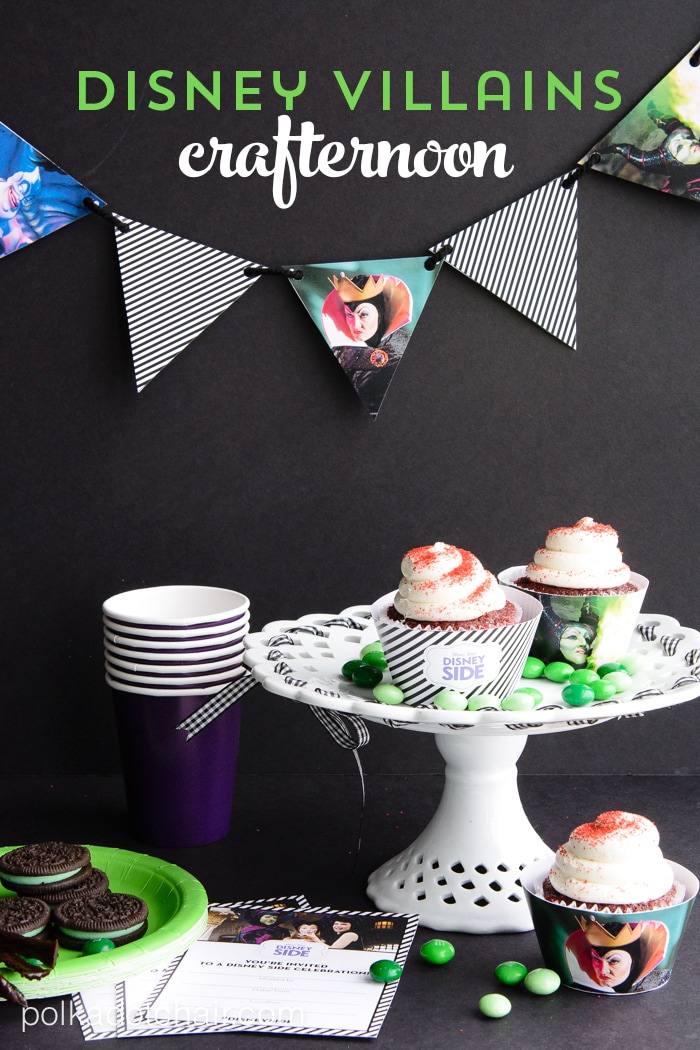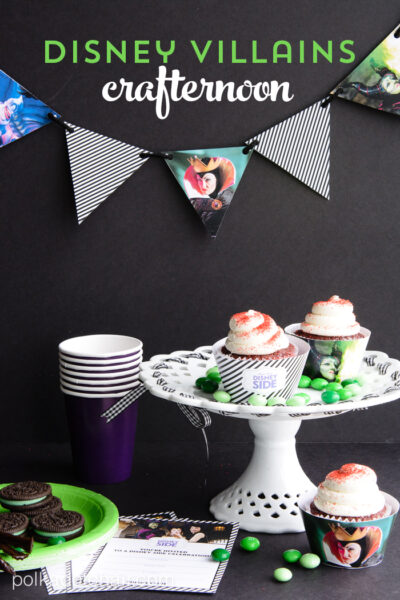 Disney Villains Party (with free printables!!)
If you'd like to see some of my other Disney Crafts just click here
——————————————————————–
Connect with me: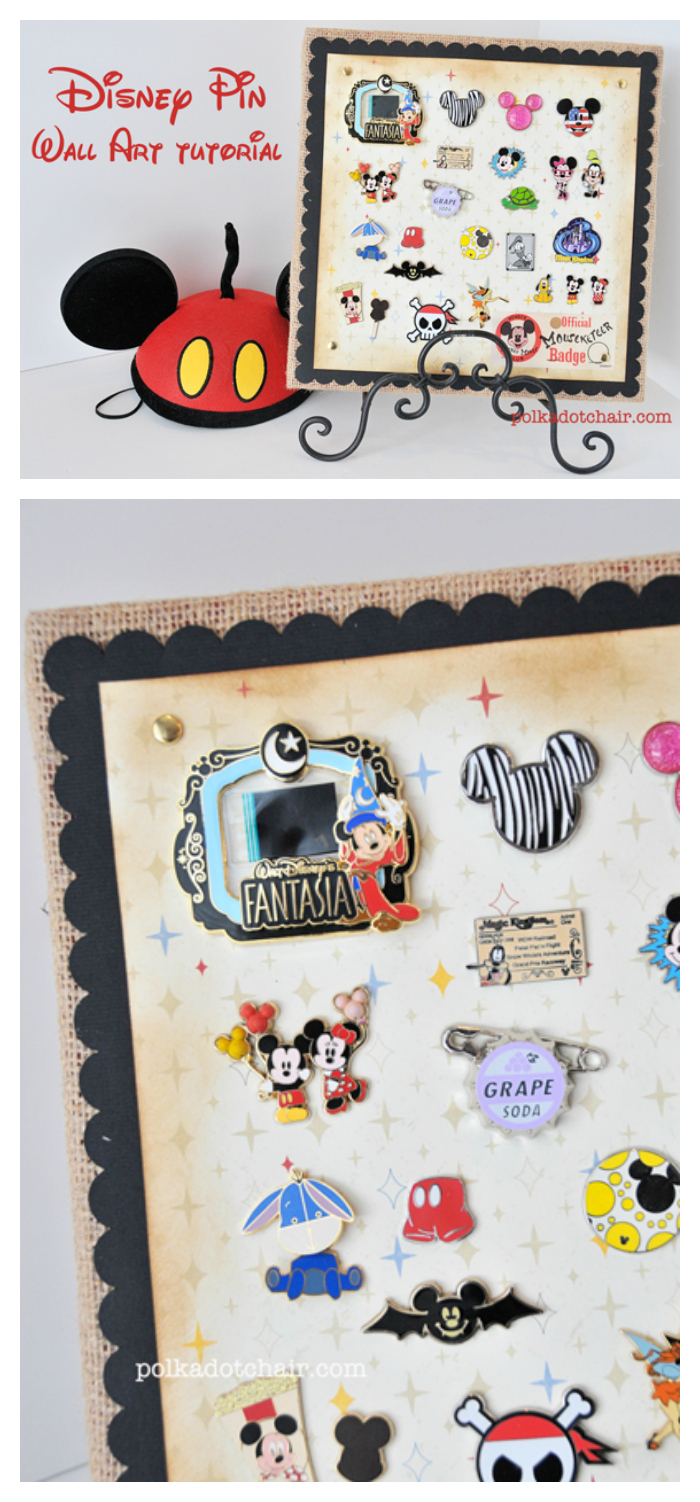 Click for Print Friendly Version