Today I'm excited to share with you one of my favorite Back to School Tips, How to create a homework station!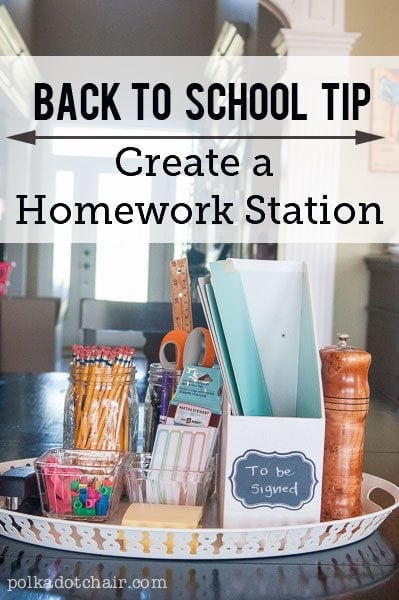 if you like this post then you may also enjoy this FREE Printable Back To School Shopping List! 
DIY Homework Station and Back to School Tips:
Let me first say that me and organized don't usually belong in the same sentence, but for 3 school years now this system has totally worked for me, so that's gotta say something.
I have 3 kids, one that is off to college and twin middle schoolers. Over the years we've evolved how we handle homework in our house. We have discovered that what works best for us is to have everyone working at the kitchen table together. Then mom and dad are close by if they need help and there are less distractions. (this post contains affiliate links)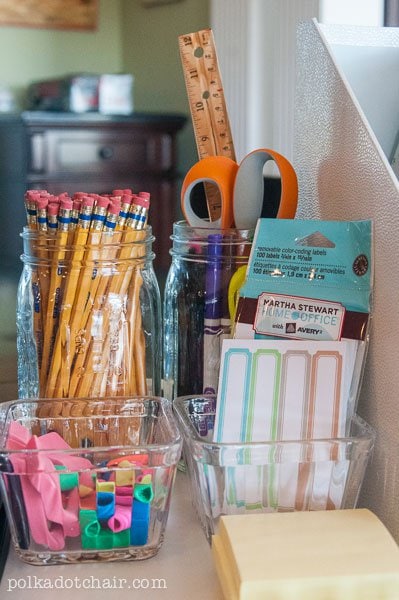 This however created a problem in the kitchen.  It seemed I always had pens, pencils and paper all over the table even after they were done.  A couple of years ago, I got the idea to create a Homework Station on my kitchen table.  Everything they need to be contained in one place and it's easily moved out of the way when needed.
This year to help with the back to school organization,  Martha Stewart Home Office, with Avery sent me a box of supplies! I knew exactly what I wanted to do with them as soon as I got them. Pretty up that homework station!
How to Create a Homework Station:
Items Needed:

ONE: Magazine File
The first thing I did was add a file box to the station this year. I used a Magazine file and my VERY FAVORITE product the chalkboard labels to create a "Things for Mom to sign" box on the table.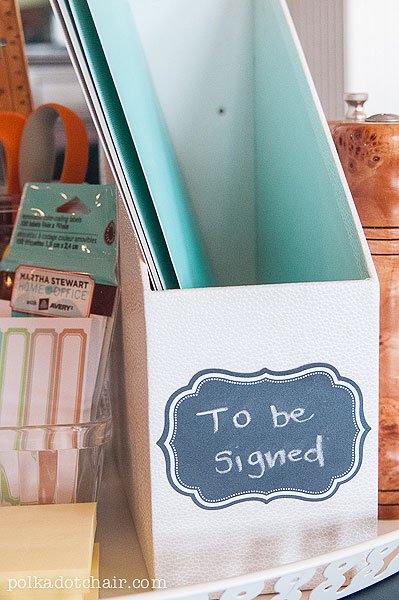 You see we frequently lose important papers like field trip permission slips, school directories etc. This way all those items get put in the file, one folder of things to sign and one folder of things I've already signed.  I also plan on putting some of our math help sheets in there too so they are close at hand.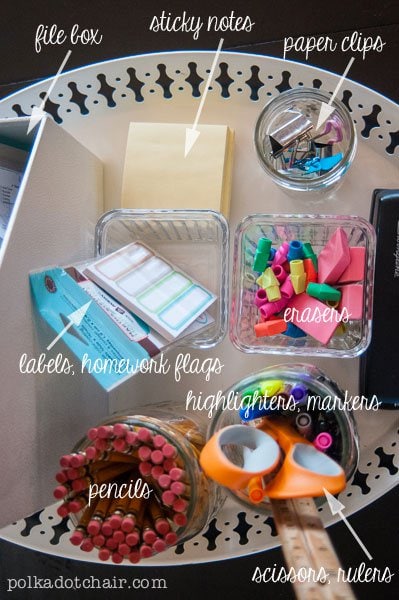 TWO: Miscellaneous Items
Mason Jar with Pens
Erasers
The rest of the station has a variety of items, including pencils, pens, highlighters, erasers, and sticky notes.  Also in the pile are the Color Coding tabs which are perfect to use to mark places in books, textbooks and binders.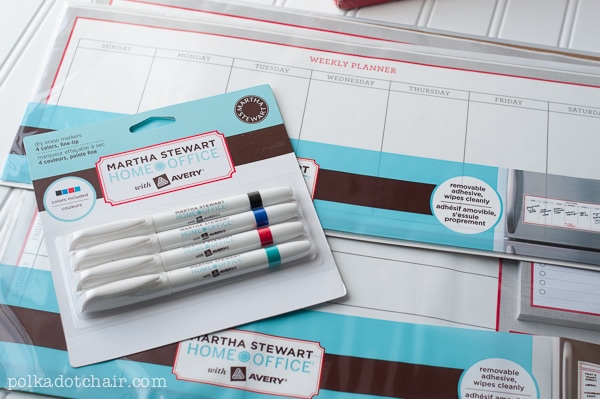 The last addition I made to the kitchen for this school year was this Removable Dry Erase Weekly Planner.  We have a stainless steel fridge so we've never been able to stick anything to it (magnets don't work). This planner has a removable adhesive that's safe for the fridge.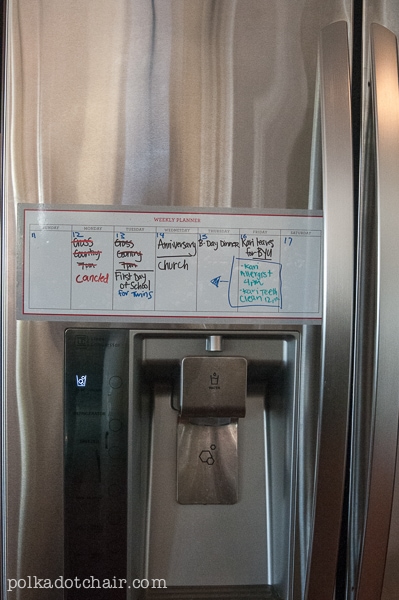 It went right on the fridge.  We start it over each week and that way everyone in the family knows whats going on. As you can see they all like to add to it.  It also helps me to know what time I need to have dinner ready each night (in case we're running out the door to go to an activity).
THIS GIVEAWAY IS CLOSED

So here's the good news for you!!  I've got a $50 Staples Gift card for one of you! Good for the Martha Stewart Home Office with Avery line!!
To enter (do one or both of the following):
1-Leave a comment on this post, tell me your favorite back to school organization tip
2- Pin an image from this post and let me know you did it by leaving a comment.
Giveaway goes until midnight eastern time August 24th. Full giveaway guidelines here.
THIS GIVEAWAY IS NOW CLOSED.
23