Today I'm very excited to share with you the reveal of my new sewing and crafting space! It's a project that has been 3 years in the making and I'm so glad to say that it is now done (or at least as "done" as it will ever get)!  I'll let you in on some of the
 sewing room organization
ideas that I picked up while planning the space redo, and chat a bit about how to make your own spaces more personal and enjoyable.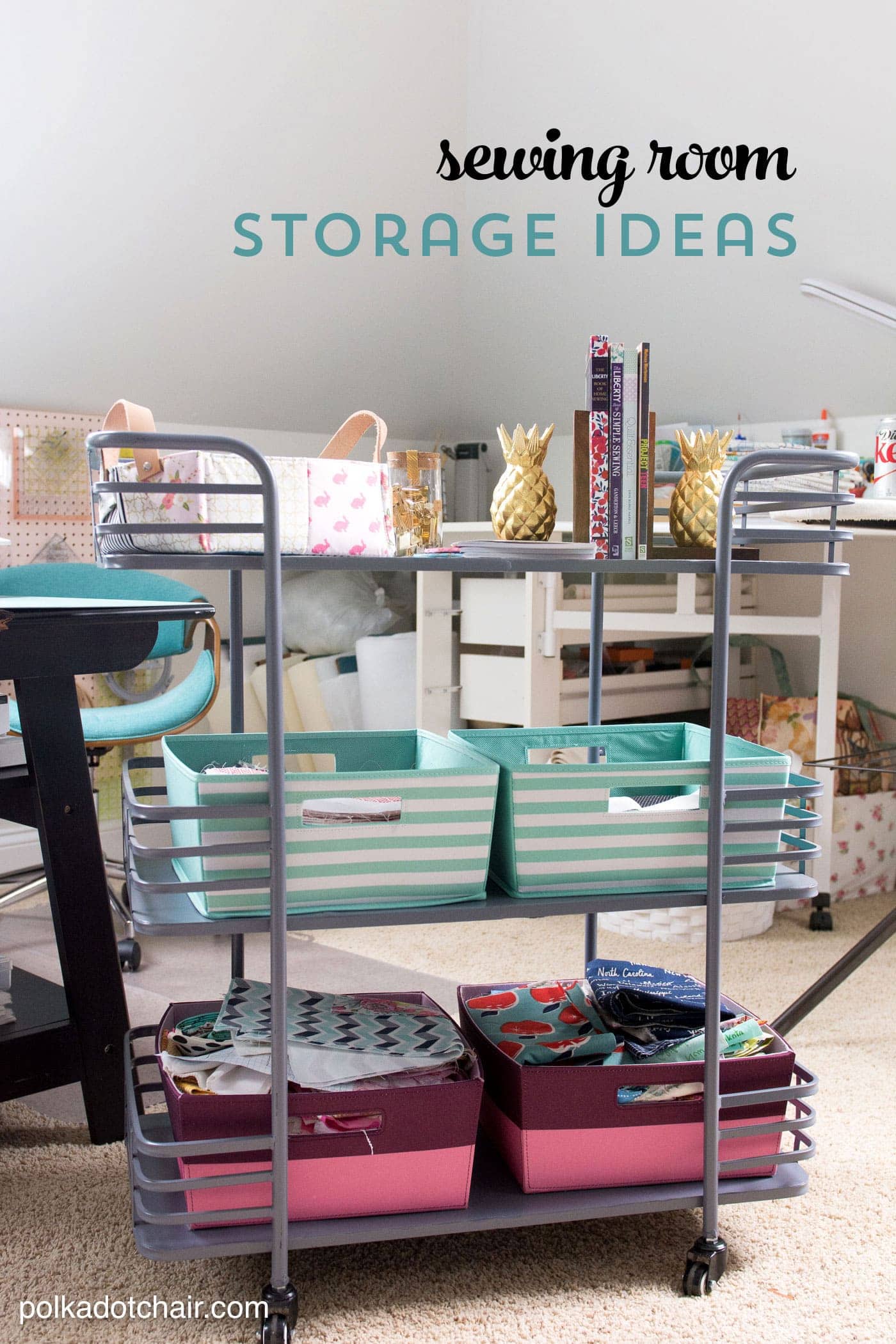 Last week I shared with you some of the process that we have gone through to renovate and organize my creative space. Today I'm going to share with you more "after" photos, along with some tips that I picked up while putting my space together.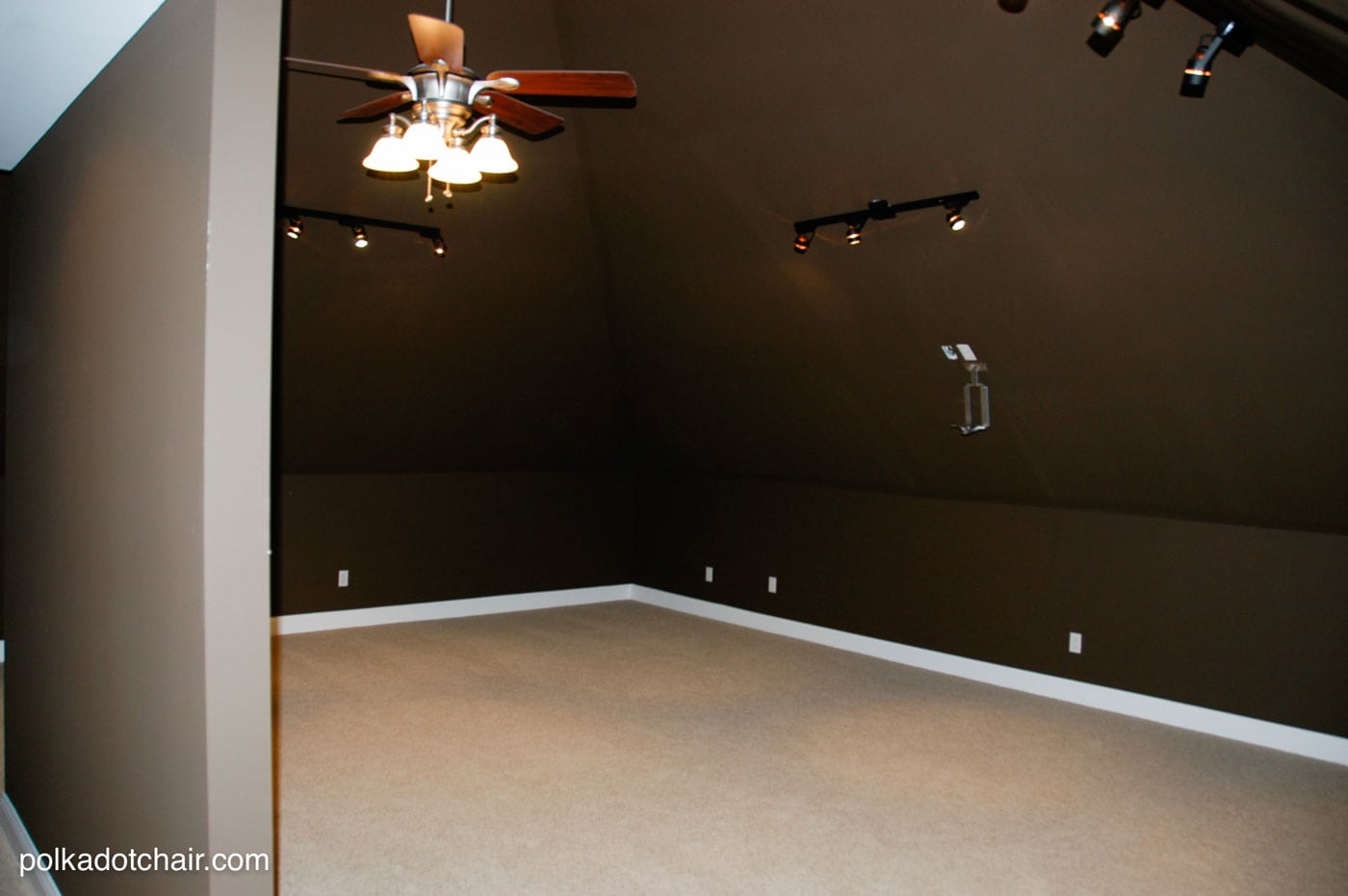 Just a reminder, this is what the space looked like before. This photo is from the day we looked at the house, but before we moved in. After we moved in we used the room as a playroom. It served us well for many years, but the kids quickly outgrew the need for a place for toys and the room essentially turned into a storage room.  2 years ago we cleaned out the toys (put some away to keep, and gave others away) and began the process of converting it to my creative space. We had to move ALL of my stuff up 2 flights of stairs, which was not an easy process when you consider how much fabric and paper that I have. I was previously sewing in a room in our basement that was really nice, but a bit small.  As my business grew, I outgrew my space.
Since I had begun to work more hours, I also wanted a space that would be large enough that the kids or my husband could come and work or "hang out" with me while I was in there, the other room was too small for anything like that.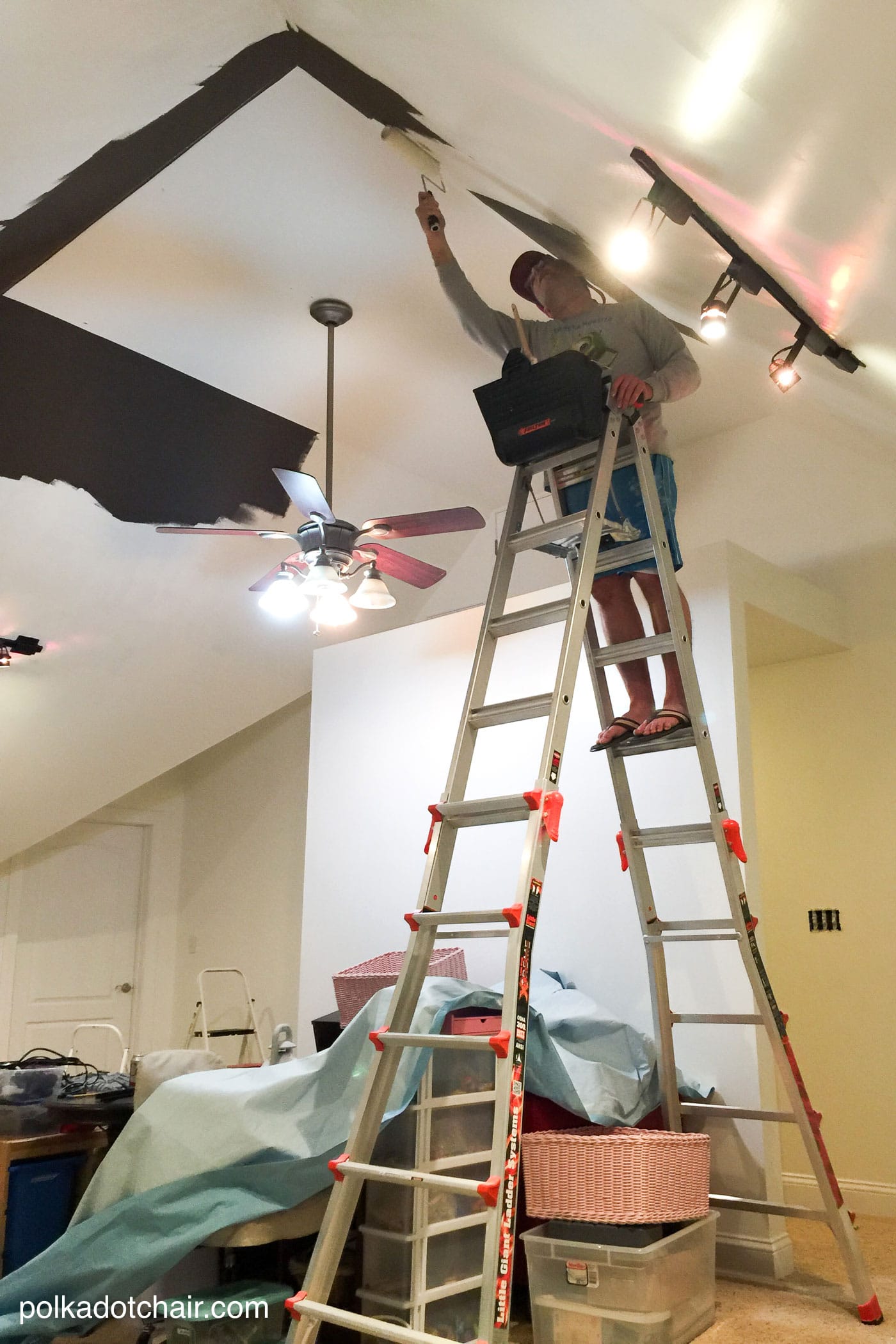 Phase 1 was to clean up the space and paint it, and phase 2 was completed last summer with the addition of skylights to the room (you can read more about that here).
In June of last year the skylights were completed, the room was painted and all of my stuff was moved in. (I still want hardwood floors in there, but am pretty sure that is not going to happen anytime soon).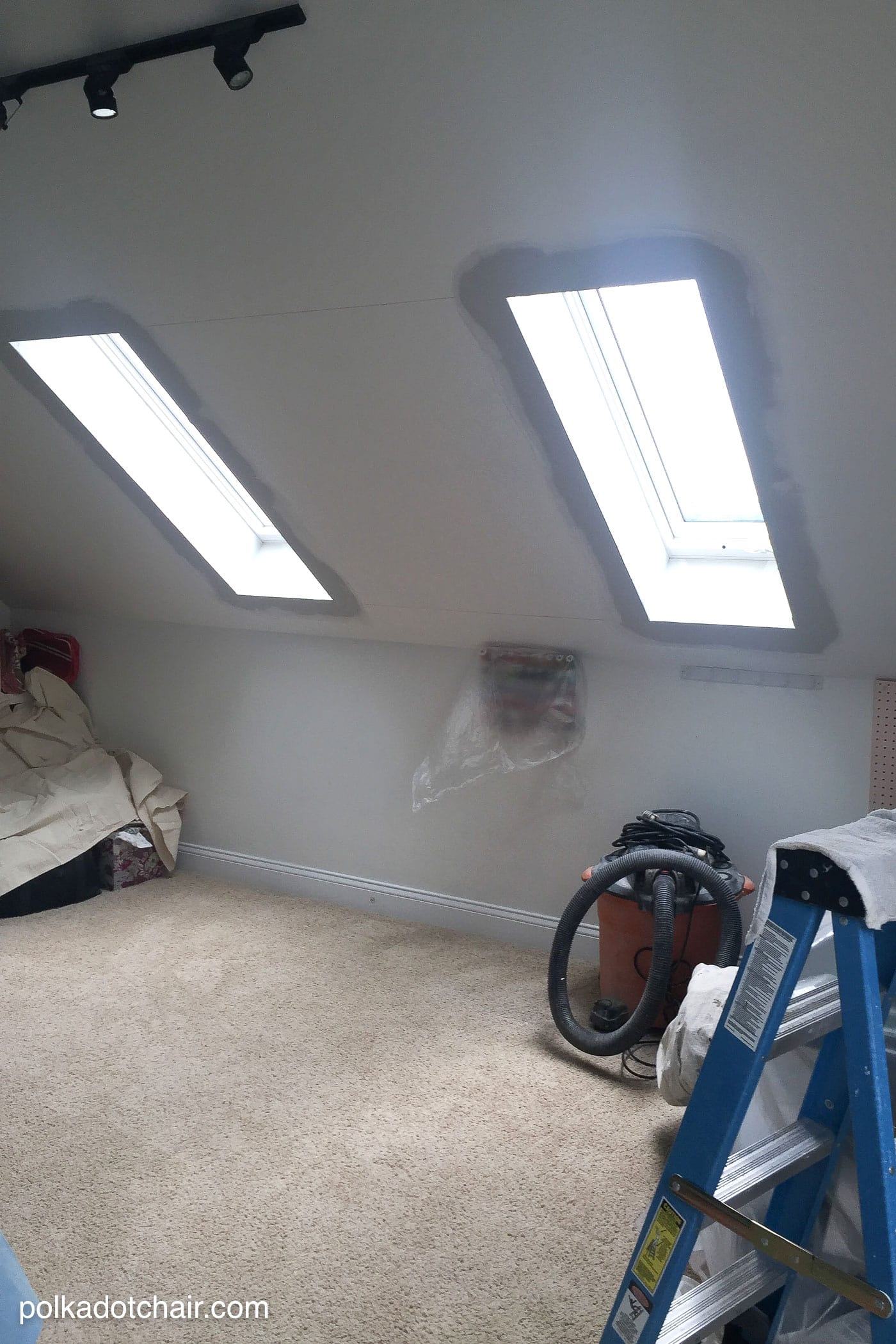 The space was now light and bright, but lacking proper organization and charm.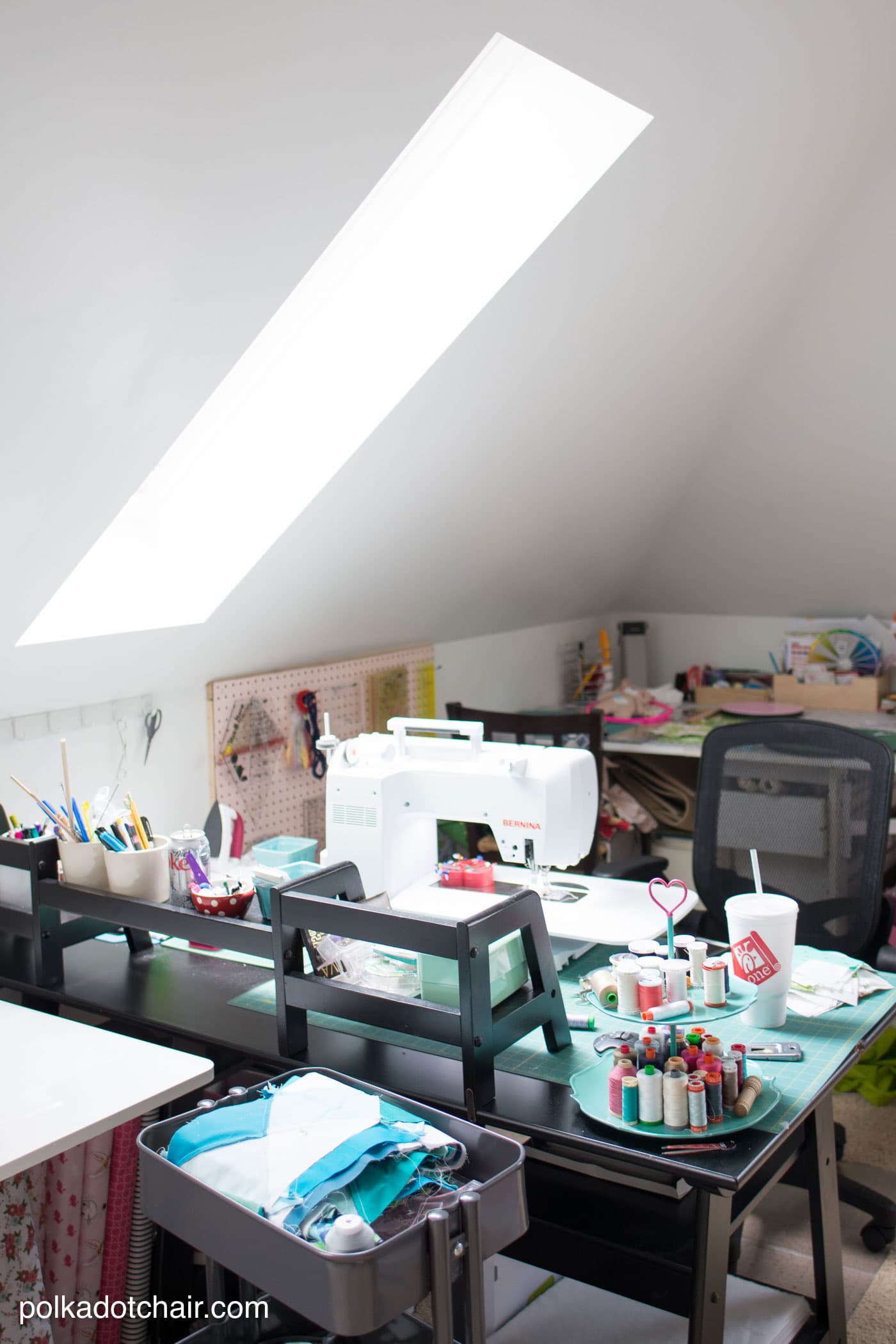 These photos were taken shortly after the construction was finished, I know you may be thinking that all it needed was a good cleaning but it needed a bit more than that. It was always messy and almost too "big" as there were too many places for me to just throw stuff.
I decided that my biggest problem with organization was what to do with work in progress (WIP's), I frequently have to move from one project to another, and rarely take the time to clean up after each project.
 Since our kids have become teenagers, my husband and I frequently find ourselves with free time on Friday and Saturday nights. We always seem to be waiting to pick someone up from somewhere, and end up with a lot of time to "wander".  We usually go to dinner and run errands, one of our favorite things is to go browse the aisles of local shops. Most are pretty quiet on weekend nights (apparently everyone else is doing more exciting things than we are!)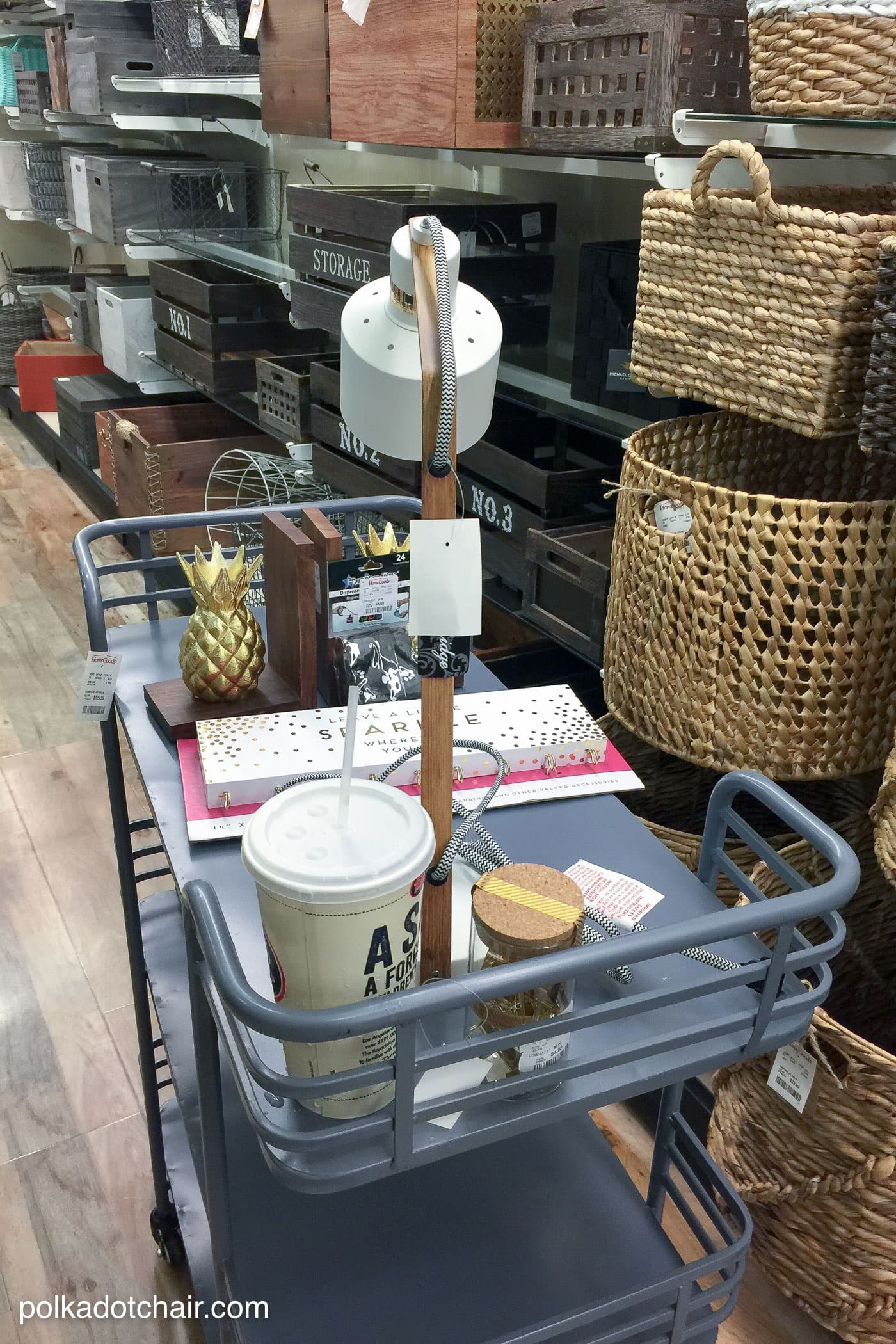 Recently we found ourselves at HomeGoods and I decided it was time to tackle the organization of my sewing room. I not only wanted to get a few things to organize the space, I also wanted to pick up a few "fun" and unexpected things to dress up the space a bit.
We always love to go to HomeGoods, it's the perfect place to spend an evening wandering the aisles. I love that every time I go there is a new selection of stuff, and I'm not likely to find the same thing twice. It's almost like a mini "treasure" hunt to see what I can find buried in the aisles of the store. 
While on this particular shopping trip, I spied a really cool gray cart. It was large and had wheels and seemed like the perfect thing to store some of my WIP's. I started pushing it around the store and adding things to it. My husband feeling a bit "bored" with me after my fourth trip down the basket aisle, sat in a chair that he found sitting in the store. I came back from the basket department and he said "you should get this chair, it's really comfy".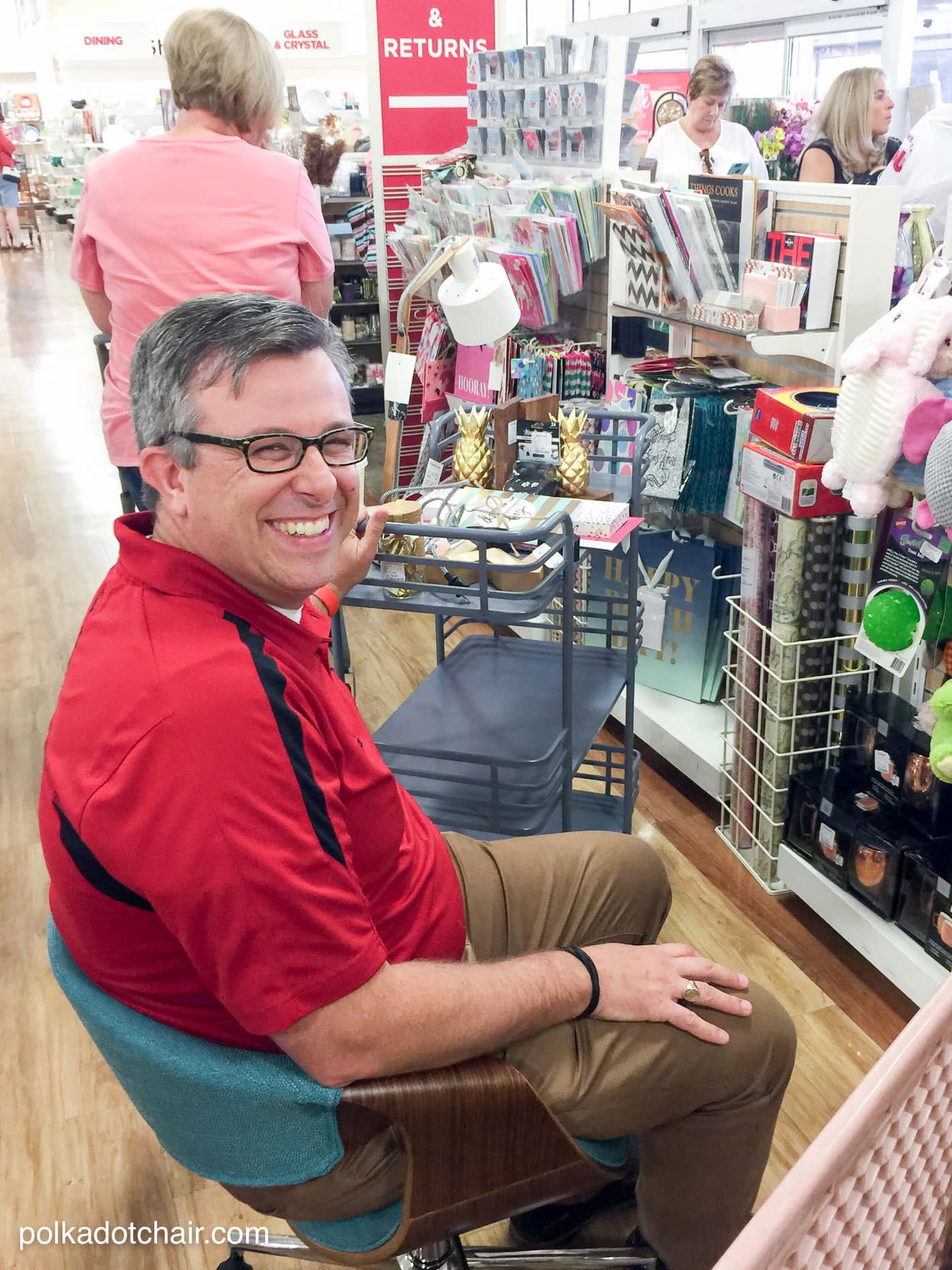 The chair that I've been using with my sewing table is at least 23 years old, (actually it's probably even older than that). We bought it after we were first married. There was a used furniture sale at the University we were attending, and we bought the chair there.  It was $5 and bright orange. It was the first piece of furniture we ever purchased. I made slip cover for it and it followed us around for years. When I saw the gorgeous teal chair my husband found I realized it was time to "upgrade" my chair, 23 years was long enough. Plus he was right it is really comfy. He sat in that chair all the way up to the checkout line.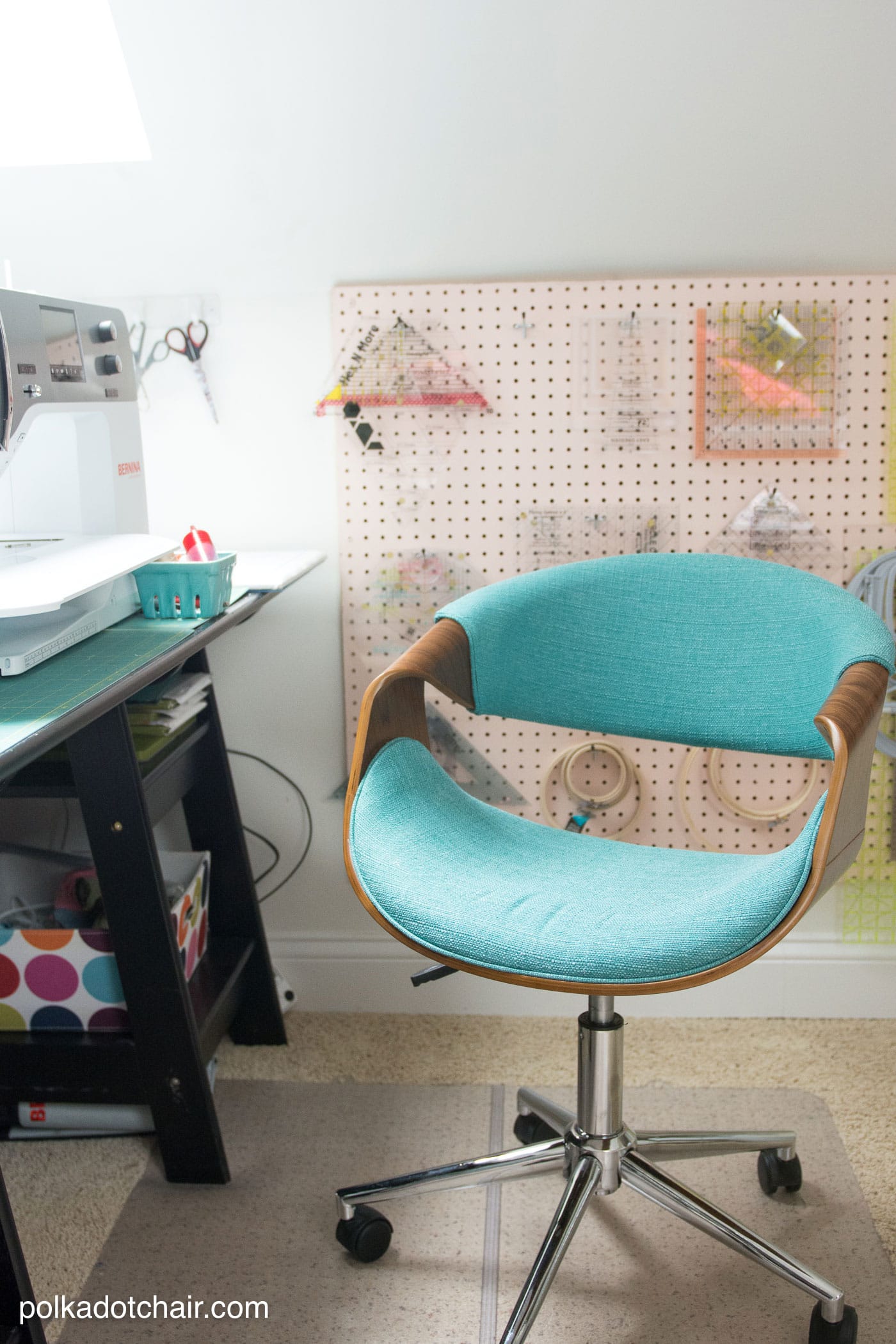 I got home and spent the rest of the weekend organizing and cleaning, and I love how the room turned out. I've got a place to put my WIP, new chair and better lighting solutions.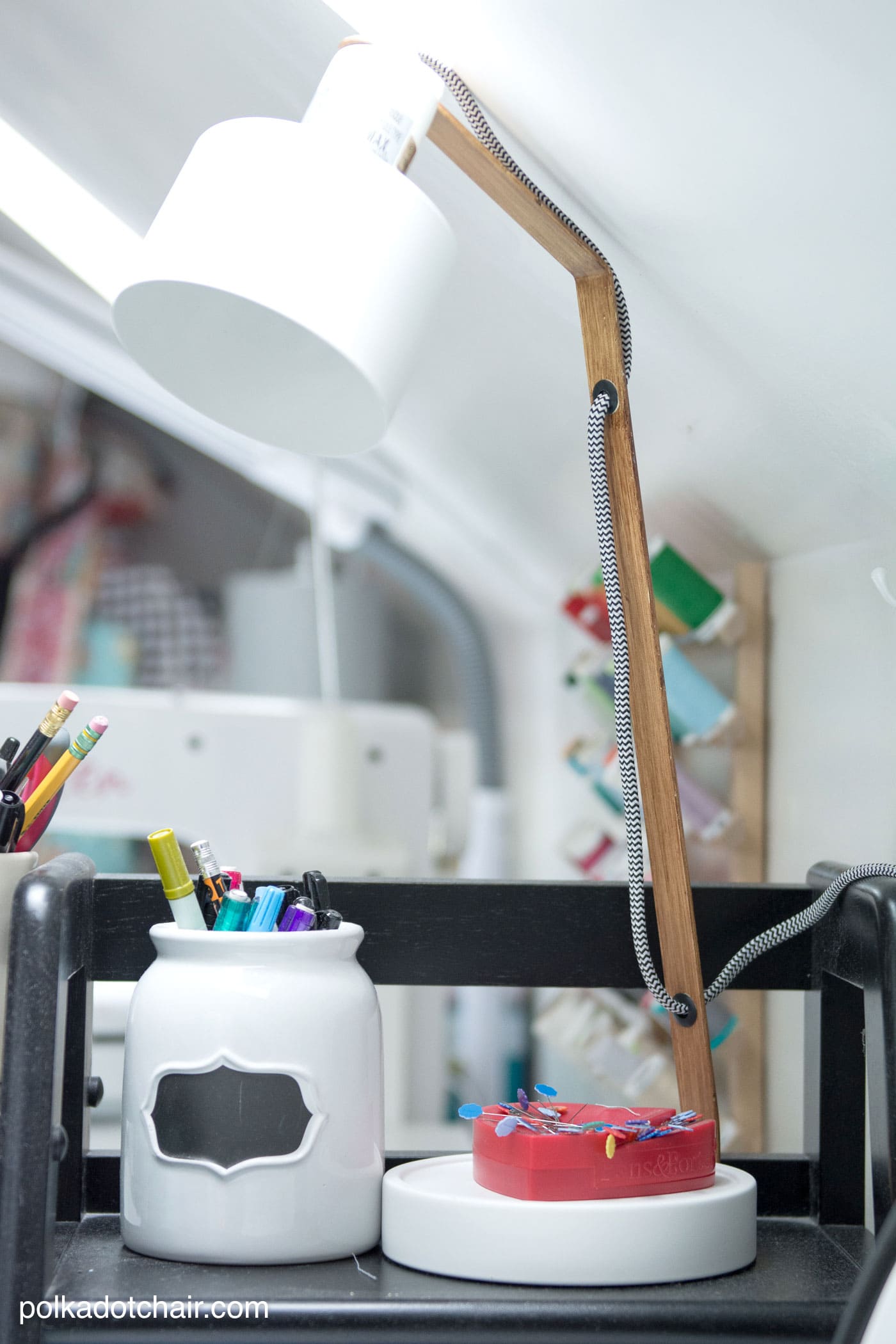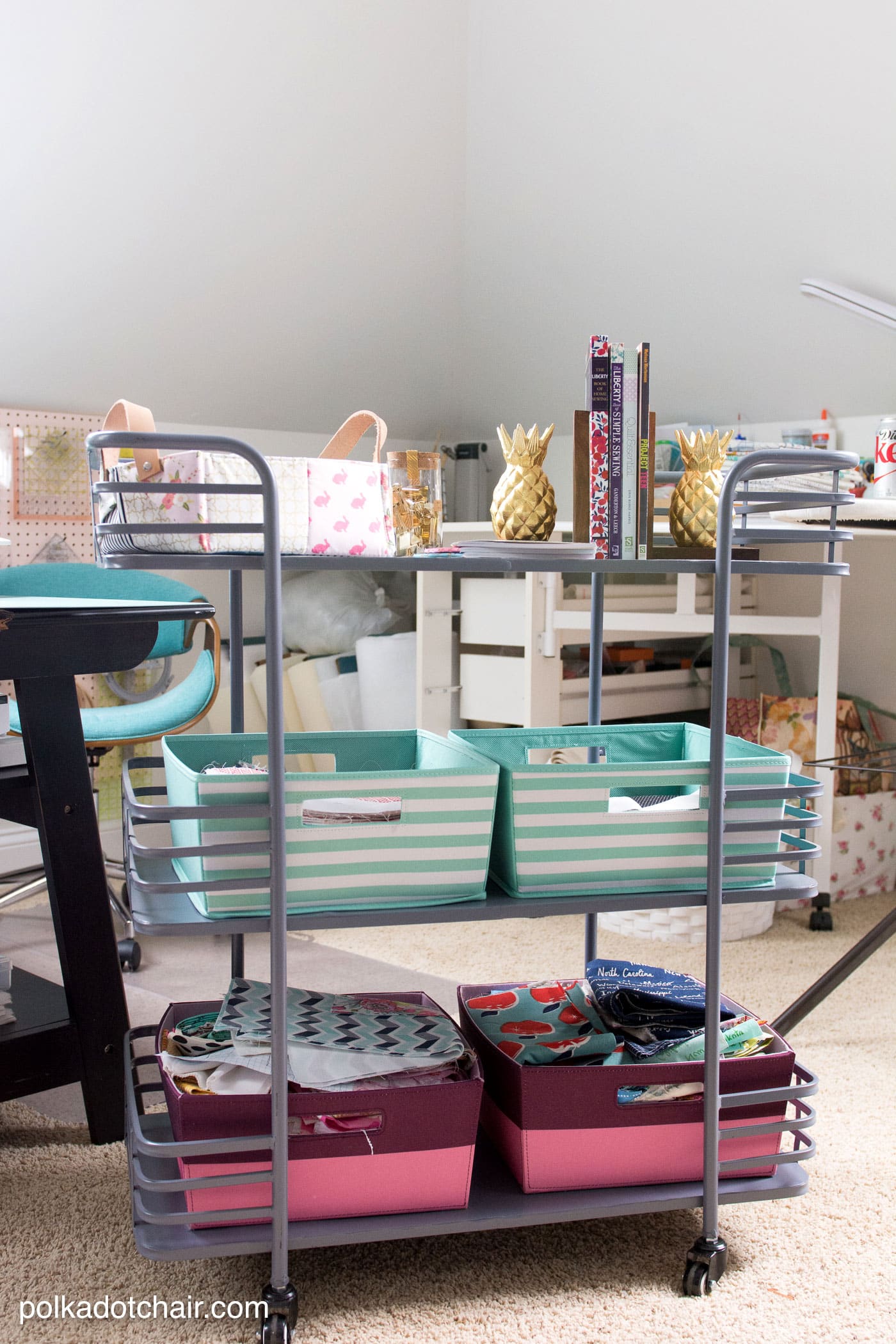 Here you can see a few more shots of the room. The storage cart sits next to my sewing table and I use the baskets to organize WIPs. I also added a few fun accessories to the top of the cart.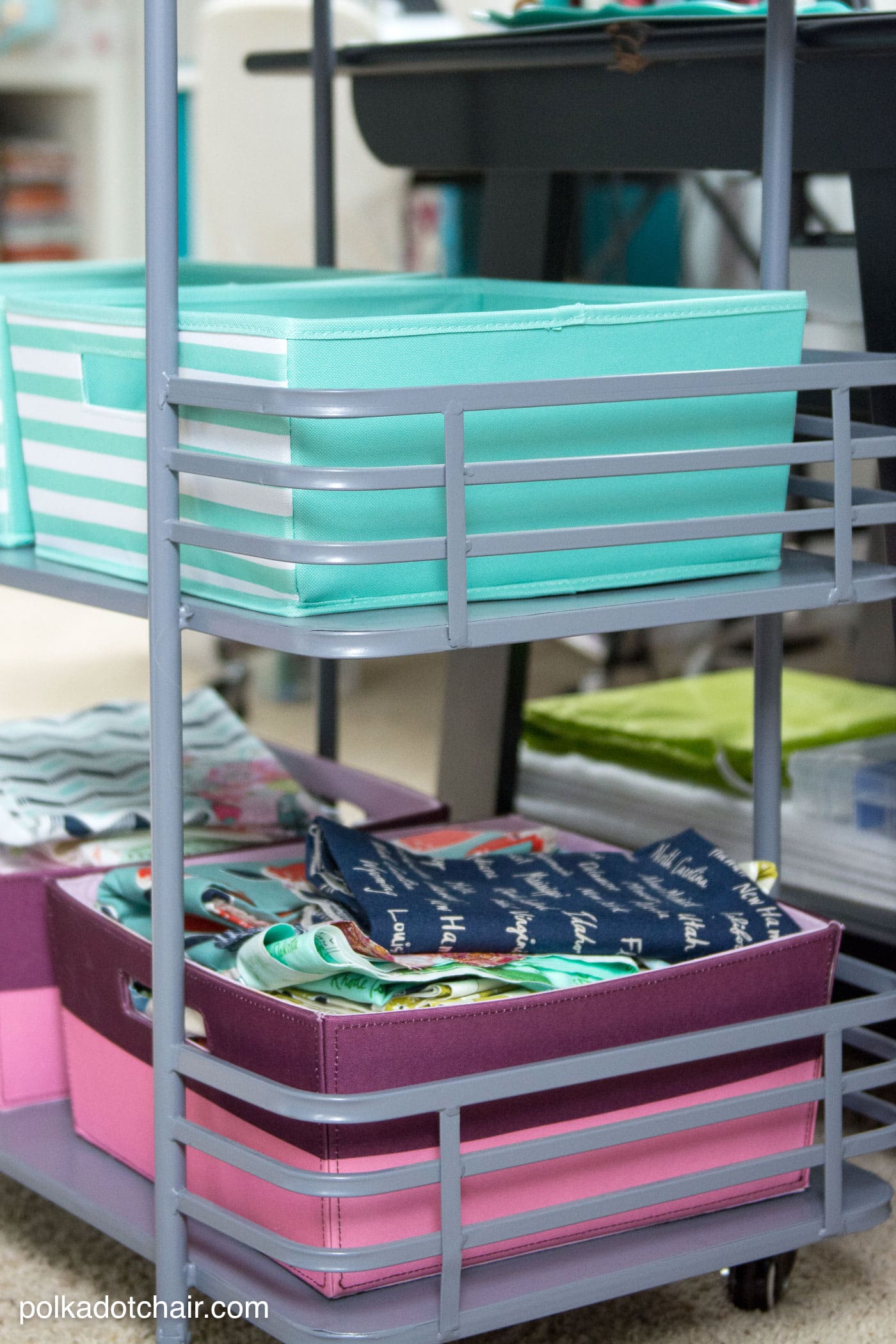 Each basket holds a different project. I can pull the baskets off of the cart take them to my sewing table and work, then put them back on the cart. The bookends on the top of the cart are also the perfect space to store books or patterns that I need to refer to on a regular basis.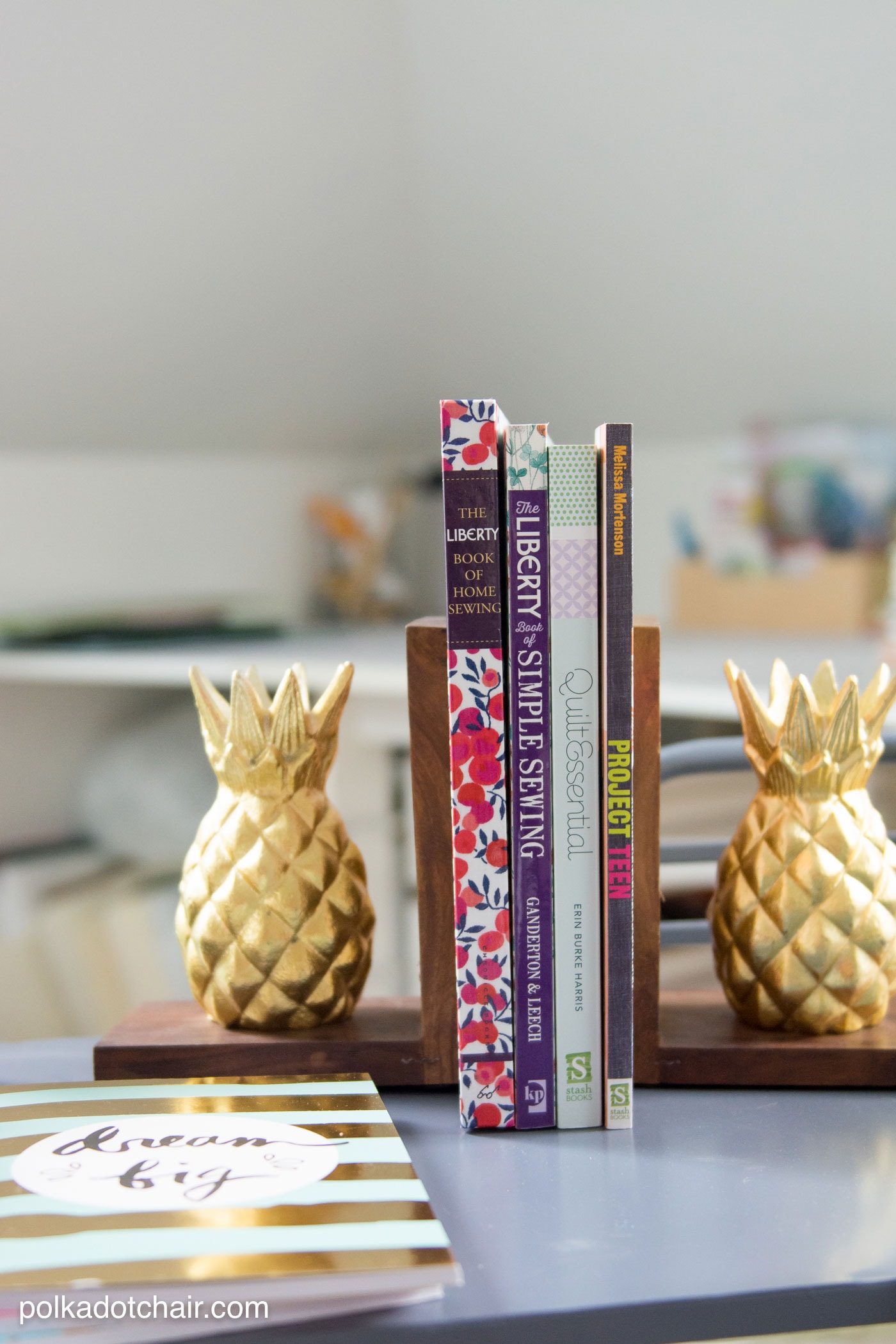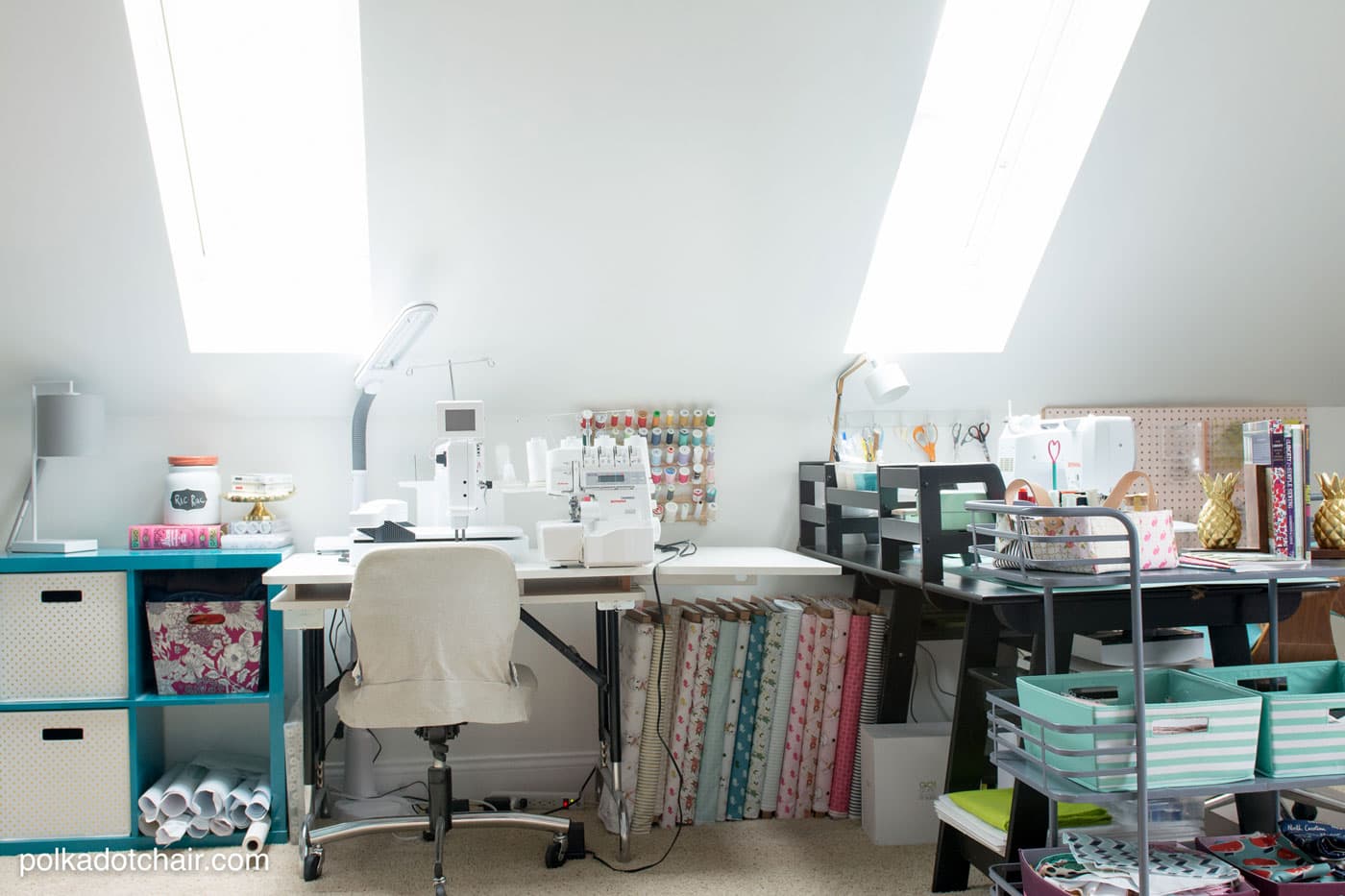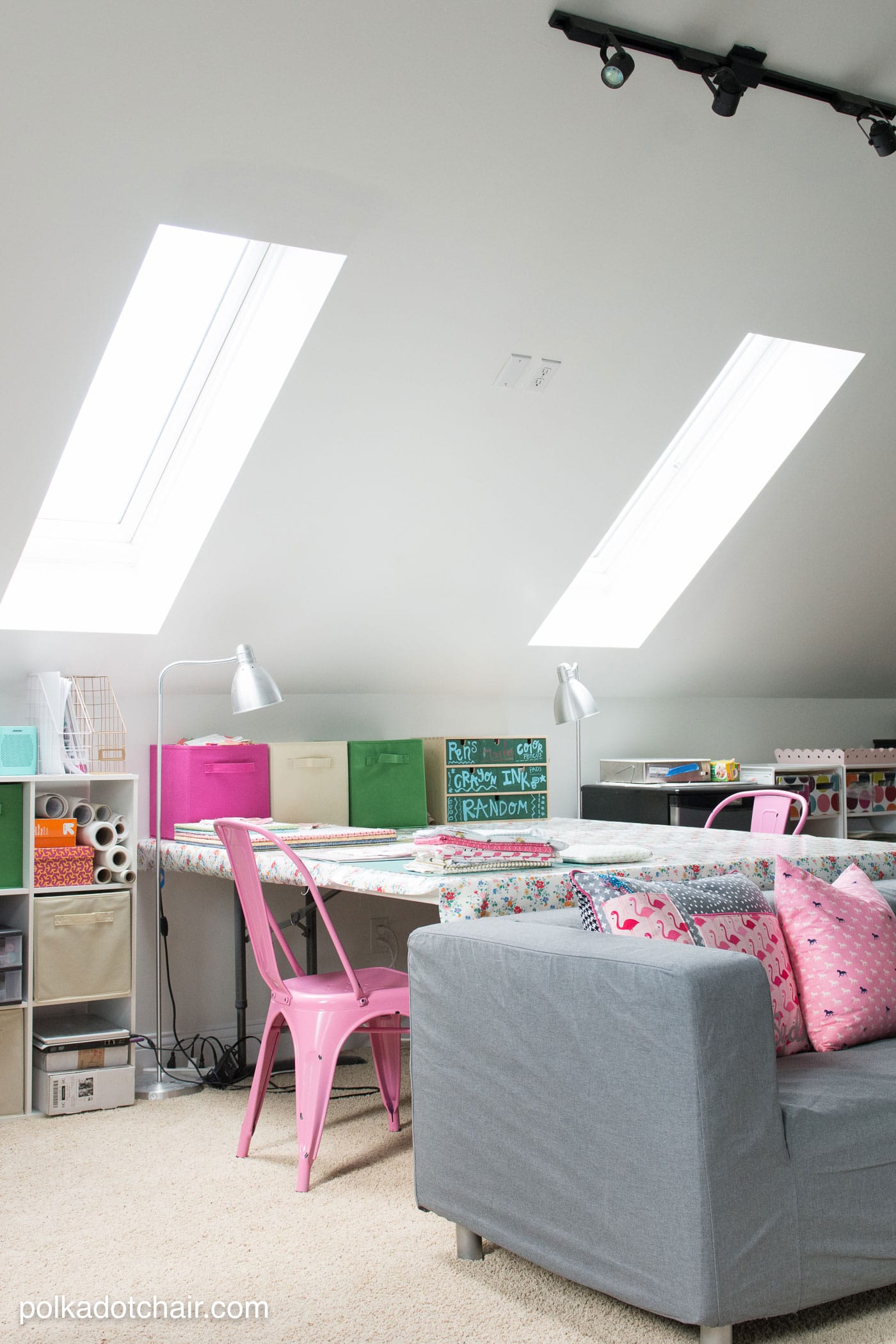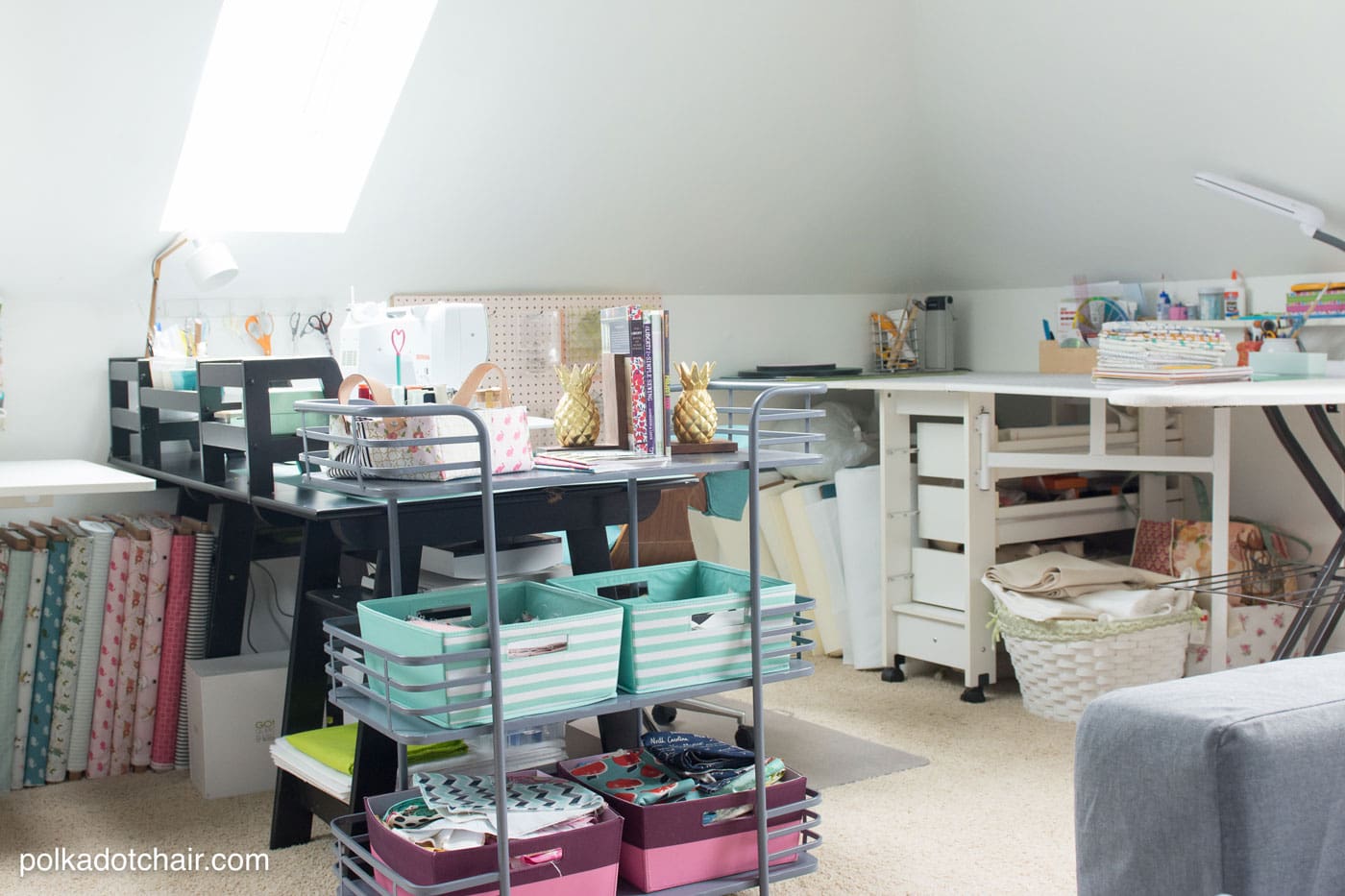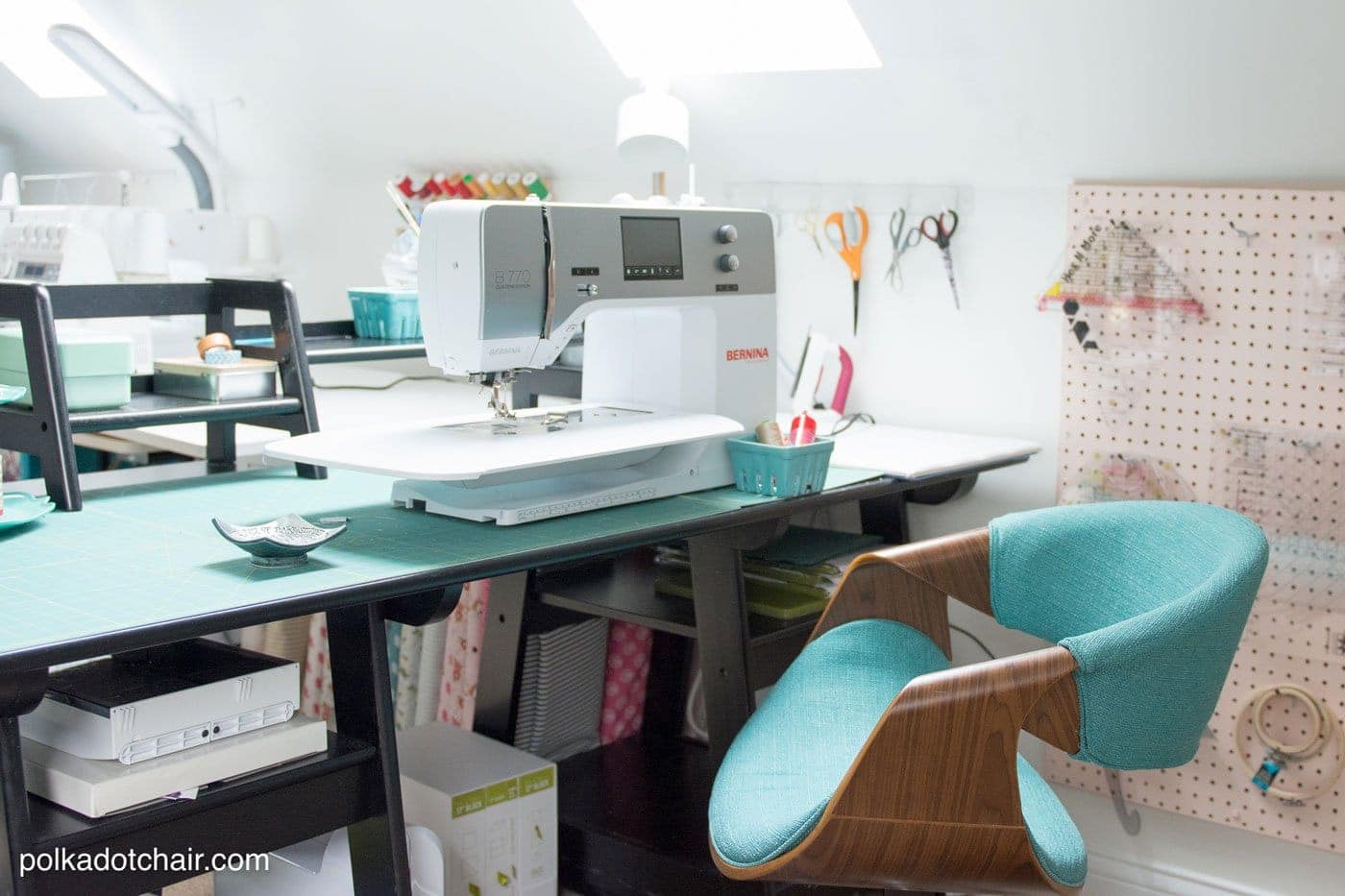 I'm ecstatic with how the room turned out. It's pretty close to my dream space now. It took about 2 years and a lot of work to get it the way that I wanted it but I'm so glad it's done now.  Now: off to tackle the guest bedroom and office (that might take another 2 years).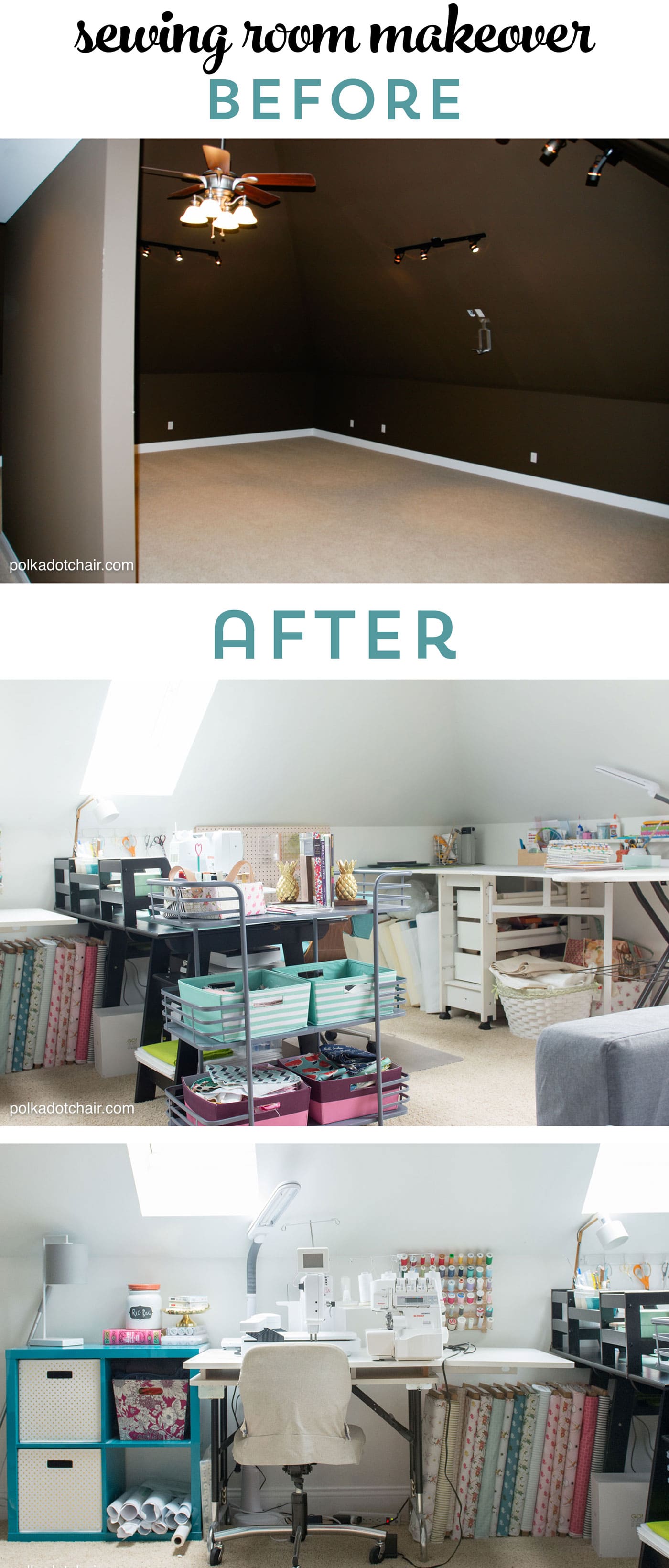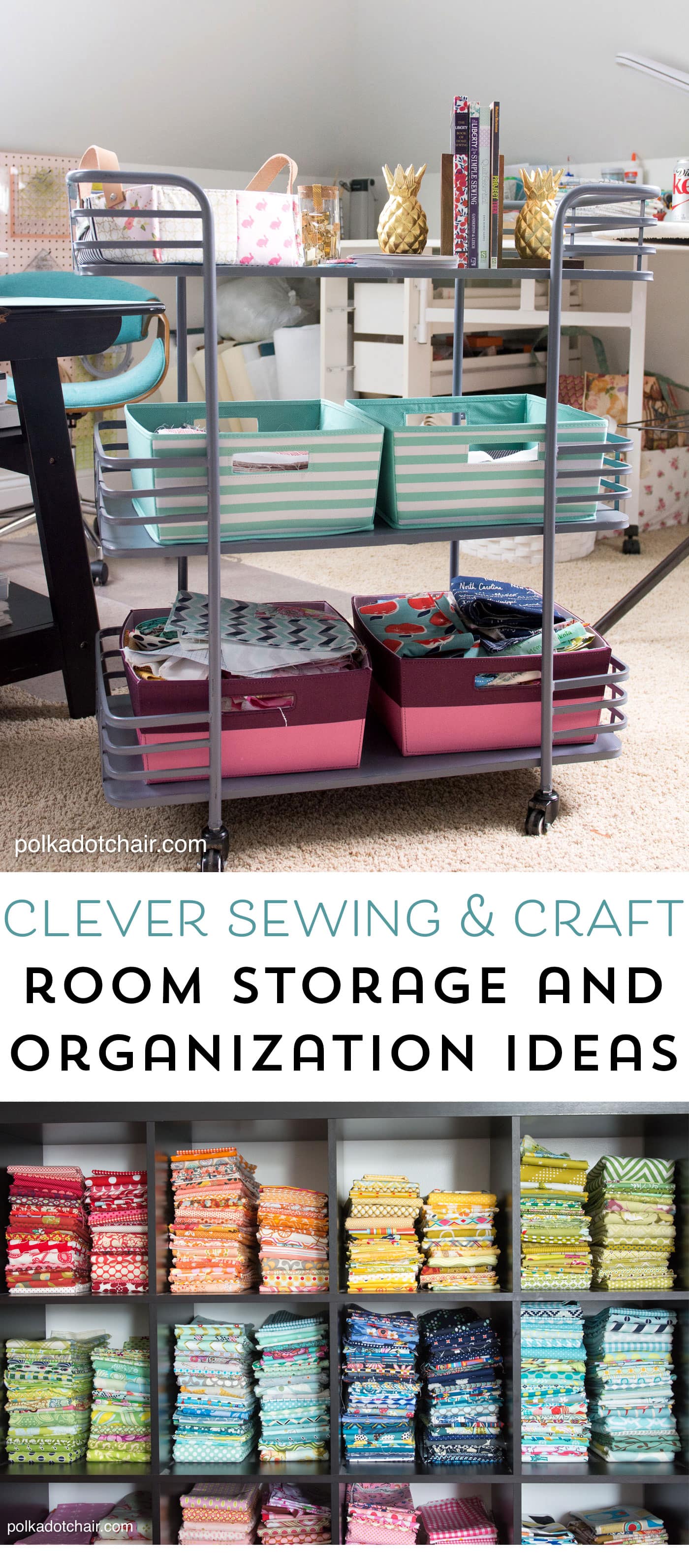 Visit HomeGoods on Facebook and Twitter.
Get inspired and check out this video with HomeGoods and Sutton Foster teaming up to make her dressing room feel like home!
What room in your home is in need of a makeover? Tell me in the comments for a chance to win a $100 Visa gift card!
Entry Instructions:
No duplicate comments.
You may receive (2) total entries by selecting from the following entry methods:
1. Leave a comment in response to the sweepstakes prompt on this post
2. Tweet (public message) about this promotion; including exactly the following unique term in your tweet message: "#SweepstakesEntry"; and leave the URL to that tweet in a comment on this post
3. Blog about this promotion, including a disclosure that you are receiving a sweepstakes entry in exchange for writing the blog post, and leave the URL to that post in a comment on this post
4. For those with no Twitter or blog, read the official rules to learn about an alternate form of entry.
This giveaway is open to US Residents age 18 or older (or nineteen (19) years of age or older in Alabama and Nebraska). Winners will be selected via random draw, and will be notified by e-mail. The notification email will come directly from BlogHer via the sweeps@blogher email address. You will have 2 business days to respond; otherwise a new winner will be selected.
The Official Rules are available here.
This sweepstakes runs from 10/10/16– 11/14/16
 Be sure to visit the HomeGoods Brand Page on BlogHer.com where you can read other bloggers' post