Four years ago when we moved into this house the dining room was red.  In our house before that our dining room was red.  After 8 years I was sick of the red.
The problem with repainting it was choosing a color.   I could not bring myself to paint it beige, I thought about blue. But nothing really sat right with me. To be honest I really wanted wallpaper, but was worried that a potential buyer of our home down the road would be scared off by it.
Eight years ago when I had the first red dining room, I purchased some very "formal" dining room furniture. I'm not sure I'd do it again. Even though it's beautiful, if I started all over again I'd pick something more modern.
Also in the room already were red silk drapes and a red oriental rug (that I bought in Turkey, so it wasn't going anywhere).  When I thought of the room I could not NOT see RED walls.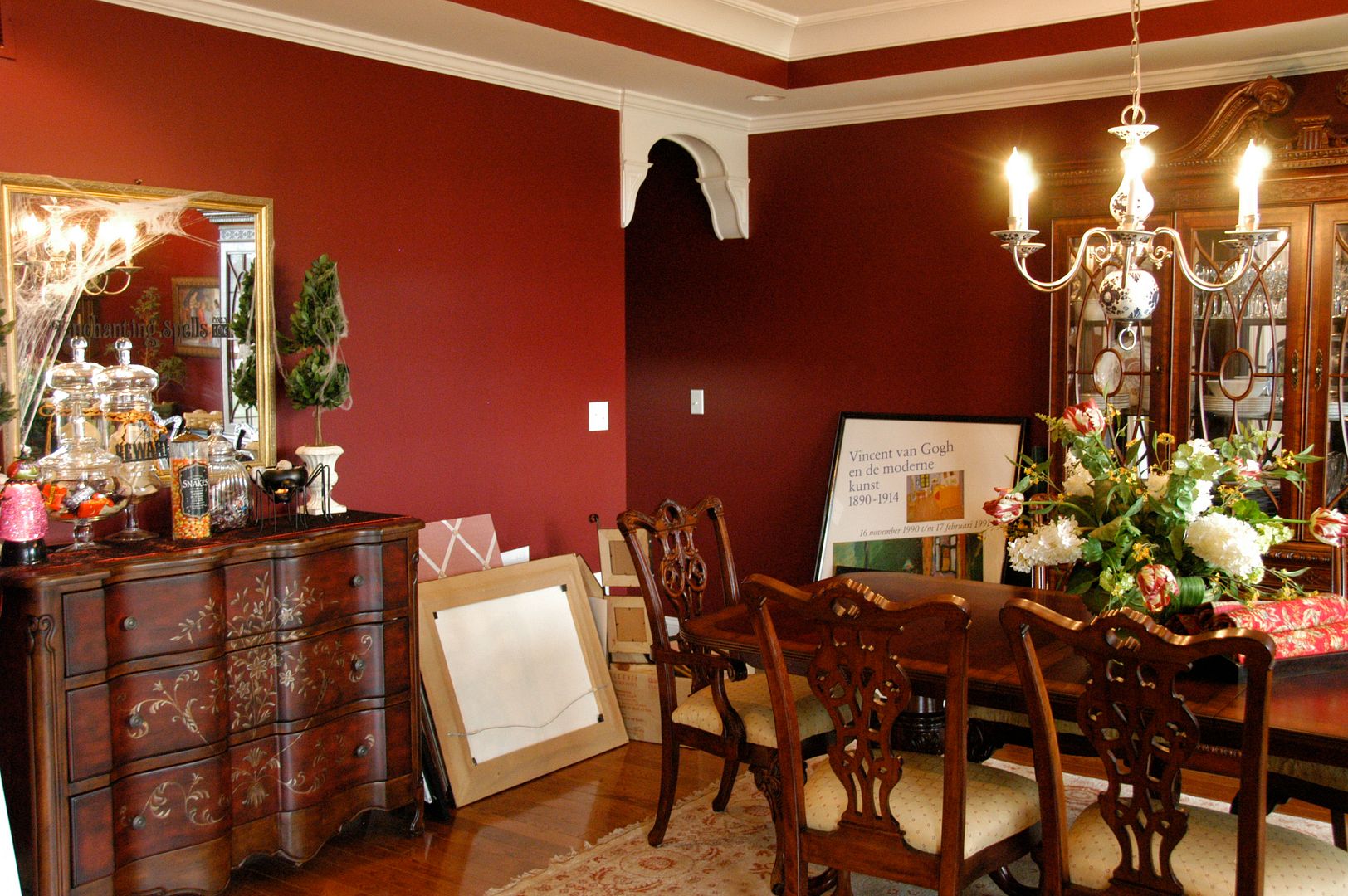 Right after we moved in.
Then I went to Amsterdam, walked into the Rijks museum and saw this wall and a lightbulb when off in my brain.  – Actually my husband said "why don't we paint the dining room like this?"  *wink*
Gray… I don't know why I didn't think of gray before… it's a great neutral but it's not beige. Gray would be perfect!
I didn't have the budget to totally revamp the room, just chose instead for a few new accessories.
We've managed to collect quite a few Delft and Dutch  items over the years. My husband had some from his time in the Netherlands 20 years ago and I picked up a few on our last trip (the hello is from Queen Bee Market at SNAP).   With this in mind I decided to go for an Old European feel in our dining room.
The stencil was REALLY easy to do.  I was honestly surprised. I thought we'd get ourselves into some kind of hot mess and wish we'd never started this project.  But we didn't. I took 2 people to do it so we only worked at night.  It ended up taking us 3 evenings to finish our entire dining room. It was not hard. I PROMISE.
Here's a few tips I learned:
1- Paint the base coat in flat paint.  It absorbs the stencil paint rather than letting it just "slip" off the wall.  I'll admit that flat paint is not my favorite, but it worked very well for this project. The stencil came out crisp and clean almost every time.
2- Map out how you want the stencil to lay on your wall before you start.   Continue the stencil around and into corners. It will give it a more natural look. You can just bend the stencil in the corners.
3- Use a foam roller brush.  For some reason I thought I should use a stencil brush, but no… Use a foam roller.
4- A few MUST HAVE things in my opinion to do this.  Painters tape, a laser level, chalk & a vertical level.  You can use the chalk to mark where to put your next stencil (it will just wipe off your paint later).
5- Fill up your paint roller with paint, then roll it onto a stack of paper towels to blot it.  (I bought the blue industrial paper towels at Lowes, I thought they worked better than the kitchen ones).  You want the roller to look almost dry. It takes less paint than you think.
We chose not to paint an overall pattern with the stencil, I wanted to really use that wall at the Rijks museum as inspiration.  So I just figured out how far apart to put each stencil and stuck with that around the room. If you want and overall pattern the stencil comes with guides so that you can line each one up.
And since I know you'll ask:
Paint Base Color:  Amherst Gray from Benjamin Moore
Stencil Paint: Valspar Brillant Metals in Tempered Pewter
I must say that I'm thrilled with how the room came out.  The way the metallic paint changes colors all day is beautiful, and I think the gray looks quite elegant.
I still need to pick up a few new accessories for that cabinet top in the corner, and my placemats now look all out of place, but I'm not in a rush- I like that part of the design process. I figure I'll just collect items slowly.
I added the Fork, Knife and Spoon prints too.  I'm not sure if they are too literal.. but I like them and the gray and the warm tan tones seem to work well in the room.
I've still got quite a few projects left to do in here. Including changing out the fabric on the chairs (it's yellow and doesn't match anymore) and making some roman shades for the windows. – I just need to pick some fabric, wonder if that will take me another 4 years to decide?  I also need to refinish that little gate leg table in the photo above. It was my Grandfathers so I need to do it "right".
Around the corner is a butler's pantry. We are still working on that- painting the cabinets and such. I'm going to hang my collection of blue transfer ware plates on the wall over there.  And since the room seemed to be getting a wee bit too serious, I picked up this guy,
to add a bit of humor. I'll be sure to share that when I get it done. UPDATED: Click here to see the plate wall