Last week I got a fun box in the mail!  Silhouette sent me some of their Heat Transfer material to play with!  I have to admit, it's one of my favorite products of theirs to experiment with!  They sent me 2 rolls of smooth transfer material and  a roll of fuzzy vinyl and I must say that I'm in love with that fuzzy vinyl!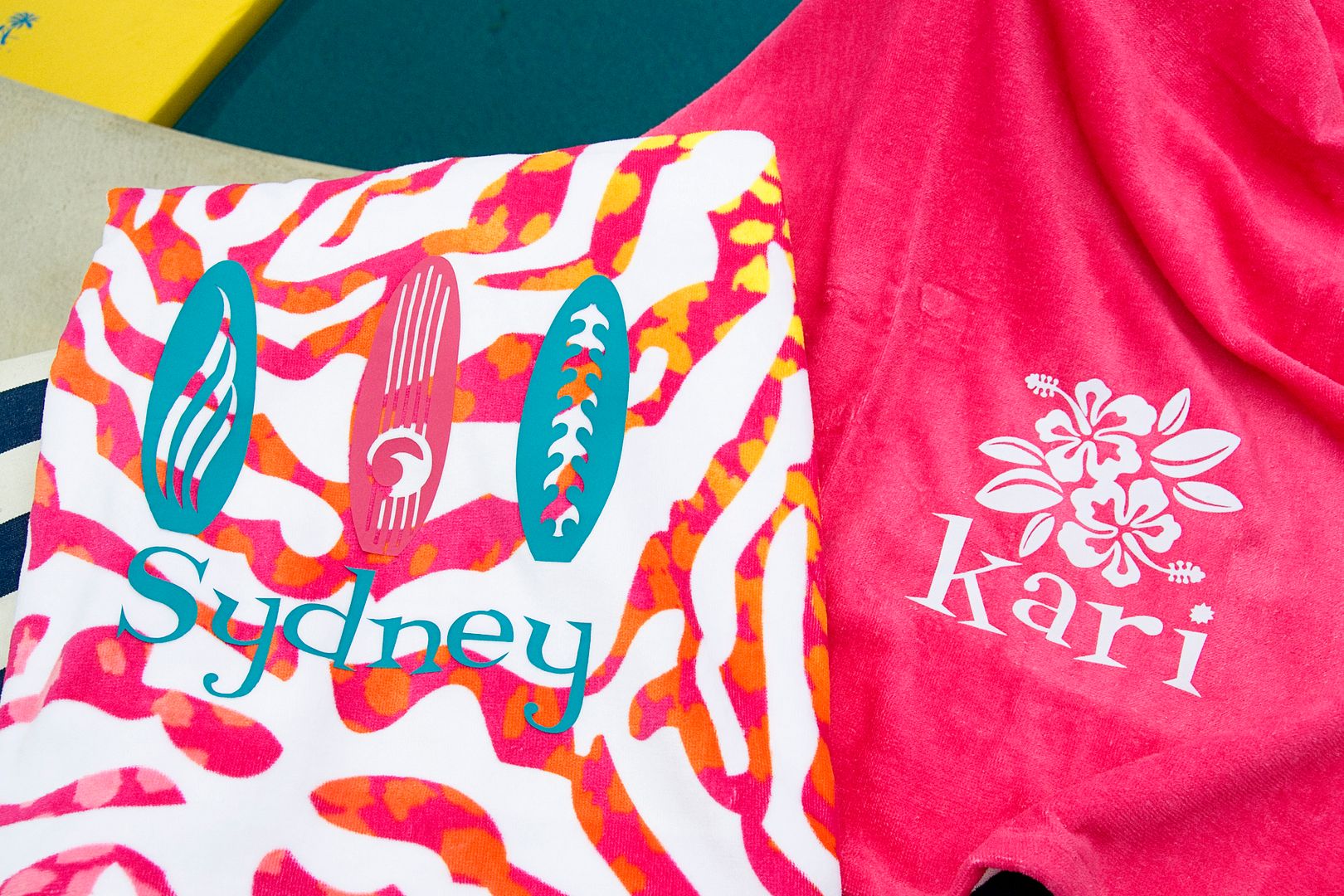 Even though the weather here is not cooperating, I've been bitten by the summer bug big time! I can't wait for the smell of sunscreen and chlorine and lazy evenings outside eating popsicles and ice cream.
I decided to gussy up some beach towels…  I've always thought that the sure way to get a kid to "admit" to leaving a towel on the floor is to put their name on it.   The towels were on sale for just $5 a piece, at that price these would be fun birthday gifts for kids with summer birthdays!
The heat transfer material ironed onto the towels just fine, but it did take a bit longer than when I iron onto t-shirts.
Using the heat transfer material is very easy. The box comes with very good directions. (If you are cutting out a name, make sure you mirror your image in the Silhouette software). You just put in it the machine, cut out your design then pull away the "negative" space around the image.
Then just lay your design down on your towel, cover it with a pressing cloth and iron until it sticks.
I think that the fuzzy vinyl looks really good on the beach towels! It matches the texture very well.
Silhouette is running a  great deal for you guys if you want to pick up a Silhouette machine or some Heat Transfer Material.
If you just need some Heat Transfer Material … you can use the code:
at checkout and get
25% off!
Or if you want pick up a machine for yourself, they've got a great bundle going right now!
-Silhouette Digital Cutter
-3 rolls of heat transfer material!
That's a savings of $125!
Just click here
to get the package and be sure to use the code:
'chair' at checkout to get your special price
!
This special promo runs from May 17th- May 25th.
Now all I need is the weather to warm up so we can use those beach towels!!
**disclaimer: The product was provided to me by Silhouette, but all opinions are my own.  I received no other compensation to write this post.
linking up: