Today I'm excited to share with you a free sewing pattern for a Halloween American Girl Doll Apron. It's a quick and easy sewing tutorial that could be customized for any season!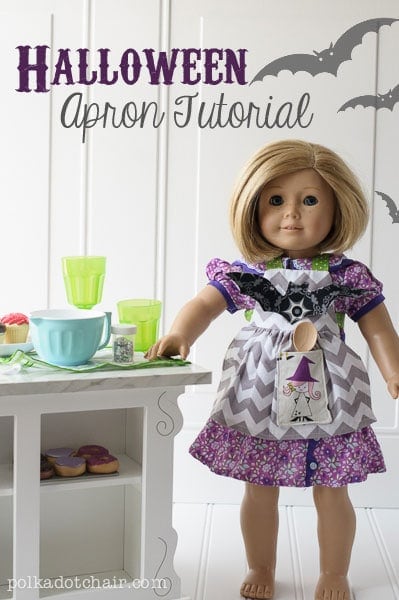 I'm so excited to be sharing a tutorial with you today for this American Girl Doll Sewing Pattern, a Halloween Apron. I made it for Halloween with some of the Riley Blake Fabrics, Too Cute to Spook fabric line.  This apron also coordinates beautifully with my Very Batty Halloween Apron from last year!
To make the apron you will need:
1 Fat Quarter for the Apron
1 Fat Quarter for the Pocket
40" of ribbon
Paper Backed Fusible Webbing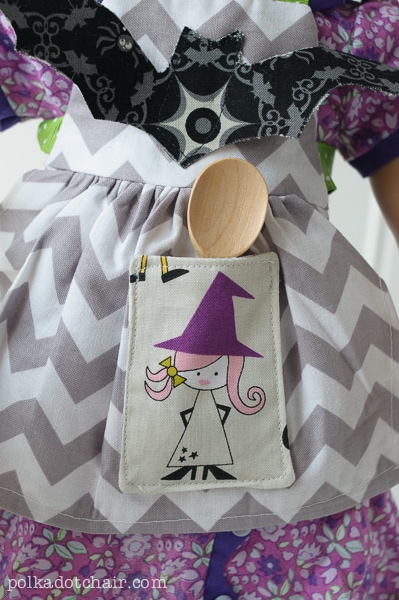 Cutting Guides:
2 pieces 3" x 5′ for apron
1 piece 5" x 10" for apron skirt
2 pieces 3 ½" x 2 ½" for pocket (you'll want to fussy cut these pieces)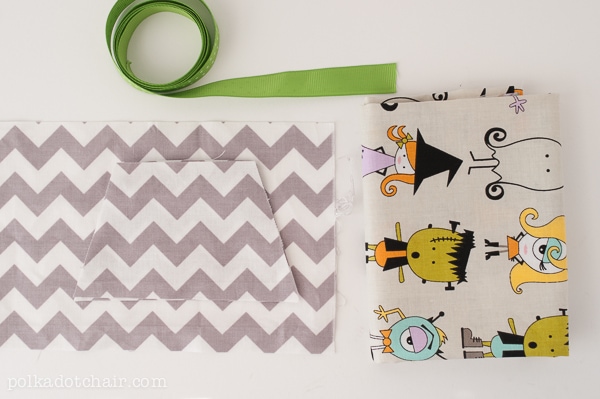 On the 2 3" x 5" apron pieces, mark in 1" from each top corner. Draw a line from the bottom corner of the piece to the place you marked and draw a line.  Cut off the extra fabric. Do this on both sides so that you end up with a trapezoid shape.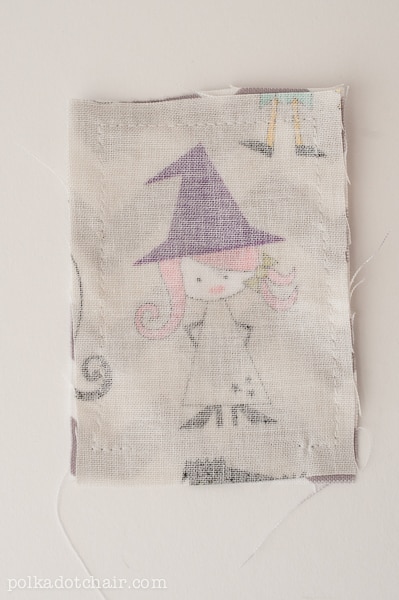 Sew the 2 pocket pieces right sides together, leaving an opening in the bottom of the pocket. Clip the corners and turn the pocket right side out. Topstitch along the top of the pocket.
Pin the pocket to the skirt piece just off from the center. Sew pocket in place.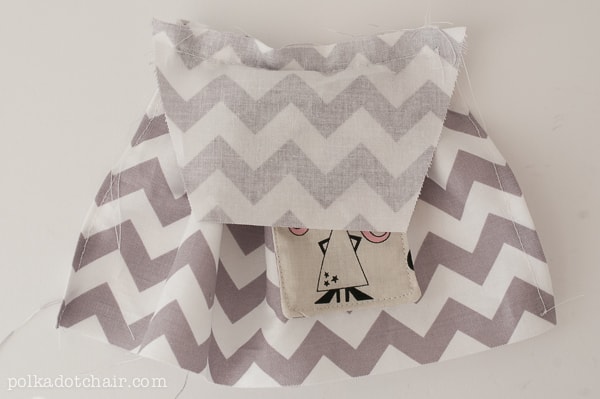 Turn under the sides of the skirt piece ¼" and press. Stitch.
Run two rows of gathering stitches across the top of the skirt.
Pull up on the gathering stitches until the skirt fits the bottom of the apron top piece. Pin in place and stitch with a ¼" seam.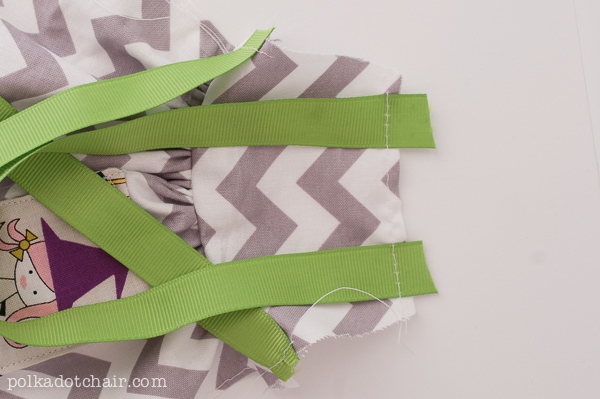 Cut 2 pieces of ribbon 8" each for the neck and 2 pieces of ribbon 15" each for the skirt. Sew to the apron top piece.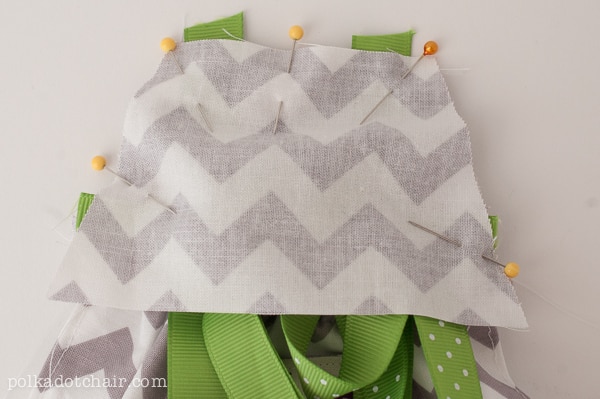 Pin the 2nd apron top piece to the apron piece right sides together. Stitch with a ¼" seam. Turn right side out.  Hand stitch in place on the wrong side of the apron. Hem the apron with a ¼" seam.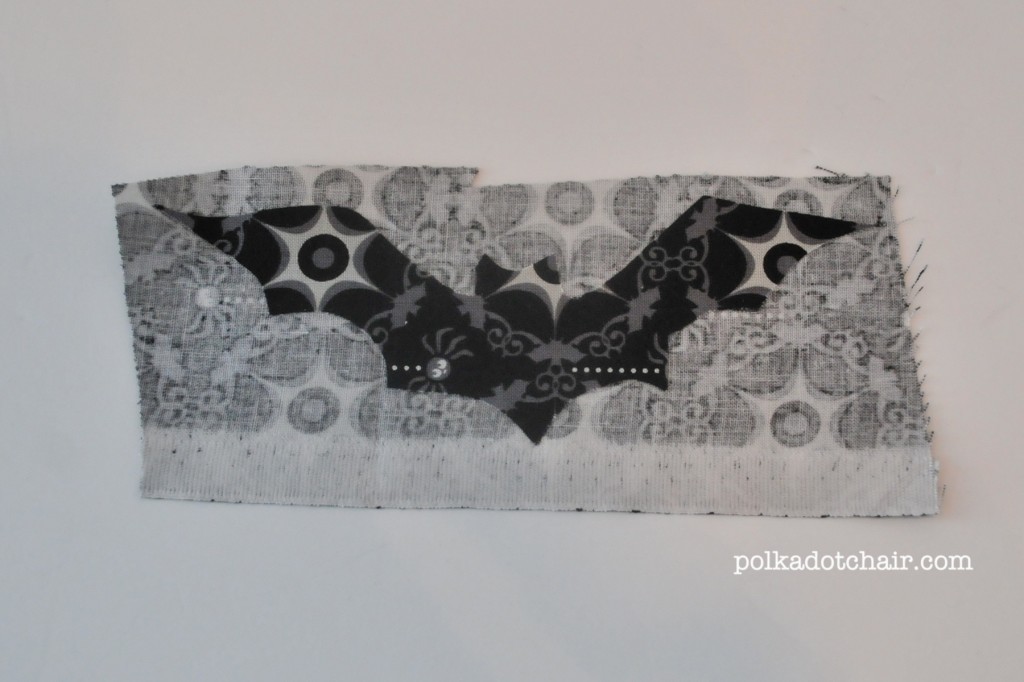 To make the bat for the apron top:
Trace the bat shape onto a piece of paper backed fusible web.
Iron onto wrong side of black fabric
Cut out precisely
Peel off backing and iron onto another piece of black fabric (also ironing onto the wrong side of the fabric).
Cut out bat.
Stitch to the front of the apron using black thread.