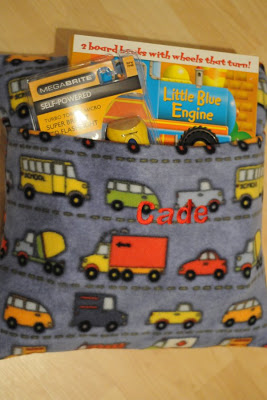 Sorry for the bad picture, I know it's out of focus but this photo was taken as the gift was about to go in the mail (it almost didn't get there by Christmas).
About Our Handmade Gifts; The Invention of a Reading Pillow!
I have 2 nephews, they are 2 and almost 4… I have a hard time thinking of something to make for a boy… I can't just sew them a skirt LOL!!
For Christmas one year I came up with this idea, create a pillow with a pocket to hold their books! I'm calling it a Reading Pillow…
The fleece and the pillow were ½ price at Joann's so it was a pretty inexpensive gift.
I made the reading pillow out of fleece and added an extra layer to make a pocket.
Then I stuffed the pocket with a flashlight and a few books to make a "reading" pillow.
Just a tip, when making a pillow, do not add seam allowances if you have a 14×14 pillow make the fabric 14×14 that way the pillowcase will fit snugly.
UPDATE:
This Reading Pillow is now a full sewing pattern offered in two sizes. The pattern is linked below.