This Cupid's Arrow Valentine's Day Heart Quilt is proof that sometimes you DO finish what you started even if it is a year later.  Today I'm sharing photos of the finished quilt pattern, which look so much better than the photos from last year with the quilt top hanging in my hallway *wink*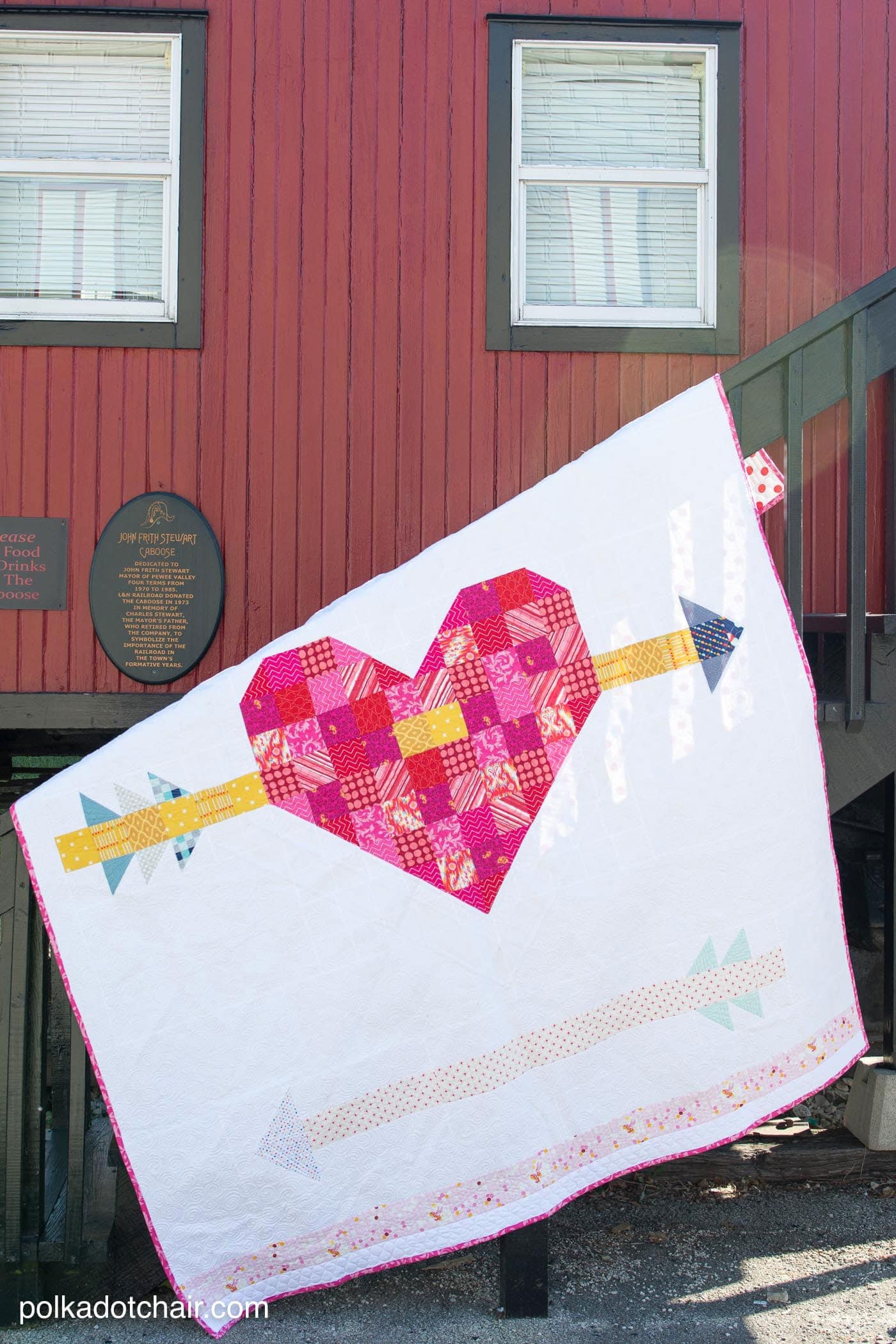 Last year after Christmas I got it in my head that I wanted to make a Patchwork Heart Quilt.  I don't know why, but it was just one of those ideas that just "stuck" there and I knew the only way to stop thinking about it was to just make the quilt.
I started out with a general idea of an arrow piecing a giant heart.  Every day for a few weeks, and bit by bit, the quilt began to take shape.  I know that many people like to use electronic quilt programs to design their quilts, I'm actually trying to do that right now, but for some reason I always seem to do best just putting a quilt together little by little. Sew a bit, stand back and look, think, then sew a bit more.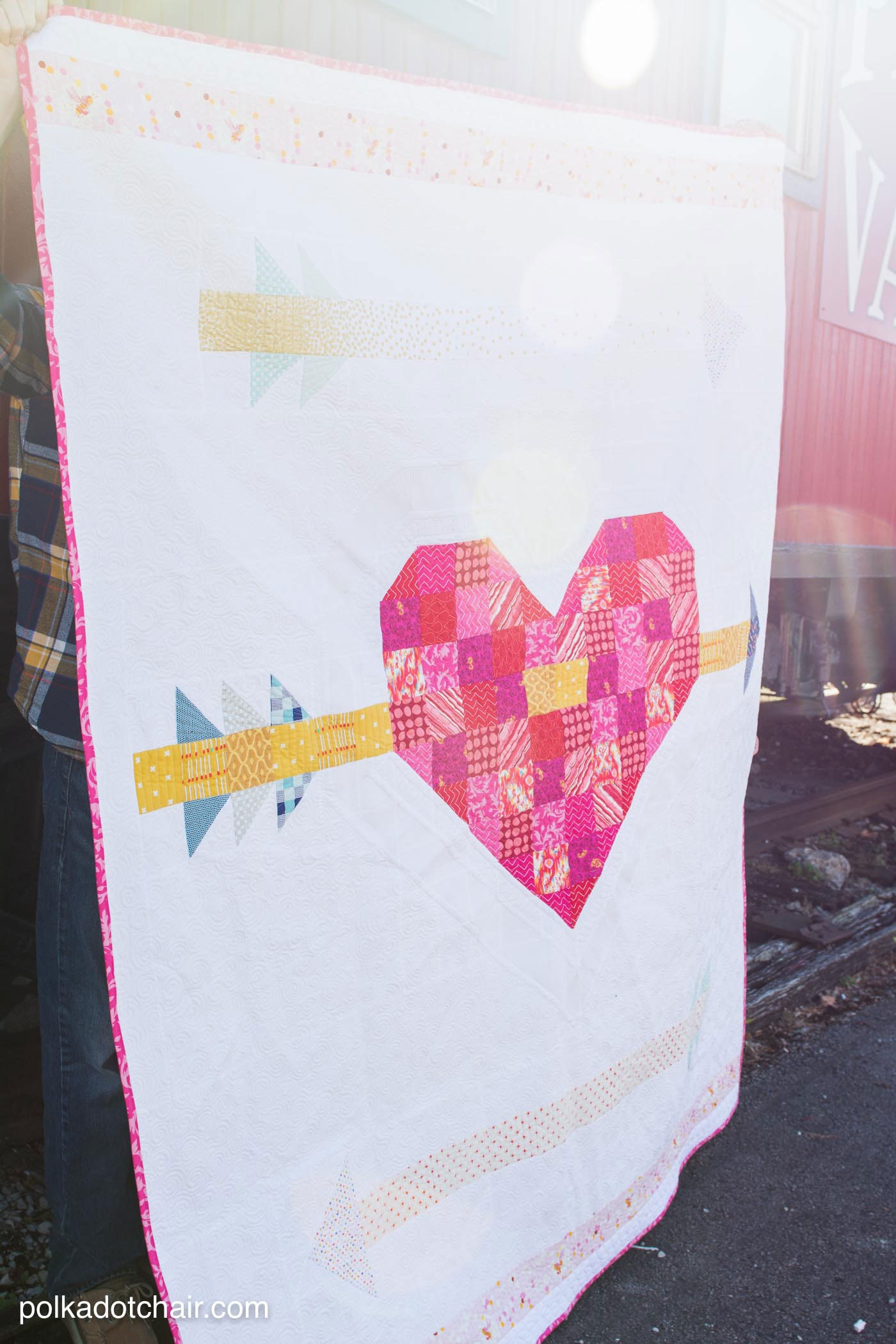 Last year after I went to all of the trouble of designing and making the quilt I decided that I'd go ahead and release it as a quilt pattern. After all it took a while to do all of that math and I thought someone else would appreciate it too.
The pattern came out last year a few weeks before Valentine's Day. Since it was close to the Holiday I just blogged about the quilt with the top only done. I can free motion quilt a bit, but I knew that this quilt would be too big to do myself.  Last spring I sent it off to Natalia to quilt, she sent it back and did an AMAZING job (as always).  This fall I finally got the quilt bound and took it out for a little photo shoot with my kids before the weather turned too bleak.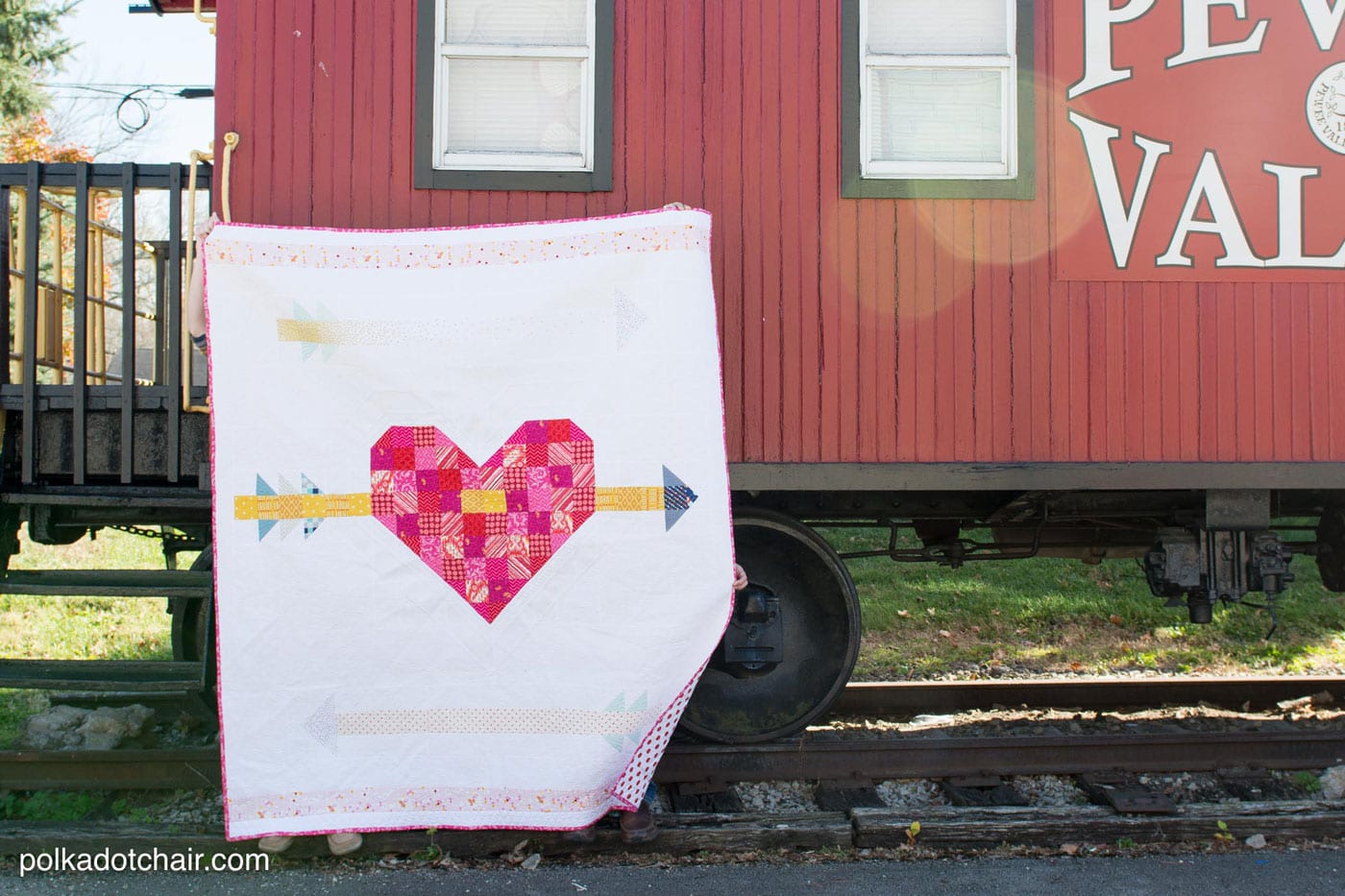 The quilt pattern is available in my PATTERN SHOP.  It's in PDF format and will you will be automatically emailed immediately after your purchase a link to download the pattern yourself.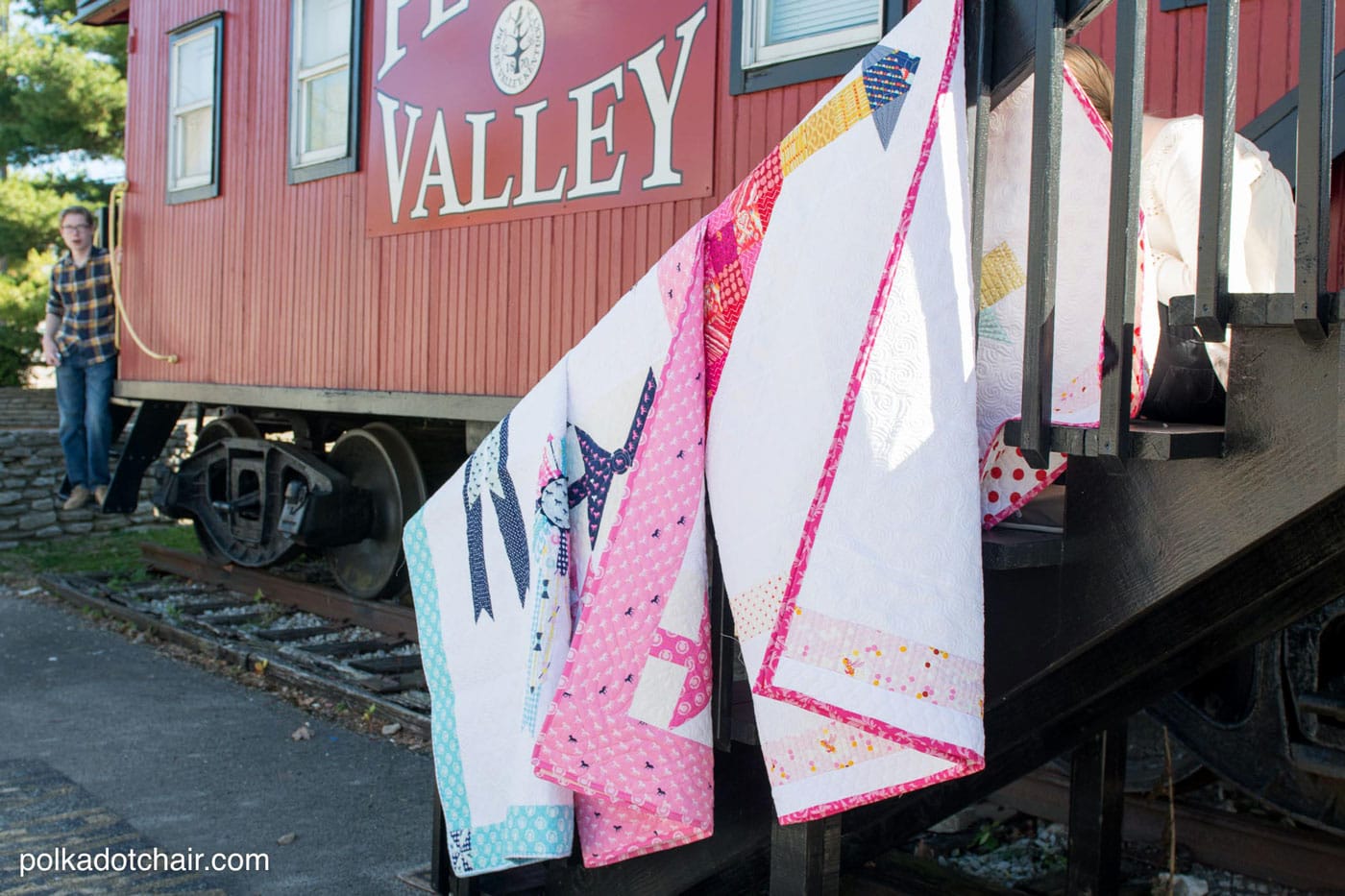 The quilt measures approx 70″ x 80″.   It's an intermediate pattern. If you can make a Half Square Triangle and sew squares together you'll be fine. There is nothing too complicated about the piecing on the pattern.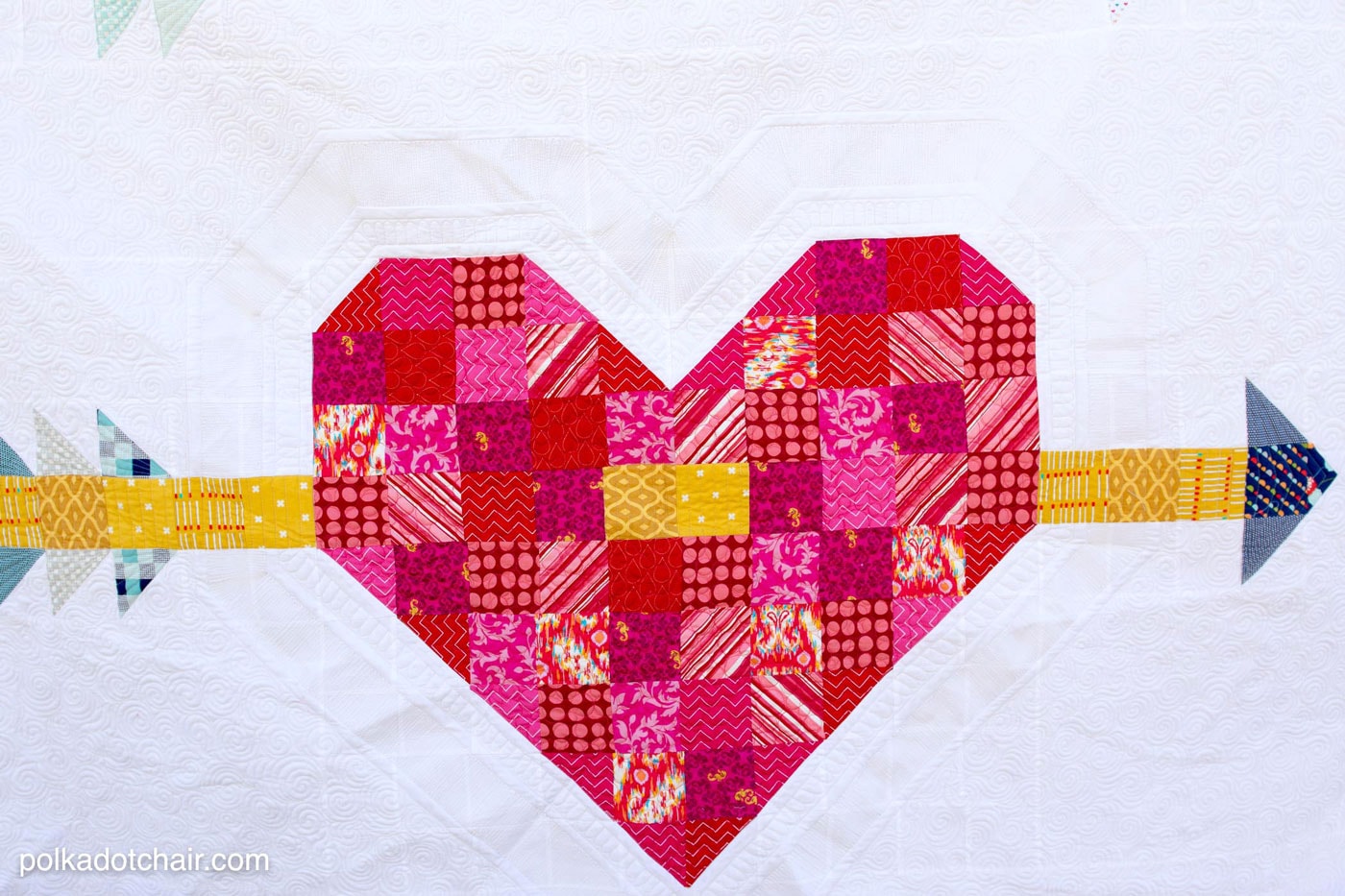 If you buy the pattern before February 1st you can use the code LOVE to get a 2nd pattern of your choice for FREE. Just add both patterns to you cart and apply the code at checkout.
The pattern shop is in the middle of a bit of a redesign, I'm updating my photos/logos for more consistent branding. Just the photos/graphics are changing the patterns are staying the same.
CLICK HERE to go to the Pattern Shop