We recently completed the "updating" of my sewing room and creative space. It was so clean the other day that I thought I'd snap a few pictures to share with you. I'm always looking for cute sewing room ideas and thought you guys might like to see how I keep my space organized.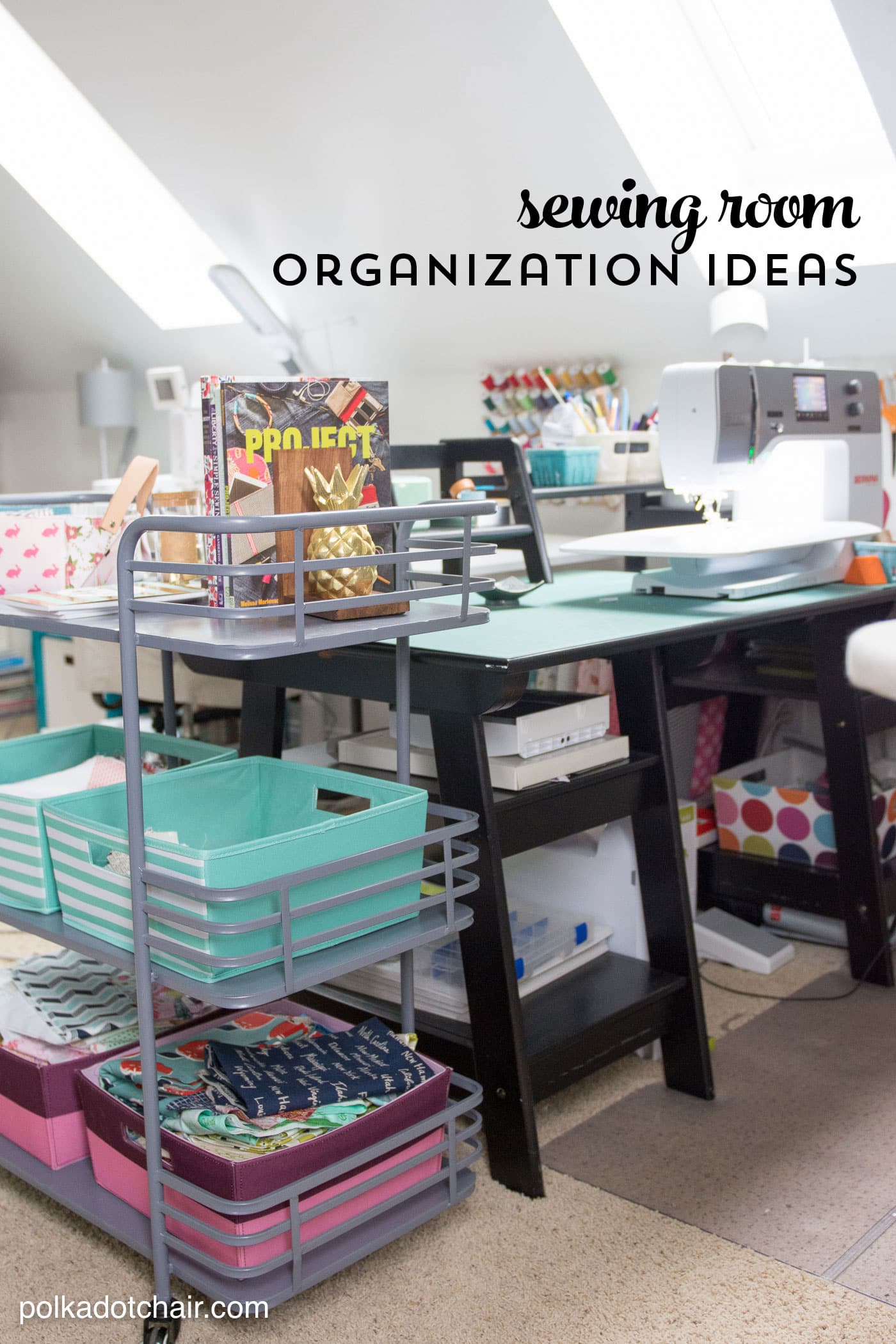 After I took the photos I realized that I had 40+, which is way too many for one post, so I've decided to split the post into two parts, part one shared today and part two next week. (After part two is posted, I'll come back here and link up so you can click between the two easily).
A little bit of background.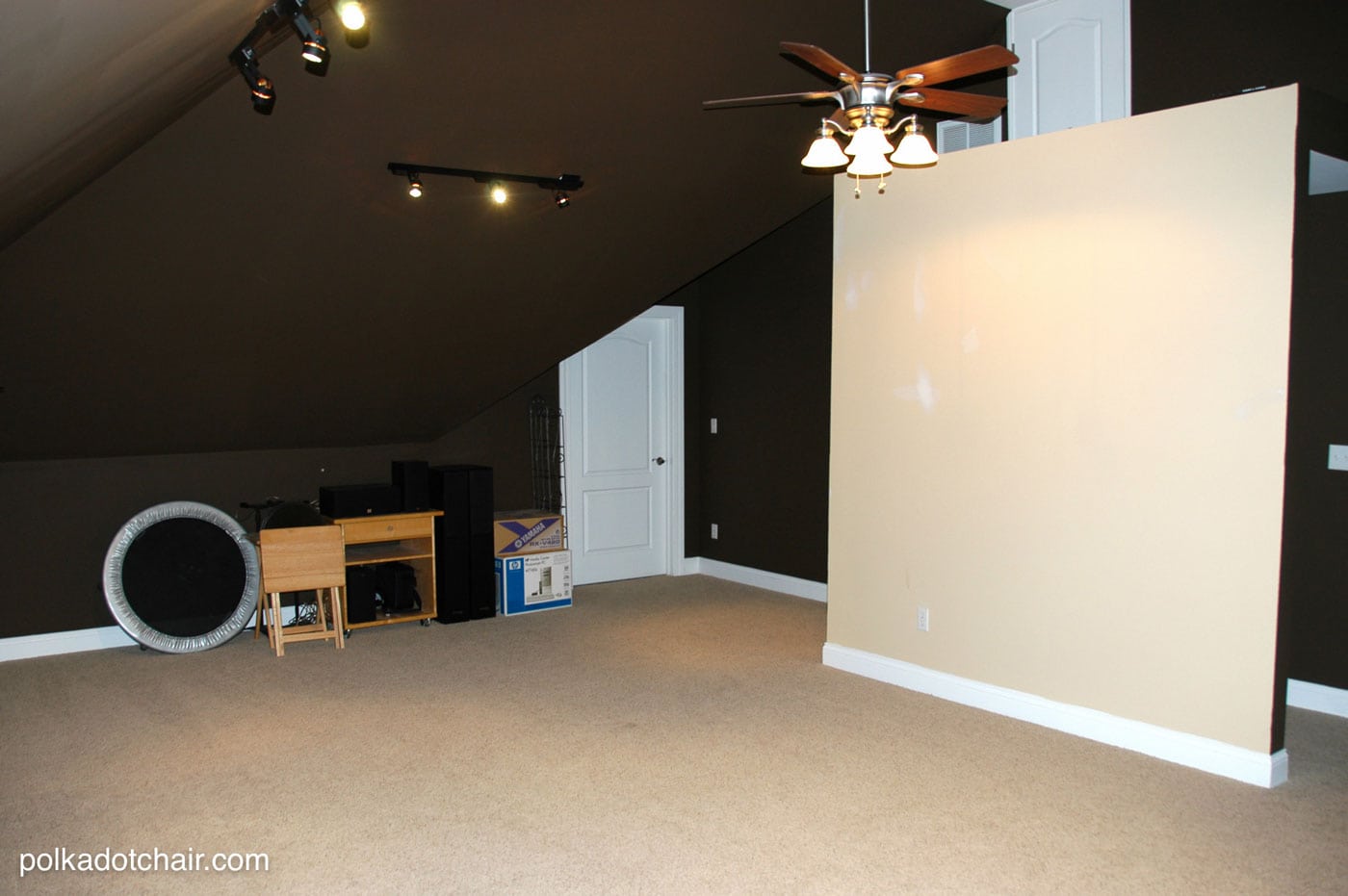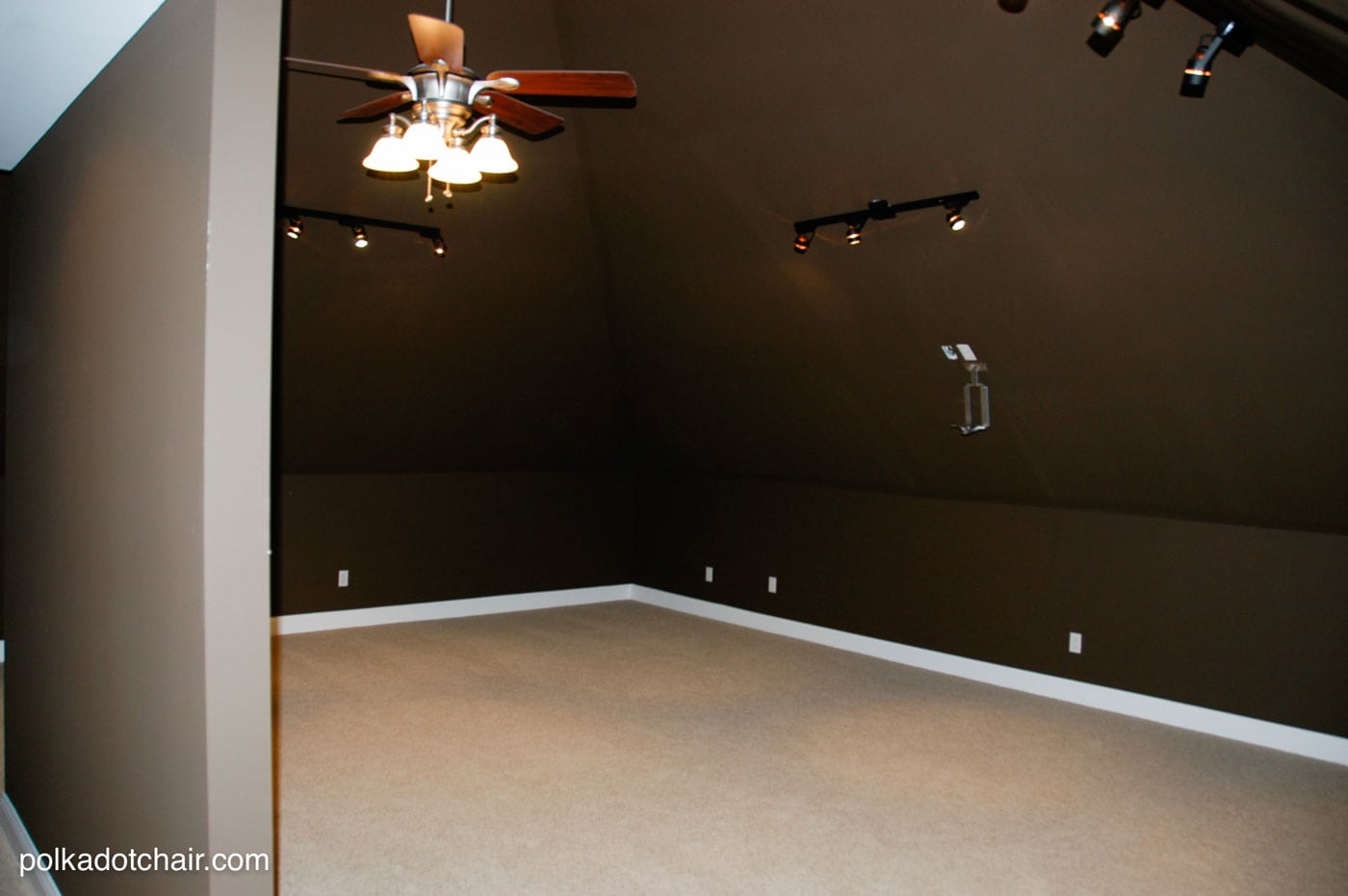 When we moved into our home we did not have a finished basement, we planned to finish the basement about 2-3 years after we moved in, which we did. Even though our home was plenty big for us, we didn't have a dedicated family room/tv/craft space without the finished basement. We did have a bonus room above our garage (pictured above), and we used it as a multipurpose room when we moved in. I kept my sewing stuff in the back corner of the room and the front corner had the family tv and some of the kids toys.
When we finished the basement we planned for a small sewing space for me downstairs. I picked out the wall color the cabinets and the flooring. The basement took most of a summer to finish but turned out just as we wanted it and with much excitement I moved all of my stuff from the top floor of the house down to the basement (it's 48 steps incase you were wondering).
I used that room the basement for several years and in that time decided to take my blog from a hobby to a business. When I did that, my "inventory" of stuff grew, along with my workload. I soon found craft and sewing supplies spilling out into the nearby family room and taking over our guest room. In the mean time the room that was once the multipurpose room was turned into a toy room. Fast forward a few years and the kids didn't play with toys anymore (doesn't that seem like it happens almost overnight?) and the room turned into a giant storage/junk room. It bothered me a lot. I used to have dreams that I forgot the room was there and someone would come over and walk in and I'd be horrified and say something like "how was I supposed to clean it, I didn't even know it was here!".  Yeah, I'm coo coo like that.
My husband and I talked about turning it into my sewing room and a creative space for the entire family but there was not a window in the room and I didn't know if I could take working in the dark. Plus there was the task of cleaning out all of the crap and painting the giant walls (they were dark brown to start).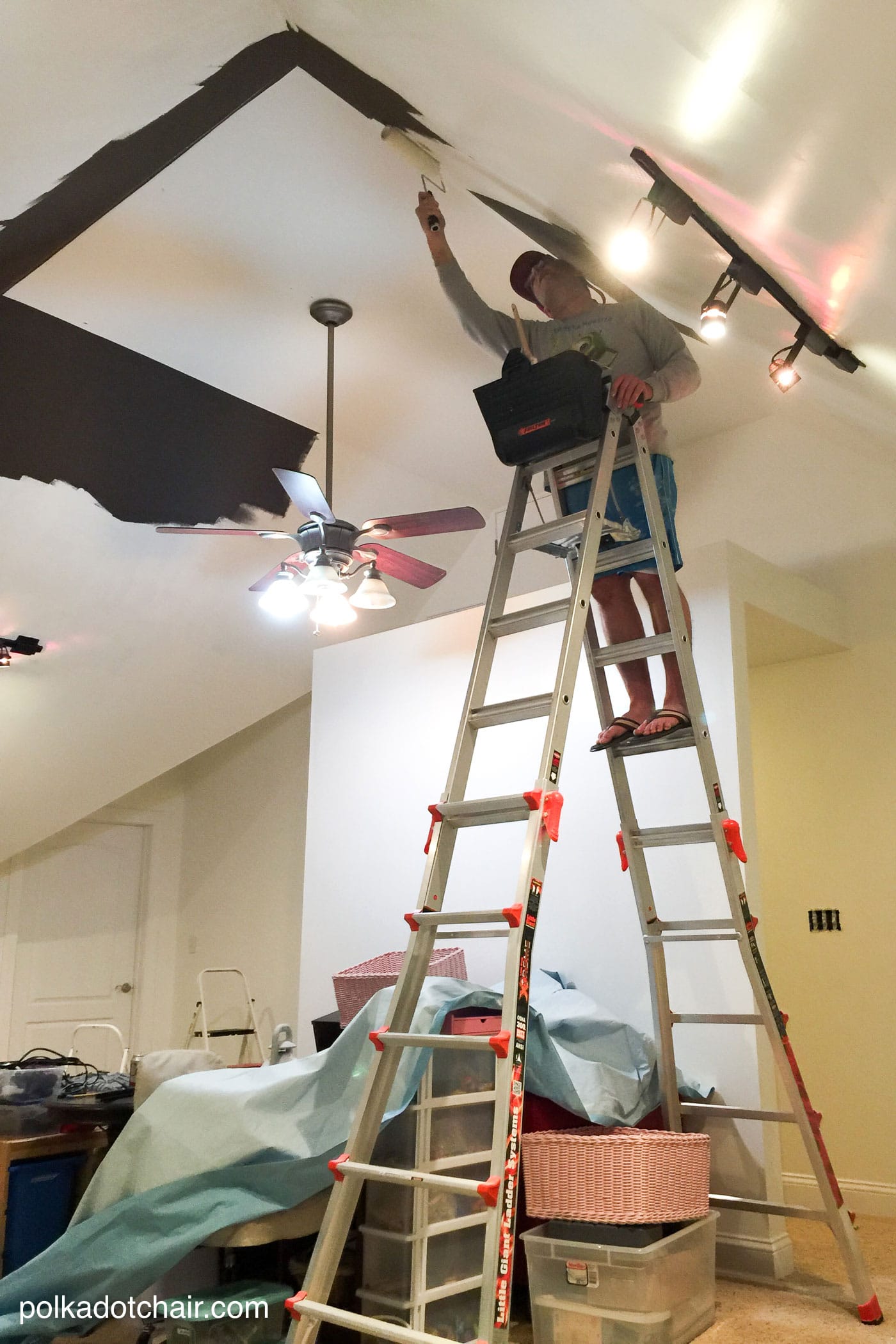 After a year or so of the nightmares, and sewing stuff all over the house, we finally decided to bite the bullet and move my stuff upstairs. A few weekends and several trips to Goodwill later, and the room was ready for paint. My husband took on the task of painting the giant walls and is still mad about it. He says it's the worst room he's ever painted. Even with "good" paint it took almost 4 coats to cover all of the brown.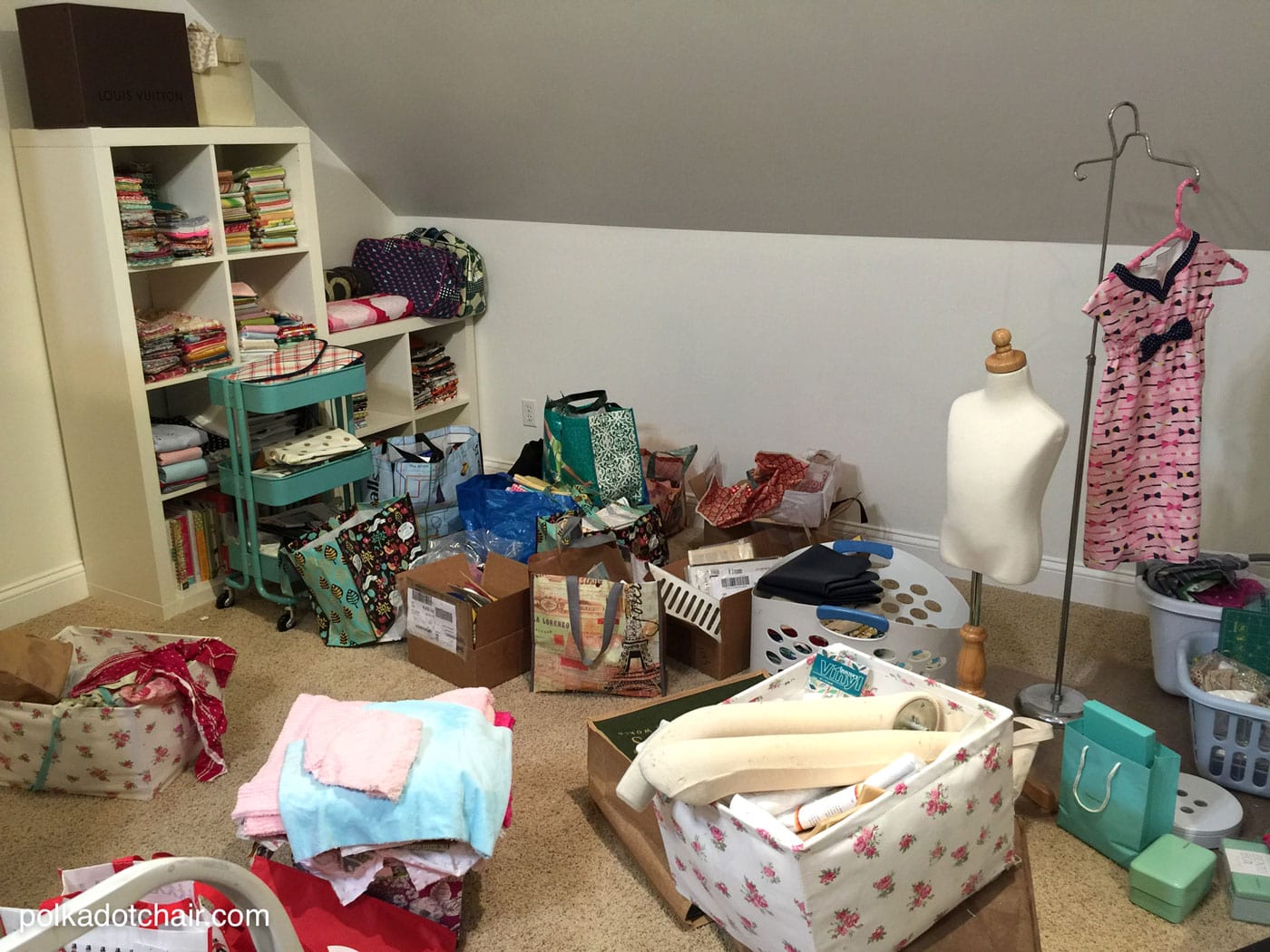 We then moved all my stuff back UPSTAIRS (do you see the insanity here?). Those same 48 steps, but this time all up, and with more heavy fabric and paper than before.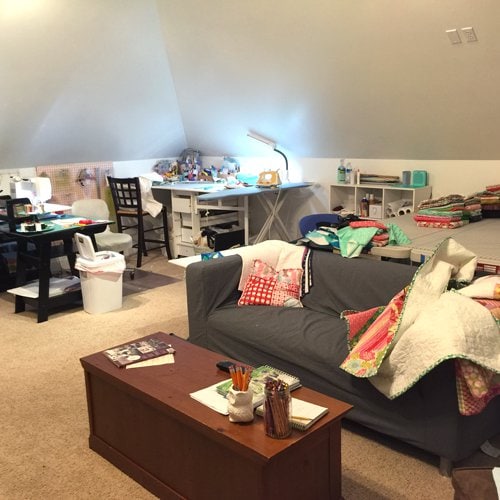 All of us (the kids included) got a really good work out that month.
After everything was moved in we started researching ideas for windows or skylights in the room. We went back and forth on the options. I kept thinking I didn't mind the lack of natural light, then I'd pick navy fabric thinking it was black fabric, and get mad and want a window again. Finally last summer we had to hire a contractor to redo our basement after our sewage backup (a story for another day) and figured since we would be at the house working anyway, we might as well get a few other projects done.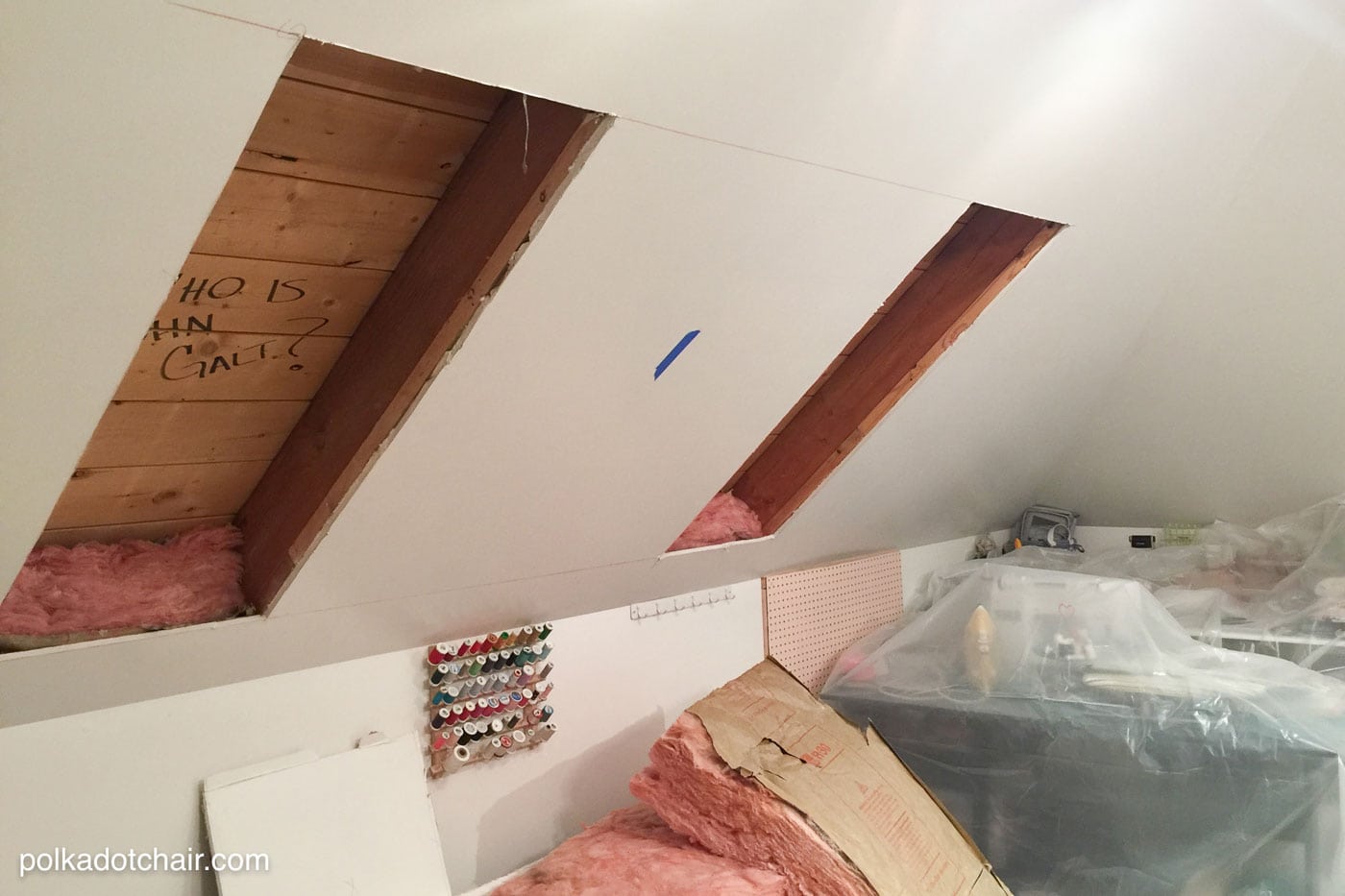 After talking to him, we decided the least expensive and least intrusive way to handle adding light to the room was to add skylights. The night before they went in I was so excited I could hardly sleep! I sat and watched them cut the holes in the roof and delighted when all of the natural light started flooding in.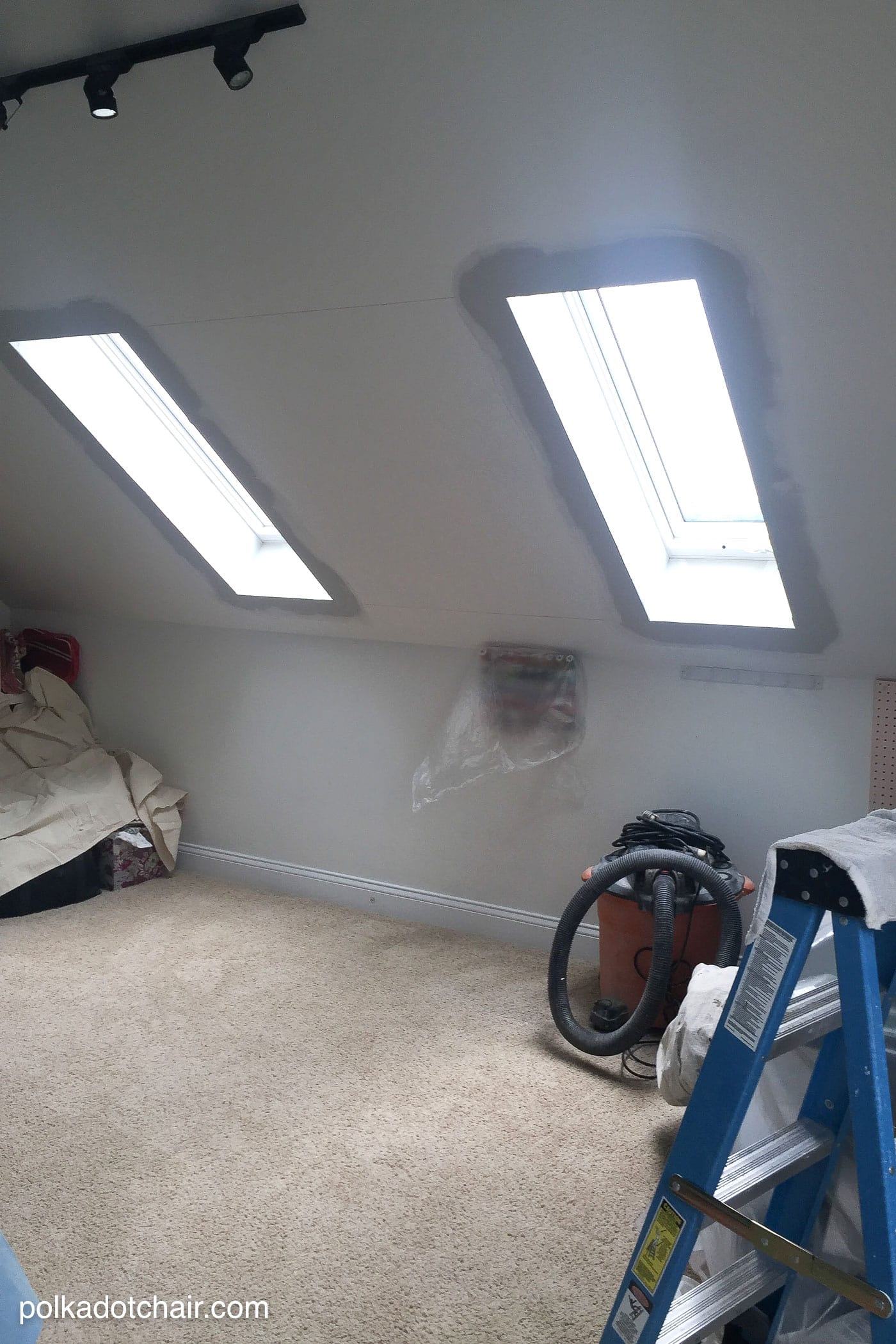 Which fast forwards me to today… the completed space. In an "ideal" world we would have taken out the carpet and put down laminate or hardwood, but the budget didn't' allow for that, and now I'd have to move all the stuff back out AGAIN to change the flooring.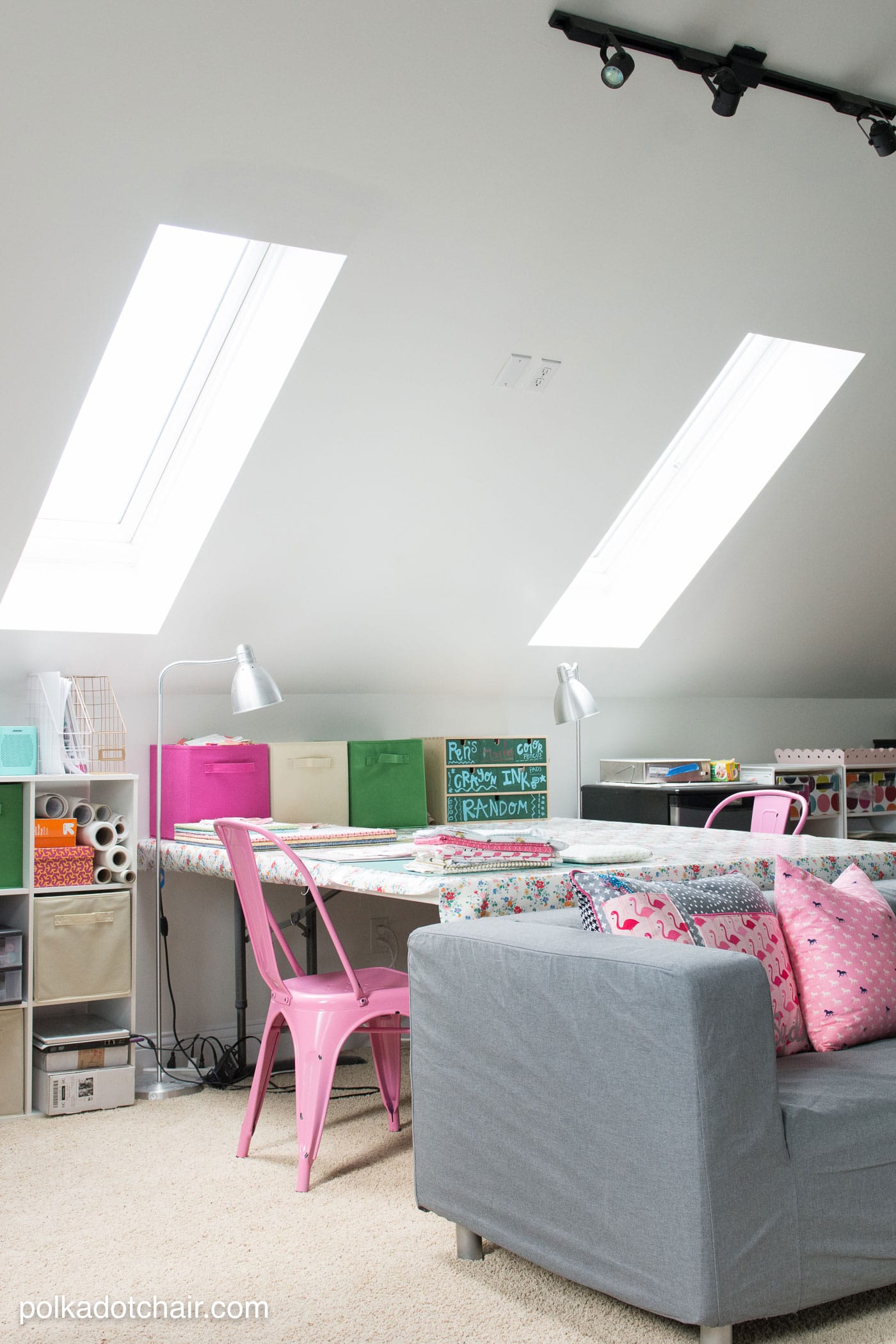 I'll walk you through the room a bit.
The biggest reason I wanted to move to a larger space was so that I could have friends come over and sew or craft with me. Being a blogger can be a pretty lonely job at times, and I was starting to feel like I was spending all day in my basement with just the dog.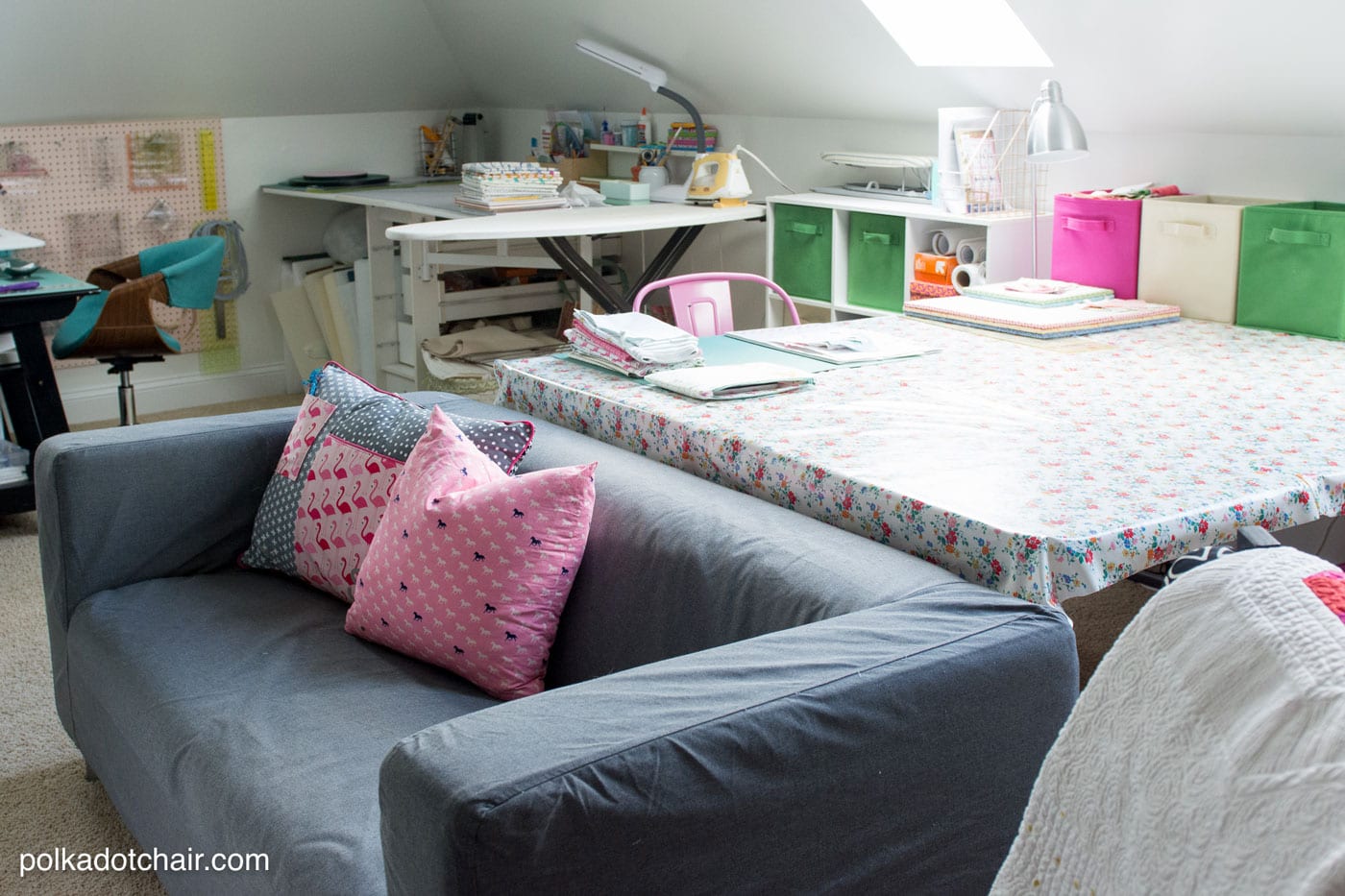 My kids and husband are also artsy and I wanted them to have a space to come and work on whatever they wanted. I also wanted them to have a seat to sit in if they just wanted to come and "hang" out with me when I was working.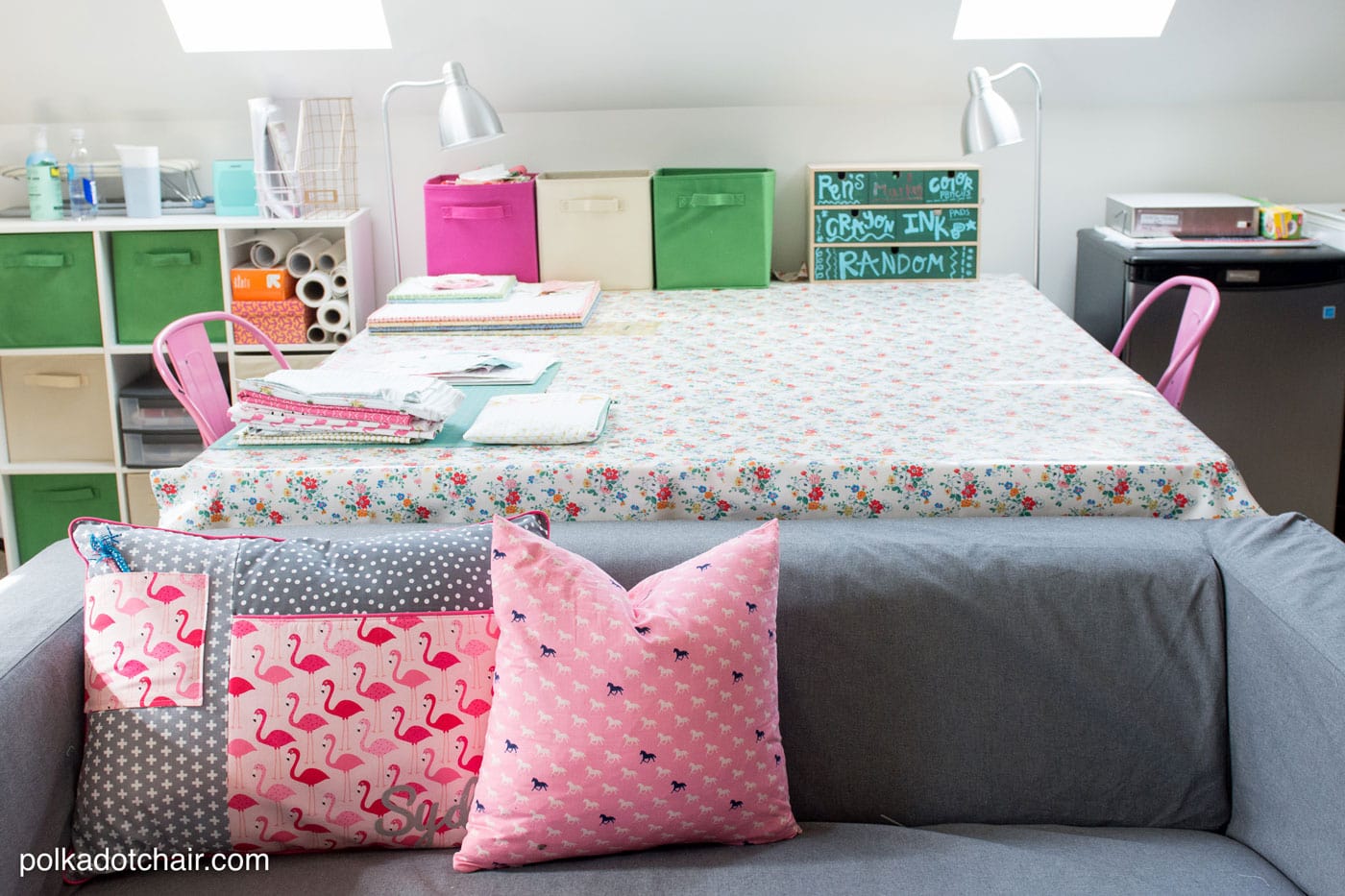 To accomplish this, in the center of the room are two large plastic folding tables that are covered with oilcloth. It's the perfect space for me to spread out if I need too, and the kids can come and use it for homework or whatever. At the end of the tables is a small sofa, we've had it for years, I just go a new slip cover for it. It's the perfect size for the kids to sit on and watch tv.
In the corner (you can't see it here) there is also a small desk that my daughter keeps her sewing machine on.
On one side of the room I have sewing stuff, and the other is paper/crafting/scrapbookings tuff. I didn't get a great photo of that part of the room but its in there.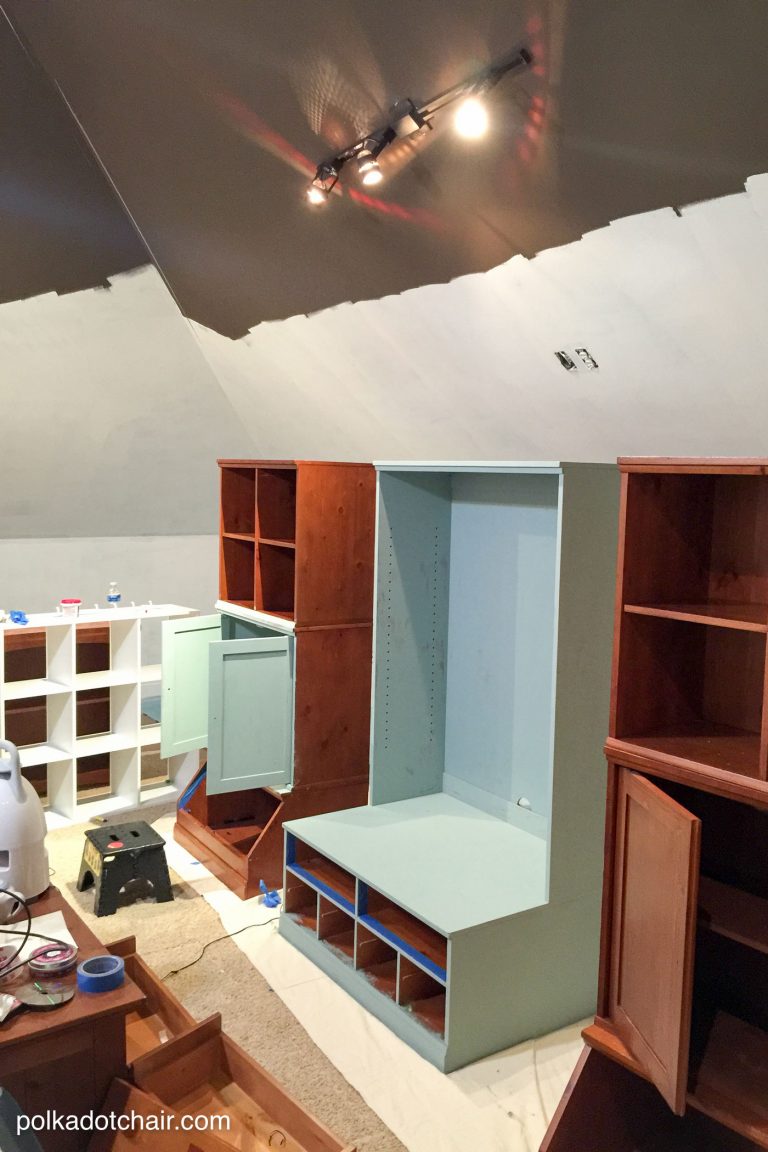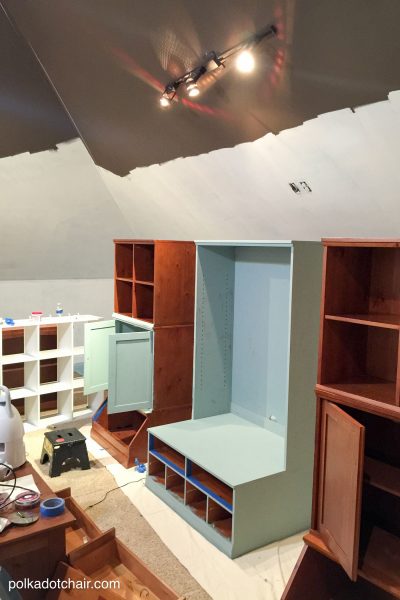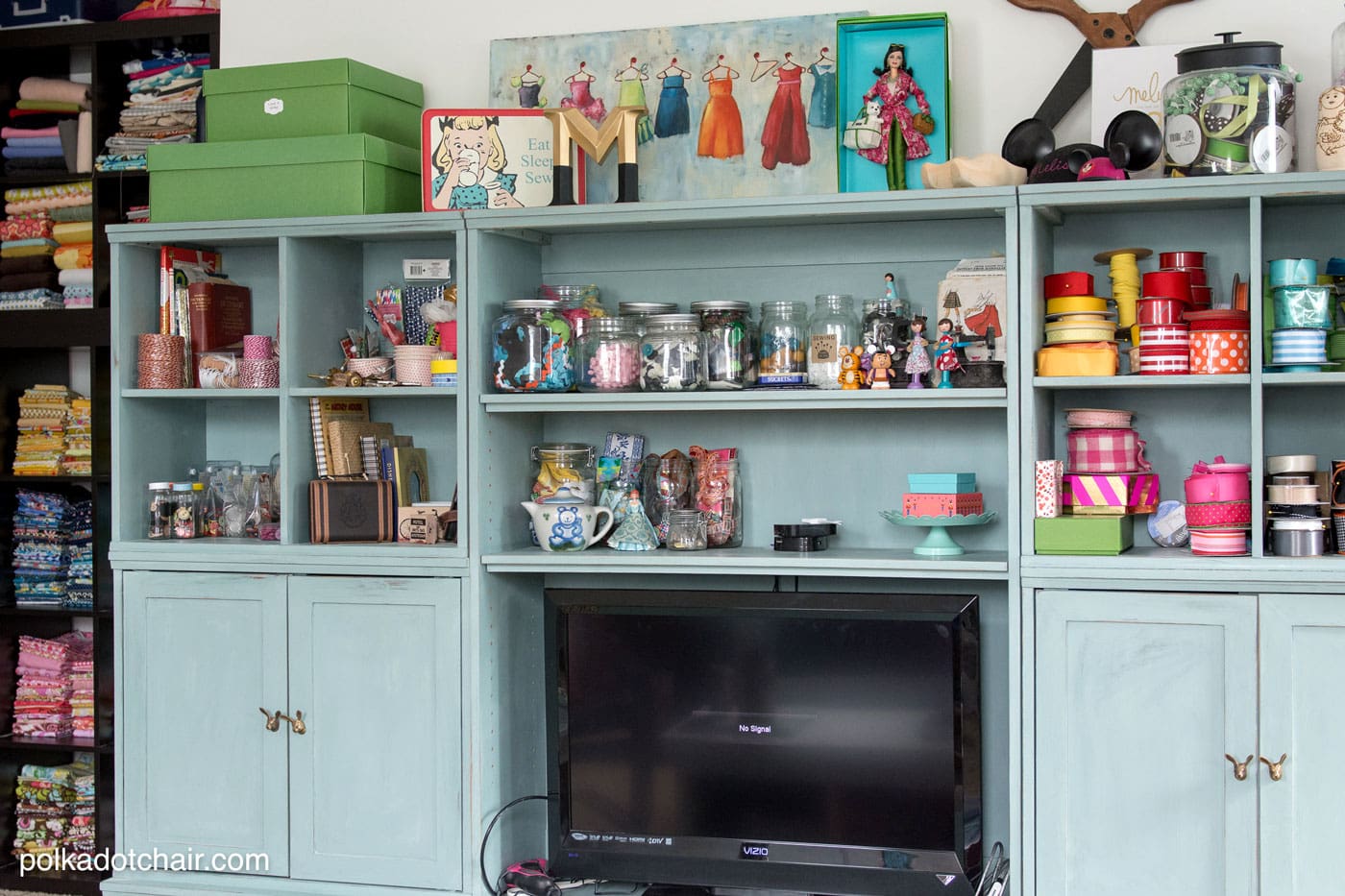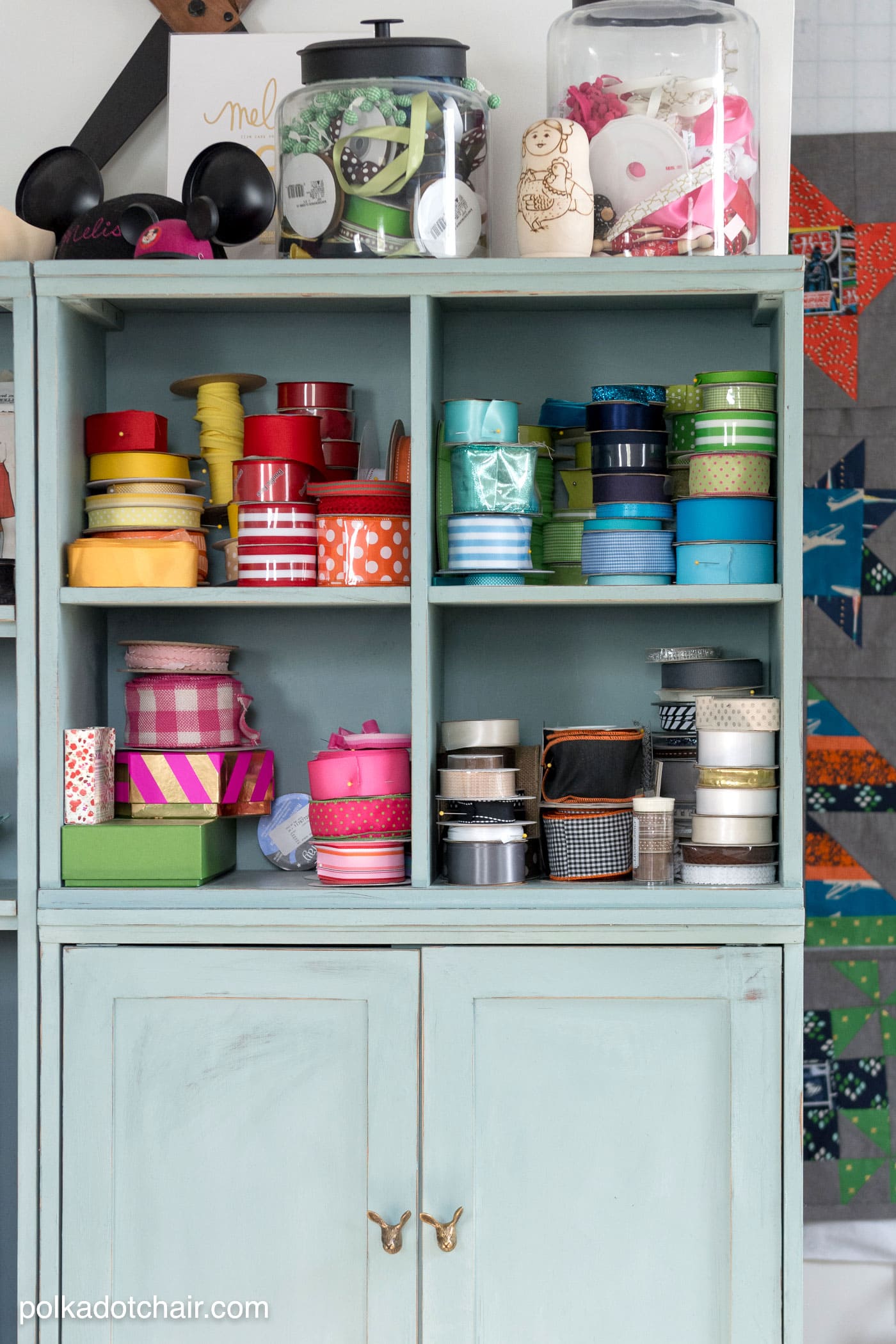 In the center of the room opposite the tables there is a large entertainment cabinet that previously stored toys. I repainted it blue (Duck Egg Blue by Annie Sloan) and it now holds my ribbons and little "treasures".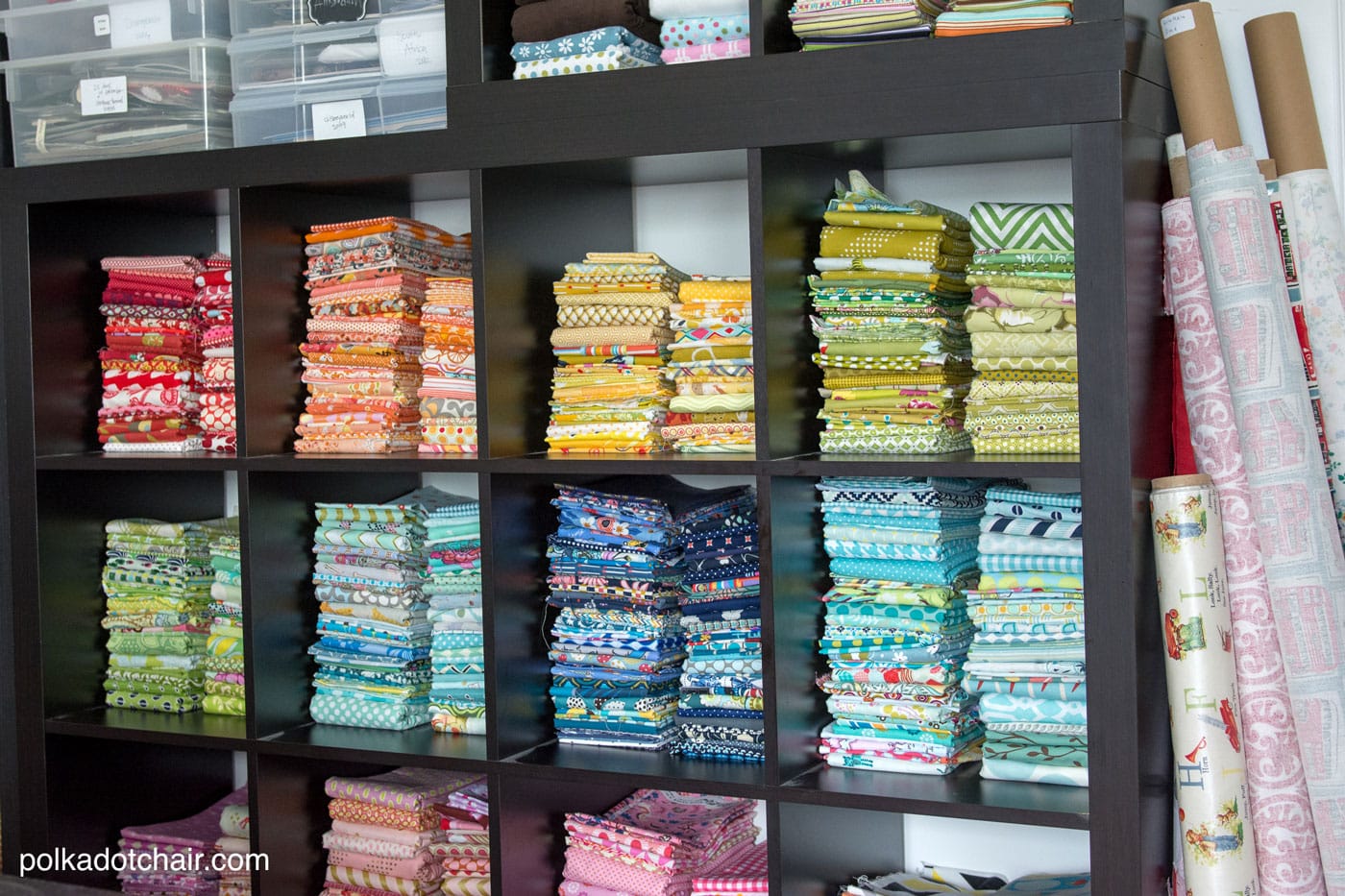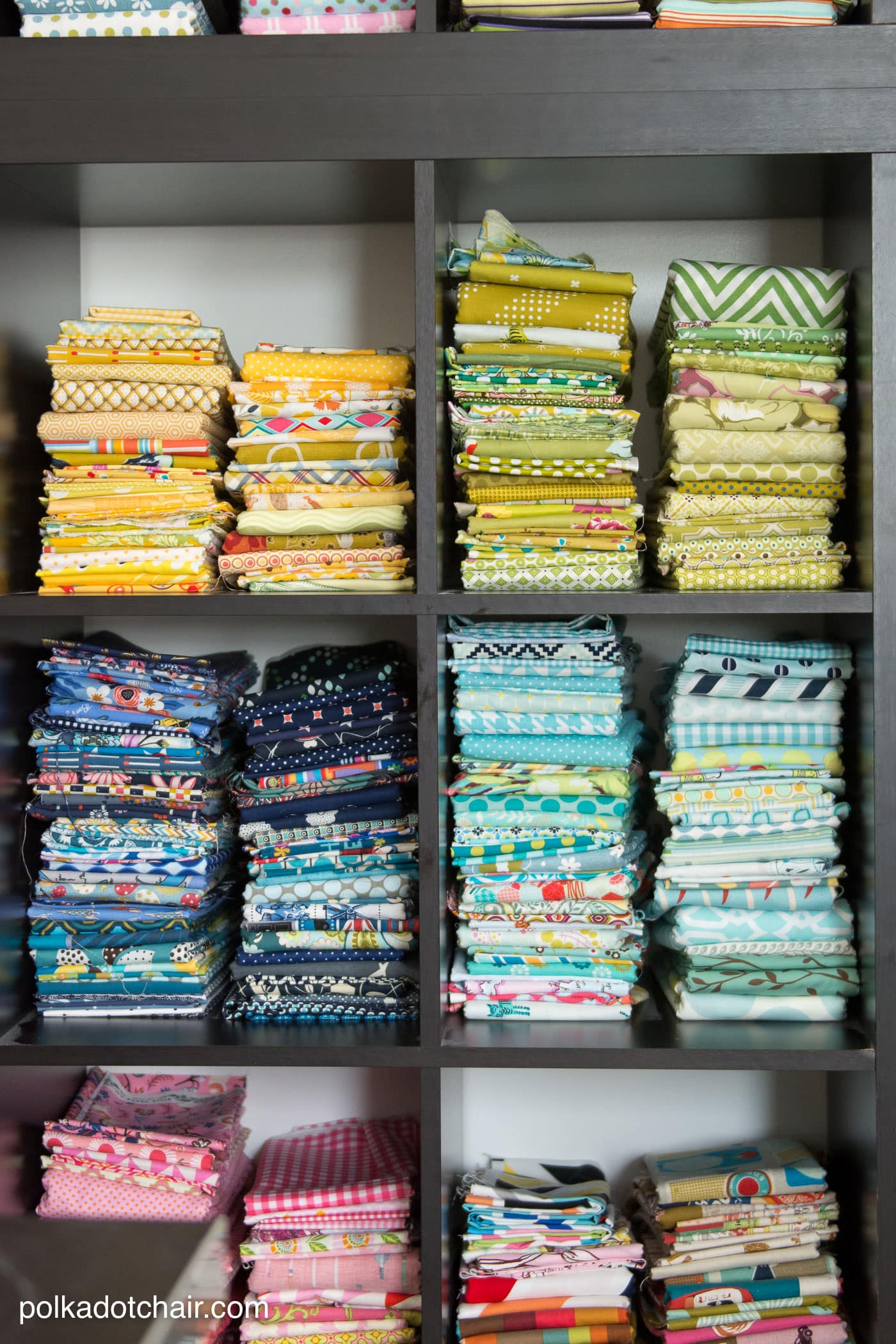 I have my fabric in Expedit bookcases by IKEA on the back wall. The fabric is sorted by color and folded using a quilt ruler so that it all the same width.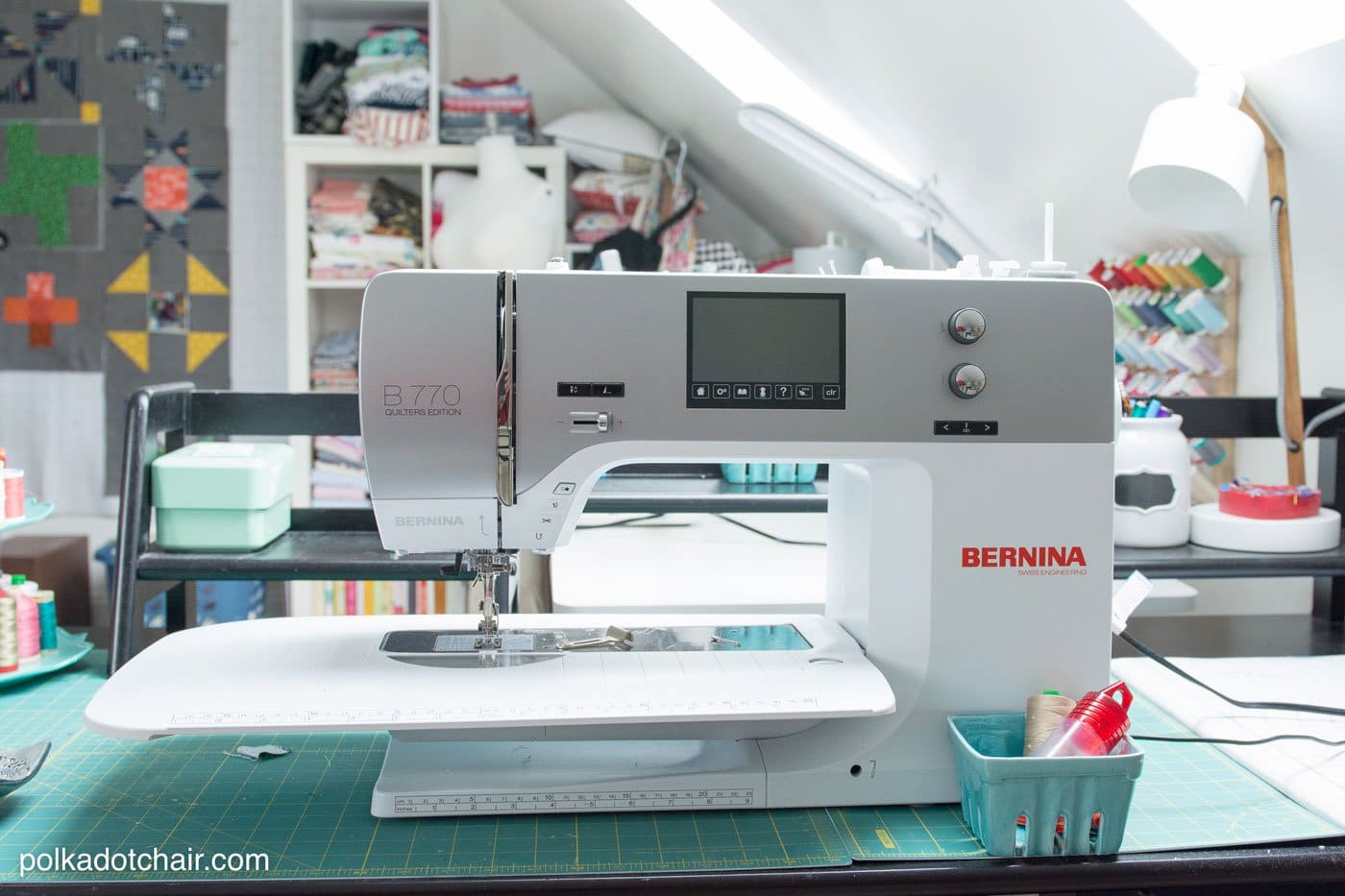 I only have 2 flat walls in the room (due to the vault) on one wall is the IKEA bookshelf and on the other wall is my design wall, which you can see a bit in this photo. I just have a flannel design board that I bought online hanging on the wall.
My sewing machine is on a table opposite my cutting table, with my ironing board close by. I love having all 3 close especially when I'm working on quilts.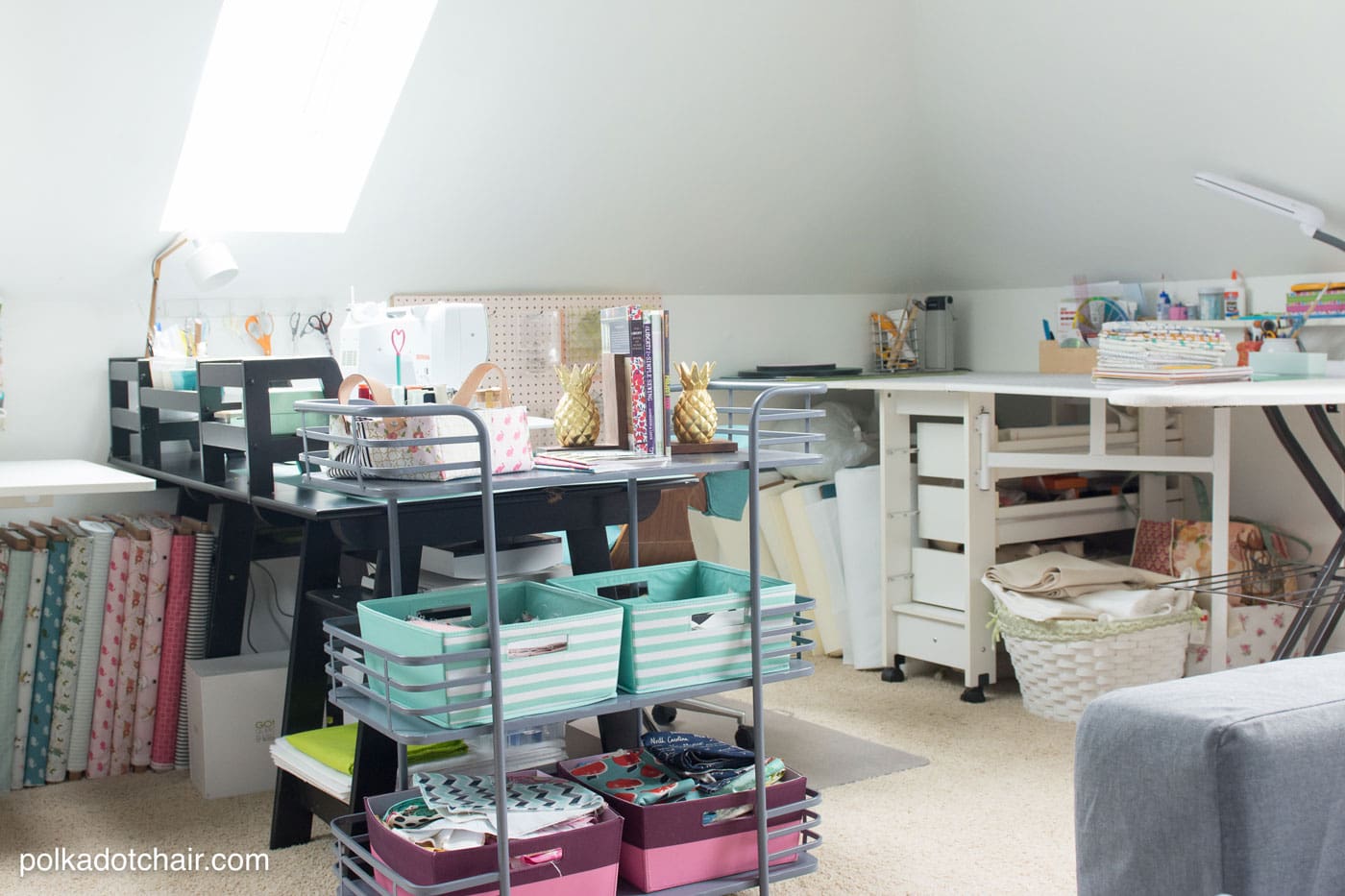 I also have a serger and sit down long arm machine on another wall close by. My bolts of fabric are under this table. The room is large but the space is odd because of the sloped ceilings so there are really not any "walls" to speak of, so it can be challenging to find ways to organize everything.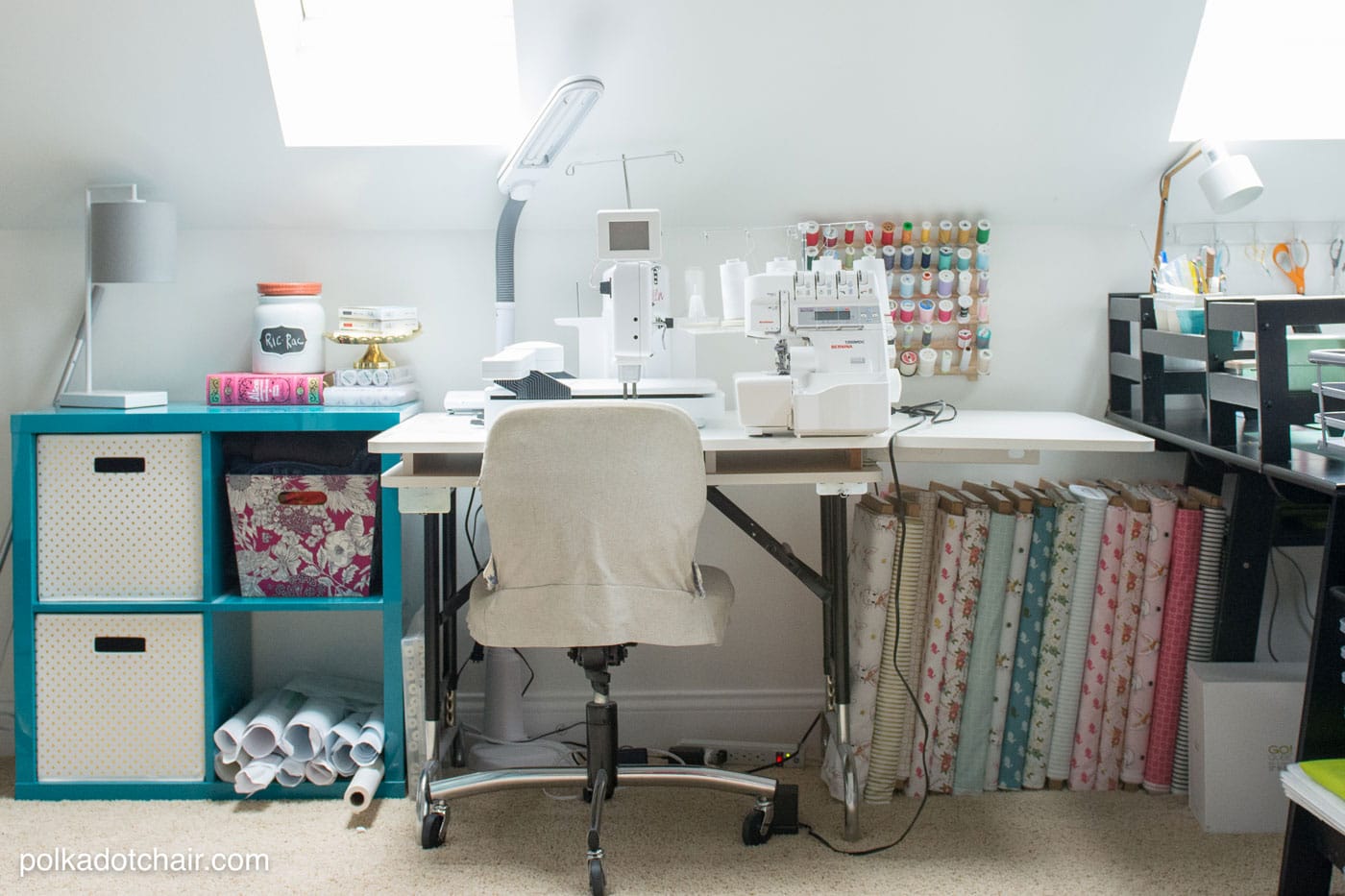 Also near my sewing table, is a peg board. I bought it at Lowe's an painted it pink. We mounted it with 1×1 boards and it's the perfect spot to hang all of my rulers.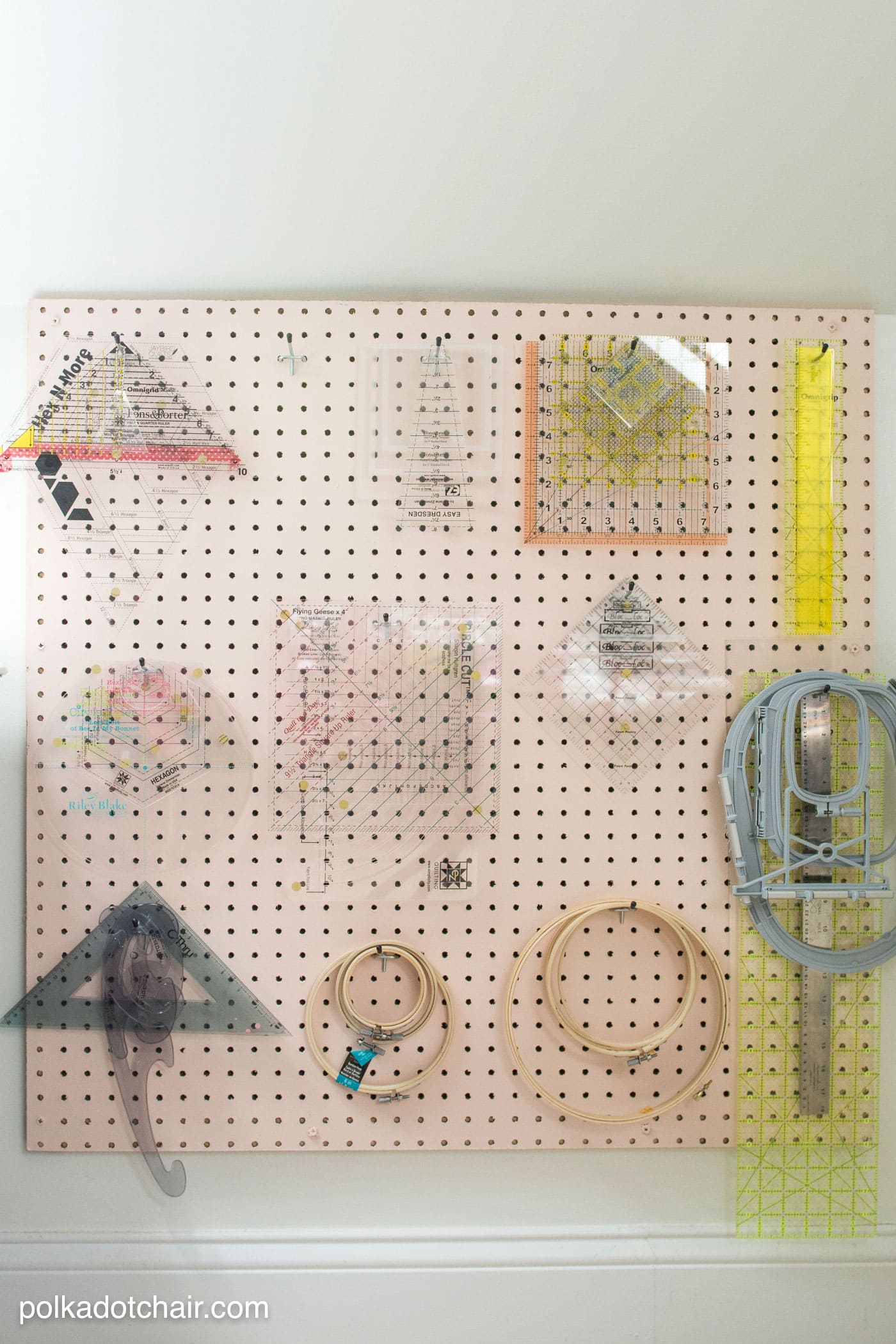 Next week I'll share with you a bit more on how I keep things organized while I'm working, but would love to hear your suggestions in the mean time. What are you best tips for keeping an organized sewing or craft space?