Are you looking for an easy last-minute Halloween costume for a teen or kid? Then you may want to consider this super simple DIY Mad Scientist Costume. It's no-sew and can easily be thrown together at the last minute!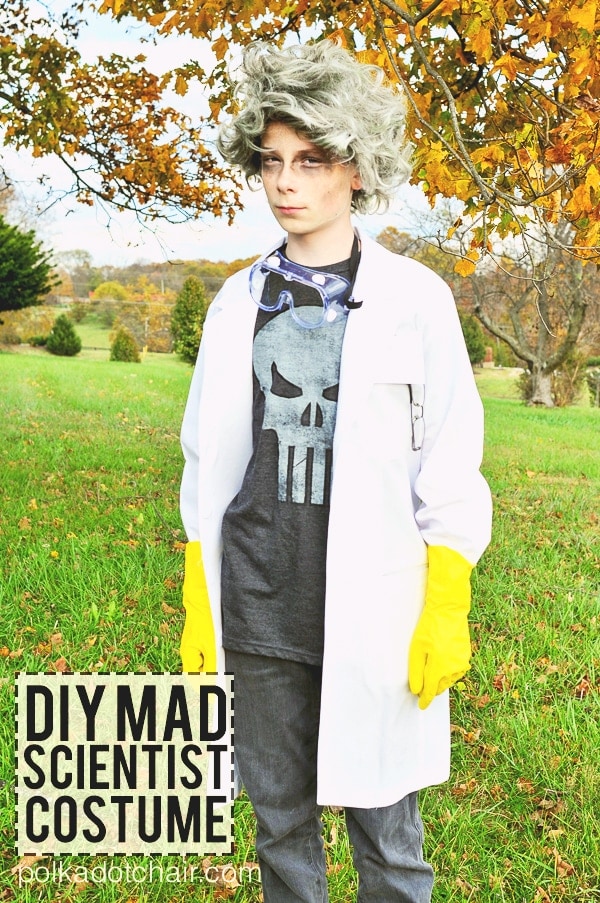 As much as I love sharing sewing tutorials and ideas with you here, I admit that sometimes I look for ways to avoid sewing (gasp, am I allowed to admit that??). Case in point, Halloween costumes.
For example, the Mad Scientist costume idea that I'm going to share with you today. My favorite method for a great Halloween costume is to combine ready-made items with a few handmade things. This helps me save time (and some sanity) at Halloween and it's fun to look around the house for things to use in a costume. Plus the kids love getting involved in the "hunt" for items to use.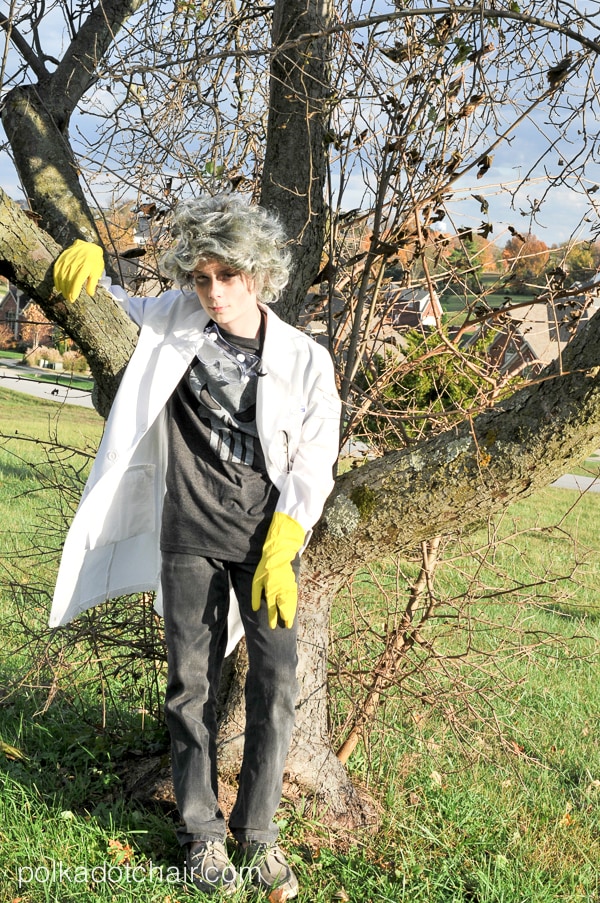 Last year we convinced my son to be a "Mad Scientist" for Halloween. He's really into science and technology now so it didn't take too much convincing. We were able to quickly pull his costume together with a few items we had around the house, and a few we picked up at the store.
We even got him some dry ice to put in his Halloween bucket to take trick or treating, but Halloween was "postponed" due to storms and it dissolved before we got to use it.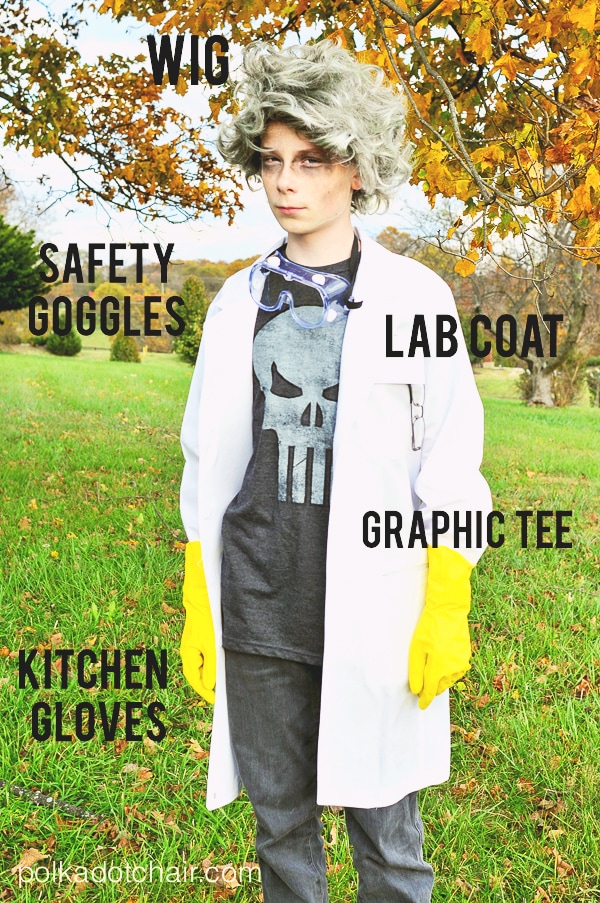 What you need for a Mad Scientist Costume
So let's break down the "anatomy" of a Mad Scientist costume.
Mad Scientist Halloween Costume Elements:
Lab Coat- ask at your local Dentist or Doctors office, they may have one that they are about to discard. Otherwise, you can get one at a "scrubs" supply store. They are pretty inexpensive.
Rubber Gloves- You can just pick some up at the grocery store
Safety Goggles- Check your toolbox, or pick some up at the hardware store- ours were $2
Wig- Purchased at a costume shop- it's meant for an "old lady" costume, we just teased it up a bit to make it look crazy.
Graphic Tee.
Accent the costume with some dark makeup around the eyes and that's it. You've got a costume!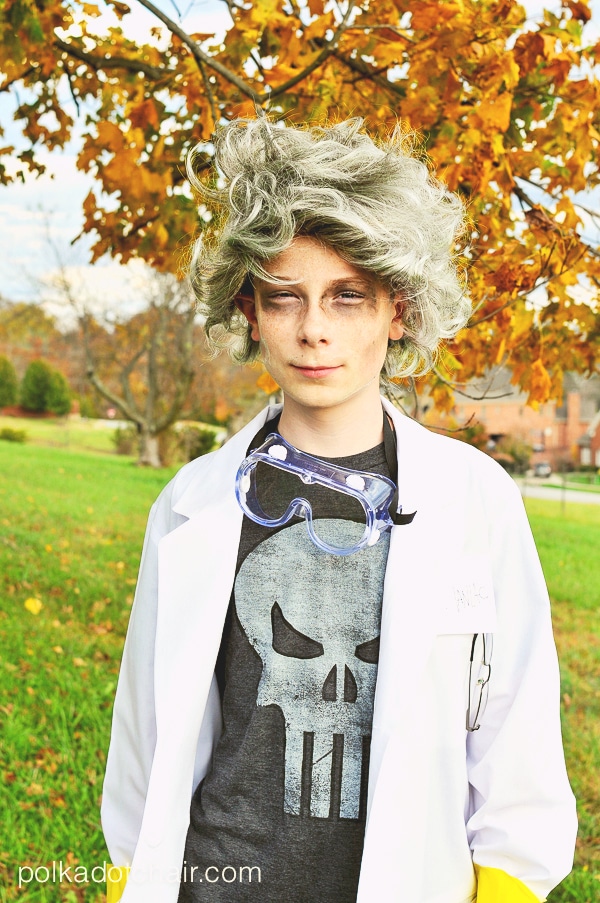 If you'd like to see his sisters DIY Glinda Costume, just CLICK HERE. My kids are twins and they refused to "match" Halloween costumes this year. I made it 11 years with matching "twin" costumes, so I guess I shouldn't complain too much. Soon they won't even want to dress up and I don't know how I'm going to handle that!

More Kids Halloween Costume Ideas and Tutorials:
No-Sew Alice in Wonderland Costume Ideas
How to Make a Kids Mummy Costume
If you're looking for DIY Halloween Costume Ideas for Boys, here are a few suggestions:
Upside Down Man; Sugarbee Crafts
Thor & Captain American Costumes the Scrap Shoppe
Boys Tattoo Shirt DIY– Sew What Alicia
Digital Duds Costume – Rachael Todoro
Harry Potter Robes Houseful of Homemade
Luke Skywalker Costume DIY Tutorial Life Sew Savory
Demigorgon Stranger Things DIY Costume Tutorial Twin Dragonfly Designs
DIY Disney's Maui Costume See Lindsay
Pikachu Costume DIY – Sew Simple HOme
How to Make Star Wars Costumes – Julie Measures
Make your own Minecraft Head for a Costume – Made by a Princess
Easy Dragon Costume made from a Sweatsuit – Tried and True Blog
Box Costume: DIY Fire Truck – Sengerson & Co
Willy Wonka Golden Ticket Costume – Girl Loves Glam
How to Make an Aladdin Vest – Fleece Fun
DIY Werewolf and Hunter Costume – the Celebration Shop
Easy Monsters Inc Costumes – Creatively Beth
DIY Batman and Robin Costume Ideas – Clarks Condensed
How to Make Owl Masks – Sunshine and Munchkins
DIY Muscle Shirt – Make it and Love it
Dollar Store Football Field Costume – Design Dazzle
Great Pumpkin Charlie Brown Costume – Simple Practical Beautiful