This cute craft idea is great for teachers, grandparents, neighbors, coaches, friends, co-workers… etc.! It's pretty easy to make withour great step-by-step instructions. Tie a gift card to the tag to make the gift extra special!

Today I've got another Christmas Mason Jar Craft Idea for you, a Snowman Mason Jar Gift. I love crafting with Mason Jars, there are so many possibilities of cute things to fill them with. For more ideas see my Mason Jar Sewing Kit and Mason Jar Santa Gifts.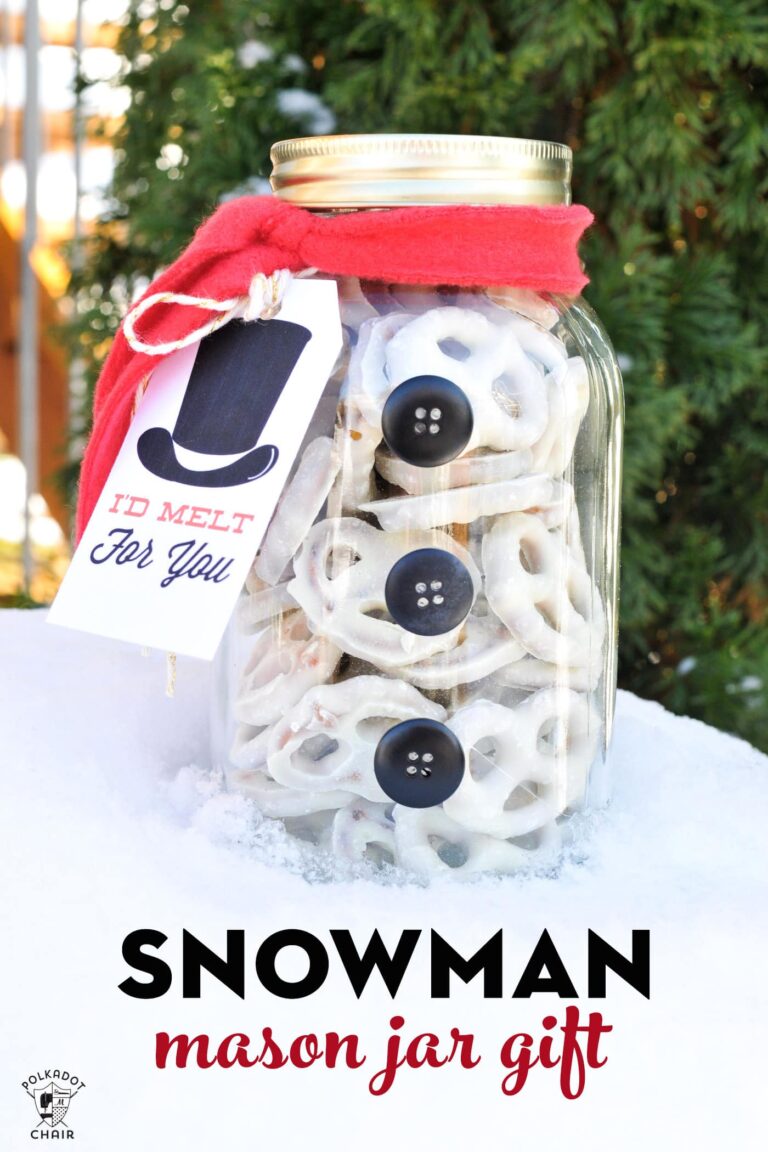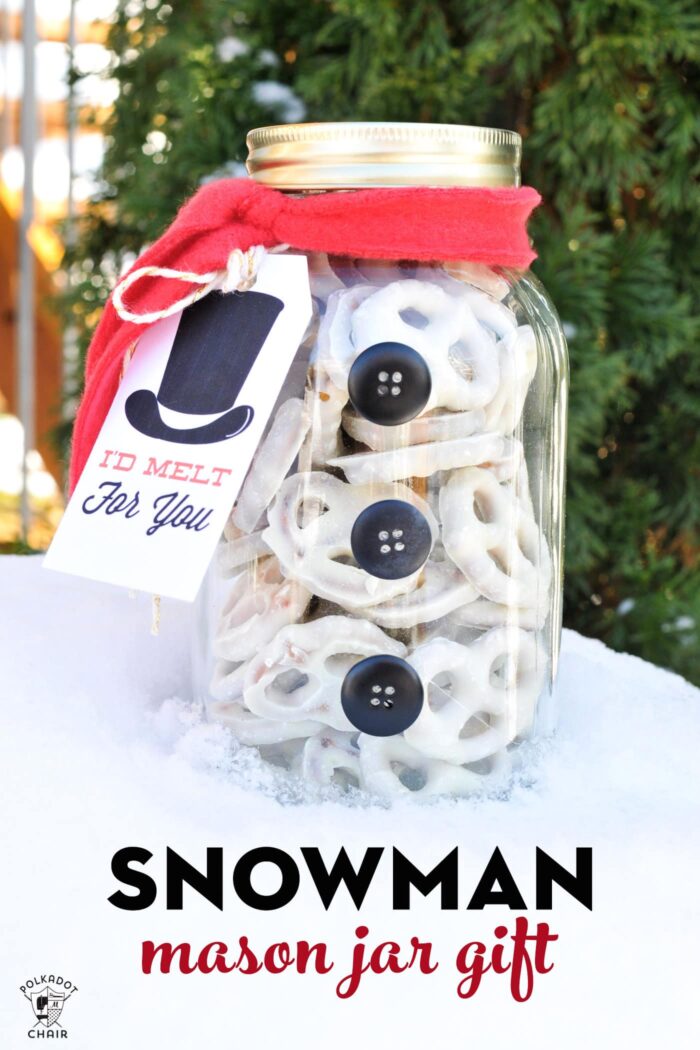 This Mason Jar Snowman Holiday Gift is very easy to make and I've even included a printable for you! Just fill the mason jar with your favorite white candy (or white wrapped candy) and attach the tag and embellishments.
Table of Contents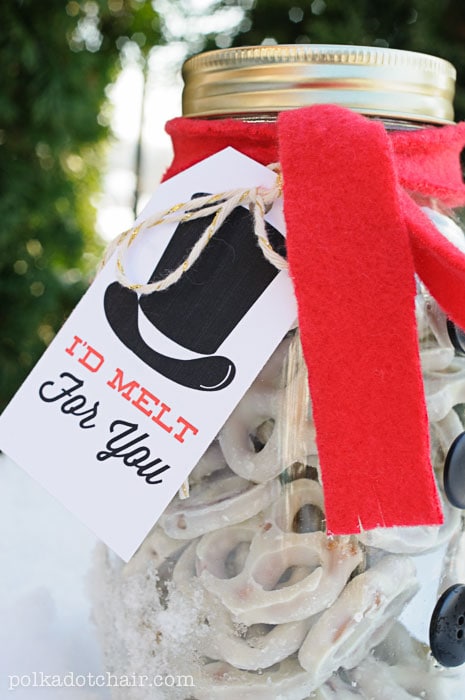 DIY Snowman Mason Jar Christmas Gifts
I chose to fill my jar with white chocolate pretzels, as I'm totally unable to resist those buggers… something about the salty-sweet combo gets me every time!
You could also fill them with white wrapped candies, white gumballs, or muddy buddies (that's Chex coated in chocolate and tossed in powdered sugar- google it, you can find a recipe easily).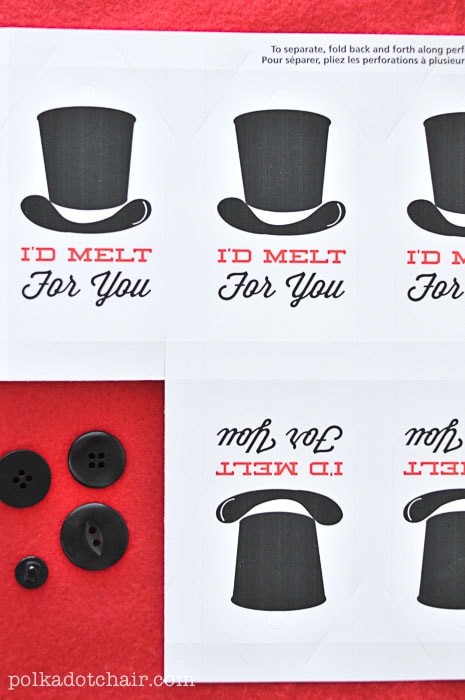 Snowman Mason Jar Supply List
Plain Mason Jars  (I used 32oz jars, but you can also use pint jars if you wish)
Tags to print on. You can pick up the Avery 22802 Tags on Amazon, they are my absolute FAVORITE Christmas wrapping must have… tags that you don't have to cut out!
Cardstock: if you don't buy the pre-formatted tags.
A scrap of Polar Fleece or Red Yarn
I'd Melt for You; Snowman Tag
How to Get the Christmas Gift Tags
Due to the popularity of the tags last Christmas I am simplifying the process for you to download ALL of my Christmas Mason Jar tags.
The Ultimate Christmas Tag Bundle offers ALL of the Christmas tags (including the one for this craft) plus a bonus of 5 other tags that are not offered with any other project! (including Santa, Reindeer, Merry Christmas, Snowman etc).
A link to download the file yourself will be sent to you immediately after you complete your purchase. This file includes versions of the tags formatted for BOTH card stock and pre-scored Avery Tags.
The Gift Tag Bundle Includes:
Snowman Gift Tags
Holly Jolly Christmas Gift Tags
Merry Christmas Tags
Elf Tags
Santa Tags
Round Tags
Reindeer Tags
Nail Polish Gift Tags
Baking Gift Tags (4 styles)
Angel Gift Tags (and wing cutout)
How do You Make a Snowman Mason Jar?
Step One: Fill with Pretzels (or White candy)
Fill the jars with your choice of candy or treat. Secure the lid that came with the mason jars.  These would be so cute done in a pint size and filled with tiny marshmallows to use in hot chocolate.
Step Two: Glue the Buttons to the Jar
Next, use a bit of hot glue to glue 3 buttons to the front of the jar.
Step Three: Make a Scarf
To finish it off tie a scrap of red fleece around the neck for a scarf. My scarf is about 2″ wide. To make the scarf cut a scrap of fleece or felt 2x the width of the jar. Fray the ends with scissors. If you don't have a scrap of fleece fabric, you can also use several strands of red yarn.
Step Four: The Tag
Print out the tag. The last thing you'll want to do is print out your Snowman "I'd Melt for You" Gift tag! If you want to make the gift a bit more "special" you could easily attach a gift card under the tag!
Lastly, just attach the jar's lid as you normally would. If you're feeling extra crafty you can spray paint the lid black or white, but I like to leave mine gold.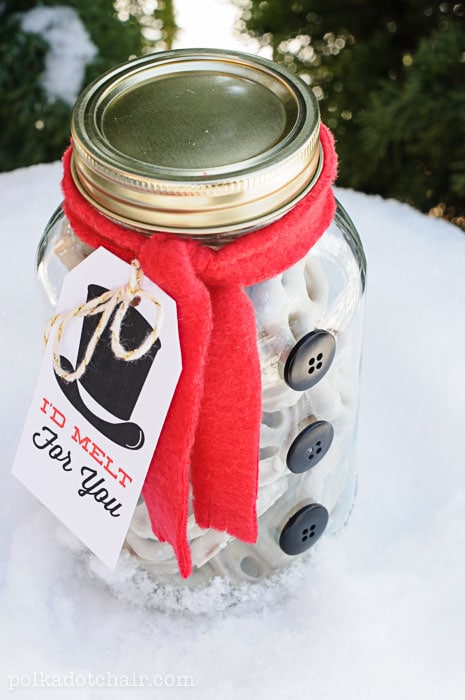 Quick and Easy!
More Mason Jar Christmas Ideas
Reindeer Mason Jar Gift
DIY Santa Mason Jar Gift
For More Fun Holiday Ideas & Inspiration, Follow me on Instagram: