I've been having fun getting our outdoor room put together this year. The weather has warmed up and we find ourselves spending time out there most evenings.
When I bought the sofa for outside, I decided to go with a neutral cushion.  I love the color. It hides dirt and blends in well with the garden, but I thought that the couch could use a bit of pop!
I went to look for fabric to make pillows from and was not happy with anything that I found. (You know how you get an idea in your head, then can't find what you want).   Then I remembered a tote bag my daughter bought a couple of years ago. It was this really great sunbleached canvas.  I thought that maybe I could recreate the same look with colored canvas.
When I bought the canvas it was stiff and icky… (great term huh!)… So I figured out a way to soften it up and bleach it out a bit. (details in the tutorial below). The trick worked and I got the soft sunfaded canvas that I wanted.
I ended up making 3 pillows in all.  Instructions are included for making the crab pillow – you just follow the same steps for the other two.  I'm going to leave these pillows outside- it's a bit of an experiment, we'll see how they hold up this summer.
The Anchor & Crab Pillow
Here's how to make them!
You will need:
Yardage of Duck Cloth (yardage depends on size and number of pillows you are making- I bought mine at Joann's).
Pillow forms (size of your choice, the crab is 12×16 and the other two are 14×14)
Buttons for eyes
Natural cording
Heat N Bond Lite
To begin (do NOT skip this step)
Wash each color of duck cloth in the washing machine on the highest heat setting. Add fabric softener to the wash.  (do NOT wash more that one color of fabric at a time).  After it is washed, throw it in the dryer using 2 softener sheets. Repeat if you want it more washed out.
Press lightly
Cut out your pillow covers.  As a rule of thumb your pillow covers will be the same size as your pillow form. (you do not add seam allowance) so for a 14×14 pillow cut 2 pieces of fabric 14×14
Trace the crab image (found here) onto heat and bond lite.  Iron onto pink fabric. Cut out crab. Arrange crab on pillow cover where desired. Remove heat n bond lite backing and press to set.
Top stitch around the edge of the crab.
Place the cording on the edge of the pillow cover- starting and stopping in a corner. Using your zipper foot, stitch as close to the edge of the cording as possible.
Sew on crab eyes.
Clip the corners of the pillow. This will allow the cording to lie flat round the corner.
With right sides together, sew pillow cover back to pillow cover front.  Just stitch on top of the line you just made for the cording. Leave an opening in the bottom to feed the pillow in.
Slide pillow form in and slip stitch closed!
To make the Anchor pillow, I followed the same steps but I used an anchor image from Martha Stewart found here.
The Sun pillow is made from adding 1″ strips of green fabric and the word sun. (the font is Arial Black)
Have fun making them!! I can think of a few other cute designs, I'll have to share if I make some.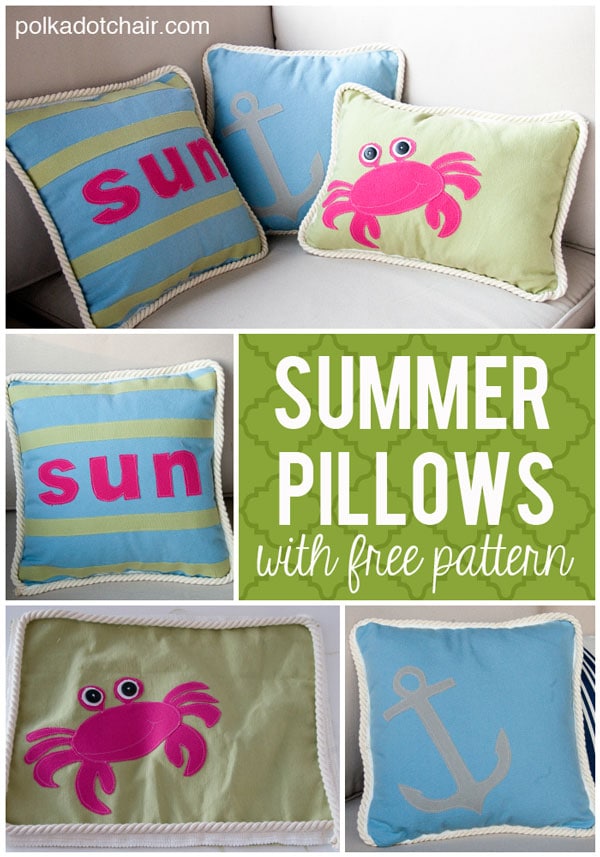 Just a quick post script: These pillows did fade in the sun.  If you want them to not fade I would recommend using outdoor fabric.   There is loads to pick from at the fabric stores, so you should not have a problem finding any.
If the pillows had stayed in the shade all summer and been taken in in the winter they would have been fine.  (not faded too much).
Linking up: