Mallory's cute fairy shirt, got to Traci's blog to see photos of the other shirts she made. fairy image from A Childs Year cartridge
So let's continue the Valentine's day crafts with a quick and easy freezer paper stencil tutorial.
OH!!! Remember this year's Valentines Banner? A tutorial is coming and ONE will be given away next week, and will only be open for 24 hrs (you've got to get it BEFORE the big day right??) so keep your eyes peeled…
Now onto our craft!
Yesterday, Traci of Amazing Mae and our friend Vicki came over to "play"…Grown up's can have play dates right? I mean we all need to have something to do to chase away those long winter days right???
The "project of the day" started because I could not find any Valentines shirt's for my 8 yr old son… Traci has been freezer paper stenciling for a while now and always told me how easy it was, so I thought I'd give it a try.
With Traci's experience and my Cricut we were able to knock out a few really cute t-shirts today for the kids. I know there are a lot of freezer paper stencil tutorials out there, but I thought I'd share how we did ours today.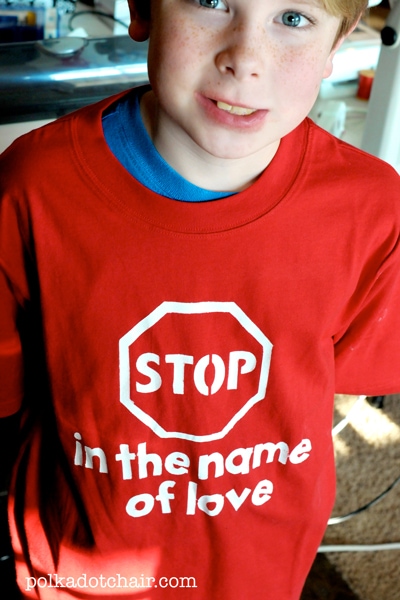 what I came up with for Andrew, I'm still trying to think of something more "clever" for him for Valentines Day. But he seems to like "Stop, in the name of love" even if he doesn't "get it". Stop sign from Going places cartridge
Okay… Take your freezer paper and cut it to 12×12 (or 12×6 if you have the earlier cricut).
Adhere it shiny side down to your cricut mat.
Cut out your design.
sorry white is not the easiest to photograph
Peel off freezer paper and cut around design leaving 3″ around as a border. Iron shiny side down onto your t-shirt.
Cut another piece of freezer paper in a rectangle the same size as your design. Iron this to the INSIDE of the t-shirt. You will have a little t-shirt sandwich with a piece of freezer paper ironed onto both sides.
Dab your fabric paint onto your design.
Peel off freezer paper.
Iron part 2 of your design (the 2nd color) onto your shirt.
Dab paint on and let dry.
Peel off and you are done!