Learn how to make a book page banner using a cricut machine, an old book and a bit of glitter! We will walk you though the steps to create an upcycled book page banner for Valentine's Day, Thanksgiving, Christmas or any other Celebration!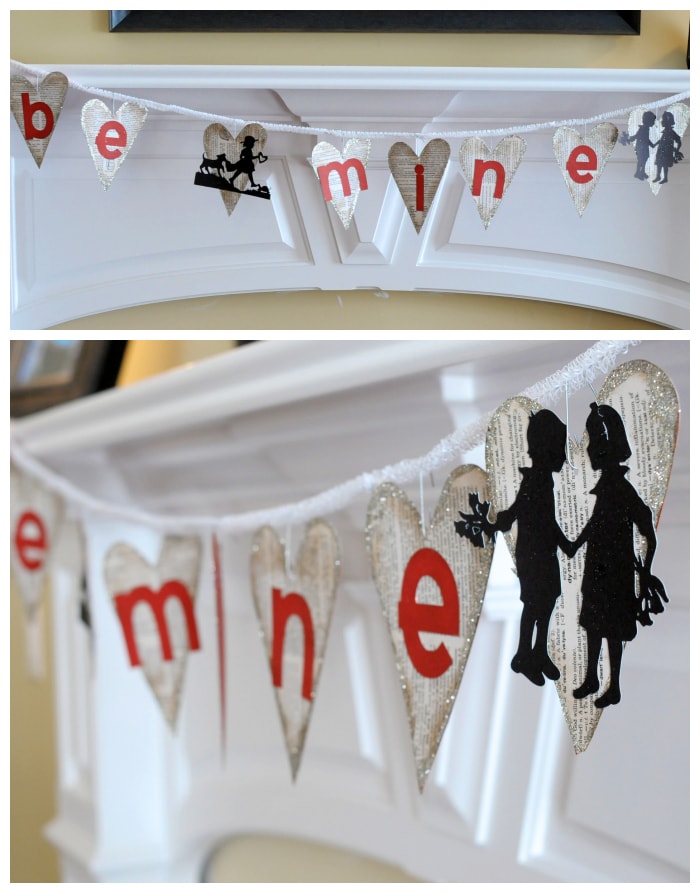 Recently I made a "Believe" book page banner for Christmas, I didn't share a tutorial to make the banner and today, thought that I'd take the time to write up a tutorial for the banner.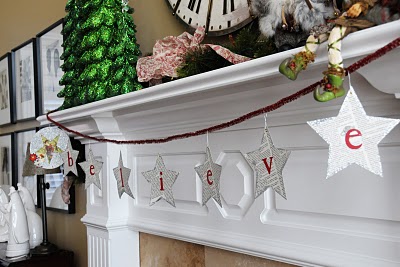 Table of Contents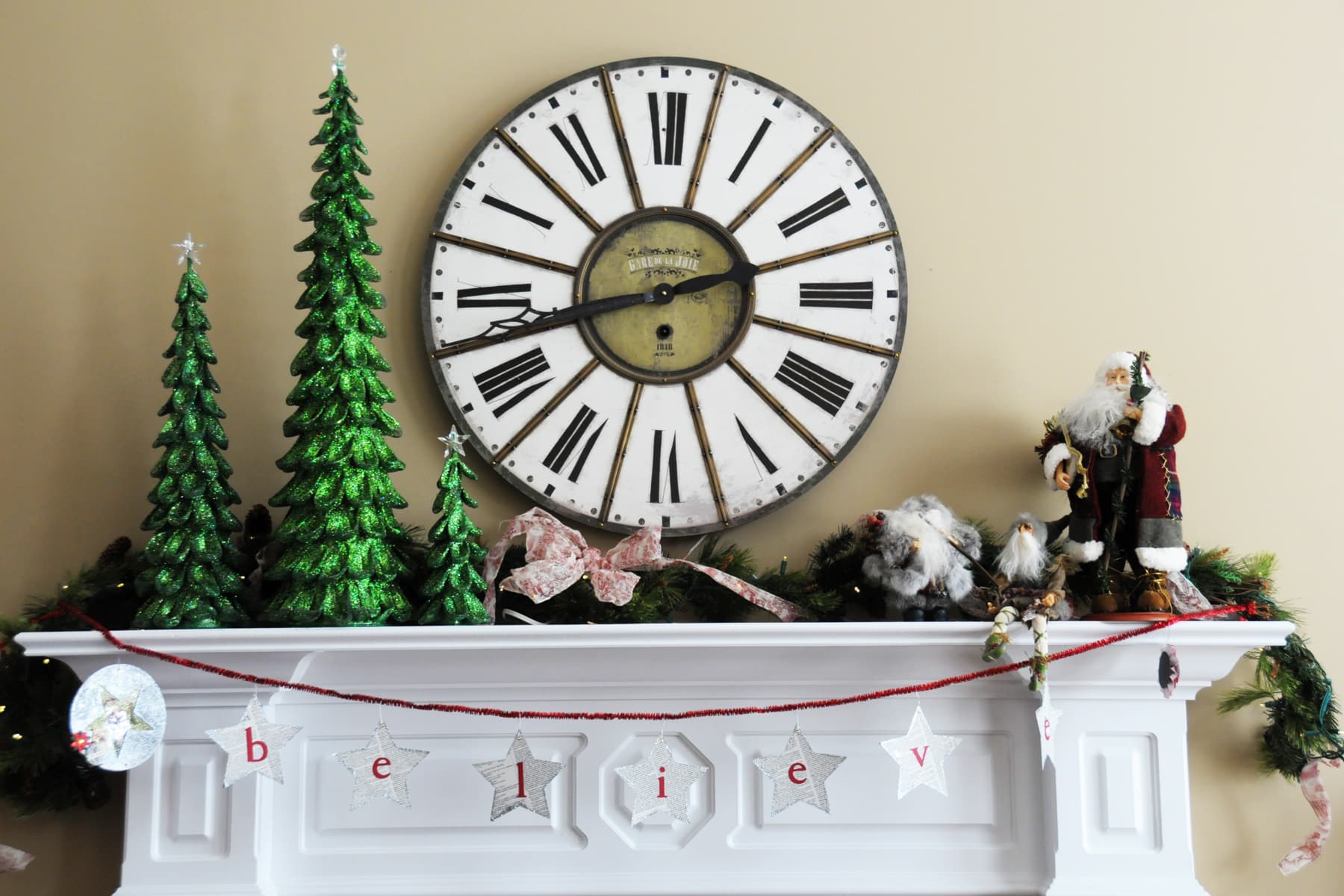 This month I was in the mood for a "Crafternoon" and invited a bunch of friends over to make the banners.
Book Page Craft Idea; Create a Holiday Banner:
To create this banner, I used a Cricut machine. If you don't have one, it's okay. You will need to go to the craft store and buy a Sticker Alphabet and find a heart to trace. In the place of the silhouettes, you could use vintage images, or more hearts, etc.
This banner was created for Valentine's Day but the beauty of this project is that you can do this for any holiday or occasion.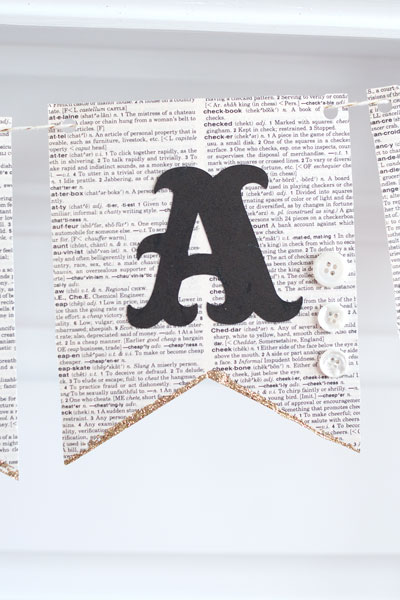 I've created a CELEBRATE one for Mother's Day, a Believe one for Christmas and a Happy Birthday one as well.
You will also need to "destroy" a book. I know I know, don't freak out. I love books and the first time I tore a page out of one, I felt more than a little guilty.
Supplies for the Book Page Banner:
Old Book you can cut up -Just find a book you can dismantle.  Look in your closet, thrift store, Half Price Books, etc. I found an old dictionary at a thrift store and that is what I have been using.
Cricut Machine & Cutting Mat
Solid Cardstock
UHU Glue Stick
Wire Ornament Hooks
Glitter Glue
Distress Ink & Application Sponge
If you don't have a Cricut machine you'll also need a "shape" to trace, like a star, heart or tag. This is the shape of the pieces of the banner
Construction Steps
Step One: Decide on your Banner Shape & Phrase
Decide which shape you'd like to have as the base of your banner. For the Be Mine banner, I chose a heart. Go into Cricut Design Space and type in heart.
Size it to the size you want then save the file. You also need to know how many pieces you want in your banner, so you know how many hearts to cut.
Next, decide which phrase you'd like on your banner. Create the file in Design Space as well.
Step Two: Prep the Paper & Cut
I found out the hard way that a Cricut does not cut the thin book page paper well. It STUCK to the mat. When cutting paper with a Cricut I always recommend using the Light-Grip mat. Even with the light grip mat, I'd recommend cutting the book page paper adhered to the cardstock first.
Take a piece of cardstock and using your UHU glue stick, adhere book pages to the cardstock until it's totally covered. To do this, cover the back of the book page with UHU glue stick, then attach to your cardstock. You want to "think" about where the hearts will be cut so that you don't get a heart cut with a seam of paper down the middle.
We cut four 6×6 book pages to cover the 12×12 cardstock sheet. After you glue it, roll a brayer (or a rolling pin) over it to make sure your glue is evenly distributed. Set aside and let dry (we had a bit of trouble because we didn't let the glue dry all the way).
After the glue has dried, run the paper through your Cricut and cut out your hearts. Use the "cardstock" setting on your machine.
Step Three: Distress
If you'd like your book page banner to have a more aged look, then using a sponge and ink, lightly distress the edges of the hearts.
To add a bit of glitter to the edge of the pieces, take glitter glue and spread a little bead around all the edges. Then dip the edges in glitter. I used Martha Stewart glitter.
This step will also help you if your hearts tore at all during the cutting process. You can cover up any tears with glitter.
Step Four: Add the Letters
Using your Cricut machine, cut out the letters you'd like on your banner. Again, make sure that you size the letters correctly. I chose to also cut out two child silhouettes as well to add to my banner. The silhouette images are from the "Child's Year" design file in Cricut Design Space.
Step Five: Finishing and Hanging
Do you know those ornament hangers that DRIVE YOU CRAZY at Christmas????? Well, break 'em out, because they are perfect for this!
Get a piece of tinsel (as you hang on your Christmas tree, mine came from IKEA)…
Use the ornament hooks to attach the hearts to the tinsel (or ricrac would be super cute if you can't find any tinsel).
To Make the Celebrate Banner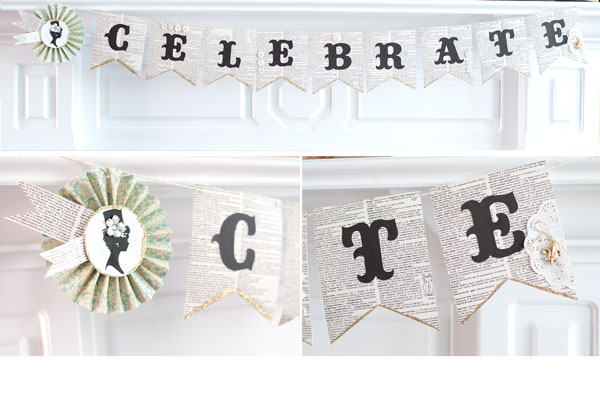 Everything is done the same way with one exception. I used a pennant shape instead of the heart.
I also added a few other detials, like paper doilies and a paper rosette. If you'd like to learn how to make a paper rosette, check out THIS post.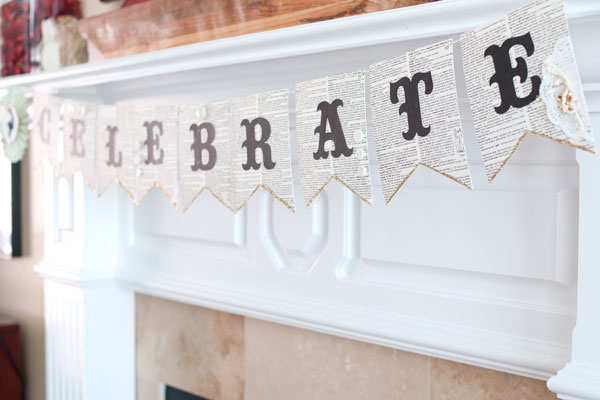 To Make the Believe Christmas Banner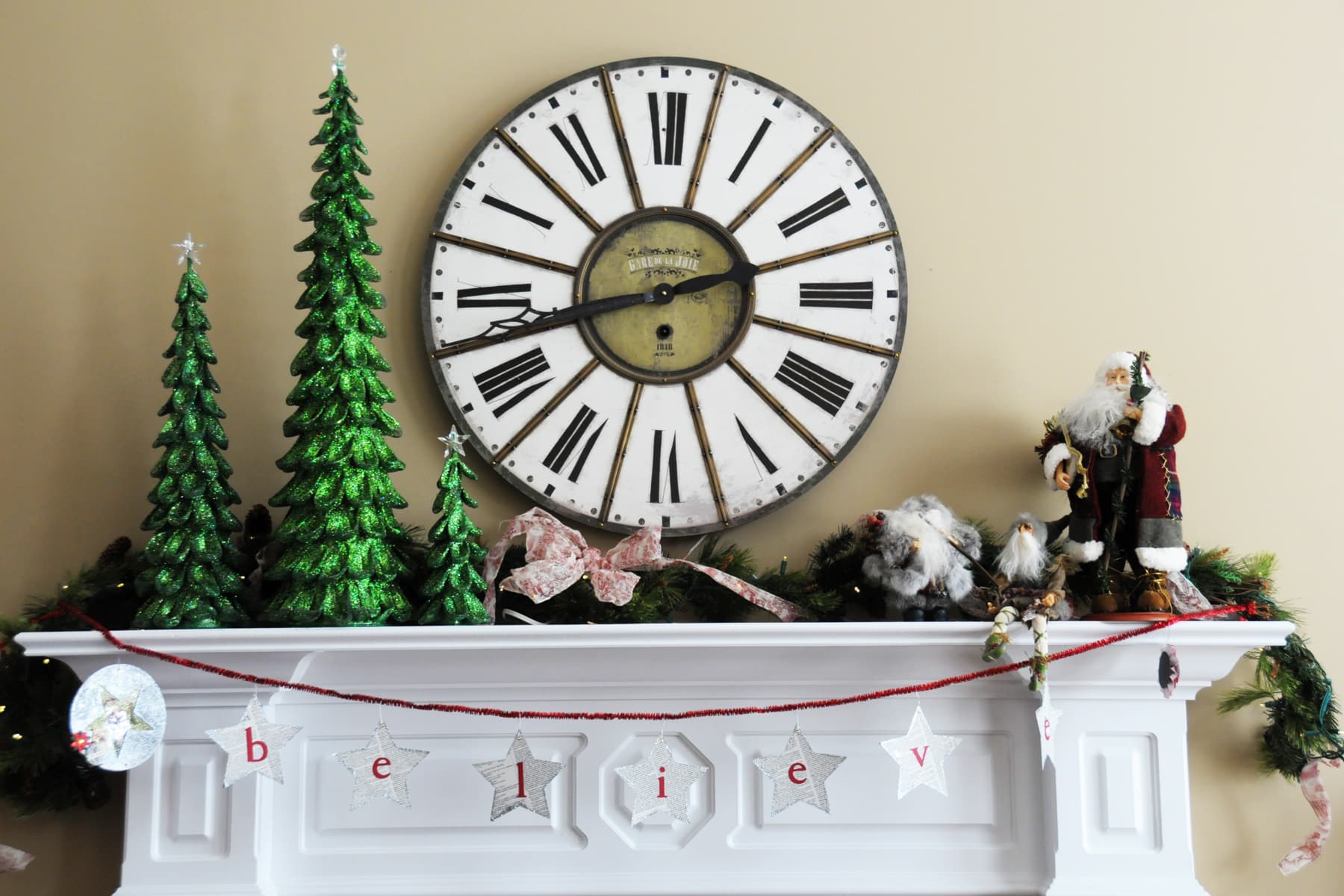 All steps are the same with a few changes.
I used a star shape instead of a heart
The letters are lowercase
The stars are hung from a piece of wired tinsel.
How to Make a Thanksgiving "Give Thanks" Banner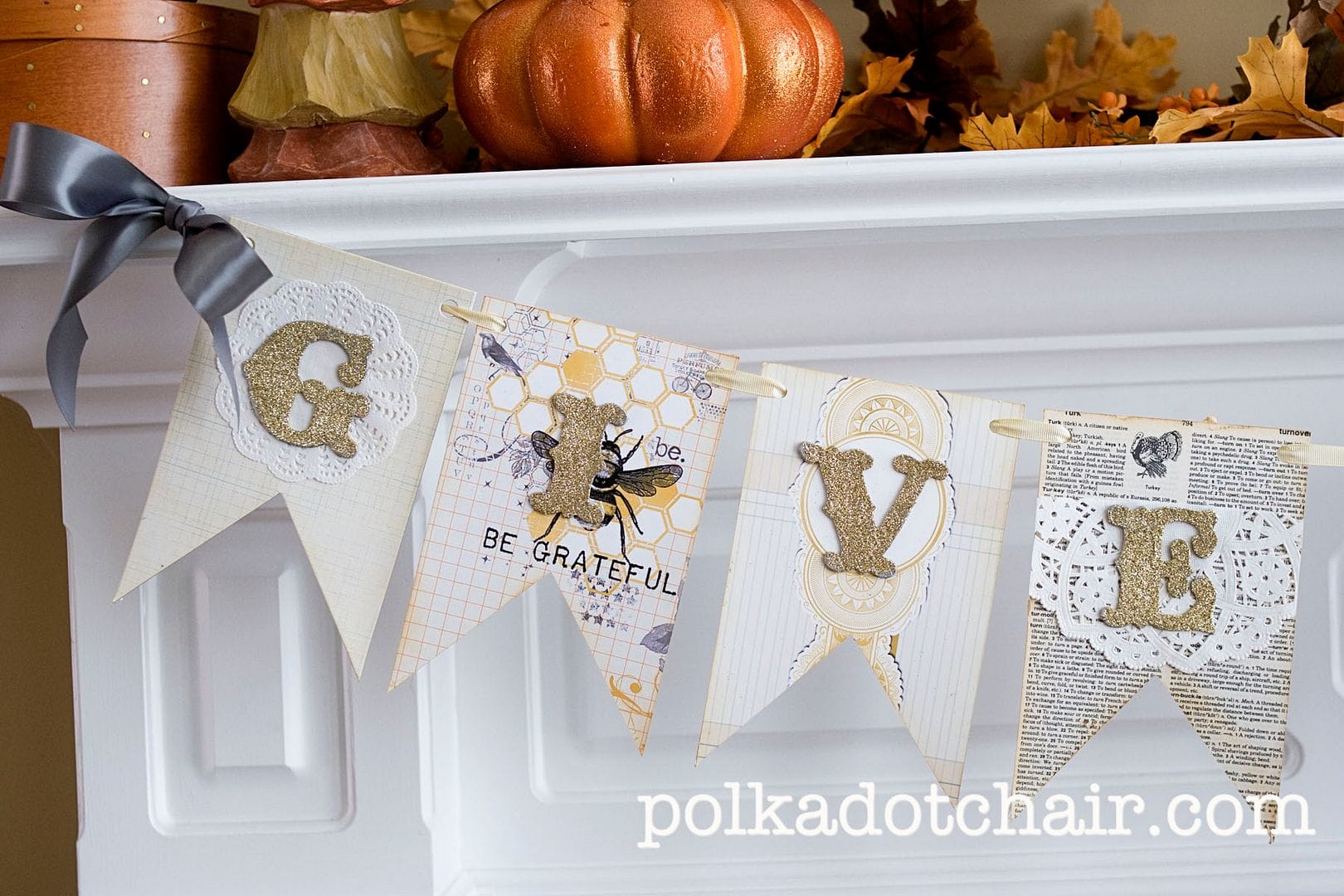 You can also use this tecnique to create a book page banner for Thanksgiving. This one is more detailed and I used a chipboard base instead of cardstock. I also used purchased glitter letters and supplemented the book pages with cardstock paper.