Okay,
FIRST… you guys SERIOUSLY ROCK!!!!!!! and I am NOT even exaggerating one bit!
I went to dinner Friday night with my hubby (gotta love having a live in babysitter aka 14 yr old daughter :)… and I checked my email on my phone and saw all the comments coming in from my Paris post!  We had the BEST time at dinner reading everyone's comments and talking about what we want to do in Paris.  My hubby was very flattered you all thought he was "cool"… and even more than that, so interested that you all gave us such great advice!
I wasn't sure if I was going to blog about the trip here but after the great response I'll have to make sure I give you guys a great recap when we get back!  Besides, I totally think it "fits" as Paris seems like a very creative and inspiring place!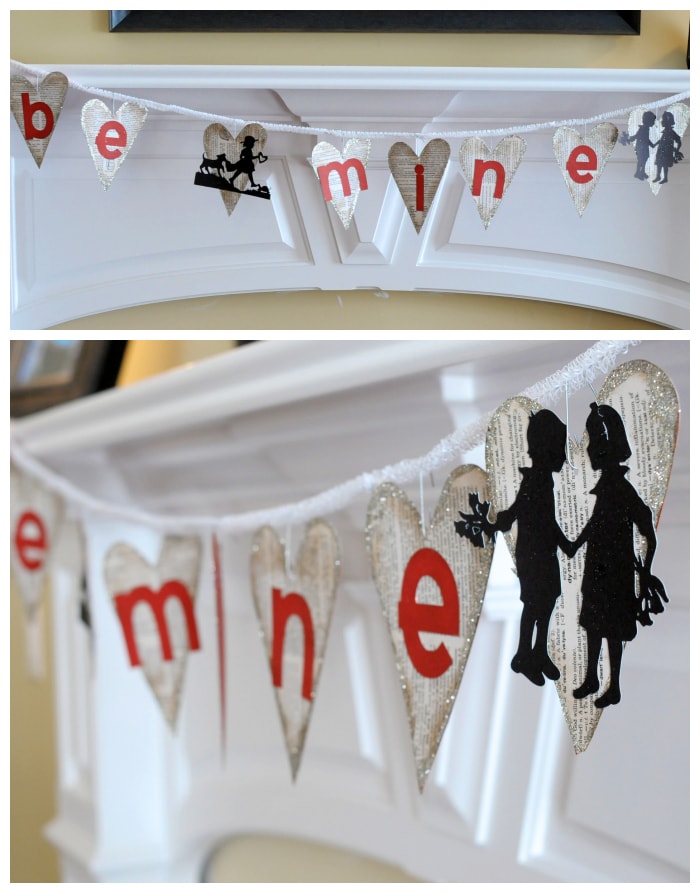 Now, onto todays craft!!
I've still got a bit o'Valentines goodness to share with you all!
Do you want one of these??? If so, keep reading I'm giving it away!!
I LOVED the believe banner that I made for Christmas this year, and thought that it would be fun to make one for Valentines day! It was quick and easy and I'm happy to share a tutorial with you of how to make it.
For this banner I used a cricut. If you don't have one, it's okay. You will need to go to the craft store and buy an Alphabet, and find a heart to trace. In the place of the silhouettes, you could use vintage images, or more hearts etc…
You will also need to "destroy" a book.. I know I know… don't freak out.. I love books and the first time I tore a page out of one, I felt more than a little guilty.
Just find a book you can dismantle.  Look in your closet, thrift store, Half Price Books, etc. I found an old dictionary at a thrift store and that is what I have been using.
I found out the hard way that a cricut does not cut this thin of paper. It STUCK to the mat (ruined the mat, could never get it off).  I, being lazy, did not want to hand cut all of the hearts.  So what I did was 1st adhere the book pages to a sheet of 12×12 cardstock.  To do this, cover the back of the book page with UHU glue stick, then attach to you cardstock. You want to "think" about where the hearts will be cut, so that you don't get  a heart cut with  a seam of paper down the middle.
We cut 4 6×6 book pages to cover the 12×12 cardstock sheet. After you glue it, roll a brayer (or a rolling pin) over it to make sure your glue is evenly distributed.  Set aside and let dry (we had a bit of trouble, because we didn't let the glue dry all the way).
** btw… I must thank Vicki for helping me with this, she's the hands you see in all the photos, and kept telling me "Melissa, don't you need to take a picture of this???"  She should come over for all of my tutorial photo sessions… she totally kept me on track!**
After the glue has dried, run the paper through your cricut and cut out your hearts. Mine were from the George and Basic shapes cartridge, but there are lots of hearts on different cartridges. 
Next, we used Walnut Distress ink and lightly inked the edges of each heart.
Then take Modge Podge for paper and spread a little bead around all the edges.  Then dip the edges in glitter. I used Martha Stewart glitter that I WON from her website !!! (very cool huh!!).
This step will also help you if your hearts tore at all during the cutting process. You can cover up any tears with glitter.
Cut "Be Mine" out onto red cardstock (Simply Sweet cartridge). Adhere to your hearts.
The silhouettes are from the Child's Year cartridge.
You know those ornament hangers that DRIVE YOU CRAZY at Christmas????? Well break 'em out, because they are perfect for this!
Punch a small hole in the center of each heart.  
Get a piece of tinsel (like you hang on your Christmas tree, mine came from IKEA)… 
Use the ornament hooks to attach the hearts to the tinsel (or ric rac would be super cute if you can't find any tinsel).

Print Friendly
0